We test and review fitness products based on an independent, multi-point methodology. If you use our links to purchase something, we may earn a commission. Read our disclosures.
We're on a mission to find the best creatine of them all—well, actually, we're on a very big mission to find the best workout supplements in every category.
But if you are looking to build muscle, maximize muscle performance, and improve your capabilities in the gym, creatine needs to be a part of your supplement regimen. In my Six Star Creatine X3 review, find out if this popular supplement deserves a spot in your stack.
Medical disclaimer: This article is intended for educational and informational purposes only. It is not intended as a substitute for medical advice. For health advice, contact a licensed healthcare provider. GGR also recommends choosing a product that has been third-party tested for quality.
More Than 30 Creatine Supplements Tested
From creatine powders to caplets, from monohydrate to creatine HCl, we've tested all sorts of this muscle-building supplement—and intend to continue so we can find the very best. In addition to hands-on testing, our certified personal trainers, nutrition coaches, and athletes know how to decipher supplement and nutrition labels to bring you the truth.
Six Star X3 Creatine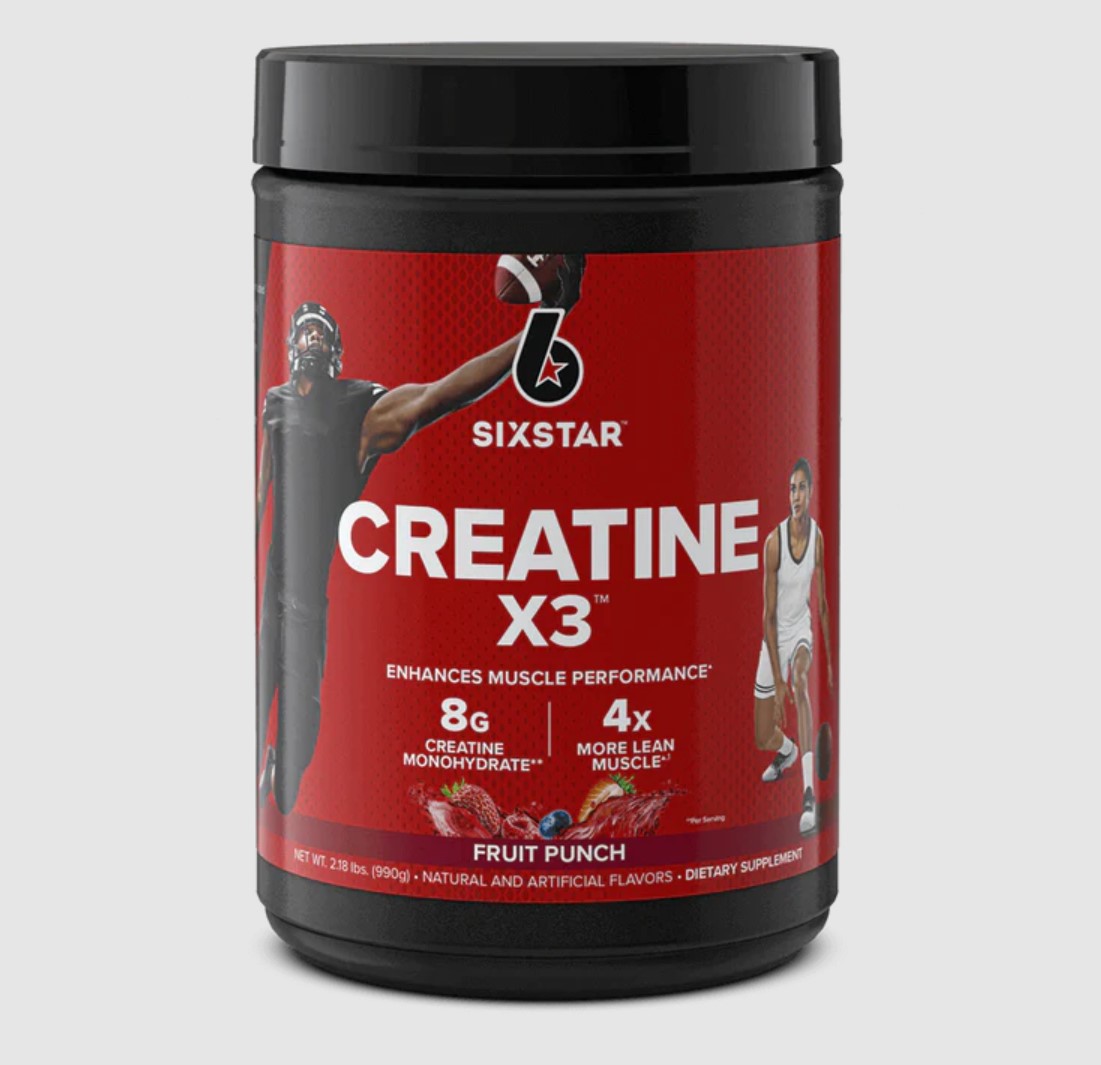 GGR Score: 3.6
Product Highlights
Combination of creatine and BCAAs  

8 g of creatine and 2.5 g of BCAAs per serving

Increased muscle and strength

Faster recovery
Pros & Cons
Pros
Combines creatine and BCAAs into 1 supplement
Subscribe and save 25% on first purchase and 20% on subsequent purchases
8 g of creatine per serving
Mixed reviews on taste
Cons
Only available in fruit punch flavor
Much larger serving size than competitors at 33 g (usually about 5–8 g)
Contains sucralose which may upset stomachs in some users
Bottom Line
Six Star Creatine X3 combines creatine and BCAAs into one supplement, providing 5 and 2.5 grams of each, respectively. Six Star shares that this product increases muscle strength and growth and helps improve recovery. This product is only available in a fruit punch flavor that has very mixed reviews. While some reviewers enjoyed the flavoring, others found it too sweet. Some customers also experienced upset stomachs, which is common with large creatine doses.
A Quick Look at Six Star X3 Creatine
Six Star Pro Nutrition Creatine X3 is popular among bodybuilding enthusiasts due to its mega-dose of creatine. It contains 8 grams of creatine monohydrate per serving, in addition to some BCAAs and other amino acids. This is definitely a product worth looking into if you want to build muscle mass.
Heads up: The formula for this product is different on Amazon than it is on the Six Star website. On the website, the label says that the product includes 8 grams of creatine monohydrate. On Amazon, the label says that the 8 grams of creatine are split between monohydrate and creatine HCl, but it doesn't say how much of each one.
RELATED: Best BCAA Supplements
Before You Buy
As great as the doses of creatine and amino acids are in this supplement, it does contain a lot of artificial ingredients, including artificial flavors, sweeteners, colorings, and dyes.
This supplement is great for those who are starting a loading phase for creatine, but is probably a bit much for those who are in a maintenance phase, unless they split the dose in half.
If you'd prefer a capsule, check out Six Star Creatine X3 pills, which provide more than 3 grams of creatine monohydrate in a three-pill serving.
Is Six Star X3 Creatine Worth It?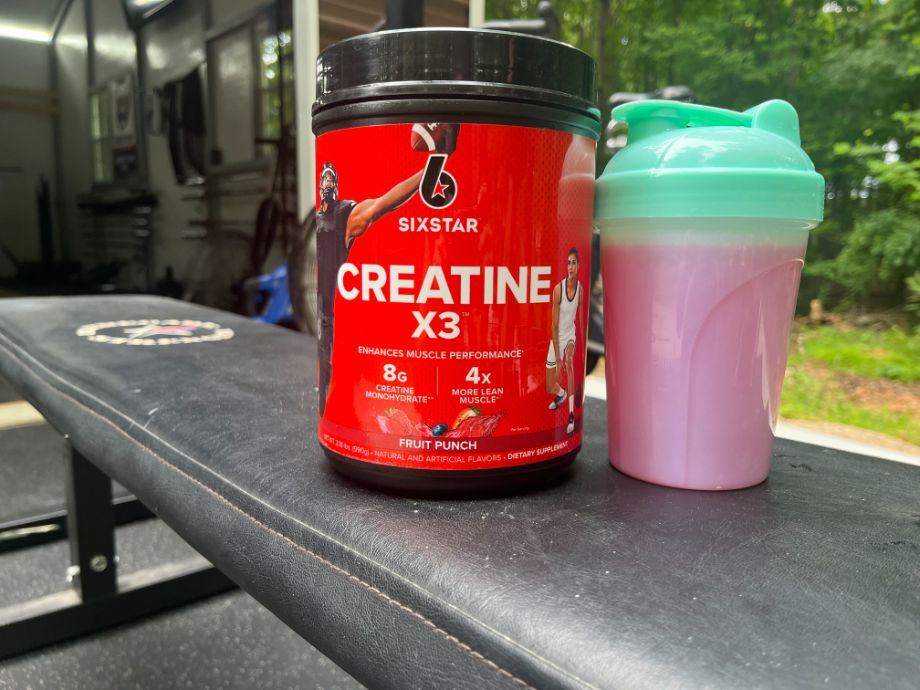 Between the massive dose of creatine, the low price per serving, and the great taste as reported by our product tester, we think Six Star X3 Creatine is worth it. Still, it won't be the right product for everyone.
Great for:
A creatine loading phase
Creatine maintenance (you can halve the dose)
People who can handle large doses of creatine without side effects
Not recommended for:
People who avoid artificial ingredients
Those who are sensitive to artificial sweeteners
Individuals who experience side effects with large doses of creatine
Six Star X3 Creatine Specs
| | |
| --- | --- |
| Price per serving | $0.65 to $1.11 depending on where you buy, and if you sign up for subscribe-and-save |
| Creatine type | Creatine monohydrate (website formula) or creatine monohydrate and creatine HCl blend (Amazon formula) |
| Creatine per serving | 8 g |
| Serving size | 33 g |
| Calories per serving | 70 (website formula) or 80 (Amazon formula) |
| Flavors | Fruit punch |
| Sugar per serving | 6 g |
| Sweeteners | Sugar, sucralose, acesulfame K |
| Other key ingredients | BCAAs, taurine, glycine, L-arginine, L-methionine |
| Other ingredients | Maltodextrin, dextrose, flavors, dyes, and anti-caking agents |
Experience Using Six Star X3 Creatine
Six Star X3 Creatine was shared with the weightlifting team of Kate Meier, GGR head of content and expert product tester. Jacob, one of the members, tested this creatine out a few times.
Creatine is different from supplements like pre-workout in that they don't produce immediate effects. Instead, the effects of creatine build up over time and, after a matter of weeks or months, manifest as increased muscle and strength, among other things.
That said, Jacob was pleased with Six Star X3 Creatine and said that it didn't give him any side effects, which is good to hear since this product has such a high dose of creatine monohydrate.
RELATED: Best Pre-Workouts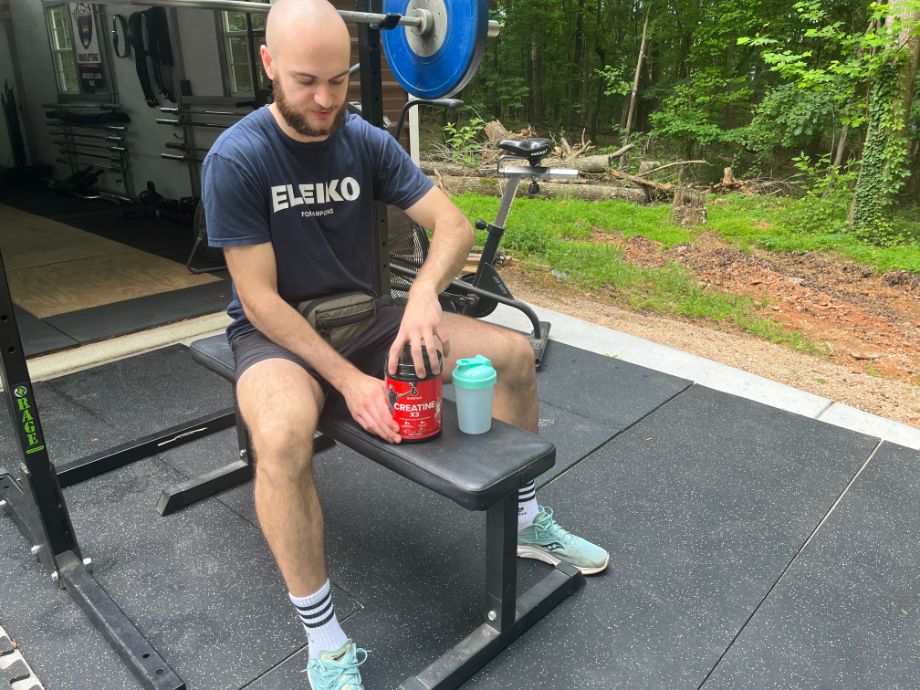 Price Per Serving
If you're on a budget, you'll love Six Star X3 Creatine. Not only does this creatine blend provide a mega-dose of creatine, but it provides such a dose at under $1 per serving, depending on where you buy it and if you sign up for the subscribe-and-save option.
At the time of writing, on Amazon, one tub costs about $39 and contains 30 servings, so you're looking at a price per serving of about $1.11. If you choose to buy from the website and sign up for the subscribe-and-save option, you can knock that down to a very inexpensive 65 cents per serving.
Formulation
The supplements facts label on Six Star X3 Creatine is separated into three sections.
Muscle-building creatine:
Creatine monohydrate, 8 g
As mentioned previously, creatine is the most-studied dietary supplement for fitness, and it has several clinically proven benefits. Creatine1 is known to increase strength, promote muscle gain, and enhance physical performance. It may also help with muscle recovery after intense training.
Remember: On the Six Star website, 8 grams of creatine monohydrate is the current formula. If you buy from Amazon, it looks like you're getting an 8-gram blend of creatine monohydrate and creatine HCl.
BCAA-Amino Blend:
Taurine
L-leucine
L-isoleucine
L-valine
This blend is present in a total dose of 2.5 grams, so we don't know how much of each individual amino acid is present. This is the downfall of proprietary blends—we can't know if any of the ingredients are present at clinically supported doses.
In any case, research on BCAA supplementation is wishy-washy at best. The three branched-chain amino acids2 (leucine, isoleucine, and valine) are important for muscle protein synthesis and glucose uptake into muscle cells. The first is the critical process responsible for long-term lean muscle mass growth and maintenance, while the latter plays an important role in long-duration exercise.
However, all nine essential amino acids are required for muscle protein synthesis, and if you are taking a whey protein supplement (or getting enough protein from whole food sources), you're probably already getting enough BCAAs.
That said, since Six Star X3 Creatine is such an inexpensive supplement, I don't think you're wasting your money here. The BCAA-Amino Blend definitely won't hurt, and it can potentially help. Plus, taurine is important for mitochondrial function (important for ATP production in the muscles) and plays a number of other roles relevant to fitness3.
RELATED: Best BCAA for Women
Creatine Synthesis Amino Matrix:
Glycine
L-arginine
L-methionine
This blend is present in total at 1 gram, so again, we can't tell you how much of each ingredient is in the powder.
All of these amino acids play a part in creatine synthesis4 in your body, so it's possible that supplementing with them may increase the amount of creatine your body makes endogenously (inside the body, as opposed to from supplementation of creatine directly). However, research on the effects of each nutrient as a supplement in specific regard to endogenous creatine is lacking.
Taste and Solubility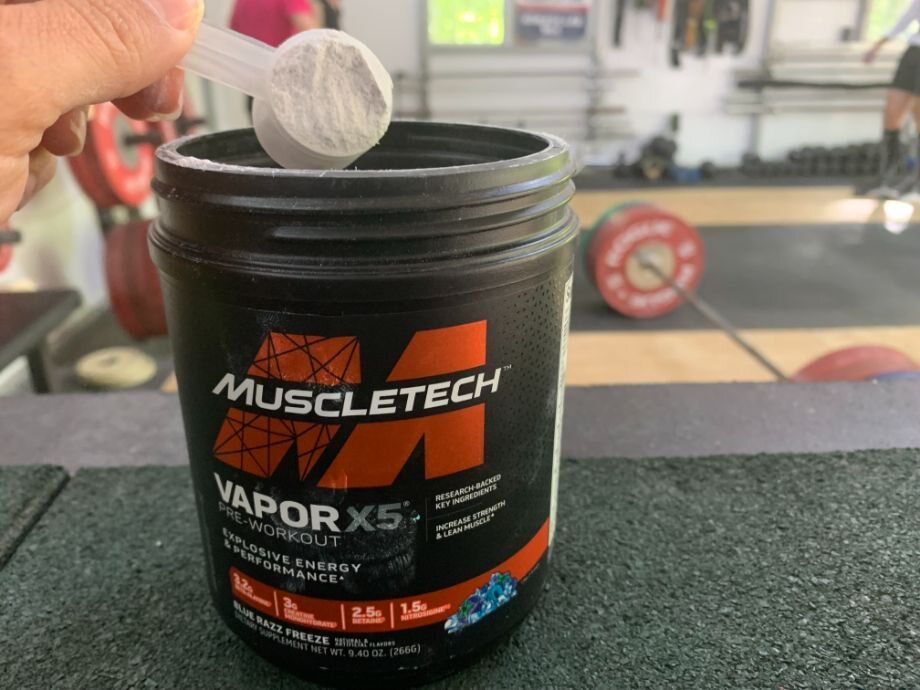 The Fruit Punch flavor is "yummy and tastes just like fruit punch, like a bottle of Hawaiian punch," says product tester Jacob. "You could ask me to tell the difference and I wouldn't know. It doesn't feel like you're tasting a supplement."
Jacob says the solubility is "smooth" and " There's nothing collecting at the bottom, and it's not foamy."
Side Effects
Creatine products can cause GI distress, specifically bloating due to water retention. Creatine alters the way your muscle cells store water5, causing them to hold onto more water than usual; this is the mechanism behind the common complaint of bloating when supplementing with creatine.
Some people also find that creatine, especially in higher doses, causes cramping and diarrhea. Most of the evidence around this is anecdotal, although one study6 found that taking 10 grams of creatine in a single dose increased the risk of diarrhea compared to taking 10 grams of creatine in two equal doses at different times of day.
You may have read that creatine supplementation causes liver or kidney damage. This is because creatine raises the levels of creatinine, a metabolic byproduct excreted in urine. People who have healthy kidneys and a healthy liver do not need to worry about this, as your organs are adequately equipped to filter out creatinine.
Many studies have debunked the claim that creatine damages these organs, including a 4-year-long study7 that concluded that creatine has no negative effects on the kidneys nor the liver. The International Society of Sports Nutrition concluded in its 2017 position statement8 on creatine that there is "no compelling evidence that creatine supplementation negatively affects renal function in healthy or clinical populations."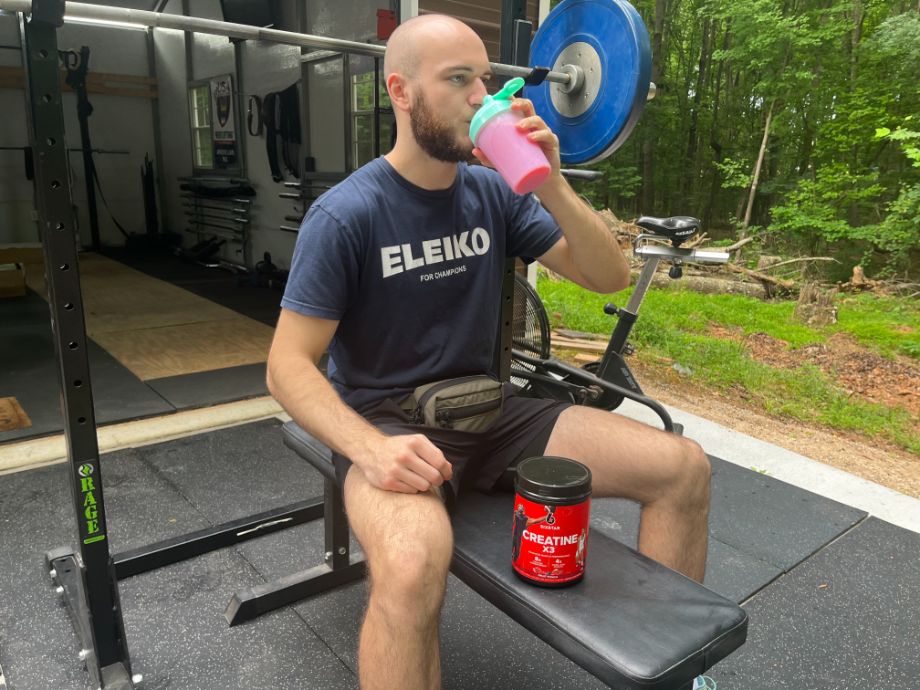 Third-Party Testing
Six Star X3 Creatine is not third-party tested. This isn't a deal-breaker, but it's something we encourage looking for, especially for athletes who are subject to testing for performance-enhancing drugs. When a product is third-party tested, it means that the product was tested for various items, such as heavy metals, allergens, and banned performance-enhancing drugs, depending on the lab and the certification program.
Six Star X3 Creatine vs Redcon1 Tango Creatine
Redcon1 Tango Creatine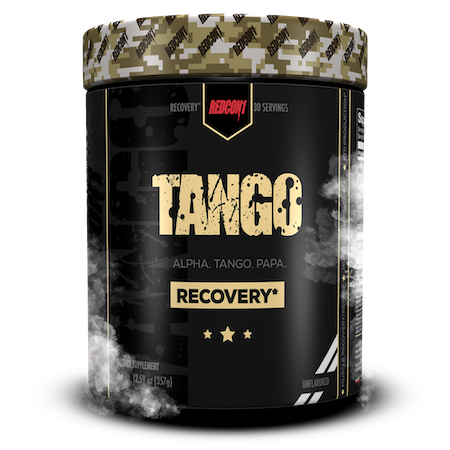 GGR Score: 4.25
Product Highlights
Multi-form creatine
Contains creatine monohydrate, HCl, and patented Creatine Magnapower
7 grams of creatine per serving
Available in 7 flavors
Pros & Cons
Pros
7 grams of creatine per serving
Three forms of creatine used
Comes in 7 flavors
Many customers say this creatine does not bother their stomachs
Cons
Pricier than unflavored creatine
Creatine may cause GI distress in some people
Bottom Line
Redcon1 Tango creatine is a multi-form creatine that contains 5 grams of creatine monohydrate, 1 gram of creatine HCl, and 1 gram of patented Creatine Magnapower. You can choose from seven flavor options, and although it's on the pricier side for creatine, many customer say this product doesn't bother their stomachs like other creatine has the tendency to do.
Redcon1 Tango Creatine is another ultra-loaded creatine supplement. It contains 6.75 grams of creatine, with 5 of those grams being creatine monohydrate, 0.75 being CON-CRET Creatine HCl, and 1 being Creatine MagnapowerTM. The latter is creatine bonded to magnesium, which Redcon1 claims "improves ATP production (energy), enhances performance and promotes muscle growth."
A 2022 review of studies in the journal Nutrients9 concluded that no "novel" forms of creatine, such as creatine HCl and Creatine Magnapower, are more effective than conventional creatine monohydrate, so I wouldn't let the multi-form factor be your deciding factor.
What might be a more valuable deciding factor is the inclusion of betaine anhydrous in Redcon1 Tango. Betaine anhydrous10 is well-studied and is associated with improvements in body composition, increased lean body mass, muscular work capacity, and increased power. The science around betaine anhydrous is more compelling than that around BCAAs, in my opinion.
Here's a quick look at how these two creatine supplements compare.
| | | |
| --- | --- | --- |
| | Six Star X3 Creatine | Redcon1 Tango Creatine |
| Price per serving | $0.65 to $1.11 depending on where you buy, and if you sign up for subscribe-and-save | $1.33 for one-time purchase; $0.93 with subscribe-and-save |
| Creatine type | Creatine monohydrate (website formula) or creatine monohydrate and creatine HCl blend (Amazon formula) | Creatine monohydrate, creatine HCl, Creatine MagnaPower |
| Creatine per serving | 8 g | 6.75 g |
| Serving size | 33 g | 13.1 g |
| Calories per serving | 80 (Amazon formula) or 70 (website formula) | Not stated |
| Flavors | Fruit punch | Grape, Strawberry Kiwi, Tiger's Blood, Sour Gummy Bear, Unflavored |
| Sugar per serving | 6 g | Not stated |
| Sweeteners | Sugar, sucralose, acesulfame K | Sucralose, acesulfame K |
| Other key ingredients | BCAAs, taurine, glycine, L-arginine, L-methionine | Betaine anhydrous |
Customer Experience
Six Star offers two- to three-day shipping, a 30-day return policy, and free shipping on orders over $25. If you have any issues with your product, you can contact the company through a web contact form. If you bought the product from a third-party retailer, you'll have to go through that retailer for returns and refunds.
Ordering Six Star X3 Creatine
You can order this supplement from the Six Star website or from an authorized retailer, such as Amazon or the Muscle & Strength shop. It's also available at Walgreens, Walmart, and iHerb.
Customer Reviews
This product has a rating of 4.4 out of 5 stars on Amazon and a rating of 4.7 out of 5 stars on the Six Star website. Most customers love the Fruit Punch flavor and find it to mix well, especially with cold water.
One customer loved the taste but didn't hold back on describing some side effects: "The Fruit Punch might be the best-tasting working supplement powder I've ever had. However, it caused diarrhea, stomach discomfort, and constipation. I believe this is partly due to my loading phase, the added sugars, and potentially not drinking enough water. I would advise to just take 5 grams (a little more than a half of a scoop) per day. This would limit potential side effects you might see."
That customer's experience is in line with expert recommendations to split large daily doses of creatine up into smaller equal doses and take them throughout the day.
Another customer said this product has significantly improved their physical performance. "No matter what kind of workout, whether aerobic or with weights, this product prevents sore muscles, which means it is doing its job," the customer wrote. "I have definitely noticed a positive increase in the number of reps for every workout exercise, which is fantastic, since the reps have been locked at a constant upper limit for a long time now."
Final Verdict of Our Six Star X3 Creatine Review
Six Star X3 Creatine is a high-dose creatine supplement that also contains several amino acids, including BCAAs and the amino acids involved in endogenous creatine synthesis. This product is a good option for people who are looking for something budget-friendly, as well as those starting a creatine loading phase. It's not the right choice for someone who wants an all-natural product, as it contains several artificial ingredients including sweeteners, dyes, and flavors.
RELATED: Best Natural Pre-Workout
Six Star X3 Creatine Full Rating
Six Star X3 Creatine
Six Star X3 Creatine is a high-dose creatine supplement with 8 grams of creatine per 33-gram serving. It also contains BCAAs and other amino acids for creatine synthesis.
Product Currency: $
Product Price: 38.90
Product In-Stock: InStock
Six Star X3 Creatine FAQs
Should I take creatine post-workout or pre-workout? 
Nutrient timing is a hot topic. Most experts agree that getting enough of a nutrient in general is more important than consuming it at a specific time, and that applies to creatine, too11. Research on creatine timing is mixed, with some studies definitively concluding that it's best to take it post-workout12 and others concluding that it makes no difference at all13. What seems to be a common theme, though, is that it's best to consume creatine generally around the time you work out, whether that's before, during, or after. But again: It's not a real concern14.
How many grams of creatine for muscle growth? 
There are two effective ways to supplement creatine15. You may opt for a loading phase, which intends to saturate muscle stores of creatine, and then bump back down to a maintenance dose. 
Creatine loading looks like this: 
-Take 20 to 25 g split into equal 5-g doses throughout the day for five to seven days
-Then, take 3 to 5 g per day for maintenance 
Alternatively, you can simply take 3 to 5 grams per day, although it'll take longer to experience the same benefits.
Which form of creatine is best?
Creatine monohydrate and creatine HCl (hydrochloride) are the two types of creatine most commonly used in sports nutrition supplements. Creatine monohydrate is the form most similar to what your body naturally produces.
The addition of hydrochloride makes creatine more water-soluble and permeable16, so it's theoretically easier for the compound to absorb through intestinal epithelial cells—making it the more bioavailable option. However, research shows us that it isn't a clear winner. A 2020 review in the journal Science & Sports17 concluded that there's "no significant difference" between the way that creatine monohydrate and creatine HCl supplements work in the body.
Research in this area is relatively thin, so until there's a clear scientific consensus, we recommend taking whichever form is in the supplements you want to take.
These statements have not been evaluated by the Food and Drug Administration. This product is not intended to diagnose, treat, cure, or prevent any diseases.
References