We test and review fitness products based on an independent, multi-point methodology. If you use our links to purchase something, we may earn a commission. Read our disclosures.
Ellipticals can be excellent pieces of home gym equipment for the right crowd. They're easy on the joints, and they can give you a full-body cardio workout. If you're recovering from an injury, an elliptical may be the source of low-impact exercise you turn to.
We used and reviewed the Sole E25, so we were intrigued to dig into the rest of the brand's extensive line of ellipticals. While we haven't gotten to be on the Sole E35 just yet, there are a lot of things we can tell you about this machine based on our experience with the E25.
In this Sole E35 elliptical review, I'll cover several key upgrades this machine brings as well as whether or not it's worth that $1,500 price tag.
Not Our First (or Last) Elliptical
If you've stepped into a gym at any time in the last 30 years, you've run into some version of the elliptical. Garage Gym Reviews has been reviewing fitness equipment like elliptical trainers since 2014, and has its own list of the best ellipticals you can buy.
Elliptical machines are my go-to machine when my muscles and joints need a break from running. As a NASM-certified personal trainer and nutrition coach, ellipticals are the first place I send clients who are new to their fitness journey. They're also my go-to when I want to warm up the entire body quickly.
Sole E35 Elliptical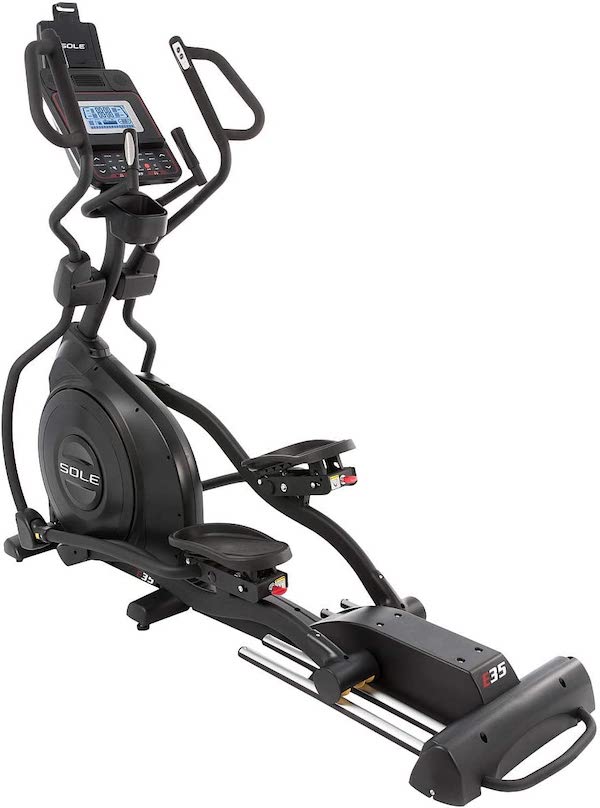 Sole E35 Elliptical
Reviews say that the Sole E35 elliptical is a quiet machine providing a smooth ride. This can be partially attributed to the 25-pound flywheel and weight of 231 pounds. According to Sole, engineers designed the adjustable 15-inch foot pedals at a 2-degree inward slope to reduce stress on your ankles and knees. These pedals move forward and backwards to help make your workouts more versatile. This elliptical has some notable features. For instance, it comes with built-in speakers that enable you to play music via Bluetooth from your audio device. It also comes with an integrated tablet holder so you can follow your own workout routines or watch TV. No worries about your device dying, because this elliptical also comes with a USB port. If this technology is not for you, it also comes with a 7.5-inch LCD console that has 10 built-in workouts that you can follow. The built-in fan will also keep you cool as you glide through the 20 different levels of resistance that allow you to find the perfect level for you. 
A Quick Look at the Sole E35 Elliptical
Sole started out making fitness equipment for hotels. They've since expanded well beyond that into home and commercial equipment. As of this writing, the brand carries six ellipticals, all front drive, and the E35 is the more expensive of their two base models.
This model is similar to the E25, which we've already reviewed, but includes a few important upgrades. For example, the E35 has adjustable foot pedals that raise to three different levels to help reduce numb toes and pain in the Achilles tendon, according to the company. A dual-pedal construction adds stability to each step so you don't feel any wobbling. However, the machine is heavy enough at 231 pounds that it needs a sturdy surface to prevent a squeaky floor.
The E35 also outshines the E25 with a larger screen, heavier flywheel, and higher maximum weight capacity. The screen is one of the standout features for the brightness and clarity, though it's not a touchscreen. The heavier flywheel creates a smoother movement, which translates to quieter operation and less stress on your joints. And a higher weight capacity is always great to accommodate people of different sizes, too.
My Tips
If assembly is anything like the E25, we can tell you that the E35's setup isn't for the faint of heart. It comes with all the hardware, but it's pretty confusing which screws and nuts you use where. I recommend paying an additional $300 fee for professional assembly.
You need a dedicated exercise space. The E35 has a large footprint, and you can't fold it for storage.
Take advantage of the 20 incline levels. Use them to target different muscle groups by raising the incline to isolate your glutes and quads
Pros:
Heavy flywheel offers smooth, quiet motion
20 incline levels let you target different muscle groups
Simple console lets you get on and go
Lifetime frame warranty, 5-year warranty on electronics and parts, 2 years on labor
Adjustable pedal angle
Compatible with Studio, Sole's programming app
Cons:
Large, tall footprint
Non-adjustable stride length
Studio app requires a monthly fee
Is the Sole E35 Elliptical Worth It?
While the Sole E35 is one of Sole's most affordable ellipticals (only the E25 costs less), the E35 is still an investment at more than $1,500. Thankfully, Sole runs some pretty great sales. In fact, we have never seen the brand list a product at the full price. If you know you'll use the machine, it's completely worth it. However, if it's going to become a laundry holder, probably not.
Great for:
People with a dedicated exercise space
Those with joint or mobility issues who need low-impact exercise
Those who need quiet equipment
Not recommended for:
Small homes and apartments
Those who want live classes and classes integrated into the machine
Those who love a touchscreen
Sole E35 Elliptical Specs
| | |
| --- | --- |
| Footprint | 71" H x 82" L x 31" W |
| Weight | 231 pounds |
| User weight capacity | 375 pounds |
| Levels of resistance | 20 |
| Incline levels | 20 |
| Flywheel | 25 lbs |
| Preset workouts | 6 preset, 2 custom, 2 heart programs |
| Stride length | 20" |
| Step-up height | 14" |
| Display | 7.5" |
| Bluetooth compatibility | Yes |
| WiFi | No |
| Built-in wheels | No |
| Pedal adjustment levels | 3 |
Workout Experience on the Sole E25 Elliptical
GGR Head of Content Kate Meier has tested the Sole E25 elliptical, and it's very similar to the E35. Yes, they have their differences like the screen size, foot pedal adjustment (the E25 doesn't have adjustable pedals), and flywheel weight, but many of the most important factors are identical.
"Conveniences on the E25, like a fan and Bluetooth speakers are amazing, so I expect they'd be the same on the E35," Kate says. "Both models also come with a wireless heart rate strap—this worked great on the E25."
Both the E25 and E35 are heavy-built, have an easy-to-use digital display (although the E35's is bigger), smooth ride, and quiet operation. Unique foot pedals on both models are designed with an inward slope, which is said to decrease stress on the knees and ankles. They also both have extras like a built-in cooling fan, water bottle holder, and tablet holder.
The E25's backlit display offers bright animations and a workout intensity graph that gives you a warning when resistance or incline is about to change. We loved the E25's preset programs, especially the fat-burning workout. The E35 has the same programs and bright screen.
The E35 has some notable upgrades and a better warranty, but your elliptical workouts will be similar to those on the E25, which got our thumbs up.
Customer Reviews
Beyond our experience with the Sole E25 elliptical, we researched what real customers had to say about the E35.
On Amazon, this machine has a 4.3-out-of-5-star rating as of this writing with 318 reviews. On the Sole website, it has a 4.5-out-of-5-star rating with 85 reviews.
Those who rated the machine highly praised its sturdiness and quietness.
"I love this machine, I am glad I didn't go with cheaper models or brands," Amazon reviewer Danielle said. "It is heavy, built like a tank. The assembly was easy, but it does require following the assembly instructions in detail."
Others did indeed have problems with the assembly process, as well as some additional issues, namely noisy pedals.
"The elliptical itself meets our needs, but in the 1.5 years that I've owned it there are a few issues that have cropped up," said Sole website reviewer coness-94026. "Within 6 months the flywheel started making knocking noises and had to be completely replaced. About a year later, there were more noises and the foot plates became wobbly. Again we needed to have repairs done. I would have rated this much lower had it not been for the great warranty and support. Still it is inconvenient for having to be home to have someone come and repair it."
Footprint, Portability & Durability
The E35's 71-inch-high-by-82-inch-long-by-31-inch-wide footprint gobbles up space. If you use the incline levels, your head will end up higher than the already high 82-inch machine. Consequently, this isn't the machine for a home that's tight on space, or a basement with low ceilings. Most likely, you'll need a designated gym space or, at the very least, a big corner of a room.
Those dimensions come with 231 pounds of machine. That weight includes a full, heavy-duty steel frame and 25-pound flywheel. The front-mounted flywheel takes up less space than a rear-mounted model. The quality and weight of the frame give it excellent durability that's covered by a lifetime warranty. The electronics and parts are covered with a five-year warranty, and there's a two-labor warranty, too.
While the E35 has wheels, moving it around will not be easy. Plan on putting it in one place and leaving it there.
The Ergonomics
If you're wondering what it's like to use an elliptical, it should feel, in a word, ergonomic. They're designed to mimic running but take impact off of the joints. The E35 is a comfortable, ergo-friendly ride, besting the E25 with adjustable foot pedals.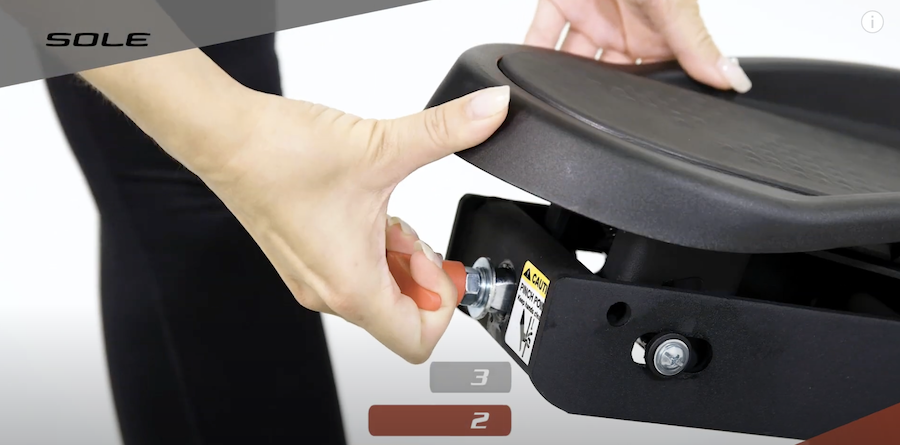 It also has stationary handles or mobile handles, so you can decide which is more comfortable. On the handles are the power incline and resistance level buttons. The only place where Sole could improve ergonomics is to include an adjustable stride length. However, that kind of feature is pricey, and this is already a pricey machine.
Technology Benefits and Conveniences
The E35 has a few technical perks, though a touchscreen is not among them. The bright 7.5-inch LCD display screen is easy to see and use and offers helpful workout information. It also has an integrated tablet holder. It's Bluetooth-compatible, so you can listen to your own music through the E35's speakers or plug the phone directly into the speakers using a cord.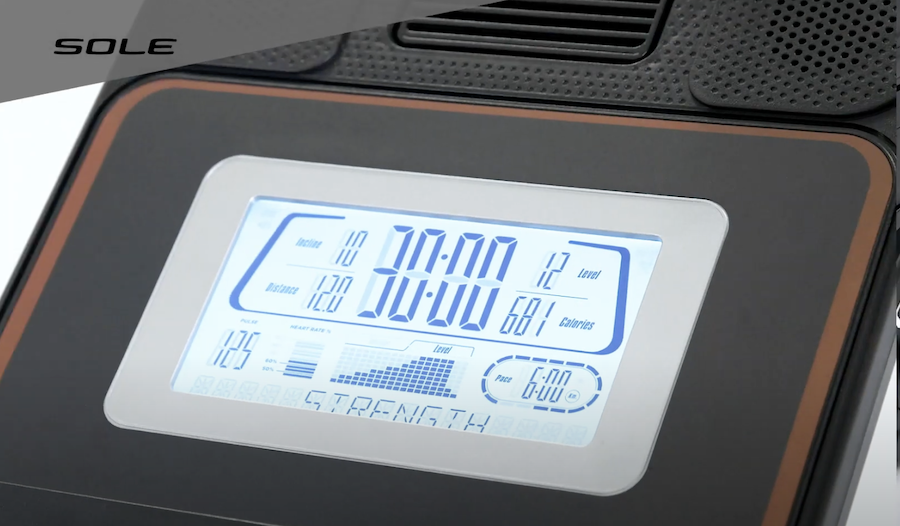 One of my favorite features is the USB charging port on the side of the display console. It comes with a chest strap heart rate monitor, or you can use the heart rate monitor on the stationary handlebars.
You can take advantage of the E35's 10 built-in workout programs, or stream Sole's workout platform Studio—in the same vein as other fitness apps like iFIT or Peloton—on your own device for access to more than 3,000 classes at your fingertips
Comparison to Sole E25, E55, and E95
Sole's elliptical line has six models, including the E25, E55, and E95. The E35 is the second most budget-friendly option. And while all four of these models have Bluetooth compatibility, USB ports, and 20-inch stride lengths, check out how the E35 compares.
| | | | | |
| --- | --- | --- | --- | --- |
| Elliptical model | Sole E35 | Sole E25 | Sole E55 | Sole E95 |
| Price | $1,699.99 | $1,799.99 | $2,799.99 | $3,399.99 |
| Footprint | 71" x 82" x 31" | 71" H x 70" L x 24" W | 71" H x 71" L x 27" W | 71" H x 82" L x 31" W |
| Warranty | Lifetime frame warranty, 5-year electronics and parts, 2-year labor | Lifetime frame warranty, 3-year electronics and parts, 1-year labor | Lifetime frame warranty, 5-year electronics and parts, 2-year labor | Lifetime frame warranty, 5-year electronics and parts 2-year labor |
| Flywheel Weight | 25 pounds | 20 pounds | 20 pounds | 27 pounds |
| Weight Capacity | 375 pounds | 350 pounds | 375 pounds | 400 pounds |
| Adjustable Pedal Levels | 3 | 0 | 10 | 10 |
| Screen | 7.5" LCD | 6.5" LCD | 9.0" LCD | 10.1" TFT LCD |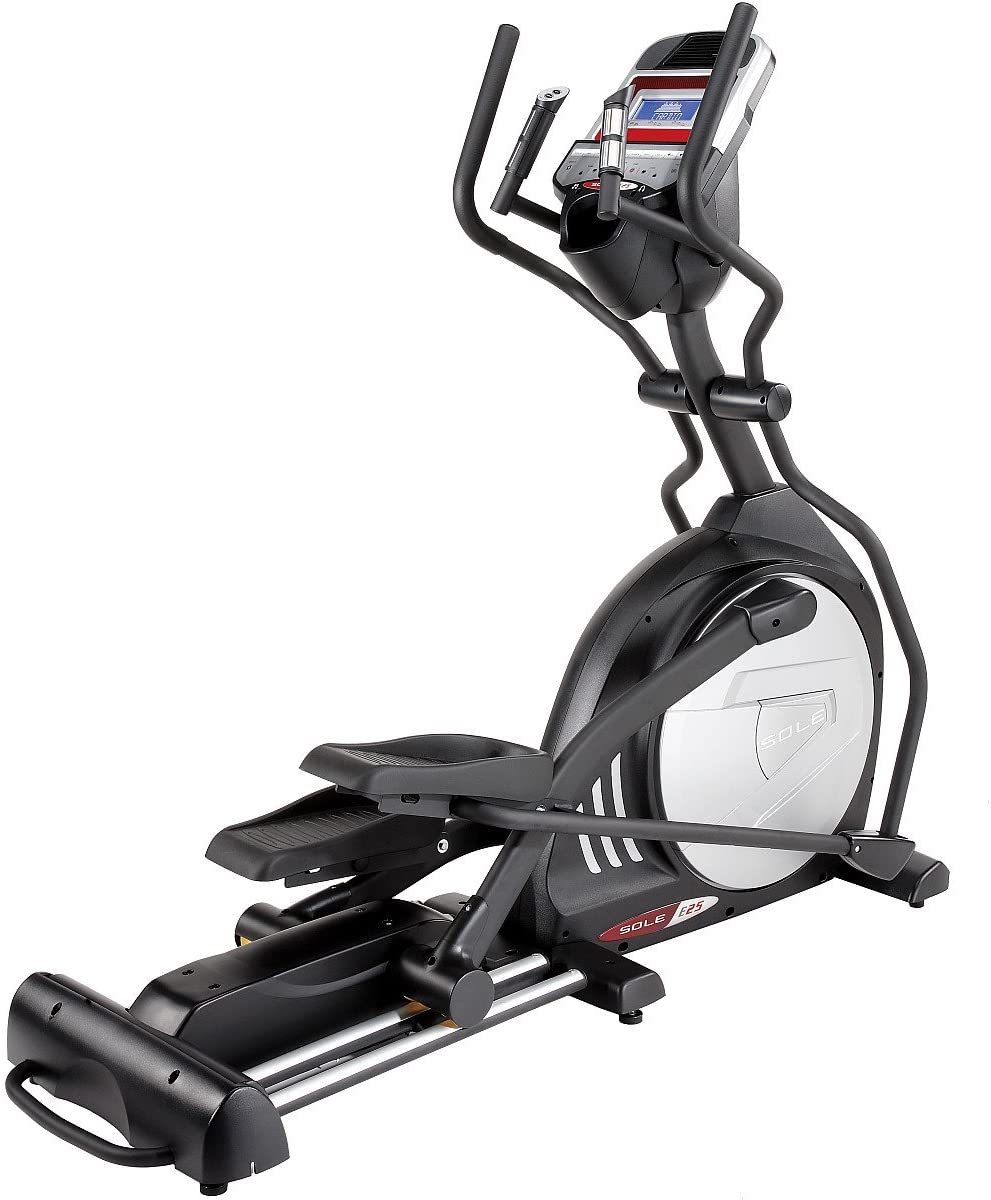 Sole E25
The SOLE E25 Elliptical provides effective workouts through its use of comfort and natural feel. The quiet front drive system, inward foot pedal design, and heavy duty steel frame all create a smooth, effective workout. In addition to the challenging workout programs, the E25 also now includes blue tooth audio and technology. Plus, enjoy a 30-day free trial of STUDIO with the purchase of a a SOLE machine. STUDIO is $19.99 per month and allows users to view a variety of workout classes on-demand.
Sole E55 Elliptical
The Sole E55 elliptical is a sturdy and thoughtfully designed product from a highly reputable manufacturer. Like Sole's other ellipticals, the E55 is equipped with 2-degree inwardly sloped adjustable foot pedals designed to reduce stress on the ankle and knee.Featuring six standard, two custom, and two heart rate programs, users have a lot of variability in training options. Twenty levels of power incline enables a wide range of intensities suited for beginner and experienced cardio junkies alike. In conjunction with all this, the 15-inch pedals have a generous 20-inch stride length and glides both forward and backwards so users can target different muscle groups. The Sole E55 comes equipped with many notable conveniences. Built-in cooling fans, a water bottle holder, Bluetooth speakers, an integrated tablet holder, and USB port keep you cool, hydrated, and entertained. Monitor your fitness metrics on the 9-inch LCD backlit display then download the Sole app for free and transfer the information to FitBit, Record, MapMyRun, or Apple Health. Users find that the Sole app is not very user-friendly but still a nice perk.Weighing over 200 pounds, this compact machine supports a maximum user weight of 375 pounds.The E55 is not easily assembled so you may consider recruiting some friends or hiring a professional.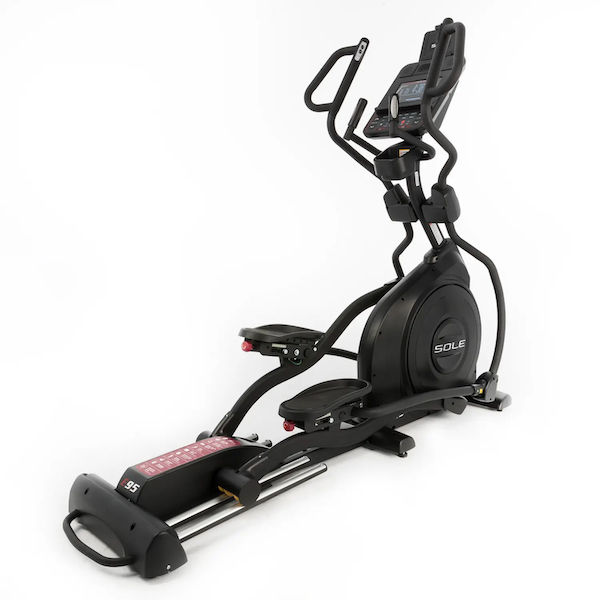 Sole E95 Elliptical
The Sole E95 elliptical is a substantial machine at 82 inches long and 71 inches high. It comes equipped with 20 different levels of incline and resistance, you're able to target different muscle groups and vary your workouts. The Sole E95 comes with competitive additions such as a 10.1-inch TFT display used to track metrics, and a tablet holder with a USB port to charge your device. If none of that works for you, there are also Bluetooth audio speakers that you can use to listen to music. The machine itself provides a fluid and natural motion all while remaining quiet due to its heavy, 27-pound flywheel. The machine can also move in both forward and backward motions. Sole highlights the E95's pedals, which use a "worm drive." This feature allows you to adjust the pedal angles to fit how you specifically walk, which supposedly can help reduce injury.
Customer Experience
Most customers have a positive experience with Sole. However, it's a bit of a mixed bag on how long you may wait on hold. Some reviewers waited for hours, while others got straight through. But overall, they're helpful, fulfill warranty obligations, and get fixes out in a timely manner.
Warranty
The Sole E35 comes with a lifetime frame warranty, a five-year warranty on electronics and parts, and a two-year warranty on labor. It's best to register the elliptical as soon as it arrives because it cuts down on the time it takes to activate your warranty and schedule repairs if needed.
Return Policy
Sole honors a 30-day return policy on units purchased through the Sole website. That 30 days starts as soon as you receive the elliptical or the date of assembly if you paid for professional assembly.
Ordering and Assembling the Sole E35 Elliptical
The Sole E35 Elliptical comes with free curbside delivery. That could be at your literal curbside or garage, depending on how difficult it is for the delivery truck to get to your home. For an additional $300 fee, you can opt to have the elliptical delivered to your room of choice and assembled. However, assembly gets scheduled three to five days after delivery.
You can assemble it yourself, but it can take a couple of hours. Sole provides all the tools, manuals, and videos to help with assembly. Kate assembled the E25 herself, and she stated that it was confusing and cumbersome. Reviewers report that the instructions are vague and difficult to follow. And, while it comes with all of the necessary hardware, the vague instructions make it difficult to put the hardware in the right places.
Final Verdict of Our Sole E35 Elliptical Review
If you're looking to purchase an elliptical for your home that will feel just as solid as the ones you find at the gym, the E35 can do it. The build quality and performance are definite stand-out features. However, it's a big machine, and the assembly process can be daunting.
The Sole E35 has a solid, sturdy build that doesn't wobble when you push your pace.
Twenty incline levels let you target specific muscle groups in the lower body.
A lifetime frame warranty, five-year warranty on parts and electronics, and two-year labor warranty offer excellent protection from defective materials and premature breakdown.
Sole E35 Elliptical Rating
Sole E35 Elliptical
In this Sole E35 Elliptical Review, we'll let you know how this machine stacks up in footprint, technology, and more.
Product Brand: Sole
Product Currency: $
Product Price: 2799.00
Product In-Stock: InStock
Sole E35 Elliptical Review FAQs
What year was the Sole E35 elliptical made?
The Sole E35 Elliptical hit the market in 2012 and gets periodic updates every few years.
Are Sole Fitness ellipticals good?
Sole makes excellent home and commercial ellipticals. They have strong, solid frames, quiet movement, and six models with increasingly advanced features. You pay for that quality with a high price tag, but they're an excellent investment in your home gym.
How long does a Sole E35 last?
Warranties are a pretty good indicator of how long the manufacturer thinks the product will last. The E35 will probably last at least five years. If you're willing to make a few repairs, it can last even longer.
How heavy is a Sole E35 elliptical?
The Sole E35 elliptical weighs 231 pounds, so you won't be moving it easily!