We test and review fitness products based on an independent, multi-point methodology. If you use our links to purchase something, we may earn a commission. Read our disclosures.
An elliptical is a great piece of low-impact cardio equipment that can give your home gym a tangible boost no matter your fitness level. Since you're using both handlebars and foot pedals simultaneously, the elliptical machine can get your heart rate up and involve both your lower and upper body for a great cardio elliptical workout experience.
But where is the best place to buy an elliptical? There are plenty of ways to buy exercise equipment, and a lot of decisions you need to make: New or used? Order online or pick up in person?
For these questions and any others that may arise, we hope this guide will help you cruise through the process of buying an elliptical machine and get right to the part where it's sitting pretty in your home gym and helping you reach your fitness goals.
Where to Buy a New Elliptical
It can be difficult to know where to start when you're thinking of buying something new for your home gym, whether that be an exercise bike or an elliptical or something else. That's why we're here to help you explore the world of ellipticals and find the one that's best for you and your home workout.
Buying on Brand Websites
When in doubt, you can always visit a brand website like NordicTrack, Sole, Schwinn, or Sunny Health & Fitness, among others. This is a great option if you're thinking of buying an elliptical from a certain brand or two but aren't so sure about models. When in doubt, you'll always find accurate product information on a standard brand website.
Pros of Ordering From a Brand Website
Buying from a brand website will certainly be reliable if nothing else. You'll be able to find all the information you need about your prospective cross trainer: accurate specs, warranty, and price information along with updated photos.
Also, if you have a brand in mind but you're not sure which specific model you want, the brand website has all the different models gathered in one place so you can easily compare. The NordicTrack site, for example, has a function that allows you to view different models side by side to give you a better idea of what you're looking for.
Ordering through a brand website means that it'll be easy to activate the warranty of your product and also request customer service assistance for assembly, startup, or maintenance questions. I've found it always helps to speak to someone directly employed by the company who's manufacturing your product, as they tend to understand the technology better than a third party would.
Cons of Ordering From a Brand Website
You may be less likely to find sales or bargains on brand websites, and as a result, you may be paying full retail price for your elliptical. It's also possible that your product will take longer to ship to you than it would if you order through a third-party site like Amazon, so watch out for that.
I find it difficult to trust the product reviews found on brand websites as well. On the NordicTrack site, you can scroll through pages and pages of short five-star reviews that say things like "Great Job! " or "Awesome Possum!" (I'm not kidding, someone actually wrote that.) Clearly, the brand itself is less likely to push negative reviews to the front than a site like Amazon, where you can read detailed reviews from customers who both loved and hated the product in question.
Buying on Amazon
Amazon is the mecca of ordering anything online, and the site offers numerous options in the way of ellipticals. At the very least you'll be able to search through a bunch of models, and your elliptical will be shipped right to your door if you make a purchase. Even so, the site has some ups and downs we think are worth weighing before you buy.
Pros of Buying on Amazon
Amazon is seemingly everyone's go-to these days for ordering anything, and for good reason. Your product will usually come quickly, and there are sometimes shipping discounts on larger items (which could help you out with an exercise machine as bulky as an elliptical), especially if you're a Prime member.
I think the customer reviews are one of the best parts of ordering anything on Amazon. No matter the product, you can read pages and pages of both critical and positive reviews to help you make an informed decision about what you're ordering. People are passionate about their fitness equipment, and you'll definitely be able to find numerous helpful reviews for any elliptical model you're researching.
To that end, you can find most well-known elliptical models on Amazon, including high-end options, mid-range options like the NordicTrack Se9i, all the way down to your most basic budget ellipticals.
Cons of Buying on Amazon
Amazon has its downsides as well. First of all, I've found that Amazon product pages can be harder to navigate since the site is often throwing recommended product ads at you based on the model you're doing research on. As a result, it can be hard to zero in on the details you're looking for (i.e. specs, warranty, reviews) during the buying process.
As great as Amazon can be, it is a third-party site at the end of the day. If you have concerns about putting your elliptical together or activating its warranty, it might be more difficult to recruit the help you need through the Amazon platform.
Also, quality of product isn't always a guarantee on Amazon, especially if you're dealing with a reseller. Make sure to vet the source of your elliptical completely before going through with the purchase.
Buying in Stores
It seems like buying from a brick and mortar store becomes less common by the day, with sites like Amazon offering to ship products of any size right to your door. It makes sense, especially with a larger product like a cardio machine, but we still think you should know all the ins and outs of buying in-person in case you're considering pursuing the route of buying from a larger chain store like Dick's, Best Buy, or Walmart.
Pros of Buying in Stores
The in-person element is the most prominent benefit of buying from a brick and mortar store. The ability to examine your elliptical model in person before buying and visualize how it will look in your home gym can be very valuable.
From a customer service standpoint, I always think it helps to have a face-to-face conversation with someone if I have questions. This is possible with buying in stores, and you can make sure nothing gets lost in translation by simply chatting with an employee about the elliptical you're looking at.
Comparing models side-by-side can be helpful as well, and buying from a store can allow you to do so in person. With a machine as large as an elliptical, sometimes the pictures you find online won't do it justice.
You can also ship ellipticals from most major sporting goods stores, which is another plus.
Cons of Buying in Stores
Of course, you'll have to budget time to actually go to the store if you want to examine the models yourself, which can be more of a hassle than sitting down at your computer to browse online.
Also, though you might be able to ask your customer-service related questions in person, there's no guarantee that a sporting goods store employee will be an elliptical expert who can tell you everything you need to know. You might have to consult online customer reviews or brand-specific customer service in this case.
Oddly enough, there are a lot of elliptical models that aren't available for in-store pickup in major sporting goods stores like Dick's. It seems counter-intuitive, but you'll probably have to ship it through the website or order it in person to have it delivered to your home.
Where to Buy a Used Elliptical
Buying a used elliptical can sometimes be the better option, especially if you're on a strict budget. There are a number of places to do so, and we'll preview a few of them here to guide you through the process.
Play It Again Sports
Play It Again Sports is a chain of sporting goods stores that specializes in used and discount products. They have both a well-developed website and various brick-and-mortar locations across the country, giving you the opportunity to browse ellipticals both online and in-person. We think Play It Again could be a viable option if you know you want a used elliptical.
Pros of Going to Play It Again
Play It Again Sports offers options to ship products right to your door, reserve products online to pick up in store, and to go through the entire buying process in store in a concrete location. This versatility gives you some leeway if you aren't sure how you want to buy and need some time to browse.
The in-person option is helpful in that it allows you to see the condition of the machine you'll be taking home with you up close. This is especially nice for a used elliptical, as you can get confirmation that the model is intact and fully functional before you buy.
Honestly, I was pleasantly surprised by the selection of products available on the Play It Again website. It seems like they have a solid number of used options for both budget and high-end elliptical models.
Cons of Going to Play It Again
As with any reseller, you're essentially at the mercy of what they have available and in stock. If you have a certain make and model in mind, there's no guarantee you'll be able to find it at Play It Again, and you might be suited to buying another way.
If you choose to order online through Play It Again's website, the shipping rates aren't uniform because they ship products from so many different locations. For example, if you live in Ohio and you find a great model you like that's shipping from a Play It Again location in Wisconsin, you'll probably pay more in shipping costs (and have to wait longer for your elliptical to arrive) than if you shipped something from a closer state.
Play It Again also doesn't have as many locations as some of the nationwide corporate chains. For example, Dick's has 768 locations in the United States, while Play It Again has fewer than 300 stores in all of North America. This can make in-person shopping more difficult if there isn't a store near you.
Facebook Marketplace
Facebook Marketplace uses your location to show listings for products being sold near you by other Facebook users. So if you type in "ellipticals," the site should present you with a bunch of people reselling ellipticals in your area.
It's a useful tool, especially for buying used since you're dealing with people right in your area. However, it's not perfect, and we'll explain why.
Pros of Using Facebook Marketplace
One of the best things about FB Marketplace is the function that allows you to communicate directly with sellers to ask them questions about the product, debate price, or develop a pickup strategy. When purchasing something like a used elliptical, it helps to be able to know the seller's experience with the product and get a gauge for exactly how good the condition is.
You can also find great bargains on Facebook Marketplace. When I searched "ellipticals," I found used machines being sold for as low as $100 and even some for around $300 that were advertised by the seller as never having been opened.
One of the other features I like is that you can rate your experience with the seller to prevent people from being scammed. Each seller has a rating out of five stars; if you scam someone and they rate you 1 star and give you a scathing review, people will start to figure out what's going on.
Cons
One of the downsides to Facebook marketplace is that it's kind of a toss-up regarding what brands and models will be available, as it's all based on what people are looking to sell. If you have a specific model of elliptical in mind, there's no guarantee that someone near you will be selling it.
You also risk sacrificing product quality when buying through any third-party site, and FB Marketplace is no exception. While a lot of people may be up-front about what they have to offer, it's possible people could be lying about the condition of their used elliptical on the site to make a quick buck. Make sure to vet your seller thoroughly before you buy.
The other issue with buying through Facebook Marketplace is devising a strategy for actually getting the product into your home once you buy. You're not buying directly from a brand or Amazon, so shipping it isn't always an option. I'd advise to be prepared to work out a meeting point with your seller and come prepared with all the equipment you need to move your elliptical yourself.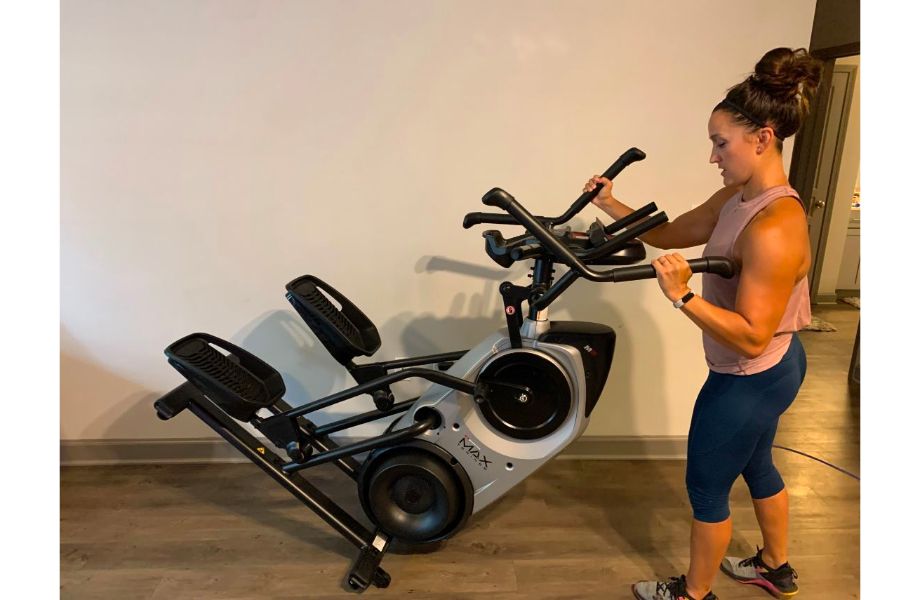 How Can I Save Money When Buying a New Elliptical?
Grimacing at the sticker price of your new elliptical? Fear not, GGR is here to help!
Here are some of the ways you can save money on an elliptical through GGR:
Aside from our site, keep an eye out for discounts on Amazon, financing options available for each model, and holiday sales hosted by each brand.
Things to Keep in Mind Before Purchasing an Elliptical
Adding an elliptical to your home gym is a big decision, both financially and otherwise. These are some things we think you should consider before you pull the trigger.
Warranty: New vs. Used
One of the benefits of buying a new elliptical is that it'll likely come with some kind of warranty that protects your money if the machine breaks or malfunctions within a certain period of time. For example, Sole offers three- to five-year warranties on the electronics and parts of some models, along with a lifetime warranty on the frame.
This is less likely to be included with a used machine, especially if you buy through a reseller. You might be out of luck if you purchase a used elliptical and it breaks soon during training, so keep that in mind when you're making your decision to buy.
RELATED: Elliptical vs Rowing Machine
Delivery and Installation
The good news is that if you buy online, there's almost always an option to ship the elliptical right to your door. However, it's less certain as to whether assembly services will be included, so make sure you do research on that and buy the appropriate supplies to put together your elliptical by yourself so it's ready for home use.
If you're buying in person, though, you might have to take your elliptical cross trainer home yourself. Delivery services may be available, but that depends on where you're buying from.
Ellipticals (especially the flywheel portion) are heavy; make sure you have a vehicle with enough room to transport the elliptical back to your home, whether that be a truck, van, or something else.
Also, ellipticals are large machines that will take up a lot of space in your home gym. Consider opting for something compact if you're facing a space constraint.
RELATED: Best Compact Elliptical
Price
Naturally, a used elliptical will probably be cheaper than a new elliptical (unless you're buying a gently used state-of-the-art model vs an unused, yet out-of date model). However, one of the benefits of buying a new elliptical is that you can finance your purchase and pay for it over a series of installments. This is a popular feature on Amazon and is available on some brand websites as well, and can help relieve some of the immediate financial burden of buying an elliptical.
For more pricing information, check out our guide on how much an elliptical costs.
Technology Features
Everyone's technology preferences are different; some are okay with the bare minimum and others want more add-ons and luxury features. Here are some features to consider before you buy:
LCD screen vs LED touchscreen monitor
iFIT compatibility and other downloadable workout programs
Add-ons like water bottle holder
Heart rate monitors or pulse sensors
Ergonomics and comfort features
Adjustable stride
Bluetooth connectivity
Make sure you're familiar with the tech specs of your machine before you buy. A high price point model like the Bowflex Max Trainer M6, for example, costs a lot but isn't decked out with new tech. Do as much research as you can to make sure you get your money's worth.
Especially if you're buying a used elliptical, you might be stuck with some out-of-date tech. It's also worth noting that the more tech features you want, the more you'll likely have to pay for them.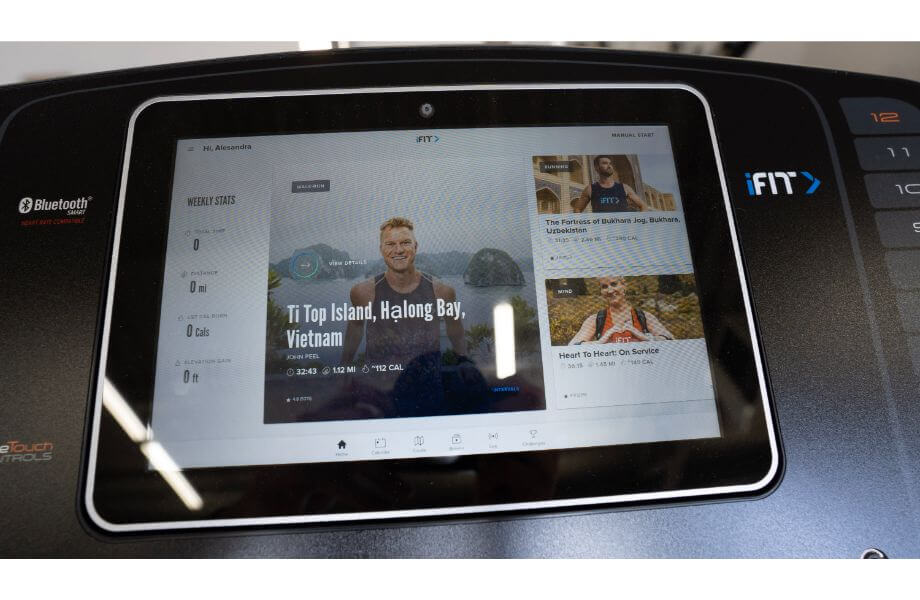 Final Verdict
In the end, there is no one place that's best to buy an elliptical. It all depends on what you're looking for and what you need for your home gym.
Ellipticals are a great cardio machine; they're good for all kinds of cardio — including HIIT elliptical workouts — and thus benefit your health and wellness the way any good fitness machine would.
You can't go wrong with adding an elliptical to your home gym, just make sure you do your research and have your priorities established before doing so.
Best Place to Buy an Elliptical Q&A
What is the best elliptical machine to purchase?
There's no one singular best elliptical to buy, as each buyer will have different needs. Check out our list of best home gym ellipticals for more information on some of our favorite picks.
What are the top 5 ellipticals?
After testing dozens of models, our favorites are:
What time of year is best to buy an elliptical?
Black Friday through Cyber Monday is when you'll see most brands offer discounts on ellipticals. We have dedicated holiday sales pages where you can find the biggest sales.
How do I decide which elliptical machine to purchase?You'll want to consider factors like budget, footprint, space constraints, and technology preferences, among other things. Check out our elliptical buyer's guide for more information on how to navigate the buying process.