We test and review fitness products based on an independent, multi-point methodology. If you use our links to purchase something, we may earn a commission. Read our disclosures.
Admittedly, I am someone who primarily trains with barbells and dumbbells. I typically avoid cardio at all costs. However, there is something intriguing about an interactive app that leads you through a variety of heart-pounding workouts from dumbbell sessions to treadmill-specific workouts.
For the first time, I got an up-close-and-personal experience with two of the best workout apps on the market: the Peloton app and iFIT. I'm going to break down the differences and show you the similarities in this Peloton vs iFIT showdown so you can make a choice on what app is right for you. 
Peloton App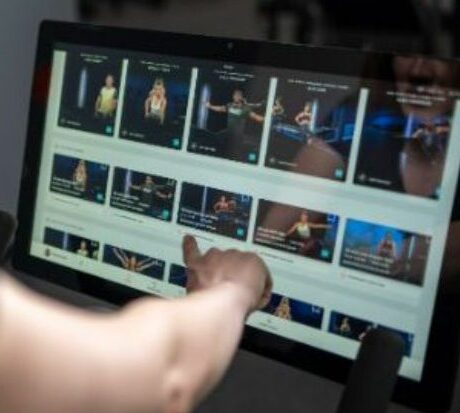 GGR Score: 4.5
Product Highlights
World-class workout classes
Variety of fitness routines
On-bike and off-bike workouts
Don't need a Peloton bike to sign up for the app
Pros & Cons
Pros
World-class programming
Not just bike workouts
Can be used all over the world
Keeps tracks of all training metrics
Train from the comfort of your own home
30-day free trial
Cons
Costs $39 per month
Required to access Peloton Bike's features
Bottom Line
The Peloton app is one of the best training programs we've come across on any piece of exercise equipment.
iFIT App
GGR Score: 4.2
Product Highlights
Over 16,000 live and on-demand

classes

More than 60 types of workouts

Immersive experience

Classes filmed worldwide

Live races and events

World-class trainers

Syncs with Nordictrack and ProForm equipment
Pros & Cons
Pros
At-home training
World-class coaches
Immersive training experience
Vast library of workouts
Record and track workout metrics
Individual and family memberships available
Free trial
Cons
Pricey for some
No true path for progression
Bottom Line
iFIT offers fitness lovers versatility with machine-based classes and classes that do not require anything more than a towel or mat. Anyone looking for a home-exercise program will be hard pressed to find a more technology forward, expansive and inclusive platform than iFIT.
Peloton vs iFIT Comparison Chart
| | | |
| --- | --- | --- |
| | Peloton | iFIT |
| Price per month | $12.99 per month, all-access membership $44 per month | $15 per month for individuals, $39 per month for family plan |
| Types of training | Bootcamp, boxing, barre, cycling, hiking, walking, stretching, pilates, rowing, yoga, running | Bodyweight, cycling, HIIT, treadmill, rowing, strength training, yoga, pilates |
| Live workouts | Yes | No (only live races) |
| Number of users | 5.9 million members | 6.1 million members |
| Number of instructors | About 50 | About 180 |
| Number of on-demand classes | Over 10,000 | Over 16,000 |
| Avenues to access | App available through Google Play or the Apple App Store on any smart device (including Apple TV, Fire TV, and Roku TV); Peloton Tread, Tread+, Bike, Bike+, and Guide | Available on the Amazon App Store, Apple App Store, or Google Play on any smart device (including Roku TV and Apple TV); compatible rowers, treadmills, ellipticals, exercise bikes, fitness mirrors, cross trainer machines, and functional trainers |
| Heart rate monitoring | Apple Watch-compatible | Available through ActivePulse arm strap |
Quick Look: iFIT vs Peloton
Look, the thing is, both of these apps will likely give you what you're looking for. They offer equipment-specific training for treadmills, bikes, and rowers. Additionally, both apps have weight training, HIIT, and yoga. Although these apps are similar, there are some variables in exercise categories like boxing, hiking, and pilates.
Peloton and iFIT are apps that offer quality fitness experience as a standalone product, meaning you can use the app with nearly any type of fitness equipment you already own. To take it to the next level, both apps are designed to enhance your workout experience when you use the corresponding cardio equipment—the Peloton app is used with Peloton equipment and the iFIT app is used with either NordicTrack or ProForm.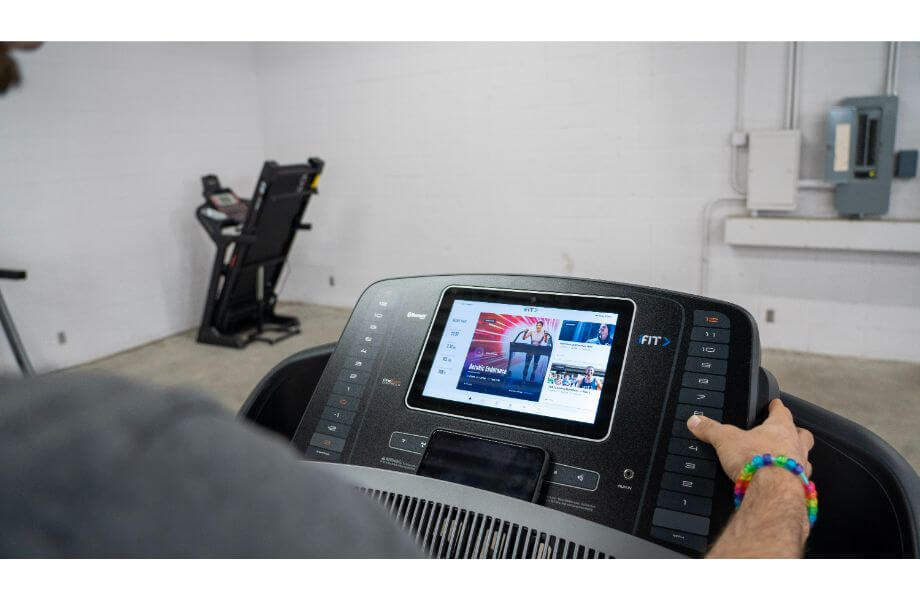 Overall, I think both apps offer a huge range of categories with the ability to follow along at your own pace, which means both apps are suitable for beginners or experienced individuals. It's also worth noting how easy it is to pause videos in either app to breathe or grab water.
If boot camp-style classes are where your heart is in the fitness world, both apps have a lot to offer. If you are committed to heavy lifting and barbell training, the Peloton vs iFIT debate might be insignificant to you. Unless, of course, you're like me and you know you should do more things that increase your heart rate (beyond sets of five repetitions).
The truth is the app that excites you and makes you want to workout is the app that's best for you—regardless of how popular it is.
GGR Head of Content Kate Meier shares her insights on iFIT by saying "It is worth the money if you're actually going to use it for runs and off-treadmill workouts. Then the app becomes almost like a built-in personal trainer."
What's better than logging in from the comfort of your own home and being greeted with workout choices and a pumped-up coach?
Nicole Davis, GGR editor, has experience with both apps and says, "What makes Peloton great in my eyes is the caliber of instructors and production." I can agree—I think the video and sound quality adds to the experience. "There's someone for everyone, and with the array of class types, I guarantee you'll find something you enjoy to do," Nicole adds.
Who Should Buy the Peloton App
Anyone who owns a Peloton exercise equipment
Anyone with a cardio machine (of any brand) who wants interactive fitness classes
Folks who get fired up over live classes with leaderboard-style competition
People who want to connect an Apple Watch with the fitness app
Anyone who likes catchy, popular music to go along with workouts
Who Should Buy the iFIT App
Folks who like the idea of on-demand classes
Anyone who owns NordicTrack or ProForm cardio equipment
Families who want to create multiple user profiles (and use them at the same time)
People who want to incorporate strength training sessions into their fitness routine
Anyone interested in scenic rides and runs in addition to cool features with Google Maps
Key Similarities Between Peloton and iFIT
It's worth mentioning that I used my iPhone to test both apps, and while I have not personally used either app on an integrated machine, many on the GGR squad have. That said, both apps as a standalone product are engaging, easy to navigate, and visually appealing.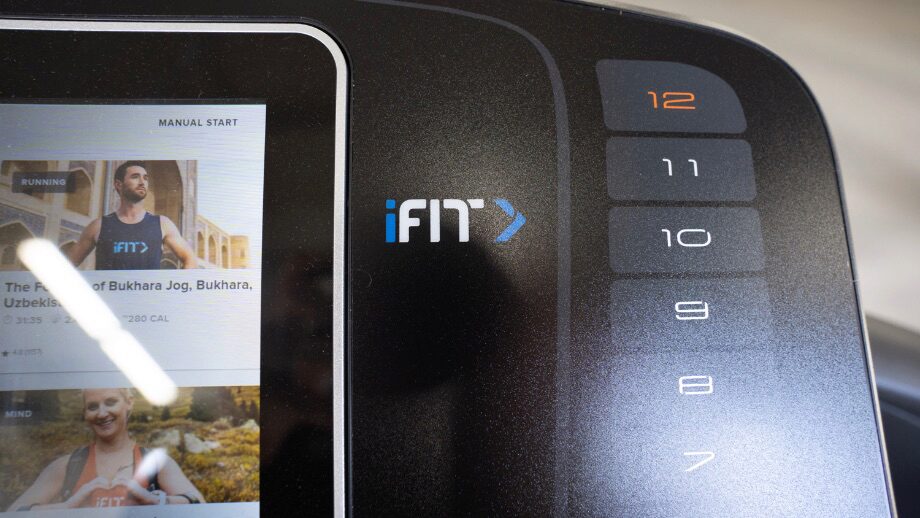 I like that I could easily find my workout history on each app and scroll to find new workouts and categories without any issues. I found both Peloton and iFIT workouts to be challenging and offer a lot of similar things for subscribers. Let's take a look:
Mix of studio and outdoor settings
High-quality video production
Quality sound and easy-to-understand instructors
Small selection of classes with native Spanish- and German-speaking instructors
Cycling classes
Treadmill sessions (both running and walking)
Rowing workouts
Mindfulness and meditation
Tracking metrics, performance, and workout history
Free 30-day trial
Important Differences: Peloton vs iFIT
The truth is, if you're looking for instruction and coaching to get through heart-pounding workouts, you'll be in good hands with either top-name app. However, I feel comfortable saying that Peloton will be best-suited for anyone who enjoys boutique studio workouts and bootcamps, while iFIT will be best-suited for folks who enjoy a mix of outdoor scenery and indoor sessions.
Peloton does have a small quirk when using the app alone (and not through a Peloton Bike or Tread): You're not able to attend live classes and see the leaderboard metrics. However, if you own Peloton equipment, you'll have the ability to sign up for the all-access membership to access the live sessions, participate in the leaderboard standings, and create up to five user profiles for the whole family.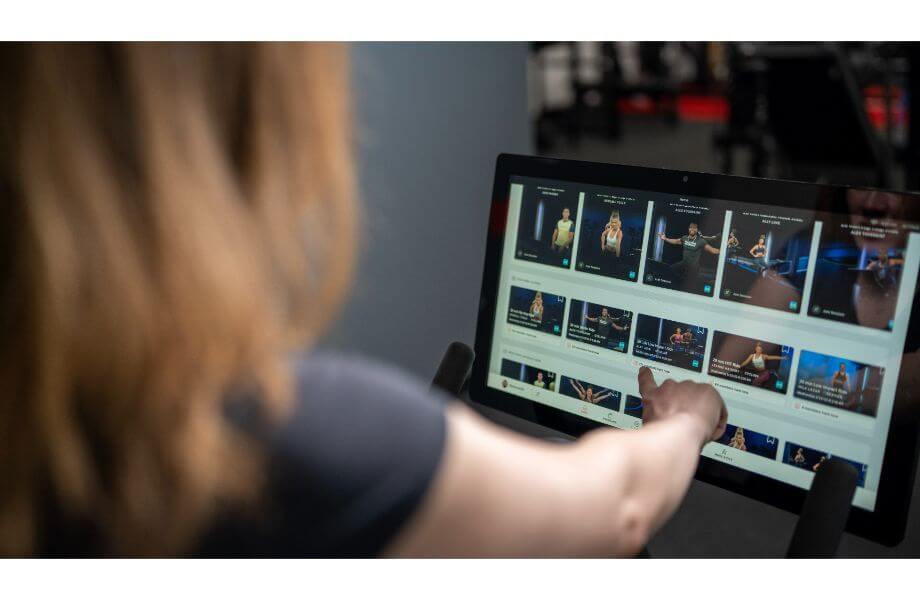 This community aspect is what so many Peloton customers adore about the brand. During a live session, you can even send fellow classmates virtual high fives while you work out (how fun!).
Here are some of the main differences I found when using both apps on my smartphone:
iFIT
Offers elliptical-specific workouts
Volume control to separately adjust background music and instructor's voice
Outdoor workouts are often set in dramatic landscapes around the world
Drop a pin and follow courses anywhere in the world with the Google Maps feature
Auto-adjust technology manipulates resistance levels, speed, and incline/decline based on trainer cues or Google Maps terrain
Family plan allows members to use their iFIT accounts simultaneously
Does not offer live classes, only on-demand sessions
Peloton
Audio-only feature to follow along with for outdoor workouts
Heavy focus on studio classes
Creates pumped-up playlists to turn up the vibe in workout classes
Instructional sessions on stretching and mobility
Offers a schedule of live classes with a live leaderboard showing your metrics (for all-access members)
Types of Workouts Offered
Whether you're streaming directly through your equipment's touchscreen or using a smartphone or tablet, both apps offer a vast library of workouts. There are also several NordicTrack and ProForm machines that offer Bluetooth connectivity to use your own device and still have access to auto-adjust technology.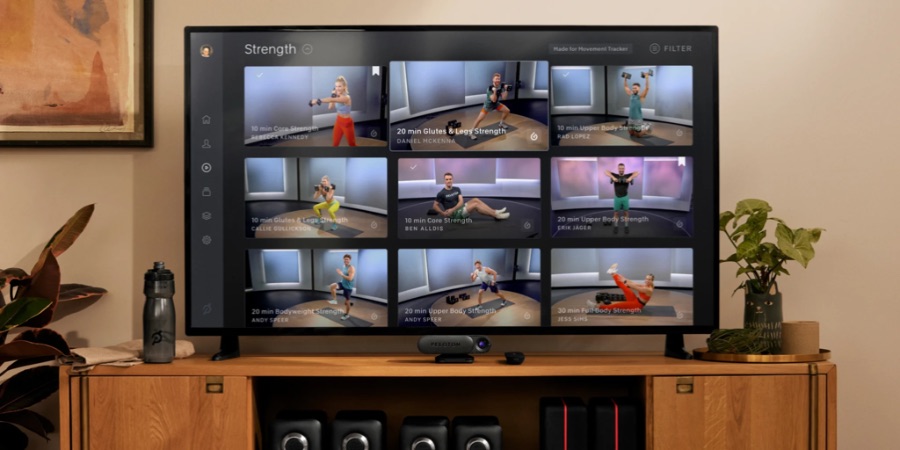 Both apps are set up in a way that tracks your past workouts and recommends new workouts for you with the more data that is collected. Here is an extensive list of categories each app offers:
Peloton classes offered:
Bike Bootcamp
Walking
Cycling
Stretching
Tread Bootcamp
Running
Meditation
Outdoor
Yoga
Strength
Boxing
Pilates
Barre
iFIT class categories:
Runs
Walks
Strength
HIIT
Cycling
Rowing
Elliptical
Yoga
Pilates
Mindfulness
Barre
Customer Experience
Both apps are available through Apple devices and Android devices and can even be streamed through a smart TV. It's worth noting that neither app has an in-app help feature. You will have to use the website for the live chat feature or fill out a general inquiry form.
In the case of iFIT, the menu does have a help screen but it automatically navigates to iFIT.com for further support. That said, our collective GGR experience with iFIT customer service is hit-or-miss—we know this because we've had extensive product testing experience with iFIT, the parent company of NordicTrack and ProForm. With most inquiries, the response time lags compared to other companies in the fitness industry.
Honestly, the same goes for Peloton. Our expert product testers have had a wide range of experiences with Peloton customer support. However, that is mainly with exercise equipment— app-specific support might be more straightforward.
Customer Reviews
Both apps have high ratings on the Apple App Store and thousands of reviews to read through. In both cases, I found that most complaints happen when the brand pushes an app update through the platform.
iFIT has a 4.6-out-of-5-star rating on the Apple App Store and from nearly 39,000 customer reviews. The Peloton app has a 4.9- star-s out- of- 5-star rating with a whopping 696,000 customer reviews.
Final Thoughts on Peloton vs iFIT
Much like any piece of actual fitness equipment, the one you actually use is the one that is worth it. Although there are a lot of similarities with both apps, there are a few differences that might stand to be appealing to you. Overall, here is what I liked about both:
High-energy instructors
Quality audio and video
Huge range in workout styles and length of workouts
Both apps are under $20 per month for individual base plans
Mediation and/or mindfulness offerings
Peloton vs iFIT FAQs
How much is the Peloton and iFIT membership?
The iFIT individual plan is $15 per month and the family plan is $39 per month. The Peloton app membership is $13 per month, and the all-access membership is $44 per month. If you have a piece of Peloton exercise equipment, you'll need the all-access membership.
How much is the Peloton and iFIT membership?
The iFIT individual plan is $15 per month and the family plan is $39 per month. The Peloton app membership is $13 per month, and the all-access membership is $44 per month. If you have a piece of Peloton exercise equipment, you'll need the all-access membership.
Can you watch Netflix on Peloton?
No, Peloton fitness equipment with built-in touchscreens is designed to only stream the Peloton app. 
Is the Peloton Bike worth the hype?
The exercise bike itself is a quality machine (but certainly not the best we've tested). However, when you buy a Peloton machine, the value is in the entire experience of the machine, including the trainers and array of live and on-demand classes. For cyclists, the Peloton Bike gives you an at-home boutique experience. 
What burns more fat: Peloton bike or treadmill?
Cardiovascular exercise in general helps aid weight loss and get you close to your body composition goals. However, you cannot target or spot-treat fat loss. In that case, choose the cardio machine that best suits your needs. An exercise bike offers a more low-impact workout while treadmill workouts can help stimulate bone density. 
What bike is most like a Peloton?