We test and review fitness products based on an independent, multi-point methodology. If you use our links to purchase something, we may earn a commission. Read our disclosures.
Whoever led the marketing department when the name Muscle Milk was thought up deserves a pat on the back, because their products intrigue everyone from aspiring bodybuilders to high school athletes to everyday gym goers.
In this Muscle Milk review, we'll be focusing on their Genuine protein powder, which is said to help rebuild muscles after exercise with its milk-derived protein. We're going to break down this supplement to help you decide if it's right for you. Let's get moooo-ving.
Medical disclaimer: This article is intended for educational and informational purposes only. It is not intended as a substitute for medical advice. For health advice, contact a licensed healthcare provider. GGR also recommends choosing a product that has been third-party tested for quality.
Our Protein Intake—And Output—Is Through the Roof
As a team of certified personal trainers, nutrition coaches, and competitive athletes, we have become quite the connoisseurs of protein powders, testing nearly 50 varieties and counting to inform our protein powder reviews and best-of lists. We take them post-workout, as a snack, or even when whole foods aren't readily available, all to give you our honest thoughts about these products. So whether you're looking for the best protein powder for men, the best vegan protein powder, or even the best-tasting protein powder, we have you covered with our content.
Muscle Milk Genuine Protein Powder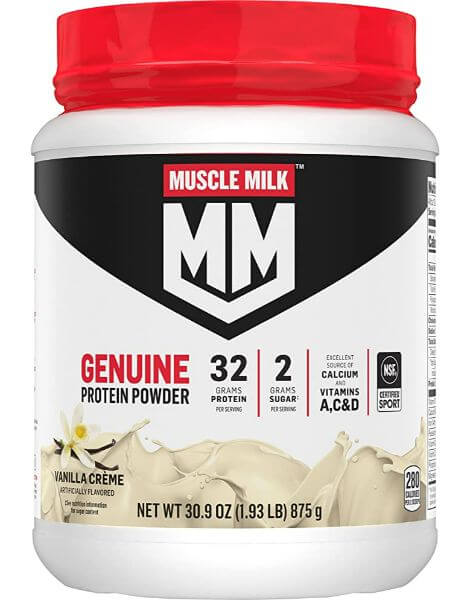 GGR Score: 3.75
Product Highlights
Delivering 32 g of protein, this shake is great following your workout

Slow-releasing proteins help build muscle

NSF-screened for 270 banned substances

Provides all 9 essential amino acids
Pros & Cons
Pros
NSF-certified for sport
High-protein content per serving
Lots of highly-rated flavor options
Cons
Higher in calories than other options
Relatively expensive
Contains sucralose and artificial flavors
Bottom Line
High in calories and protein, Muscle Milk Genuine Protein Powder isn't the best option for those looking for a snack, but it is a great choice for a post-workout drink to help your recovery.
A Quick Look at Muscle Milk
Muscle Milk is owned by Cytosport and offers ready-to-drink and powdered dietary supplements, including their Muscle Milk Pro Series of protein powder which offers 50 grams of protein per serving, as well as creatine, mass gainer, and even aminos.
Before You Buy
Know that Muscle Milk Genuine protein powder is higher in calories, carbs, and fat than most protein powders.
Muscle Milk products are NSF Certified for Sport, so athletes can consume them with confidence.
Is Muscle Milk Worth It?
Muscle Milk will be a good choice for some people, and others should probably opt for a different whey protein powder or a plant-based protein powder. It mostly depends on your goals, activity level, and stomach sensitivity.
Great for:
Athletes or extra-active individuals who need extra nutrition to support their training
Those looking for more of a meal replacement powder
Those who place a premium on third-party testing
Muscle Milk Specs
| | |
| --- | --- |
| Price per serving | $1.58 |
| Serving size | 2 scoops (70 g) |
| Flavors | Banana Crème, Chocolate, Cookies 'n Crème, Peanut Butter Chocolate, Strawberries 'n Crème, Vanilla Crème |
| Calories | 280 |
| Protein | 32 g |
| Carbs | 20-21 g (depending on flavor) |
| Fats | 9 g |
| Third-party tested? | Yes, NSF |
Experience Using Muscle Milk
I had the pleasure of ordering and testing Muscle Milk protein powder, and I went with the Vanilla Crème flavor. I'm a protein smoothie kind of girl, and I find that vanilla-flavored powder mixes best with the fruits and veggies I pile in it (so please don't come for me because of my basic choice!). I not only tried Muscle Milk in my smoothies, but alone mixed with both milk and water, to get a good sense of how it performs. Here's what I found.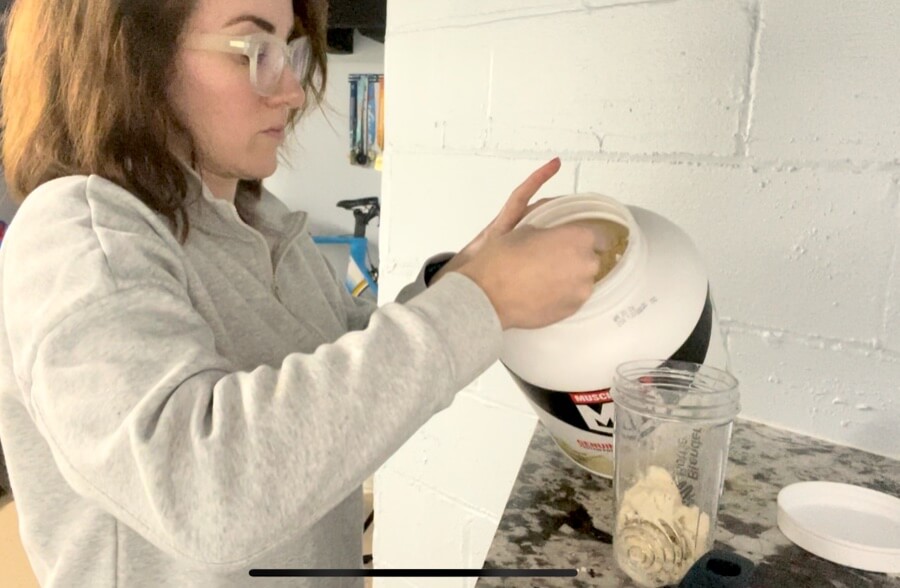 Price Per Serving
A 1.93-pound jar of Muscle Milk will cost you about $19 on Amazon at the time of this writing, or $1.58 per serving. That's around average for protein powders, but makes it a great value since each serving of Muscle Milk packs 32 grams of protein. For reference, GGR team favorite Legion Whey+ costs $1.99 per serving but only offers 22 grams of protein, while Optimum Nutrition's Gold Standard Whey is $1.55 per serving and provides 24 grams of protein.
Formulation
In each 2-scoop serving of Muscle Milk, you'll get 32 grams of protein, 21 grams of carbs, and 9 grams of fat. Let's dig deeper into these nutrition facts.
Protein
The protein content is impressive—good protein powders will typically offer 20 to 25 grams per serving—especially because we know how optimal protein is for building muscle1, particularly in combination with resistance training.
Muscle Milk's protein comes from both whey protein concentrate and milk protein isolate.
Whey protein comes from the watery portion of milk that separates from the curd during the cheese-making process, while milk protein comes from—you guessed it—milk. These are both dairy products, so if you're plant-based or vegan, Muscle Milk won't be the right fit for you.
Whey protein is touted as being quickly digested, and the optimal protein for putting on muscle mass 2 as it contains all nine essential amino acids. Amino acids are the building blocks of protein, and there are nine that we must get from our diet since our bodies do not manufacture them.
Whey protein concentrate is the most common form of whey protein, and is cheaper than whey protein isolate. However, whey protein isolate has a significantly higher protein content and is usually easier to digest because it has much less lactose—keep this in mind if you're sensitive to dairy.
Milk protein3 is one of the slowest-digesting proteins, containing both casein and whey. Casein4 is known for its slow-digesting properties, and is often used by fitness lovers to help with recovery when taken specifically before bed. The milk protein in muscle milk is in the isolate form, which means that the compound has a 90% protein content.
Carbs and Fat
A typical protein powder will be just that—mostly protein, with not many carbohydrates or fats. Muscle Milk has more carbs—21 grams—and fat—9 grams—than most protein powders, so it's more similar to a meal replacement, which would provide a good amount of all macronutrients. This is not good or bad, you'll just have to take this into account for your nutrition plan and goals, particularly if you're following an approach like macro counting.
Vitamins and Minerals
Muscle Milk also contains quite a few micronutrients, being a good source of calcium (45% RDV), vitamin A, D, and C (35% RDV), and magnesium (50% RDV).
Additional Notable Ingredients
Muscle Milk isn't necessarily what we'd call "clean," utilizing some additives and artificial flavors. It has non-dairy creamer in it (made with sunflower oil), as well as maltodextrin10 (an additive used for thickening and to improve mouthfeel), sodium caseinate 11 (a milk derivative and food additive used as a binder), canola oil, and medium-chain triglycerides, plus acesulfame potassium and sucralose as artificial sweeteners.
Taste and Solubility
As mentioned, I tried the Vanilla Crème flavor of Muscle Milk, and overall, I like it. It's a mild vanilla flavor, but pretty sweet, so if that isn't your jam, I'd look at a different flavor option. I think the Vanilla Crème flavor would be good for baking, or to put in dishes like oatmeal that could use a little extra protein boost.
What I don't love about Muscle Milk is that it's two scoops per serving, and that's just a lot of powder to dissolve into the recommended 8 ounces of liquid. The fact that it's a bit chalky doesn't surprise me, simply because of this. However, even though it is thick, it doesn't clump when mixed, so it has that going for it. And I will say that when I blend this into a smoothie the consistency is less of an issue. It doesn't taste like a milkshake necessarily, but it's pretty good nonetheless.
Side Effects
If you're lactose-intolerant or sensitive to dairy products, Muscle Milk is a no-go given its dairy content. Also, if you've never taken a protein supplement before, you may experience some initial gastrointestinal discomfort as your body gets used to the increased protein. This should subside in a few days.
Third-Party Testing
Dietary supplements do not have to be approved by the U.S. Food and Drug Administration (FDA) before being offered for sale, so testing by an independent agency is key to ensure that you're getting what the product's label says you are.
Muscle Milk is NSF Certified for Sport, which means that this protein powder is free from substances banned by major sporting organizations—a key consideration if you're a competitive athlete. We always recommend that you look for a third-party testing logo on your supplements before purchasing them.
Comparison to Body Fortress Whey Protein  
Body Fortress Whey Protein
GGR Score: 4.25
Product Highlights
Available in 5 flavors

30 g of protein per scoop

Contains vitamins C & D, plus zinc 

Mixes well and reportedly tastes good
Pros & Cons
Pros
High protein content
Mixes well
Added vitamins for immunity
Cons
Sucralose can cause GI problems
Large serving size
Reports of misleading allergen information
Bottom Line
If you do not mind artificial sweeteners or additives in your protein, Body Fortress Super Advanced Whey Protein provides 30 grams of whey protein per 45-gram serving.
Body Fortress is another protein powder with a relatively high protein content—one scoop has 30 grams of protein—and also some carbs and fat at 8 and 4 grams, respectively, per scoop. It only has 180 calories per scoop though, compared to Muscle Milk's 280.
The protein source in Body Fortress is a mix of whey protein concentrate and isolate, which makes for its lower fat content. There are some additional ingredients, similar to Muscle Milk, like maltodextrin, sunflower lecithin, and acesulfame potassium and sucralose for sweetener.
GGR head of content and product tester Kate Meier tried the chocolate flavor of Body Fortress whey protein and really liked the taste and consistency. "It's creamy, not overly protein-y, and very chocolatey."
With less carbs and fat and about the same amount of protein, those looking for a leaner protein supplement should go with Body Fortress whey. If you need more nutrients in your protein drink, Muscle Milk is a good choice.
Customer Experience
While Muscle Milk has a website, you can't buy directly from it—you'll need to use a retailer like Amazon, or even your local grocery store, to get your Muscle Milk products. If you're an Amazon Prime member you'll get free shipping, and can even take advantage of the subscription option to save 5 to 15% on your order.
I wasn't able to find any warranty information, and the return policy will depend on the retailer that you purchased your protein powder from.
Customer Reviews
Muscle Milk Genuine protein powder has a whopping 13,300 Amazon reviews at the time of this writing with a 4.5-star average rating.
Customers like the flavor options and versatility, but some did have some issues with solubility and others didn't like that it was more of a meal replacement shake than a lean protein shake.


Final Verdict of Our Muscle Milk Review
If you're a super active individual who needs extra nutrients to sustain your training, Muscle Milk could be a suitable option to support muscle growth.
With 280 calories per serving, 32 grams of protein, 21 grams of carbs, and 9 grams of fat, this is more of a meal replacement than a solely high source of protein.
This won't be suitable for vegans or plant-based eaters, or those who are lactose intolerant.
Because Muscle Milk is NSF Certified for Sport, even competitive athletes can consume this without worry.
Muscle Milk Rating
Muscle Milk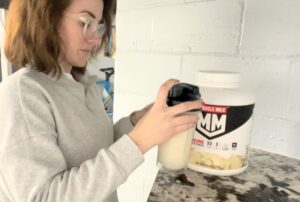 Does this protein powder live up to its name? You'll find out in this Muscle Milk review.
Product Currency: $
Product Price: 55
Product In-Stock: InStock
Muscle Milk Review FAQs
Is Muscle Milk drink good for you?
"Good for you" is a relative phrase, and it really depends on what your goals are. If you're looking to lose weight, Muscle Milk will not be as good of an option as another protein powder with less carbs and fat. If you're looking to sustain hard training or even gain weight, Muscle Milk could be a good tool to help you achieve that.
Does Muscle Milk actually work?
Muscle Milk can help support your muscle-building endeavors if utilized in conjunction with a proper nutrition plan and resistance training utilizing progressive overload. 
Is it okay to drink Muscle Milk every day?
While whole foods are always superior to supplements, sometimes meeting your goal protein intake through food alone is really difficult. In that case, utilizing a protein powder like Muscle Milk daily could be beneficial to your goals—that is, if you don't have any dairy sensitivities. It's best to speak with your doctor before you adopt any dietary supplements into your diet. 
What does drinking Muscle Milk do?
In conjunction with strength training and a proper nutrition plan, Muscle Milk can help build muscle by increasing your protein intake.  
These statements have not been evaluated by the Food and Drug Administration. This product is not intended to diagnose, treat, cure, or prevent any diseases.
References