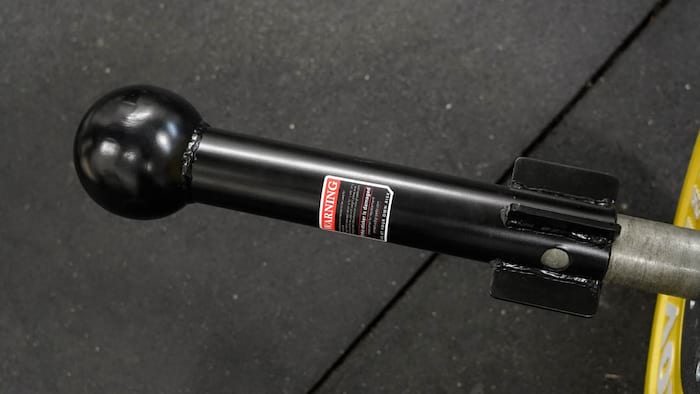 The barbell is the center of just about every gym, everywhere. Whether it's a garage gym like many of our readers have or a commercial facility, there are barbells to be found and used across the world.
And, due to the amount of barbells in the world, there's a lot of accessories that come out to increase the versatility of said barbell. Think about the squat rack, a decade ago, things like spinning pull-up bars, climbing holds, special j-cups, and leg rollers weren't even a thought in the minds of most gym equipment manufacturers. But, now they're standard, even for budget-priced racks.
This constant innovation is great for the industry and the consumer, and the Gripedo Trainers is the perfect example of this. They've taken a versatile piece of equipment, the barbell, and created an attachment that increases its functionality for an affordable price.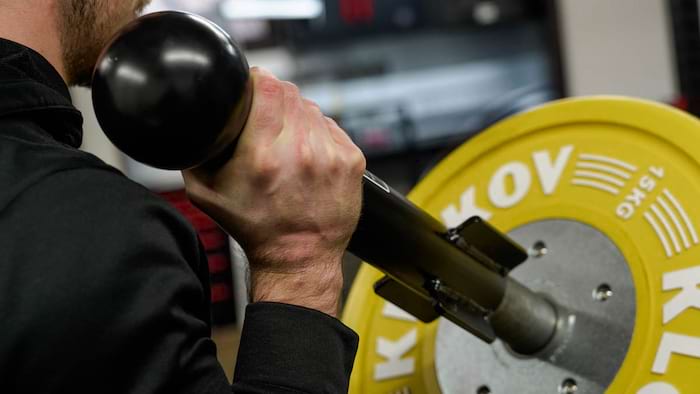 The Gripedo Trainer, as stated by its founder, Emre Bardakci, "is something I hope to empower people by enhancing their athletic performance with the biomechanical advantages of the exercises and the versatility.  I also envisioned that it would also give them a low impact, therapeutic tool for minimizing injuries, active recovery, physical therapy, prehab/injury-prevention."
Although the Gripedo Trainer has many different uses, I see it's bread and butter in three areas:
Grip Handle
Wrist Roller
Sand Bucket Grip Builder
Yes, that's a wide range of different exercises, but that's why we think it's such a cool piece of equipment, there's little out there that can compete with its versatility.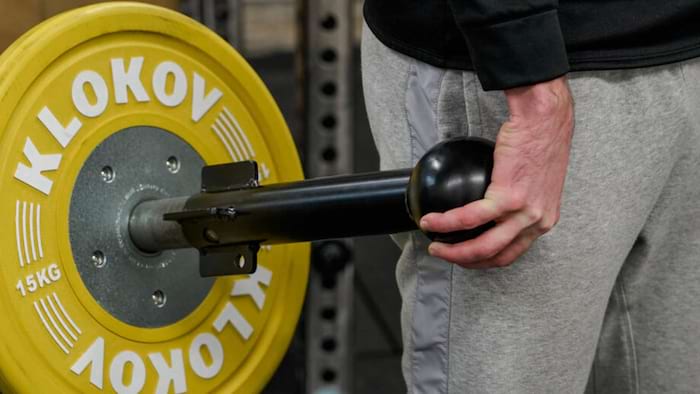 The Gripedo consists of a large 4" diameter ball head that is welded to a cylinder and blades welded onto the base of the cylinder. There are holes drilled throughout the handle for attaching ropes to increase its versatility to include things like wrist rolls. The entire handle is powder coated in a glossy black that has held up extremely well in testing.
Although we would like to see a more grippy powder coat used, overall, there isn't much we'd change to the construction.
To use the Gripedo as a handle, you simply slip it over a Loading Pin, we used the Rogue Loading Pin in testing, and slip the hitch pin through the Gripedo and Loading Pin. This allows you to use the loading pin for things like carries (we really liked using two Gripedo's at a time for farmer's walks,) swings (if you have the grip for them,) and deadlifts (awesome for increasing grip strength.)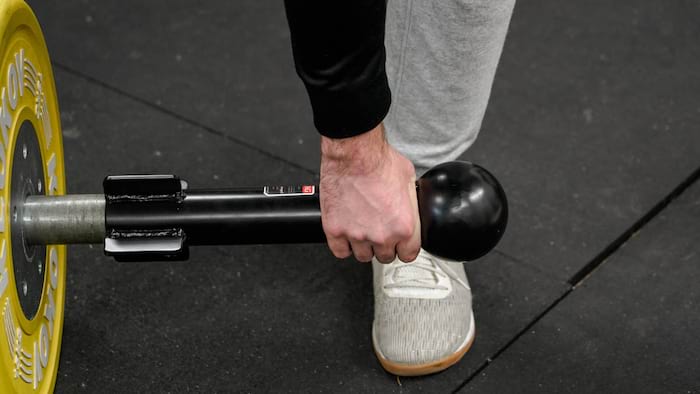 We've seen many different uses for the Gripedo when attached to a Loading Pin and it really just depends on your imagination.
In addition to being used on a loading pin, it can be used on the end of a barbell as a wrist roller. We would suggest using it on a bar with sleeves you don't mind getting marred up (definitely not on a Cerakote Bar,) but you simply place the Gripedo over the sleeve of a barbell and attach a string to the hole at the base of the Gripedo along with some weight.
When complete, the Gripedo can now be used as a traditional wrist roller or to be used with the ball head for unconventional wrist rolling. It feels a lot like doing weighted door knob turns and can absolutely torch your forearms with even a small amount of weight.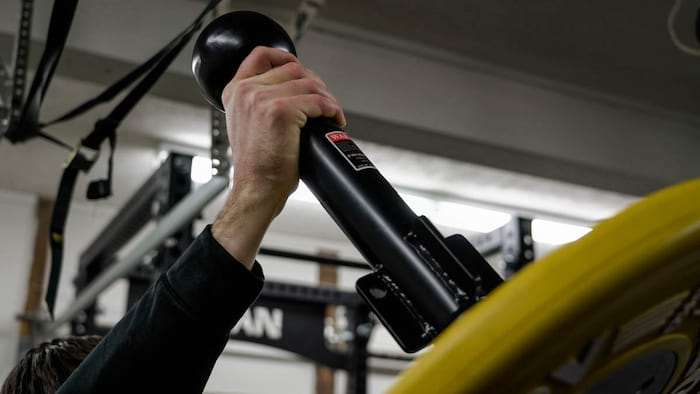 Finally, if your forearms aren't completely dead yet, the Gripedo is great for placing in a bucket of sand or rice to be spun and therefore giving you Popeye sized forearms. The blades at the base of the Gripedo are what allow this to work so well and although I don't foresee myself using this feature often, it's just another movement that the Gripedo can be used for.
There's no doubt about it that the Gripedo is well-designed to increase grip strength which will in turn increase pulling strength. If you can't hold it, you can't pull it (side-tip: want to increase your deadlift, increase your grip.)
There's definitely a couple of things we'd like to see improved with the Gripedo, most notably decreasing the price, but for a Made in the USA piece of equipment that has the versatility the Gripedo has, we still recommend it.