We test and review fitness products based on an independent, multi-point methodology. If you use our links to purchase something, we may earn a commission. Read our disclosures.
Ghost Lifestyle has no qualms about proudly proclaiming that their protein powder is (direct quote) F*&#!ing Delicious. Mostly, the reviews seem to agree with Ghost, but regardless, there's no denying that Ghost has made a name for themselves in the world of fitness.
So, we wanted to put together this Ghost Whey Protein Review to take a deep dive into this product that's been making such a splash. Here at GGR, we are no stranger to Ghost products (check out our Ghost Pre-Workout review), but we would be remiss if we didn't cover one of their most popular performance products that happens to come in some of the most interesting flavors you can find in the world of supplements.
Medical disclaimer: This article is intended for educational and informational purposes only. It is not intended as a substitute for medical advice. For health advice, contact a licensed healthcare provider. GGR also recommends choosing a product that has been third-party tested for quality.
We're Kinda Into Quality Protein—And Know a Lot About It, Too
Our team doesn't just test out and review the best protein powders as an excuse to gulp down the latest cereal-flavored variation of whey. We love giving you firsthand experiences of the products we review to give you the most honest and authentic reviews possible.
Having worked in sports nutrition for most of my career, I am comfortable saying I've encountered dozens and dozens of protein brands, because my job is to evaluate the ingredients and efficacy of supplements that athletes bring to me for review.
Thus, I make it my mission to give the best information about protein supplements I possibly can to consumers who are just trying to meet their fitness goals and looking for the products that can help, not waste their money. And everyone on our team has the same mission.
Ghost Whey Protein
GGR Score: 3.9
Product Highlights
Unique flavors including Chips Ahoy!, Nutter Butter, and Oreo

No proprietary blends

25 g of protein, digestive enzymes, and real cookie bits

May be used in baking recipes
Pros & Cons
Pros
Great taste
Unique flavors
Zero proprietary blends
Real Chips Ahoy! pieces
Mixes well
Cons
Some buyers reported a bad aftertaste
Contains sugar, high fructose corn syrup, and sucralose
Long list of ingredients
Bottom Line
If you don't mind artificial ingredients in your protein, Ghost Whey Protein is a solid choice as it is offered in unique flavors, each boasting 25 grams of whey protein.
A Quick Look at Ghost Whey Protein
Ghost Lifestyle is a brand you've likely heard of, or at least seen if you've spent any appreciable amount of time in the fitness sector of social media. They're very well known for getting the biggest fitness influencers, YouTubers, and even gamers to be ambassadors for their products.
It's not a hard sell given that they stand for transparency in their ingredients (thus the name of Ghost and the slogan "Be Seen") and the flashiness of the packaging used. Ghost has a versatile and diverse collection of flavors for their protein powder which has made it a popular choice for long-time gym goers who need something different without all of the added sugars and artificial flavors.
It also includes digestive enzymes, which is not unheard of but is unconventional for a protein powder. You can expect to get 25 grams of protein from whey protein isolate, concentrate, and hydrolysate, which makes it a solid post-workout product.
However, there are no carbs in this supplement. So, that's great for those low carb folks trying to stay within their macros, but if you're looking for the best protein powder to gain weight or something that doubles as a pre-workout, this is not the best choice.
Before You Buy
Do some research on the specific flavors you're interested in. The feedback for some is great, but the consensus for others is less clear.
Try the samples! Ghost is one of very few supplement companies that lets you purchase samples of flavors you want to try for $2.49. Just note that you still have to pay for shipping and the return policy does not apply for samples.
Is Ghost Whey Protein Worth It?
Great for:
People with issues digesting protein powder
Those looking for a sweet treat in a post-workout
People with gluten or soy allergies
Not recommended for:
People who prefer a vegan protein powder
Those sensitive to sweet tastes
Budget-conscious protein powder shoppers
Ghost Whey Protein Specs
| | |
| --- | --- |
| Price per serving | Up to $1.73 |
| Flavors | Coffee ice cream, cereal milk, peanut butter cereal milk, fruity cereal milk, marshmallow cereal milk, milk chocolate, Cinnabon, Oreo, Chips Ahoy! |
| Calories per serving | 130 |
| Protein per serving | Up to 26 g, depending on flavor |
| Carbs per serving | Up to 5 g, depending on flavor |
| Fat per serving | 1.5 g |
| Third-party tested? | No |
Experience Using Ghost Whey Protein
With a price of $1.73 per serving, Ghost lifestyle's protein powder is slightly more expensive than the market average. I've heard many people in the fitness space say that it is overpriced, but that opinion weighs heavily on what you value in a protein supplement.
It does contain minimal, quality ingredients, so that is always something that's going to factor into the price. The only downsides are that it's not an organic protein powder and it's not third-party tested. If you're on a budget, you could probably find something with these features at a lower price.
All of that said, our team generally likes the taste of Ghost and how easily it mixes, so we feel good safely signing off on Ghost as a viable post-workout treat.
Price Per Serving
Ghost's Whey Protein is gonna run you about $1.73 per scoop (this price varies slightly depending on the flavor you decide on) and you get about 26-28 scoops in a tub. When I first saw this price, I initially thought it was pretty high. However, the cost was comparable to plenty of other whey protein powders our team has reviewed in the past.
For a product that has a shorter ingredient list and higher quality formulation than most of the protein powders you would come across, I'm not mad at this pricing breakdown.
Formulation
As a sports dietitian, I always look at the ingredient list of supplements with my nutritionist-brain and I found this formulation…interesting. Let's talk about it. Though the ingredients vary slightly by flavor (with different colors and flavors being added), the ingredients listed below tend to be the constants across all of Ghost's whey protein products:
Whey protein isolate, whey protein concentrate, hydrolyzed whey protein isolate, natural and artificial flavor, salt, digestive enzymes (proteases, bromelain, lactase), cellulose gum, xanthan gum, sucralose
I will say, the labeling of Ghost's protein powder is unlike anything I've seen before and I've been monitoring sports supplements for athletes for over 5 years now. They actually break down not only the type of whey protein in the formulation, but also how many grams there are of each and how many of those grams are actually protein. The breakdown is as follows:
Whey Protein Isolate 90% – 14.53 grams delivering 12.5 grams protein
Whey Protein Concentrate 80% – 13.16 grams delivering 10 grams protein
Hydrolyzed Whey Protein Isolate – 2.98 grams delivering 2.5 grams protein
Quick note for those who are confused. Whey protein is rarely, if ever, actually pure protein. Milk still has other compounds in it like milk fat and carbohydrates from lactose or milk sugar. However, whey protein isolates do their best in processing to isolate as much of the protein from milk as possible.
That said, this formulation makes me scratch my head a bit. I always think it's weird when a whey protein supplement has all three types of whey protein. Normally, protein supplements only contain whey isolate, concentrate, or hydrolysate.
Diversity of protein types is certainly not harmful, but there's no clinical or practical reason to do so from a body composition or health standpoint. In any case, most of the protein comes from whey protein isolate, which is the most common type and has the best balance between absorbability and cost.
Which brings me to my next point: the digestive enzymes. While there has been some research done on the inclusion of digestive enzymes in a whey protein supplement, like this small, double-blind study from 20201, there is not much evidence that they are as useful in whey protein as they might be in harder to digest plant-based proteins.
What makes whey protein such a popular and viable fitness supplement is that it is an easily and quickly digestible form of protein that allows for quick recovery. Given that whey protein is already isolated to be readily digested, the inclusion of digestive enzymes is a bit over the top, in my opinion. Although I must admit, if you are aware of digestive issues or experience stomach upset when taking whey protein powders, I think you might find that this could be a good option for you, and you may be able to resume taking whey protein again with comfort.
Taste and Solubility
You will find many Ghost whey protein reviews online praising its delicious taste despite the fact that the product contains very little added sugar and additives in general. However, reviews also say that some of the flavors can be overly sweet.
One of our GGR staff writers, Lauren Strong, had this to say when she tested the product: "I got Milk Chocolate and I found it was very sweet for a protein shake, but the company's flavor lineup in general makes me feel sick from sweetness. The label suggests 5-6 ounces of liquid, but I watered it down a lot to reduce the sugary flavor—but overall the flavor is not terrible."
So, if you're the type of person who sees your protein as a little treat or reward for crushing your workout, this could be just the thing for you. If you're sensitive to sweetness, though, you may want to choose the flavors you go with wisely.
As far as mixability, Lauren had comments on that as well, based on her experience: "This blended well and if you go for the recommended 5-6 ounces of water, it feels pretty thick (but I didn't think it was too thin after watering it down). The scoop has a nice landing spot right under the lid on the inside of the jar."
The last sentence is probably music to the ears of long-time protein supplement users because, as we know, searching for the scoop in a heap of sticky, messy powder with sweaty hands is pure pain. So, having a built-in remedy for this issue is very welcome.
RELATED: Best-Tasting Protein Powder
Side Effects
Most adults are likely to be safe taking whey protein when taken as directed. There are a few potential side effects of high doses, however, including bowel movement changes, acne, nausea, thirst, bloating, sleep issues, and headaches. Our tester did not experience any side effects, however, and most people shouldn't if they don't have sensitivities to whey.
Third-Party Testing
As of the time of writing, Ghost Lifestyle products are not third-party tested.
Comparison to Optimum Nutrition Gold Standard 100% Whey Protein
Optimum Nutrition Gold Standard 100% Whey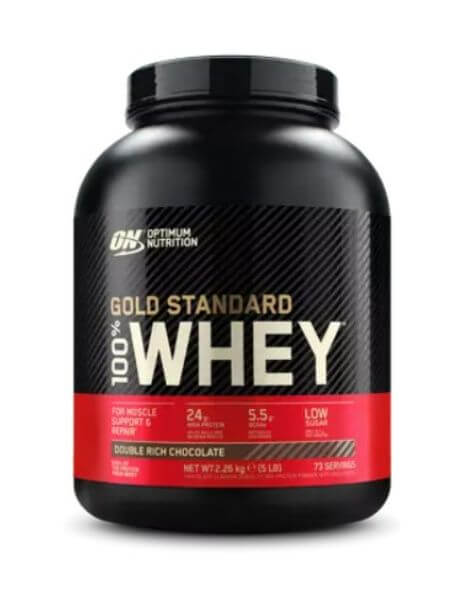 GGR Score: 4.2
Product Highlights
Contains 3 different kinds of whey protein

Tested for banned substances

Over 5 g of BCAAs per serving

Instantized to help prevent clumping
Pros & Cons
Pros
High in protein
Plenty of flavor options
Low in carbs
Cons
Some users say it's overly sweet
Contains artificial flavors
Most flavors contain sucralose
Bottom Line
With plenty of flavor and size options to choose from, Optimum Nutrition Gold Standard 100% Whey is a great basic choice in protein powder.
Optimum Nutrition Gold Standard 100% Whey is a wildly popular brand of whey protein. It's a great value for the price and it has simple and approachable flavors which makes it an excellent protein powder for those just starting out on a fitness journey. I remember it being the very first protein I ever tried!
Both Ghost and Optimum Nutrition's whey protein contains a protein blend of whey isolates, hydrolysates, and concentrate. They also have similar grams of protein and calories per serving. However, Optimum Nutrition's protein powder can run you as low as $1.10 per serving, which is significantly cheaper than Ghost.
Optimum Nutrition is also third-party tested by Informed Choice, which would probably make it a superior choice for athletes who are drug tested and looking for a safe supplement. However, unlike Ghost, Optimum Nutrition does use artificial flavors.
Comparison to Dymatize ISO 100 Hydrolyzed Whey Isolate
Dymatize ISO 100 Hydrolyzed Whey Isolate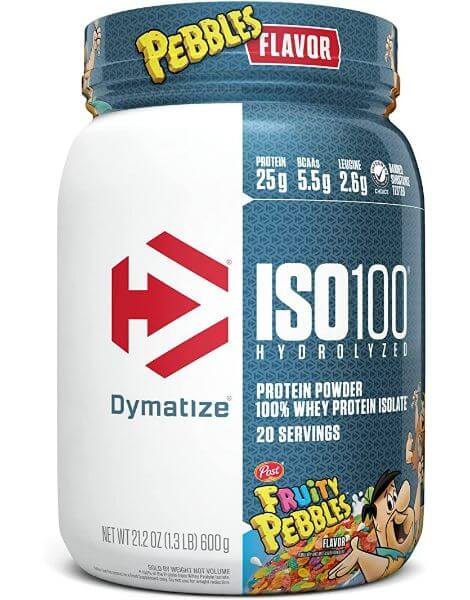 GGR Score: 3.5
Product Highlights
Each serving contains 25 g of

whey protein isolate

 

Pre-hydrolyzed protein to speed up absorption

Available in 11 flavors, including Dunkin' coffee flavors

Low in both fat and carbohydrates
Pros & Cons
Pros
11 flavor options
Includes 5.5 grams of BCAAs
Fast absorption
Flavors are highly rated
Cons
Complaints of quantity in container
Contains sucralose and stevia
Bottom Line
Available in 11 different flavors, Dymatize ISO100 is stacked with 25 grams of protein, including 5.5 grams of BCAAs and 4.4 grams of glutamine designed to enhance muscular growth and recovery.
Dymatize is a whey protein supplement that's great for those sensitive to lactose or who have digestive issues in general. That's because the main source of protein is hydrolyzed whey, which means it's already been partially digested and virtually all of the carbs and fat have been removed.
So, gram for gram, you're getting more protein per scoop than most conventional protein powders. To Ghost's credit, it contains digestive enzymes that can also ease digestion for people with digestive disorders2 such as lactose intolerance, but the protein content isn't as isolated.
GGR senior staff writer Amanda Capritto says, "This protein isn't anything spectacular, but it's definitely not the worst I've tried. I got the Cocoa Pebbles flavor and I like it, but I wouldn't say it's largely better than other chocolate protein powders. ISO 100 Whey Isolate dissolves great. With a regular shaker bottle and shaker ball, I didn't get any chunks or floaties."
I personally have athletes who have tried Dymatize who have similar feedback and it seems that the Fruity Pebbles flavor is the way to go. However, Ghost has flavors available that are just as versatile, especially if you like brand-named variations like Chips Ahoy and Cinnabon.
Customer Experience
If you need to contact customer service while using Ghost products or if you need assistance with a Ghost order, you can contact the office on weekdays from 9 am to 5 pm CST. Ghost, however, says the quickest way to reach them is by emailing support@ghostlifestyle.com. Whenever possible, they will respond to your support emails within 48 hours of receiving them.
If you do need to perform a return, just know you only have 15 days following the date of delivery and the product must be unopened. You must also have a packing slip, order confirmation, or proof of purchase from ghostlifestyle.com. If you ordered from a third party like Amazon, you must negotiate your return with that third party.
If you were unsatisfied with a product that you've already opened, you can exchange it within 5 days of delivery by emailing the same address as above.
Ordering Ghost Whey Protein
To purchase Ghost whey protein, you do not need an account. As you would with most retail websites, simply add your items to your virtual shopping cart, enter your shipping information, and select your payment method.
Standard shipping, which takes 3-5 business days, is flat at $9.49 if you're ordering within the United States. If you're ordering internationally, delivery timelines depend on your location and you are responsible for any fees associated with customs and tariffs.
Customer Reviews
Ghost Whey Protein has an average of 4.5 out of 5 stars on Amazon with 4,785 ratings at the time of this writing. The consensus of most reviews is that it mixes well, but comments about the taste consistently bring up that it either tastes amazing or it's a bit too sweet. Overall, it seems to be a very well-liked product.


Final Verdict of Our Ghost Whey Protein Review
Overall, Ghost whey protein powder has a lot in common with most protein powders on the market that are made from a whey protein blend, but with key differences. Its inclusion of digestive enzymes and the commitment to natural ingredients makes it more unique. If you have stomach upset when taking whey protein powder, this product is a great choice.
In general, consumers and our team found the mixability of the protein and the flavor to be pretty good. However, the inclusion of artificial sweeteners could be a turn off to people looking for an all-natural whey protein powder.
The bottom line is that Ghost has a solid reputation in the fitness world as being a supplement with a great taste and low enough in fat and carbs to fit comfortably into your macros as a protein supplement, especially if you are someone who eats low carb. So, if you like the taste of cereal milk and want something that's easy on the stomach, Ghost lifestyle is a prime choice.
Ghost Whey Protein Rating
Ghost Whey Protein
This popular lifestyle brand has a devout following, but is their whey protein worth the hype? Find out with our Ghost Whey Protein review.
Product Currency: $
Product In-Stock: InStock
Ghost Whey Protein FAQs
Is Ghost whey protein good for building muscle?
Ghost whey protein contains 9 essential amino acids, including BCAAs, that have been known to aid in muscle growth. It is true that whey protein supplements can help you increase muscle mass, but muscle growth requires a calorie surplus and a consistent resistance training regimen as well.
What does Ghost protein do for your body?
Ghost protein, like other whey protein supplements, can help you meet your daily protein goals which can help you change your body composition. In addition, it contains digestive enzymes that may aid in digestion of the protein and anything else eaten along with it, which is good news for those with digestive issues.
Is Ghost FDA-approved?
The FDA does not approve any supplements because the FDA regulates food and supplements are not legally classified as food under the agency's guidelines. 
Is Ghost protein good post-workout?
With three different types of whey protein and at least 20 grams per serving, Ghost protein gives you high-quality amino acids to help your muscles repair and recover, just like a post-workout product should. 
These statements have not been evaluated by the Food and Drug Administration. This product is not intended to diagnose, treat, cure, or prevent any diseases.
References
Townsend JR, Morimune JE, Jones MD, Beuning CN, Haase AA, Boot CM, Heffington SH, Littlefield LA, Henry RN, Marshall AC, VanDusseldorp TA, Feito Y, Mangine GT. The Effect of ProHydrolase® on the Amino Acid and Intramuscular Anabolic Signaling Response to Resistance Exercise in Trained Males. Sports. 2020; 8(2):13. https://doi.org/10.3390/sports8020013
Ianiro G, Pecere S, Giorgio V, Gasbarrini A, Cammarota G. Digestive Enzyme Supplementation in Gastrointestinal Diseases. Curr Drug Metab. 2016;17(2):187-193. doi:10.2174/138920021702160114150137