We test and review fitness products based on an independent, multi-point methodology. If you use our links to purchase something, we may earn a commission. Read our disclosures.
Editor's Note: The NordicTrack Elite 3700 Treadmill is no longer in production. We suggest viewing the NordicTrack Commercial 1750 as the best alternative or looking at our Best Treadmills list for more options.
If you search around today, you might not see much about the NordicTrack Elite 3700. However, that doesn't mean it wasn't a good piece of fitness equipment when it was in production. In fact, this incline treadmill had plenty to offer and could be considered one of the best treadmills of its time for runners.
However, the word on the street is that it was almost identical to the NordicTrack C 1630 Pro. NordicTrack sold that particular machine directly, but the 3700 was a model sold exclusively by Sears. The name was changed to eliminate competition, and a few more perks were added to the 3700, like a better motor and a wider treadmill belt.
In this NordicTrack Elite 3700 treadmill review, we're going to cover what made it an ideal purchase for recreational runners and track stars alike.
We Know NordicTrack Treadmills
If there's one thing we know about, it's NordicTrack treadmills. Trust me, We've spent a ton of hours sweating on these quality-built machines trying to reach our individual fitness goals so we can tell you practically anything you want to know about them.
If your display isn't working on your NordicTrack treadmill, we can offer repair suggestions. If you're trying to decide which treadmill fits your cardio needs this year, we can point you in the right direction. For those who want to know how NordicTrack treadmills compare to ProForm's and Horizon's, we can give you the tea on that, too.
But it isn't just their treadmills we've tried. We've also reviewed their indoor bikes, ellipticals, rowers, and more. Therefore, if there's anybody you should trust to give you a tried-and-true opinion on these treadmills, it's our GGR team of certified personal trainers, exercise specialists, gym owners, and more.
Looking for an Alternative to the NordicTrack Elite 3700 Treadmill?
You won't find this treadmill on Amazon or really anywhere these days, but not to worry because there are other options—one of which is the NordicTrack Commercial 1750. This treadmill has quickly claimed the No. 1 spot on our best NordicTrack treadmills of 2023 list.
It has a rotating 14-inch HD adjustable touchscreen, one-touch incline and speed controls, and a large running deck. We also can't forget the bragworthy incline range (-3 to 15%), ActivePulse technology that allows you to maintain your optimal heart-rate zone, and its iFIT capabilities. The 1750 is built solid with large, 2.5-inch precision rollers and a quality, cushioned deck that can support up to 300 pounds.
However, being sturdy sometimes comes at a disadvantage. It does fold using the Easy Lift Assist, but it's still heavy, requiring two people to assemble. The price tag might jump out at you, too, as it comes in at over $2,000.
Overall, it's a superb machine for your home gym and an ideal replacement for the NordicTrack Elite 3700. Learn more by checking out our NordicTrack Commercial 1750 treadmill review.
Best Alternative to the NordicTrack Elite 3700 Treadmill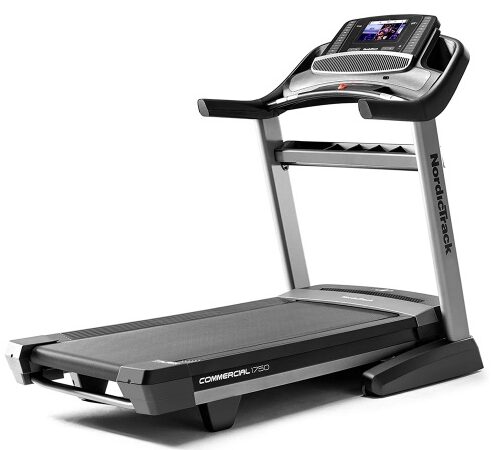 Product Highlights
Spacious running deck
Compatible with iFIT
14-inch touchscreen
Incline and decline training
Financing available
Pros & Cons
Pros
Compatible with iFIT
3.5 CHP motor
Free trial of iFIT subscription with purchase
Treadmill with incline and decline training
Foldable to save space (EasyLift Assist)
Run that feels similar to road running
Financing options available through NordicTrack
Generous speed range
Wide running deck
Cooling fan
Cons
Big footprint
Heavy and not the easiest to move
Price is around $2,000
Warranty is voided if the treadmill is used/stored in a garage
Bottom Line
If you're looking to add a workhorse of a treadmill to your home gym, we recommend the NordicTrack Commercial 1750.
A Quick Look at the NordicTrack Elite 3700 Treadmill
When runners are looking for a treadmill, they look for things like durability, motor capacity, speed, incline options, and the size of the belt. This treadmill excels in all of those areas. It's a NordicTrack, and the brand name itself holds weight in the durability department. The motor capacity is more than enough for joggers and runners. Plus, the speed and incline ranges offer you plenty of variety and intensity.
So, if you were looking for a good cardio workout, this treadmill would've definitely given you that during its heyday.
Pros:
Folding treadmill
3.5 HP motor
Roomy running surface
Up to 15% incline
375-lb weight capacity
iFIT-compatible
Intermix Acoustics™ Sound System
FlexSelect cushioning
Pulse grip sensors
Cons:
The deck is a bit loud
Poor WiFi connectivity
Glitchy and inaccurate chest heart rate monitor
NordicTrack Elite 3700 Treadmill Specs
| | |
| --- | --- |
| Footprint | 77" L x 39" W x 78" H |
| Weight | 230 lbs |
| Weight Capacity | 375 lbs |
| Motor | 3.5 HP |
| Walking Belt | 22" W x 60"L |
| Display | 7-inch Backlit iFIT Display |
| Incline | -3% to 15% incline range |
| Speed | 0-12 MPH |
| Programs | 34 Built-in Workout Apps |
| Warranty | Lifetime frame and motor, 5-year parts and electronics warranty, 2-year labor |
Key Features of the NordicTrack Elite 3700 Treadmill
Sometimes I forget that the NordicTrack Elite 3700 is a treadmill for home use because the treadmill belt on this thing is mighty spacious. Many treadmills designed for the home are only 20 inches wide, but here you're getting an extra two inches, which is a nice perk, especially for larger users. You shouldn't have to feel cramped and uncomfortable on your journey to becoming more fit, so I appreciate this machine being inclusive of individuals up to 375 pounds.
The belt is also 60 inches long, meaning you'll have enough span for running. This length will definitely accommodate individuals with a longer stride or taller runners.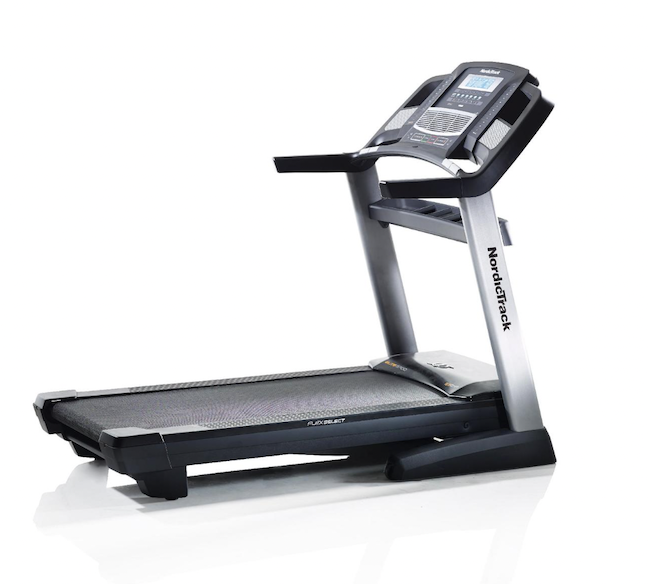 Those who like to simulate going uphill would've loved this machine when it was in production because its max incline was 15 percent. Pair that with an iFIT incline trainer, and your legs would've been on fire! But that's not all—you would've also benefited from its up to 3-percent decline, giving you the ability to really switch up your routine.
Footprint, Portability, and Durability
We're not even going to hold you up when it comes to the footprint. This treadmill does fold and has a SpaceSaver design, but it's not exactly what I'd call compact. Most average-sized treadmills are about 64-inches long and 28-inches wide, but this one is 77 inches long by 39 inches wide, so it's not small. As a result, portability wouldn't be the easiest. It has wheels, but they still suggest having two people if you plan to move it.
If NordicTrack treadmills had a middle name, it would be "durable." They're built with good materials, and they don't feel cheap at all. They truly invest in their machines so users can walk and run safely and confidently.
An example of what makes it durable is its 3.5 CHP motor. A motor like that will be able to respond to speed and incline changes with ease and won't give out easily on runners who use it frequently. It's recommended that runners go for treadmills with a 3.0 CHP motor or higher, so this would check the motor box. Heavier users will also be pleased because a 3.5 continuous horsepower motor should be able to provide a satisfactory workout experience still.
RELATED: Best NordicTrack Treadmills
Ergonomics
Running in and of itself isn't the most comfortable thing to do, so it's nice when treadmills can enhance the experience. For instance, this treadmill has FlexSelect cushioning, so you can choose the firmness you desire. If you have joint issues, you might go for a more cushioned deck, but someone looking to simulate an outside environment might turn the cushioning entirely off. It's always nice to have choices, especially if the treadmill will be used by more than one person. People can adjust it to their liking.
The dual AutoBreeze cooling fan is nice to have, too, because who wants to be uncomfortably hot during their workout? A blast of cool air makes exercising just a tad bit more pleasant.
I also like the one-touch incline and speed controls on the console. When you're working out, you want to focus on that and don't need any distractions. It's a bit of a nuisance when you have to repeatedly click a button to make adjustments to speed or incline.
Technology Benefits and Conveniences
Many NordicTrack treadmills are decked out with large screens that may tilt or swivel, but you're not going to get that here. Instead, the console includes a 7-inch backlit display that'll show you: elapsed time, distance, a workout intensity bar, calories burned, incline level, number of vertical feet climbed, speed, and your heart rate.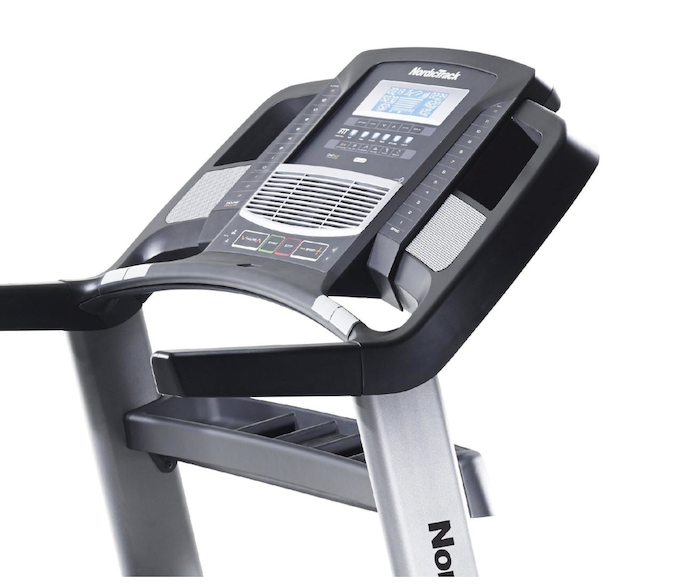 In terms of Bluetooth, that's not a feature we noticed on this treadmill. It's MP3-compatible, though, so if you had an iPod or CD player, you could plug it into the console to listen to your music or an audiobook.
This treadmill can connect to WiFi, allowing it to communicate with your wireless network through the iFIT module. With iFIT, you can workout with certified personal trainers and track your results. Given that the machine already included over 30 built-in workout programs, iFIT just provided even more variety.
You could really jam out on this machine with the Intermix Acoustics™ sound system that included two 3-inch speakers. There was also a chest heart rate monitor so you could learn what your heart rate was after setting it up. In addition, you'd find two water bottle holders and a smartphone-compatible docking station.
Customer Reviews of the NordicTrack Elite 3700 Treadmill
Because this particular treadmill came out several years ago, it is challenging to find customer reviews. Therefore, we had to check out the reviews on Amazon for its close cousin, the NordicTrack C 1650.
Most negative comments mentioned the process for activating iFIT and how difficult it is to assemble the treadmill yourself. Others said the WiFi failed to stay connected and that the electrical components were incredibly glitchy.
Mechanically, it appears that most folks enjoyed the 1650 and that it exceeded their expectations. They reported the tread belt being smooth and having fantastic cushioned support. In addition, some said that with the speed and incline capabilities, paired with the built-in workouts, they could really push themselves and enjoy the variety.
Final Verdict of Our NordicTrack Elite 3700 Treadmill Review
Overall, the NordicTrack Elite 3700 treadmill was a true winner during its time, suitable for runners and walkers. Although its footprint isn't the smallest, it may not have been a big deal for those with a dedicated home gym. However, for most, that was a slight flaw that was quickly overshadowed by the many conveniences it offered.
NordicTrack Elite 3700 Treadmill Rating
NordicTrack Elite 3700
In our NordicTrack Elite 3700 Treadmill review, we take a look at the specs of this now-discontinued treadmill.
Product Currency: USD
Product Price: 1999.00
Product In-Stock: InStock
NordicTrack Elite 3700 Treadmill FAQs
Are NordicTrack Treadmills Reliable?
Absolutely! The NordicTrack brand is well-known in the fitness space and produces well-built items for home use. Plus, they offer a lifetime warranty on the frame and motor, which tells me they truly stand behind their products. 
How Much Does the NordicTrack Elite 3700 Weigh?
It weighs 230 pounds, which is a little more than the average motorized treadmill. However, it's quality-built and has a larger frame, so we're not surprised by its weight. 
Is The NordicTrack X22i Worth It?
Listen, if you like versatility and challenging yourself, absolutely. The NordicTrack X22i has a 22-inch touchscreen and a -6 to 40% incline range. I can hear my calves, hamstrings, and glutes screaming now just thinking about it. You also get a built-in push bar and sled grips so you can target more muscles. In addition, NordicTrack states that this machine comes with its most cushioned deck, so you can run often without hurting your joints. 
Of course, with features like that and many that I haven't even touched on, you're looking at over $3,000 for this piece of fitness equipment. 
How Long do NordicTrack Treadmills Last?
Most treadmills last about 10 years, but it also depends on how much you use it, and how well you take care of it. Walking on it twice a week and doing proper treadmill maintenance will likely allow you to get years of use out of it. But if you're running on it twice daily and not lubricating it or inspecting the parts, it'll probably go downhill much faster.