We test and review fitness products based on an independent, multi-point methodology. If you use our links to purchase something, we may earn a commission. Read our disclosures.
Ladies and gentlemen, welcome to your main event: ProForm vs NordicTrack treadmills. Two of the best cardio machine manufacturers enter the ring for a chance to win a spot in your home gym, but only one can win.
Here, we'll give you the tale of the tape to help improve your odds of picking a winner.
Quick Company History
Here's another twist in this treadmill vs treadmill matchup: ProForm and NordicTrack are both owned by the same parent company, ICON Health & Fitness, which also owns iFIT.
ProForm was founded in the late 1970s and actually first focused on trampolines before moving to cardio fitness equipment like treadmills, ellipticals, exercise bikes, and rowing machines. Their biggest breakthrough came with the invention of its SpaceSaver design, which allowed treadmills to be folded to save on space (this was revolutionary at the time, as folding treadmills were not as commonplace as they are today).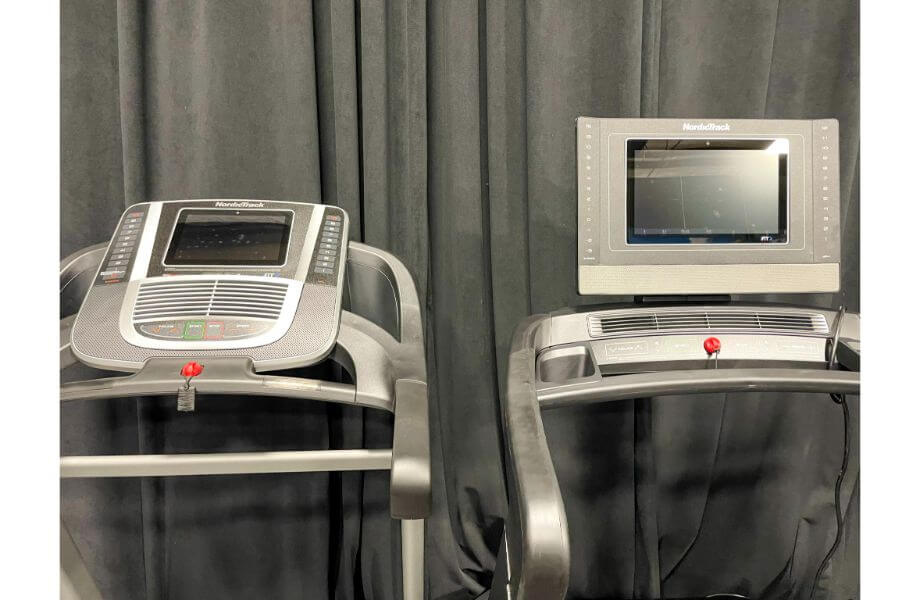 NordicTrack was founded in the 1970s and first focused on ski racers; the founders were cross-country skiers, before transitioning to other cardio machines. Their machines are widely considered some of the best, but their claim to fame is their incline/decline treadmills and built-in workout programs.
ICON Health and Fitness acquired NordicTrack and ProForm in 1998 and 1999, respectively.
Being the oldest brother in my family, I know how frustrating it can be to be constantly compared to your sibling (especially when you're the best of the bunch). So to better understand what makes these two so different, I turned to Garage Gym Reviews' treadmill review guru and former NCAA Division I athlete, Caroline Lubinsky.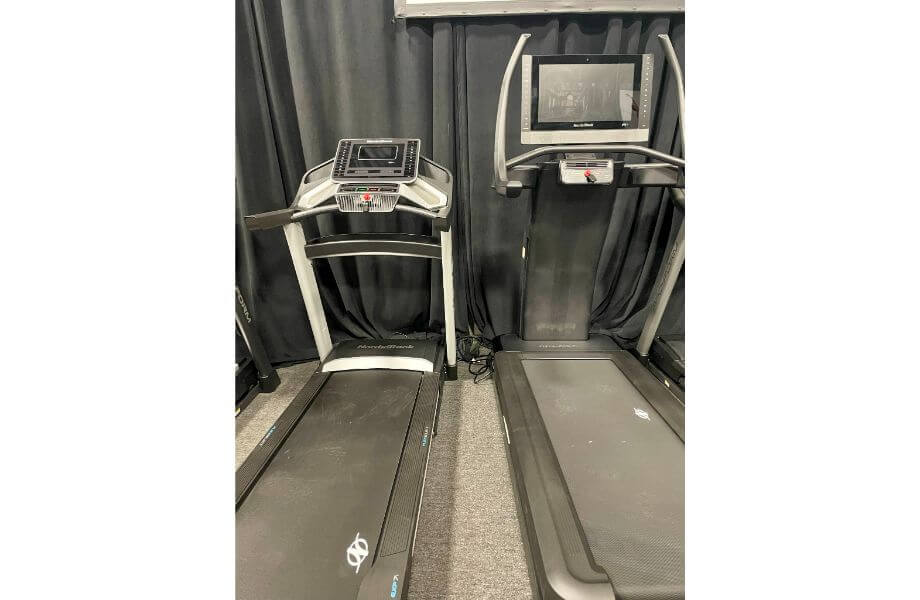 "Generally speaking, NordicTrack makes more expensive machines with all the latest bells and whistles," Caroline says. "For example, their most expensive treadmill is almost $4,500 while the priciest ProForm tread is just under $2,000. ProForm makes solid machines that all sit firmly in a mid-range price point."
Brand
ProForm
NordicTrack
Treadmill models
6 models
8 models
Price range
$599-$1,799
$1,0999-$4,499
Interactive programming
iFIT subscription:
Individual: $15/month or $180/year
Family membership: $39/month or $396/year
iFIT subscription:
Individual: $15/month or $180/year Family membership: $39/month or $396/year
Who Should Buy ProForm Treadmills?
Those on a budget
People looking for more compact treadmills
Anyone looking for high-quality, entry-level machines
Who Should Buy NordicTrack Treadmills?
Home gym owners who want the best-of-the-best
Serious runners looking for versatile incline/decline training
Those who want the best smart home gym equipment
Key Similarities Between ProForm and NordicTrack Treadmills
Both treadmill brands offer a free 30-day iFIT membership with purchase
Incline/decline adjustment on most models (NordicTrack has more adjustments)
Cushioned decks to protect joints
Financing plans
Both are available on Amazon
High-quality motors
iFIT trainers can control speed and incline/decline
Both companies may void your warranty if treadmill is stored in a garage
Important Differences Between ProForm and NordicTrack
ProForm comes with smaller touchscreens
NordicTrack treadmills are much more expensive than ProForm's
Some of NordicTrack's treadmills aren't foldable
Treadmills Offered by ProForm and NordicTrack
Our favorite ProForm treadmill, and in our opinion one of the best treadmills for a home gym, is the ProForm Pro 9000. This heavy-duty treadmill comes with incline and decline settings, a spacious 20-inch-by-60-inch running deck, good cushioning to protect your joints, and a 22-inch HD touchscreen to follow iFIT workouts.
ProForm Pro 9000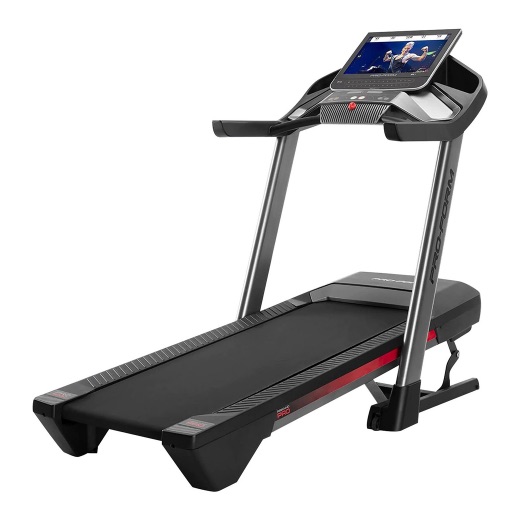 ProForm Pro 9000
Take your training to the next level with an iFit Family membership on the Pro 9000 treadmill. Engage in a whole new workout experience as streamed live and on-demand personal trainers lead you in studio classes and take you all around the world, automatically controlling your treadmill's speed, incline, and decline to give you a unique, hands-free workout.
The 3.6 continuous horsepower motor is slightly above the industry standard of 3.0 CHP, meaning this treadmill can provide countless hours of runtime with speeds of up to 12 miles per hour.
This is one of ProForm's more tech-filled treadmills, so you'll get Bluetooth speakers, WiFi connectivity, and trainer control (which allows iFIT trainers to set the speed and slope of the treadmill based on what type of workout you're doing).
Check out our full ProForm Pro 9000 review for more on this machine.
ProForm Pro 9000 Specs
| | |
| --- | --- |
| Footprint | 77.3" L x 35.5" W x 59.6" H |
| Tread belt | 20" W x 60" L |
| User weight limit | 300 lbs |
| Speed | 0 to 12 mph |
| Incline/Decline | -3 to 12% |
| Motor | 3.6 CHP Mach Z™ |
| Display | 22" HD touchscreen |
| Warranty | 10-year frame, 2-year parts, 1-year labor |
Other popular ProForm treadmills include:
When it comes to NordicTrack's treadmills, the winner has to be the Commercial 1750. While very similar to the ProForm Pro 9000, you'll find some subtle differences that help make it just a bit more premium.
For example, it has a lower step up height to make transitioning on and off the machine easier, has a maximum incline of 15%, and thicker rollers to decrease tread noise and increase durability.
NordicTrack Commercial 1750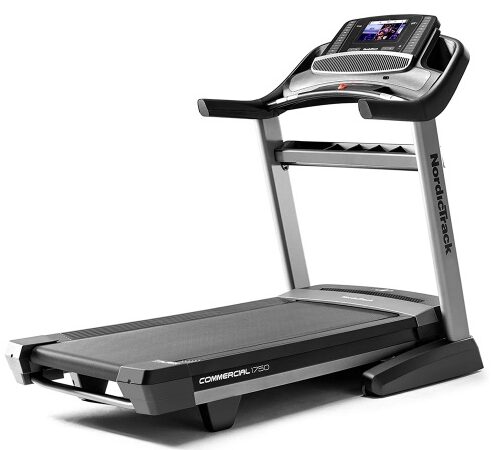 NordicTrack Commercial 1750
The NordicTrack 1750 treadmill features a 14-inch HD adjustable touchscreen with which you can stream iFIT programming on (sold separately). The under $2,000 machine can be financed through the NordicTrack website where you can get deals as low as $49 per month with 0% for 39 months.Models from 2013-2021 of the 1750 had adjustable cushioning, but the 2023 model no longer has this feature.iFIT workouts incorporate Automatic Trainer Control, which allows your trainer to digitally adjust your incline, decline, and speed. This is a nice feature to have because all you have to do is focus on the workout at hand versus frantically switching the controls.
Runners and walkers of all sizes will enjoy the expansive running deck and powerful motor. The display is smaller than the ProForm Pro 9000's but has better video quality. But be warned, this thing's a beast and will require a lot of floor space in your home gym.
Read our full NordicTrack Commercial 1750 review for our full thoughts on this machine.
NordicTrack Commercial 1750 Specs
| | |
| --- | --- |
| Footprint | 80" L x 38" W x 65" H |
| Tread belt | 22" W x 60" L |
| Weight capacity | 300 lbs |
| Speed | 0 to 12 MPH |
| Incline/decline | -3 to 15% |
| Motor | 3.5 CHP Motor |
| Display | 14" tilt & pivot HD touchscreen |
| Warranty | 10-year frame, 2-year parts, 1-year labor |
Other popular NordicTrack treadmills include:
Company Policies
A treadmill's price, tech features, size, and running deck are all important aspects to consider when making a purchase, but they're not the only things. You also want to consider things like warranty, the return policy, and financing options.
Because ProForm and NordicTrack are owned by the same parent company, a lot of these policies are going to be very similar. Still, we'll give you a full breakdown so you're well-prepared to make a decision on which treadmill is best for you.
Warranty
The industry standard is to cover the frame for anywhere from 15 years to life, multi-year coverage on parts, and at least one-year for labor. These policies assume the treadmill is exclusively used for home use, and not commercial purposes.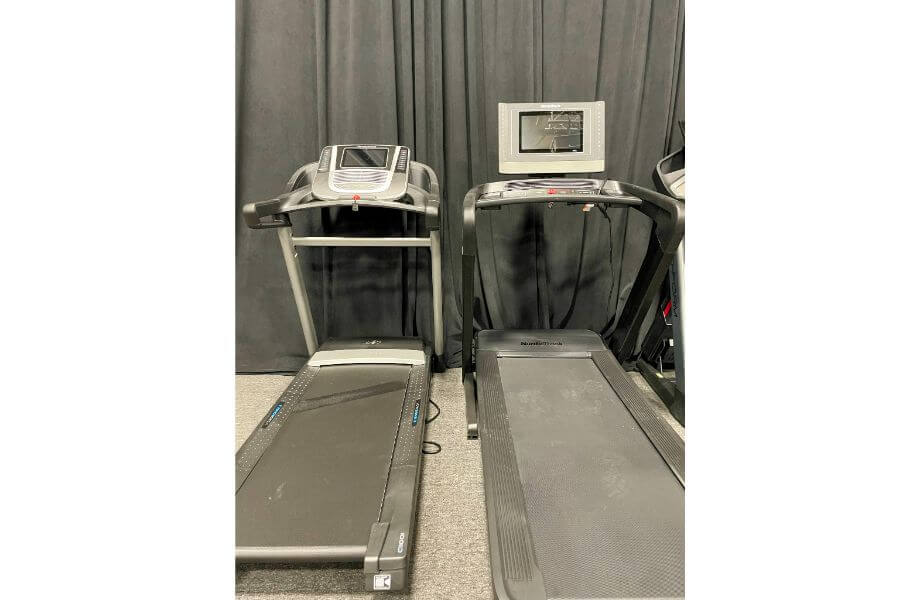 ProForm
All ProForm treadmills come with a 10-year frame warranty. Coverage on parts and labor varies by model. Your warranty may be voided if you store the treadmill in a garage that's not temperature-controlled.
NordicTrack
Similarly, all NordicTrack treadmills come with a 10-year frame warranty and varied coverage for parts and labor. This is a little more disappointing because NordicTrack's treadmills are so expensive. More higher-end exercise equipment typically comes with better warranties.
And like ProForm, storing a NordicTrack treadmill in the garage is discouraged.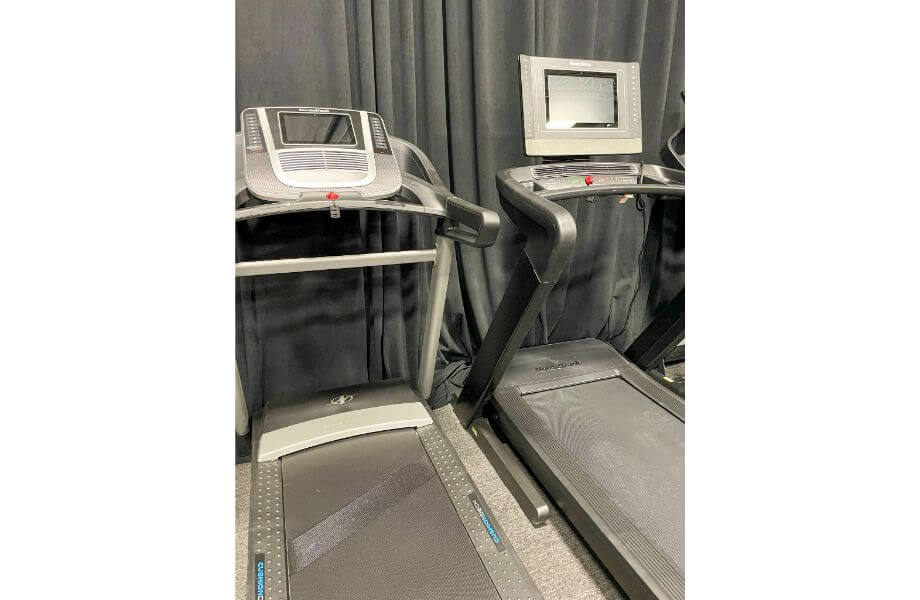 Return Policy
The industry standard is to give the customer 30 days from the date of delivery to return the treadmill for a refund.
ProForm
ProForm follows the industry standard, but deducts a $250 shipping fee and 10% restocking fee from your refund.
NordicTrack
NordicTrack's return policy is the exact same as ProForm's.
Financing Options
The industry standard is 0% APR for a minimum of 30 months
ProForm
ProForm offers 0% APR for 36 months.
NordicTrack
NordicTrack offers 0% APR for 48 months.
Assembly
There is no industry standard for assembly, as some companies only offer threshold delivery while some offer professional installation.
ProForm
ProForm only offers threshold delivery, but has partnered with the BILT app to give customers 3-D assembly instructions.
NordicTrack
Certain NordicTrack treadmills are available for professional assembly, which you can select before adding the machine of your choice to your cart.
ProForm vs NordicTrack Treadmills FAQs
How does ProForm compare to NordicTrack?
ProForm is quite comparable to NordicTrack in that both companies offer treadmills with powerful motors, incline/decline settings, HD touchscreens, and trainer control. The difference is that ProForm's treadmills are more budget-friendly than NordicTrack's and are often more compact.
Are ProForm treadmills worth it?
If you're looking for a high-quality treadmill at an affordable price, then yes. You will sacrifice some quality when it comes to tech features, and the treadmill may not be as versatile as a NordicTrack machine, but it's still one of the best cardio manufacturers on the market.
Does iFIT own ProForm?
Technically, yes. iFIT and ProForm are both subsidiaries of ICON Health & Fitness.