We test and review fitness products based on an independent, multi-point methodology. If you use our links to purchase something, we may earn a commission. Read our disclosures.
We've covered the best pre-workout for muscle gain and the best pre-workout for beginners, among many other categories, and in this review we're diving into one of the best nootropic pre-workouts available. In this Genius Pre-Workout review, you will learn about various neurocognitive enhancers and how you can still get a killer workout without high levels of stimulants.
Medical disclaimer: This article is intended for educational and informational purposes only. It is not intended as a substitute for medical advice. For health advice, contact a licensed healthcare provider. GGR also recommends choosing a product that has been third-party tested for quality.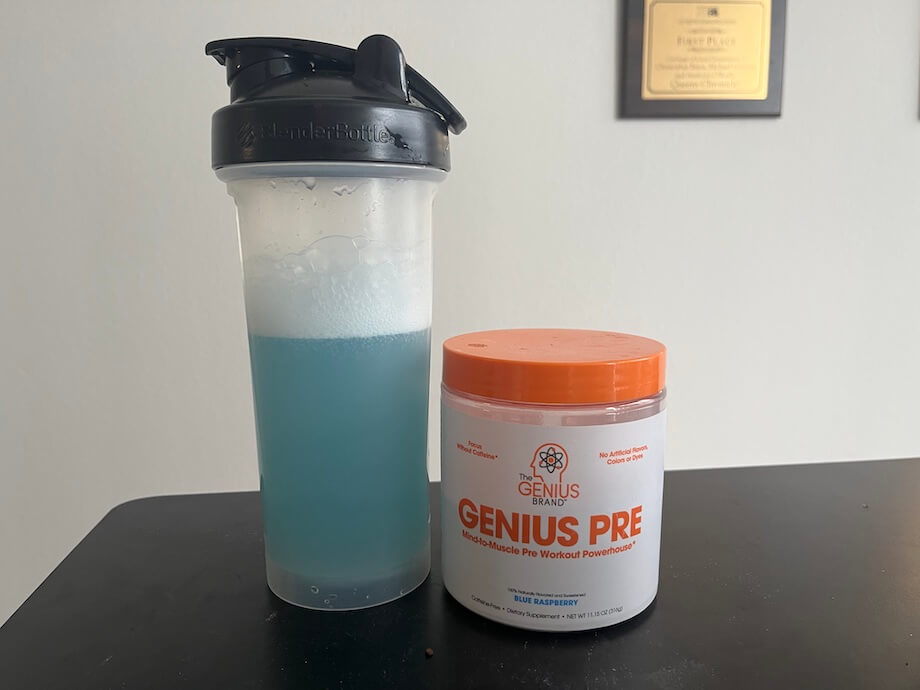 Testing Pre-Workouts for Taste and Effectiveness
Our product testers have tried more pre-workout supplements than we know what to do with. Seriously: Kate Meier, GGR head of content and Olympic weightlifting athlete, has so many pre-workouts in her home gym that she encourages—no, basically begs—her teammates to use them to free up storage space. That's how committed we are to hands-on testing (or, in this case, organs-on testing…?) of products we cover on GGR.
Genius Pre-Workout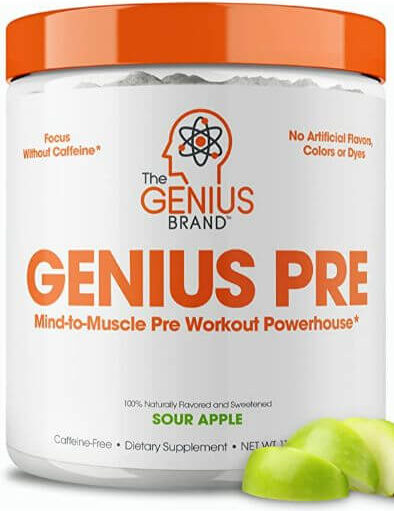 GGR Score: 4.26
Product Highlights
Caffeine-free nootropics-based pre-workout 

Doubles as a productivity booster 

No artificial sweeteners or flavors
Pros & Cons
Pros
Subscribe and save 20%
30-day satisfaction guarantee (from the ship date)
Available in 4 flavors
Cons
Only available in 20 serving containers
No 3rd-party certifications
May cause skin tingling
Bottom Line
The Genius Brand Genius Pre is a stimulant-free, nootropic-based pre-workout designed to help improve your focus and performance in the gym. It has very positive reviews, although customers do wish they could buy containers with more than 20 servings so they didn't have to purchase as often.
A Quick Look at Genius Pre-Workout
Genius Pre-Workout is manufactured by The Genius Brand, a supplements company that makes sports nutrition products with a focus on brain health and mental acuity. Most of the company's products contain nootropics and adaptogens, which act as cognitive enhancers and neuroprotective agents, respectively.
Specifically, Genius Pre-Workout is a stimulant-free, nootropic-based pre-workout with a number of ingredients that aim to enhance physical performance during workouts by way of intense focus.
RELATED: Best Stim-Free Pre-Workout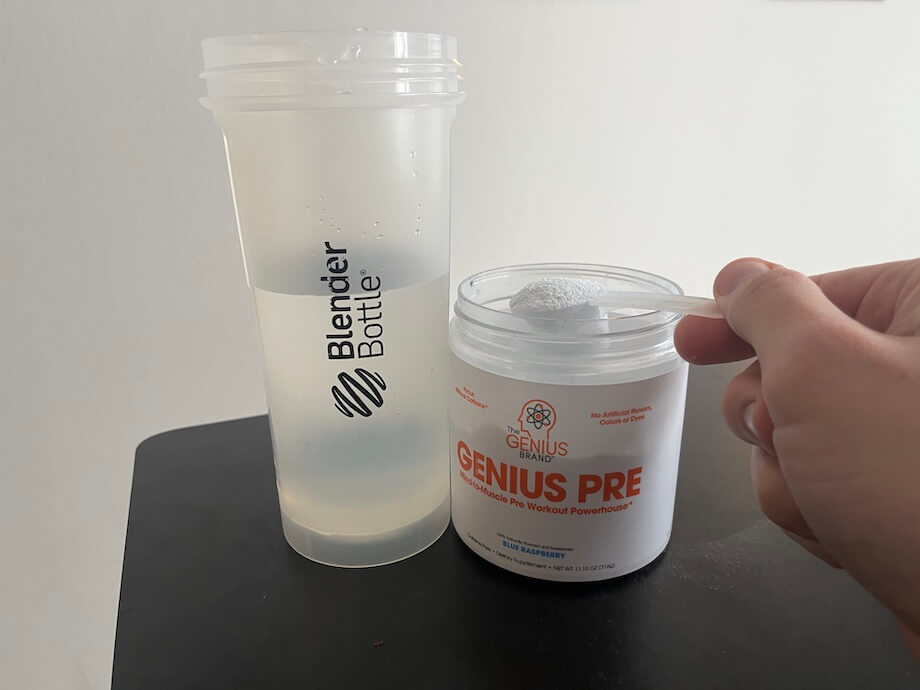 Before You Buy
This is a stim-free pre-workout, meaning it's caffeine-free. If you're looking for the energy boost typically associated with pre-workout, you'll want one of the best pre-workout supplements with caffeine.
This product is not NSF Certified Safe for Sport, so athletes who are subject to drug testing should proceed with caution (as with any other non-certified supplement).
Is Genius Pre-Workout Worth It?
Everything is worth it for the right buyer, but I think Genius Pre-Workout is worth it for a lot of people. This is a stim-free but still highly potent and powerful supplement that can help many different types of fitness enthusiasts make progress in the gym.
RELATED: Strongest Pre-Workout
Great for:
Individuals who want a stim-free pre-workout
People who need a lot of help staying focused in the gym
Those who prioritize all-natural formulas
Not recommended for:
People who want a long-lasting pump
Individuals who desire a high-stim pre-workout
People who want creatine in their pre-workout
Genius Pre-Workout Specs
| | |
| --- | --- |
| Price per serving | $1.89 for a one-time purchase or $1.52 with subscribe-and-save |
| Serving size | 1 scoop (16.9 g) |
| Flavors | Grape Limeade, Sour Apple, Blue Raspberry, Sour Cherry |
| Caffeine content | None |
| Sugar per serving | None |
| Sweeteners | Stevia leaf extract |
| Other key ingredients | L-citrulline malate 2:1, betaine anhydrous, CarnoSyn beta-alanine, AstraGin, ElevATP, L-tyrosine, L-arginine, taurine, AlphaSize (50% alpha-GPC), rhodiola extract, theobromine, HICA (α-hydroxyisocaproic acid), Huperzia serrata (1% Huperzine A) |
Experience Using Genius Pre-Workout
The goal of Genius Pre-Workout, the brand says, is to enhance the mind-muscle connection through a powerful concoction of natural ingredients. This, in the long term, should theoretically expedite your fitness progress and help you reach goals such as building muscle mass, lifting more weight, or repping out more pull-ups.
Does it live up to the claims? Our product tester Jacob Penner, a USAW Level 1 Trainer, thinks so.
"This is stim-free, so it doesn't get you all jacked up," he says. "I felt almost euphoric taking this, with a very calm focus. It almost felt like taking a mood stabilizer, because I was relaxed, not stimulated; clear, and ready to take action."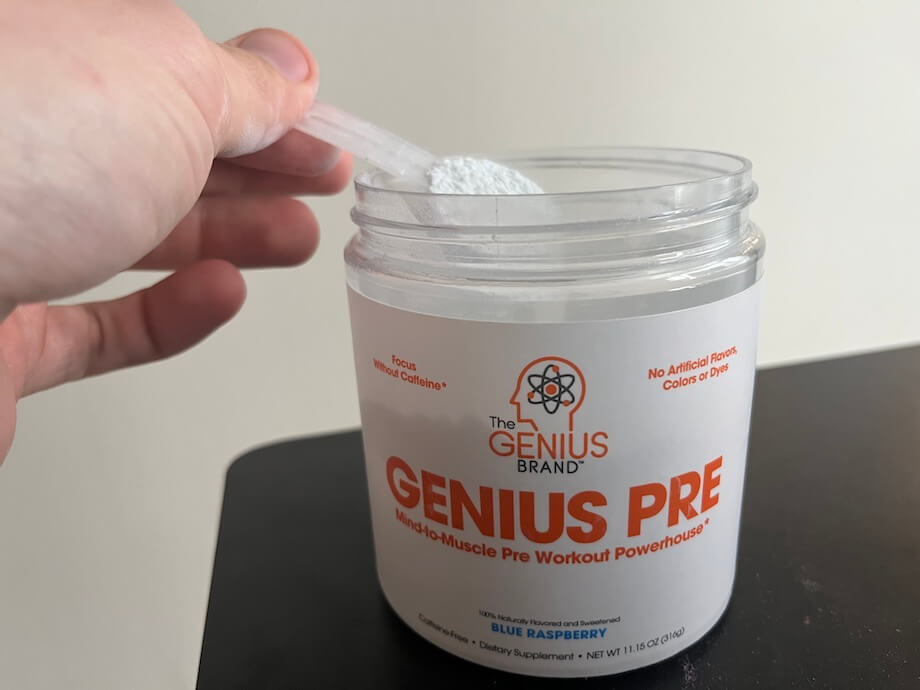 Jacob did a workout with a lot of upper back exercises while on this pre-workout, and says his shoulders got an intense pump, although it didn't last long. "Pretty much by the time I was done lifting, the pump was fading," he says.
Additionally, the dose of beta-alanine is slightly underdosed, so the tingling is minimal—which is good or bad, depending on you.
"I would definitely take this again before a workout, and I would even take it again just to be focused throughout the day," Jacob emphasizes.
RELATED: Best Pump Pre-Workout
Price Per Serving
If you buy directly from The Genius Brand through the company website, the price per serving falls at $1.89 for a one-time purchase or $1.52 with subscribe-and-save. The price fluctuates on Amazon, but hovers around that same general range. This is within the standard price range for a solid pre-workout.
Formulation
The formula of Genius Pre-Workout is quite impressive—and that's not something we often find ourselves saying about pre-workout formulas, since they are a dime a dozen.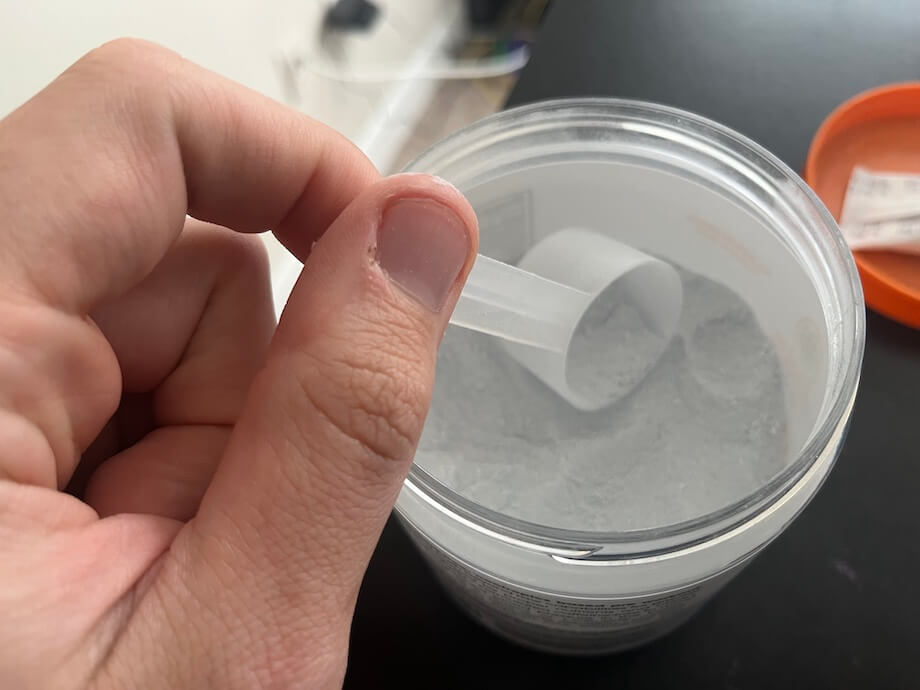 You'll find some pretty powerful and well-studied ingredients in Genius Pre. This chart breaks it down.
| | | |
| --- | --- | --- |
| Ingredient | Dosage | Purpose |
| L-citrulline malate 2:1 | 6 g | Nitric oxide booster1 |
| CarnoSyn beta-alanine | 2 g | Anti-fatigue agent / muscle endurance enhancer by way of carnosine production2 |
| Betaine anhydrous | 2 g | Boosts carnosine production and may improve endurance3 |
| AstraGin | 25 mg | Bioavailability agent that helps with absorption of nutrients into the bloodstream4 |
| ElevATP | 150 mg | Plant extracts shown to increase endogenous ATP (supports muscle endurance)5 |
| L-tyrosine | 1 g | Amino acid with focus and anti-fatigue effects6 |
| L-arginine | 1 g | Amino acid associated with increased aerobic and anaerobic performance7 |
| Taurine | 1 g | Amino acid that may prevent breakdown of muscle fiber (catabolism)8 |
| AlphaSize (50% alpha-GPC) | 600 mg | Choline compound that supports memory and concentration9 |
| Rhodiola rosea extract | 100 mg | May have anti-fatigue effects10 |
| Theobromine | 30 mg | Molecule found in plants that works similarly to caffeine11 |
| HICA (α-hydroxyisocaproic acid) | 500 mg | Supposedly associated with increased muscle protein synthesis but studies aren't positive12 |
| Huperzia serrata (1% Huperzine A) | 10 mg | Cognitive enhancer13 |
The combination of amino acids, nootropics, and vasodilators in this formula creates one potent pre-workout powder that can, at once, support cognition, increase blood flow, create muscle pumps, and help with long-term goals like muscle growth.
The ingredients list is fully transparent and free of proprietary blends. It does contain "natural flavors," which usually refers to plant extracts and/or spices for flavoring, or artificial ingredients. Other ingredients in this formula include: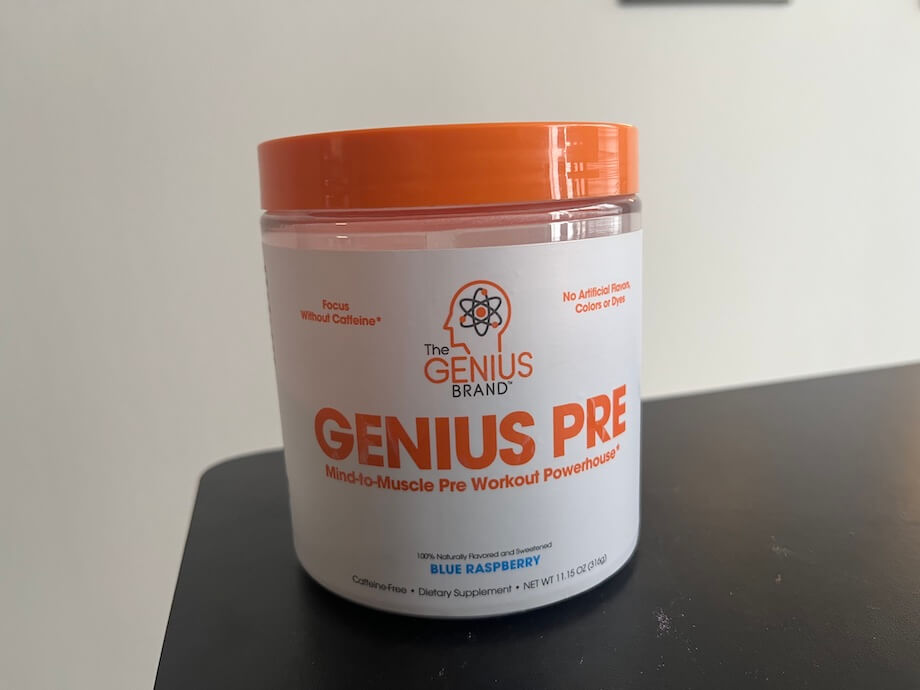 Silica (silicon dioxide), a compound found naturally in drinking water, many foods, plants, and other earthly things that serves as an anti-caking agent—it's safe14.
Stevia leaf extract for sweetness
Tartaric acid, another naturally occurring compound used as a flavoring agent15
Sodium chloride, AKA salt
Spirulina extract, probably for coloring
Taste
Jacob, our product tester who tried Genius Pre-Workout, says that it is legitimately one of the best pre-workouts he's ever tried.
"I tried Blue Raspberry and I absolutely love the taste; this is like a blue Icee," he says. "Taste-wise, this is one of the best pre-workouts I've ever had, and I've had 50-plus pre-workouts."
The texture is spot-on, too, Jacob says: "It blends very well; I did one scoop with about 16 ounces of water and there were no noticeable issues with blending."
Side Effects
Since this pre-workout doesn't contain caffeine, you won't experience any potential side effects from the common stimulant. Genius Pre also doesn't contain creatine, so you aren't subject to the potential bloating and GI discomfort associated with creatine consumption.
This pre-workout does contain beta-alanine, which can cause a pins-and-needles or tingly feeling on the skin. However, since it's slightly underdosed at 2 grams of beta-alanine per serving, our tester found the tingling to be minimal.
RELATED: Best Creatine Supplements
Third-Party Testing
"The Genius Promise" claims that all Genius products are tested; however, I couldn't find any specific information around the company's testing protocols, such as who the products are tested by and if they are certified in one way or another.
We like to see brands that run their products through the National Sanitation Foundation and the Banned Substance Control Group, but we also know that such testing can be really expensive, especially for smaller companies.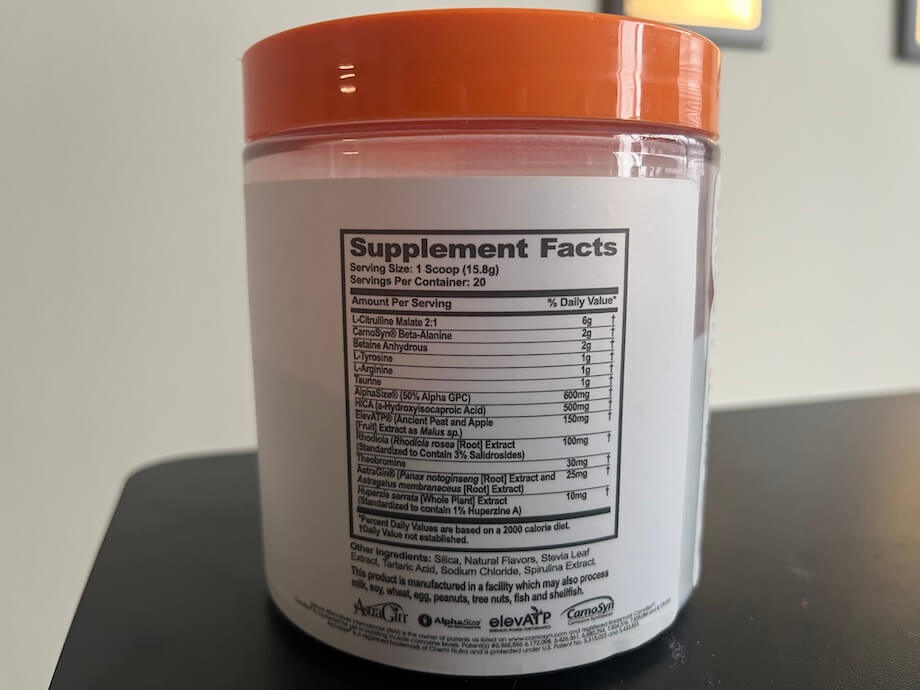 I'd like to see The Genius Brand substantiate its claims with some documentation, but I must say I feel confident in the label transparency. Our product tester's experience reinforces that.
Genius Pre-Workout vs Onnit Total Strength & Performance
Onnit Pre-Workout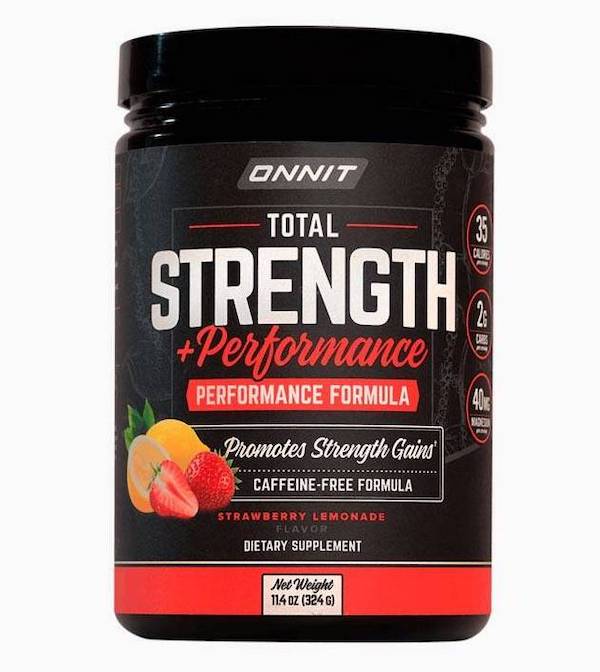 GGR Score: 4
Product Highlights
Plant-based

Blended with botanical ingredients, vitamins, and adaptogens 

Third-party tested
Deemed banned substance-tested
Pros & Cons
Pros
Website links to controlled studies
Plant-based
Band-substance tested and approved
Gluten-, soy-, dairy-, and caffeine-free
Cons
Only one flavor
Some consumers did not like the taste
Some consumers also say it does not mix well
Bottom Line
Onnit's Total Strength & Performance provides a unique blend of botanical ingredients, adaptogens, and vitamins to enhance performance leading to research-backed strength gains.
Onnit Total Strength & Performance is probably the most similar product we've tested compared to Genius Pre-Workouts. We haven't tried many nootropic-focused pre-workouts yet, although we're getting there. Many pre-workouts we've tried contain some of the ingredients that Genius Pre contains, but not all of them in clinical doses.
This Onnit pre-workout contains a "Support Blend" that intends to support mood and focus. The blend contains red clover extract, luteolin, and resveratrol, which Onnit claims can help you "withstand the stress of hard training." In our guide to the best pre-workouts, the author, Dr. Krissy Kendall, PhD, wrote that in certain doses, these ingredients can contribute to a stable mood.
The ingredients include B vitamins (B5 and B6), which may have positive neurocognitive effects, plus magnesium and sodium which contribute to muscle contraction and hydration.
Onnit Total Strength & Performance also contains CarnoSyn beta-alanine for endurance, but we are unable to tell how much since it's in a proprietary blend that also contains the branched-chain amino acids (BCAAs) leucine, isoleucine, and valine, as well as L-glutamine.
Comparing the two, Genius Pre-Workout is the better choice for a heightened cognitive state.
RELATED: Best Pre-Workout With BCAAs
Customer Experience
The Genius Brand really stands out in terms of its customer commitment. When you buy a product on the company website, you get a phenomenal 90-day 100% satisfaction guarantee. This means that if any time within 90 days of purchasing the product, you decide it's not working for you, you can send it back for a full refund. That's three full months for you to decide.
I've seen several 30-day guarantees from supplement companies, as well as a few rare 60-day guarantees. A 90-day guarantee, though, is a huge leg up above the rest.
Ordering Genius Pre-Workout
Because of the guarantee mentioned above, we recommend ordering through The Genius Brand's website. You don't get the same policy when you buy from a third-party retailer such as Amazon or a local supplement shop.
If you order on the brand's website, you can get free ground shipping on orders over $100 and free express shipping on orders over $150. All products on the website receive the same 90-day guarantee.
Customer Reviews
At the time of writing, Genius Pre-Workout has an average rating of 4.3 out of 5 stars on Amazon with nearly 8,000 ratings.
The vast majority of reviews praise the pre-workout as being a great alternative to those with stimulants like caffeine. There are some lukewarm reviews calling the Genius Pre "okay" and "decent," but comparatively very few overtly negative reviews.
Of the negative reviews, several buyers say they did not experience an increase in energy after taking this… which is complete user error since this is clearly labeled as a non-stim pre-workout. Based on our tester's experience, I was surprised to see some buyers complain that it didn't help them focus, but that goes to show that not every product works for every person.
One happy customer wrote, "I drink a lot of coffee, so I loved the idea of using a pre-workout without caffeine. It still gives the pre workout tingles, but doesn't shock you awake. It's more like a feeling of clarity and shakes out the cobwebs. Alert is a good way to describe it. And there are no crashes or jitters. I use less water than recommended, and really like the Sour Cherry flavor. Tastes similar to a Sour Patch candy. If you're not a cherry person, I also love the Blue Raspberry flavor they sell!"
Final Verdict of Our Genius Pre-Workout Review
All things considered, I'd recommend Genius Pre-Workout to anyone looking to maximize cognitive function during workouts or at any point during the day. All of the pre-workout ingredients in this formula are solidly backed by scientific literature, which we love to see.
Since it's caffeine-free, it won't boost your energy levels, but that means it also won't give you jitters. If you wanted to enjoy the nootropic effects with an added energy boost, you could always pair Genius Pre with Genius Caffeine.
Genius Pre-Workout Full Rating
Genius Pre-Workout
In our Genius Pre-Workout Review, a nutrition coach breaks down the ingredients and supplement facts.
Product Currency: $
Product Price: 38
Product In-Stock: InStock
Genius Pre-Workout FAQs
Is Genius Pre-Workout all natural? 
Yes, Genius Pre-Workout uses all natural ingredients. You won't find artificial flavors, sweeteners, or colorings in this pre-workout.
Is Genius Pre-Workout good for bodybuilding? 
Genius Pre-Workout could be a great choice for the right bodybuilder. It's stim-free, unlike many pre-workouts marketed to the bodybuilding community, but it intends to strengthen the mind-muscle connection. According to a 2017 study in the European Journal of Applied Physiology16, improving the mind-muscle connection can actually increase muscle activity and recruitment during strength training.
Can pre-workout be natural? 
These statements have not been evaluated by the Food and Drug Administration. This product is not intended to diagnose, treat, cure, or prevent any diseases.
References
Gough LA, Sparks SA, McNaughton LR, et al. A critical review of citrulline malate supplementation and exercise performance. Eur J Appl Physiol. 2021;121(12):3283-3295. doi:10.1007/s00421-021-04774-6