So, on my journey to better movement and mobility and discovered a technique called Graston, also known as Instrument Assisted Soft Tissue Mobilization (IASTM.)
Essentially what happens with IASTM is you use a dull piece of material to rub the adhesions out of your muscle fibers.
The way it was described to me originally was to think of your muscle fibers as spaghetti. Over time due to movement faults, your fibers become jumbled like a bowl of spaghetti. A supple bundle of muscle fibers are in alignment with each other and move without restriction from other fibers.
The was you move a collection of muscle fibers from a jumbled mess to a supple railroad of fibers is by rubbing the afformentioned piece of material over the troubled area to straighten and remove the adhesions.
Intersting right?
I thought so and I was willing to give it a shot. So in my typical DIY fashion and to the abhorrence of my wife I went into the kitchen and grabbed a butter knife.
It may seem silly, but a butter knife is quite honestly a very good tool for IASTM and is typically the first tool for beginning "adhesion rubbers ®."
But, like any novice blossoming into something more there becomes a need for better tools. Tools that aren't found in the kitchen or anywhere in the house.
Let me speak a little bit on HawkGrips before I get into some of the details.
HawkGrips are in my opinion and of many others who have much more knowledge on anatomy than I, are the premier IASTM toolset.
These aren't toys.
These bad boys are professional tools made for the foremost chiropractic and physical therapy practice or the individual like myself that accepts nothing but the best in every aspect of life.
In my opinion and you've probably noticed this from my reviews, if I'm going to purchase something, I'm going to purchase it once. Buy the best and you shall experience no buyer's remorse or need for upgrade.
HawkGrips are the best IASTM tools money can buy and keep reading to find out why.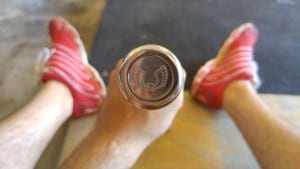 I'm going to speak on both the use of these tools in a clinical setting as well as just for your home.
From the perspective of using these tools for commercial purposes, when a potential client is seeking the help of a professional, they often look to the tools they use to get the job done.
When I was seeking a CrossFit gym for the first time it was important that the equipment was up to the standard it needed to be for what it's use was.
When I seek the help of an accountant I want them to be using the most up to date software and communication tools to make things as easy and seamless as possible.
With these prerequisites in mind for who I choose to do business with, and many others, it becomes even more important that when I and others seek the help of a medical professional the tools be more than capable of doing the job well.
The look of HawkGrips simply oozes professionalism. They look like jewelers tools.
From the display case that showcases the beautiful, over-engineered tools and ointment, to the carrying case, everything is simply as it should be for a professional service practice.
Subdued enough to not be gaudy, but noticeable enough that they stand out in a room.
For the individual like myself who enjoys training and wants the best thats out there, HawkGrips are simply cool. Sure, functionality is important and I will go over that in much more detail, but I want my gear to look as good as it performs.
Take my Rogue R-3 Squat Rack for instance. Nobody needs the level of craftsmanship that goes into the R-3 rack, but if you can afford it, why not. It will last you the rest of your life as will these tools.
Display these in your garage gym and I guarantee every friend that walks into your gym will say, "woah, what are those?"
There really isn't much to get into as far as durability. HawkGrips are forged from stainless steel. These tools are heavy. Not in a sense that they're tiring to hold, but in the sense that you can tell there is something substantial in your hand. Like when you hold an iPhone, they may be thin and sleek, but there's a weight there that lets you know there's more than what appears to the eye.
I've used my set of Hawgrips for about 2 months with quite a bit of use and they still look like they've never been picked up.
For the high volume practice I don't see why there would ever be a need to replace these tools and that's especially true for individuals.
Like I said, this is a buy it for life product.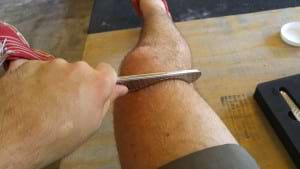 Okay, so the tools are pretty and they will most likely outlive myself and my kid's, kids. But, who cares how nice something looks or how durable something is if it doesn't perform well.
Before contacting HawkGrips, I researched their competitors and nothing was at the quality level of HawkGrips. Nothing was even close.
Most of the tools feature multiple edges depending on it's use and with the higher end sets there are tools that can be used for every body part. Is that level of customization needed? For every individual I don't think so, but for a clinician I would say without a doubt.
Along with most tools featuring multiple edges, each tool except for the bar's have a crosscheck pattern. At first, I though it was a nice touch to stand out from the crowd of smooth IASTM tools, but in use, the grip of the crosscheck pattern is greatly welcome. When you are digging into adhesions and the skin is covered in emolliant, the tools can become slippery. The extra grip is very helpful in keeping from having to think about keeping a solid grip and rather focusing on the area you're trying to attack.