We test and review fitness products based on an independent, multi-point methodology. If you use our links to purchase something, we may earn a commission. Read our disclosures.
When I first heard about the MaxiClimber, I had the strong, Disney-Channel-fueled urge to sing "The Climb" by Miley Cyrus. Unfortunately for you, only my showerhead has the pleasure of hearing my angelic voice sing this timeless ballad.
Anyway, if you're interested in dripping sweat while climbing your booty off in the comfort of your own home (while possibly singing "The Climb"), you may enjoy a vertical climber like the MaxiClimber.
In this MaxiClimber review, I'll dive into the specs, useability, and my overall thoughts on this budget-friendly vertical climber.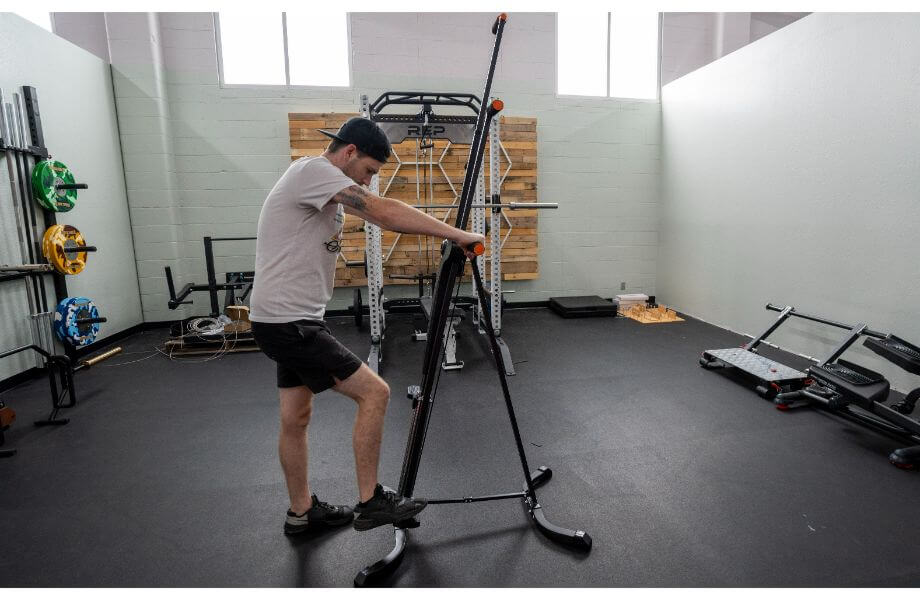 We Won't Leave You Hanging with Our Vertical Climber Reviews
Although we promise to always keep you on the edge of your seat, we certainly won't leave you hanging. At GGR, our expert product testers and reviewers are committed to leaving no stone unturned when it comes to reviewing fitness equipment. It's also (very) safe to say we know our stuff––we're certified personal trainers, former college athletes, and nutrition coaches.
MaxiClimber
Maxi Climber
Maxi Climber provides a blend of muscle-toning and calorie-burning exercise. The low-impact machine is ideal for all fitness levels, including people who have prior injuries. MaxiClimber claims that their machine has been proven to burn double the calories in comparison to a typical treadmill or stationary bike. As a vertical climber machine, it combines resistance training and aerobic exercise to create a full-body workout.You are able to purchase the MaxiClimber in two different models: the Classic or the XL. Both machines come 90% pre-assembled, with an adjustable height feature and free app. The Classic comes with a step counter, while the XL has resistance levels and a mobile device holder. The Classic has a max weight and height of 240 pounds and 6.2 feet, and the XL has a max weight and height of 300 pounds and 6.6 feet.Both models are relatively easy to assemble and lightweight. With the purchase of either you are able to download the fitness app that is compatible with both iOS and Android. On the app, you can watch easy-to-follow videos to help enhance your workout.
A Quick Look at the MaxiClimber Vertical Climber
The MaxiClimber Classic is one of two products from the MaxiClimber brand. Really original and ground-breaking name for the exercise machine, don't you think? The other option from the brand is the MaxiClimber XL, which is more expensive (around $350) and has 12 different resistance levels.
My Tips:
No need to pay for professional assembly––the MaxiClimber comes mostly assembled.
The MaxiClimber requires one LR44 battery for the display to work.
Pros:
Inexpensive at under $150
Lightweight at 33 lbs
Foldable
Provides a full-body workout
Easy assembly
Low impact
Compatible with the MaxiClimber App
Financing options are available
Doesn't have to be plugged in to the wall
Cons:
Constructed with a lot of plastic
Subpar warranty
240-lb weight capacity
No resistance training options on the Classic
Is the MaxiClimber Worth It?
We all prioritize different things. Some of us prefer to spend our extra cash eating out, while others would rather save it for a rainy day (or a piece of workout equipment).
Since everyone's wants and needs are different, there's no one-size-fits-all approach to purchasing a vertical climber, and the MaxiClimber is no different. Check out who I think would love this cardio machine and who would do better with something different.
Great for:
A budget-conscious individual
Someone who needs a low-impact workout machine
Small spaces
Not recommended for:
A heavier person
Taller individuals
Frequent exercisers
MaxiClimber Classic Specs
| | |
| --- | --- |
| Footprint | 28.3" x 35.82" |
| Weight | 33 lbs |
| User weight capacity | 240 lbs |
| Adjustable height | Yes |
| Maximum user height | Up to 6'2" |
| Foldable | Yes |
| Warranty | 1-year limited warranty |
| Price | Around $150 |
| App | MaxiClimber App |
Shifting into Maximum Overdrive with the MaxiClimber
Although I've tested many vertical climbers in the past (hello, CLMBR), GGR's founder, Coop Mitchell had the privilege of taking the MaxiClimber for a climb. It's safe to say Coop is a fan of this type of innovative cardio machine.
"I really like climbing and it can certainly be a tough workout," Coop explains. "It's low-impact like an elliptical, but if you want to push it, you can have a great workout."
Never stepped foot onto a vertical climber before? Don't sweat it, getting started on the MaxiClimber is simple. Move the 33-pound machine to your room of choice and don't concern yourself with finding an outlet––the MaxiClimber doesn't have to be plugged in. Next, grip the handles and step onto the pedals.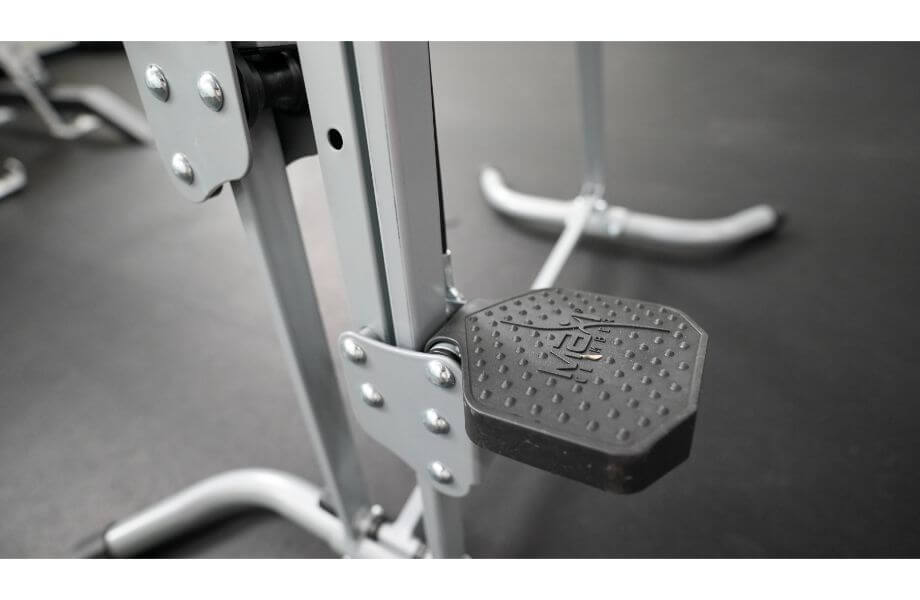 Although there isn't necessarily anything wrong with the MaxiClimber's pedals, they are slightly smaller than I'd prefer. People with larger feet might find that half of their foot hangs off the edge. Plus, there aren't any straps to keep your foot in place (like there are on the VersaClimber and CLMBR). If you have subpar balance, this may bother you as you won't have that extra safety feature to keep you on the machine.
The movement pattern on a vertical climber is exactly what you think it is––you'll be moving your arms and legs simultaneously like you're rock climbing. Since climbing is a full-body movement, you'll be working your upper body, lower body, and glutes, making it a great cardio workout.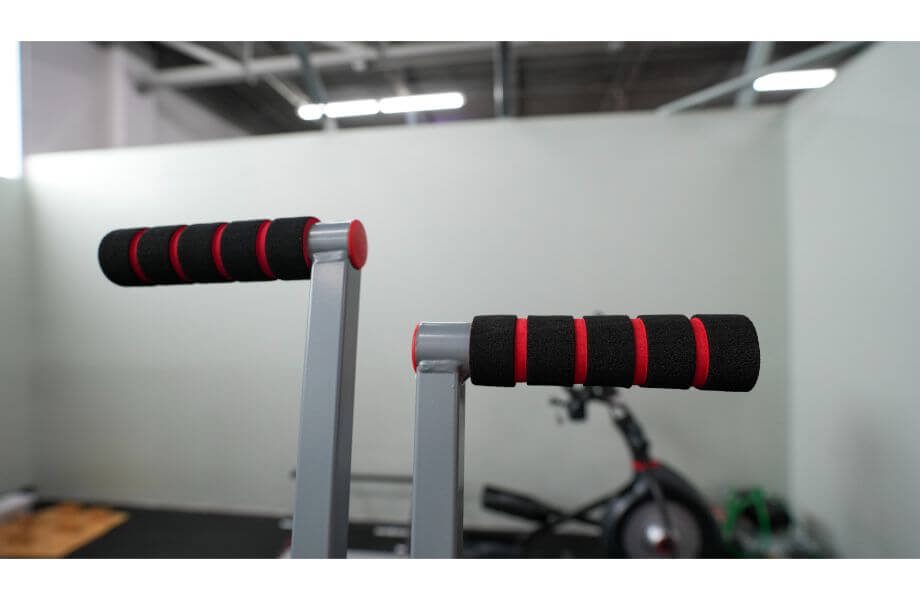 It is also worth noting that the MaxiClimber Classic doesn't have any resistance options, whereas the XL edition does.
Coop weighs in on the differences between the two versions.
"The XL is a higher-quality piece of exercise equipment and has two pistons with 12 levels of resistance, while the Classic uses bodyweight only," Coop muses. "Honestly, for most people, I think they would be fine with bodyweight only, but having the option for resistance is nice and the machine is just overall a better and more stable build on the XL."
She's a Lean, Mean Fitness Machine: Footprint, Portability and Durability
In my opinion, the best feature of the MaxiClimber is its ability to fold. It doesn't have a large footprint, especially considering it is naturally situated vertically. However, you can actually fold the MaxiClimber for even easier storage. Although I don't think this machine would store well underneath a bed or couch since it isn't completely flat (like an under-desk treadmill), it will still fit in a storage closet or against the wall.
The MaxiClimber is only 33 pounds, so almost every able-bodied adult should be able to move it with relative ease. Huge plus in my book, especially considering some cardio equipment can be hundreds of pounds.
When it comes to the construction of the MaxiClimber, Coop isn't exactly sold.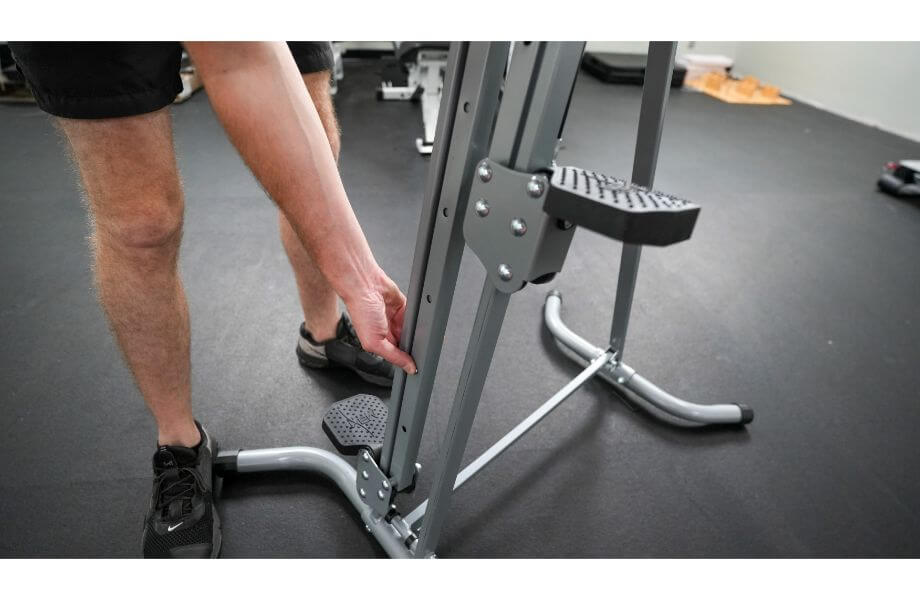 "It's not the most substantial climber on the market, that's for sure," Coop explains. "There are plastic guide wheels and honestly, just a lot of plastic overall. I think for mild training, it will work, but I wouldn't expect it to last if it is used daily, hard, for years."
I tend to agree with Coop––the weight capacity of 240 pounds isn't very high, so I don't expect the durability of the machine to be on-par with more expensive vertical climbers.
Technology Benefits and Conveniences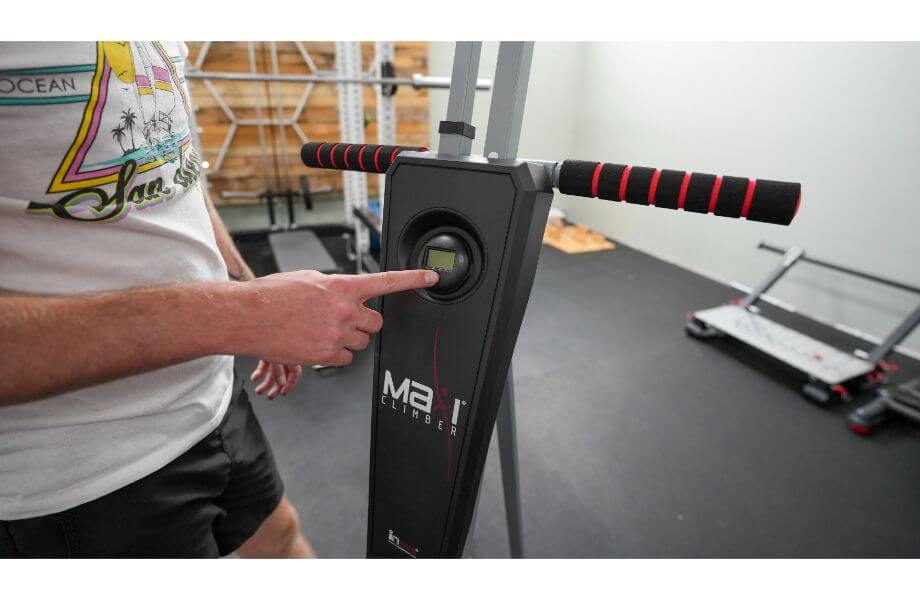 For $150, you can't really expect the MaxiClimber to have much in the way of technology and extra features. However, you will find a small display with which you can view two stats: Steps taken and calories burned. I wouldn't put too much stock into the calorie-counter aspect, as the machine cannot be hooked up to a heart rate monitor and has no idea how hard you're pushing yourself.
Unfortunately, you won't really find any extras––there isn't a water bottle holder, integrated tray, or any Bluetooth connectivity. What you see is what you get with the MaxiClimber.
MaxiClimber Fitness App
MaxiClimber does have a free app that you can download via the Apple App Store or the Google Play Store (and it is available in both Spanish and English). You can view a few different classes, which are led by various instructors. It isn't very high-quality, and reportedly, the app routinely crashes. However, we can't really judge it too harshly because it is a free feature.
It is worth noting that you'll need to be able to play it on a nearby television or computer screen using a Roku or Apple TV. Since the MaxiClimber doesn't have a device holder or tray to stick a phone or tablet in, you can't really view it on your phone.
Here are the types of classes you can expect to find on the MaxiClimber Fitness app:
High-intensity interval training
Endurance-based training
Customizable classes
Comparison to VersaClimber
The VersaClimber is the upscale vertical climber for the stars. After all, Gunnar Peterson swears by the machines and has even modified a few to make them horizontal. However, not all of us can afford to pay over $3,000 for a cardio machine. Let's compare the two and see where the similarities and differences lie.
VersaClimber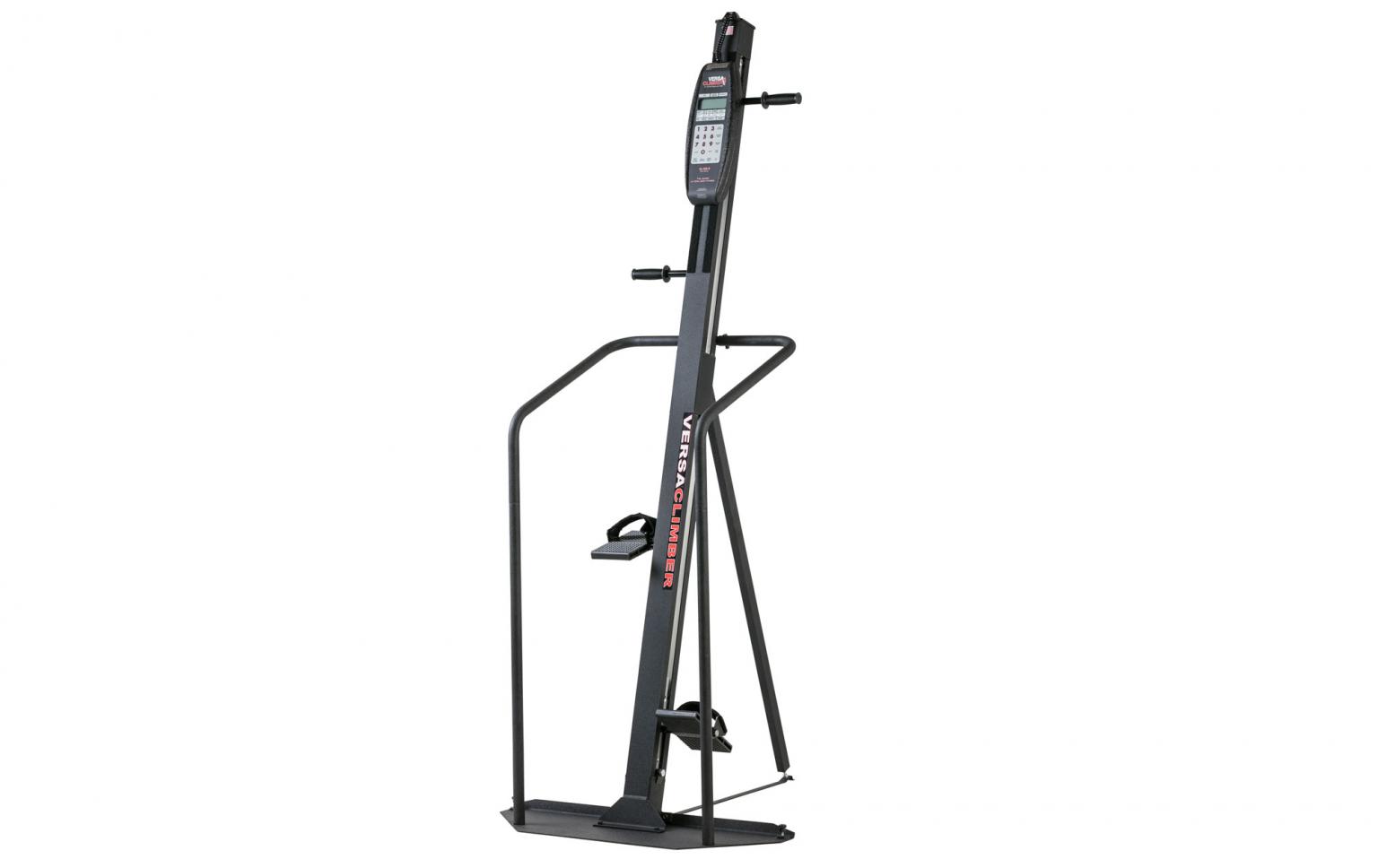 VersaClimber H/HP Consumer Model
Available with an optional heart monitor (HP model) or without (H model), this version of the VersaClimber is optimized for personal home use, offering athletes a smooth, quiet cardio machine built to the standards of a pro gym or health club.Unlike standard treadmills, ellipticals, steppers and exercise bikes, the VersaClimber H and HP deliver a genuine full-body workout, combining the benefits of a stepper and climber in one machine. The arms, shoulders, back, butt and quads are all engaged, with no need for inconvenient safety belts and no painful pounding on the knees and joints.Compact and space-efficient, the VersaClimber H/HP is also uniquely versatile, whether you're rehabbing from an injury or looking to push yourself to the limits. Hold the handrails and use the machine as a traditional club stepper on one day, then switch and make it a total body climber the next. The versatility—stepping, walking, jogging, running, and climbing at a 1" to 20" variable height—keeps it fun, while the smooth rhythmic motion and total body engagement keeps you effectively burning calories.VersaClimber Specs:Adjustable Module Display: Standard, Program, & Race modes Aircraft Quality Aluminum / Steel Structure Coated Cable for Silent Operation Fixed Resistance Step Height & Arm Travel: 1" to 20" Side Hand Rails for use as a Stepper Adjustable Hand Grips, 3 Settings Adjustable Foot Pedals, 3 Settings Contra-Lateral Movement Pattern Cross Crawl Max User Weight: 350LB Max Speed: 255 Vertical Feet per Minute Optional Heart Rate Monitoring (See Dropdown Menu) Climb Angle: 75 degrees Height: 7' 6" (assembled) Base: 36" x 44" Weight: 65LB Power Requirement: 9 Volt Battery
| | | |
| --- | --- | --- |
| Climber | MaxiClimber | VersaClimber |
| Price | $150 | $3,295 |
| Weight | 33 lbs | 65 lbs |
| Weight capacity | 240 lbs | 350 lbs |
| Foot straps on pedals | No | Yes |
| Footprint | 28.3" x 35.82" | 36" x 44″ |
| Warranty | 1-year warranty | 3-year frame and handles |
Customer Experience
The MaxiClimber has a one-year warranty. I know what you're thinking; "Caroline, that sucks!" Well reader, yes, it does. However, the machine is only $150. That's the equivalent of an unfortunate trip to Target where you got sucked into the selection of new fall wreaths while grocery shopping. You can't possibly expect the company to give you a lifetime warranty for basically the cost of a singular chip clip and one honey-baked ham. It just isn't reasonable.
However, if you purchase on Amazon, the customer service aspect may be a bit better than if you purchase from the brand's website. Amazon offers free returns on this machine, so if you're not happy, you have 30 days to get your money back. Start the process by clicking the "Returns and Orders" button in the upper right hand corner of the website. You'll be able to view past orders and get product support.
Ordering and Assembling the MaxiClimber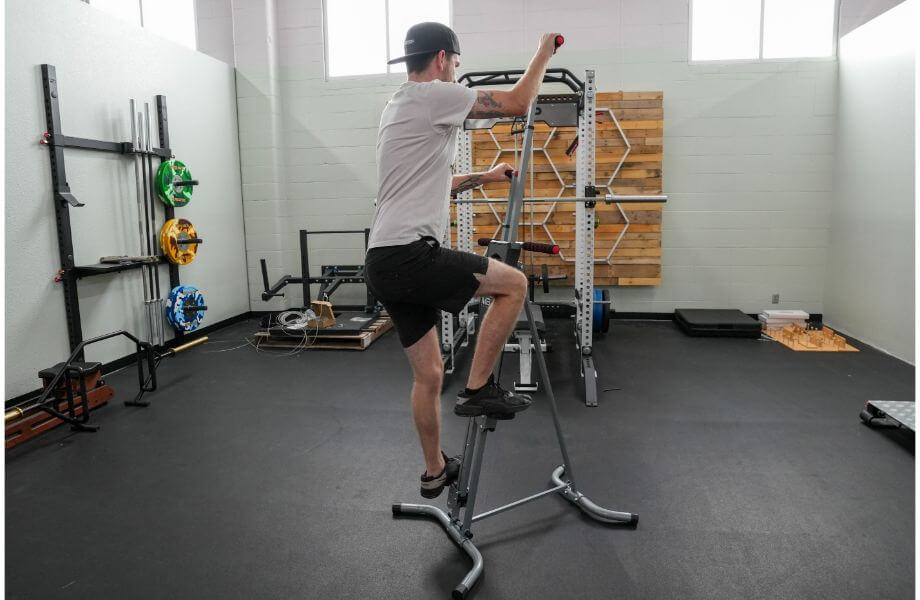 Currently, you can purchase the MaxiClimber on Amazon, Walmart, or the company's website. Naturally, we chose to purchase on Amazon (hello, convenience) for right under $150. Since the order was over $25, we scored free shipping, even without a Prime membership.
If you're a little nervous about spending $150 all at once, you can finance the machine through Affirm, although there is an approval process. If you qualify, you could pay as little as $14.53 per month for 12 months (and between 10-20% APR).
Amazon gives customers the option to purchase professional assembly for $119, but I don't think it is needed on this machine. Not only is the MaxiClimber incredibly light, but according to our operations manager, it is simple to build.
"This will take one person about 20 minutes to build," GGR Operations Manager Sam Presley explains. "You attach the feet, then the arms, and you are good to go."
Customer Reviews
The MaxiClimber is quite popular on Amazon. This vertical climber has over 9,000 reviews with an average rating of 4.3 stars out of 5.
Pleased patrons reported enjoying the portability, simple assembly process, and the foldability.
"Now if you really want to lose weight and still watch TV, just put this in front of your TV and use your MaxiClimber while watching the tube," customer William Dube explains. "Your brain may turn to mush, as mine already has, but your body will get toned up in no time."
Alongside the glowing reviews were some very ticked-off rants. Multiple people referenced issues with durability, customer service, and pieces breaking off the machine.
"The quality of this product is poor; it has begun to fail after 17 days of moderate use," Amazon customer Elo explains. "The plastic rollers cannot handle the friction of normal use. I weigh 185 pounds, well below the weight limit, and I averaged less than 20 minutes a day. If you value your money, spend it on something else."
Final Verdict of Our MaxiClimber Review
The MaxiClimber is a super-budget cardio machine that may be a good option for you. Here are my final thoughts:
At just $150, this MaxiClimber won't cost you much. However, it is wise to set realistic expectations about the durability of this machine ahead of time: It won't last forever.
Since this vertical climber folds and can be stored easily, it is a good option for those in small spaces.
If you're tired of other low-impact options (like ellipticals, rowers, and bikes), trying a vertical climber like the MaxiClimber may be a good solution for you.
The weight capacity of 240 pounds isn't very inclusive, so make sure to note this limitation ahead of purchase.
MaxiClimber Rating
Maxiclimber
Check out our MaxiClimber review for the full scoop on this popular, inexpensive vertical climber.
Product Brand: Maxiclimber
Product Currency: $
Product Price: 199.00
Product In-Stock: InStock
MaxiClimber FAQs
Is MaxiClimber a good workout?
The MaxiClimber can provide a solid, full-body toning and cardio workout for all fitness levels. 
This piece of cardio equipment works to burn calories just as much as a stepper, exercise bike, or stair climber would. If you're looking for a 15- or 20-minute workout that will aid in a weight loss journey, you may enjoy the MaxiClimber. However, please consult a registered medical professional before starting any type of strenuous aerobic exercise.
What is the difference between the MaxiClimber Classic and the MaxiClimber XL?
The MaxiClimber Classic is about half the price of the XL. The XL has resistance options, and the Classic relies solely on your own bodyweight for the workout.
Will I be able to get my heart rate up with the MaxiClimber?
Yes, this piece of equipment will help you get your heart rate up. It may be an excellent addition to your home gym, especially considering it can provide a low-impact workout. Plus, it's a different way to get HIIT (and hit your fitness goals) that isn't, well, boring.