We test and review fitness products based on an independent, multi-point methodology. If you use our links to purchase something, we may earn a commission. Read our disclosures.
Thanks in part to influencers and notable fitness professionals, greens powders are having their moment. Instead of making your own green juice with a metric ton of leafy greens, these convenient supplements allow you to easily mix a scoop of concentrated powder with water for a quick nutritional boost.
But because they're made with lots of green veggies (hence the name), some of these supplements leave something to be desired in the taste department. After testing dozens of options, including popular favorites like Athletic Greens and Supergreen Tonik, we named the Alani Nu Super Greens powder the best greens powder with probiotics. It also tastes good, has a bunch of high-quality ingredients without low-quality fillers, and more than 4,000 reviewers say it's become a staple in their routine.
RELATED: Best Probiotic Supplements
In this Alani Nu Super Greens review, we'll detail our experience with this greens powder and highlight all the important details you should know.
Medical disclaimer: This article is intended for educational and informational purposes only. It is not intended as a substitute for medical advice. For health advice, contact a licensed healthcare provider. GGR also recommends choosing a product that has been third-party tested for quality.
We've Tested Almost 40 Greens Powders
GGR is made up of a team of fitness and health professionals, from certified personal trainers to nutrition coaches. We love a good workout, but we also know the value of optimizing your nutrition through targeted supplementation.
We've researched greens powders extensively over the years, and we've tested almost 40 of them ourselves. We also enlisted the help of a functional nutritionist to help write this piece.
Alani Nu Super Greens
GGR Score: 3.55
Product Highlights
Made with over 40 nutrients per serving

Ingredients include power greens such as wheatgrass, barley grass, and spirulina

Formulated to support energy levels, focus, immunity, and healthy digestion

This powder is sweetened with Stevia so it has a sweeter taste than other green powders
Pros & Cons
Pros
Mixes well
High-quality ingredients
Tastes good
Banned substance-tested
Includes antioxidants, prebiotics, probiotics, and digestive enzymes
Cons
Expensive
Too sweet for some
Bottom Line
Alani Nu Super Greens is on the higher cost end of green powders you will find on the market, but it has a loyal customer base who finds this brand superior in taste and quality.
A Quick Look at the Alani Nu Super Greens
Alani Nu was founded in 2018 by a fitness influencer named Katy Hearn. The company initially only sold energy drinks but have since expanded into a line of various health and wellness products, including pre-workouts, collagen peptides, protein powders, vitamins, and snacks like protein bars—in addition to the Super Greens, of course.
The Super Greens combine various fruit and vegetable powders, as well as herbs, nootropics, probiotics, and digestive enzymes. The company says their greens powder is designed to give you an energy boost, while also supporting your immune system and gut health. (To be clear, we're not confirming that it actually does these things, but the blend of ingredients provides plenty of micronutrients that contribute to your overall health.
Before You Buy
Many (but not all) ingredients are organic
Has 60+ active ingredients, from fruit and vegetable powders to digestive enzymes
Each jar has 30 servings
Comes in two flavors: Wild Berry (only flavor available on Amazon) and Peach Iced Tea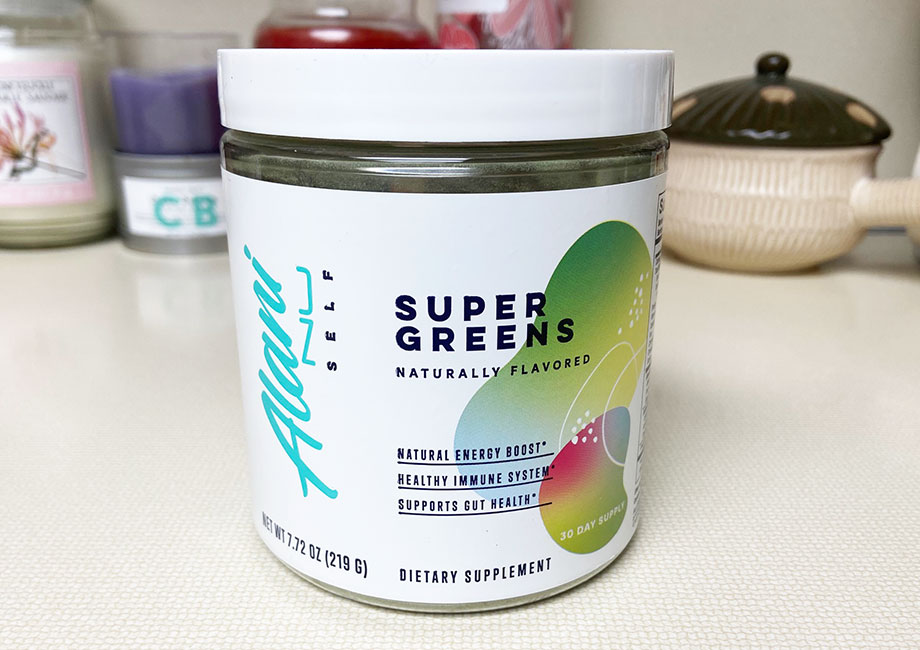 Is the Alani Nu Super Greens Worth It?
We think a high-quality greens powder is always worth it. It's not meant to take the place of actual fruits and veggies, but it can help you meet your nutritional needs on days when your diet isn't quite cutting it. That being said, whether or not the Alani Nu Super Greens are worth it depends on what you're hoping to get out of your greens powder.
Great for:
Those looking for a mostly organic ingredient list
People who need more digestive support
Keto dieters (leafy greens are generally low carb) and those trying to balance their blood sugar1
Not recommended for:
People looking for extra stress support via adaptogens
Those on a super tight budget
Anyone who wants an unflavored powder
Alani Nu Super Greens Specs
| | |
| --- | --- |
| Product price | $49.99 |
| Price per serving | $1.67 |
| Flavor(s) | Wild Berry, Peach Iced Tea |
| Key ingredients | 60+ main ingredients: fruit and vegetable powders, additional superfoods like chlorella and spirulina, plus probiotics, prebiotics, and digestive enzymes |
| Serving size | 1 scoop (7.3 g) |
| Other ingredients | Malic acid, silica, natural flavors, citric acid |
| Sweeteners | Stevia; fruit powders and juices |
| Third-party testing | No |
Experience Using Alani Nu Super Greens
GGR senior editor and certified personal trainer Nicole Davis tested the Alani Nu Super Greens along with almost a dozen other powders so she could compare. Here's a breakdown of her experience using the Super Greens for a couple weeks, as well as other important details.
Price Per Serving
A 30-serving jar of Alani Nu Super Greens costs $49.99, which comes out to about $1.67 per serving. Additionally, if you purchase directly from the brand's website and choose the subscribe and save option, you can shave 5% off the total cost, which brings it down slightly to $1.58 per serving. Super Greens is also available through other online retailers, including Amazon.
Formulation
The ingredients in the Alani Nu Super Greens powder fall into four major "buckets:" an alkalizing greens blend, an antioxidant fruit blend, a general antioxidant blend, and digestive support.
The alkalizing greens blend boasts the following ingredient list:
Organic alfalfa grass
Organic wheatgrass
Organic barley grass
Organic lemon juice
Organic kale
Organic astragalus
Organic spirulina powder
Organic oat grass
Organic chlorella
The fruit blend combines:
Organic amla
Goji berry
Pomegranate
Acerola berry
Mangosteen
Strawberry juice
Cranberry juice
Maqui berry
Jabuticaba juice
The Spectra antioxidant blend contains additional free radical-fighting antioxidants in the form of various fruits and veggies, as well as supportive ingredients like coffee bean extract, green tea extract, and quercetin.
Alani Nu also focuses heavily on digestive support. It has a 5-billion-CFU probiotic blend, plus digestive enzymes and prebiotics from organic inulin.
The one thing that's notably missing from the Super Greens powder is adaptogens. It does have some astragalus (meaning it still may not be suitable during pregnancy), but it doesn't contain any ashwagandha root or moringa powder like some of the other daily greens we tested.
RELATED: Best Greens Powder for Pregnancy
It's sweetened only with stevia leaf extract—there are no artificial sweeteners, flavors, or preservatives—and it's dairy-free, non-GMO, and gluten-free.
The TL;DR with the formulation is that the Alani Nu Super Greens powder has a lot of high-quality organic ingredients that provide digestive support and notable micronutrients like vitamin A, vitamin C, iron, and calcium. While the nutrition facts label doesn't list the exact amount of all the vitamins and minerals, organic green drinks are an excellent way to help meet your nutrient needs.
Taste and Solubility
Alani Nu Super Greens powder comes in two flavors: Wild Berry and a new Peach Iced Tea that wasn't available when we tested it. Nicole tried the Wild Berry flavor and says that it tasted "a bit grassy but also fruity," and she liked it "quite a bit." She went on to say that this was the greens powder she reached for most often, even with all the others she was testing in her fridge at the same time.
It got equally high marks for solubility. It dissolved right into the water with no issues at all.
Side Effects
Nicole didn't notice any side effects when taking this greens supplement, and noted that there are plenty of happy reviewers on the brand's website that had similar experiences.
It's possible you could experience some bloating or digestive discomfort initially as your body acclimates to the probiotics, digestive blend, and fiber; however, you can mitigate that by increasing your intake slowly over the course of a couple weeks until you reach your desired dosage.
Third-Party Testing
Alani Nu products are GMP-certified and manufactured in the U.S., but the supplements aren't third-party tested. This knocked some points off our ratings since third-party testing is the only 100% way to know that you're getting exactly what the label says.
Customer Experience
As far as returns go, Alani Nu isn't as generous as some of the other greens powder manufacturers. You can return the Super Greens powder within 30 days of ordering, but it must be unopened. Other companies have money-back guarantees that let you try the product to decide if you want to keep it. In addition to that, you'll only get a store credit—not a refund.
You can request a return directly through the website. When you submit the return, you'll get a prepaid shipping label, but return shipping won't be deducted from your store credit.
Ordering Alani Nu Super Greens
Alani Nu's Super Greens are available directly through the brand's website and on Amazon, so the ordering process depends on where you purchase from.
If you go through the website, you can choose between a one-time order or a subscribe and save option that will automatically ship you one bottle a month. There are no options to change this to a bulk order, like a 60- or 90-day supply.
You'll get free shipping if you spend at least $50. If you spend $100, Alani Nu will throw in a free water jug. Spend $150, and you'll get a free brand T-shirt. Orders typically arrive in five to seven days in the U.S., and 30 to 45 days for international orders.
If you decide to navigate the Amazon route instead, you'll get the typical Amazon treatment: Prime members get free one- to two-day delivery, and orders arrive in three to five days for everyone else. While Amazon often offers this Super Greens powder at a slight discount, there's no subscribe and save option.
Customer Reviews
Overall, customers are really happy with the Alani Nu Super Greens. There are more than 4,000 reviews on the brand's site with an average rating of 4.9 out of 5 stars. Amazon customers are just as happy, giving the product a 4.4 out of 5-star rating.
One common theme among positive reviews is the great taste. One 5-star Amazon reviewer, who calls them "tasty greens" writes, "This is my first time trying greens, and I was not expecting them to taste this great! I'm very happy with the subtle sweetness, which makes it taste great but not too sweet."
A reviewer who purchased directly from the site agrees and also notes that they've experienced some pretty noticeable health benefits since starting the green supplements, too. "As someone with really bad bloating and IBS, this has helped tremendously. I drink it 4 to 5 times a week, and I can tell a big difference in my bloating and gut health since beginning to drink it. I'm also a very picky eater/drinker, and I can say the taste isn't bad! Highly recommend!" she writes.
Alani Nu Super Greens Vs. Athletic Greens
Athletic Greens AG1
GGR Score: 4.25
Product Highlights
Contains 75 minerals and nutrients in one serving

Available in travel pouches and bundle and save options

Said to support gut health with prebiotics, probiotics, and naturally occuring enzymes

Supports immunity with key ingredients like vitamin C and mushrooms

Magnesium is added to boost energy

May aid in recovery as it features superfood complex with adaptogens and antioxidants
Pros & Cons
Pros
Backed by notable health experts
Transparent and detailed ingredient list
75 vitamins and minerals
Cons
Expensive
Some reviewers dislike the taste
Bottom Line
If you're looking for a greens powder with a unique blend of minerals, nutrients, power greens, enzymes, and probiotics and you're willing to spend some money, Athletic Greens may be a good choice for you.
| | | |
| --- | --- | --- |
| | Alani Nu Super Greens | Athletic Greens AG1 |
| Price per serving | $1.67 | $3.30 |
| Flavors | Wild Berry and Peach Iced Tea | No flavor options |
| Key ingredients | Alkalizing greens blend: alfalfa grass powder, wheatgrass powder, barley grass powder, lemon juice, kale powder, astragalus root powder, spirulina, oat grass powder, chlorella. Antioxidant fruit blend: cabbage palm powder, amla powder, goji powder, acerola extract, mangosteen powder, strawberry juice, cranberry juice, maqui powder, jabuticaba juice. Spectra Antioxidant blend: coffee bean extract, green tea extract, broccoli powder, onion extract, apple extract, quercetin, tomato powder, turmeric powder, garlic powder, basil powder, oregano powder, cinnamon, carrot powder, elderberry | Acerola, alfalfa, apple, artichoke, barley grass, bilberry, bioflavonoids, broccoli flower, carrots, cocoa bean polyphenol extract, hawthorn berry, Lycium berry, papaya (Carica papaya), pea protein, pineapple, spinach, spirulina, stevia, Bifidobacterium bifidum, inulin, lactobacillus acidophilus, Ashwagandha, Astragalus, beet powder, burdock root, chlorella, citric acid, dandelion root, eleuthero root, ginger, grape seed extract, green tea extract, kelp, lecithin, licorice, milk thistle, policosanol, reishi mushroom, rhodiola, rose hips, rosemary, shiitake mushroom, slippery elm |
| Serving size | 1 scoop (7.3 g) | 1 scoop (12 g) |
| Other ingredients | Malic acid, silica, natural flavors, citric acid | Natural flavors |
| Sweeteners | Stevia leaf extract | Stevia leaf extract |
| Third-party testing | No | Yes |
Final Verdict of Our Alani Nu Super Greens Review
The Alani Nu Super Greens stand out in two major areas: They taste great, and they're loaded with gut-supporting ingredients. But they fall slightly short when it comes to formulation (there are limited adaptogens) and third-party testing (they don't do it). If you're seeking advanced digestive support, this greens powder is a good option for you. If you're looking for a supplement that can help you manage your stress, you may want to consider Athletic Greens AG1.
Alani Nu Super Greens Rating
Alani Nu Super Greens
In this Alani Nu Super Greens review, we'll highlight our experience testing this greens powder for two weeks, and share other notable details about the supplement.
Product Currency: USD
Product Price: 40
Product In-Stock: InStock
Alani Nu Super Greens FAQs
Is It Okay To Drink Super Greens Every Day?
Yes, it's okay to drink Super Greens every day. A superfood powder shouldn't take the place of eating whole foods (yes, even leafy greens), but it's a great way to supplement your diet to help you meet your nutrient needs and contribute to your overall health.
Is Drinking Super Greens Worth It?
It depends on your goals and your budget. You don't need a green superfood powder, but many reviewers say they've experienced health benefits like increased energy levels and better digestive health. If you can work a greens dietary supplement into your budget, we think it's worth it.
Does Super Greens Help With Bloating?
Many reviewers say Super Greens helps with bloating, but results can vary from person to person. It contains probiotics, digestive enzymes, and probiotics that support digestive health. If you have bloating concerns, your primary doctor or dedicated gastroenterologist may be able to clarify whether or not a greens powder can be of benefit to you.
These statements have not been evaluated by the Food and Drug Administration. This product is not intended to diagnose, treat, cure, or prevent any diseases.
References
1. Wang PY, Fang JC, Gao ZH, Zhang C, Xie SY. Higher intake of fruits, vegetables or their fiber reduces the risk of type 2 diabetes: A meta-analysis. J Diabetes Investig. 2016 Jan;7(1):56-69. doi: 10.1111/jdi.12376. Epub 2015 Jun 22. PMID: 26816602; PMCID: PMC4718092.