Titan Fitness has taken the lever style belt squat popularized by Matt Wenning and created their budget-friendly version.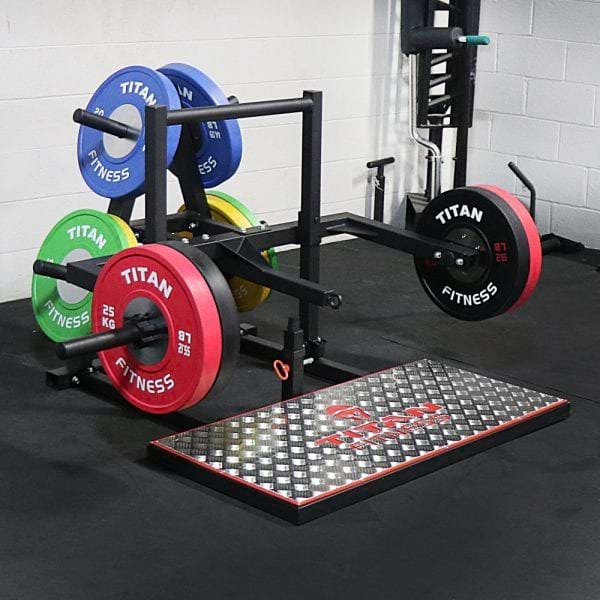 Titan Fitness is known for taking popular pieces of equipment and offering them at as cheap as possible prices. Their Belt Squat isn't the first of its kind, but it is the first that's been offered at this price point.
Belt squats are often seen as not the greatest option for home gym owners, but that's largely due to their price (and also their size, more on that in a bit.) However, with Titan offering this belt squat at less than $600 retail, and even less with their many discounts, this is a very affordable option for most.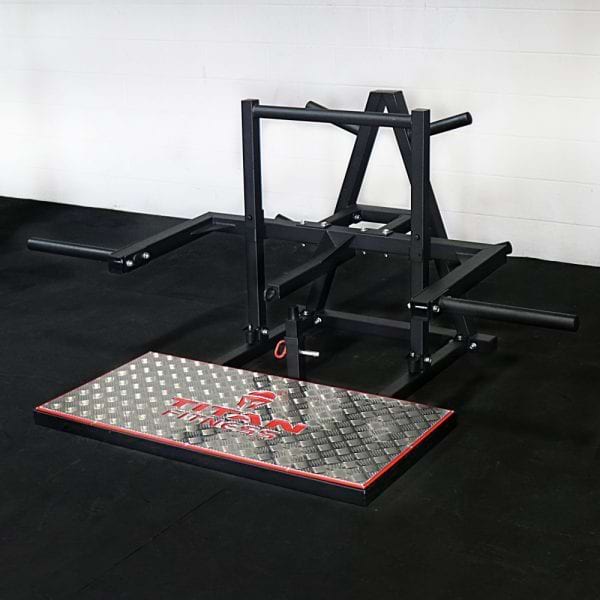 The Titan Belt Squat is massive, that must be understood, especially for the home gym owner.
Its footprint is 7'6″ x 5′ and that doesn't include the amount of room you need on either side to put plates on the unit. In other words, it's as big as a squat rack with a bar on the j-hooks. That's a lot of space, especially considering it's specificity.
Most people will only ever squat on it with the occasional march and single arm row. Sure, there may be some other movements that people come up with, but it will largely be used for squatting.
Compared to cable driven options like the new Rogue Rhino Belt Squat and the Westside Barbell ATP, this is a bit limiting.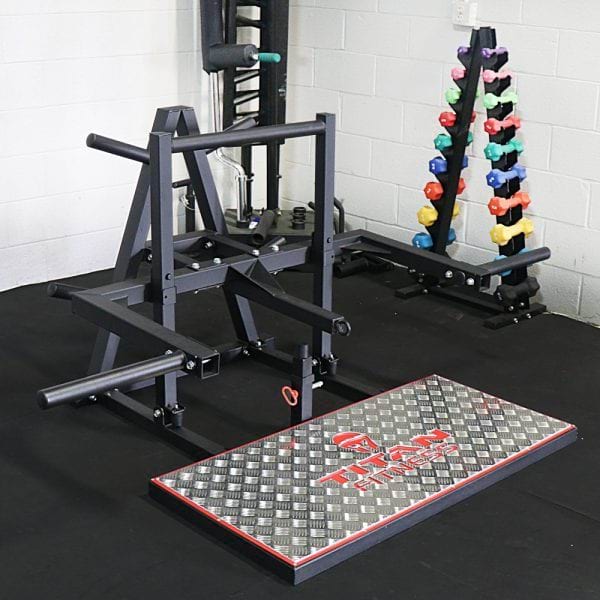 Here are the specs:
– Floor Space Required: 7′ 6″ Wide x 5′ Deep
– Overall Width: 83″
– Overall Depth: 52″
– Overall Height: 38.5″
– Footplate Dimensions: 49″ x 24″
– Weight Post Length: 16.5″
– Storage Weight Post Length: 9.75″
– Weight Post Diameter: 1.9″
– Inside Lifting Width: 42″
– Capacity: 1,000 LB
– Weight: 232 LB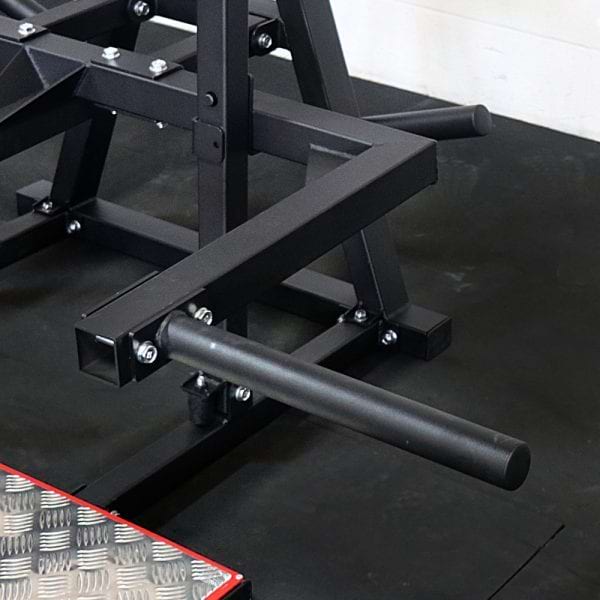 One feature that Titan included that is to keep the belt squat from tipping as well as to add some extra weight storage is the weight tree on the back of the unit. This was originally added to the Wenning Belt Squat and is a nice feature, although it does cause the unit to take up quite a bit more space.
Personally, I'd like to see a more compact version created at this price point, possibly something attached to a squat rack like what SquatMaxMD recently released.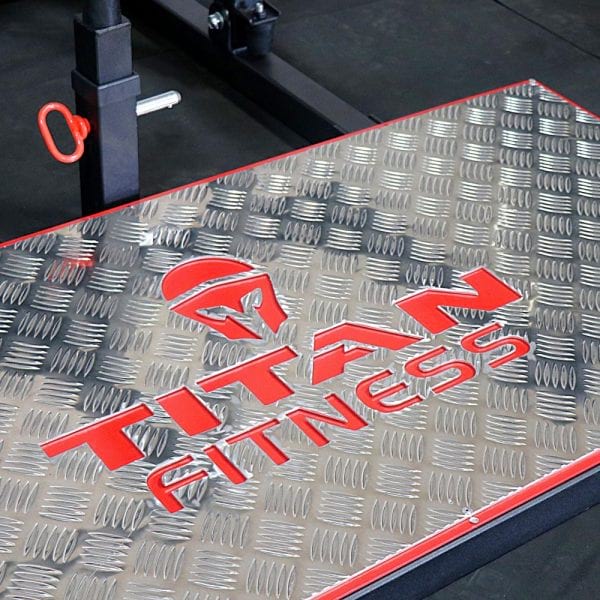 The footplate features a cutout diamond plate pattern. In pictures it looks pretty great, although I'm curious to see how it holds up when we get it in.
One thing is for sure about diamond plate, however, it's slick. I see many people adding stall mats over the top of the platform pretty quickly after receiving them. This said, the diamond plate looks great and if grippy enough shoes are worn, it shouldn't pose a problem for most people.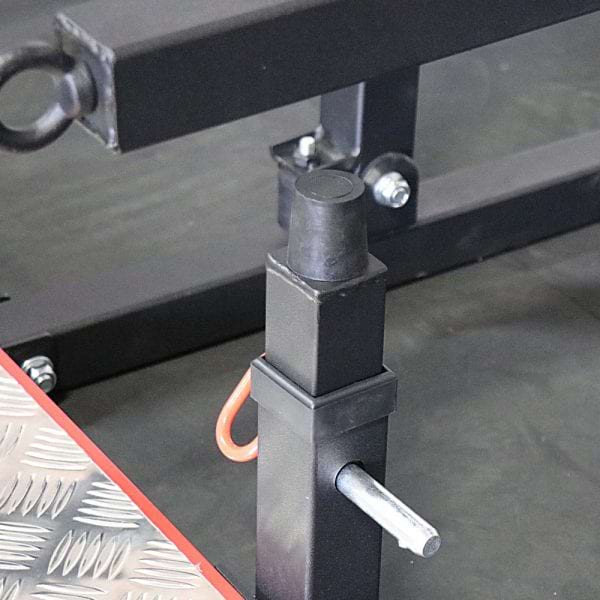 In order to accommodate various heights of people as well as allow for different squat depth, the Titan Fitness Belt Squat comes with three different weight stopper positions that keep the user from being nailed to the floor.
The weight stopper has a large rubber stopper atop it to prevent wear and tear on the machine. The entire unit is powdercoated in Titan's typical black powedercoat including the handle that's used to allow weight to be squatted.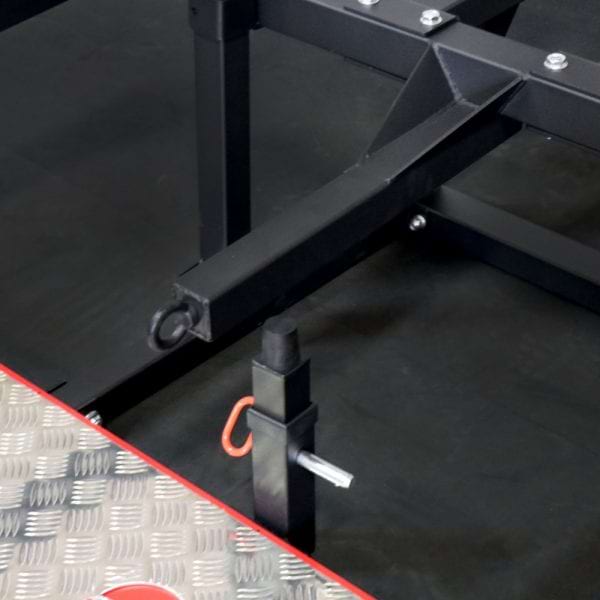 One of the things we're most curious to find out is how the engineering was done on the unit. One thing Matt Wenning talks often about is how much time he spent figuring out the exact angles and lengths the levers need to be in order to most closely mimic a squat.
I assume, based upon its appearance that the Titan Belt Squat will use similar geometries as the Wenning Belt Squat, but that remains to be seen.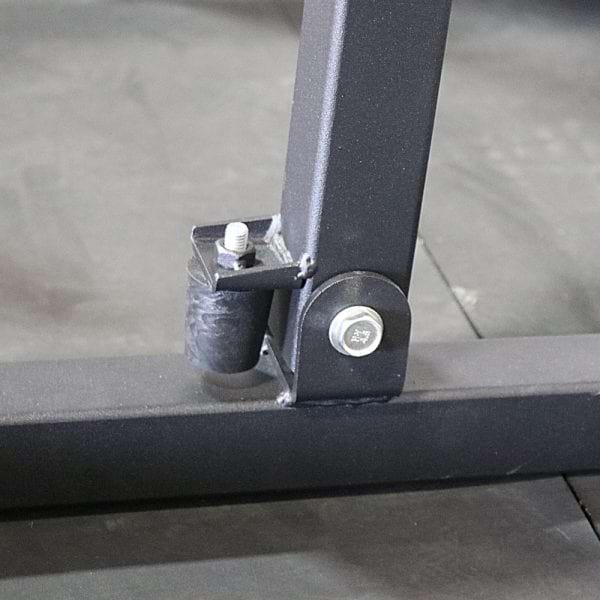 We have the Titan Belt Squat ordered and will provide an in-depth review as soon as possible.
Will you be picking up the Titan Belt Squat? Let us know!