We test and review fitness products based on an independent, multi-point methodology. If you use our links to purchase something, we may earn a commission. Read our disclosures.
Luxury gyms and spas spare no expense when creating an environment that invites you to stay awhile and take advantage of all their features and amenities. Amidst the delicate, deliberate details that make the space so enticing, you'll find various amenities that encourage relaxation, including saunas, steam rooms, and more.
RELATED: Steam Room vs Sauna
You'd assume that it's impossible to get that same quintessentially relaxing experience from the comfort of your own home without breaking the bank, but buying a sauna for your home might be more affordable than you'd think.
We're breaking down home sauna costs, including the cost of different types of saunas, sizes, materials, and power. We'll cover what you should expect to pay for labor, as well.
How Much Does a Home Sauna Cost?
So, what's your bottom line going to look like? Let's break down the costs to find out how much it's going to cost you to buy one of the best home saunas now!
Type
First and foremost, what type of sauna are you looking to install? The price will vary significantly if you're setting up an indoor portable sauna or a portable outdoor sauna like the SweatTent Outdoor Sauna versus an ultra premium infrared sauna.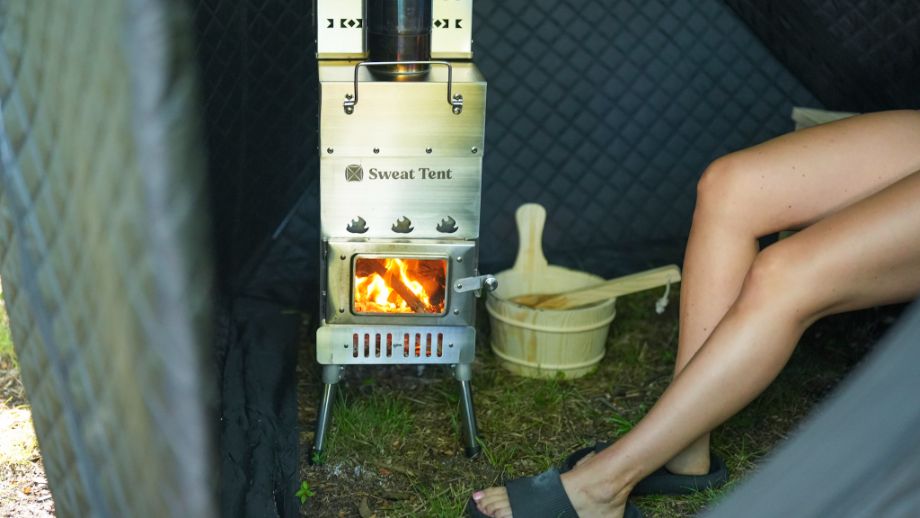 Portable saunas are the most affordable option, ranging from approximately $200 to $2,000 on the higher end. They are able to offer an affordable price because they involve virtually no installation or complicated components. They're not as decadent as other sauna options, but they get the job done, making them a great buy for price-conscious utilitarians.
Traditional saunas, whether installed inside your home or outside like the Redwood Outdoors Sauna, cost between $3,000 and $6,000 on average. They create dry heat from heating stones through the use of a wood-burning stove or electric heater, meaning there are some mechanical components involved, but fewer than other sauna types.
Steam rooms also tend to be pricey, ranging from $2,000 to more than $15,000 on the high end. It is possible to convert an existing shower into a steam room, but a dedicated steam room, complete with luxurious fixtures like aromatherapy pumps, built-in sound systems, specialized lighting for chromotherapy, ventilation, and plumbing, will certainly cost more.
RELATED: Wet Sauna vs Dry Sauna
Infrared saunas, the newcomer in the sauna market, are becoming more accessible and affordable as the technology advances, but it is still relatively new tech to the consumer market. Expect to shell out between $2,000 on the low end and upwards of $10,000 on the high end.
Size
When it comes to how much you'll pay for your sauna, size does matter.
Larger saunas tend to cost more since they occupy more square footage and thus require more materials to create. Whether you're paying for a custom sauna or choosing a prefabricated sauna, they're generally more expensive if they are large enough to contain larger groups.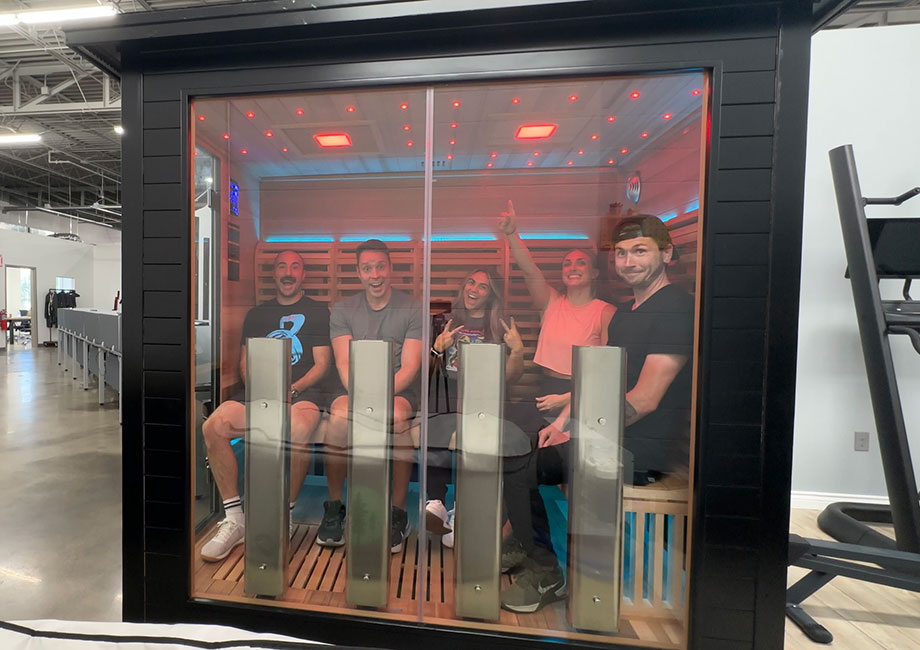 You won't break the bank if you select a two person sauna or maybe even a sauna for groups of four, but, as the size of the sauna increases, so will the bottom line of the bill.
Materials
If you're choosing a prefab sauna, then you won't have to factor in the materials quite as much. After all, your new sauna will arrive already built or be built by professionals to the precise specifications of the manufacturer.
Custom-built saunas, however, offer more variables to manage while coming up with the budget for your project. Each type of wood offers a different price range, so your cost per square foot will solely depend on the materials you wind up using and how much you need.
Here is a helpful table with ballpark figures that will help you when conceptualizing the construction of your in-home sauna and help you arrive at an accurate price estimate.
| | |
| --- | --- |
| Type of Wood | Cost Per Square Foot |
| Pine | $2 to $5 |
| Cedar | $3 to $7 |
| Spruce | $5 to $9 |
| Hemlock | $5 to $10 |
| Redwood | $30 to $35 |
| Nordic White Spruce | $11 to $20 |
Which type of wood works best for a sauna? Generally speaking, the above are all common options, with cedar possibly ranking as the most popular in the states due to the relatively low cost and excellent durability. Nordic spruce is very popular in Finland, where the traditional dry sauna was invented, but it is also cheaper overseas, making it less common in the States.
Pine is the cheapest option, but it is also more susceptible to warping over time. We're not saying that pine is a bad option by any means, but you'll likely get more value from options like cedar and hemlock.
RELATED: Sauna Etiquette
Labor
Anyone who's hired a contractor for home improvement projects or renovations knows that the materials are only part of the overall cost, and those labor costs sure do add up depending on the scope of the project.
The best way to minimize labor costs is by going with a precut sauna kit that simply requires a professional to pop in, put it in, and be on their way. Average costs for installing a precut sauna kit range between $1,500 and $3,000 depending on the size of the sauna.
Installation costs for custom saunas, of course, are much higher than their prefab counterparts. The contractor you wind up hiring for a job of this magnitude will likely have a full crew, complete with a plumber and electrician, and they'll factor in their wages into your final sauna price.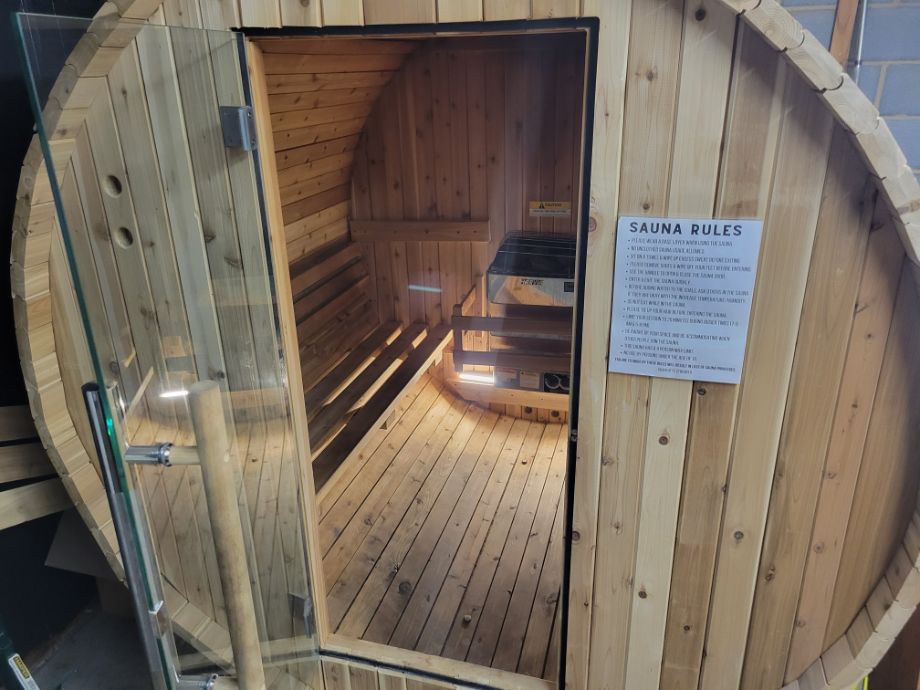 Power
The initial investment can be a doozy, but that's luckily the biggest expense you should expect to pay for your new home sauna.
There are recurring costs associated with owning a sauna, however. We're talking specifically about electric saunas, or saunas that use electric heaters to produce the heat.
Your standard sauna requires 220 volts of electricity, drawing about 40 amps of power. That's super energy efficient, costing you between $300 and $600 annually. To put that into perspective, it costs no more than using a clothes dryer or electric oven.
Health Benefits of a Home Sauna
Having a sauna available at home opens you up to a world of health benefits associated with their use. Here are some of the top benefits of using your home sauna regularly.
RELATED: How To Use A Sauna
May Help Relieve Joint Pain
According to a study in Annals of Clinical Research1, "more than 50 percent of patients find that sauna bathing alleviates rheumatic pain and improves joint mobility."
A later study published in Clinical Rheumatology2 expanded on these findings, stating that "[joint] pain and stiffness decreased clinically, and improvements were statistically significant" during infrared sauna use.
Researchers believe that we experience joint pain relief during and following sauna use thanks to improved circulation3 as a result of the sauna heat. The high temperatures cause vasodilation, or an expansion of the blood vessels, which improves blood flow, decreases blood pressure, and reduces inflammation, ultimately producing an analgesic effect for your joints.
May Help Aid in Recovery
According to a 2023 study in Biology of Sport4, sitting in the sauna after exercise helps reduce perceived muscle soreness after resistance training. It also diminished the drop in explosive performance following muscle fatigue, enabling study participants to perform at 100% again sooner.
Another study published in the Journal of Science and Medicine in Sport5 found that regular sauna bathing after exercise "produced a worthwhile enhancement of endurance running performance, probably by increasing blood volume."
So, if you already have a home or garage gym, having the ability to head upstairs, have a quick glass of water, then pop right into the sauna to jumpstart your recovery is invaluable.
RELATED: Best Muscle Recovery Tools
Potential for Stress Relief
The demands of a hectic day often wear us down, and what helps us decompress? A great session at the gym is a great start, but spending time in the sauna or steam room right after often also works wonders for our mental health and well-being.
There may be more to it than just feeling relaxed while sitting in the sauna.
A 2016 study in JAMA Psychiatry6 found that participants exhibited less symptoms of depression after experiencing "whole body hyperthermia," or exposure to a hot environment similar to sitting in a sauna. The study concluded that "whole body hyperthermia holds promise as a safe, rapid-acting, antidepressant modality with a prolonged therapeutic benefit."
A 2023 review in Mayo Clinic Proceedings7 found that Finnish sauna bathing yielded various health benefits, stating that it has "blood pressure-reducing, anti-inflammatory, antioxidant, cytoprotective, and stress-reducing properties and its synergistic effect on neuroendocrine, circulatory, cardiovascular, and immune function."
Overall, there's plenty of benefits associated with regular sauna bathing, which is only made more attractive by the relatively few adverse effects associated with sauna bathing.
May Increase Home Value
Finance savvy homeowners are always looking for renovations and improvements that will provide an attractive turn on their investment during the resale. That's why purchasing and installing a sauna at home, which is relatively inexpensive, is often a great investment.
Saunas are considered a luxury item, so, although you may spend only a few thousand on the purchase and installation of the sauna, you may be able to increase your asking price and ultimately receive a higher offer for your home.
Keep in mind that saunas, while they provide incredible value and numerous health benefits, are not as commonplace as other home fixtures, so they may deter some home buyers who are unfamiliar with saunas, their operating costs, and upkeep.
For the right buyer, you should enjoy a handsome return on your investment, but saunas will not entice every buyer.
Home Sauna Cost: Money-Saving Tips
Size Matters: Unless you'll regularly host group sauna sessions at your home, pick something that comfortably accommodates only one or two at a time.
Reduce, Reuse, Recycle: You can cut down on your materials cost if you use recycled or reclaimed lumber. Plus, it's a green option, so you can feel good about that, too!
Prefab is Fab: Prefab kits contain everything you need in a neat little package, making the overall project considerably cheaper than getting something custom.
Prepare Yourself: You'll wind up paying greater labor costs if you let the contractor prep the area for your indoor sauna. The same is true if you hire a landscaper for your outdoor sauna. Save on installation costs by having the area ready before they arrive.
Keep It Simple: Working in premium sauna accessories and ultra high-quality fixtures will enhance your overall sauna experience, but also augment the bottom line.
Take Multiple Bids: Going with the first sauna and/or contractor will give you no basis for comparison. Ask multiple vendors and contractors for pricing. This will ultimately help you wind up with a better price
DIY: As they say, "If you want something done right, you gotta do it yourself!" We're a resourceful bunch here at Garage Gym Reviews, and we know you are, too. You'll most definitely save money on the sauna installation if you choose to put in your own prefab sauna kit or build your own custom sauna.
Home Sauna Cost: FAQs
Is it expensive to run a home sauna?

You'd assume that a sauna, being a luxury item, costs a lot to operate. Most saunas, however, cost very little to operate, making the installation cost the real budget breaker in this equation.
Traditional saunas that use an electric heater will cost no more than an electric clothes dryer does to operate. Wood-burning saunas will be even less expensive.
The infrared heaters used in far infrared saunas are also generally cost effective. Because infrared heat is able to heat the sauna bather at lower temperatures, generally no more than 140 degrees Fahrenheit, an infrared sauna costs less to operate than a traditional one. 
Is it cheaper to build a sauna or buy one?

It all depends on the execution. If you're a savvy negotiator, fantastic woodworker, and have a general knack for DIY, you can probably build a sauna that winds up being cheaper than the prefabricated ones.
If you're commissioning a contractor to build you a custom sauna, however, that will likely cost more than just buying one that's already made.
How long do home saunas last?

With proper care and maintenance, a home sauna should last between 15 and 25 years. This figure will vary depending on how often you use the sauna, indoor saunas versus outdoor saunas, and other factors that might diminish its lifespan.
Generally speaking though, your home sauna should last many years.
Is it OK to sauna every day?

It's not only OK to sauna every day, it's encouraged!
According to a 2015 study in JAMA Internal Medicine8, "increased frequency of sauna bathing is associated with a reduced risk of sudden cardiac death (SCD), fatal coronary heart disease (CHD), fatal cardiovascular disease (CVD), and all-cause mortality."
So, feel free to sauna bathe every day in your home sauna!
References
1. Isomäki H. The sauna and rheumatic diseases. Ann Clin Res. 1988;20(4):271-275.
2. Oosterveld FG, Rasker JJ, Floors M, et al. Infrared sauna in patients with rheumatoid arthritis and ankylosing spondylitis. A pilot study showing good tolerance, short-term improvement of pain and stiffness, and a trend towards long-term beneficial effects. Clin Rheumatol. 2009;28(1):29-34. doi:10.1007/s10067-008-0977-y
3. Laukkanen JA, Laukkanen T, Kunutsor SK. Cardiovascular and Other Health Benefits of Sauna Bathing: A Review of the Evidence. Mayo Clin Proc. 2018;93(8):1111-1121. doi:10.1016/j.mayocp.2018.04.008
4. Ahokas EK, Ihalainen JK, Hanstock HG, Savolainen E, Kyröläinen H. A post-exercise infrared sauna session improves recovery of neuromuscular performance and muscle soreness after resistance exercise training. Biol Sport. 2023;40(3):681-689. doi:10.5114/biolsport.2023.119289
5. Scoon GS, Hopkins WG, Mayhew S, Cotter JD. Effect of post-exercise sauna bathing on the endurance performance of competitive male runners. J Sci Med Sport. 2007;10(4):259-262. doi:10.1016/j.jsams.2006.06.009
6. Janssen CW, Lowry CA, Mehl MR, et al. Whole-Body Hyperthermia for the Treatment of Major Depressive Disorder: A Randomized Clinical Trial [published correction appears in JAMA Psychiatry. 2016 Aug 1;73(8):878]. JAMA Psychiatry. 2016;73(8):789-795. doi:10.1001/jamapsychiatry.2016.1031
7. Kunutsor SK, Laukkanen JA. Does the Combination of Finnish Sauna Bathing and Other Lifestyle Factors Confer Additional Health Benefits? A Review of the Evidence. Mayo Clin Proc. 2023;98(6):915-926. doi:10.1016/j.mayocp.2023.01.008
8. Laukkanen T, Khan H, Zaccardi F, Laukkanen JA. Association between sauna bathing and fatal cardiovascular and all-cause mortality events. JAMA Intern Med. 2015;175(4):542-548. doi:10.1001/jamainternmed.2014.8187