We test and review fitness products based on an independent, multi-point methodology. If you use our links to purchase something, we may earn a commission. Read our disclosures.
Are you dreaming of a high-quality backyard sauna to reap the benefits of sauna after workout, but you just can't stomach the price tag of traditional saunas? The SweatTent Outdoor portable sauna might be the solution you've been looking for.
In our SweatTent Outdoor Sauna review, we'll cover the ins and outs of this portable sauna, what it's constructed from, how it compares to a traditional sauna, and what to expect using a stainless steel stove as the heat source.
Pouring Our Sweat and Tears Into Sauna Testing
Your friends here at Garage Gym Reviews are fitness professionals ranging from Olympic athletes to certified personal trainers. We've tested some of the best muscle recovery tools on the market, and we're diving head first into at-home hot and cold therapy options.
For this SweatTent review, expert product tester and lead reviewer for Garage Gym Reviews Everything, Lindsay Scheele, tested the portable sauna in her own backyard.
GGR operations manager, Sam Presley, assisted with the testing process by unboxing, assembling, and starting a wood-burning fire to test the SweatTent.
Sweat Tent
GGR Score: 4.04
Product Highlights
Outdoor sauna that can travel

Made with weatherproof insulated Oxford 210D fabric

Heated by wood-fired,stainless steel stove

Can reach 200 degrees in any weather
Pros & Cons
Pros
Affordable price
Portable enough to travel with
Carry bag
Weatherproof insulated fabric
Cons
80 lbs of material makes it less portable than other options
Not for indoor use
Bottom Line
The Sweat Tent Outdoor Sauna is a durable, heavy-duty tent that is both an affordable and portable option for outdoor saunas. With the ability to collapse into a carry bag, and weighing around 80 pounds total, it is easy to load into a car for traveling. With a weatherproof insulated exterior, the Sweat Tent can reach 200 degrees in any weather with its wood-fired stove.
A Quick Look at the SweatTent Outdoor Sauna
SweatTent is a Wyoming-based company new to the sauna and recovery market. The brand manufactures an all-in-one sauna kit that includes the portable sauna tent, stainless steel wood stove, and all the items needed for a sauna session, including hot rocks, rock holder, weatherproof cover, fire poker, gloves, and a thermometer that displays both temperature and humidity.
The brand also offers sauna add-ons like a water bucket and ladle, a cedar bench, eucalyptus essential oil, a torch lighter, and a wool sauna hat (that is Viking-inspired and awesome).
Before You Buy
Be aware that the SweatTent is heated with a wood-burning stove. We recommend checking with your local fire department rules and regulations on outdoor fireplaces.
You'll want to be at least two feet away from other structures, brush, and low-hanging branches.
Plan on using wooden seating arrangements inside the sauna and avoid using any metal patio furniture, benches, or chairs.
Is the SweatTent Outdoor Sauna Worth It?
If you're someone who has been contemplating buying a sauna (or trying to scheme up a DIY plan for a sauna), the SweatTent has a lot to offer for folks who just can't fathom paying upwards of $5,000 for sauna. It's even rated to keep the tent insulated down to 10 degrees Fahrenheit. It's heated with a wood-burning stove, so you will need to accommodate for about a 30-minute start-up period to warm the ten
RELATED: DIY Gym Equipment
Additionally, the website notes that although it's a portable sauna, it's also suitable to leave it up permanently. The brand however, recommends packing it up for extreme weather.
Great for:
Backyards and outdoor spaces
Imitating a Finnish sauna experience
Reaping the health benefits of saunas
Not recommended for:
Urban dwellers
Large families
Folks limited on time
SweatTent Outdoor Sauna Specs
| | |
| --- | --- |
| Price | $1,499.00 |
| Footprint | 6' L x 6' W x 7' H |
| Capacity | 3-person capacity |
| Weight | 30 lbs |
| Tent materials | Heat-resistant Oxford 210D nylon and TPU |
| Heat source | Wood-fired sauna stove |
| Heat capacity | Up to 200 degrees Fahrenheit in 30 minutes |
| Stove included | Yes |
| Stove materials | Stainless steel |
| Stove weight | 50 lbs |
| Extras | Wooden thermometer, fire poker, gloves, sauna rocks and holder |
| Warranty | 1-year limited warranty for both tent and stove |
Using the SweatTent Outdoor Sauna
When it comes to actually using the SweatTent and its overall performance, expert GGR product tester Lindsay Scheele gives the portable heat therapy tent a stellar 5-out-of-5-star rating.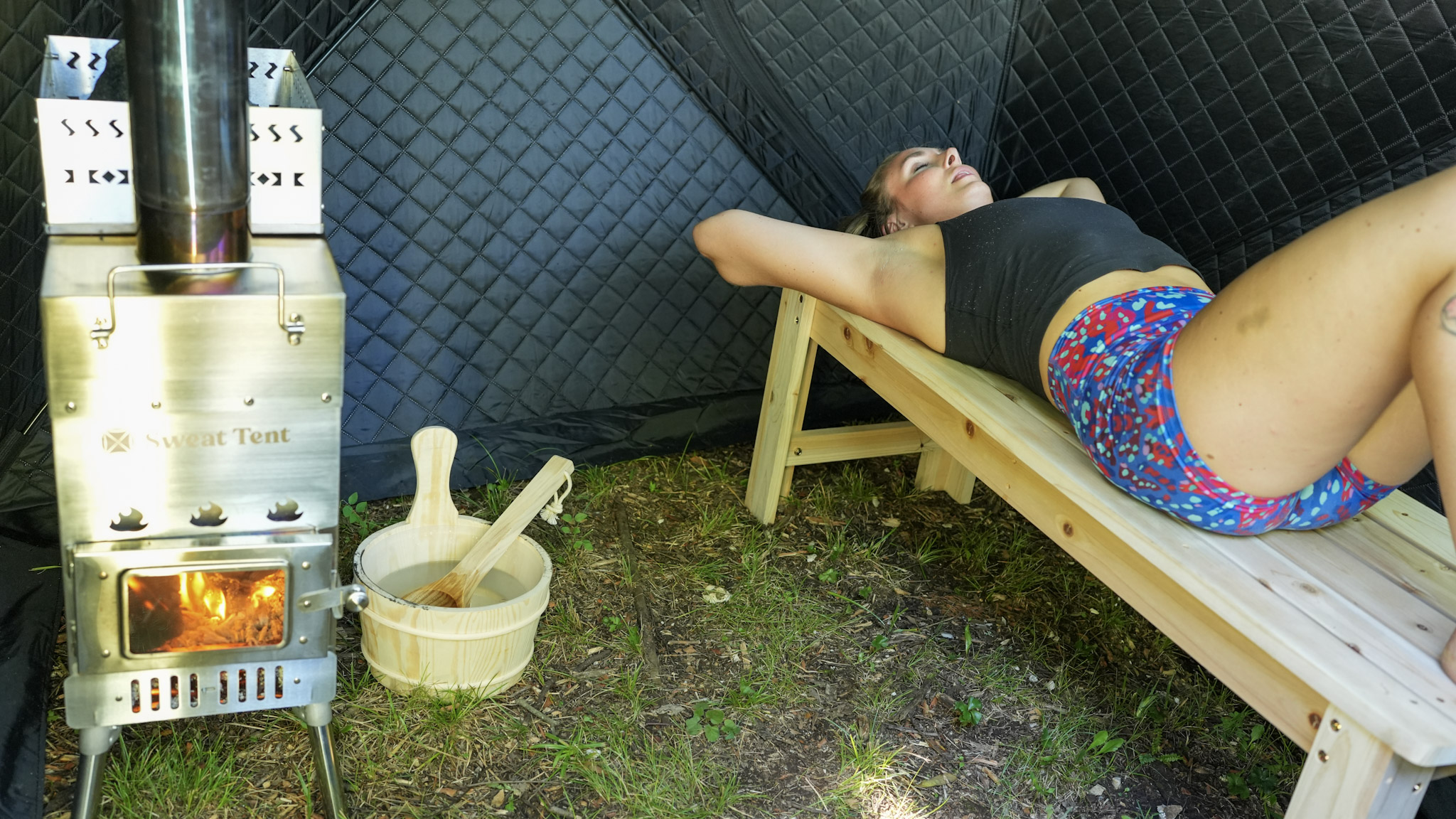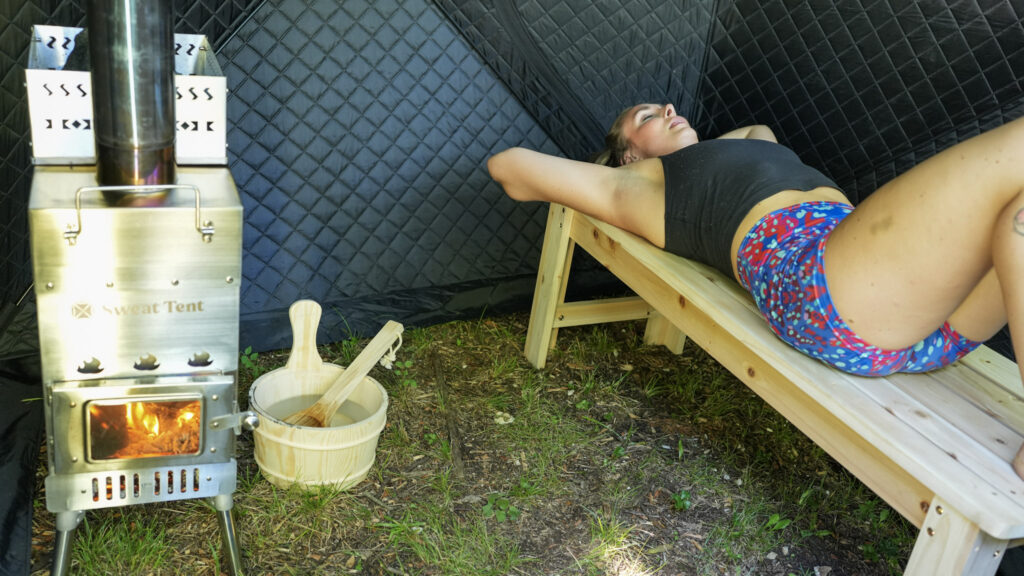 Lindsay and GGR operations manager Sam Presley teamed up in Lindsay's backyard to assemble and test the SweatTent. After enjoying the testing experience so much, Lindsay says, "I don't want to take it back to GGR headquarters—I have it set up next to the creek on my property and have been using it after a cold plunge."
RELATED: Best Cold Plunge Tub
"It was great," says Lindsay. "It was really easy to get the fire going with a fire starter we bought and then just added logs to it."
The website notes that a stainless steel stove will take about 30 minutes to reach about 200 degrees. Lindsay's experience is consistent with the brand's timeline.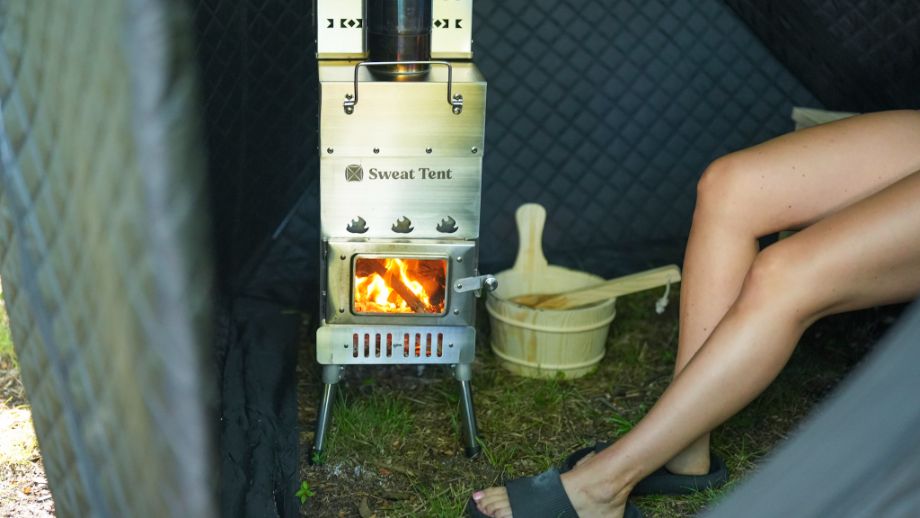 "After 30 minutes, we were all sweaty," says Lindsay. "Plus, the stove didn't feel too hot to the touch. The sauna rocks also heated up in about 30 minutes, and we were able to create a lot of humidity by pouring water onto them."
Footprint and Portability
The SweatTent is far more portable than a traditional wooden sauna (or infrared sauna, for that matter). But it's not an ultra-lightweight endeavor to haul the tent and stove around. The tent weighs around 30 pounds, and the stove is 50 pounds. It also comes with 20 pounds worth of sauna rocks.
RELATED: Infrared Sauna Benefits
Lindsay gives the SweatTent a 4-out-of-5-star rating for overall footprint and portability.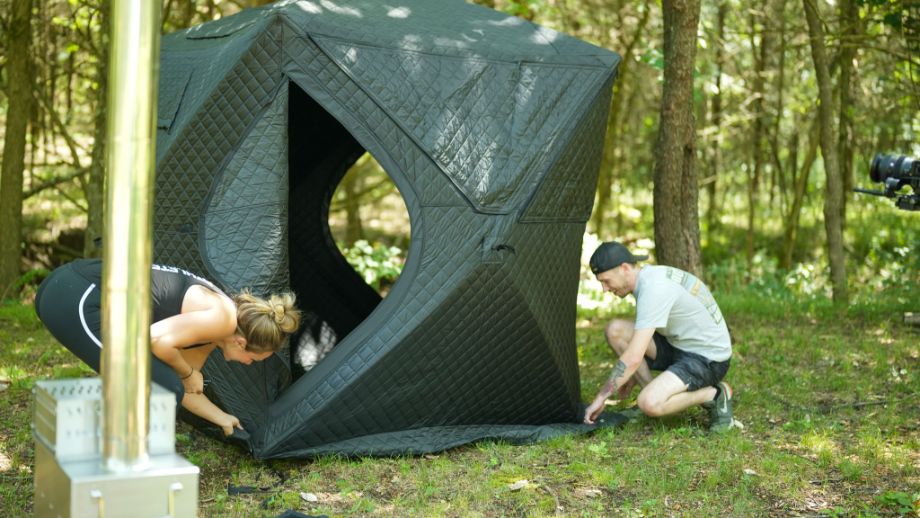 "I would say this is the most portable sauna option out there, but I'm not giving this 5 stars because you will still need to carry the stove and tent, and that could get pretty tiring," she says.
But the good news is that if you do decide to move it across your yard or bring it with you on a long weekend away, the 6-foot-by-6-foot footprint folds down into a compact carrying case.
Durability and Construction
The SweatTent is designed to hold up to rain and wind, but we know it's not quite the same as a wooden or barrel sauna. For this reason, Lindsay gives it a 3-out-of-5-star rating when it comes to durability and construction.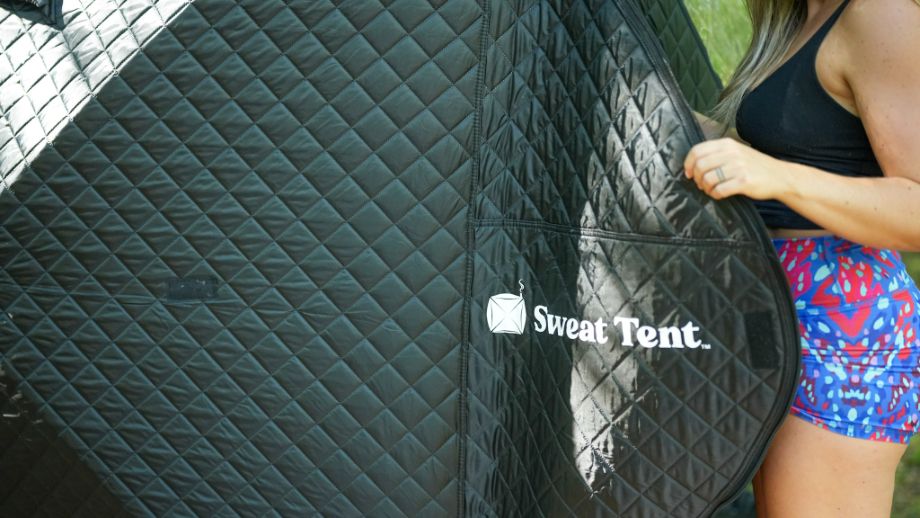 "For a portable sauna, this seems pretty sturdy. I think you could keep it set up outside for long stretches of time," she says. And in fact, the website says you can keep your SweatTent set up permanently. The brand suggests taking it down for extreme weather, though.
"It also comes with a fiberglass roof cover that protects your tent from outside elements," Lindsay adds.
Extras and Conveniences
We appreciate that SweatTent comes with literally everything you need to make your sauna session safe and enjoyable. Unless you have a wood stove in your home, you might not own a fire poker and gloves, so it's ideal that those are included.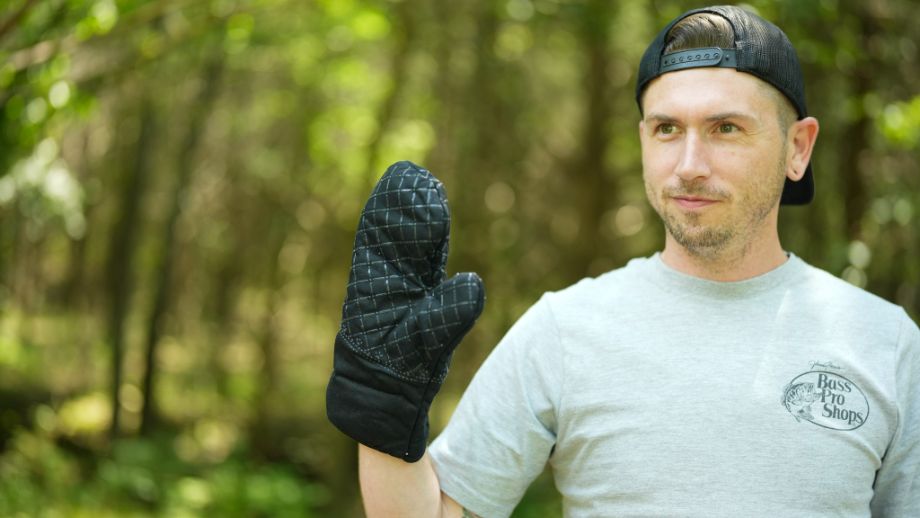 Your purchase also comes with 20 pounds of sauna rocks, a rock basket, a wood thermometer that reads temperature and humidity levels, and a fiberglass roof cover.
Comparison to Similar Products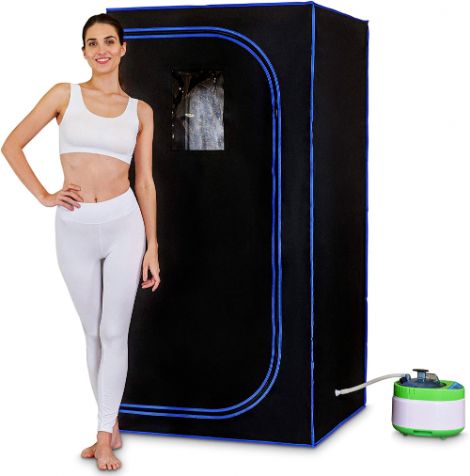 GGR Score: 3.8
Product Highlights
Collapsible, lightweight steam sauna with a compact design

35.4" L x 35.4" W x 70.9" H

4-liter steamer included reaches a max temperature of 122 degrees

Can stand or sit with included sauna chair

Includes hand-access zippers for easy access to phones, books or magazines
Pros & Cons
Pros
Portable and lightweight
Energy-efficient
Hand-access zippers
Inexpensive
Cons
Too short for taller people to stand
A low maximum temperature
Bottom Line
The SereneLife Full Size Portable Steam Sauna is an affordable option for a home sauna. Being lightweight and collapsible, you can easily move the steam sauna around your house from room to room. With enough room for most people to stand in, the sauna includes a chair to sit in as well. A 4-liter steamer is included, bringing the sauna to a maximum temperature of 122 degrees Fahrenheit.
Redwood Outdoors
GGR Score: 3.8
Product Highlights
Outdoor sauna kit

Designed to stand up to the elements

Traditional Scandinavian design 

Constructed from ultra-dry Thermowood timber

Comes with a Harvia heater

Includes bucket and ladle, backrest, sauna rocks, light fixture
Pros & Cons
Pros
Ability to relax and recharge from your backyard
Interlocking lumber for streamlined assembly
Powerful electric heater
2-level seating
Cons
Expensive price tag
Short 1-year limited warranty
Requires 240V for electric heater
Some drilling required for assembly
Bottom Line
Redwood Outdoors is a brand that offers a dozen different outdoor saunas. The Thermowood Cabin is the ideal choice for anyone looking for a four-person sauna that will offer a straightforward assembly with interlocking ultra-dry timber. The sauna features 2-level seating, which is the traditional Scandinavian design so you can choose between low- and high-heat options. The Thermowood Cabin comes standard with a Harvia electric heater, bucket and ladle, backrest, sauna rocks, and an internal light fixture.
There are many similar products on the market. That said, our team is still getting our toes wet in the hot and cold therapy space. We've tested several saunas, but of the ones we've tested, we think the SweatTent is a happy medium between the budget-conscious SereneLife Portable Steam Sauna and the high-end Redwood Outdoors Sauna.
When it comes to overall value for the SweatTent, Lindsay gives the tent a 5-out-of-5-star rating. The SweatTent is cheaper than a traditional wooden sauna and still offers many of the same benefits. Plus, it allows more people to enjoy the sauna than a single-person product like the SereneLife Full Size Portable Steam Sauna, which we feature in our top picks for the best home sauna.
The Redwood Outdoors Sauna is nearly quadruple the cost of the SweatTent Outdoor Sauna and doesn't offer portability. It's also worth noting that the SweatTent does not require electricity like these other two saunas because it's heated with a wood-burning stove.
For more, check out our in-depth Redwood Outdoors Sauna Review.
| | | | |
| --- | --- | --- | --- |
| | Redwood Outdoors Thermowood Sauna | SereneLife Full Size Portable Steam Sauna | SweatTent Outdoor Sauna Specs |
| Price | Starts at $5,999 | About $300 on Amazon | $1,499 |
| Footprint | 78.75" L x 59" W x 96.75" H | 35" L x 35" W x 70" H | 6' L x 6' W x 7' H |
| Weight | 800 lbs | 13.18 lbs | 30 lbs |
| Capacity | 4 people | 1 person | 3 people |
| Type of sauna | Dry | Steam | Dry |
| Heat source | Electric Harvia heater | 4 liter steamer | Wood-fired stove |
| Warranty | 1-year limited | N/A | 1-year |
Customer Experience
For overall customer experience, expert tester Lindsay Scheele gives SweatTent a 4-out-of-5-star rating. Lindsay knocked off a point because the live chat function on the website took six hours to get a response, when she was initially notified with a four-minute wait time.
"Overall, it's great that they answered within 24 hours, but I wish they wouldn't get someone's hopes up about answering in 4 minutes and then take several hours," says Lindsay.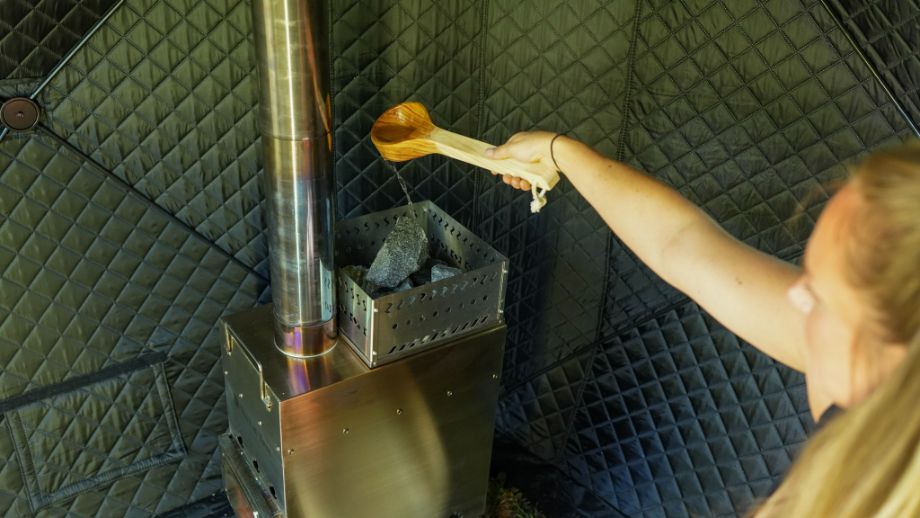 That said, there is a general inquiry form on the website, company phone number, and links to all social media channels.
As for other experiences as a customer (such as financing options, warranty policy, return policy) Lindsay gives the brand a 3-out-of-5-star rating.
We're a little disappointed to see only a one-year warranty policy on the tent and stove. However, we appreciate the fact there is a standard 30-day window to make returns if you're not happy with your sauna purchase. Keep in mind that SweatTent applies a 30% restocking fee, which is nearly $450.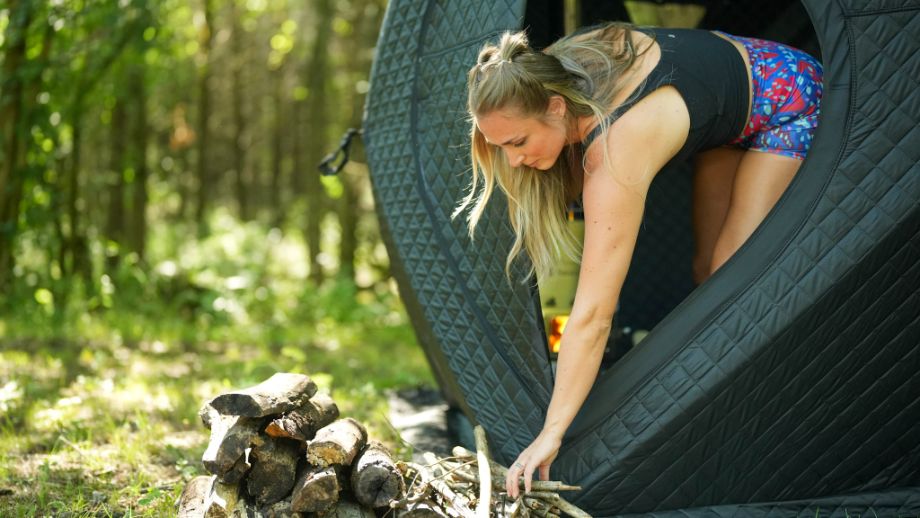 Returns need to be like-new and returned in the original packaging to be accepted. You'll also need to contact customer support before you make your return.
Ordering and Assembling the SweatTent Outdoor Sauna
When ordering your SweatTent Outdoor Sauna, at checkout, there are several payment options including express payments like Meta Pay, PayPal, and Venmo. There is also an option to use TrueMed and pay with your health savings account (HSA) or flexible savings account (FSA).
And lastly, you can use ShopPay to finance the $1,500 purchase with 0% APR for qualified buyers.
You might also like knowing that you'll have free shipping if you live within the continental USA.
When your SweatTent arrives, the setup process will take some time but it's relatively straightforward and the website provides detailed instructions and a video tutorial. Overall, Lindsay gives the SweatTent a 4.5-out-of-5-star rating for delivery and setup.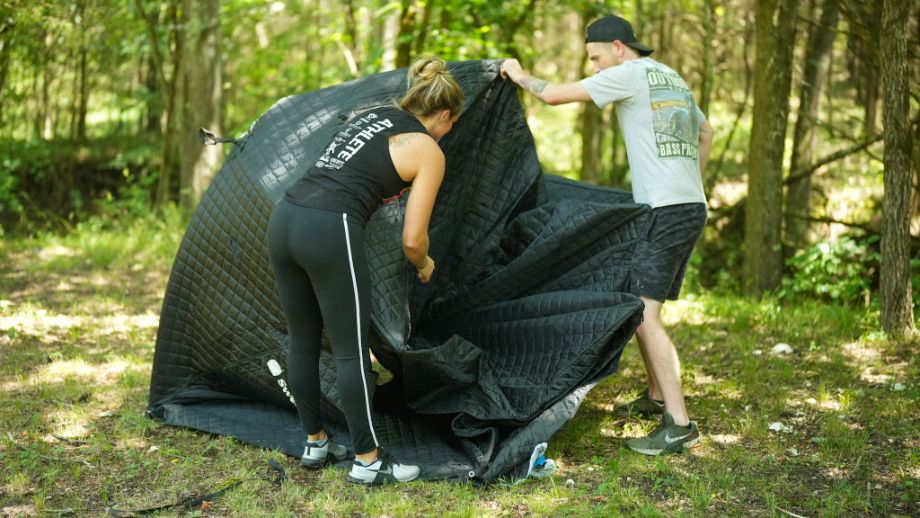 "The setup is super easy. There are instructions online available, but really it is pretty self-explanatory," she says.
"You will essentially take the tent out of the bag and use the straps to pull the tent apart, and it pops into place," says Sam Presley, GGR operations manager. The tent design is essentially the same as a pop-up ice fishing tent, so if you're familiar with those, you will have no problem with the SweatTent.
"Then, once the tent is set up, you just need to assemble the stove, which again, is really easy to do. One person could do this, but I think having two people is the best option," adds Sam.
Before you set up the stainless steel stove to burn inside the tent for the first time, there is a mandatory step to season the stove before your first use. The good news is that this won't take a ton of time and there is a two-minute video on the FAQ page showing exactly how to do it.
The seasoning process helps burn off any cleaning materials used in the manufacturing process (aka off-gassing) and helps warp the metal into its final resting place.
Customer Reviews
According to the SweatTent website, the product has an average rating of 4.9 out of 5 stars. There are nearly 80 customer reviews, and none go below the 3-star overall rating. Most folks say the stove heats up quickly and can hold temperatures around 200 degrees. Customers also note that setup is fairly easy, and the tent stands up to the wind and rain.
Final Verdict of Our SweatTent Outdoor Sauna Review
The SweatTent Outdoor Sauna is a modern take on the traditional Finnish sauna. However, unlike a traditional sauna the SweatTent is less expensive and portable. It doesn't require electricity and is heated with a stainless steel wood-burning stove.
Here are some things to keep in mind before you buy:
Because the SweatTent uses a wood burning stove, you'll want to check with your local fire department about rules and regulations.
You'll also want to make sure your outdoor space has enough room to accommodate the SweatTent and at least two feet around the perimeter.
If you're looking for a quick-heating sauna, this might not be the solution for you as it takes about 30 minutes to get up to traditional sauna temperatures of 160 to 200 degrees.
SweatTent Outdoor Sauna Rating
SweatTent Outdoor Sauna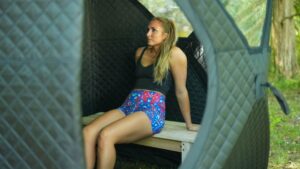 With this portable sauna tent make it your backyard this season? Be sure to read about our hands-on experience in the Sweat Tent Outdoor Sauna Review.
Product Brand: SweatTent
Product Currency: USD
Product Price: 1499.00
Product In-Stock: InStock
SweatTent Outdoor Sauna: FAQs
We answered some commonly asked questions about the SweatTent Outdoor Sauna:
How do you set up a SweatTent?
Setting up the SweatTent is fairly straightforward, with the written instructions included with the tent and the video instructions featured on the website. Erecting the tent is similar to a pop-up ice fishing tent. The stainless steel stove is like residential wood stove units, except you'll have to connect the chimney pipe yourself. 
Does an outdoor sauna need ventilation?
While all saunas are different and feature a variety of heating elements, the SweatTent Portable Sauna features a stainless steel wood-burning stove and a stainless steel chimney. This provides ventilation and releases smoke up through the chimney. There are also temperature control vents and a fresh air intake built into the tent's design. 
Who should not sit in a sauna?
Consult your doctor before sauna use if you have (or at risk for) high blood pressure, heart disease, or other chronic illnesses. 
What is the temperature inside a sauna?
Traditional FInnish saunas range from 160 to 200 degrees Fahrenheit. The SweatTent Outdoor Sauna can reach up to 200 degrees.