We test and review fitness products based on an independent, multi-point methodology. If you use our links to purchase something, we may earn a commission. Read our disclosures.
Peloton made its first-ever rowing machine available for pre-order in September 2022, and it's since been used by hundreds of home gym enthusiasts. Known originally for the Peloton Bike and then the Tread, does the Peloton Row stand up to its cardio counterparts? While we haven't put our hands on the Peloton Row just yet, we're still able to do a Peloton Rower review by drawing on our years of experience of testing dozens of the best indoor rowers and other Peloton equipment such as their bike and treadmill.

We're also a group of certified personal trainers, CrossFit coaches, and competitive triathletes who know what high-quality exercise equipment looks and feels like. Garage Gym Reviews has been testing and reviewing cardio equipment since 2016 and has become a major voice in the home gym equipment industry.
A Quick Look at the Peloton Row
The Peloton Row is (an aptly named) rowing machine from fitness brand Peloton, first known for its exercise bikes and later its treadmills. The Row is the first rowing machine available from Peloton and can be purchased for a little more than $3,000.
Like other Peloton equipment, the Row sports a large (23.8-inch) touchscreen display with optimized graphics. On screen, exercisers can see a community leaderboard and rowing metrics like distance, pace, stroke rate, and calories burned while streaming on-demand rowing workouts and live classes.
Although we haven't had the opportunity to do any hands-on workouts with the Peloton Row just yet, we're going to take an in-depth look at this at-home cardio machine by analyzing its specifications and our robust experience with other indoor rowing machines.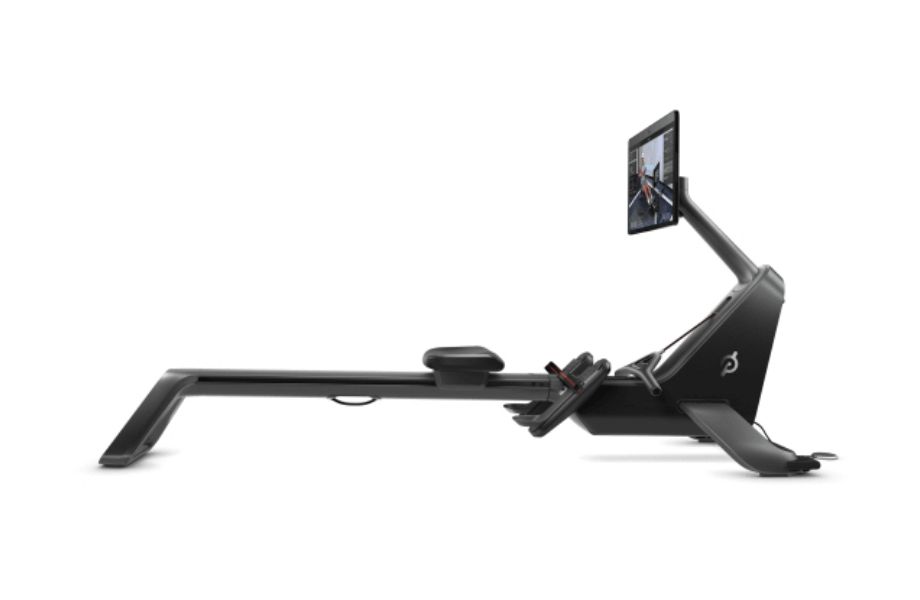 My Tips
Peloton offers financing on this machine, so you can break up the price into more manageable monthly installments.
Weigh your options carefully. This machine is very expensive yet comparable in specs to other smart rowing machines.
Is the Peloton Row Worth It?
If you were to ask just me if the Peloton Row is worth its over-$3,000 price tag, I'd say no. I think there are rowing machines that are just as good, if not better, for lower prices. But considering my job is to determine which products are good for which people, I'll dig a little deeper.
The Peloton Row is inarguably a good piece of fitness equipment—the company is known for its strong, durable, comfortable hardware, after all. The new rowing machine works via a Peloton All-Access membership, of which our review is favorable. (However, we have not reviewed rowing workouts, only Peloton Bike and Tread workouts, so we can't speak to the quality of rowing content yet.)
According to the specs, longevity shouldn't be a problem: With a seat rail made of aluminum and a powder-coated frame, the machine should resist dings, scratches, and other damage.
All that said, the thing costs upward of $3,000. Literally our entire team at GGR agrees that this is outrageous, especially when you consider that you can get a Concept2 RowErg (formerly Concept2 Model D Rower) for about $1,000, and other smart rowers, like Hydrow and Aviron, for $2,000 to $2,500.
So, is the Peloton Row worth it? Depends on who you are and who you ask, but we're inclined to say there are better value options for most exercisers available.
Great for:
People who already have a Peloton All-Access membership
Peloton puritans ¯\_(ツ)_/¯
Home gym owners who aren't on a budget
Not recommended for:
Anyone on a budget
CrossFitters (Concept2 RowErg is best for this group)
People who want to store a rower in a non-climate-controlled area (not recommended for tech-heavy machines)
Peloton Row Specs
| | |
| --- | --- |
| Dimensions | 7'10" L x 24" W |
| Product Weight | 156.5 lbs |
| User Weight Capacity | 300 lbs |
| Resistance Type | Electronically controlled resistance |
| Resistance Levels | Not specified |
| Display | 23.8″ HD swivel touchscreen |
| Connectivity | Bluetooth, ANT+, WiFi (no Ethernet) |
| Audio | Front-and rear-facing speakers |
| Foldable | Only the screen arm |
| Programming | Peloton All-Access membership required |
Peloton Row Features
The Peloton rower isn't short on features. This new rowing experience includes all of the basics like metric-tracking and an ergonomic molded seat, but the machine comes equipped with a lot of features you won't get on a budget-friendly rower, including: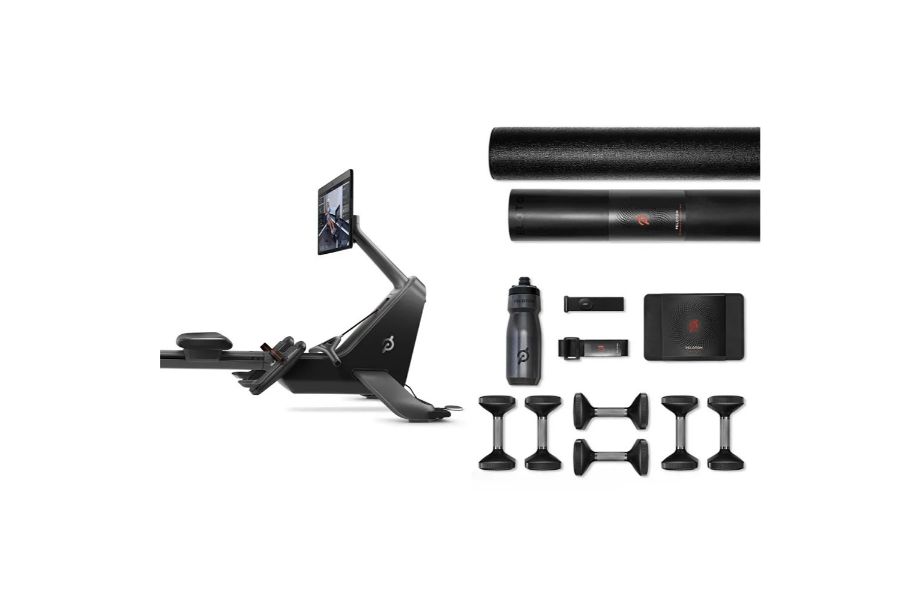 Pace Targets: The Pace Target features provides you with personalized short-term goals within each workout to help you maximize workout effectiveness. Your rower can tell you to slow down or speed up based on your performance history and your technique in a given workout.
Real-time form feedback: The first time you hop on the Row, the Form Assist feature will take you through a rowing form calibration via sensors in the handlebar and slide rail. During your workouts, Form Assist continues to monitor your technique and your on-screen avatar will flash red when you deviate from proper form.
Live and on-demand rowing classes: Central to the experience are the Peloton instructors and classes, of course. The All-Access membership now includes rowing classes in addition to the pre-existing categories. (Rowing classes are not available with a regular Peloton app membership).
Swiveling display: The large touchscreen display rotates and tilts so you can do other non-rowing workouts and still follow along on the nice screen.
Heart rate monitoring: With a compatible heart rate monitor, you can track your exercising heart rate during rowing workouts.
One thing I want to call out is the "electronically controlled resistance." I don't like the ambiguity here; I wish Peloton would just call it a magnetic rowing machine—if that's what it is, which I can't gather from the specs alone. The website also does not specify a number of resistance levels, which I find odd, given that rowers with digital resistance (AKA magnetic resistance) typically have a specified range of resistance.
Related: Best personal training apps
Footprint and Portability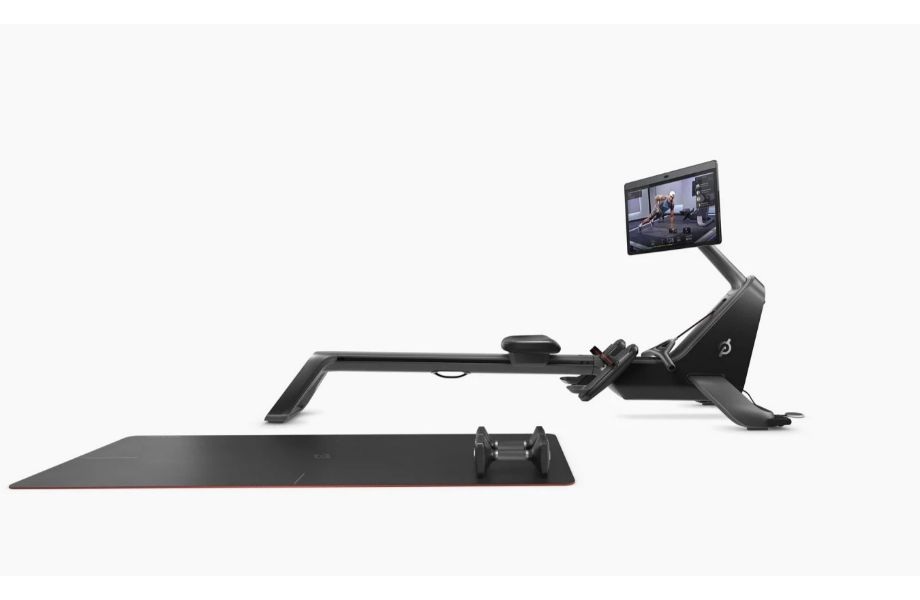 Peloton calls the Row "compact," but with an approximate 8-foot-by-2-foot footprint (and more floor space needed for on-the-mat workouts, if you're into that), I wouldn't call it super small-space friendly. You can purchase an upright anchor to vertically store the machine, though, and the screen arm folds to save horizontal space.
As for transportation, there are front-mounted casters, but the Row weighs almost 160 pounds, so I'm not convinced it's very easy to move.
Durability and Construction
According to the specifications on the website, the Peloton Row seems rather hefty and sturdy. Weighing in at nearly 160 pounds (156.5 to be exact) with an anodized and powder-coated frame, there shouldn't be any issues with durability for the hardware and parts.
What concerns me with smart cardio equipment is the technology: It's a necessary evil, but the more technology components a machine has, the more opportunity there is for damage. This isn't exclusive to Peloton products, rather, a potential issue for any wired equipment.
Truth be told, I'm a bit confused about how the Peloton Row is stated to have aluminum construction yet weighs nearly 160 pounds. I'd venture to guess that parts of the frame are made from steel, although the website does not state as such.
The Ergonomics
Every company calls their machinery "ergonomic." In the case of the Peloton Row, the molded, cushioned seat and curved handlebar are the ergonomic features. The seat looks comfy enough and the handlebar design will place your hands and wrists in a position that mimics the oars on a real row-boat.
The foot cradles are adjustable and can accommodate a women's size 5 all the way up to a men's size 13.5. The rower supports heights from 4 feet, 11 inches to 6 feet, 5 inches, and user weights up to 300 pounds.
Additionally, the screen offers 25 degrees of vertical tilt and 45 degrees of horizontal tilt, so you can find the perfect position to avoid straining your neck or rowing with elevated traps.
Technology Benefits and Conveniences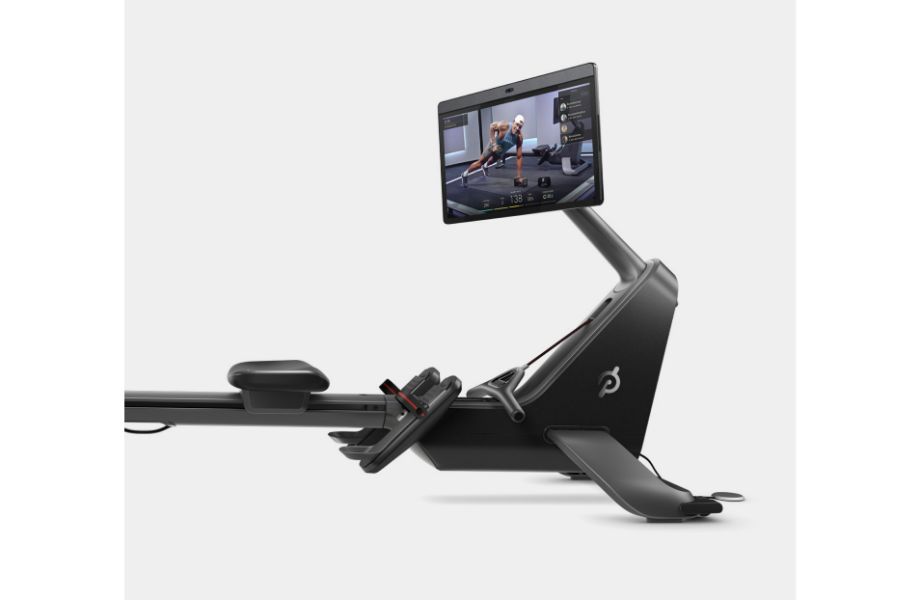 When you buy from Peloton, you expect a tech-heavy experience. If that's what you're after, you won't be let down with the Peloton Row. On the near-24-inch touchscreen display (that swivels and tilts, for the record), you can do virtually any type of workout you want, from an instructor-led HIIT rowing class to an on-the-mat bootcamp workout.
The Row features rear- and front-facing speakers for a high-fidelity audio experience, plus Bluetooth and WiFi connectivity so you can pair your iPhone, Apple Watch, or tablet with the machine.
Intra-workout metrics such as pace, stroke rate, calories burned, distance, and more will populate on-screen while you row and follow along with the new instructors on the Peloton Row roster.
The personal pace targets and real-time Form Assist features really take the term "smart gym equipment" to the next level. With Form Assist, Peloton claims that complete beginners can master rowing technique in just six weeks.
As someone who has coached many people to proper rowing form, I'm somewhat skeptical of this claim, but I suppose it's possible. (I can't really know until I try the feature out for myself.)
Peloton Row vs Hydrow Rower
Hydrow and Hydrow Wave are strong competitors to the Peloton Row. (Hydrow Wave is the little sibling to Hydrow, but they're largely similar).
The Hydrow Rower also features a large touchscreen display and a variety of on-demand and live rowing classes. Like the Peloton All-Access membership, the Hydrow membership offers other full-body workout classes in addition to rowing.
Hydrow rings up cheaper than the Peloton Row, starting at around $2,500.
Read our full Hydrow review and Hydrow Wave review.
Peloton Row vs Aviron
Aviron manufacturers smart rowing machines with gamified experiences, plus instructor-led classes, scenic on-location rowing sessions, competition modes, and much more. With a price tag of around $2,00 for the entry-level option, the Aviron Impact Series Rower is more than a full $1,000 cheaper than the Peloton Row. This makes Aviron a strong contender in this space.
Read our full Aviron rower review.
Peloton Row vs Ergatta vs WaterRower
The Peloton rower is similar to the Ergatta rower in that they both have a large touchscreen display—but that's about the only similarity. Ergatta is a water rowing machine with a large, appealing wood frame. The Ergatta experience is more about gamification than instructor-led classes.
Read our full Ergatta review.
The WaterRower is just like Ergatta, but without the huge smart display and gamified experience. This is a good choice for people who want something simple but aesthetically pleasing.
Customer Reviews
The Peloton Row seems pretty popular with Peloton customers, though not quite as renowned as its exercise bike sibling. As of July 2023, the Peloton Row has a 4.6 average rating with a little more than 450 reviews.
Other in-depth online reviews say that the hardware (i.e., the actual rower frame and components) is sturdy and comfortable, and the screen is central to the experience, just like with other Peloton equipment.
Final Verdict of Our Peloton Rower Review
The Peloton Row seems like a solid piece of cardio equipment and we think Peloton All-Access programming is great. However, we think the price of this rower is simply too high for most people and that there are better options for the majority of home gym owners.
The Peloton Row features strong construction and durable hardware.
It has a beautiful, functional display to stream great programming.
The Form Assist and Pace Target features are great additions.
The price is high; the warranty could also be better considering the price.
Peloton Rower FAQs
Does Peloton have a rower?
Yup. Peloton's rower is called the Peloton Row.
Does Peloton have a rowing app?
Peloton does not have a separate rowing app, but has added a library of rowing workouts to its All-Access platform.
What machines does Peloton have?
Peloton currently produces the Bike, Bike+, Peloton Tread, and Row. The Tread+ is still on recall. There's also the Peloton Guide, which is the brand's smart strength training piece of equipment. 
Is Peloton available on Amazon?
Some Peloton equipment is available on Amazon, including the Peloton Bike and some accessories, such as cycling shoes, an exercise mat, and Peloton-branded water bottles.
Is the Peloton Row quiet?
Although we haven't tested the Peloton Row for ourselves, several customer and online reviewers have claimed the machine is whisper-quiet. This doesn't surprise us, since the Peloton Row is made of high-quality materials similar to other silent indoor rowing machines.