We test and review fitness products based on an independent, multi-point methodology. If you use our links to purchase something, we may earn a commission. Read our disclosures.
Peloton announced that its first-ever rowing machine is available for pre-order in September 2022, with promises to begin shipping the units in December 2022. Known originally for the Peloton Bike and then the Tread, will the Peloton Row stand up to its cardio counterparts? Let's find out in this first-look Peloton Rower review.
Oar Rowing Reviews Are Serious
We take our fitness equipment reviews seriously. As a team of certified fitness professionals and equipment experts (and enthusiasts), we've had our hands, feet, and hineys on all types of cardio machines, including dozens of the best indoor rowers.
Peloton Row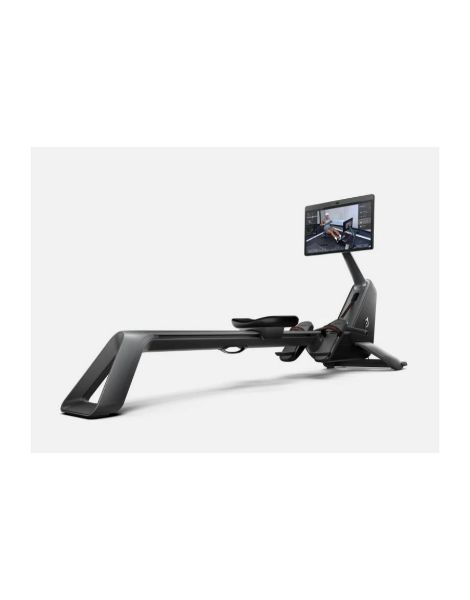 Peloton Row
Peloton has expanded their line of luxury cardio machines to include a rowing machine. Peloton Row is currently available for pre-order and products will begin shipping in early December. The Peloton Row is similar to other Peloton products, featuring a screen so you can participate in live and on-demand instructor-led classes with and without your machine. In order to maximize functionality of Peloton Row, you'll need to subscribe to Peloton All-Access.The Peloton Row has a footprint of about 8 feet by 2 feet. Peloton recommends a space of 8 feet by 6 feet in order to participate in the combination rower and bootcamp classes. The rower can be folded up or stored vertically when not in use. The slide rail is constructed of powder-coated aluminum; the hub and handle are molded plastic; and the belt is a woven strap. The rower has an ergonomic seat and handle. The foot straps can be adjusted with one hand.The Row uses "electronically controlled" resistance that Peloton claims is nearly silent. Workouts are streamed via a 23.8" HD touchscreen, which can also swivel 45 degrees in either direction for off rower workouts. When rowing, you can listen to workout guidance via the rear-and front-facing speakers or Bluetooth headphones.While using a Peloton class you can set your own personal pace targets based on levels. The rower also offers live feedback on your rowing form via Form Assist. Sensors in the Peloton Row will sense your position and give personalized feedback. When your form needs improvement, areas of your body will be highlighted in red on the screen. After every class you'll also receive a breakdown of your form.
A Quick Look at the Peloton Row
The Peloton Row is (an aptly named) rowing machine from fitness brand Peloton, first known for its exercise bikes and later its treadmills. The Row is the first rowing machine available from Peloton, and at the time of writing, it's available for pre-order on the website.
Like other Peloton equipment, the Row sports a large (23.8-inch) touchscreen display with optimized graphics. On-screen, exercisers can see a community leaderboard and rowing metrics like distance, pace, stroke rate, and calories burned while streaming on-demand rowing workouts and live classes.
Although we haven't had the opportunity to do any hands-on workouts with the Peloton Row just yet, we're going to take an in-depth first look at this new at-home cardio machine by analyzing its specifications and our robust experience with other indoor rowing machines.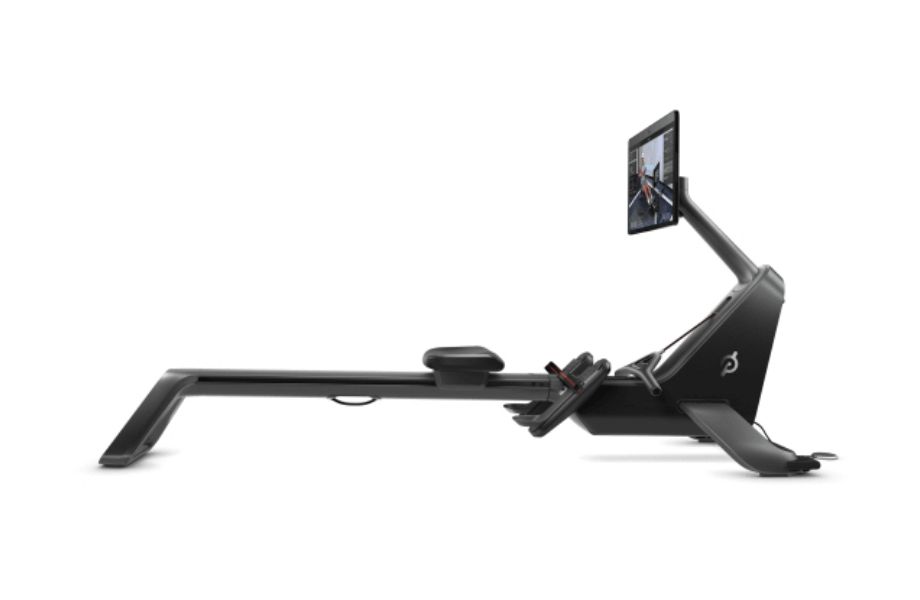 My Tips
I recommend waiting to see if Peloton announces financing for this machine. Currently, there are no financing options available like there are for the Bike and Tread.
Weigh your options carefully. This machine is very expensive yet comparable in specs to other smart rowing machines.
Pros:
Solid hardware
Beautiful display and graphics
Form-assist technology
Quiet electronic flywheel
Comfortable ergonomic seat
Foldable screen arm and vertical storage option
Peloton workout programming is good and engaging
Cons:
Wildly expensive for a rower (over $3,000)
Peloton app costs an extra $44/month
No financing currently available
Heavy, weighing more than 150 lbs
Paltry warranty (12 months)
Is the Peloton Row Worth It?
If you were to ask just me if the Peloton Row is worth its over-$3,000 price tag, I'd say no. I think there are rowing machines that are just as good, if not better, for lower prices. But considering my job is to determine which products are good for which people, I'll dig a little deeper.
The Peloton Row is inarguably a good piece of fitness equipment—the company is known for its strong, durable, comfortable hardware, after all. The new rowing machine works via a Peloton All-Access membership, of which our review is favorable. (However, we have not reviewed rowing workouts, only Peloton Bike and Tread workouts, so we can't speak to the quality of rowing content yet.)
According to the specs, longevity shouldn't be a problem: With a seat rail made of aluminum and a powder-coated frame, the machine should resist dings, scratches, and other damage.
All that said, the thing costs upward of $3,000. Literally our entire team at GGR agrees that this is outrageous, especially when you consider that you can get a Concept2 RowErg (formerly Concept2 Model D Rower) for about $1,000, and other smart rowers, like Hydrow and Aviron, for $2,000 to $2,500.
So, is the Peloton Row worth it? Depends on who you are and who you ask, but we're inclined to say there are better value options for most exercisers available.
Great for:
People who already have a Peloton All-Access membership
Peloton puritans ¯\_(ツ)_/¯
Home gym owners who aren't on a budget
Not recommended for:
Anyone on a budget
CrossFitters (Concept2 RowErg is best for this group)
People who want to store a rower in a non-climate-controlled area (not recommended for tech-heavy machines)
Peloton Row Specs
| | |
| --- | --- |
| Dimensions | 7'10" L x 24" W |
| Product Weight | 156.5 lbs |
| User Weight Capacity | 300 lbs |
| Resistance Type | Electronically controlled resistance |
| Resistance Levels | Not specified |
| Display | 23.8″ HD swivel touchscreen |
| Connectivity | Bluetooth, ANT+, WiFi (no Ethernet) |
| Audio | Front-and rear-facing speakers |
| Foldable | Only the screen arm |
| Programming | Peloton All-Access membership required |
Peloton Row Features
The Peloton rower isn't short on features. This new rowing experience includes all of the basics like metric-tracking and an ergonomic molded seat, but the machine comes equipped with a lot of features you won't get on a budget-friendly rower, including: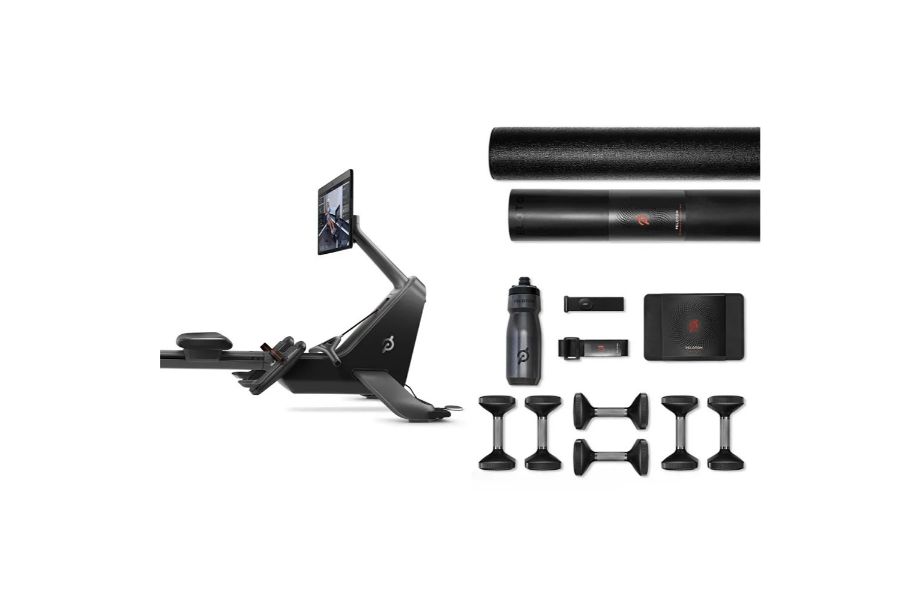 Pace Targets: The Pace Target features provides you with personalized short-term goals within each workout to help you maximize workout effectiveness. Your rower can tell you to slow down or speed up based on your performance history and your technique in a given workout.
Real-time form feedback: The first time you hop on the Row, the Form Assist feature will take you through a rowing form calibration via sensors in the handlebar and slide rail. During your workouts, Form Assist continues to monitor your technique and your on-screen avatar will flash red when you deviate from proper form.
Live and on-demand rowing classes: Central to the experience are the Peloton instructors and classes, of course. The All-Access membership now includes rowing classes in addition to the pre-existing categories. (Rowing classes are not available with a regular Peloton app membership).
Swiveling display: The large touchscreen display rotates and tilts so you can do other non-rowing workouts and still follow along on the nice screen.
Heart rate monitoring: With a compatible heart rate monitor, you can track your exercising heart rate during rowing workouts.
One thing I want to call out is the "electronically controlled resistance." I don't like the ambiguity here; I wish Peloton would just call it a magnetic rowing machine—if that's what it is, which I can't gather from the specs alone. The website also does not specify a number of resistance levels, which I find odd, given that rowers with digital resistance (AKA magnetic resistance) typically have a specified range of resistance. 
Related: Best personal training apps
Footprint and Portability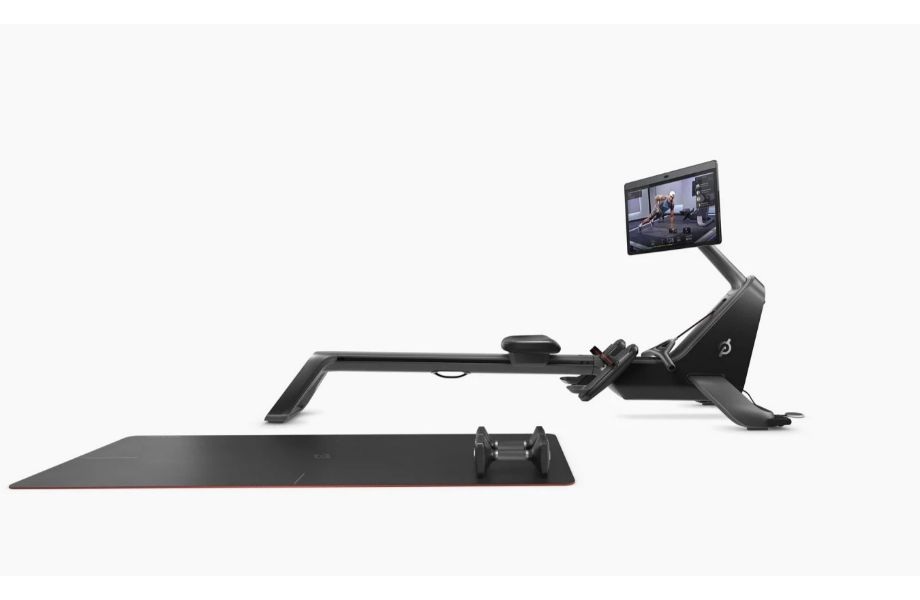 Peloton calls the Row "compact," but with an approximate 8-foot-by-2-foot footprint (and more floor space needed for on-the-mat workouts, if you're into that), I wouldn't call it super small-space friendly. You can purchase an upright anchor to vertically store the machine, though, and the screen arm folds to save horizontal space.
As for transportation, there are front-mounted casters, but the Row weighs almost 160 pounds, so I'm not convinced it's very easy to move.
Durability and Construction
According to the specifications on the website, the Peloton Row seems rather hefty and sturdy. Weighing in at nearly 160 pounds (156.5 to be exact) with an anodized and powder-coated frame, there shouldn't be any issues with durability for the hardware and parts.
What concerns me with smart cardio equipment is the technology: It's a necessary evil, but the more technology components a machine has, the more opportunity there is for damage. This isn't exclusive to Peloton products, rather, a potential issue for any wired equipment.
Truth be told, I'm a bit confused about how the Peloton Row is stated to have aluminum construction yet weighs nearly 160 pounds. I'd venture to guess that parts of the frame are made from steel, although the website does not state as such.
The Ergonomics
Every company calls their machinery "ergonomic." In the case of the Peloton Row, the molded, cushioned seat and curved handlebar are the ergonomic features. The seat looks comfy enough and the handlebar design will place your hands and wrists in a position that mimics the oars on a real row-boat.
The foot cradles are adjustable and can accommodate a women's size 5 all the way up to a men's size 13.5. The rower supports heights from 4 feet, 11 inches to 6 feet, 5 inches, and user weights up to 300 pounds.
Additionally, the screen offers 25 degrees of vertical tilt and 45 degrees of horizontal tilt, so you can find the perfect position to avoid straining your neck or rowing with elevated traps.
Technology Benefits and Conveniences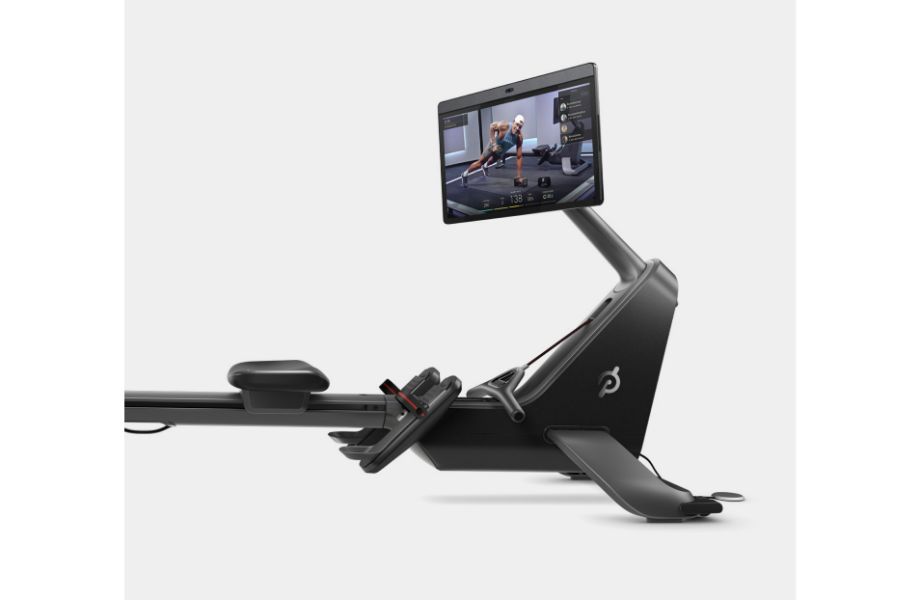 When you buy from Peloton, you expect a tech-heavy experience. If that's what you're after, you won't be let down with the Peloton Row. On the near-24-inch touchscreen display (that swivels and tilts, for the record), you can do virtually any type of workout you want, from an instructor-led HIIT rowing class to an on-the-mat bootcamp workout.
The Row features rear- and front-facing speakers for a high-fidelity audio experience, plus Bluetooth and WiFi connectivity so you can pair your iPhone, Apple Watch, or tablet with the machine.
Intra-workout metrics such as pace, stroke rate, calories burned, distance, and more will populate on-screen while you row and follow along with the new instructors on the Peloton Row roster.
The personal pace targets and real-time Form Assist features really take the term "smart gym equipment" to the next level. With Form Assist, Peloton claims that complete beginners can master rowing technique in just six weeks.
As someone who has coached many people to proper rowing form, I'm somewhat skeptical of this claim, but I suppose it's possible. (I can't really know until I try the feature out for myself.)
Peloton Row vs Hydrow Rower
Hydrow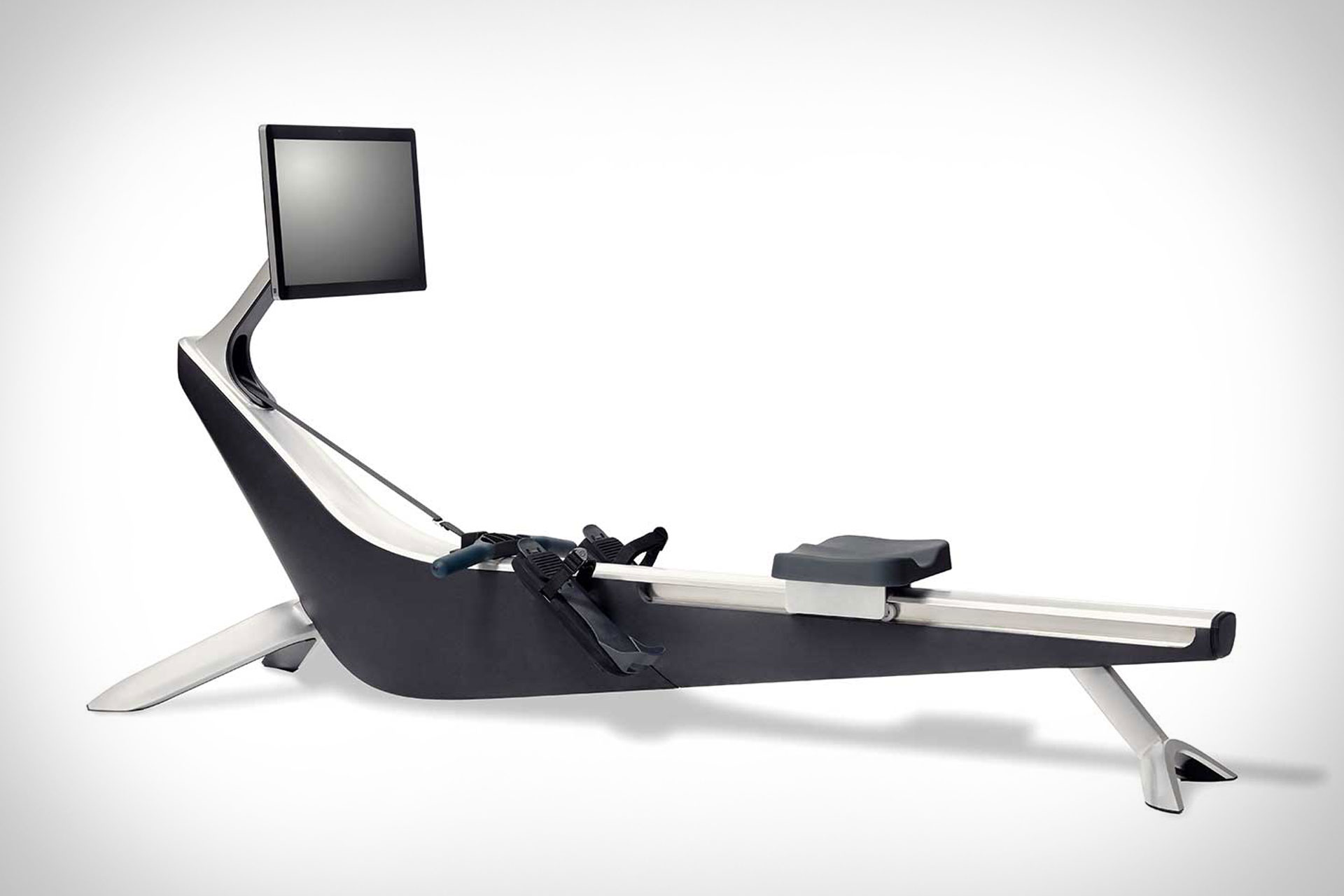 Hydrow Connected Rower
We completely re-engineered the rowing machine with patented technology, making each stroke feel like you're out on the water. Then, we built an immersive experience around it. The Hydrow was designed from the ground up. While the design team wanted to create a unique machine that was elegant and sophisticated for the home, it was just as important to engineer a machine that was unmatched in performance and built to last. Hydrow's brilliant 22" touchscreen display and impressive front-facing speakers bring the river to your living room, captivating you from the moment you sit in its seat. The Hydrow's patented drag mechanism is electromagnetic and computer-controlled. The distinctive components make it the closest thing to being on the water.Garage Gym Reviews Exclusive: Use code ROWGGR to receive $150 off any purchase that includes a rower
Hydrow Wave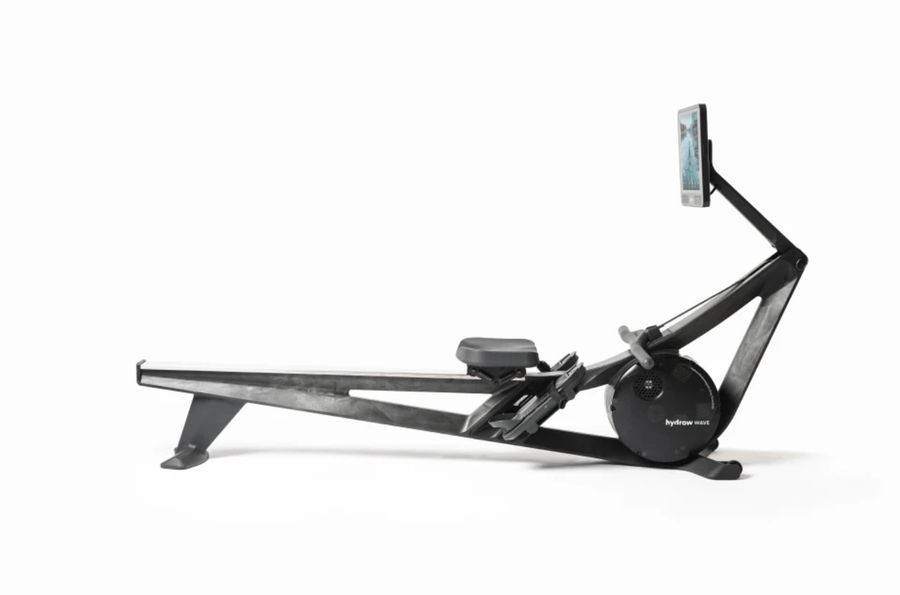 Hydrow Wave
The Hydrow Wave is the little sibling to the original Hydrow connected rower. The Wave is 30% smaller than the original Hydrow and weighs about 40 pounds less. However, its durable polycarbonate frame still supports the above-industry-standard weight capacity of 375 pounds. Also, you'll still get all of the fun and engaging features you'd expect from the original model on the new Hydrow Wave.With the Hydrow All Access membership (sold separately), you can enjoy all sorts of rowing workouts, including guided rows shot on-location in beautiful rivers around the world. You can also do unguided rows or opt for an "on-the-mat" workout from the Hydrow app, which includes strength, yoga, and Pilates sessions.We are excited to see Hydrow producing a more compact piece of cardio equipment for home gym owners with limited space, without sacrificing the quality we've come to expect from this brand. 
Hydrow and Hydrow Wave are strong competitors to the Peloton Row. (Hydrow Wave is the little sibling to Hydrow, but they're largely similar).
The Hydrow Rower also features a large touchscreen display and a variety of on-demand and live rowing classes. Like the Peloton All-Access membership, the Hydrow membership offers other full-body workout classes in addition to rowing.
Hydrow rings up cheaper than the Peloton Row, starting at around $2,500.
Read our full Hydrow review and Hydrow Wave review.
Peloton Row vs Aviron
Aviron Rower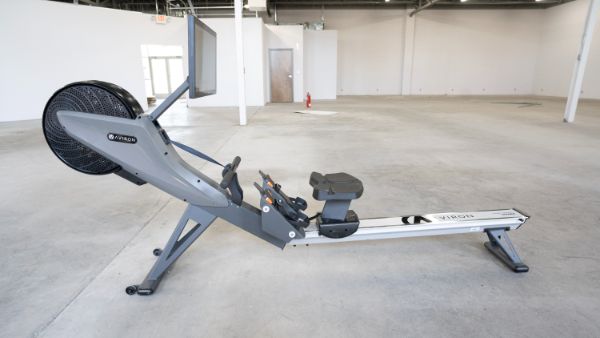 Aviron Tough Series Rower
The Aviron Tough Series Rower uses magnetic and fan resistance while in use. Plus, the 22" HD screen showcases the video-game like programming that can make rowing feel more like a day at the arcade. The $29 monthly subscription cost is also pretty reasonable in terms of interactive programming goes.This rowing machine has the ability to both stand upright and fold. The added four wheels assist in the overall maneuverability of this machine. I personally find the machine to be heavy, but manageable to move.
Aviron manufacturers smart rowing machines with gamified experiences, plus instructor-led classes, scenic on-location rowing sessions, competition modes, and much more. With a price tag of around $2,200 for the entry-level option, the Aviron Impact Series Rower is almost a full $1,000 cheaper than the Peloton Row. This makes Aviron a strong contender in this space.
Read our full Aviron rower review.
Peloton Row vs Ergatta vs WaterRower
Ergatta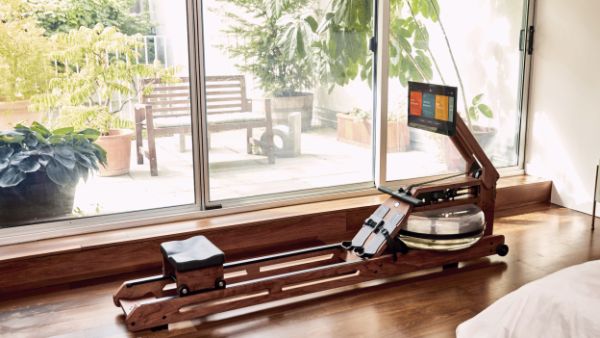 Ergatta Rower
For those who like the latest and greatest in technology-based fitness equipment, the Ergatta Rower will likely be a big hit. This rowing machine is designed with data and unique programming at the forefront. Plus, it is crafted using cherry wood to give it a streamlined appearance (for those of us who might have to store our rowing machine in our living room).Even better? The Ergatta is accommodating for a variety of heights and weights. This makes it an ideal choice for a wider range of people. Plus, if you're familiar with WaterRower, you'll find the Ergatta to be quite similar. This is because the Ergatta is actually simply a WaterRower with an attached touchscreen to view programming. It has the technology today's cardio machines demand with the quality you may be already familiar with due to the WaterRower components.
The Peloton rower is similar to the Ergatta rower in that they both have a large touchscreen display—but that's about the only similarity. Ergatta is a water rowing machine with a large, appealing wood frame. The Ergatta experience is more about gamification than instructor-led classes. Read our full Ergatta review.
WaterRower Natural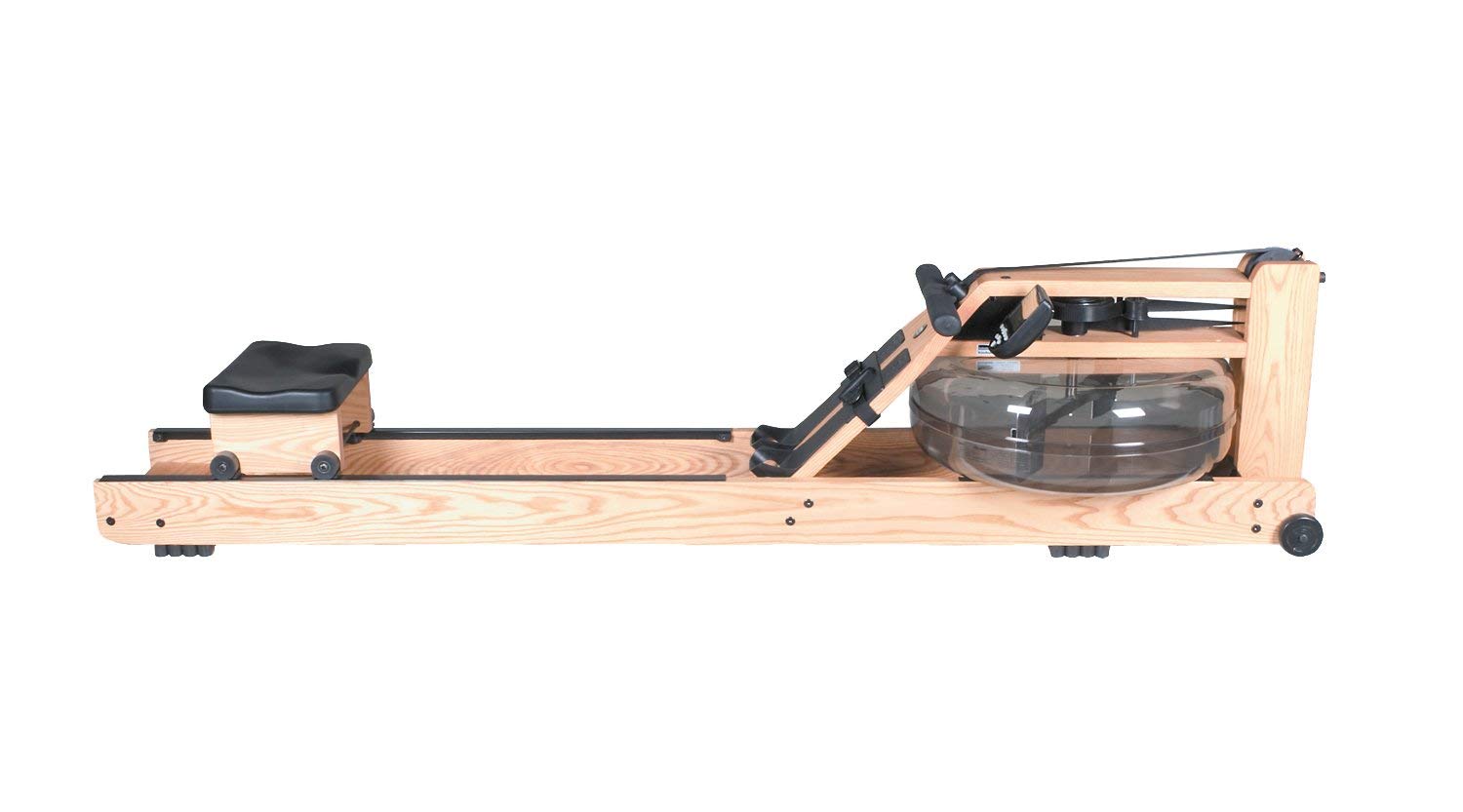 WaterRower
Rowing has long been recognized as the perfect aerobic pursuit, with naturally smooth and flowing movements that don't tax the joints but do boost the heart rate. Now you can take your rowing experience to the next level with the WaterRower Natural rowing machine. Using the same principles that govern the dynamics of a boat in water, the WaterRower Natural is outfitted with a "water flywheel" that consists of two paddles in an enclosed tank of water that provide smooth, quiet resistance, just like the paddles in an actual body of water. As a result, the machine has no moving parts that can wear out over time (even the recoil belt and pulleys don't require lubricating or maintaining). More significantly, the water tank and flywheel create a self-regulating resistance system that eliminates the need for a motor. As with real rowing, when you paddle faster, the increased drag provides more resistance. When you paddle slower, the resistance is less intense. The only limit to how fast you can row is your strength and your ability to overcome drag. And unlike conventional rowing machines, which tend to be jerky and jarring, the WaterRower Natural is remarkably smooth and fluid.From a fitness perspective, the WaterRower Natural works 84 percent of your muscle mass, helping tone and strengthen your muscles while burning far more calories than most other aerobic machines. The exercise is also low impact, as it removes all the body weight from the ankles, knees, and hips, but still moves the limbs and joints through a full range of motion--from completely extended to completely contracted.The WaterRower Natural is outfitted with a Series 4 performance monitor that's designed to balance technical sophistication with user-friendliness. The monitor--which includes six information and programming windows, six QuickSelection buttons, and three navigation buttons--displays your workout intensity, stroke rate, heart rate, zone bar, duration, and distance. Plus, the monitor is compatible with an optional heart rate chest strap and receiver, which helps you optimize your workout and achieve your exercise objectives.The WaterRower Natural is handcrafted in solid ash and stained honey oak for consistency of color. The wood was chosen due to its marvelous engineering properties, especially its ability to absorb sound and vibration, which enhances the WaterRower's quiet performance and smooth operation. Ash, like all woods used in the construction of the WaterRower, is a premium hardwood with incredible longevity and dimensional stability. In addition, the wood is harvested from replenishable forests and is hand finished with Danish oil to provide a deep luster.Other details include dual rails with four corner wheels that increase seat stability and reduce the amount of sweat buildup; a frame that flips upright for handy storage; and a weight capacity of up to 1,000 pounds. The WaterRower Natural measures 84 by 21 by 22 inches (W x H x D), weighs 117 pounds (with water), and carries a one-year warranty on the frame and components (WaterRower will upgrade the warranty to five years on the frame and three years on the components with the completion of a registration form).
The WaterRower is just like Ergatta, but without the huge smart display and gamified experience. This is a good choice for people who want something simple but aesthetically pleasing.
Customer Reviews
The Peloton Row is on pre-order and likely won't arrive in customers' homes until late this year or early next year, so there aren't any customer reviews yet. Other in-depth first-look reviews online say that the hardware (i.e., the actual rower frame and components) is sturdy and comfortable, and the screen is central to the experience, just like with other Peloton equipment.
Final Verdict of Our Peloton Rower Review
The Peloton Row seems like a solid piece of cardio equipment and we think Peloton All-Access programming is great. However, we think the price of this rower is simply too high for most people and that there are better options for the majority of home gym owners.
The Peloton Row features strong construction and durable hardware.
It has a beautiful, functional display to stream great programming.
The Form Assist and Pace Target features are great additions.
The price is high and we'd like to see financing options available; the warranty could also be better considering the price.
Peloton Rower FAQs
Does Peloton have a rower?
Yup. Peloton's rower is called the Peloton Row.
Does Peloton have a rowing app?
Peloton does not have a separate rowing app, but has added a library of rowing workouts to its All-Access platform.
What machines does Peloton have?
Peloton currently produces the Bike, Bike+, Peloton Tread, and Row. The Tread+ is still on recall. There's also the Peloton Guide, which is the brand's smart strength training piece of equipment. 
Is Peloton available on Amazon?
Some Peloton equipment is available on Amazon, including the Peloton Bike and some accessories, such as cycling shoes, an exercise mat, and Peloton-branded water bottles.