We test and review fitness products based on an independent, multi-point methodology. If you use our links to purchase something, we may earn a commission. Read our disclosures.
Hydrow, maker of the smart Hydrow Rower, has launched a new connected rower called the Hydrow Wave. In our first look Hydrow Wave review, we cover all of the need-to-know information about this new smart rower and how it compares to the original Hydrow.
More Than a Dozen Rowers Tested
Our product testers have been using rowing ergs for collectively more than a decade in their own fitness journeys. We've also tested nearly two dozen rowing machines specifically for reviews and guides on Garage Gym Reviews. This is to say: We know a good rowing machine when we see one.
Making Waves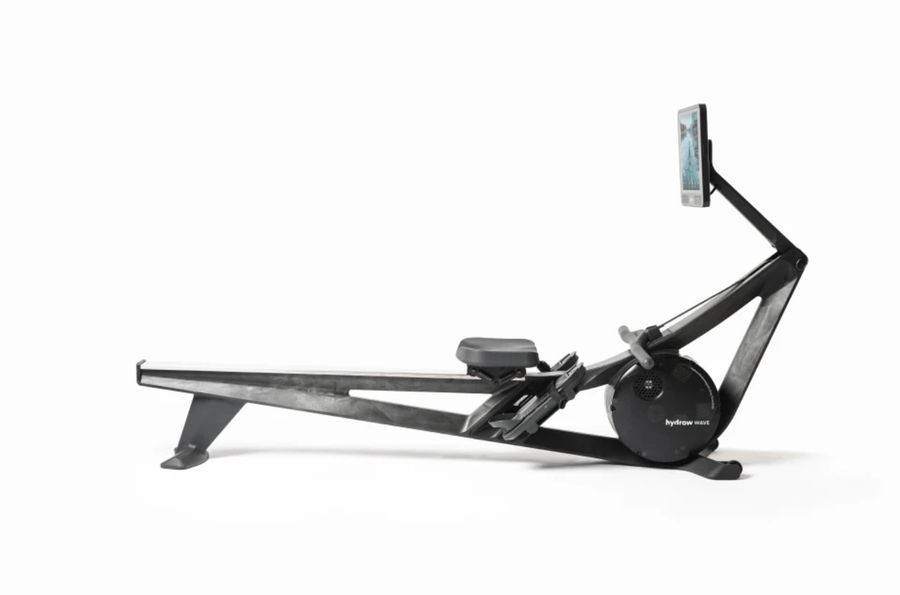 Hydrow Wave
The Hydrow Wave is the little sibling to the original Hydrow connected rower. The Wave is 30% smaller than the original Hydrow and weighs about 40 pounds less. However, its durable polycarbonate frame still supports the above-industry-standard weight capacity of 375 pounds. Also, you'll still get all of the fun and engaging features you'd expect from the original model on the new Hydrow Wave.With the Hydrow All Access membership (sold separately), you can enjoy all sorts of rowing workouts, including guided rows shot on-location in beautiful rivers around the world. You can also do unguided rows or opt for an "on-the-mat" workout from the Hydrow app, which includes strength, yoga, and Pilates sessions.We are excited to see Hydrow producing a more compact piece of cardio equipment for home gym owners with limited space, without sacrificing the quality we've come to expect from this brand. 
A Quick Look at the Hydrow Wave
The new Hydrow Wave, released in July 2022, is like the little sibling to the original Hydrow connected rower. According to the Hydrow website, it's 30% smaller than the original and easier to move around your space.
This is a huge win for connected fitness fans who live in small spaces, since most smart home gym equipment tends to be big, bulky, and heavy (although still more space-efficient than analog gym equipment.)
The Hydrow Wave sports many of the same features as the original Hydrow, with seemingly minor changes that actually make a big difference in the home gym experience.
My Tips
Consider this option over the original Hydrow if you're tight on space or money.
The price starts at about $1,500, but be sure to budget for more if you want the machine mat or any accessories (and don't forget about the monthly membership fee for workouts).
Your purchase comes with a free one-on-one personal training session. Use it!
Pros:
More compact and easily portable than original Hydrow
Affordable for a smart connected rower
Durable polycarbonate frame
16" HD touchscreen display
Live and on-demand workouts
Financing available
Professional in-home assembly available for an extra cost
Cons:
Storage kit sold separately
Monthly subscription required to stream workouts ($38/month)
Does not fold
Still pricey, starting at about $1,500
Machine mat costs extra
Video Review
Is the Hydrow Wave Worth It?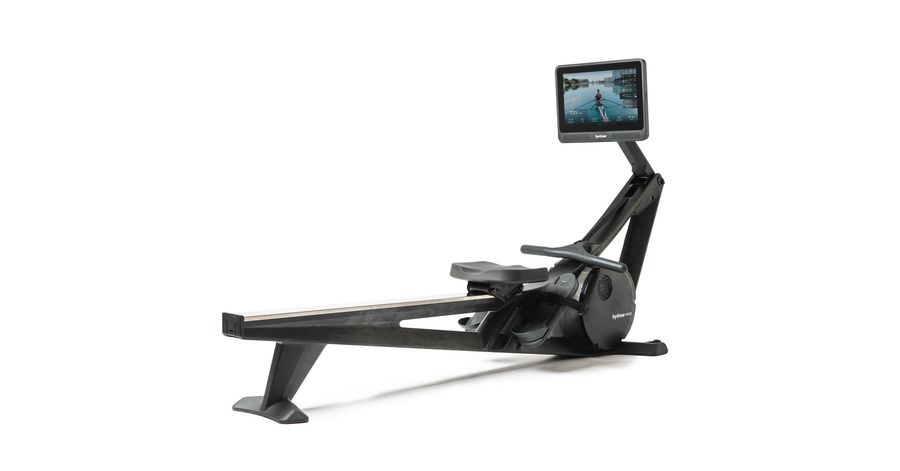 At first glance—and after in-depth research—the Hydrow Wave is absolutely a stellar deal. There's really no denying that. Most smart rowing machines go for more than $2,000, including the original Hydrow, which starts at almost $2,500. The Wave starts around $1,500.
From my research, it doesn't seem like you're sacrificing much for the $1,000 price difference. In fact, what you're "sacrificing" is a bulkier, heavier build, which actually is not a sacrifice—and instead a bonus—for most home gym owners. We don't all have square footage in the quadruple digits to dedicate to a workout space (unfortunately!).
And, with the Hydrow All-Access membership (sold separately), you still get access to the robust library of workouts to stream on the HD touchscreen display.
Great for:
People looking for a more compact smart rower
Anyone who wants instructor-led programming
Home gym owners who have been wanting a Hydrow, but couldn't afford the nearly $2,500 price tag
Not recommended for:
People who don't care for guided workout classes
Home gym owners with less than 80″ L x 19″ W x 43″ H of space available for a rowing machine
People who have the space and budget for the original Hydrow; in which case, that's a more luxurious option
Hydrow Wave Specs
| | |
| --- | --- |
| Product Weight | 102 lbs |
| Assembled Dimensions | 80″ L x 19″ W x 43″ H |
| Stored Dimensions | 26.5″W x 30″D x 82″H |
| Resistance Type | Magnetic |
| Weight Capacity | 375 lbs |
| Max Inseam | 36" |
| Monitor | 16" 1920 x 1080 px full HD |
| Programming | Hydrow interactive programming |
Using the Hydrow Wave
While our product testers haven't gotten any hands on the Hydrow Wave just yet, we can make some educated guesses about how the new rowing machine performs during workouts based on our experience with the original Hydrow and our experience with various other rowing machines.
The Wave features the same computer-controlled magnetic resistance you'd find on the original Hydrow. As far as indoor rowing goes, Hydrow has managed to better mimic the on-the-water rowing experience better than any other magnetic rowers out there—at least in the opinion of our roster of fitness professionals and product testers.
Connected fitness is really something special, and that's exactly what you'll get with the Hydrow Wave: In addition to the engaging workouts led by credentialed fitness instructors, you'll also have access to the Hydrow community and leaderboard, where you can post your own workouts and view workout results from others.
Footprint and Portability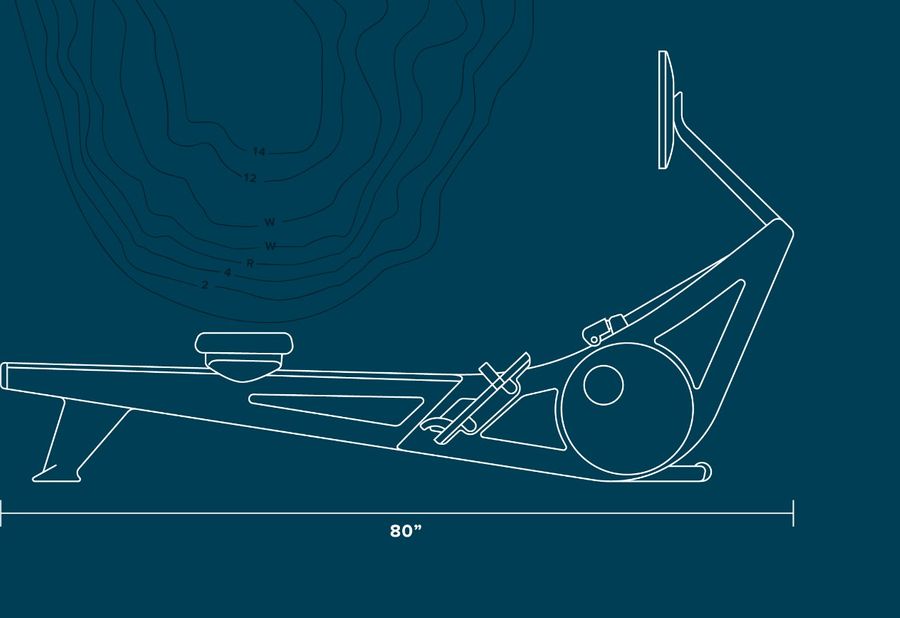 The smaller footprint is the main selling point of the new Hydrow Wave compared to the original Hydrow, it seems. According to the Hydrow website, the Wave is about 30% smaller than the original connected rower.
Measuring 80 inches long by 19 inches wide by 43 inches high, it is indeed a good bit smaller than the original, which measures 86 inches long by 25 inches wide by 47 inches high.
There's a vertical anchor kit for storing the Hydrow Wave (and a different one for the regular Hydrow), but you'll have to shell out an additional $190. If you have the floor space to keep the Wave out when not in use, no need. But it may be worth the additional cheddar if you want to stow it away when you're not working out.
Finally, the Wave has front-mounted casters, which means the machine should be relatively manageable to cart around. It does weigh over 100 pounds, though, so we still wouldn't call it overtly easy.
Related: Best Compact Gym Equipment
Durability and Construction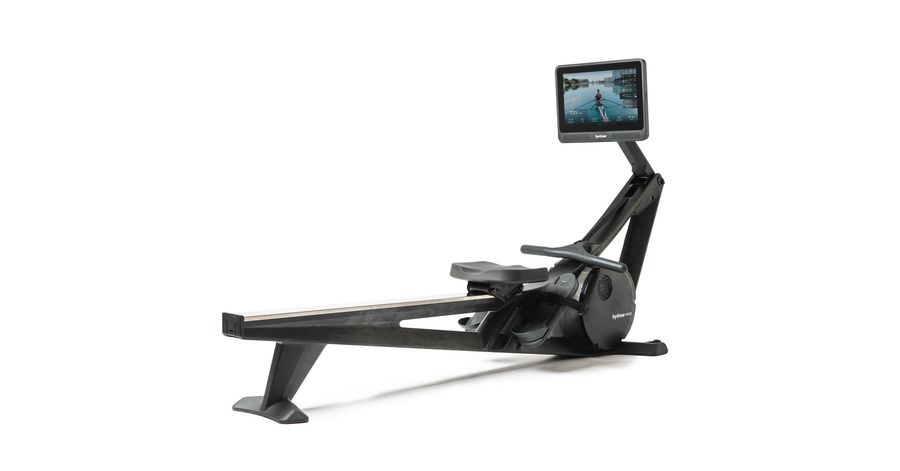 Like its larger counterpart, the Hydrow Wave features a solid build quality.
The black polycarbonate frame is sure to hold up for years, as it's a highly impact-resistant material. It should also resist scuffing, which is great news, because the industrial finish on the frame looks dang good.
Impressively, the Hydrow Wave boasts the same 375-pound weight capacity as the original Hydrow despite its smaller and lighter frame.
We'll be able to report back with more insight on the build quality of the Hydrow Wave after we complete our usual thorough hands-on testing. When we get the product in, we'll be taking note specifically of factors such as:
How the Wave feels in comparison to its bigger sibling
If there is any shaking or shifting while in use, at low-effort and high-effort intensities
How the new rower feels when in transport around the gym
The Ergonomics
While we can't yet say how the Hydrow Wave feels during use in terms of comfort, we can make some safe assumptions based on the product specs and our experience with the original Hydrow.
The Hydrow Wave measures 80 inches long by 19 inches wide by 43 inches high. When it comes to ergonomics, the length is the most important measurement. At 80 inches in length, the Wave can accommodate inseam lengths of up to 36 inches.
For reference, a 36-inch inseam in pants will generally fit people from 6'3" to 6'6" tall. This means pretty much everyone should be able to reach full hip and knee extension during the rowing stroke.
Also featured on the Wave are adjustable footbeds to accommodate most shoe sizes, as well as an angled handle for wrist comfort during your workout.
Tech Specs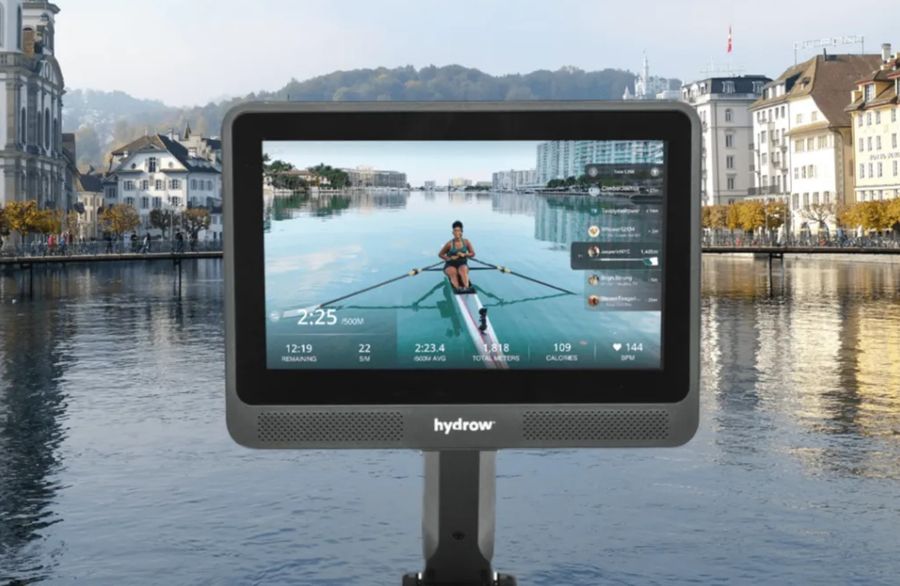 Hydrow's new rower is just as tech-infused as the original Hydrow rower. Both WiFi- and Bluetooth-enabled, the Hydrow Wave rower can connect to your Apple Watch or other fitness tracker, as well as a heart rate monitor if you like to track workouts that way. You can also connect the rower to external speakers to really jam out.
The Hydrow app is available on iOS and Android devices, although we've heard that the experience is better on iOS. (None of us have Android phones, sorry!). This honestly doesn't surprise us; it is a common sentiment. #iPhone4Life.
The good news is that no matter what type of device you have, you may not even be using the app very much. Thanks to the high-fidelity touchscreen display on the Hydrow Wave, you can stream all your favorite workouts directly on the rower.
Finally, the resistance mechanism itself is worth calling out as a notable tech feature. The computer-controlled magnetic resistance is more fluid than that of most, if not all, other magnetic rowers. You won't experience any jerking or shaking of the pull cord during a Hydrow workout.
Hydrow Wave vs Hydrow
The Hydrow and Hydrow Wave are very similar. Both feature the same computer-controlled resistance, an HD screen, and instructor-led programming that includes both low-impact rowing machine workouts, strength training, yoga, and Pilates.
However, there are many differences between the two, summarized in the spec chart.
One thing I want to call out here is that you cannot use the same membership on two rowing machines if you already have a Hydrow. We asked Hydrow about this since we ran into the same issue with the Tempo Studio and Tempo Move, and here's what Hydrow said:
"A Hydrow membership is only valid for only one Hydrow or Hydrow Wave at a time. You can transfer your membership between rowers easily, but if you own multiple rowers that you use frequently, you might want to purchase a membership for each. Please keep in mind that this only applies to rowers that you own. You can always use other rowers at a gym or friend's house, as long as those rowers have their own membership."
| | | |
| --- | --- | --- |
| | Hydrow Wave | Hydrow |
| Price Point | Starts around $1,500 | Starts around $2,500 |
| Display | 16" HD touchscreen, does not tilt | 22" HD touchscreen, tilts |
| Frame | Stainless steel seat track withdurable engineered thermoplasticpolymer frame | Aluminum and steel frame with flatanthracite polymer body |
| Storage | Vertical storage anchor | Vertical storage anchor |
| Dimensions | 80″L x 19″W x 43″H | 86″L x 25″W x 47″H |
| Weight | 102 lbs | 145 lbs |
| Weight Capacity | 375 lbs | 375 lbs |
| Assembly | Under 30 min | Under 60 min |
Read our full Hydrow review for more details on the original Hydrow rower.
Customer Reviews
Since the Hydrow Wave is so new, there aren't many customer reviews just yet. The few customer reviews on the Hydrow website are glowing; buyers praise the new rower for its more compact and lightweight design, easy assembly, and interactive programming.
Other in-depth Hydrow Wave reviews I came across have the same general sentiment you find here: The Wave is a smaller, lighter, less expensive version of the Hydrow that's just as suitable for the vast majority of people.
Final Verdict of Our Hydrow Wave Review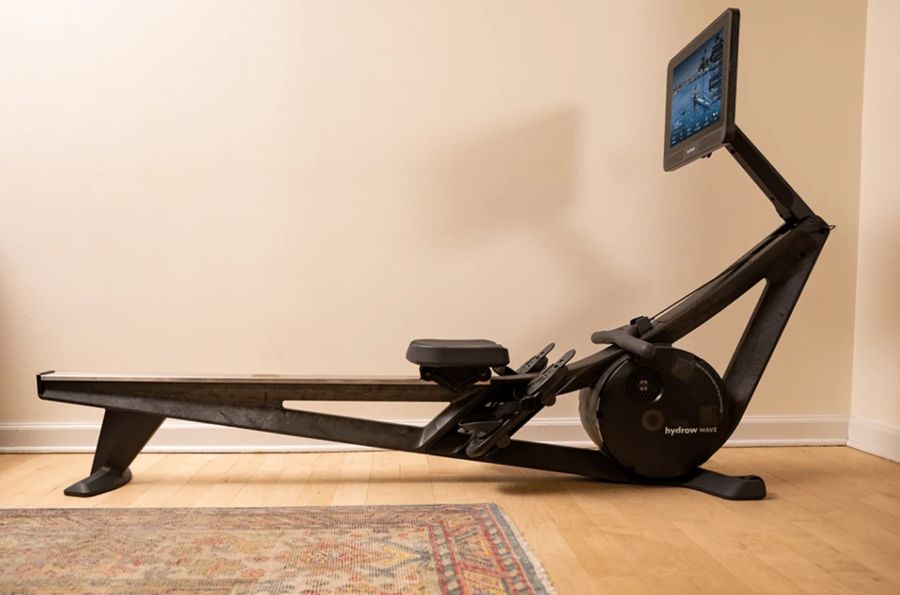 We're excited to get our hands on the Hydrow Wave. For now, our research-based opinion is that the new Hydrow rower packs a ton of quality and versatility into a smaller package, which we think it's great for the majority of home gym owners.
The Hydrow Wave is 30% smaller than the original Hydrow rower.
You still need a Hydrow All-Access membership to use the Hydrow Wave ($38/month—and you can't use the same membership if you already have an original Hydrow).
The polycarbonate frame and stainless steel seat rail will prove durable.
Hydrow Wave FAQs
Here are some commonly asked questions about Hydrow and rowing:
Is the Hydrow a good rowing machine?
The Hydrow is one of the best magnetic rowing machines and one of the best smart rowing machines available. It consistently tops our guides to the best rowing machines and smart home gym equipment. The Hydrow Wave rower, although we haven't tried it yet, seems to be up to par with the quality and interactiveness you'd expect from the brand.
Is a rowing machine worth it?
A rowing machine is a great investment for your home gym. Rowing is a full-body cardio workout that also strengthens the muscles involved in the rowing stroke—which is just about all of them! Additionally, rowing provides many health rowing machine benefits, such as improved heart health and mental health, and can contribute to weight loss if that's your goal.

What kind of workouts can you do on Hydrow?
Hydrow rowers are equipped with beautiful touchscreen displays that stream live and on-demand workouts; both types are instructor-led. You can choose from short or long workouts; filter by fitness level or intensity level; or try Hydrow's "on the mat" workouts, which are strength workouts.
What are the best rowing machines?
There are many rowing machines to suit a variety of fitness levels, budgets, and preferences. Our top picks, detailed in our guide to the best rowing machines, include: