We test and review fitness products based on an independent, multi-point methodology. If you use our links to purchase something, we may earn a commission. Read our disclosures.
If you've had a home gym for a while, you probably know you can do pretty much anything in it that you can do in a traditional gym. For most people, however, using a traditional sled just isn't one of those things. Most of us don't have ample yard space or a long strip of turf to use (if you do, I'm jealous, but good for you).
That is, unless you have something like the Xebex XT3 Sled, which has tires versus a traditional sled bottom. In this Xebex XT3 Sled review, I'll tell you my thoughts on everything from the handle placements, to the warranty, and compare it to the hallowed Torque TANK MX.
Gettin' It Done Since 2014
Since Garage Gym Reviews was founded in 2014, Coop Mitchell (and now his team of expert product testers) have been committed to testing the fitness equipment you want to know about and giving honest, in-depth reviews you can trust. Oh yeah, and we also really know what we're talking about. Our testers are certified personal trainers, nutrition coaches, and CrossFit Level 1 coaches so you can feel confident the information you're getting is from the pros.
Xebex XT3 Sled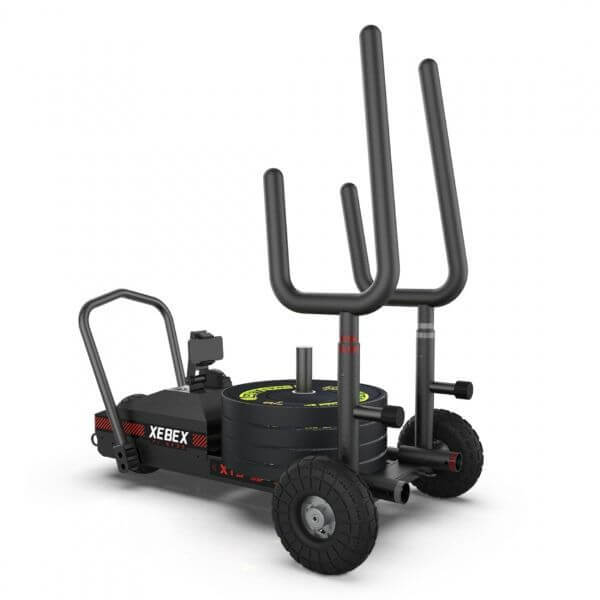 Xebex XT3 Sled
The Xebex XT3 is a high-quality, multifunctional, training tool that combines a standard sled with modern technology. Featuring a three-wheel design, the XT3 can be used on most surfaces while keeping noise at a minimum. This design eliminates the traditional scraping sounds that come from typical sleds. The XT3 has a magnetic resistance lever with eight levels of intensity. The more you exert, the greater the resistance.The XT3 is equipped with adjustable handlebar position that enable athletes to perform a myriad of exercises each targeting different muscle groups. A tri-handlebar can be inserted into the base to use the sled as a wheelbarrow and add weight onto the plate sleeve for even greater resistance. What's more, this training tool is capable of bi-directional movement so users can push and pull from either side of the sled.Track core workout metrics on the small display, which is visible from all angles of the XT3. If you want even more technology-driven training functionality, upgrade to the XT3 Sled HIIT Console Smart Connect, where you can connect to third-party apps to monitor progress over time. However, if you do not choose to make this upgrade, be aware that there are exposed wires located where the monitor would be.Included in your purchase is a V-strap that supports attaching a harness or rope to spice up your workout routine. If you need exercise ideas, utilize the provided exercise library. When not in use, the XT3 can be stored vertically in a compact 28-inch-by-24-inch area. Rubber storage bumpers ensure it is stable and protected from damage. The XT3 has a sleek black powder coating. But, this paint does chip and scratch rather easily exposing the metal underneath. This does not affect performance, but is an aesthetic consideration.
A Quick Look at the Xebex XT3 Sled
Xebex Fitness makes a variety of equipment, including air bikes, rowers, ski trainers, manual treadmills, climbers, and recumbent bikes. In short, they have all the cardio equipment your heart desires (or doesn't desire, depending on your feelings about cardio). However, one of their most talked about products on the market is the Xebex XT3 Sled, which can be used on almost any surface. Let's dig into my thoughts.
RELATED: Check out our Xebex Air Rower review. 
My Tips:
Re-inflate your tires weekly! Xebex suggests they should be at 35 PSI for best results.
Check out the prescribed exercise library from Xbex for workouts to do with the sled.
If the sled is too expensive for you all at once, consider utilizing the financing options Xbex has on their website.
Pros:
Quiet sled
10-year frame warranty
Ability to be used on a variety of surfaces
Adjustable 8 levels of resistance
Can add your own weight plates
Stores vertically
Bi-directional movement
Cons:
Close to $1,000
Doesn't turn around corners; can only go straight
Chain drive requires regular maintenance/lubrication
Not much grip in the arms
Is the Xebex XT3 Sled Worth It?
Wondering if the XT3 is worth your moolah? Well, that all depends on what it is you're looking for in a sled. Check out who I think this piece of equipment is good for and who might enjoy something else.
Great for:
Neighborhood use
A durable sled
Pushing with different hand positions
Not recommended for:
Turning corners
People who want a traditional sled
Xebex XT3 Sled Specs
| | |
| --- | --- |
| Footprint | 45″ x 28″ x 48″ |
| Weight | 102 lbs |
| Weight capacity | 385 lbs (not including weight of XT3 Sled) |
| Made in | Taiwan |
| Warranty | 10-year frame, 1-year parts/console |
| Finish | Anti-UV black powder coat finish |
| Shipping Weight | 113 lbs |
| Handlebars | Adjustable handlebar positions |
| Tire Pressure | 35 psi |
| Drive | Chain drive |
| Resistance | Magnetic; levels 1-8 |
| Vertical Storage | Yes |
Pushing and Pulling the Xebex XT3 Sled
Over the years, I've done sled training more than I'd like to admit, although it wasn't on purpose. As a former NCAA D1 Women's college soccer player, strength coaches just love to see you suffer and push a sled until your legs simply expire.
However, if there's one thing I know for sure, it's that sleds are a training tool that gives anyone a run for their money. They can provide a challenging and customizable workout for people from beginners to the most advanced athletes in the world, since it's all about the weight you add and how fast you go.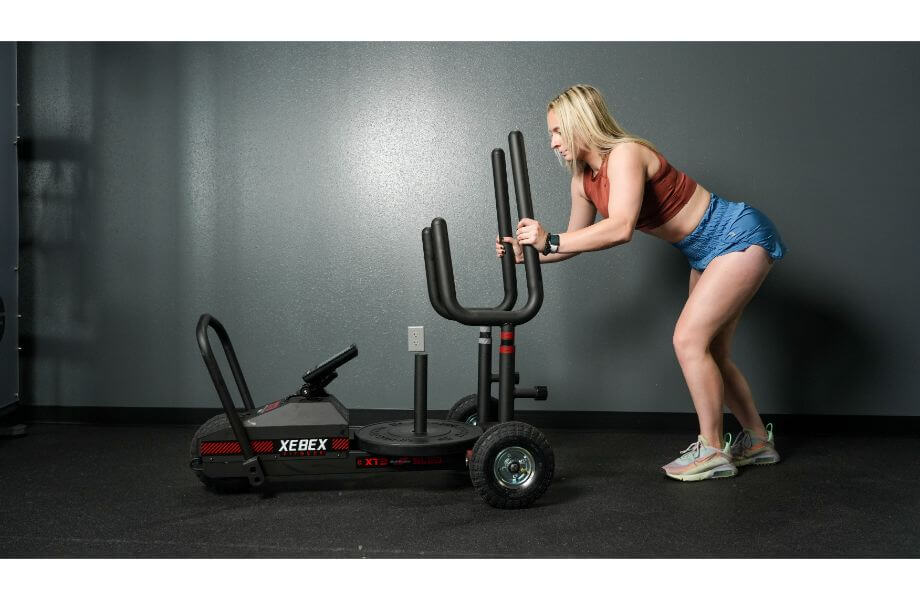 Plus, the possibilities are almost endless. You can push, pull, drag, and use different arm positions with a sled. With traditional sleds, you're generally limited to sliding on turf or grass, which is usually not an option for most people in a home gym setting.
This is exactly why I'm so jazzed about the Xebex XT3 Sled. This sled has three wheels, similarly to a wheelbarrow. It can be used on almost any terrain (think grass, concrete, or pavement), which is conducive to a home or garage gym.
Although I tested the XT3 Sled in our testing facility, I know our founder, Coop Mitchell, has used this machine in his neighborhood. It's quiet enough that you won't be getting an HOA violation for noise ordinance (we'll save that for the grunts and blasting heavy metal on max deadlift day, thank you very much).
Getting back to the XT3, this sled has a traditional plate sleeve you'd see on a typical sled. You'll be able to load up with your own bumper plates to increase the traction of the front wheel, which will make pushing or pulling harder. Besides adding weight yourself, you can also utilize the magnetic resistance lever, which has eight different options. Some reviewers complained the hardest level of resistance wasn't enough for them, but I think as long as you add weight yourself, you'll get a heck of a workout.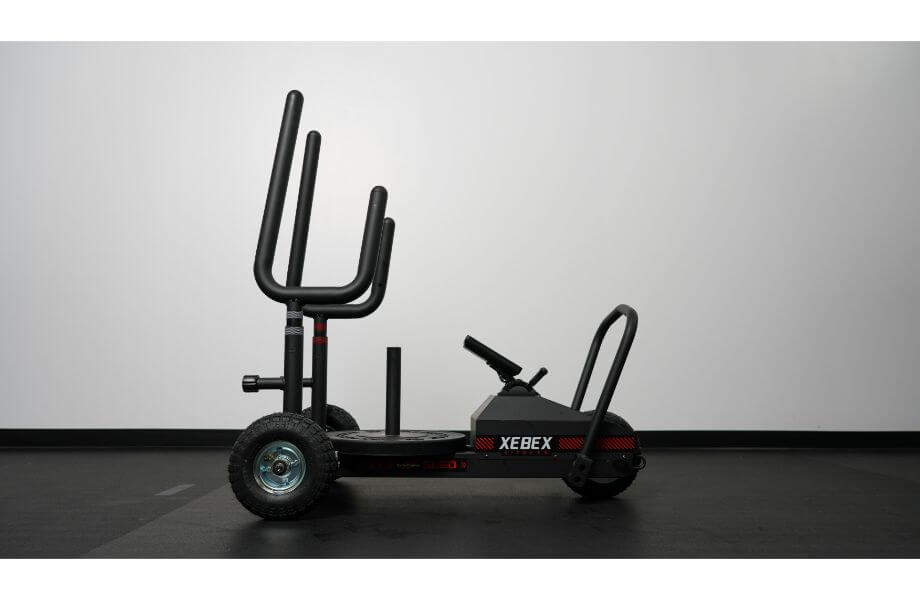 There are a variety of handlebar options on the XT3, including the low handlebar, the dual tri handlebars, and the handle inserts near the two back tires. I love that they included multi-functional options to increase the training options available with this sled. However, I wish they had added knurling or something similar to the handles because the black powdercoat can chip easily and will wear over time.
If you're more into harness or rope pulls, the XT3 can accommodate this as well. Xebex has conveniently added a v-strap hook to the front of the sled to do just that. You can either attach your own strap, or purchase one separately on the website.
There are a variety of movements that can be done with the XT3. The website even has a handy library of exercise examples if you feel stuck or want to try something different.
The XT3 can move in either direction, which is super helpful for quick transitions. However, don't bank on easily turning any corner with this sled. You'll definitely need to get it into a wheelbarrow push position in order to skirt around any angles or dumbbells you left on the floor. Again, this isn't uncommon for sleds, but it is something to be aware of.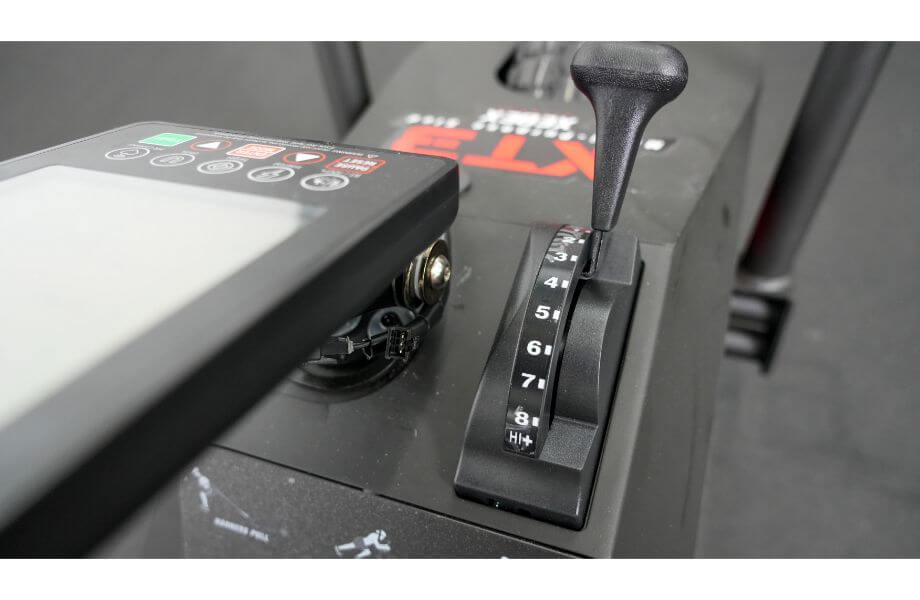 Footprint, Portability, Durability, and Construction
The footprint of the XT3 is similar to that of a push lawn mower––it isn't obnoxiously large, but you know it's there. Luckily, you can store this sled vertically to cut down on any space concerns. The XT3 is also able to fit through most traditional doorways, which is an extra plus.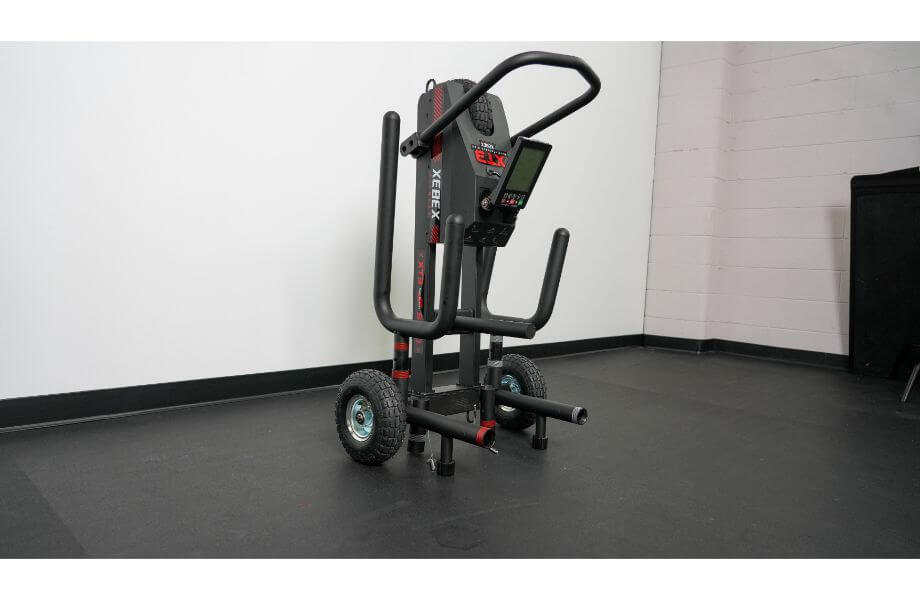 Durability-wise, the XT3 is constructed of mostly steel components, which makes me feel good about the longevity of this piece of equipment. There are a few plastic pieces, but they are sparse, and don't feel cheap to me. Like I said previously, I do think the black powdercoat will wear poorly and chip over time, but there isn't much you can do about that.
Technology Benefits and Conveniences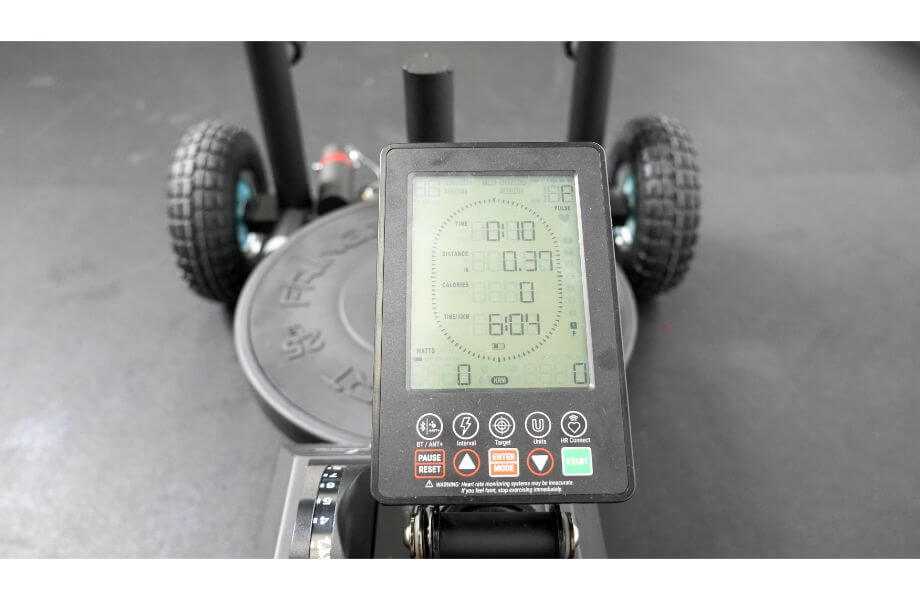 If you decide to go with the XT3 with the display, you'll be able to view a variety of different metrics while using the sled including your speed, watts, and distance traveled. You'll also be able to connect the sled to various apps (like GymTrakr) if you're interested in keeping track of your previous workouts.
I personally tested the XT3 with the display, but some reviewers complained wires hang out if you choose to get the sled sans screen. Convenience-wise, there is a phone holder that can be turned in either direction but no accessories or water bottle holder. This isn't uncommon for a sled, but thinking practically, if you're pushing this around your neighborhood, you'll need somewhere to put your stuff.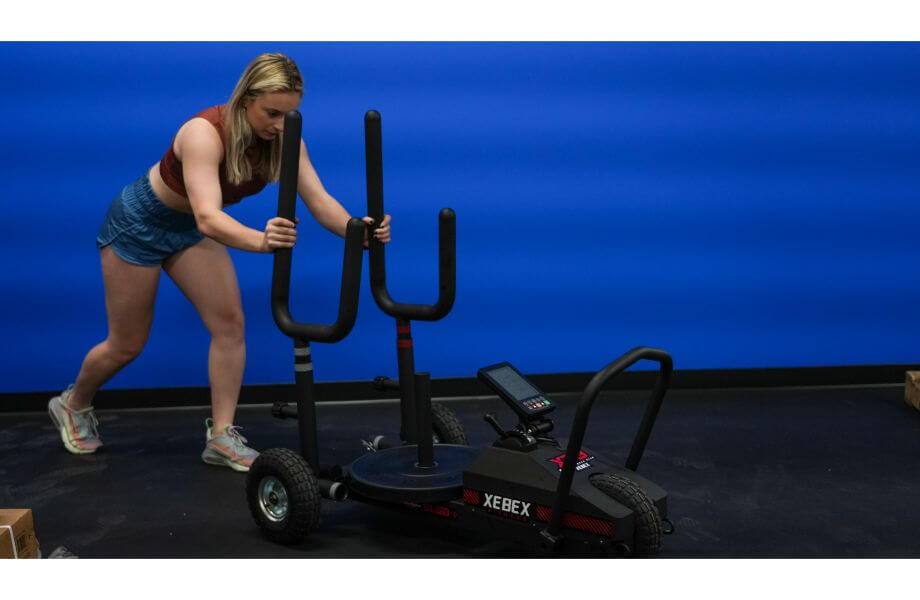 Xebex XT3 vs Torque TANK MX
Torque TANK MX Push Sled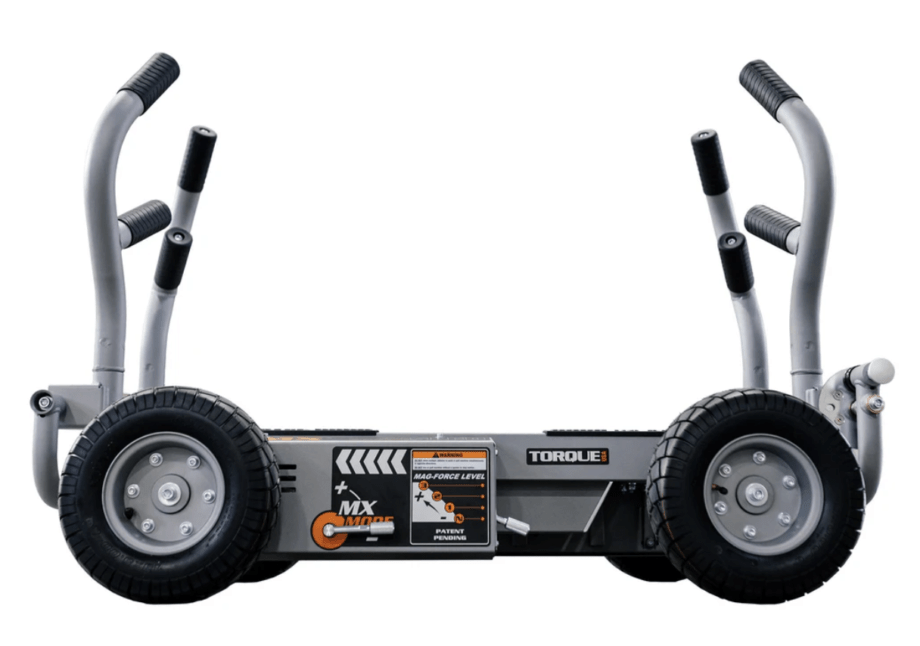 Torque TANK MX Sled
The all-new TANK™ MX is the newest evolution of the All Surface Sled category. With all of the same great features of the TANK M4, plus some major upgrades, the MX was engineered for serious athletes ready for a challenge.Exclusive Features of the TANK MX:MX has even more braking resistance than the M4 with 25% more resistance at peak power. Added resistance is engaged with the MX lever and can be added to all levels. To handle the added braking resistance, MX has larger, wider tires for enhanced traction and an even more bold, aggressive look. New handles exclusive to the MX are easily removed by simply lifting the handle vertically. No tools required. New handles have an added, lower push handle point that adds variety to the Performance Handles used on the M4. Optional Stacker Kit allows the MX to be stacked on top of each other, up to 3 high to save valuable floor space between workout sessions. Removable handles can be stored in the center tray of the MX when they are not in use for lower profile storage or stacking. This helps keep things organized. 3-position bar provides multiple user-friendly features:High position can be used for attaching a tow strap and provides an alternative low-height push position Mid position provides ergonomic grip points for lifting Low position saves space when stacking and storingNew silver color scheme and graphics make the MX standout.Just like the original TANK™ M2 and M4, the sleds tires allow it to be used on any surface without fear of damage or noise.
The Torque TANK MX push sled is a favorite home gym tool for many. But how does the cheaper (but still not inexpensive) Xebex XT3 Sled stack up? Check it out below:
| | | |
| --- | --- | --- |
| Sled: | Torque TANK MX | Xbex XT3 |
| Price | Around $2,500 | Around $1,000 |
| Weight | 244 lbs | 102 lbs |
| Wheels: | 4 wheels | 3 wheels |
| Dimensions: | 55.4″ x 33.4″ x 37.3″ | 45″ x 28″ x 48″ |
| Warranty: | 10-year frame and welds. 1-year parts, and finish on workmanship and materials | 10-year frame, 1-year parts/console |
"Although the XT3 offers a number of features that the TANK does not, many I feel are unnecessary," GGR Founder Coop Mitchell explains. "For the typical home gym user, simplicity and durability is preferred over complexity and the TANK shines in these areas."
I personally like the textured handles of the MX over the smoother ones the XT3 offers. The MX naturally is heavier, which makes it more difficult to push and a bigger challenge for more advanced athletes. However, I enjoy the three wheels of the XT3 over the four on the MX. I'm a fan of wheelbarrow pushes, and the XT3 shines in this capacity because of the number of wheels.
Check out our Torque TANK M1 review.
Customer Experience
I was pretty pleased to note the warranty on the Xebex XT3 is 10 years for the frame and one year for the parts and console. I think this is very fair, and about what I would expect to see.
You can contact Get RX'd either via phone at 713-460-8188 or by email at Sales@GetRXd.com for any customer service enquiries.
If you aren't satisfied with your purchase, you can return your sled within 30 days provided it is in new condition and you still have the original packaging. You'll need to fill out this return form to include in your shipment, plus you'll be charged a 15% restocking fee (on top of paying to ship the item back).
Ordering and Assembling the Xebex XT3 Sled
You can purchase the Xebex XT3 Sled via the Get RX'd website. When purchasing, you get to choose between two different options––the traditional XT3 (around $850) or the XT3 with the console (just under $1,000).
The difference in price is about $135, and I personally think it is worth it to get the option with the screen. There is also an option to finance with Affirm starting at just $66 per month if you qualify.
As of the time of publication (June 2023), the Xebex XT3 Sled is on backorder and is expected to ship in mid to late June. However, you can go ahead and purchase now to be one of the first to get your hands on the sled when it is restocked.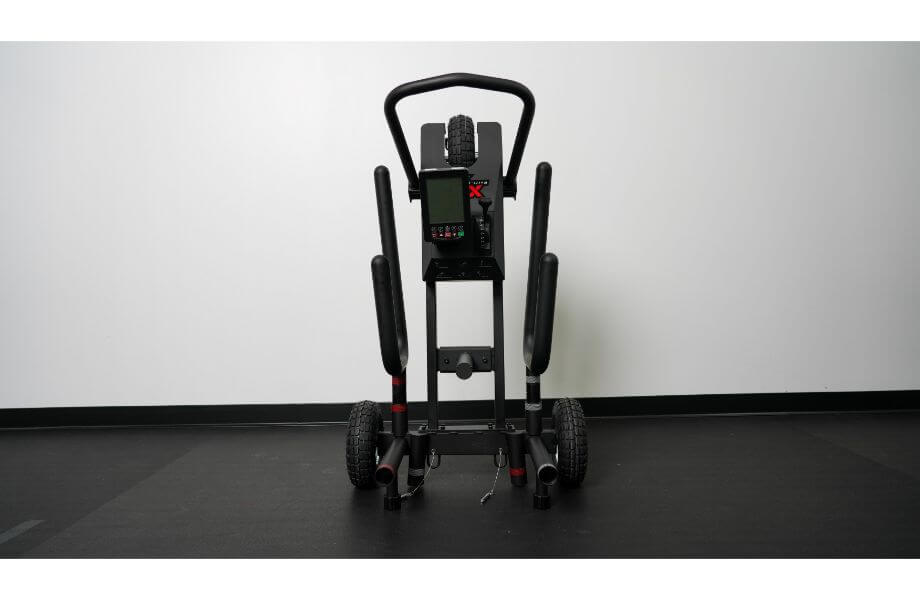 Since there is no obvious option for white glove delivery, Garage Gym Review's Operations Manager Sam "asSAMbly" Presley was tasked with building the XT3. He mentioned that the sled comes well packed in one box, and it isn't a very difficult assembly process.
"The only problem we ran into was getting the holes to line up for the screws with the smaller push/pull bar," Sam admitted.
Otherwise, you just have to add the two back wheels and the screen (if you choose the option with the display).
Customer Reviews
On the Get RX'd website, the Xebex XT3 sled only has five reviews with an average rating of 4.4 out of 5 stars. The majority of customers were really pleased with their new purchase and loved the vertical storing feature, the steel construction, and the various functionality.
"The quality of the equipment is excellent," reviewer Joshua R. glows. "Having the ability to vary the resistance not only allows for different types of workouts, but also allows my two daughters (6 and 4 years old) to join me for some fun exercise!"
Most of the complaints from customers were minor, and mentioned things about the product arriving slightly damaged and the powder coat chipping.
Final Verdict of Our Xebex XT3 Sled Review
Overall, I enjoy the Xebex XT3 Sled because it can be used on almost any surface. Plus, the quietness makes it ideal for home owners because they can use it without making a giant racket. If you don't mind the almost $1,000 price tag (or are willing to finance it), you'll likely get a ton of use out of this versatile sled.
Xebex XT3 Sled Rating
Xebex XT3 Sled
Check out our Xebex XT3 Sled review for all the information you need to know about this versatile piece of fitness equipment.
Product Brand: Xebex
Product Currency: $
Product Price: 984.00
Product In-Stock: InStock
Xebex XT3 Sled FAQs
What is a weight sled, and how do they work?
"Weight sleds are an effective and very fun way to accomplish resistance training. You're using your upper body to push the weight, and your lower-body muscles to push forward so you're getting a full-body workout with one piece of equipment," Certified Personal Trainer and GGR Staff Writer Anthony O'Reilly explains.
Using a weighted sled also has tons of real-world applications. Just think of how many heavy objects you push, from your shopping cart to a child's stroller.
Ready to switch things up? Anthony recommends trying to incorporate reverse sled drags into your routine. 
"Pull the sled rather than pushing it every so often to target your muscles in different ways," Anthony says.
How heavy is the Xebex XT3 Sled?
The sled is 103 pounds when unboxed.
Can I add my own weight to the Xebex XT3 Sled?
Yes, besides the eight levels of magnetic resistance, you can also add your own weight plates easily. This makes it a versatile piece of gym equipment, especially if you already own a traditional barbell and weight plates.