We test and review fitness products based on an independent, multi-point methodology. If you use our links to purchase something, we may earn a commission. Read our disclosures.
Weight sleds can be an awesome tool if you have the space, but for many of us with a home gym, it's just not realistic. Enter the Torque Fitness TANK M1 Push Sled, here to solve many of your problems and personally address concerns the home gym community at large has had with weight training sleds.
The Torque Fitness TANK M1 Push Sled is a weight sled that uses magnetic resistance instead of weight plates and friction. It's designed specifically for home gyms and after using it for over a year and comparing it to other sleds on the market, we highly recommend the M1 if you can afford it. It's extremely well designed and built, quieter than nearly every other sled available, provides an outstanding conditioning workout, and takes up little space.
Ultimate Home Gym Sled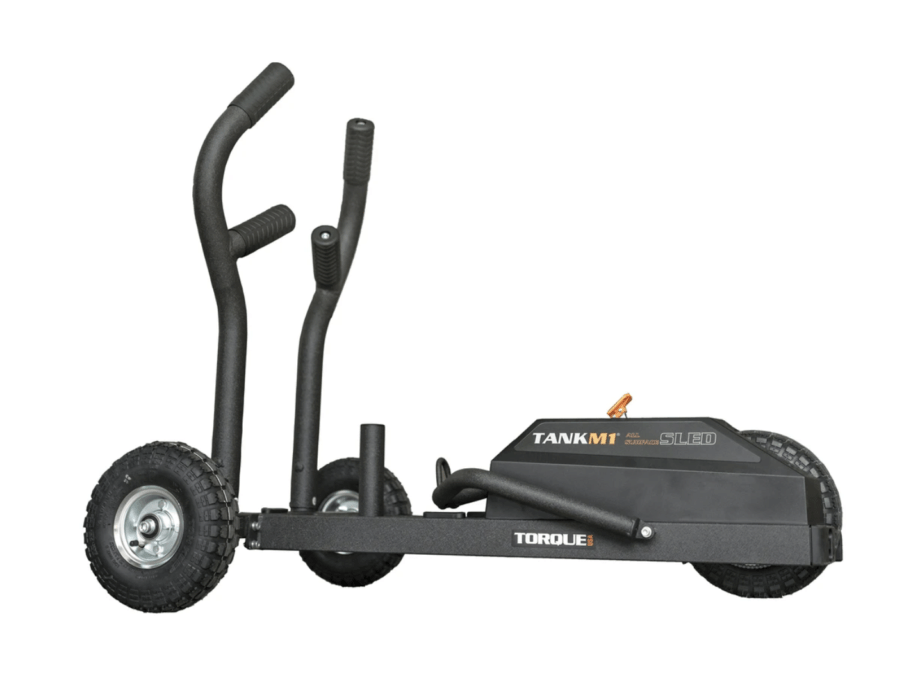 Torque TANK M1 Push Sled
Crush cardio boredom, build explosive muscle, and group train anywhere with the TANK M1. The same challenging TANK technology you know and love, now more portable, storable, and affordable.You talked, we listened. We designed the TANK M1 based on your feedback and ideas. With easily removable handles and compact design, the TANK M1 was designed with garage gyms and personal trainers in mind and allows you to take your sled training to the street to train with neighbors, to the cabin for a family weight sled training session, or to the park to meet friends. Wherever you want to take your training, TANK M1 will go.Features:Variable resistance training: Using the same technology you know and love from the TANK M4 and TANK MX, The TANK M1 offers three levels of resistance to make your workouts match the intensity you want... and then some. The faster you push, the harder it gets. An adjustable and frictionless magnetic brake system that increases resistance with speed creates a heart pounding-strength building workout. Nearly silent training: No more angry neighbors or bystanders. Unlike traditional friction sleds, the TANK M1 is a sled with wheels that has a nearly silent training experience. So go ahead, challenge yourself or your client to that early morning workout! Bi-directional movement: With it's low tow bar design, you can push and pull in both directions, making group training a breeze. Want to turn your TANK around? The TANK M1's lighter, three wheel design makes this easy. Easy storage and more training options with the TANK M1 Wall Bracket: Save space and increase training functionality. The TANK M1 Wall Bracket not only gets your sled up off the wall, saving you sacred training space, it also acts as an anchor point for battle rope and resistance band training. Removable, ergonomic handle design: The TANK M1 comes standard with removable Performance Handles for easy storage and transportation with custom molded grips on high and mid-handle positions. Group training from beginner to pros: From rowing, running, pushing, to pulling, the exercises you can do with a single TANK in a group setting are endless. Changing the resistance for different level athletes on the fly make weight sled group training a fun and effective workout for all. No weight plates required*: *Thanks to TANKs magnetic braking system, added weight is not needed to increase your workout's difficulty. Rather adding a plate or two on the included weight horn may be useful for traction and for keeping rear wheels down for some movements. Expanded training options with TANK M1 accessories: V-Straps and Tow Rope
Why You Should Trust Us
I've tested all kinds of weight sleds, from more traditional options like the Titan Pro Sled System and REP 4-Post Push Sled, to more home-gym friendly picks such as the XPO Trainer Sled 2.0.
How I test every single product is standardized. I look for the things that matter to buyers, like price, durability, overall value, and versatility. If I personally recommend something, you can be sure that it has been thoroughly tested over a significant period of time and compared to other similar products on the market.
A Quick Look at the Torque TANK M1 Push Sled
The Torque Fitness TANK M1 Push Sled is the latest weight sled that uses magnetic resistance instead of weight plates and friction, making it a solid home gym sled. If you've had a home gym for any length of time, you know, as well as I do that a sled is one of the most versatile pieces of equipment you can have.
However, a traditional sled can present some issues. One, if you go with a normal weight sled, they make an absolute ton of noise, way too much for anybody to really get much use of it in a neighborhood setting. Two, traditional weight sleds take a lot of weight in order to get the resistance you want. This is where the Torque TANK M1 All Surface Sled comes in.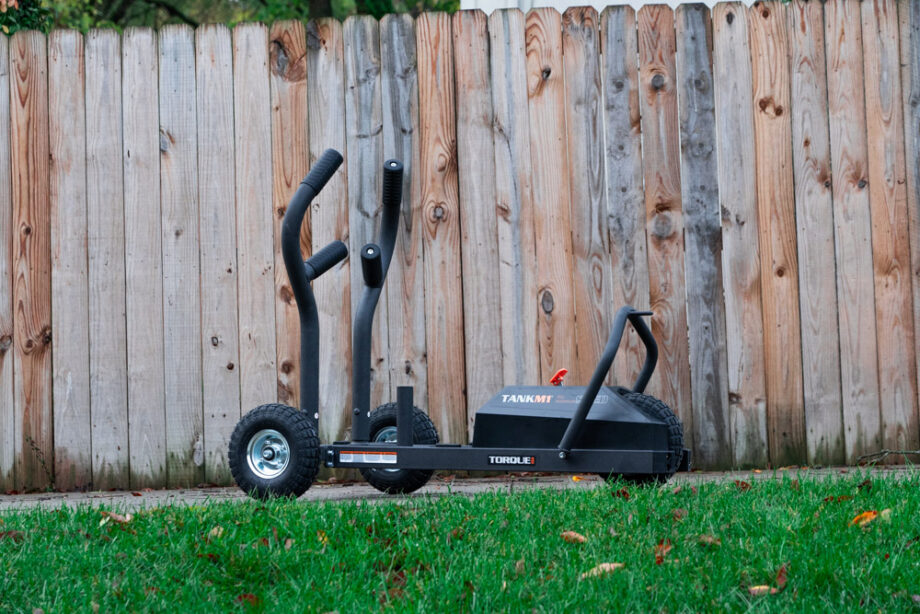 Coop's Tips:
Friction-based sleds are likely the least used equipment in garage gyms. They're simply too loud and annoying to set up. This is where the TANK M1 shines.
If you already have your family bikes mounted to the garage wall, you can easily add the Torque TANK M1 as well since it folds easily and has an available mount (this is how mine is stored.)
The TANK M1 works great for both lower body conditioning and upper body strength training workouts.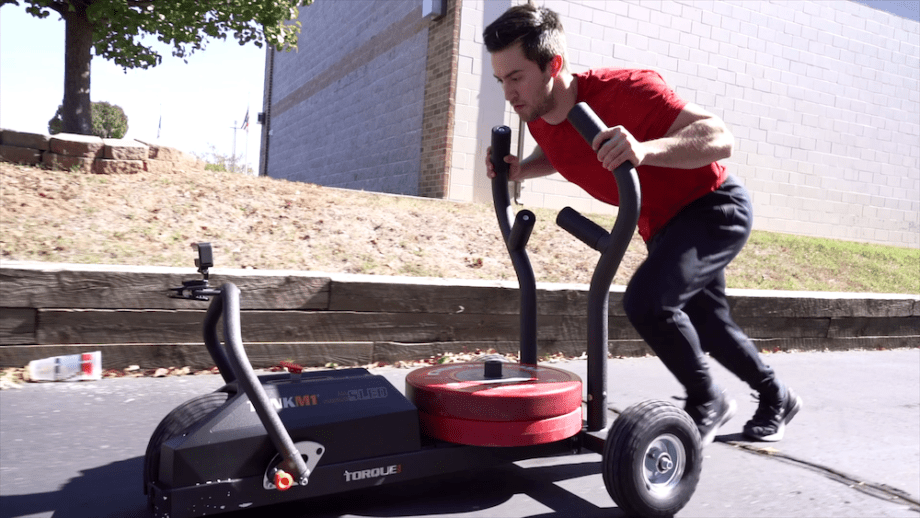 Pros:
Uses magnetic resistance versus weight plates
Quiet and good for use in a neighborhood setting
Foldable and easy to store
High-quality build and materials used
Can be both pushed and pulled
Cons:
Pricey for most home gym owners
Doesn't turn well around corners
Video Review
Is the Torque TANK M1 Push Sled Worth It?
The Torque TANK M1 Push Sled is one of the best home gym sled options on the market. However, everyone isn't looking for the exact same thing. I'll tell you who I think should pick this up, and who should look elsewhere.
Great For:
Home gym owners of all fitness levels
People who want to easily store their push sled when not in use
Those who want a quieter option than a traditional weight sled
Not Recommended For:
People on a tight budget
Individuals who don't mind the noise and destruction of the road of normal weight sleds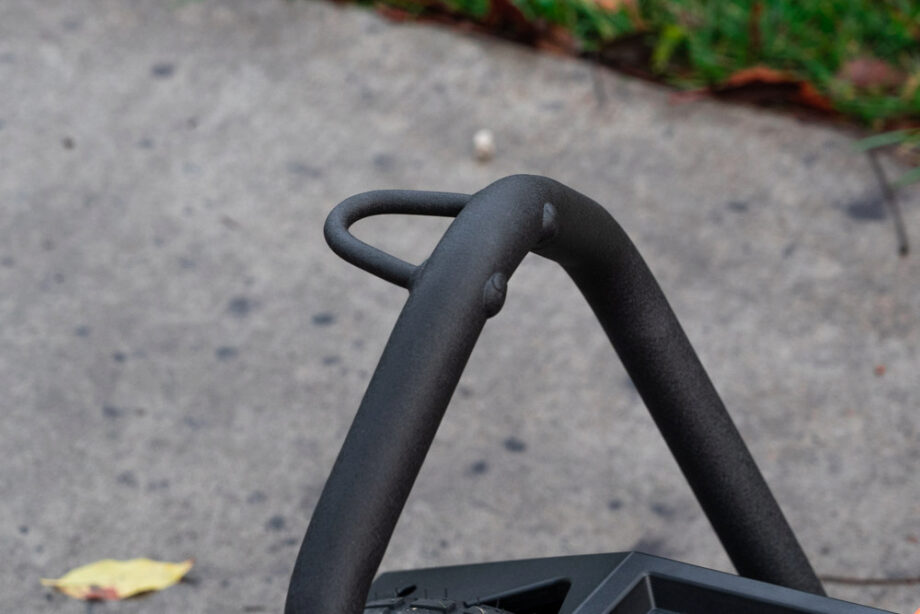 Torque TANK M1 Push Sled Specs
| | |
| --- | --- |
| Dimensions | 45.1" x 31.9" x 37.5" |
| Weight | 67 lbs |
| Warranty | 10 years on the frame and welds; 1 year on the parts, materials, and workmanship |
| Useable Accessories | V-Straps and Tow Rope |
| Recommended Pressure | 30 PSI |
| Tires | 3 |
| Price | Under $900 |
| Handles | Removable |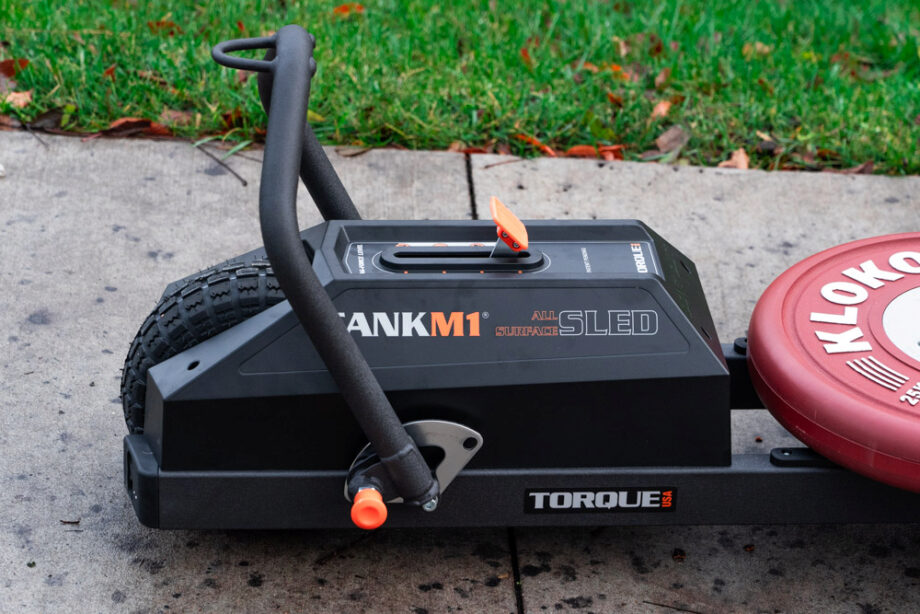 Give the Torque TANK M1 a Push!
The Torque TANK M1 Push Sled is the latest workout sled from Torque Fitness that utilizes magnetic resistance. Rather than friction of metal against concrete, the TANK M1 uses magnetic flywheels to provide internal resistance. This allows the sled to be nearly silent, making it great for those with a home gym.
Resistance
In addition to being silent, the TANK M1 has three modes of resistance (as well as a neutral mode) that makes changing the difficulty of the sled seamless. The resistance is progressive. This means that similar to an air bike like the Rogue Echo Bike, the harder you sprint/push against it, the harder it resists.
All of the resistance is coming from the front tire. This has the benefit of not requiring much weight to use it (none at all if you don't mind the back wheels coming off the ground) and allows you to maneuver it easily. If you want to move it, you tip it back so the front wheel is off the ground and then move it quickly and easily. When compared to the original Torque Fitness TANK M4 or MX, this is a vastly better home gym option.
In use, I've found that you don't need a lot of weight on the weight horn due to all of the resistance coming from the front. So, you're just keeping the weight down in order to drive through the ground. That is the main reason you would put weight on the back.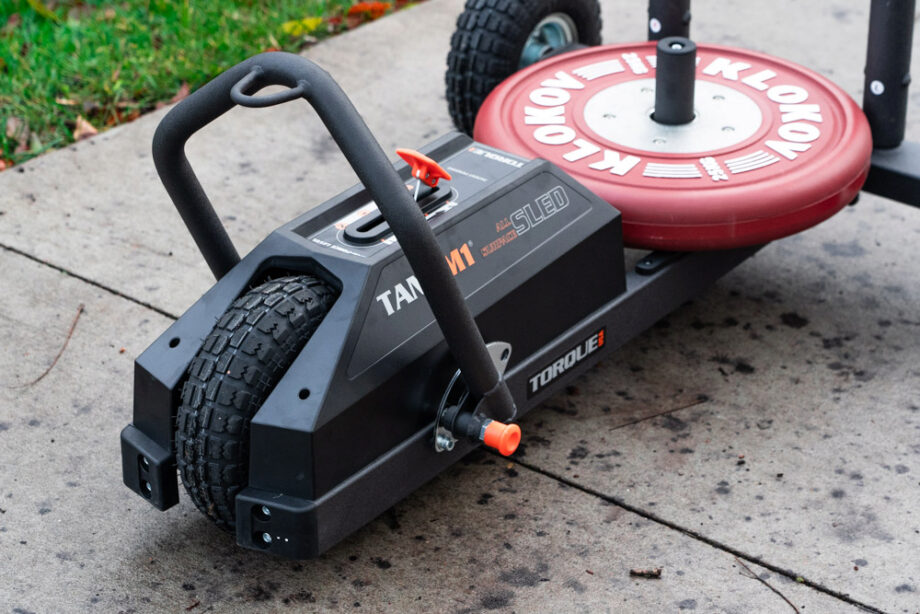 Using Attachments
The front handle also features a welded D-Ring so you can attach a harness and perform sled drags with the sled behind you. This is something that the XPO Trainer cannot do and really shows the TANK M1 to be a more versatile tool. Sled drags are a great exercise for general physical preparedness, so I'm really happy they allowed the sled to do this. It can be difficult dragging the TANK M1 around corners because it doesn't turn well, but for straight-aways, it's great.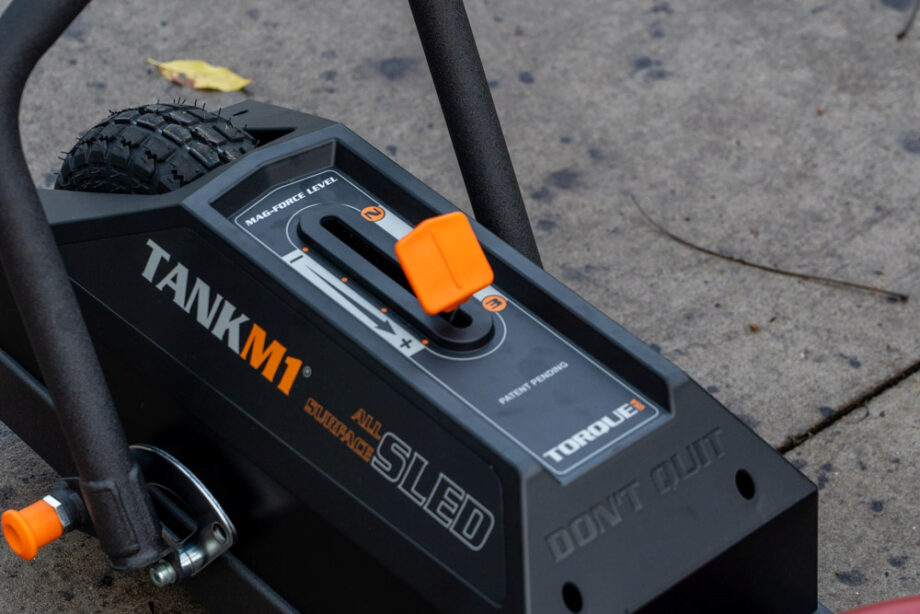 Footprint, Portability, Durability, Construction
We really like just how well-made of a machine the M1 is. Some sleds feel cheap, as if they were put together using off the shelf materials bought at Home Depot. The M1, however, feels like a commercial piece designed and built from the ground up.
The powder coat is designed for outdoor use, just like its older brother, the TANK M4. It has a gritty powder coat that resists wear and corrosion very well. The removable handles allow for the sled to easily store away, even on a wall rack. Everything from the grips down to the tread on the tire exudes a premium look and feel.
What Makes the TANK M1 Different?
The TANK M1, unlike the others we've reviewed from the Torque brand, is designed specifically for the home gym. The M1 takes up a small amount of space, can be stored on the wall and is easily portable for taking from your garage to the street.
The Torque TANK M1 Push Sled takes a lot of the features that you see on the Torque Fitness TANK M4 and provides it in a much smaller, more budget-friendly, easier to use, compact form. What really separates it from a lot of the competition is that it uses magnetic resistance. Meaning you adjust the resistance with a lever on the top of the machine instead of relying on friction from the metal against the concrete/turf. It has 3 resistance modes as well as a neutral mode that provides practically no resistance.
The other benefit on the Torque TANK M1 Sled that separates it from some of the competition like the XPO Trainer Sled or the Rogue Dog Sled is the fact that you can not only just go forwards, but you can also go backward with handles that reside on the front of the machine.
This means that you can do down and back sprints without having to turn the sled around. Simply run to the other side of the sled and start pushing going back with a lower handle height. This is a very well thought out design feature, especially considering that the handle positions can be changed.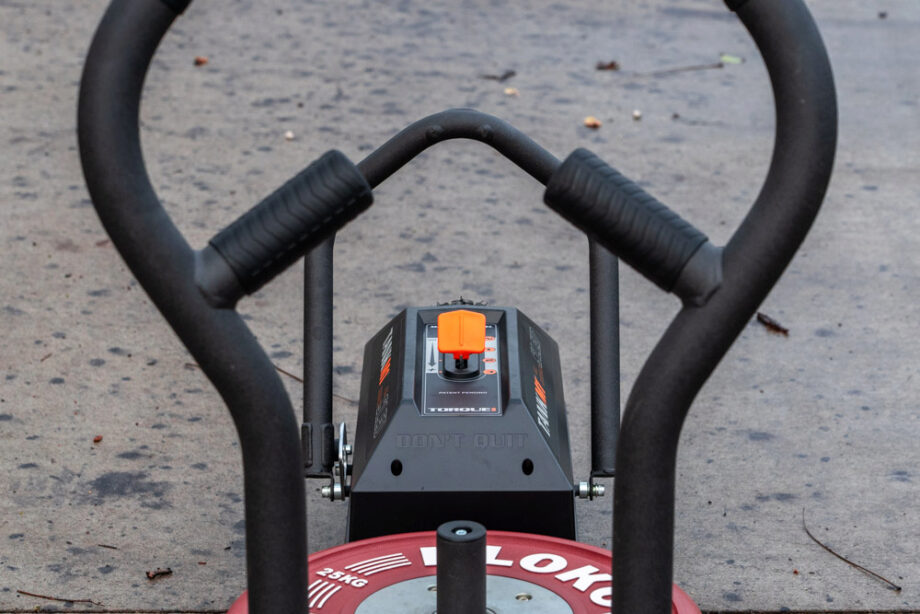 The Competition
Although the Torque TANK M1 Push Sled is the most complete magnetic resistance weight sled we've reviewed, it's not the only one on the market. It's also not the only sled type on the market. Weight sleds can be found in nearly every garage gym in the country and there are a myriad of brands offering the design.
Torque TANK M1 vs. XPO Trainer Sled
The XPO Trainer Sled from Armored Fit was our previous most often recommended sled. The XPO Trainer is similar to the TANK M1 in that the resistance isn't from friction produced by weight plates and the front tire is where all of the resistance comes from.
The main difference between these two is that the M1 is a much more polished, and better-designed piece of equipment.
To be honest, the XPO Trainer feels a bit like a DIY piece when sitting next to the M1. That's not to say the XPO Trainer isn't a good sled, it's just not at the level of the M1.
In addition to the build quality, the XPO Trainer lacks different levels of resistance. It's always the same which makes it great for sprints, but for heavier work, it lacks.
The Torque M1 can be used both for sprints, but if you put it on level 3, it feels like you're pushing a ton of bricks and it all happens at the flick of a lever.
If you're trying to decide between these two, I would definitely give the edge majorly to the Torque Tank M1. They're similar in price, but the M1 blows it away in both features and quality.
Torque TANK M1 vs. XPO Trainer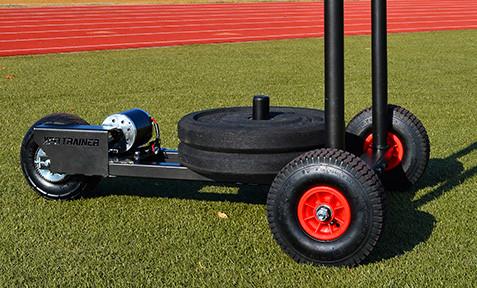 AFE XPO Trainer Sled
The XPO Trainer® is not only the very first exercise sled on wheels but a training device so versatile that it serves multiple purposes.Nearly silent operation. Removable handles for easy transport, portability, and storage. Safe for use on almost any surface, even indoors. Suitable for any level from rehab to training elite athletes. The only trainer or sled ever made that gets eXPOnentially harder to push the faster you go.Weight plates not included. Weight plates are only needed to assist with traction on slicker surfaces. Adding weight does not change the resistance.Assembled Weight: 60 lbs. (includes handles and weight plate post)Base Weight: 47.5 lbs. (no handles or weight plate post)Assembled Dimensions: 43" tall with handles installed, 43.5" long, 35" wide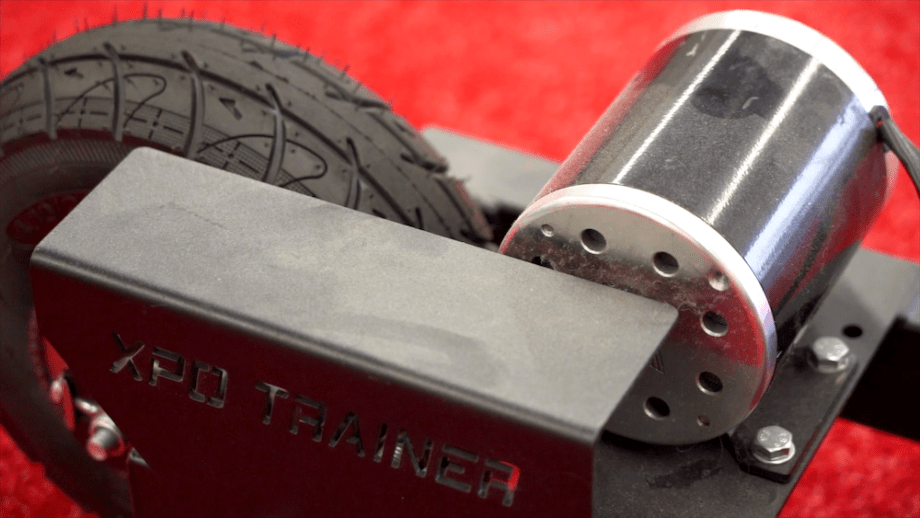 Torque TANK M1 vs. Rogue Dog Sled
Torque TANK M1 vs. Rogue Dog Sled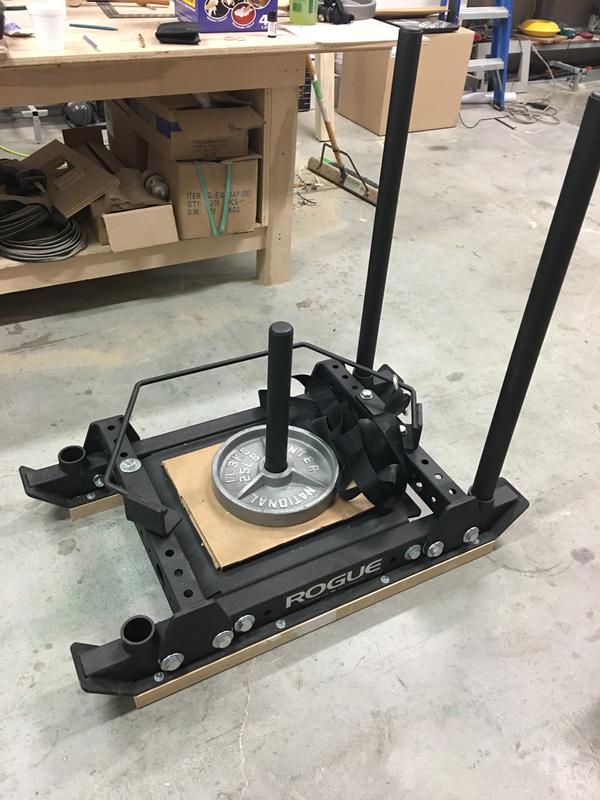 Rogue Dog Sled 1.2
The new Rogue Dog Sled is the next evolution of the power sled–compact, tough, and versatile enough for push, pull and speed training on almost any surface. With the addition of holes in the sled's skis, it's also now compatible with a wide range of mountable attachments, including the Double Handle, Lawn Boy, Wheelbarrow, and more.The CrossFit Games battled-tested Rogue Dog Sled comes standard with a quarter-inch steel base plate, 2 x 3" 11 Gauge and 0.25" Plate Steel, and a pair of 3' upright push bars designed to accommodate both high and low push stances. Compared to many prowler and speed sled designs, the portable Dog Sled has a smaller overall surface area, allowing you to get the most out of the plates that you own.Improving your body's ability to maximize its use of the anterior and posterior chain is the holy grail of power and performance. This is what ideal resistance sled training can accomplish, and it's what the Rogue Dog Sled delivers.
The Rogue Dog Sled is one of the most popular sleds in the world. It's a great, modular design that when introduced became very popular, very quick. The issue for most garage gym owners is that due to the weight and awkwardness in moving them, the Dog Sleds from Rogue don't end up getting used as often as they should.
I like the ability to adjust the weight as heavy or as light as I'd like, but, being able to roll a sled out to the driveway with a single plate or none at all like you can on the TANK M1 makes it a vastly better option.
In addition to the difficulty in setting the sled up, the Dog Sled and other sleds like it rely on friction between the metal skids and the concrete for resistance. This means there's a ton of noise made that your neighbors will absolutely hate, and the concrete also gets scarred up (trust me, you can tell which street I live on). If you live in an HOA, weight sleds can't even be used. This is a pretty easy recommendation. Although the Dog Sled is cheaper, it likely won't get used as much as a sled like the TANK M1. We recommend the M1 if you can afford it. If you want a sled you can add weight, then we suggest looking at the Rogue Slice Sled as it's a bit more versatile and easier to maneuver.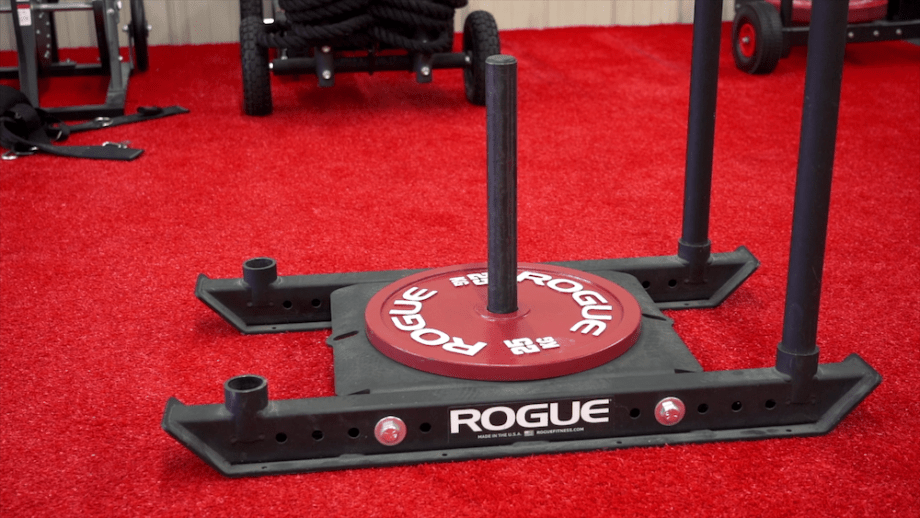 Torque TANK M1 vs. Torque TANK MX Sled
Torque TANK M1 vs. Torque TANK MX Sled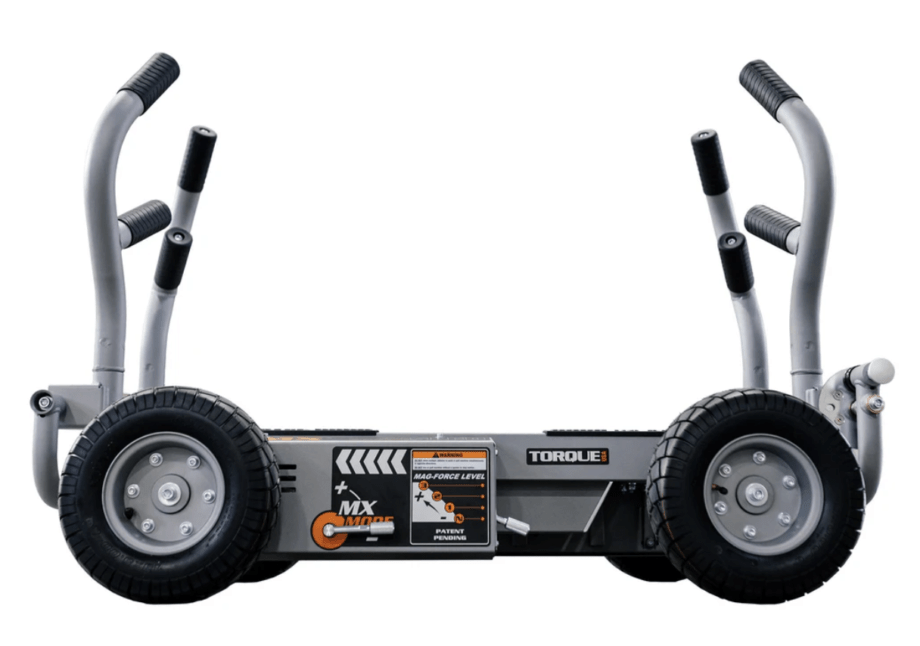 Torque TANK MX Sled
The all-new TANK™ MX is the newest evolution of the All Surface Sled category. With all of the same great features of the TANK M4, plus some major upgrades, the MX was engineered for serious athletes ready for a challenge.Exclusive Features of the TANK MX:MX has even more braking resistance than the M4 with 25% more resistance at peak power. Added resistance is engaged with the MX lever and can be added to all levels. To handle the added braking resistance, MX has larger, wider tires for enhanced traction and an even more bold, aggressive look. New handles exclusive to the MX are easily removed by simply lifting the handle vertically. No tools required. New handles have an added, lower push handle point that adds variety to the Performance Handles used on the M4. Optional Stacker Kit allows the MX to be stacked on top of each other, up to 3 high to save valuable floor space between workout sessions. Removable handles can be stored in the center tray of the MX when they are not in use for lower profile storage or stacking. This helps keep things organized. 3-position bar provides multiple user-friendly features:High position can be used for attaching a tow strap and provides an alternative low-height push position Mid position provides ergonomic grip points for lifting Low position saves space when stacking and storingNew silver color scheme and graphics make the MX standout.Just like the original TANK™ M2 and M4, the sleds tires allow it to be used on any surface without fear of damage or noise.
If the Torque TANK M1 is a Cadillac, the Torque TANK MX Sled is a Rolls-Royce. This weighted sled, used by popular podcast host Joe Rogan, has larger and wider tires to conquer just about any terrain, an "MX mode" that adds even more resistance, a weight horn to add even more weight, and a lower push point that allows you to target additional muscle groups.
Unlike its little sibling, the TANK Mx Sled can be used without creating much noise on concrete (so your neighbors won't hate you as much) and the construction is more high quality. And it better be, considering this thing costs a whopping $2,500.
Is it worth that price? If you're someone who's super-serious about conditioning, or has a homeowners' association that will kick you out for your lesser sled, then yeah, we could see how the cost might be justified for you.
But for most home gym owners, you're probably OK with the Torque Tank M1.
Final Verdict of Our Torque TANK M1 Push Sled Review
The Torque TANK M1 Push Sled is one of the best sled options to add to your home gym, and one I've continued to use frequently on my own. As long as you feel comfortable spending the money, the construction is excellent and it won't wake the entire neighborhood up. Win-win.
Full Rating
Torque TANK M1 Push Sled
The Torque Fitness TANK M1 Push Sledis a weight sled that uses magnetic resistance instead of weight plates and friction. It's designed specifically for home gyms and after using it for a few weeks and comparing it to other sleds on the market we've reviewed, we highly recommend the M1 if you can afford it. It's extremely well designed and built, provides an outstanding conditioning workout, and takes up little space. We are big fans of the TANK M1.
Product Brand: Torque
Product Currency: $
Product Price: 849
Product In-Stock: InStock
Torque TANK M1 Push Sled FAQs
Can I easily store my Torque TANK M1 Push Sled?
Yes, you can use a wall-mounted hanger to attach your folded sled to the wall (similar to what a mountain bike in a garage might look like). The TANK M1 wall bracket makes for very easy storage.
What other pieces of equipment should I have in my home gym for a solid strength building workout?
Besides having a solid push sled, I recommend getting things such as barbells, a squat rack, weight plates, a rower, resistance bands, battle ropes, kettlebells, and dumbbells. There are tons of options, so consider how much space you have to work with and if you want to do primarily weightlifting or cardio.
How does the TANK M1 work?
This sled has bi-directional movement, which means it can move forwards and backwards. Sled training with the TANK M1 means you'll get variable resistance training because of the frictionless magnetic brake system. There are three different levels of resistance to choose from, depending on the type of training you want to do. Even better? It's virtually silent training.
Would the TANK M1 be good for group training or personal trainers?
I can't speak to it being used in a commercial setting, but I've found it to be extremely durable for personal use. If you only have a few clients, I think it would work out just fine.