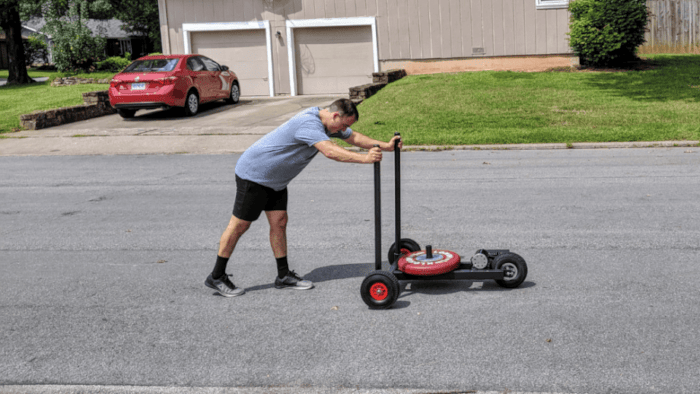 The XPO Trainer sled is tough and durable, but at the same time smooth and silent. It is a well-built product with steel tubing, a spring-loaded chain tensioner, and sturdy wheels. At the same time, the fact that it uses wheels rather than metal sledding means that it will not damage anything in its path and it will maintain a much more quiet ride.
One of the best things about this equipment is that it is easy to setup and even easier to use. Assembly is minimal because much of the machine is put together when you receive it. On top of that, because of the design, there is very little to do once the machine is assembled. With other pieces of equipment there are settings that have to be changed, weight that has to added or taken off, and at least some guesswork when those changes take place. With the XPO Trainer Sled, all you have to do is push. The machine takes care of the rest, even if the strongest person in the gym is following their Grandmother's workout, no changes are necessary.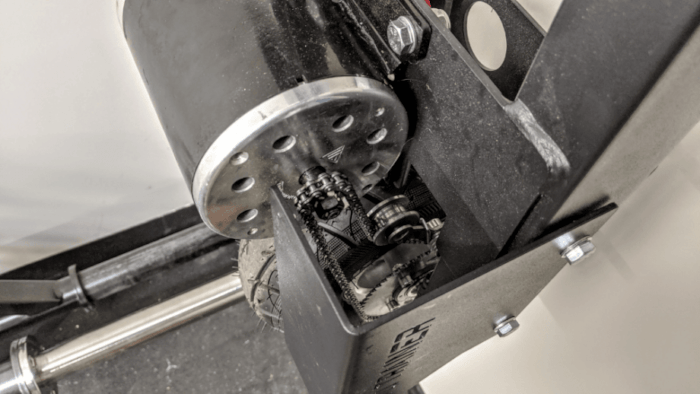 Another strength of this sled is that it is an extremely tough workout, but you can make it easier or less difficult depending on how much you want to push. If you are serious about gaining strength and power, the harder and faster you push this machine, the more resistance it will give you. There are no excuses about having the wrong grip or the wrong weight, it is up to you to make this sled work. Similar to an air bike, where the harder you pedal the more resistance is caused by the wind, there is a resistance chain connected to the front wheel that will immediately add resistance no matter how hard you push. If you want to improve, you can. At the same time if you slack off, your lack of gains will be on you.
If you are using this as part of a home or garage gym then the portability and relatively lightweight of the XPO sled will be very valuable to you. In fact, my XPO sled is hanging on a hook on my wall as I type this. It is easy to take the handles out, light enough to lift, and compact enough to put almost anywhere.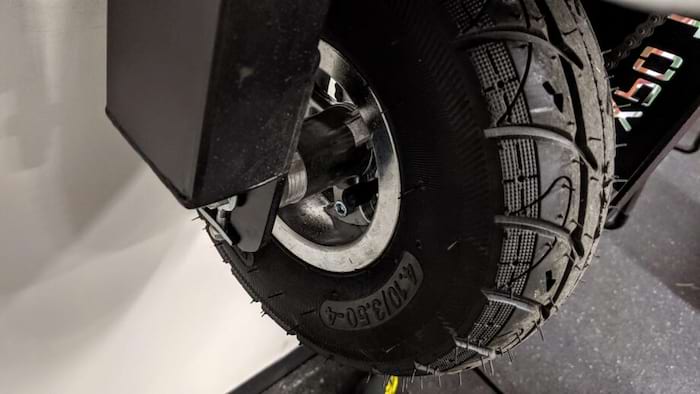 When you purchase the XPO sled, there is another huge cost that you will be saving versus traditional sleds...The cost of plates. Only on slick surfaces do you need to use weights to weigh down the back, and on most surfaces, they're not necessary. In fact, unless you have a personal coach like Rocky Balboa who will stand on the sled for you, when you purchase most sleds on the market, you can almost double the cost immediately with the weight that you need to make it useful. With the XPO sled, there are no additional costs, just put the sled on the ground and push.
Finally, the ease of maneuverability in the XPO Sled is light years better than a somewhat similar wheeled sled that we've reviewed, the Torque Fitness TANK Sled. It is easier on your joints, your wallet (as mentioned above), and the ground below you. You can push it anywhere and the resistance only changes based on the force you apply rather than the terrain you are on.