We test and review fitness products based on an independent, multi-point methodology. If you use our links to purchase something, we may earn a commission. Read our disclosures.
Run, don't walk to find out the best ways to save money on top-of-the-line manual treadmills.
There are hundreds, if not thousands of treadmills on the market today, but none are quite as well-built and effective as TrueForm's. The Connecticut-based company specializes in manual treadmills that, by their very design, help enforce proper form to make you a better runner.
It's honestly one of the best treadmills we've ever used, but it comes at a steep cost. And while there's no TrueForm discount code, there are several ways you can save money if you want to invest in a TrueForm Runner or TrueForm Trainer.
If you want to learn the best ways to do so, we've got you covered.
Discounts on TrueForm Products
We weren't able to find coupon codes that can be used at checkout, but we were able to find these money-saving methods to help make a TrueForm purchase a little easier on your wallet.
Military & First Responder Discount: Veterans and active-duty service members, along with first responders, can get an undisclosed discount through GovX (only available for the TrueForm Runner).
Try a TrueForm for free: This isn't necessarily a promo code, but TrueForm's website has a page where they tell you where you can test a TrueForm treadmill before buying one. This is a great way to know if it's something you want to spend the money on in the first place.
Financing: TrueForm allows you to pick from multiple financing options, with 0% APR, to split the total price into monthly installments.
How to Apply the TrueForm Discount Code
Step One: To try one out before deciding to purchase, visit TrueForm's website trueformrunner.com and click on "Try a TrueForm."
Step Two: If you want to finance your purchase, add your desired item to the cart and click "ChargeAfter" at checkout to apply. Select the financing option that works best for you, and complete the purchase.
Step Three: To get codes for the military or first-responder promotion codes, visit govx.com and search for TrueForm (you'll need an active account). Your discount will be applied automatically when you checkout.
When Do TrueForm Products Go on Sale?
TrueForm doesn't run many sales, but they may slash prices or offer discounts around major holidays. Check out our holiday sales pages to keep an eye on the latest deals from all the big names in fitness.
What We Love About TrueForm
TrueForm Runner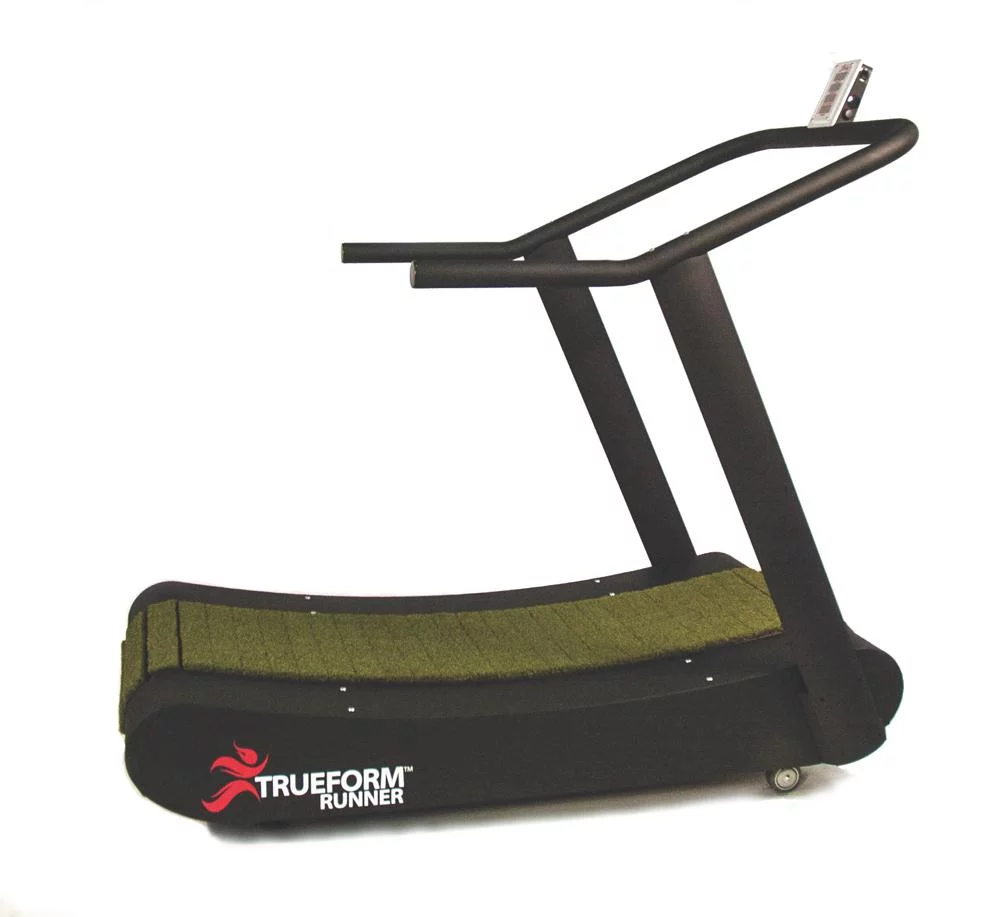 TrueForm Runner
TRUEFORM is the industry leading curved non-motorized treadmill. It's the least steep curve on the market, which promotes good walking, running, and sprinting form. The shallow curve also allows you to easily and safely control your speed. TRUEFORM is the most natural treadmill running surface when compared to running outdoors.The proprietary Responsive Belt Technology (RBT), reacts to every subtly in your movement; balance, posture, hip position, foot strike and more. The TRUEFORM requires no power. The TRUEFORM belt responds to your pace, allowing you to go from a walk to a jog, to a sprint, to a stop. Instantly. You will feel when your body is not in the optimal position for running or walking. Long term use of the TRUEFORM will promote better movement patterns improving overall health and wellness. TRUEFORM is proven to reduce impact stress which reduces the risk of running injury.TRUEFORM offers three models all with steel frame construction, a heavy-duty, impact absorbing slatted running surface, easy to move built in guide wheels and the best part, TRUEFORM requires NO MAINTENANCE!TRUEFORM Runner is overbuilt for a super smooth superior ride and engineered for a lifetime with solid steel construction inside and out. Each Runner is custom made and hand welded in the USA for unsurpassed elite quality. With the most subtle cure on the market TRUEFORM Runner is the most responsive treadmill available. Proven to Burn 44% more calories and reduce running injury and impact stress factors. Custom colors and tread surfaces are an available option for the TRUEFORM Runner. The standard display is bright LED which indicates pace, speed, distance, time. An optional Bluetooth display is also available.Available Options:Custom Color: RAL Powder CoatCustom Tread - Artificial Field Turf: Green, Black, Purple, YellowCustom Tread - Running Track: RedPerformance AdapterGear Specs:Length/Width/Height: 64" x 36" x 63"Weight: 350lbsRunning Surface: 17" WideDigital Display: Bright LEDPower: Rechargeable BatteryCustom Paint/Logos: OptionalFrame/Covers: Formed & Welded 7 Gauge SteelHandrails: Formed Steel TubingBelt: Polyurethane with Steel RadialTread Surface: Bonded Kraiburg ThermolastTread Lower: Fiberglass Reinforced Nylon Made by Smith and WessonBearings: 106 Sealed Steel Ball BearingsPulleys: Turned & Tooled Solid AluminumPaint: Zinc Plated Undercoat/TexturedPowder Coat Finish - Black StandardAvailable OptionsCustom Tread - Artificial Field Turf: Green, Black, Purple, YellowCustom Tread - Running Track: RedPerformance Adapter
TrueForm makes two manual treadmills: the TrueForm Runner and the TrueForm Trainer (they also make something called the Office Cruiser, which is just the TrueForm Runner with an open handlebar design to allow you to work at a desk while walking). 
RELATED: Best Treadmill for Walking
Both the Runner and Trainer are manual treadmills, meaning the tread only moves when your feet do, and have a curved treadmill that reinforces proper running form. Essentially, the curved tread won't move unless the runner consistently uses a midfoot strike, and drags their heels up toward their glutes (as opposed to a heel strike style of running).
This is a running style known as the POSE method, which many running coaches and physical therapists believe is best not only for efficiency's sake but also helps to prevent stress to your joints.
The only difference between the two is that the TrueForm Runner is made in America, and the TrueForm Trainer is imported and not quite as heavy-duty as its sibling, and as a result is $2,000 cheaper.
We say "not quite as heavy-duty" because the Trainer is still very durable and sturdy, and with proper care will last well until your children are building their own home gym (and potentially even a generation after that).
What's more, you can also customize the frame and treads to match the rest of your home gym decor. If you're training for a specific sport, you can also put running track or artificial turf treads on your TrueForm treadmills.
Why Buy From TrueForm?
We like that TrueForm tells you on their website where you can try one of their treadmills before buying one. Sure, you could test other fitness products before buying them but not many companies will make it easy for you. These treadmills cost a pretty penny, so make sure to test it out before deciding whether you want to commit to one.
The quality of their products is also unbeaten. If you're serious about running, there are very few treadmills better than this. They're built to last a lifetime, possibly even two lifetimes if well taken care of and maintained.