We test and review fitness products based on an independent, multi-point methodology. If you use our links to purchase something, we may earn a commission. Read our disclosures.
These days, there is absolutely no shortage of wonderfully designed online workout programs, and easy access to information online makes it relatively simple to program your own home workouts.
In spite of that, any qualified fitness professional would agree that individualized, periodized training is the No. 1 way to reach your goals. That's not to say you can't reach your goals with a more general approach, but there's nothing quite like having a certified personal trainer dedicated to your success.
After testing Caliber Premium programming for nearly a month, I'm convinced it's truly one of the best personal training apps available. In my Caliber app review, I'll explain why—and help you decide whether or not you should sign up.
RELATED: Best Running Apps
I Worked Out With Caliber Exclusively for 21 Days
I signed up for the Caliber app and chose to try Caliber Premium, the app's one-on-one personal training option. I used the app exclusively for my workouts for nearly a month. I've been a certified personal trainer for about seven years, so I was able to look at the app from the perspective of both a user and a fitness professional, and the latter informs much of this Caliber app review.
Caliber App
GGR Score: 4.68
Product Highlights
Personalized data-driven fitness and nutrition programming with habit coaching from experts 

Video coaching, weekly lessons, metric tracking, nutrition syncing

Claims to produce at least 20% improvement in body composition within three months

Paid subscriptions offer individualized training plan updated by a personal coach weekly inclusive of strength and cardio workouts

Performance metrics are tracked in the app to visualize progress
Pros & Cons
Pros
Scientifically-based training plans
Individualized coaching for both fitness and nutrition with paid subscriptions is reported to be very thorough
Free version offers a library of curated workout plans
Reportedly easy-to-use
Cons
Personalized macronutrient goals only available with paid versions
Bottom Line
Caliber Strength Training is a fitness coaching program grounded in scientific principles designed to increase strength and improve body composition. The app offers both group and individual training plans which are written and modified by a certified coach based on progress.
A Quick Look at the Caliber App
Caliber is a fitness app founded by Justin Fauci and Chris Muir, two buddies who, in college, decided to go to the gym together on a whim. "Neither one of us had ever stepped foot in a gym before," Fauci wrote in a Reddit thread about the Caliber app. The third co-founder, Jared Cluff, joined at a later date.
"We go to the gym together for the very first time, and it's basically all the jocks lifting heavy weights. We were so intimidated that we didn't even last 5 minutes. Literally," Facui's post reads. "We turned around, went back to our dorm, and did shots instead."
Fauci's post says he and Muir returned the next week and "gave it a proper go." Eventually, after years of following their own fitness journeys, Caliber was born in 2018. At the time, according to Techcrunch, Caliber was a simple library of educational fitness content and a newsletter.
Today, Caliber is a full-fledged personal training app with group and individual coaching capabilities, as well as a free-forever version that provides full access to the app's massive exercise library and functionality but without a coach.
RELATED: Best Walking Apps
Before You Sign Up
The Caliber fitness app offers a free version that is quite robust. In fact, the free version provides full app functionality—without ads—but does not provide access to a trainer. If you are at an intermediate or advanced fitness level, you might find the free version to be sufficient for your needs. 
Caliber offers a 7-day free trial to Pro, a generous refund policy for Premium, easy cancellation, and the ability to change coaches if you feel yours isn't a fit, so there's no harm in trying it out. 
Is the Caliber App Worth It?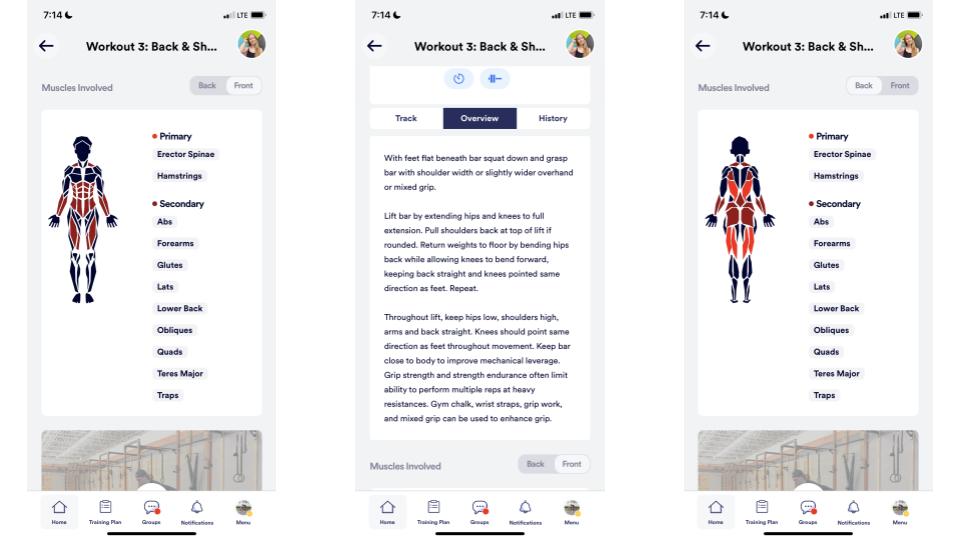 Yes—100%. As a gear reviewer and journalist, I pride myself on being tough on companies and their policies and products. It is extremely rare for me to say that a product or service is 100% worth it, because usually that's just not true.
But the Caliber app offers several options to fit different budgets, has consumer-first policies in place, and, honestly, is an absolute bargain for the paid options.
The free version of the Caliber app is fully functional and ad-free to boot. With the free app, you have access to the library of more than 500 exercise demo videos, all of which are complete with step-by-step written instructions, information on primary and secondary muscle groups, and your history of the exercise in the app (i.e., what you've logged). You can build your own program and track it just the same as you would with the paid version of Caliber; you just won't have a coach.
The next tier is Caliber Pro, which consists of group coaching. It costs $19 per month. At the time of writing, there are four group coaching programs available: one for beginners, one for intermediate to advanced exercisers, one for weight loss, and one for bodyweight-only workouts.
Caliber's top tier—and the one I tried—is Premium, which consists of one-on-one personal training. Pricing for Caliber Premium starts at $200 per month, and each package is customized based on your needs. It is expensive, yes, and of course not everyone can afford to pay $200 per month for a workout plan. 
However, you're getting so much more than just a fitness program, as individualized personal training entails a qualified professional who is dedicated to helping you reach your specific fitness goals. The cost of a single in-person session with a certified trainer can cost close to $200 or even more in some locales.
When it comes to modern individual fitness coaching, I don't think there's a more financially valuable model than what Caliber offers.
Great for:
Beginners who want to start strength training
Intermediate or advanced fitness enthusiasts who need to break through a plateau
Anyone who wants to use a workout app where they can log progress for various strength exercises
Not recommended for:
People who are mostly concerned with cardio exercise, such as people training for a marathon (unless you want a strength training plan to support your endurance training plan)
People who follow a CrossFit training plan or another specific type of training, such as Olympic weightlifting or Strongman (Caliber is for general strength training)
Caliber App Specs
| | |
| --- | --- |
| Trial | 7-day trial to Pro and a free-forever version of the app |
| Pricing | Free, $19/month (group), $200+/month (personal training) |
| Compatible with | iOS, Android |
| Gym membership required | No |
| Ability to change coaches | Yes |
| Refund policy | 30-day money-back guarantee |
| Cancellation policy | Cancel anytime before auto-renewal to not be charged |
Caliber Free, Pro, and Premium: Understanding the Options
You can choose from three tiers when you sign up for Caliber.
Caliber Free is free forever and provides full, ad-free access to the app, but you will not have a coach. You can create your own workouts using any of the 500+ exercises in the Caliber library, or create and track custom exercises. 
Caliber Pro costs $19 per month and provides access to group coaching. You get access to a group chat with other participants as well as a coach, who you can talk to through the messaging feature in the app. Lindsay Scheele, lead product reviewer for GGR Everything, tried Caliber Pro and says "People seem to be pretty active in the group chat and ask lots of questions that get a quick response from the trainers. The trainers checked in with me about once a week to ask how certain movements felt or how I was feeling in general. I also got quick responses from the trainers when I would ask them a question."
Caliber Premium is individual coaching, which is what I tried. It starts at $200 per month. I was matched with a personal trainer, who I spoke with almost daily via the chat feature. Depending on your package, you'll also have weekly or monthly strategy calls with your coach over Zoom.
For the most part, the rest of this Caliber app review recounts my experience with Premium coaching.
The Caliber Methodology
Caliber is big on traditional strength training and mastery over variety. In fact, the latter is one of Caliber's guiding principles. This app is not going to feed you a great variety of workouts, nor will it give you trendy high-intensity training sessions or Instagram-worthy, crazy exercises to perform.
Caliber wants you to lift often, lift consistently, and lift big. The focus is on progressively overloading a handful of exercises for each muscle group over a number of weeks. The intention is that you perform the same exercises week after week, increasing the rep count or weight for at least one exercise in each workout every week.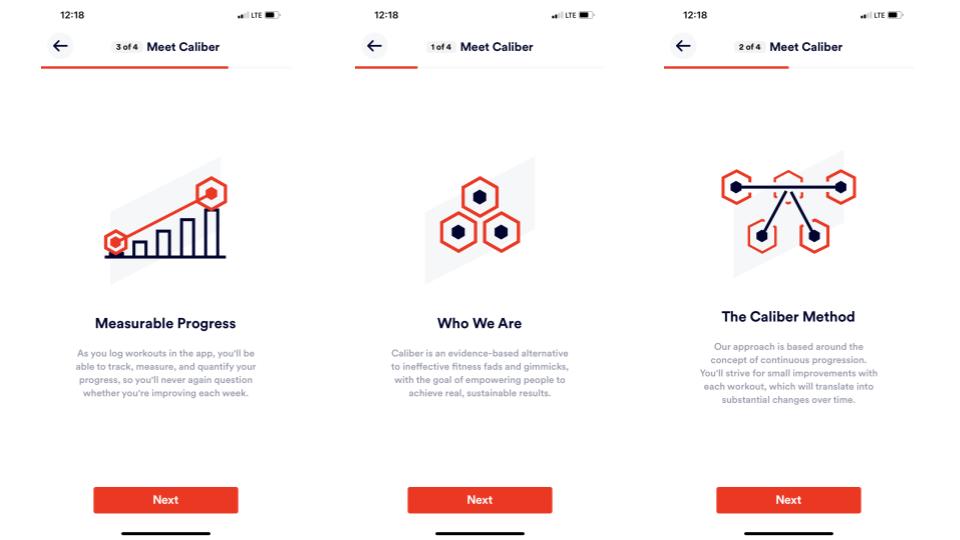 The Caliber methodology also focuses on strength over volume. According to Caliber, rest intervals of at least two to three minutes are essential and strongly encouraged for your best performance. The scientific explanation for this is complicated, but basically, it takes about that long for your body's energy systems to recover enough so that you can attack the next set with the same vigor.
Caliber programs are periodized, so your plan will only change periodically. You won't be doing the same exercises forever, but you will do them for several weeks. Every few weeks, your coach will update your plan based on your performance.
Experience: Using the Caliber App
The Caliber app experience is almost seamless. There are some minor hiccups, but the user interface is nice and it's easy to find what you want, leading me to give Caliber 4 out of 5 points in this category.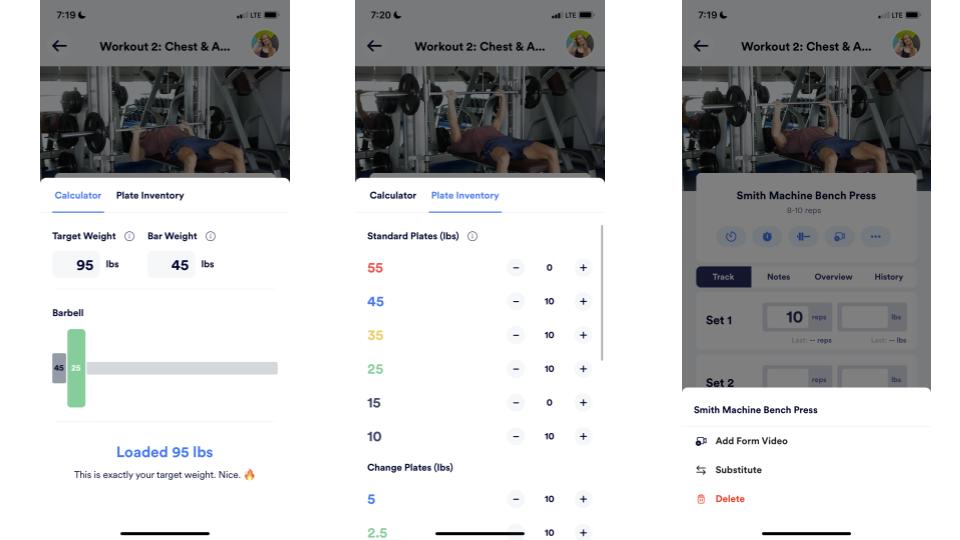 My main complaint is that if you want to send photos to your trainer, such as of your meal, you can only send one photo at a time and you can't add any text to it. This is minor, but annoying. It was only really an issue when my trainer asked for photos of the equipment at my gym and I had more than 10 photos I needed to send. This seems like it could be a simple fix, so hopefully that's something Caliber implements in the future.
There are exercise video demos for each movement you're assigned in your workout for the day, which I love. However, sometimes they don't load at all, and I'm not sure if it's my connection or a glitch in the app. I've used the app in my apartment gym and at my local CrossFit box, and this has occurred in both places, so I'm thinking it's the app but I'm not totally sure.
Other than the above two callouts, I haven't had any problems with the Caliber app itself.
Getting Started
You can start on caliberstrong.com or download the app from the App Store or Google Play. The process begins with a rather thorough questionnaire, which may be easier to do on a desktop.
You'll provide demographic information, including your age, biological gender, and current weight. The quiz asks what your primary fitness goal is, your options being build muscle, get lean, gain strength, or other. You will also specify where you work out: at a gym, in a home gym, or both.
Next, the questionnaire asks what type of exercise equipment you have access to. It's OK if you don't have any; Caliber has the capability to create bodyweight workouts.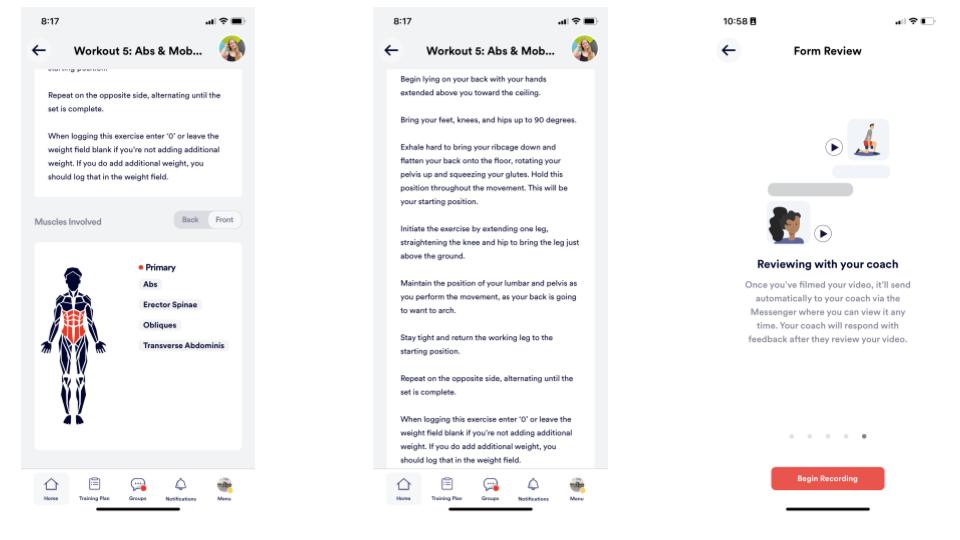 You'll provide Caliber with a bit of your training background, including if you've strength trained before, what you currently do for exercise, if you have a prior or current injury, and if you are at high risk of certain medical conditions.
The quiz also intakes a good amount of information regarding your current diet and nutritional habits and what your goals are related to nutrition.
I don't have many complaints about Caliber, but one thing that irked me was the end of the quiz. I was trying to learn more about pricing and package options and took the questionnaire in hopes that Caliber would reveal the packages to me at the end. It doesn't. Instead, you have to schedule a phone consultation. 
Had I been a regular prospective member—and not someone who was going to sign up regardless because it was my job to do so—this might have turned me off and prevented me from signing up. According to Caliber, pricing isn't included in the questionnaire because they offer a variety of customizable packages with different levels of coaching support based on the needs of each member.
Meeting Your Coach
Once you're set up in the app for Premium coaching, you'll be matched with a Caliber coach based on the information you provided in the questionnaire and during your consultation.
Your coach will message you through the chat feature with an introduction and send you a Calendly link so you can schedule your first meeting. The first meeting mostly consists of you telling the trainer about yourself, your history, and your goals. It'll last about 30 minutes.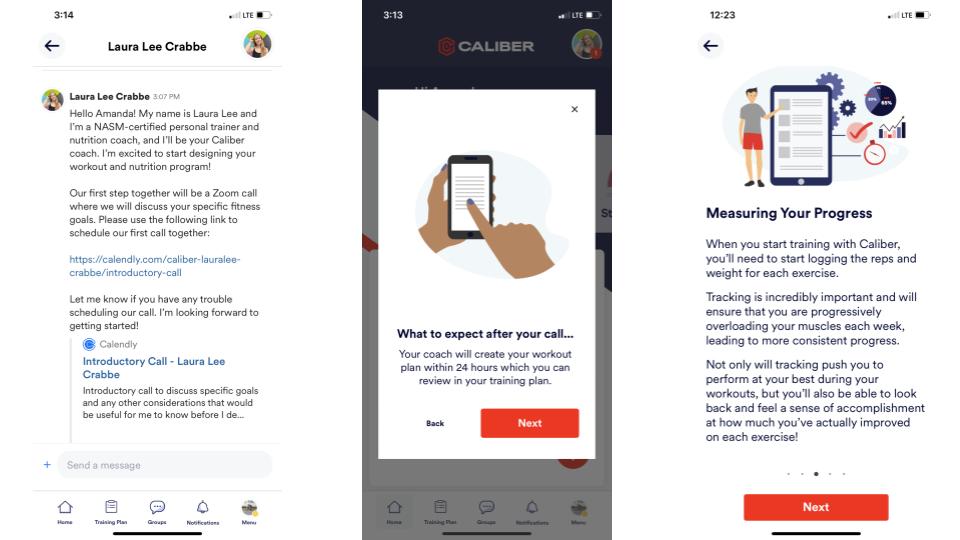 Shortly after the call—within 12 hours in my case—your trainer will upload your customized workout routine and it'll appear on your dashboard. If you have any questions, you can message your coach for clarification.
My coach, Laura Lee Crabbe, NASM-certified personal trainer and certified nutrition coach, responded within minutes almost every time I messaged her.
Caliber Lessons
One of my favorite features of Caliber is the weekly lessons. Each week, your dashboard updates with a new set of lessons, which are short articles within the app. The first week's lessons are all about getting started with Caliber and how to navigate the app, find your starting weights, and log workouts.
From there, the lessons become more in-depth, covering topics like progressive overload, energy balance, flexible dieting, and how to determine rest intervals between your work sets. This is a wonderful feature for beginners who are looking to learn more about fitness and training.
RELATED: A Beginner's Guide to Resistance Training
Starting and Logging Workouts
When you open the app, your home page opens, and you can start a workout from there. Whatever workout you have for the day will be scheduled in the app and appear on the home page. Just tap it to begin.
It's super easy to log your workouts. When you open the workout, your list of exercises will appear. Then you click the individual exercise to log your weight and rep count. You can add a note that remains private to you if you'd like, such as about how the exercise felt.
When you click on an exercise, you will see your latest rep count and weight, so you can be sure to do more reps or use a heavier weight to overload each week. The exercise pages also have a built-in timer and tutorials of the exercises if you need form cues or full instructions.
Exercise Demos, Instruction, and Form Feedback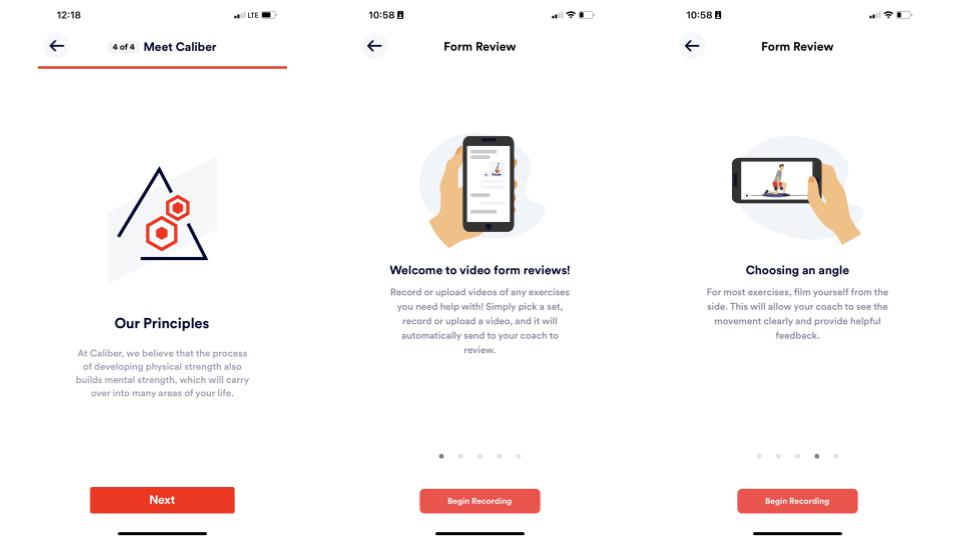 The Caliber app boasts an exercise library with more than 500 exercises. You can access the library in full, where it is alphabetized and searchable. You can filter by muscle group and equipment to find what you need, too. In addition to the videos, each exercise has complete written instructions and tips for technique.
You won't need to navigate to the exercise library, though, because each day's workout automatically populates with the demos for each exercise. When you start a workout and tap on an exercise to start logging, the demo video is on auto-replay. You can turn auto-play off if you don't find it helpful.
The app also has an integrated form video feature. Within the app, you can record videos of yourself performing the exercises and send them to your coach, who can then provide feedback and cues to help you improve. This is about as close as you can get to in-person training feedback without actually having a trainer in the room with you.
All of the above led to a 5-out-of-5 score for Caliber in the instruction category.
Strength Score and Strength Balance
Caliber has two algorithm-informed measurements to track your progress: strength score and strength balance.
Your strength score measures your progress based on how you're advancing at certain exercises. Not all exercises are accounted for in the strength score, and it's not super clear which ones are or aren't. A nice addition to the app would be some sort of marker for each exercise that is accounted for in the strength score algorithm.
Still, it's a fun feature and a unique way to track your increases in strength, though I will admit it doesn't seem to make sense all the time.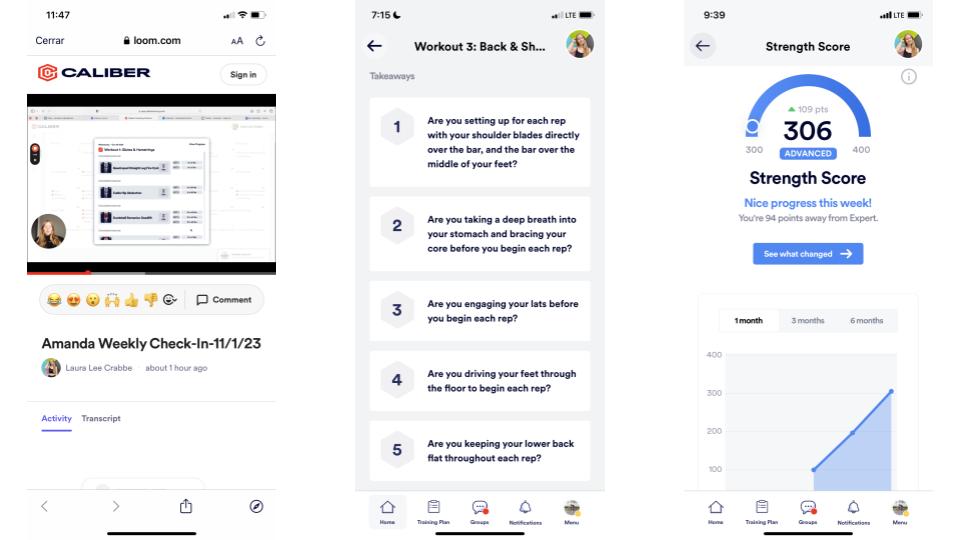 The strength balance score is more interesting to me, personally. This metric shows you how developed your major muscle groups are compared to one another. My strength balance at the time of writing is 70%, which Caliber says is good but leaves room for improvement.
Specifically, the strength balance shows that my lower body muscle groups are more developed than my upper body muscle groups, with my shoulders being the least developed. I already knew this, but 100% always ignored it, so it's kind of a welcome slap in the face to be presented with this information on a daily basis.
In all seriousness, this is a fantastic feature for beginners and may help exercisers of all levels focus more on their weaknesses.
Nutrition Tracking
If you'd like, your Caliber coach can also provide a nutrition plan for you. Keep in mind that Caliber coaches are not registered dietitians, but instead certified nutrition coaches. This means they are educated on evidence-based nutrition and can provide general nutrition advice based on your goals and dietary needs.
A certified nutrition coach may:
Teach you how to track macros and set macronutrient targets for you
Help you learn to build a balanced plate for each meal and reach daily targets for certain nutrients, like protein or fiber
Provide tips for selecting healthier options while grocery shopping or eating at restaurants
Educate you on the benefits and drawbacks of different types of diets
A certified nutrition coach may not provide completely individualized meal plans or instruct you to follow a specific diet based on health information you provide them. This is outside of the scope of practice for nutrition coaches; if you need this type of individualized nutrition guidance, you should consult a registered dietitian.
I did elect to receive nutrition advice from my coach, partly because I could use the help with consistency and partly because I'm quick to spot a fad diet or unethical practitioner, and I wanted to see what was up in the Caliber app.
I'm happy to report that my coach provided sound advice within her scope of practice as a certified nutrition coach, and it actually helped me a lot.
At first, Laura Lee encouraged me to track macros because I told her that one of my goals was to increase my protein intake. I mentioned that I have a history of disordered eating but that I was willing to try. This kind of stuff can be a very slippery slope for me, so I usually avoid it, but it'd been a while and I thought that with some guidance, it could work out for me.
Well, after a few days of attempting to track my macros, I felt the familiar guilt around food choices begin to bubble up, so I told Laura Lee that I did not feel comfortable tracking my food. Since I'm not chasing a weight loss or weight gain goal, I don't need to track my intake and would prefer to eat intuitively.
So, we agreed that I'd send her photos of my meals as a form of accountability—to make sure I was at least trying to hit my protein and fiber goals each day. But I no longer had to worry about calorie counts or overthink about every ingredient in every meal I ate.
Laura Lee's willingness to accommodate my history of food struggles is, perhaps, something that only people with a similar history can understand. But it is a highlight of my experience with the Caliber app, and Laura Lee's compassion and understanding is a critical quality in a good coach.
Should you want to track your macronutrients, the Caliber app integrates with Cronometer, a nutrition tracking app. Cronometer is one of the best macro-tracking apps thanks to its barcode scanner and monstrous database of foods.
RELATED: Best Weight Loss Apps
Coach Check-Ins, Progress, and Accountability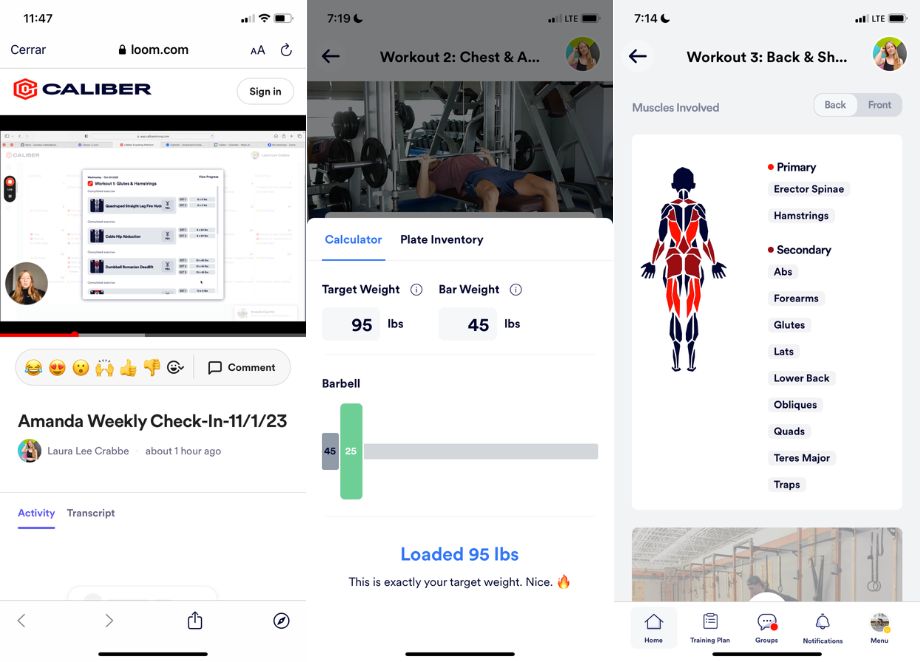 Caliber earned 5 out of 5 points for accountability because I believe this model is the next best thing after an in-person trainer. In some ways, it's actually better, because your coach can see a lot of what you're doing outside of your strength training sessions.
For instance, if you wear an Apple Watch or elect to log your other activities in the Caliber app, your coach can see if you are, for example, going on a one-mile walk each day like you said you wanted to.
Your coach also has access to your nutrition information if you utilize the Cronometer integration.
With a Premium plan, you get weekly asynchronous check-ins, which might be my favorite part of this experience because, hello, we are all busy and scheduling time for meetings is tough.
Laura Lee recorded videos on Loom and sent them to me through the chat function in the app. In the videos, she goes through my last week of workouts, looks at my reps and weights and any notes I sent her, and gives relevant feedback.
She then also provides goals for the upcoming week, such as "This week, I want you to keep the reps the same for deadlifts but increase the weight by 10 pounds for at least one set." I love that she provides incremental goals.
Depending on your package, you can also have either weekly or monthly strategy calls with your coach over Zoom. During this call, you can update your trainer on any new goals or other pertinent information.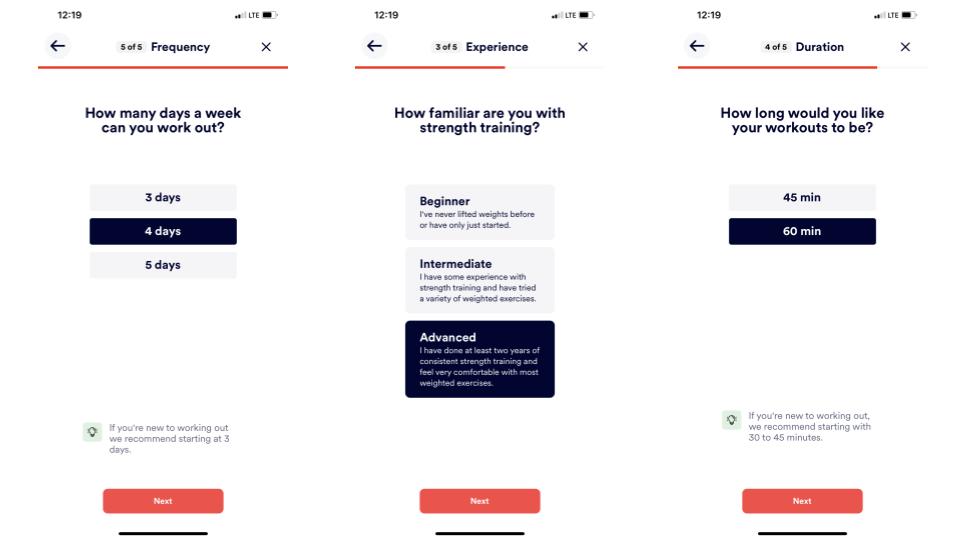 Community Groups
The Caliber app also features community groups. This is a fun feature, but one that needs some work. Not in the sense that the feature itself is bad, but it doesn't seem to be utilized a ton by app members, unless I'm in groups without many members.
The community groups are interest groups. I joined Camping & Hiking, Cycling, Running, Swimming, and Gym Playlist for music ideas. There's not much going on in any of my groups, but hopefully they grow as Caliber grows.
Between the social groups and the fact that you can interact with your coach daily, Caliber earned a perfect 5 out of 5 score for interactive features.
App and Device Integrations
Caliber integrates with Apple Health and Apple Watch, so if you're an all-around iOS user, you're in good shape. I was disappointed to learn that the app doesn't work with the Garmin ecosystem, which is what I use. However, the Caliber team says this is coming soon.
I have to manually input my walks, runs, and other activities in the app after I've logged them on my watch. Or if it could sync with Strava, that would eliminate this extra step. Hopefully Caliber is working on more integrations and syncing capabilities.
It seems that Caliber is working on a direct Fitbit integration as well as an Apple Watch app.
Caliber App vs Future
Future App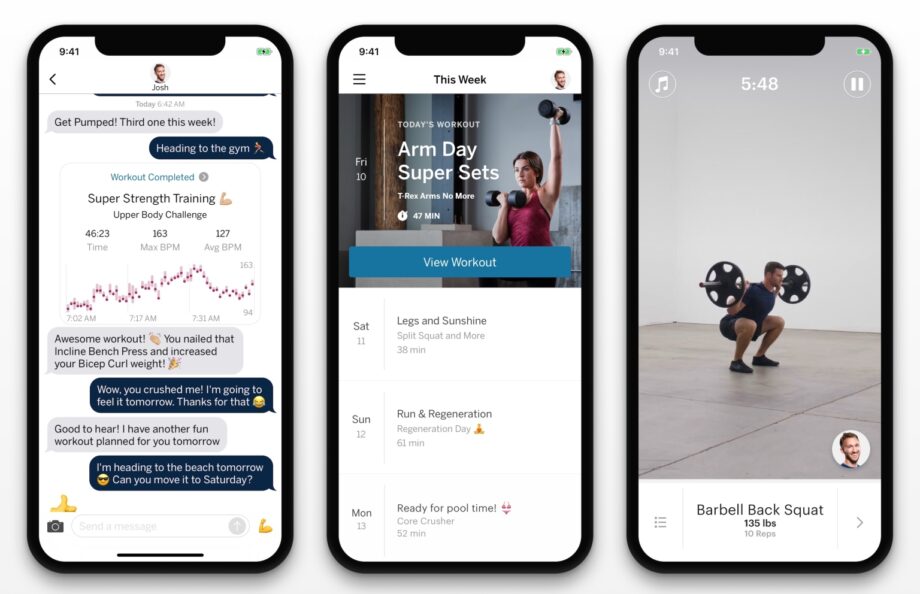 GGR Score: 4.4
Product Highlights
Virtual training from qualified coaches
Personal plan designed to help reach your goals
Great interface
Use our link for 50% off your first month
Pros & Cons
Pros
Incredible user interface; very well designed and intuitive
Choose your own coach based on your personal preferences and goals
Lots of variety in your workouts
Cons
No real-time coaching from your trainer
$199 per month membership cost
Bottom Line
An online training program that's staffed by real-life humans, and one of our favorite fitness apps.
Future is another great personal training app. It's built on the same concept as Caliber: That virtual personal training can be just as effective as traditional in-person training, and it costs less for the consumer.
Several members of the GGR team have tried Future, and all of them have been happy with the app. The process is more-or-less the same: You complete a questionnaire, get matched with a coach (or select your own), and get started.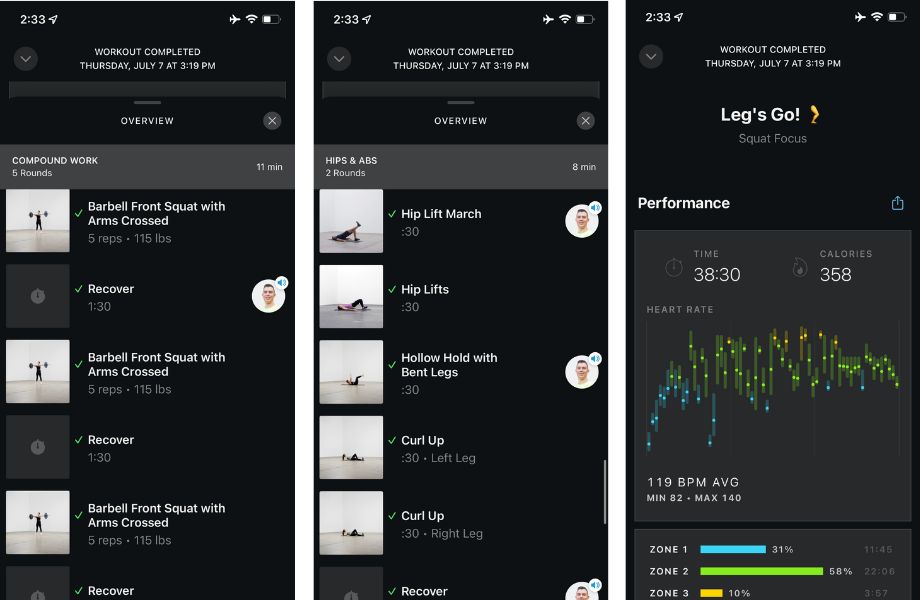 Kate Meier, GGR Head of Content, wrote in her Future app review that she loves the personal touch and the fact that her coach was so accommodating and professional as she worked through a major injury from weightlifting.
I would recommend either app without hesitation, but after trying Caliber, I'm inclined to recommend it over Future due to the fact that you'll always have free full access to all of the app's features if you decide you don't want coaching anymore.
That way, you can continue to use the same app to log your workouts and have access to your workout history and the exercise library. Plus, you can re-up your coaching at any time if you want to.
| | | |
| --- | --- | --- |
| | Caliber | Future |
| Trial | 7-day trial to Pro and a free-forever version of the app | No trial, but Future offers the first month for 50% off |
| Pricing | Free, $19/month (group), $200+/month (personal training) | $199/month, $537 for 3 months, $1,014 for 6 months, $1,788 for 12 months |
| Compatible with | iOS, Android | iOS, Android |
| Gym membership required | No | No |
| Ability to change coaches | Yes | Yes |
| Refund policy | 30-day money-back guarantee | 30-day money-back guarantee |
| Cancellation policy | Cancel anytime before auto-renewal to not be charged on Pro; for Premium, Caliber will reach out to you after three months to see if you'd like to continue | Cancel anytime before auto-renewal to not be charged |
Customer Experience
Caliber clearly cares about its members. Firstly, Caliber offers a 30-day refund period. If you aren't happy with the service or app for any reason, you can get your money back within 30 days of signing up.
Caliber Premium plans are billed tri-monthly. You can cancel at any time during your three-month membership period for any reason and without any hassle—not like in the olden days of yore when you had to jump through 17 hoops and cancel your gym membership in person while gym staff obligatorily attempted to weasel you into staying. Caliber will let you go if you want to go.
Finally, Caliber offers a seven-day free trial to the Pro experience. All of the app's functions are also available for free, forever and with no ads, minus the coaching aspect. 
Customer Reviews
Caliber app reviews are highly favorable. The app has an average rating of 4.9 on the App Store and 4.7 on Google Play, earning it a solid 4.7 out of 5 stars for customer reviews according to our methodology (the average of the two scores). 
On TrustPilot, Caliber has 4.9 stars out of more than 450 reviews. I browsed several Reddit threads that also indicated that Caliber members are very happy with the service, albeit with some suggestions for future improvements.
One TrustPilot review reviews, "I needed something new and this program ended up being a great fit. The personalized fitness and macro plan based on my initial consultation plus the monthly calls to refine and mix things up. I was killing myself with cardio and HIIT classes without great results. This program has been easy to follow, stay on track and has given me the best results in years. I can send messages to quick questions and check-ins. My trainer, Tara, has been phenomenal and super easy to work with."
Final Verdict of Our Caliber App Review
If your fitness goals include things like getting stronger, improving your body composition, or building muscle, Caliber is worth a try. This is one of very few fitness apps I've tested that I would recommend to almost anyone.
To recap:
The Caliber methodology focuses heavily on building strength and progressive overload.
Caliber encourages mastery over variety, and its programs reflect that with repetition.
Caliber programming is rooted in widely supported exercise science principles.
The app is easy to navigate, with a few minor hiccups, like only being able to send one photo at a time in the chat.
The app also supports nutrition and macronutrient tracking via an integration with Cronometer.
You can get a full refund if you cancel within 30 days of signing up; change your coach at any time; and cancel at any time within your 3-month commitment (for Premium).
Caliber App Full Rating
Caliber Premium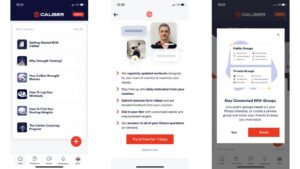 Caliber Premium provides one-on-one, personalized strength training with constant access to your certified personal trainer starting at $200 per month, and may include weekly or monthly Zoom strategy calls with your trainer depending on your package.
Product Brand: Caliber
Product Currency: $
Product Price: 200+
Product In-Stock: InStock
Caliber App Review: FAQs
How much is the Caliber app?
Caliber offers a free version of the app that is self-guided, but provides access to the full Caliber exercise library with demo videos. Caliber Pro (group coaching) costs about $20 per month. Caliber Premium (one-on-one coaching) costs about $200 per month.
Is Caliber Pro worth it?
After nearly a month of using the app, yes, I think Caliber Pro is worth it. For about $200 per month, you get a certified personal trainer who works with you on a one-on-one basis. In some locations, a single, hour-long personal training session can cost nearly that much. I truly don't think there is a more financially efficient way to experience one-on-one personal training than the app model. 
Is Caliber Pro or Premium better?
Both are good; it depends on what you want. Caliber Premium costs about $200 per month and offers 100% individualized, progressive training programs designed by a qualified personal trainer. Caliber Pro is a group coaching platform. It costs about $20 per month and gives you access to four different group training options. If you want a personal coach, Premium is the way to go, but Pro is a great option for people looking for a community.