We test and review fitness products based on an independent, multi-point methodology. If you use our links to purchase something, we may earn a commission. Read our disclosures.
Running a marathon is a huge achievement. Whether you run several each year or you're planning for this year to be your first, training for months truly is worth it when you cross that finish line.
If you're looking for a race to run but haven't picked one yet, you've come to the right place. Here at Garage Gym Reviews, we've conducted a study to determine the best marathons in the U.S. We looked into the most popular marathons to run in each state. We've also researched a variety of metrics to determine which are the best marathons for both beginner and advanced runners.
Let's run through the data!
The Most Popular Marathon in Your State
Want to stay local?
We've pulled together a list of the most-searched-for marathons by residents in each state.
From our research into each state, the Florida Marathon was not only Florida's most searched-for, but it also had the highest search volume of all home-state marathons. At 22,200 monthly searches, this marathon is sure to be popular this year.
Held on Sunday, Feb. 12, the marathon is early in the calendar year and provides a wide range of entertainment, including over 20 live bands. The race follows a flat and scenic waterfront course with a pasta dinner available on the Friday and Saturday before the race to get you carbed up—a win-win!
For those of you living in Illinois, we found that the Chicago Marathon and Fox Valley Marathon are the most popular based on search volume. The Chicago Marathon is arguably one of the most notable races in the country, boasting 45,000 spaces for runners.
The Fox Valley Marathon offers a great alternative to Chicago. The race is flat and runs through towns, over bridges, and past waterfalls and parks.
The Best Marathons for Beginners This Year
Choosing the right race for your first experience is crucial to enjoying the run and seeing all your marathon training come to fruition. A super challenging course or one that isn't well-supported may not always be right for someone new to 26.2 miles.
Therefore, we've compiled a list of the best marathons for beginners, looking into metrics such as difficulty, scenery, race production levels, and entry fees.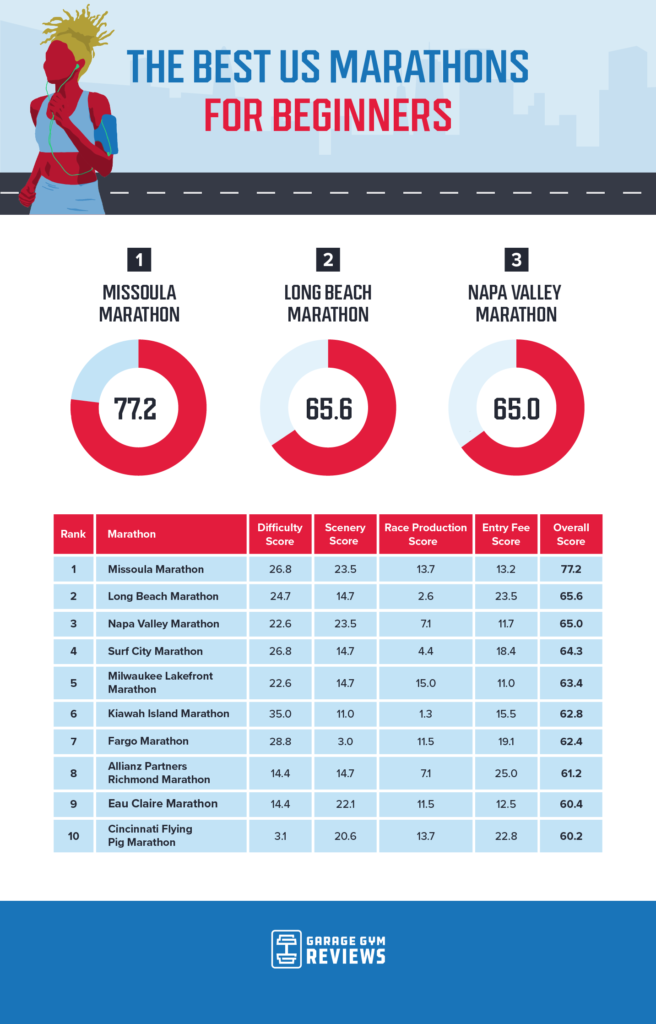 With a total score of 77.2 out of 100, the Missoula Marathon ranks as the best marathon for beginners. Taking place at the end of June, this small race has just 1,500 participants. Other than one hill that you climb about 14 miles in, the course is flat, which may be ideal for a beginner runner. Plus, this race is notably well-produced and has great scenery.
The Long Beach Marathon and the Napa Valley Marathon came out as the second and third best events for beginners with scores of 65.6 and 65, respectively.
If this is your first time training for a marathon and you can't do it outside, check out our best treadmills for home training.
The Best Marathons for Advanced Runners This Year
Looking for more of a challenge? There are many marathons across the country noted for hilly courses and long climbs. But just because the race is hard doesn't mean it's the best, as you still want a course that has plenty of water stops and pleasing scenery.
We've taken the same metrics that we used to find the best course for beginners, but we increased the weighting on course difficulty to find the best marathons for elite and advanced runners. This doesn't mean you'll necessarily set a Boston Marathon-qualifying or record marathon time on these courses so much as tackle a grueling run.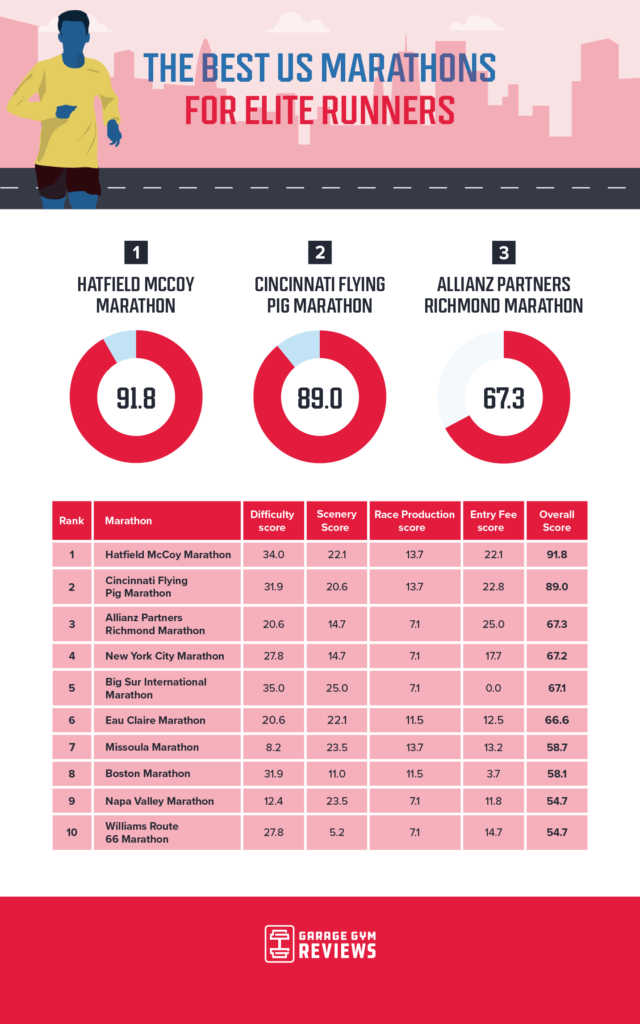 When giving the difficulty score a higher weighting, we found that the Hatfield McCoy Marathon in South Williamson, Kentucky, ranks as the best for advanced runners. With a difficulty score of four out of five, this race takes you on paved roads and trails. It has also been ranked as one of the Weather Channel's toughest marathons.
For those of you looking at other options to train for outside of the Hatfield McCoy Marathon, the Cincinnati Flying Pig in Ohio and Allianz Partners Richmond in Virginia are our second and third best alternative options.
It's also important to stress the need to recover well after running a marathon. Take a look at our recommended mobility and recovery products to help you best prepare for your next run.
Methodology
We analyzed the marathons that take place in each state, using a seed list of U.S. marathons for 2023. We looked at the search volume from each state for the marathons held in those states and took the top two most searched for marathons. In the event that search volume was tied, we used the marathon with the higher number of contestants as the deciding factor. In some states there are no marathons listed so, in this instance, these states have been removed from the data set. States removed: Iowa, New Hampshire, New Mexico, South Dakota, West Virginia.
We compiled seed lists for the best bucket list marathons for U.S. runners and found information about their expected finishing times, cost, difficulty rating, scenery rating, and production rating.
We have created a ranking index from these metrics to show which are the best. These metrics rank the best marathons looking at difficulty, best scenery, and production. When looking at production, this speaks to the overall race organization including the pre-race expo, course markings, aid stations, spectator support, and post-race food.
Data collected December 2022.
Fair Use Statement
Interested in sharing where the best marathons to run, or using this data study in an article? Please include a link to this article and credit GarageGymReviews.com.
Data
The full data set available on request.