We test and review fitness products based on an independent, multi-point methodology. If you use our links to purchase something, we may earn a commission. Read our disclosures.
The Reebok Nano series is one of the most well-loved training shoes series available. Designed specifically for CrossFit, the Reebok Nano 7 is the next iteration of CrossFit specific shoes, however, unlike the previous iterations, this one falls flat.
Reebok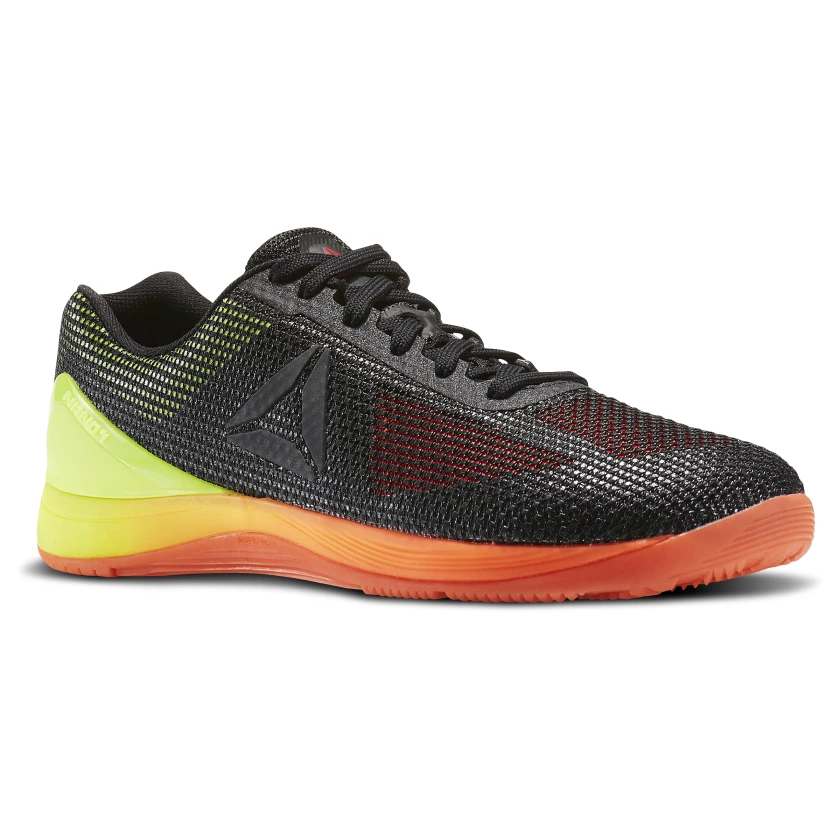 Reebok Nano 7.0 Shoes
Introducing the latest addition to your gym bag: the Nano 7.0. This next generation of our CrossFit shoe keeps the natural shape and stability athletes covet, and comes with a flexible bottom for mobility and traction. The added heel piece creates a fit lockdown for better leverage as you lift.NanoWeave tech upper for breathability and comfort Anatomical toe box and a low-cut design for a natural feel and ankle mobility Ortholite sockliner for cushion 360-degree TPU heel wrap for a locked-in feel Crystallized rubber outsole flexes naturally for balance and stability 4mm heel-to-toe drop
Reebok CrossFit Nano 7 Review
There are more training shoes coming out than I ever imagined would.
Seriously, I can't believe it. Just a couple years ago, if you wanted a minimalist style training shoe, you only had a couple options.
Now, it seems like everyone and their brother wants in on the action. We've got Nike with the latest Metcon 3, No Bull, Adidas, New Balance, Under Armour, and in my opinion, the revolution starters, Reebok.
Reebok has rather consistently been producing great pairs of trainers in their Nano series.
Sure, there were a couple years that weren't great *cough* Nano 3's and 5's *cough* but overall, their training shoes are great. In fact, even though I have just about every training shoe available, the Reebok Nano 6.0 are my daily drivers.
So, when the Nano 7.0's were leaked on "accident", I was excited. I love the Nano series. But, although I liked the bright colors of the new shoe, it didn't seem like anyone else did.
Stack on the fact that Reebok released the Nano just in time to disrupt Nike's Metcon 3 sales, I was a bit salty. I'm of the opinion, that if a company wants to win in the long run, they need to lead, not chase.
Reebok is chasing.
Anyways, let's take a look at the Nano 7 and see how it competes with everything else that's offered.
The Nano 7 is not the best looking training shoe out.
In my opinion.
However, I don't personally think they're all that ugly. Although many on social media absolutely roasted the Nano 7 when first released, they're definitely a shoe I would wear.
The main consensus on the looks of the Nano 7's is that Reebok is copying Nike.
Sure, the Nano's may look similar to some pairs of shoes that Nike releases, but it's a shoe. How many designs are even possible on such a small canvas?
That said, this is pretty funny: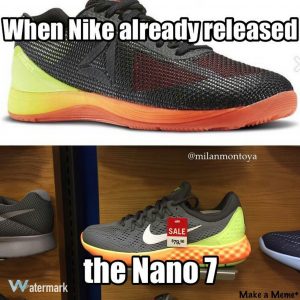 Well, in my opinion, no. I like the looks of the Metcon 3's and No Bulls better. But, unlike many, the shoe I wear is much more about how it performs than how it looks.
There are few parts of the Nano 7's that I like quite a bit though.
The lack of REEBOK branding splashed across the shoe is a nice change and something people have asked for, for some time. There also is very little sign of the word CrossFit on the shoe. In fact, the only places I see the word "CrossFit" is on the tongue and on the heel. Both are only noticeable up close.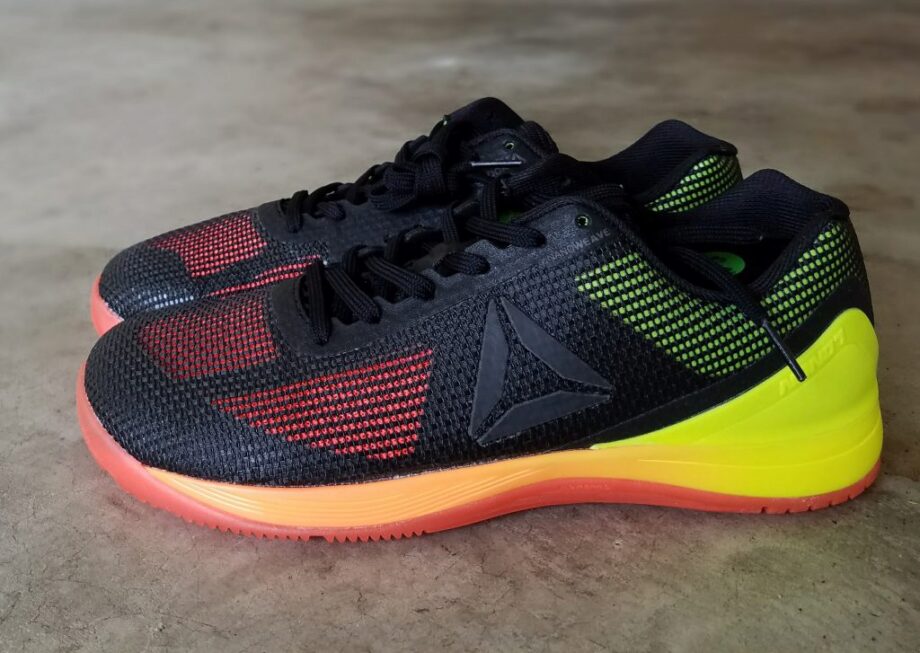 For those that do CrossFit, this may not be that big of a benefit. I remember when I started CrossFit, I loved the fact that my apparel and shoes said CrossFit on it because it let others know what I was about. That said, Reebok is likely trying to draw in non-CrossFitters by keeping the name off.
This does beg the question though, does Reebok really need CrossFit's endorsement at this point? I'll save that article for a different day.
The colorways released thus far are rather underwhelming.
…AND as you can see from the comments, still nobody's a fan.
*Rant*
Reebok had everything they needed to dominate the functional fitness market. Seriously, EVERYTHING.
Not only do they have an exclusive contract with the hottest workout craze around known as CrossFit, but they also have (or at least had) the top athletes. Oh, and Rich Froning. The guy who singlehandedly brought CrossFit into the spotlight.
Even with all of this and a huge bandwagon of people who loved training in Nano's (can you say Nano 2.0?) they still are failing.
The Nano 7 is a pretty good shoe, but in my opinion, it is absolutely half-hearted.
There was no hype up about the release or anything done to let people know the shoe what going to release. This is what I imagined happened. Reebok saw that everyone was talking about the Metcon 3's and in order to steal some of their sales, decided to release the Nano 7's.
Reebok, let me help you: Stop chasing Nike and do something different. Recognize yourselves as leaders, and let Nike follow. Allow Nike to compete and beat them.
Right now, what you're doing isn't working and I'd hate to see the Nano series end due to mismanagement.
Okay, okay settle down.
The Nano 7's may not look all that great, but they are constructed well.
Just like any large shoe manufacturer, Reebok's quality control is pretty great. Sure, there are some glue spots (very small) but overall the shoe is made to take a beating as are all Nano's.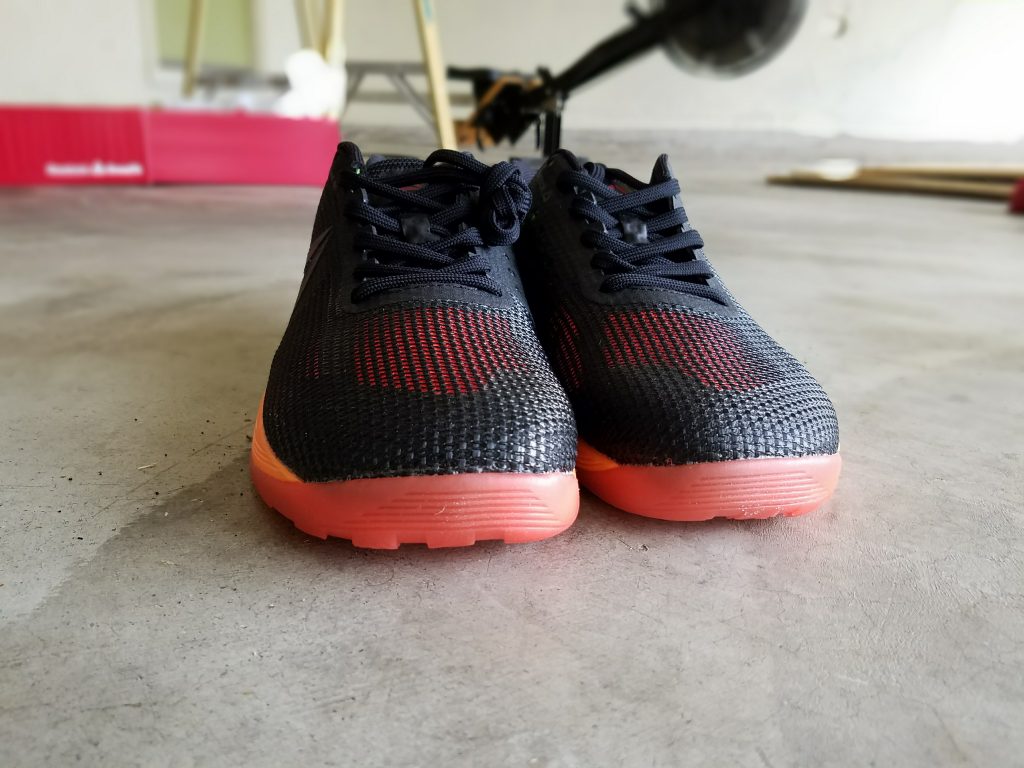 Reebok has constantly been making different changes to the Nano series.
Where Nike will make slight changes to Metcon's, Reebok seems to do pretty much a complete rehaul with every new iteration, sans the sole, that changes every other release.
With the Nano 7, Reebok has chosen to use a protective shell of sorts over the traditional mesh. The shell is called 'Nano Weave' and is kind of like an exoskeleton that allows the shoe to breathable, yet durable.
So, far in my testing, it's worked out quite well.
Not only is it a breathable shoe, but things like rope climbs don't seem to hurt the shoe, especially due to the rope guard on the inside of the shoe.
The Nano Weave should allow for some unique colorways as it covers the underlying mesh, and changes how the shoe looks based upon the angle of the viewer. Although the Nano 6.0's have been my favorite pair of training shoes, I don't mind Reebok deciding to keep DuPont Kevlar out of the new shoes.
It did provide some extra durability, but overall, was just a cool idea for marketing.
As I said, the inside of the shoe uses a rope guard that is understated, but I think looks pretty great. It also performs well and should keep the shoe from fraying, even with repetitive rope climbs. (sidenote: do many people even do traditional rope climbs anymore?)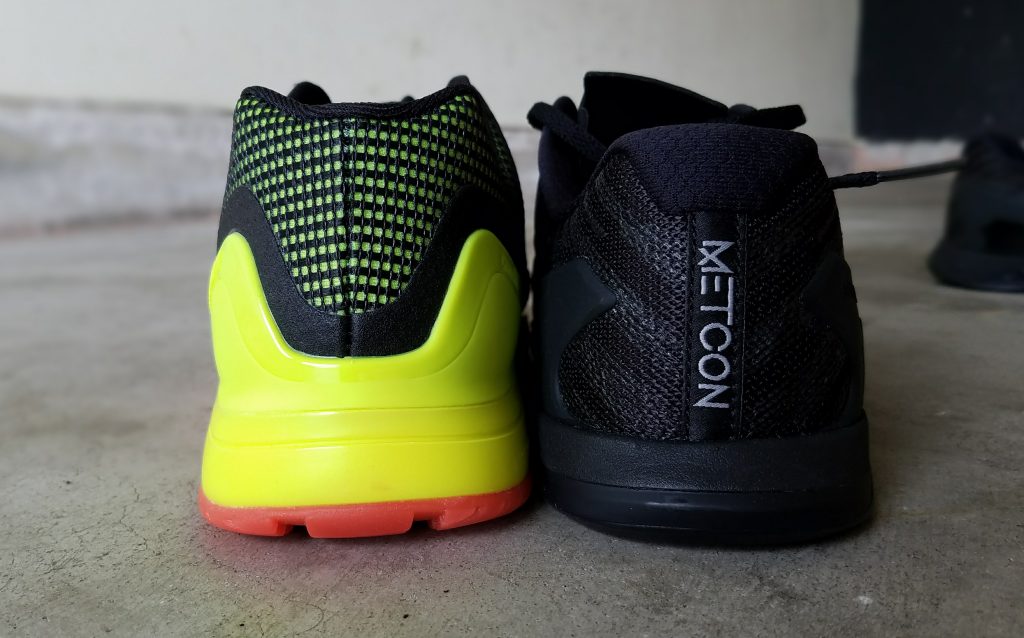 Copying something similar to what Nike has done with the Metcon 3's, Reebok has added TPU plastic to the sides of the heel.
Nearly all of the Reebok Nano line have had TPU plastic at the heel to help provide structure (most shoes do), but Reebok has simply decided to put it on the outside.
This allows the color of the sole to flow up the side of the shoe. One of the better-looking features on the shoe in my opinion.
The TPU on the heel keeps the foot locked in as well as allows the heel to slide up the wall easier during handstand pushups. This is something that nearly all training shoe companies are starting to do following the success of the Nike Metcon 2's.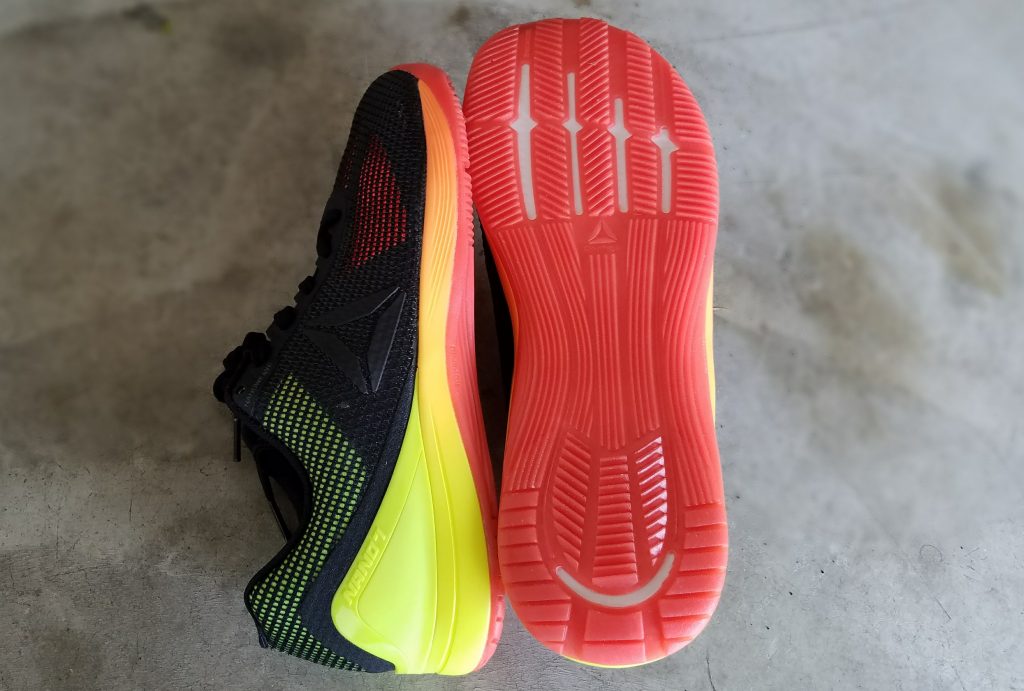 The sole on the new Nano's has changed, although the performance is very similar.
The pattern of the sole is multi-directional to allow for change of direction and extra grip while training.
There are slits cut in the forefoot to allow for flex that is very similar to the Nano 6.0's.
The tread pattern in the middle of the shoe should allow the shoe to stick to the rope better, although I didn't feel much of a difference from previous Nano's.
One difference on the sole is the coloring. Reebok seems to be using a translucent rubber that makes the sole look "icey" like a pair of Jordans. 💎 💎 💎
Performance
Training shoes have progressed so far now that they all perform well.
Seriously, there hasn't been a training shoe for some time that I would say does a poor job when it comes to aiding in a workout.
The drop on the Nano 7's are 4 mm similar to previous models and the insole remains unchanged. This is a good thing in my opinion as it allows the shoe to feel very similar to the Nano 6.0's.
The shoe in my testing performed very similar to the Nano 6.0.
They're slightly stiffer and somewhat thinner, but not grossly so. In fact, I'd say that the Nano 7 is only slightly worse in performance than the Nano 6.0.
The main reason it's worse is due to the feeling of the NanoWeave shell. It folds along the toe line awkwardly and feels a bit uncomfortable when compared to the 6.0's.
Reebok Nano 7 vs Nike Metcon 3
I, as well as many others like the look of the Nike Metcon 3's better than the Nano 7's.
I don't know if I'm just a sucker for Nike products, or they truly are better. Either way, I like the appearance of the Metcon 3's best.
That said, the Metcon's still squeak. They do, and I wish they didn't. They also have a heel slip like the previous models.
RELATED: Nike Metcon 3 Shoes Review
Due to this, from a pure performance perspective, I will most likely spend most of my time in the Nano series. The Nano's also have a wider forefoot for better toe splay. Ever since I started training without shoes ala' Chris Duffin, I've noticed the importance in being able to spread your toes and grip the floor.
In the end though, they're both great training shoes. I would suggest going with whichever one you like the look of better or can find it cheaper.
Reebok Nano 7 Colorways
As with all Nano shoes, expect to see a ton of colorways. This is what's been released thus far: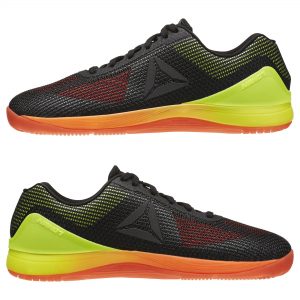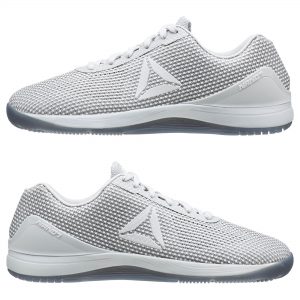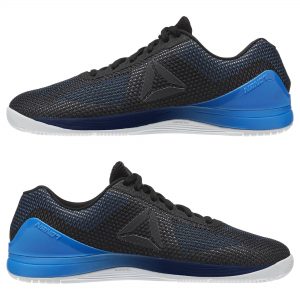 Final Thoughts
So, should you buy the Nano 7's?
If you like the look better than the Nano 6.0's than I would grab them.
Otherwise, they're a similar performing shoe, and to be honest, the Nike Metcon 3's aren't as good a performing shoe, but they're getting there.
Full Rating
Reebok CrossFit Nano 7
The Reebok Nano series is one of the most well-loved training shoes series available. Designed specifically for CrossFit, the Reebok Nano 7 is the next iteration of CrossFit specific shoes, however, unlike the previous iterations, this one falls flat.
Product Brand: Reebok
Product Currency: $
Product Price: 79.97
Product In-Stock: InStock
Reebok CrossFit Nano 7 FAQs
Are Reebok Nano for CrossFit?
The Reebok Nano 7 is a fantastic CrossFit store alternative. It boasts a bigger toe box to allow for toe splay when lifting, as well as a high-density foam midsole for further stability and mobility.
Can I run in my Reebok Nanos?
The enhanced running-friendly features like float ride foam and higher stack height will appeal to runners who want to mix running with plyometric training.
What is the latest Nano shoe?
Reebok Nano X: The Nano X is a versatile training machine that can handle everything from burpees to sprints. In the Nano X, you may run, leap, lift, and climb to your heart's content. The Reebok Nano X is designed to move with you during your workouts and runs in the gym and beyond.