Position, USA is not your typical weightlifting shoe company.
You see, most weightlifting shoes these days are manufactured by robots, on big long assembly lines. The art of a handmade shoe is, for the most part, long gone. But, being the contrarians that Position, USA seems to be, they've ditched trends and stuck to building weightlifting shoes that they'd want to wear.
This is where their newest weightlifting shoe, the Eastwood comes into play.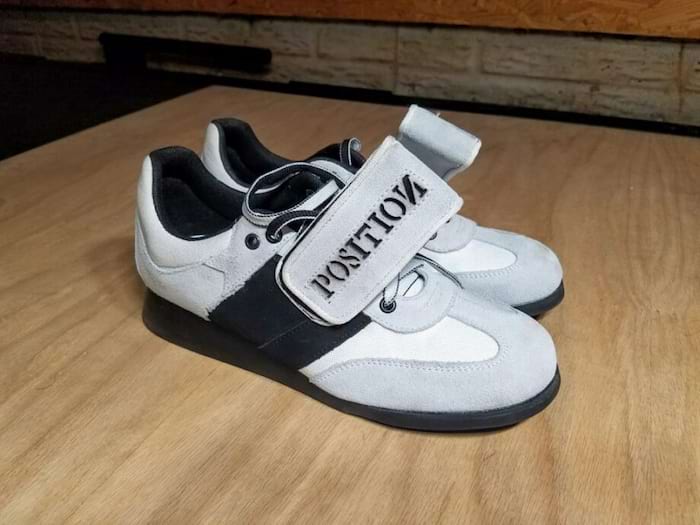 The Eastwood is a handcrafted shoe that is made individually.
What this means is that no two pairs are alike. In fact, I'd go as far as to say no two shoes are alike. Due to their handmade nature, they can't possibly be alike because that's not how human crafting works. For some, this is a disadvantage, for others, this is exactly what they want out of their equipment.
When talking to Position, I had three options of shoes to review.
In the past, they've sent me the Blue Suede shoe that was also a handcrafted shoe, but still had a lot of improvements to be made. The biggest improvements that were needed came down to the details and quality control.
Being a small company, and also one that is overseeing every part of the manufacturing process, it can be difficult to bring a shoe to market without having any issues. Think about it, Position is competing with the likes of Nike and their Romaleos 3, Adidas and the Adipower and Leistung's, and a whole host of other companies that are cropping up and producing weightlifting shoes.
That said, with each new release, Position is making their weightlifting shoes better and better.
Is this shoe perfect, without any improvement suggestions? No, and you'll be able to read those below. But, I am confident that this is a stellar weightlifting shoe made by a company who is passionate about doing things differently in the performance footwear industry.
All that is to say-- I love the looks of the new Eastwoods. I think the blue on the Position Blue Suede shoes looks great, but I don't like the other materials that are paired with them.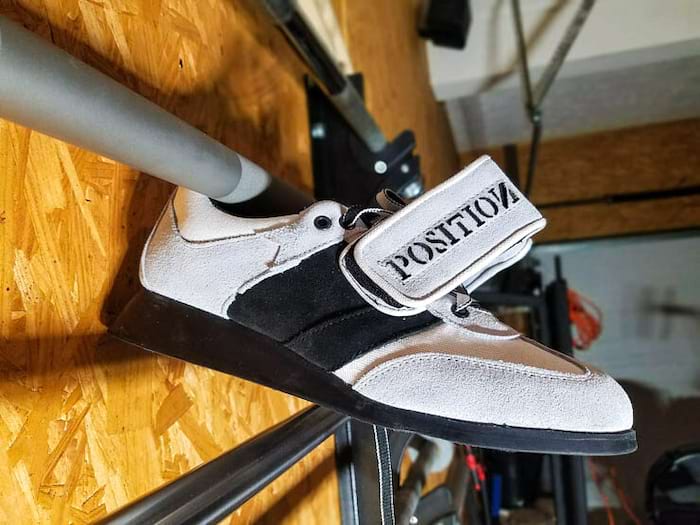 Both the Eastwoods and the new Redford (which are the same shoe but with different colors) bring suede leather, action leather (which is a suede leather with a P.U. film on top) and cotton mesh into one package.
Most weightlifting shoes today have gone the way of running shoes with bright colors, synthetic materials, and TPU Plastic Heels. This stands in stark contrast to the beauty of a traditional style weightlifting shoe like the ones Position are now creating.
The look of the Eastwoods are not for everyone, but the traditionalist will certainly like the understated "coolness" that exudes from the Eastwoods.
In designing the construction of the Eastwoods, Position went back to the drawing board to create a significantly improved shoe.
Let's start from the bottom up.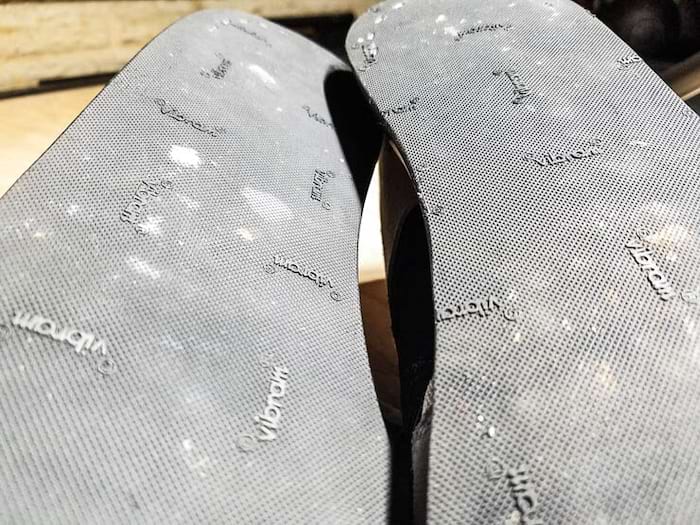 The outsole is a Vibram 1.8mm thick rubber sheet that is glued and then cut in the shape of the shoe. Vibram is producing the best outsoles these days, and I'm glad Position decided to go down a pre-made route than coming up with their own design.
The sole of weightlifting shoe shouldn't be very complicated (I'm looking at you Nike.) Think about it, there's no running or much flexing needed either. You simply want a sole that is going to grip to the platform and do so on a consistent basis.
This sole by Vibram and used by Position is perfect for this purpose. You can also purchase the soling sheets from Amazon for a modest price to resole yourself at any time. And yes, there's no reason you can't repair your shoes yourself. This shoe is designed to last, take care of it and it will return the favor.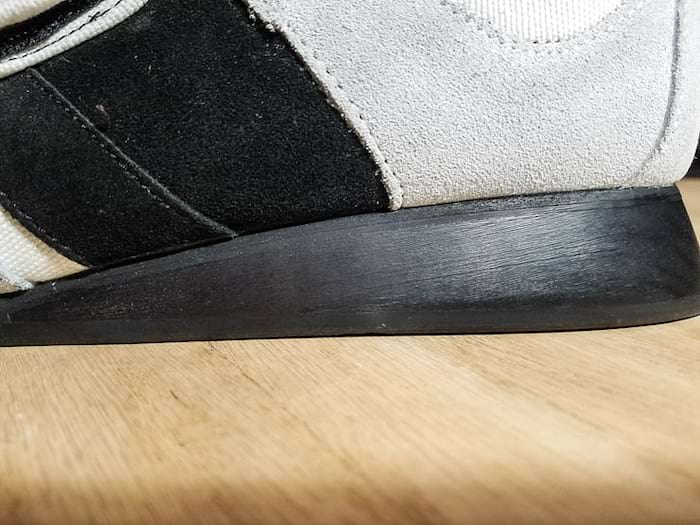 Moving up from the sole, we see the ever-sought-after wooden heel. The last time I reviewed a Position Weightlifting shoe, it was said to feature a wood heel, which it did, however, it was a compressed wood wedge with a wrapping material that made it look like stacked leather. This confused some of you guys as it did me, but they've since started using hand carved heels. These are much like you'd see on Adidas 2008 Adistars, some of the most highly regarded weightlifting shoes of all time.
One feature of the wood heel on the Eastwoods is it is tapered in a trapezoid-like shape. This allows for a thinner profile at the top of the heel and a more stable positioning for the lifter. It's not a feature I see as absolutely necessary, but this shoe does feel VERY stable. Somewhat similar to Romaleos 2's and how they grip the floor, but not quite.
The wood heel, as with just about everything on this shoe is hand-carved with a 1" heel to toe drop. One improvement in regards to the heels is that the quality control is much better.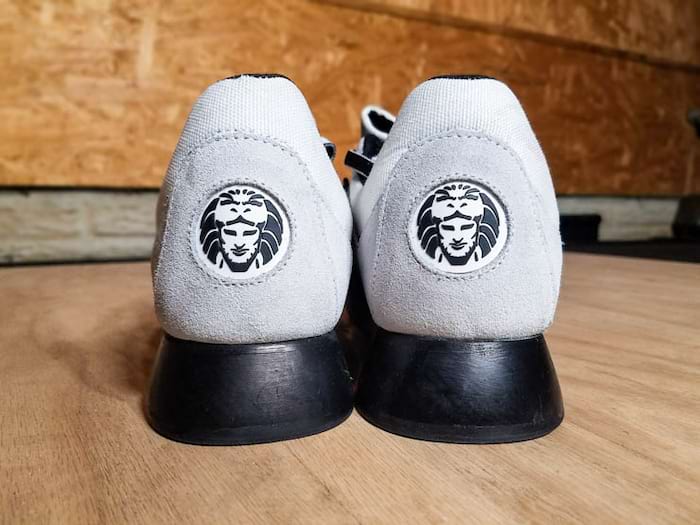 You may recall in my review of the Blue Suede Shoes that the heels were quite different in size. This has been corrected with the Eastwoods and creates an overall better quality shoe that is likely to break down slower over time.
The upper of the Eastwoods reminds me of German Army Trainers that are often worn by streetwear fashion aficionados. The design is straightforward and timeless; boy, does it feel good to describe a weightlifting shoe in that manner.
Featuring suede leather that is of decent quality (it does feel a bit thin at 1.6mm) action leather that is just suede with a P.U. film on top, and cotton mesh the upper will prove to be durable in time I imagine.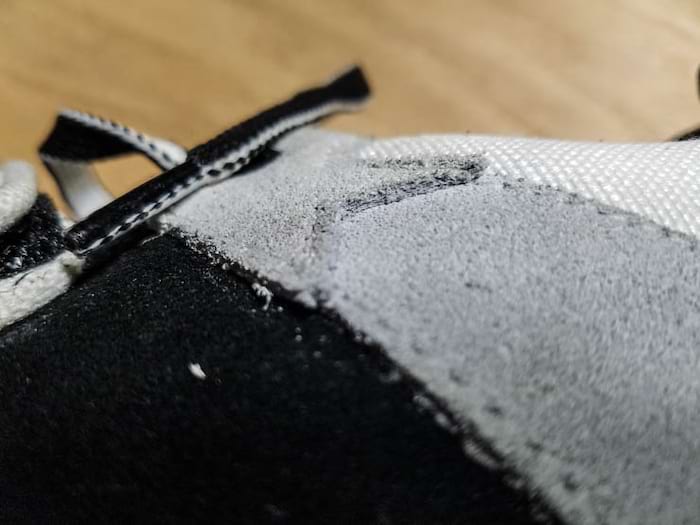 The last part of the shoe I want to touch on construction wise is the big, thick beautiful metatarsal strap. There's little that makes a great weightlifting shoe go immediately into the "I'll never wear this pile" than a thin, cheap strap.
When I'm gearing up for a PR, I want my shoes to be TIGHT. I'm talking boa-constrictor sucking the life out of my feet tight.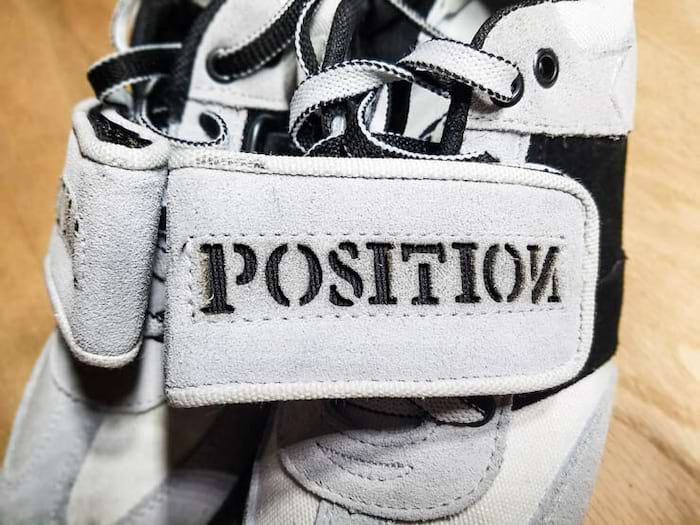 I don't wear my shoes like that often. In fact, in training, my shoes are mostly left loose. But, when it's time to get to business, I want to be able to yank on that strap and know I'm locked and loaded. The strap on the Position Eastwoods have just that strap. It's thick, it's heavy duty, and it drives the shoe up quite a few notches in my book.
You Nike Romaleos wearing lifters should be having strap size envy right about now.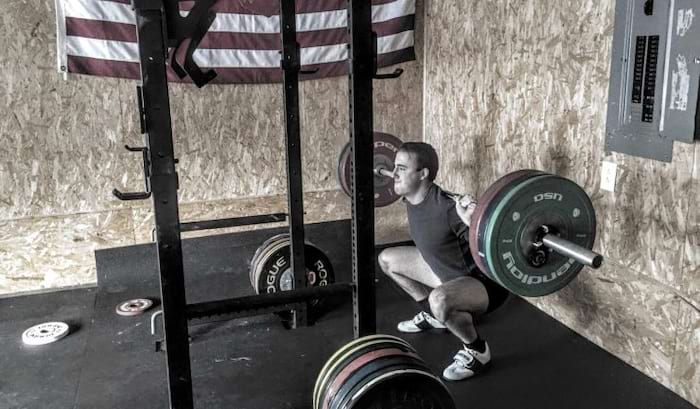 Weightlifting has begun taking more of a backseat in my training as of late.
I still train the Olympic lifts, but not as much as I was. I realized that my numbers were not increasing due less to my technique and more to my strength. So, these days, I use weightlifting shoes for squatting and doing things like power cleans and snatches.
That said, to test out the comfort, flex, and performance aspects of the shoe, I, of course, put them through the paces while doing the classic lifts.
One thing that I'm a huge fan of regarding the shoes is how thin they are. I know the majority of you have fat, hobbit feet, but my feet are unfortunately quite delicate and thin. This is great for some things, such as weightlifting shoes with a jogger style toe; shoes like the Eastwoods.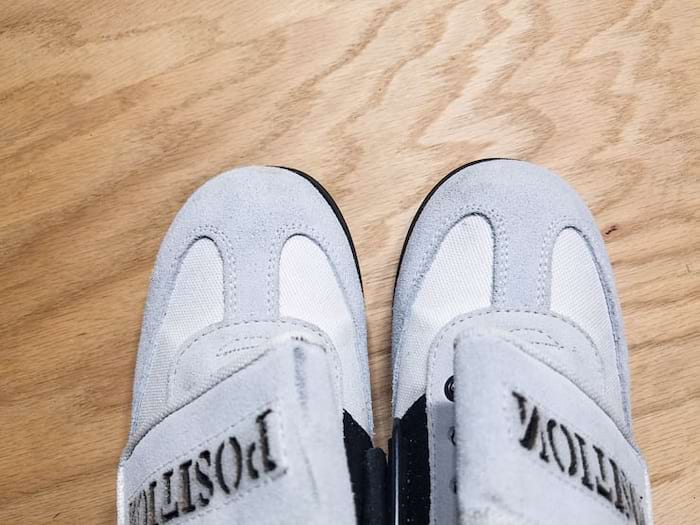 If you have a wide forefoot, the fit may be a bit snug in the beginning, although the suede will stretch over time.
As you would imagine after seeing the materials that comprise the upper of the shoes, the Eastwoods aren't the most breathable. That's not to say you're going to be wearing sweat boxes like Nike Romaleos 1's, but they aren't designed to be breathable like the Nike Romaleos 3's.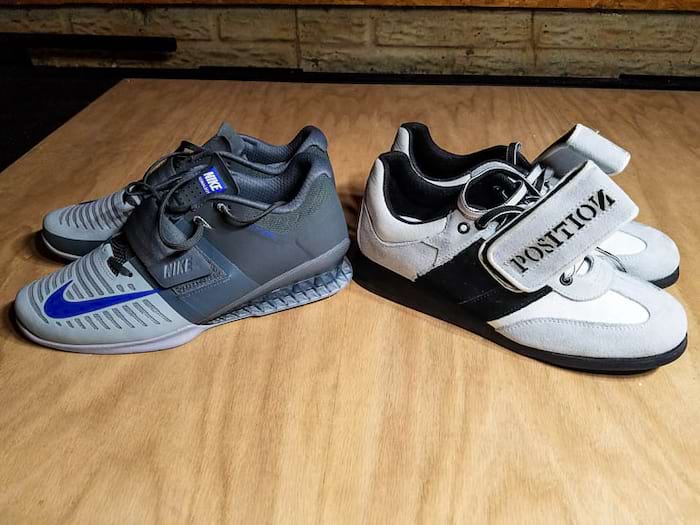 I never found it much of an issue, but I've been using them in the winter without a heater in my garage. So, for me, the insulating properties of suede isn't always a bad thing. Just know that this shoe is not designed to be used as a hybrid like so many other weightlifting shoes today.
What I mean by that is, these shoes are designed for Olympic weightlifting and weightlifting only. That means NO CROSSFIT. If you want a hybrid lifter, check out the Nike Romaleos 3.
The heel height is effectively 1" which is slightly taller than the average .75" that are found on most shoes. For someone like me with long femurs and ankles made of iron, this is a welcome benefit. A majority of the Chinese Weightlifting Team has enjoyed success using heel lifts or higher heels in their shoes, and I think it's something more and more companies will begin pursuing.
Overall, I really like the Position Weightlifting Shoes, and in all reality, they'll likely replace my Risto Weightlifters (another handmade shoe.)
But, as with all of my reviews, there are typically some areas I see for improvement.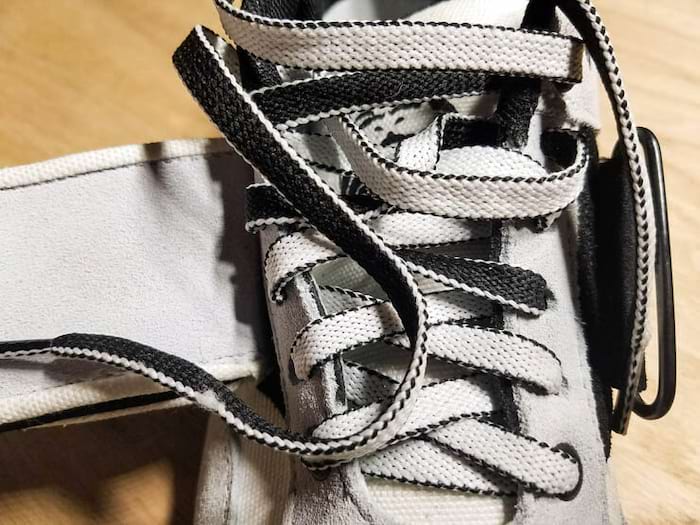 The first thing that Position can change and can be done rather cheaply is exchange the laces for something of higher quality. For some reason, most of the shoes are very high quality, and then they used cheap laces to finish them off. It would be like buying $100 tires to put on a Ferrari. For $225, I'd expect more substantial laces.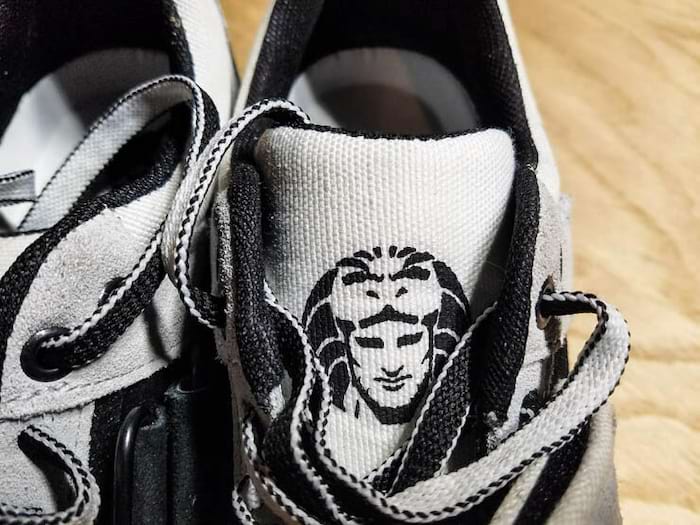 The second issue that needs to be addressed is the logo on the tongue. Position knowingly or unknowingly took my advice about making the strap and the strap logo more substantial with the latest versions, but the tongue logo is still printed on.
<<

You have one of the best logos in the fitness game, do it justice by embroidering that bad boy. At least the logo on the heel is rubber. Also, why confuse things with the Eastwood and Redford names? Why not just make them one name and give people the option to choose between colors? I think it would cause less confusion.

Sincerely,

Coop>>>

Lastly, two other changes I would like to see. Position has the word USA in their name, yet these shoes are still being manufactured in Mexico. I understand the cost limitations of making a shoe in the US, and I'm sure they're working on starting manufacturing here, but it would be cool to see the shoes be made here in the states.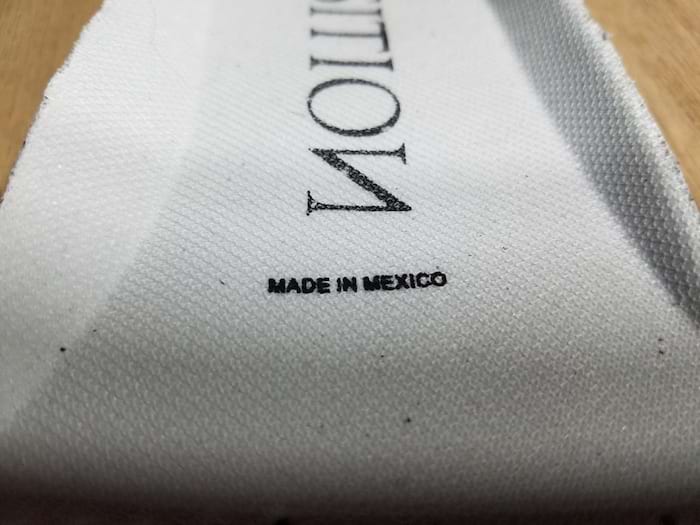 Also, this is something that I think is possible, but I haven't really seen. I want to see a pair of Goodyear-Welted Weightlifting Shoes bad! Can you imagine a thick Goodyear welt like that which comes on high-end boots and dress shoes on a weightlifting shoe?! I'm drooling...