We test and review fitness products based on an independent, multi-point methodology. If you use our links to purchase something, we may earn a commission. Read our disclosures.
Editor's Note: The Nike Romaleos 3s are no longer being made, and are really hard to find. To get the latest, check out our Nike Romaleos 4 weightlifting shoes review.
The Nike Romaleos 3 Weightlifting Shoes are Nike's latest weightlifting shoe release. They are light and high-tech, however, this comes at the cost of durability. Although we like the Romaleos 3, we do not expect them to hold up to long-term use, especially when compared to some of the best CrossFit shoes we've seen.
Nike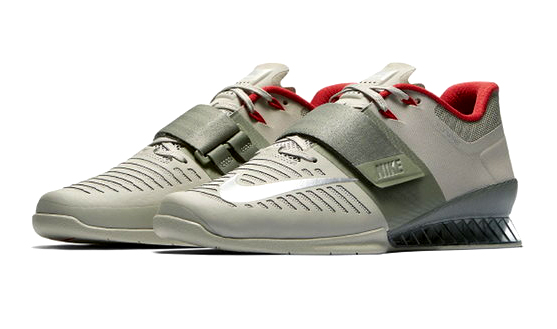 Nike Romaleos 3 Weightlifting Shoes
The Nike Romaleos 3 Men's Weightlifting Shoe delivers the stability and locked-in fit you need for intense weight training. Interchangeable insoles provide soft or firm support to match the needs of your regimen. Specifications:Synthetic leather reinforces mesh on upper for support and breathabilityFlywire cables and nylon midfoot strap offer dynamic lockdownTwo interchangeable insoles provide soft or firm supportHoneycomb TPU plate for lightweight stability during weightliftingSolid rubber outsole provides durable traction20MM offset allows natural movement
The Nike Romaleos 3 are finally in my hands.
There has not been a weightlifting shoe more hyped than the Nike Romaleos 3. Part of that hype is due to me, but also many others who are clamoring for a look at the latest weightlifting shoes from Nike.
RELATED: Best Weightlifting Shoes
When I initially leaked the photos, I loved the way they looked. Nike rarely does wrong, and in my opinion, from the perspective of pure appearance, they looked impressive. Not quite as awesome as 08′ Adistars, but I doubt many shoes will ever compare.
Today I'm going to go through all of the details you're interested in knowing.
Answers to questions like:
Are they worth upgrading to?
How much do they weigh?
What colors are planned to be released?
What new features are included (i.e. heel height, materials, straps, etc.)?
And more…
No other review has been asked for more than this one, and I'm excited to let you know my thoughts.
Nike Romaleos 3 Review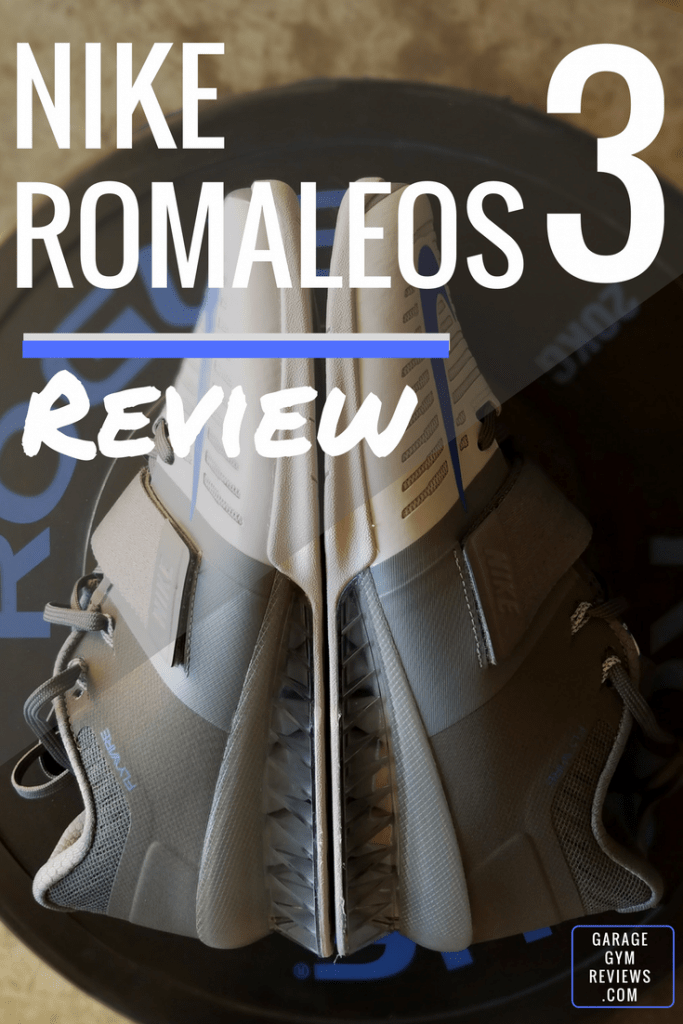 The Nike Romaleos 3 look like a pair of trainers.
Seriously, if it weren't for the heel, I could see many a bro rocking these bad boys with a pair of joggers. Some even may (sidenote: I have a buddy who used to wear Adipowers as a street shoe because he thought they "looked cool.")
There are a few different reasons for this trend of weightlifting shoes looking more like weightlifting shoes, but I think the main reason is due to the growth of CrossFit.
Due to CrossFit becoming so invasive among those seeking less flab, weightlifting has seen a massive spillover as well.
The general CrossFitter wants a weightlifting shoe that looks cool and can be used in metcons (I'm not a fan of the word W.O.D, when spelled out, it makes no sense in many situations.)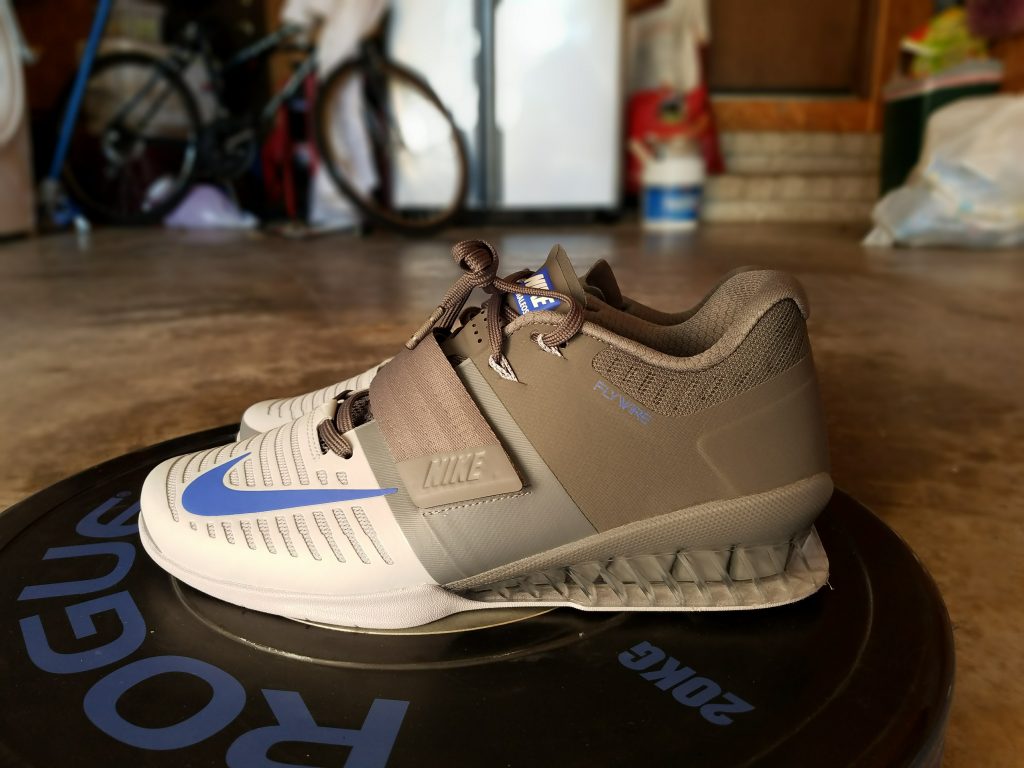 The traditional weightlifting style with a leather outer shell and maybe even a wooden heel simply does not perform well when used for burpees; or anything else besides the classic lifts. This is why Nike, as well as Adidas, have started to create shoes that can perform both on the platform and on the sweat-soaked stall mats.
All this is said to appease the reader looking for a traditional weightlifting shoe. If that's you, this shoe simply is not for you.
Similar to the Adidas Leistung II Weightlifting Shoes, the Romaleos 3 is a weightlifting shoe using the latest and greatest footwear technology. It's not designed for the traditionalist; It's designed for the modern weightlifter.
The various fabrics used within the shoe will allow for a lot of unique colorways, similar to what Nike did with their latest Metcon 3.
However, as with most Nike early releases, there are only a few initial colorways, which I'll show at the end of this post.
To say the Romaleos 3 look entirely different from the Romaleos 2 would be a gigantic understatement. They look like COMPLETELY different shoes.
The Romaloes 2 are a beast of a weightlifting shoe designed with only the Olympic Weightlifter in mind. The Romaleos 3 are made with everyone in mind.
I personally like the way the Romaleos 3 look despite my tendency to sway towards the more traditional looking pieces of footwear. That said, based on looks, the Romaleos 3 would NOT be my first option. That's not to say they're ugly, I just prefer old-school, full grain leather over polyester and plastic. 😑
One feature of the shoe that stands out most is the strap.
Rather than having multiple straps like the Romaleos 2 have, there is now just one, much thicker strap across the middle of the foot. The length is perfect in my opinion, and the seatbelt-like material will be great for durability.
As I've stated, the Romaleos 3 are built like a trainer.
This should indicate to you that the shoe will likely not last as long as a traditional leather weightlifting shoe. Is this proven? No, but based on the materials and construction of the shoe, I have a pretty good idea.
That said, this does not indicate a bad shoe, it just means you'll have to possibly replace them sooner. However, for the spendthrift society we live in, this is not a big deal (on a more serious note, don't go out and buy every color of these, you really only need one pair.)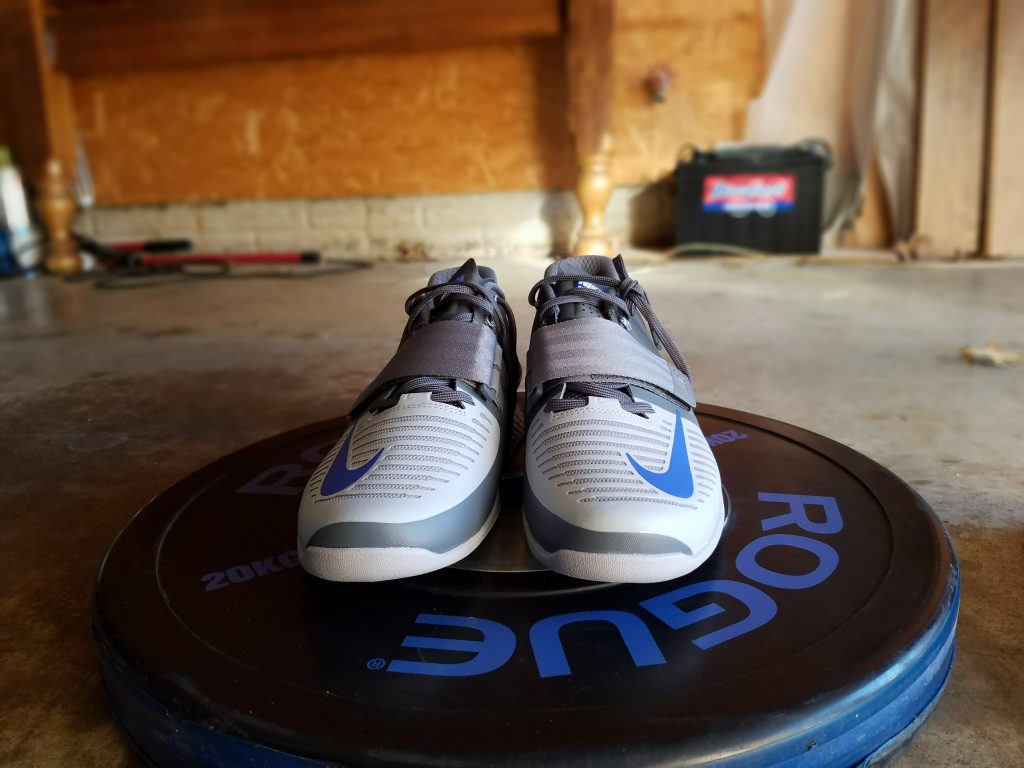 This shoe has a crazy amount of different fabrics.
The heel of the shoe has a heat wrapped fabric, while the toe has a synthetic leather material. There's mesh featured on the toe as well as the upper part of the heel for breathability.
Throughout the toe are cut-outs allowing for ventilation as well as good flex for those who plan to really flex the toe box (CrossFitters.)
As you'd imagine, the shoe does feature Nike's FLYWIRE technology. However, it's only situated at the top two eyelets of the shoe. I'd guess this is mainly due to the position of the strap.
The tongue is meshed and once again adds to the ventilation that is featured throughout the entire shoe. In fact, it seems that the tongue used on the ever-popular Nike Metcon 3's has been adopted for these new Romaleos. It's a comfortable tongue that is also light, and although not the most durable, is decent.

The heel of the Nike Romaleos 3 has changed somewhat from the 2's.
Rather than being a big enclosed area made of tons of thick plastic, Nike has created a structure that allows for a big reduction in weight and less/lighter plastic.
The height remains around the same with an effective heel height of around 20 mm or .79″
I do wish the heel height was increased, but that may be saved for the next Romaleos.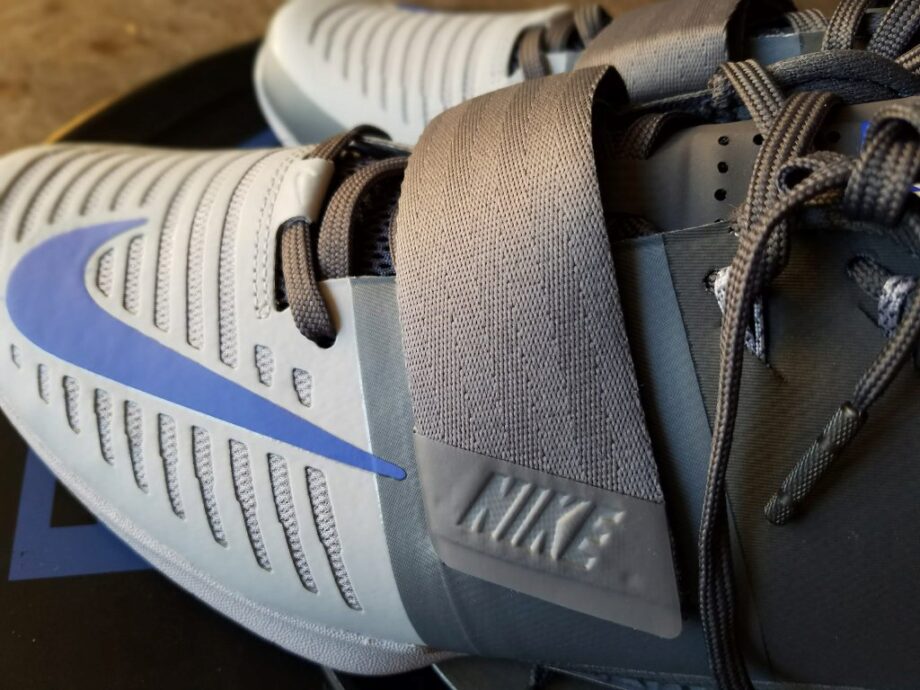 As said previously, the strap used in the Romaleos 3 is made of a seatbelt webbing-like material that should hold up well to all of the pulls it will experience before PR attempts.
Nike has also fixed the issue so prevalent in the Romaleos 2 where the straps were WAYYYY too long. Seriously, the strap on my old Romaleos 2 used to drag the ground.
The new strap is cut in line with the velcro and shouldn't cause any issues.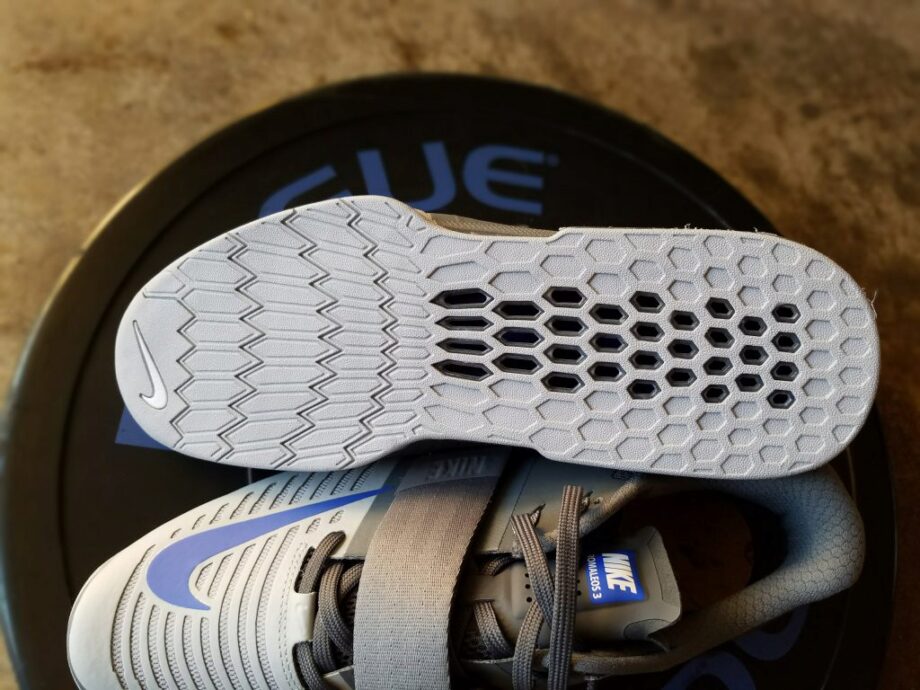 The sole of a pair of weightlifting shoes is pretty significant. It needs to be wide enough to provide stabilization while also being able to grip the floor. The sole uses a different pattern than previous Nike models, but still grips the platform just as well. One problem I have with the sole, however, is the cutouts on the heel. Although I probably won't ever use these outside of the gym, imagine stepping on dirt. You'd never be able to get it out of the heel.
In the box comes two different insoles, just like the previous Romaleos. One that is firm and made for "competition" and one that is softer for "training." I simply leave the competition insoles and, and throw away the others. This shoe is not made just for the weightlifting community.In my opinion, this shoe is every bit of a hybrid weightlifting shoe as Inov-8's FastLift hybrid shoes. They're light, agile, and comfortable.
Related: Check out the inov-8 F-LITE G 300 Review.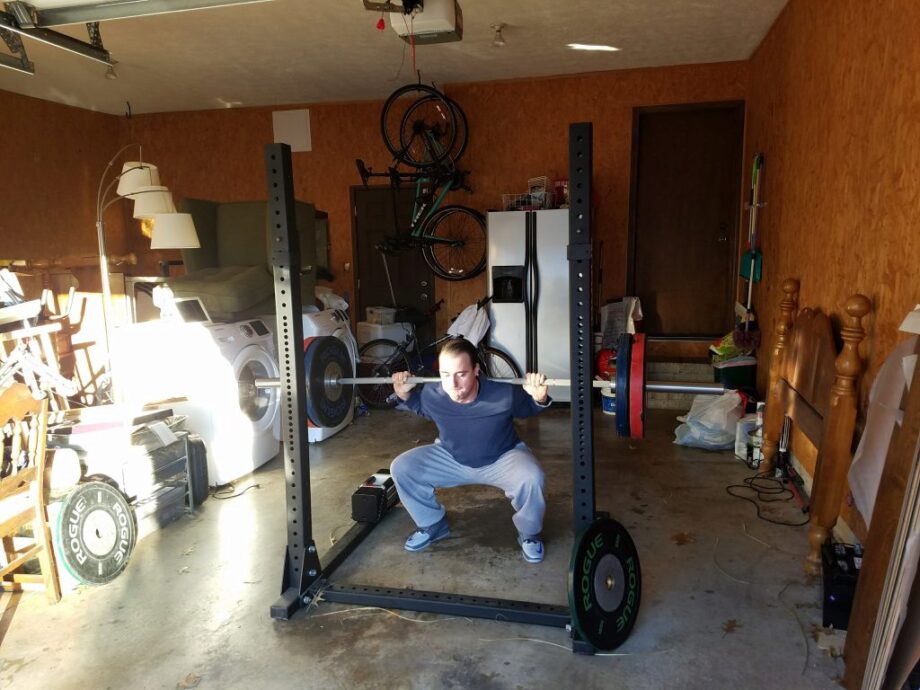 They are so light in fact, if you were blindfolded, you'd never believe they were Romaleos.
The original Romaleos were absolute bricks. Romaleos 2 were heavy as well, just a slightly less dense brick. However, these new Romaleos are an entirely new animal.
According to Nike, the shoe weighs just over 12 oz. without insoles. That's just slightly heavier than the Nike Metcon 3.
Think about that. The Nike Romaleos 3 are just slightly heavier than the new Nike trainers. If that doesn't show the direction Nike is going with these new weightlifting shoes, I don't know what does.
The Romaleos 3 are not only lighter, but they're also thinner.
The Romaleos 2 were the shoe made for people with wide/fat feet. It's one of the reasons I so much preferred my Adipowers to Romaleos; I have a foot as thin as Phil Heath's waistline in competition.
Sorry folks, but the new Romaleos are much thinner and although not quite as thin as Adipowers, are still quite thin. (sidenote: this was probably a change to make the shoe more "athletic" and lighter.)
So, how are the shoes on the platform?This is the question you inevitably want to know.
Well, they're light. They feel like I'm wearing my trainers.
This is both a good and a bad thing. The lightness of the shoes feelgreat for agility, but the stability is slightly lacking when compared to previous models.
For things outside of the clean and jerk, snatch, and squats, the shoe is much better than the Romaleos 2. It's lighter, more flexible, more breathable, and just an all around more comfortable wearing shoe.
So, should you buy the Romaleos 3?
If you are a CrossFitter: Yes; undoubtedly.
These are the best weightlifting shoes for CrossFitters. Bar none. Seriously nothing has come along yet (especially not from Reebok) that will be a better weightlifting hybrid shoe than the Romaleos 3.
Lace them up for burpees if you want, they'll feel great.
If you're just a weightlifter, I would hold off. There are better options available, such as the Reebok Legacy Lifters as well as Romaleos 2 and Adipowers. Or even Leistungs.
If you're reading this and you're just a general purpose exerciser who likes to squat and wants an elevated heel, these are a great pair of shoes, although a bit pricey for your needs. But, if you want the best (I completely understand) these are hard to beat.
I almost always get questions on the fit, so here's my take.
I wear the same size Romaleos 3 as I do Nike Metcon's.
My usual shoe size is a size 10, and that's what I wear in the Metcons and Romaleos.
The Romaleos 3 fit more snuggly than the 2's and although not as stable, still feel pretty good on the platform. I have yet to notice much slippage, but time will tell if they'll turn out like the Metcon's since they both have similar heel structures.
Nike Romaleos 3 vs. Competitors
There are a LOT more companies vying for your benjamins now than ever before. It seems just in the past year every shoe company has come out with a weightlifting shoe.
Here's my opinion:
Nike Romaleos 3 vs. Nike Romaleos 2: For general use: Romaleos 3, for weightlifting, Romaleos 2.
Nike Romaleos 3 vs. Adidas Adipowers: Adipowers
Nike Romaleos 3 vs. Reebok Legacy Lifters: Romaleos 3
Nike Romaleos 3 vs. No Bull Lifters: Ha, Nike Romaleos 3
Nike Romaleos 3 Colorways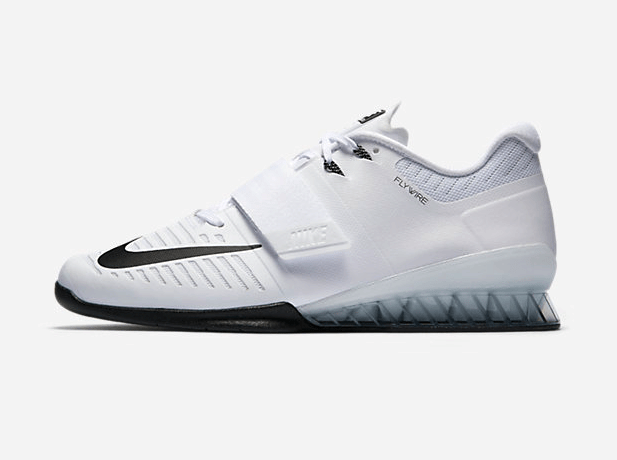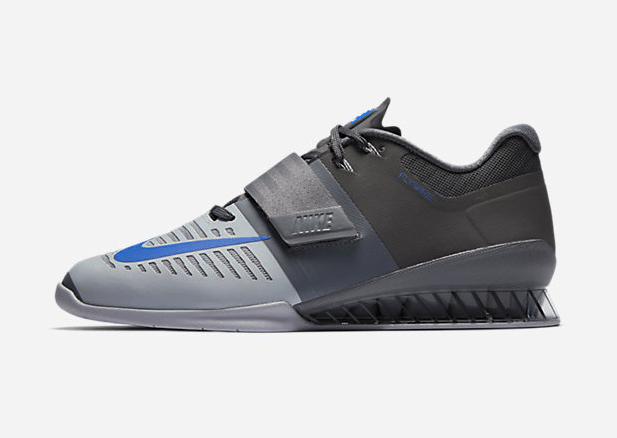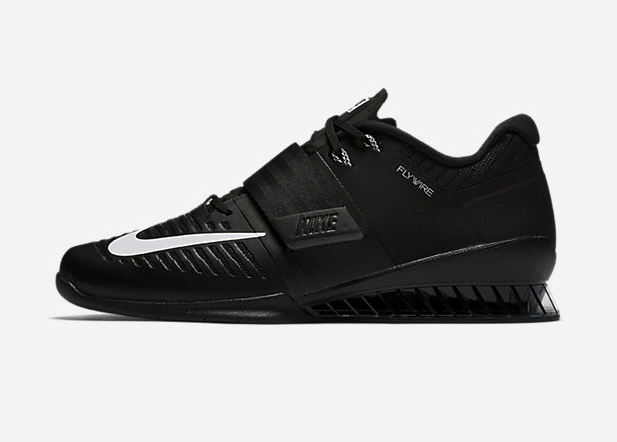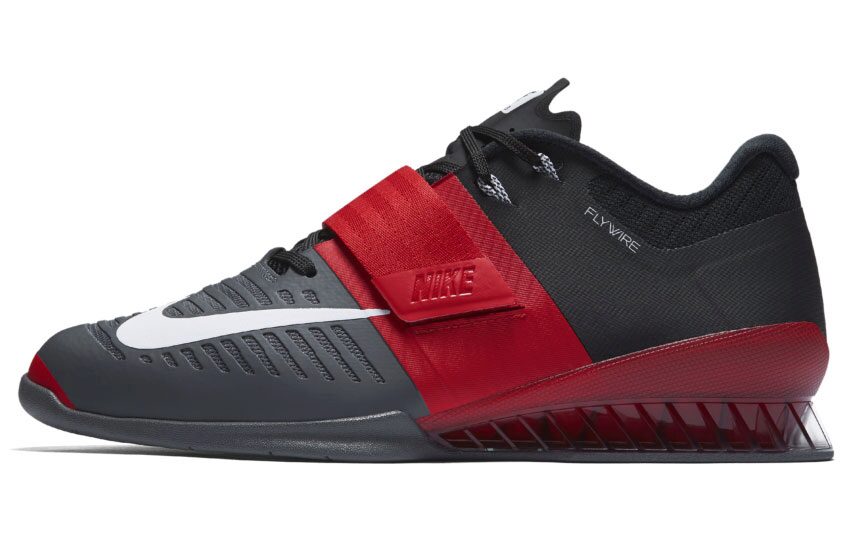 Final Thoughts
The Nike Romaleos 3 are great shoes.
Are they the greatest weightlifting shoes of all time? No. But they are the greatest weightlifting shoe that can also be used for things other than weightlifting. And that's something to be proud of.
Full Rating
Nike Romaleos 3
The Nike Romaleos 3 Weightlifting Shoes are light and high-tech, however, this comes at the cost of durability. Although we like the Romaleos 3, we do not expect them to hold up to long-term use, especially when compared to some of the best training shoes we've seen.
Product Brand: Nike
Product Currency: $
Product Price: 199.95
Product In-Stock: InStock
Nike Romaleos 3 Weightlifting Shoes FAQs
Are Nike Romaleos 3 good for lifting?
The Romaleos 3 is a new weightlifting shoe from Nike. They've constructed one of the heaviest and most sturdy weightlifting shoes in an attempt to deliver a new, updated style for Romaleos 2 purists.
Are Nike Romaleos 3 good for squatting?
Yes! The 3rd and most recent iteration is distinguished by its beefier support and heavier construction. Good for squats with a lot of weight.
Where to Purchase
Nike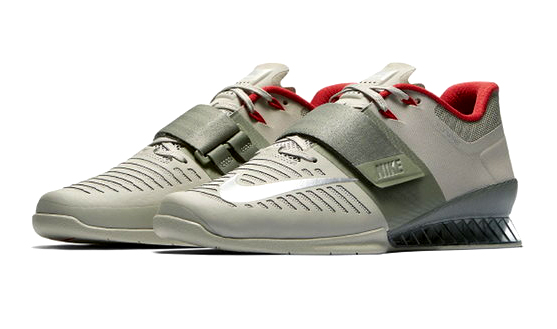 Nike Romaleos 3 Weightlifting Shoes
The Nike Romaleos 3 Men's Weightlifting Shoe delivers the stability and locked-in fit you need for intense weight training. Interchangeable insoles provide soft or firm support to match the needs of your regimen. Specifications:Synthetic leather reinforces mesh on upper for support and breathabilityFlywire cables and nylon midfoot strap offer dynamic lockdownTwo interchangeable insoles provide soft or firm supportHoneycomb TPU plate for lightweight stability during weightliftingSolid rubber outsole provides durable traction20MM offset allows natural movement