We test and review fitness products based on an independent, multi-point methodology. If you use our links to purchase something, we may earn a commission. Read our disclosures.
When it comes to running apparel, our product testers here at Garage Gym Reviews are constantly seeking the latest, greatest, and best value products. We've tested tons of the best running shoes, sports bras, hydration vests, and running water bottles.
We're also a group of fitness professionals with decades of collective experience as nutrition coaches and certified personal trainers.
We've even tested the best workout leggings that are both squat-proof and fashionable. All that said, we thought it was time our GGR product testers got into the best running leggings and took them for a spin through trail running, hill sprints, and HIIT workouts.
Best Running Leggings
Best Overall Running Leggings: Lululemon Fast and Free High-Rise Tight
Good for: Folks who want an overall aesthetically pleasing and durable running legging
Our product testers agree that Lululemon products are often worth all the hype. These Fast and Free running leggings are no exception. These leggings come in a variety of colors (including your basic black!), two inseam lengths, and a wide range of sizes.
Product tester and GGR's head of content, Kate Meier, tested the Fast and Free leggings with nearly every type of exercise you can imagine–-everything from running to burpees and barbell squats to mobility drills. Kate also notes she's owned a pair of Fast and Free leggings for about three years and they still look brand new thanks to the nylon and lycra blend which is durable and breathable.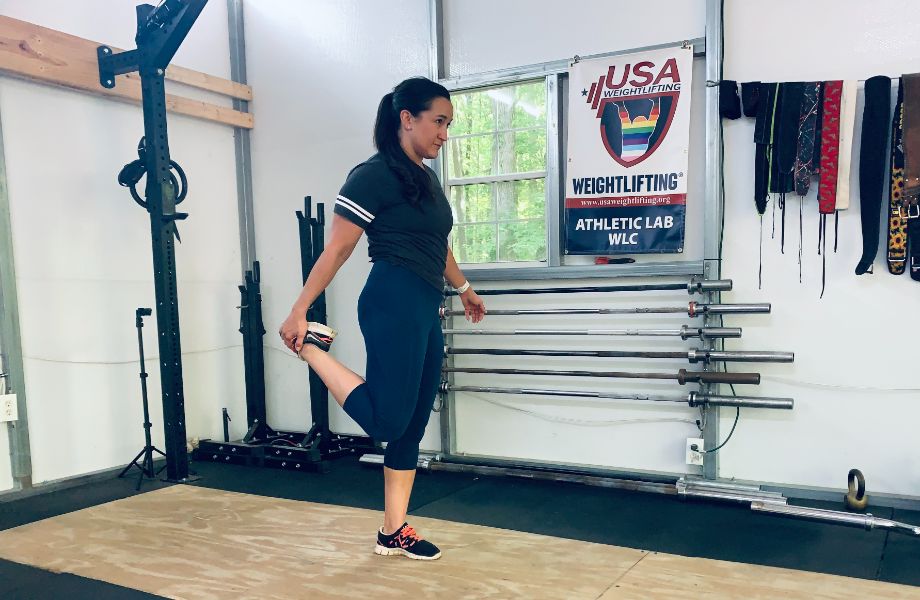 These leggings also feature two side drop-in pockets that can accommodate a smartphone. The waistband drawcord helps you keep your leggings in place and sit high on the waist as intended with this high-waisted design.
Kate knows these are a pricey pair of leggings, but feels confident recommending them. "These are fantastic and last forever—if you have the money, these are worth every penny," she says. "Plus, they actually have a great return policy and will fix any holes that pop up in their leggings or shorts at a store front. At no cost," she adds.
| | |
| --- | --- |
| Price | $128 |
| Material | Nylon and lycra |
| Length | 25" or 28" |
| Size range | 0-20 |
Best Compression Running Leggings: Sweaty Betty Zero Gravity
Good for: Anyone who likes high compression and a high-waisted legging design
Sweaty Betty Zero Gravity leggings are going to make you feel aerodynamic when you put them on for your first run. The highly compressive but lightweight and breathable material locks everything into place for road or trail running.
GGR editor Frieda Johnson tested these Zero Gravity leggings and reports these compression tights will withstand high-performance workouts like hill training, sprinting, or high-intensity interval training.
Frieda did notice that once she placed her phone into one of the side pockets and started running, the leggings started to slide down. The adjustable drawstring around the waist band can help aid with this, but sometimes with the weight of a smartphone it's inevitable.
Frieda says one of the standout features is the fact these leggings offer UV protection material with a 40+ rating. There are also mesh panels on the outer thigh that add to the fabric's breathability.
Another Frieda note is that these are pretty expensive at $128 and only have two colorways and one inseam option. However, if you're looking for an ultra-compression running tight for running and other high-impact activities, these just might be the leggings you're looking for.
RELATED: Cross-Training for Runners
| | |
| --- | --- |
| Price | $128 |
| Material | Not explicitly stated |
| Inseam length | 24" |
| Size range | XS-XXL |
Best Eco-Friendly Running Leggings: Girlfriend Collective Compressive High Rise Legging
Good for: Anyone looking for high-quality running gear made from recycled materials
These Girlfriend Collective Compression leggings are our top pick for eco-friendly options. They are made from recycled plastic bottles (plus spandex to provide compression for running). 
Amanda Capritto, a GGR product tester and writer, tested these leggings and says, "they are simple and flattering." She tested them with multiple long-distance runs, hikes, and CrossFit workouts and still sees no signs of wear and tear.
RELATED: Best Long-Distance Running Shoes
Amanda also notes these leggings feature fantastic compression, saying that, "they stay put during all sorts of high-impact and high-intensity movements, yet they don't feel overly tight on the abdomen or constricting in any way."
These leggings come in a variety of colors, sizes, and two different inseam lengths. Amanda ordered her pair in an earth brown color because black (her go-to color) was out of stock when she was making her purchase. Much to her surprise, she likes the brown and overall likes them enough to order again.
It's worth noting that these leggings do not offer side pockets, but you will find a small pocket inside the waistband on the back. Amanda says it's not large enough for a smartphone.
| | |
| --- | --- |
| Price | $78 |
| Material | 79% recycled plastic bottles (RPET) and 21% spandex |
| Inseam length | 19.5", 23.75", or 28.5" |
| Size range | XXS-6XL |
Best Reflective Running Leggings: Brooks Run Visible
Good for: Runners who go out at dawn or dusk and need high visibility clothing to stay safe
These Brooks Run Visible leggings have not one reflective detail, but multiple reflective details on the front and back of the leggings. The reflective details are easy to see and are constructed from 3M Scotchlite carbon black stretch reflectivity.
You will also notice that the bottom portion around the ankles features high-contrast yellow to help make you more visible, which is important if you run in low light conditions. I personally think high visibility clothing is ideal for winter running, too.
Amanda tested these leggings and reports the fabric is moisture-wicking, stretchy, breathable, and stays in place. What she didn't like was the mid-rise design. "I recognize that not everyone wants high-waisted leggings," says Amanda. "But, I'm just not a fan of where these sit on me, which is below the belly button."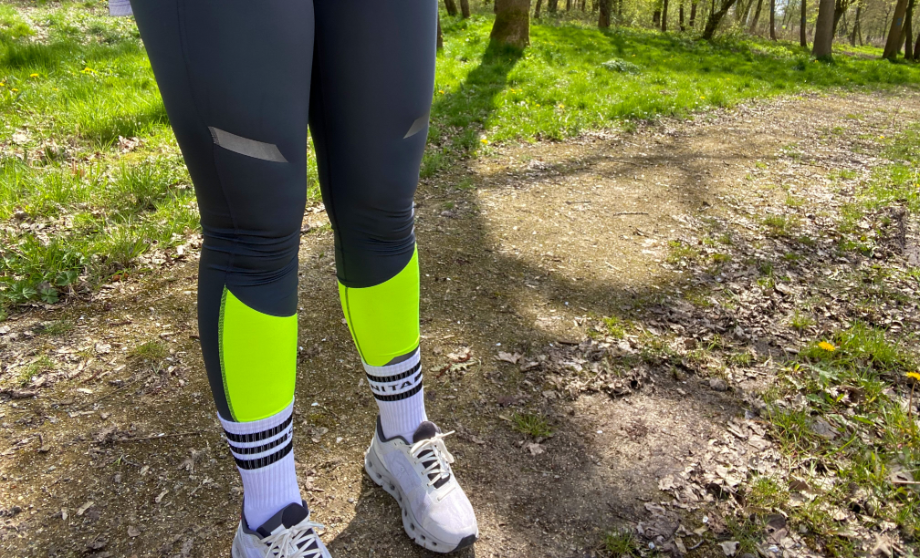 Amanda does say that although these sit lower than she prefers, the inseam length was long enough for the leggings to hit her ankles, which she appreciates.
Amanda also notes that the reflective details are the standout feature on this pair of running tights. However, if you're not someone who runs early in the morning or late in the evening, spending $130 on these very specific types of tights might not be the best choice.
These leggings also feature a zippered left pocket and a drop-in right pocket that will allow you to run with your smartphone and keys.
| | |
| --- | --- |
| Price | About $130 on Amazon |
| Material | 78% polyester and 22% spandex |
| Inseam length | 26.5" |
| Size range | XS-XXL |
Best Budget Running Leggings: The Gym People Running Leggings for Women
Good for: Anyone looking for a simple pair of running leggings that don't cost a small fortune
If you're looking for affordable running gear, The Gym People women's running leggings are soft, comfortable, and under $30 on Amazon. In fact, we think these leggings are a steal, especially if you're spending your dough on other training accessories like the best running headphones to keep you jammin' while you run.
They also come in a ton of different colors—from a variety of neutrals to vibrant hues.
Frieda tested these tights and notes, "they look nice and offer a classic style with tons of color and size options." Although the inseam length is not disclosed on Amazon, be aware that there are both capri-length and ankle-length options while making your color selection.
Frieda says that this pair of tights is softer and doesn't offer as much compression as a pair of traditional running leggings, however she enjoyed the minimal compression and reports that they are super comfortable and stayed in place even when she put her phone in one of the side pockets.
She also raves about the durability mentioning that she accidentally wandered into a blackberry bush while trail running and her and her running pants came out unscathed.
RELATED: Best Trail Running Shoes
| | |
| --- | --- |
| Price | About $30 on Amazon |
| Material | 88% polyamide and 12% spandex |
| Inseam length | N/A |
| Size range | XS-3XL |
Best Running Joggers: Old Navy Powersoft High Rise ⅞ Joggers
Good for: Anyone looking for a lightweight and breathable jogger versus traditional running tights
These Old Navy joggers are a high-performance jogger, not your average lounge jogger. They are constructed from polyester and spandex and offer a super flexible four-way stretch that is ideal for high-intensity movement.
Amanda is a huge fan of the look, feel, and the price! You can snag these for $40, choose from nine different colors, and select sizes from 0 to 30 (XS-4X).
Amanda notes that these high-rise joggers feature a contoured structure that is designed to offer more room through the hips. According to Amanda, "it's like magic" because she often struggles to find clothing that fits around her muscular legs and glutes but doesn't slip off her waist.
Amanda says these joggers are moisture-wicking and quick-drying and offer light compression around the ankles and waist. She also appreciates the fact the "PowerSoft" fabric is thick and durable without feeling too hot or stuffy. Plus, the flat-lock seams prevent chafing, which is ideal for runners and joggers alike.
Lastly, Amanda does mention one drawback: "My only complaint is that at times, the pockets can bunch up." That said, the pockets are more like traditional pant pockets rather than a drop-in pocket or a zip pocket. "Otherwise, these joggers are a go-to for many types of workouts and following along with the best running apps," she adds.
| | |
| --- | --- |
| Price | $40 |
| Material | 77% polyester and 23% spandex |
| Inseam length | Regular: 26.5", petite: 24.5", tall: 30.5" |
| Size range | XS-4X |
Best Running Leggings with Pockets: New Balance Impact Run
Good for: Runners looking for more than one place to store keys, phone, and wallet
These New Balance Impact Run leggings have multiple pockets for your smartphone, keys, and credit card. And the reason we rated these as the best legging with pockets is because they didn't budge an inch during runs.
I personally tested these New Balance tights and at first felt skeptical about where the pockets start. However, I quickly realized that because the side-drop mesh pockets start high on the elastic waistband, the weight of my smartphone doesn't cause these to sag.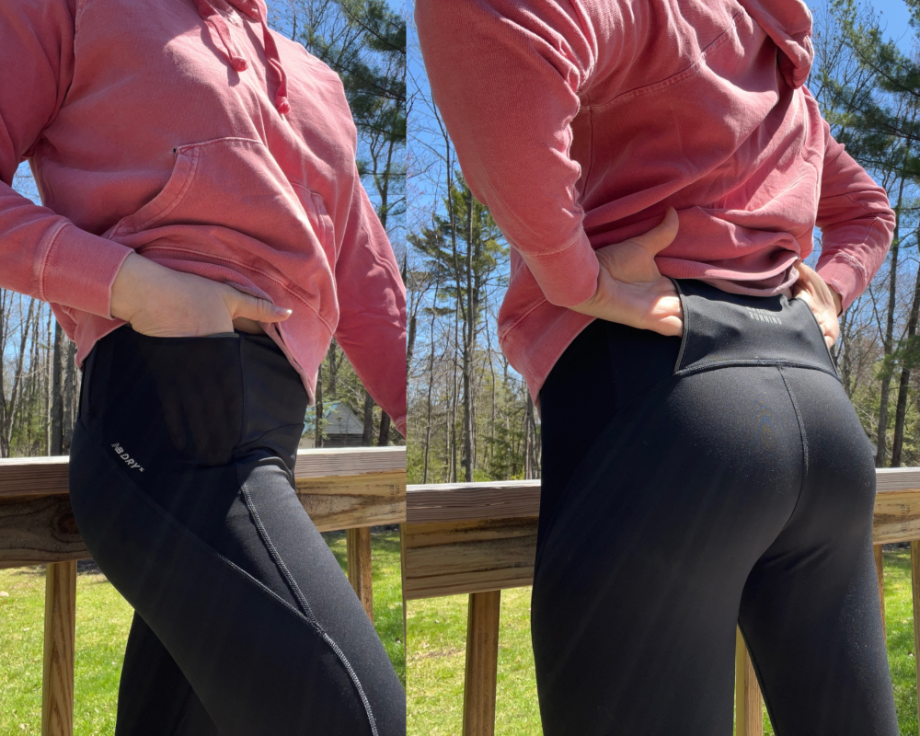 Perhaps even more impressively, these leggings feature a back pouch built into the waistband that can also hold your phone while you run. Under this pouch is a zip back pocket that is slightly too small for my iPhone, but could easily store both keys and credit cards.
It's worth noting that these leggings are mid-rise, which is usually not great for me but there was no problem with how these performed during runs, walks, or my new method of strength training for runners. These tights also feature reflective taping down each leg on the side seam.
| | |
| --- | --- |
| Price | $80 |
| Material | 77% recycled polyester and 23% spandex |
| Inseam length | N/A |
| Size range | XS-2XL |
Best Leggings for Petite Runners: Lululemon Base Pace High-Rise Tight
Good for: Runners looking for a variety of inseam lengths to accommodate different body types
The Lululemon Base Pace is an ideal option for petite runners (in addition to runners of all sizes) because there are multiple inseam lengths to choose from to customize your fit. There are also a wide range of sizes, starting at 0 and going up to 20.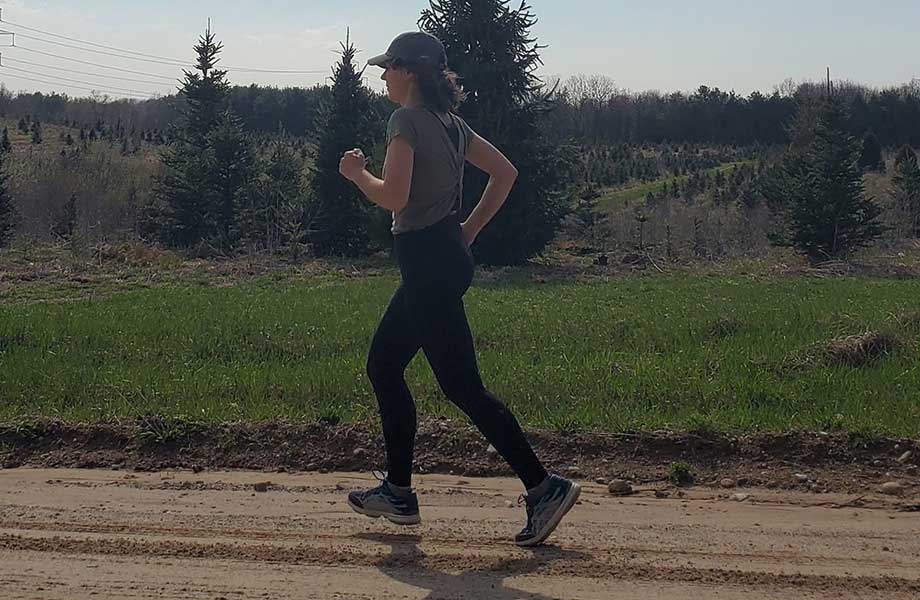 Frieda tested these leggings and mentions the overall fit is terrific. Plus, there is no seam through the inner thighs, so there is little-to-no chafing while you run, walk, or work out. Speaking of no seams, Frieda noticed the fact that there is no cuff seam at the ankle, which is ultra comfortable, but she does worry about long-term durability with this feature.
That said, these leggings are constructed from Lululemon's signature Nulux fabric, which is basically just a blend of nylon and lycra. We find the brand's unique blend lends to breathable fabric that is also durable. Remember that we mentioned earlier that Lululemon has a reputable return policy and the ability to visit a storefront for repairing holes.
It's also worth mentioning that you won't find side pockets. Instead, you will find one little pocket built into the wide waistband. There is also a loop drawstring for a secure fit around your waist.
| | |
| --- | --- |
| Price | $98 – $118 |
| Material | Nylon and spandex |
| Inseam length | 25", 28", or 31" |
| Size range | 0-20 |
Other Running Leggings We Tested
Nike Epic Fast: I personally tested these leggings and thought they were just OK. There is only one side-drop pocket and two other small pockets built into the waistband. Additionally, at the time of ordering these tights, Nike didn't have my size, so I sized up. They turned out to be pretty large through the waist and baggy behind the knees.
Athleta Ultra High Rise Elation Tight: Although tester Amanda enjoyed these simple, black high-waisted leggings, she found they are more suitable for yoga. She says she has tested them on runs and they are "fine for shorter distances, but they don't wick sweat or provide compression like a true pair of performance leggings."
How We Picked and Tested
Our expert product testers here at GGR have collectively tested, worn, and exercised in 25 pairs of leggings from more than a dozen different brands. We start our process with researching popular brands, top-rated items, and products with highly rated customer reviews.
From our initial research, we narrowed down a really long list to a more manageable list of 10 top running leggings to actually order and test.
Each of our product testers are fitness professionals including CrossFit coaches, certified personal trainers, and nutrition coaches. We take our decades of collective industry knowledge to help inform our decision making when it comes to testing fitness equipment and apparel.
While we were out running and walking we rated each pair of leggings on overall fit, rise, compression, durability, workout performance, overall value, and the presence of pockets. Leggings that performed the best and were rated the highest made it to our best list.
Benefits of Running Leggings
To sum up the benefits of choosing the best pair of running leggings, I turned to Amanda who is not only a GGR writer but an experienced endurance athlete and certified personal trainer.
Apparel is similar to buying anything fitness equipment or supplement related, meaning that the best solution for you is subjective. Finding the best pair of leggings is an individual experience based on fit, weather conditions, and personal preferences.
A Snug, Comfortable Fit
Amanda notes that a good pair of running leggings means, "they fit your body snugly without slipping, bunching, twisting, or otherwise moving around," she says. Basically, she suggests that if you have to interrupt your session to pull them up or down or shift them around, that is probably not a good fit.
Sweat-Wicking and Temperature Control
Amanda suggests that keeping weather in mind is helpful when buying leggings. For example, Amanda lives in Florida and would certainly not benefit from the fleece-lined leggings I wear all winter.
"Climate-appropriate material helps with temperature regulation so you can worry less about being too hot or too cold," says Amanda.
High-Quality and Durable
Lastly, Amanda notes investing in high-quality materials will help extend the life of your leggings and the need to keep buying new pairs. Nylon, spandex, and lycra are often found in tights and offer more durability for high-impact workouts than cotton.
"High-quality fabric (and seams) means your investment will last you many runs," says Amanda. "Leggings are in the 'you get what you pay for' category," she adds.
What to Look for in a Pair of Running Leggings
Here are few things to keep in mind when you're shopping for your next pair of running leggings:
Pockets
If running with your phone, credit card, and keys is important to you, make sure you're looking for leggings with pockets. Fortunately, many leggings offer pockets beyond the teeny-tiny waistband pockets with little functionality.
Rise
Most leggings these days are high rise, offering compression and covering up to your belly button. However, some of the leggings we tested were mid-rise. We've also tried leggings in the past that were ultra-high rise. We suggest browsing the product description on this aspect before you click the add to cart button.
Inseam
It's important to look at seam lengths, especially if you have a particular preference around where your running leggings end. For example, Amanda seeks out full-length leggings so she can tuck her socks under her pants while she runs in cold weather.
Inseam length will also look different for different people. If you're tall or have long legs, a pair of cropped capri-length leggings won't cover as much of your leg compared to someone who is generally shorter or has short legs and a longer torso.
Compression
Although compression is a personal preference, we find some amount of compression helpful for running so that your pants fit securely and don't ride, bunch, or fall while you move.
Best Running Leggings FAQs
What leggings do runners wear?
How do I keep my leggings from sliding down when I run?
If you're constantly having to readjust your running leggings, the pair you're wearing might not offer the right fit for your body type. You may have to experiment with different inseams, rises, and compression levels.
Should I size up or down for running leggings?
When shopping for running leggings, for the best fit use the sizing chart and look through the inseam, hip, and waist measurements for each size offered and compare it to your own measurements. 
This will give you the most accurate impression of how the brand sizes its leggings versus relying on generic sizing language. Additionally, leggings are intended to have a snug fit, so you'll want to choose the size most true to your measurements.