Mathew Fraser is the Fittest Man on Earth. Whether you agree with the definition of fitness produced by CrossFit or not, it's hard to argue against a man who snatches over 300 lbs, squats, and deadlifts over 500 lbs, and can still do metcons, long runs, swims, and other events in great times.
One of the things that has always intrigued me about Mat Fraser is the fact that he still lives with his parents...kind of. You see, despite being both very intelligent (he has an engineering degree from the University of Vermont) as well as I would assume somewhat well off financially (sponsored by Nike, Rogue Fitness, and others) Mat has decided to continue living in his parent's basement where his home gym resides. When you think about it, him being intelligent and well off go somewhat hand in hand with saving money by living at home while still being unmarried. Cool to see.
With that said, Mat Fraser has a home gym that could be enviable by the most seasoned equipment collector. He calls his dungeon, "100 Square Feet of Fitness" and to think that the World's Fittest Man has gotten to where he is in part due to 100 square feet of home gym space.
Enough of me talking, let me show you his setup...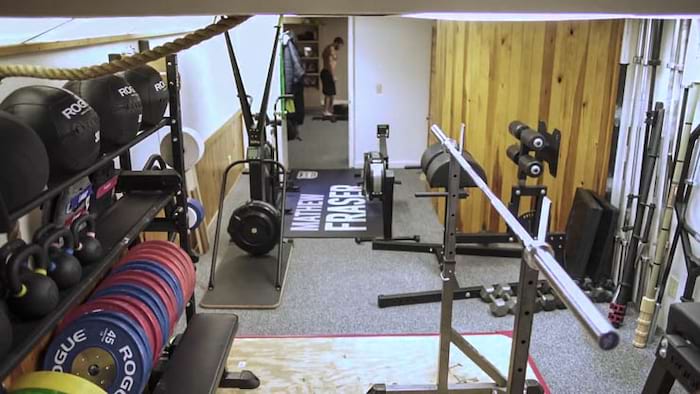 One of the first things you notice about Mat Fraser's Home Gym is the amount of Rogue Fitness Equipment that is present. Although Rogue Fitness makes some of the best equipment available for home gym owners, as well as commercial gym owners, two reasons Mat likely uses them are:
He's a Rogue-Sponsored Athlete
The CrossFit Games use Rogue Fitness Equipment
Literally just about every piece of equipment he has except for his squat stand and bench (both Pendlay and no longer sold) are either manufactured or sold by Rogue.
Barbells
Plates
Storage
Conditioning Equipment
Miscellaneous
Full Equipment List