We test and review fitness products based on an independent, multi-point methodology. If you use our links to purchase something, we may earn a commission. Read our disclosures.
Mat Fraser is the World's Fittest Man. He also has one sweet home gym setup in the basement of his parent's house. For the size, it's EPIC!
Mathew Fraser is the Fittest Man on Earth. Whether you agree with the definition of fitness produced by CrossFit or not, it's hard to argue against a man who snatches over 300 lbs, squats, and deadlifts over 500 lbs, and can still do metcons, long runs, swims, and other events in great times.
One of the things that has always intrigued me about Mat Fraser is the fact that he still lives with his parents…kind of. You see, despite being both very intelligent (he has an engineering degree from the University of Vermont) as well as I would assume somewhat well off financially (sponsored by Nike, Rogue Fitness, and others) Mat has decided to continue living in his parent's basement where his home gym resides. When you think about it, him being intelligent and well off go somewhat hand in hand with saving money by living at home while still being unmarried. Cool to see.
With that said, Mat Fraser has a home gym that could be enviable by the most seasoned equipment collector. He calls his dungeon, "100 Square Feet of Fitness" and to think that the World's Fittest Man has gotten to where he is in part due to 100 square feet of home gym space.
Enough of me talking, let me show you his setup…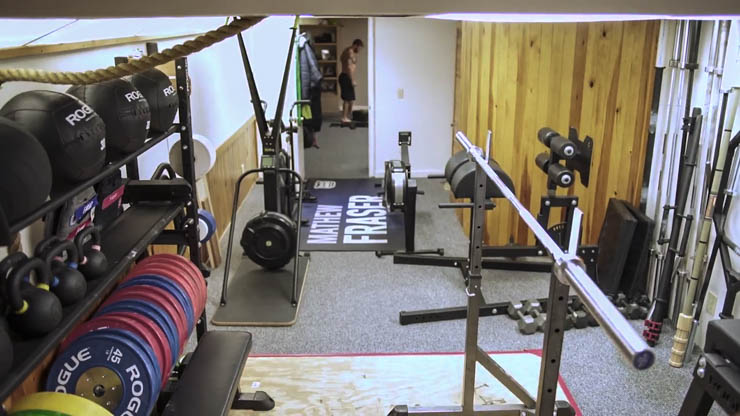 One of the first things you notice about Mat Fraser's Home Gym is the amount of Rogue Fitness Equipment that is present. Although Rogue Fitness makes some of the best equipment available for home gym owners, as well as commercial gym owners, two reasons Mat likely uses them are:
He's a Rogue-Sponsored Athlete
The CrossFit Games use Rogue Fitness Equipment
Literally just about every piece of equipment he has except for his squat stand and bench (both Pendlay and no longer sold) are either manufactured or sold by Rogue.
Barbells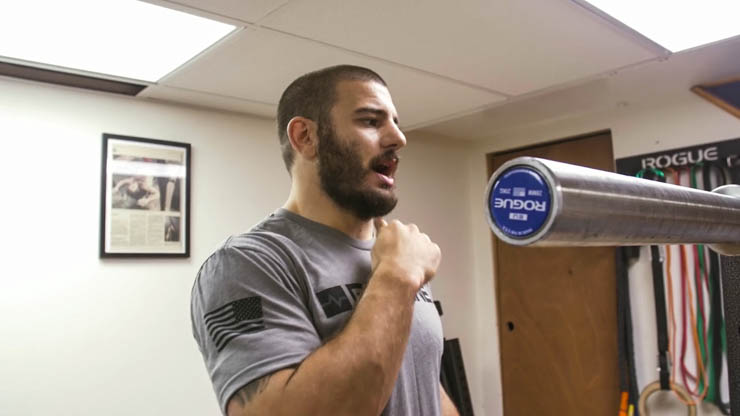 Let's start with his bars.
Any respectable weightlifter (Mat trained at the US Olympic Training Center as a youth) knows the importance a barbell has to their training. Any respectable home gym owner knows that a number of barbells you need is equal to N+1.
Rogue Fitness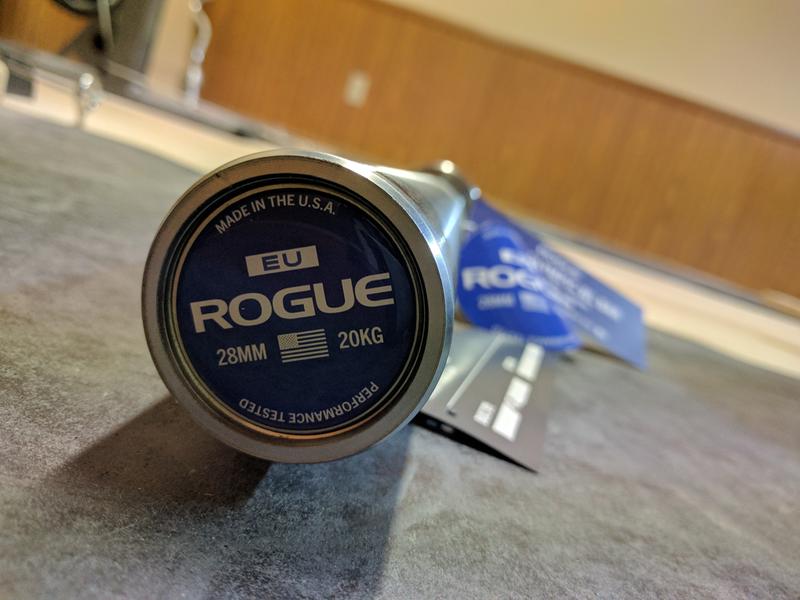 Rogue Euro 28MM Olympic WL Bar
For the athlete who refuses anything but the best, this is your next Olympic barbell. The Rogue Euro 28MM Oly WL Bar is machined and assembled in Columbus, Ohio, using only top-tier European steel, with 10 sets of quality needle bearings, friction welded sleeves, and a polished chrome finish. Before leaving our factory, each IWF-standard bar goes through a rigorous testing process to ensure absolute precision–from exact weight and straightness to the consistency of its whip and spin. No other bar in the Rogue fleet, or in the industry, can call itself an upgrade over this one At a minimum tensile strength of 215,000 PSI, the Euro Olympic WL Bar is the strongest in the Rogue arsenal, but that's not the only reason we chose this ultra-durable steel. Over years of testing, many weightlifters have found that the raw materials used in EU steel also help produce a greater whip during snatches and cleans. Using a process from the worlds of aviation and automotive manufacturing, the sleeves on the Euro Oly Bar are friction welded–creating a superior, forged-quality bond. This method is more precise than most joining techniques and helps prevent any changes in the integrity of the sleeve. Combined with 10 sets of top-quality needle bearings, the result is a barbell with a smooth, consistent, quieter spin. The Euro Oly Bar is built to IWF standards and includes both Olympic knurl marks and a center knurl. The knurling itself features a full, uniform pattern with a medium intensity that won't shred up your hands. If you're looking for the pinnacle of American-made Olympic bearing bars in the industry right now, this is it.
Seeing as Mat Fraser is both an elite level weightlifter and has an awesome home gym, he has both quantity and quality in the barbell department.
The barbell he seems to use for most of his training (I've never met the guy so I don't know for sure) is the Rogue Euro Olympic WL Bar. The Rogue Euro Olympic WL Bar is Rogue's top barbell and from having used it and compared it to Eleiko, it's one of the best values for a high-end weightlifting bar available.
In addition to the Rogue Euro Olympic WL Bar, Mat has other barbells (I'm not too sure which ones) and quite a few specialty bars including Farmers Walk Handles, the Rogue TB-1 Trap Bar 2.0, and even the Bandbell Earthquake Bar which is actually one of my favorites.
Plates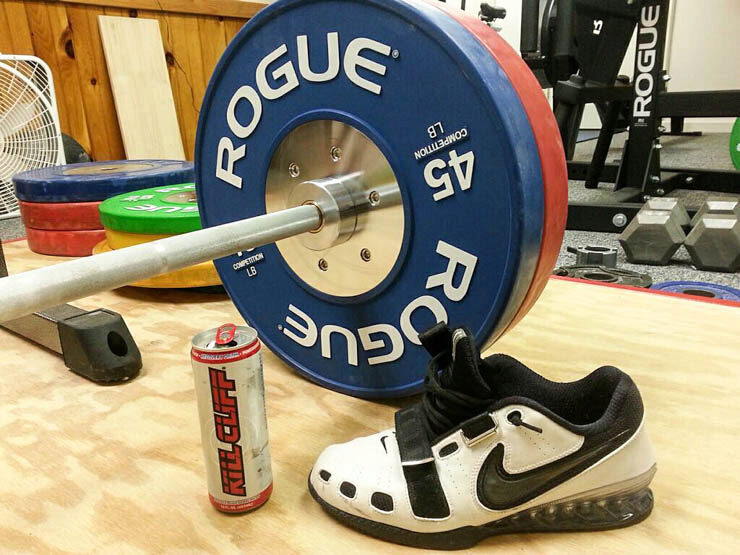 Being as strong as Mat is in the Olympic lifts, you're going to need a lot of plates. Pretty much all of his bumpers (there's a lot) are Rogue Competition Bumper Plates. Rogue's competition bumper plates are great bumpers, although they are still imported.
One thing Rogue did with their recent bumper plates to set them apart from the competition is adding a nice lip on the edges as well as raised lettering. These are true competition bumpers with low weight tolerances and compared to some of the others available, are a pretty good value.
Rogue Fitness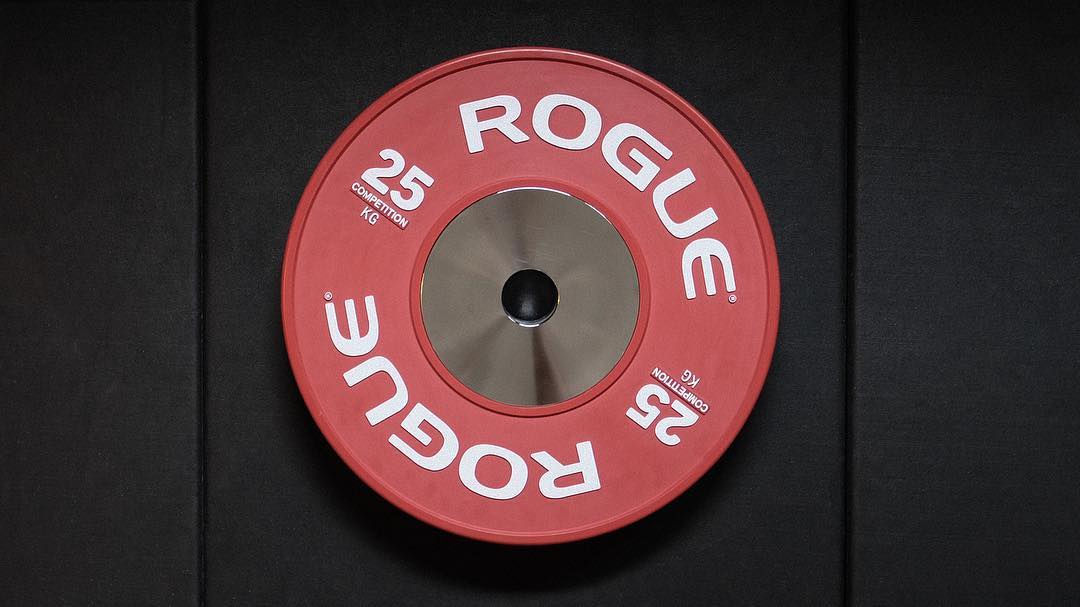 Rogue LB Competition Bumper Plates
Rogue Competition Plates are an IWF standard 450MM in diameter, with chrome-plated steel disc inserts and a 50.40MM collar opening for a firm, stable hold. We've added several new features to this line-up of color-coded bumpers: 1. Minimal BounceTested on a Shore A Durometer scale, the Competition Plates' average measurement was a 94, which delivers a consistent dead blow with minimal bounce found in high end Olympic weightlifting bumpers. Less bounce means less time chasing your bar around the gym. 2. New Finish and LetteringThe plates have been given a gloss-matte-gloss textured matte finish and raised lettering for a bolder look. 3. Raised FlangesA raised rubber surface is now included to prevent direct metal-on-metal contact between the center discs. Whether stacked on the bar or on a rack, the bumpers only come into contact with each other on the inner and outer flanges–reducing scuffing and helping to preserve the plates' finish and lettering. A convenient lip on the edge of the plate also makes it easier to pick up from the rack or off the ground. Rogue Competition Plates come in four vibrant colors (Red/55LB, Blue/45LB, Yellow/35LB, Green/25LB) and can be ordered in a wide variety of sets depending on your gym's needs. See the order form on the right to choose the option best for you or contact us with a custom order request. Specifications:Diameter: 450MM (17.72")Collar Opening: 50.40MM +/- 0.1Insert Type: Steel Disc, Chrome PlatedTextured Matte Finish with Raised LetteringProtective Rubber FlangesWeight Tolerance: +/- 15 grams of claimed weightPlate Thickness Chart:Green - 25LB: 1.25"Yellow - 35LB: 1.70"Blue - 45LB: 2.15"Red - 55LB: 2.50"
To hold the bumper plates on, Mat seems to favor the OSO Aluminum Collars, which happen to be my favorite as well.
When you have as many bumper plates as Mat does, you need a place to store them and what better place than a 3-Tier Mass Storage System.
Storage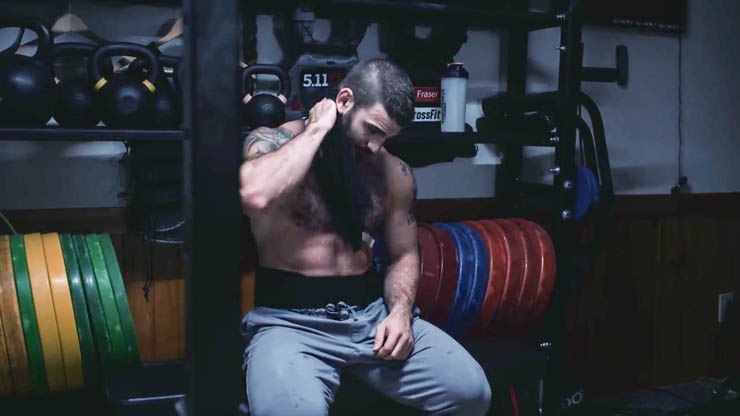 The 3-Tier Mass Storage System from Rogue has customizable shelves and can hold close to a ton of weight (literally.) Fraser has all of his bumpers as well as his 5.11 Weight Vests earned from the CrossFit Games, Change Plates, Kettlebells in just about every weight, and Rogue Medicine Balls up to 30 pounds.
If you have a small space like Fraser, a big storage rack that can hold anything you throw on it is pretty much a necessity. Not only are they functional, but they also look great as well.
RELATED: Best Weighted Vest
Conditioning Equipment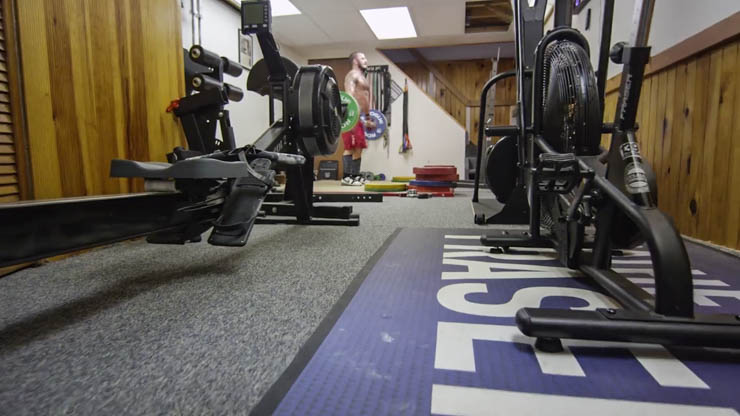 Being a CrossFit Games Competitor requires more than just brute strength; you also have to have insane conditioning. CrossFit gyms and competitors have employed various conditioning equipment since the beginning. However, as the sport has progressed, so has the tools that are used and Fraser uses pretty much all of them.
Concept 2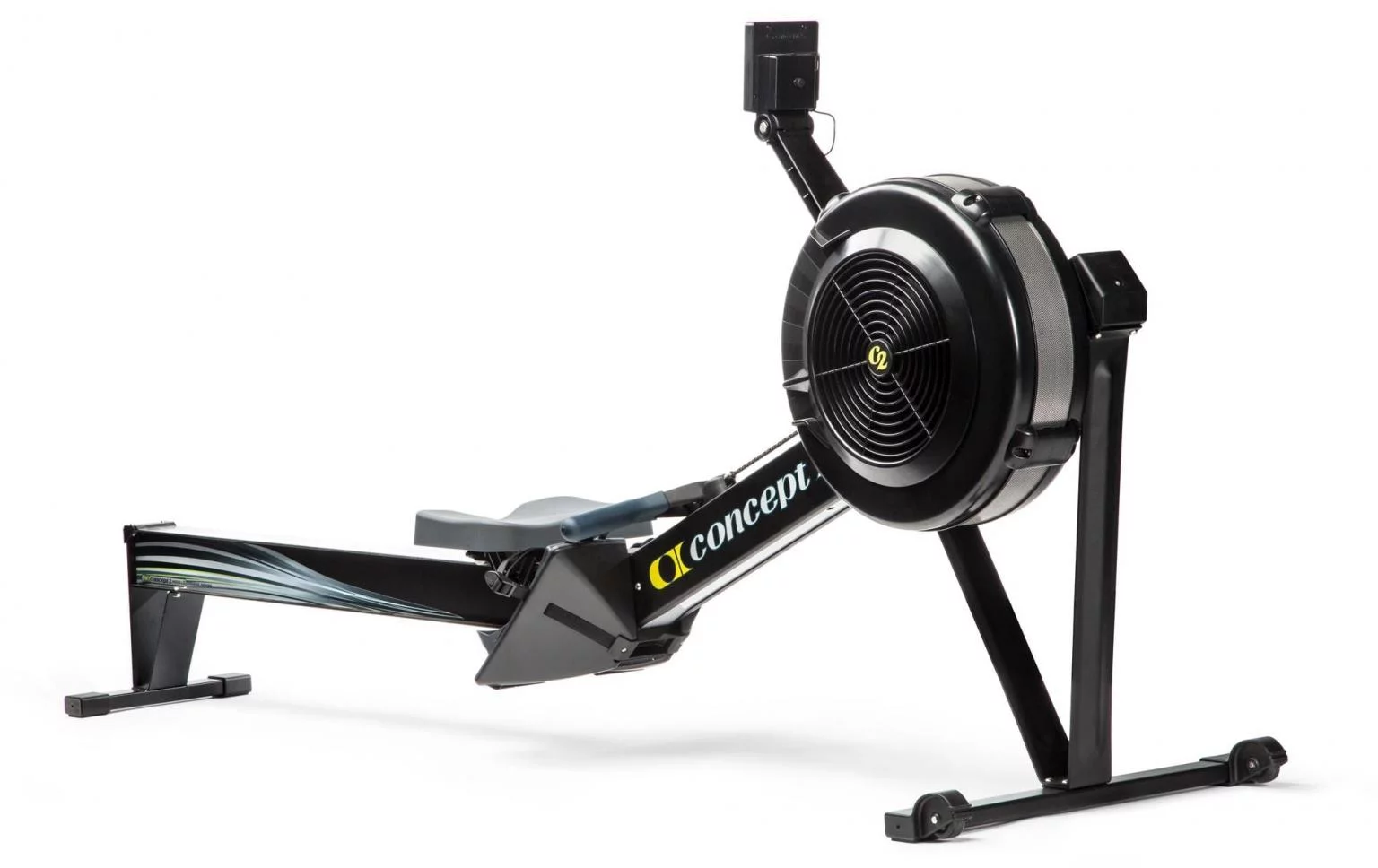 Concept2 RowErg
The Concept 2 Model D Rower is perhaps the most popular rowing machine on the market, found in commercial gyms and home gyms around the world.  It  provides a low-impact, full-body workout and uses air resistance generated by a fanned flywheel.  The Model D has an adjustable damper setting from 1 to 10 allowing you to move with ease or with more resistance and intensity.The Model D comes with adjustable foot-rests, a 14-inch seat height with an aluminum l-beam monorail and stainless steel track for a smooth back-and-forth slide.  This is a light cardio machine with wheels, which means you can move it with ease around your space. Also, for storage, the rower can be easily broken down into two segments, hung on a wall with a Rogue wall hanger, or simply tilted upright and stored vertically.  The PM5 Performance Monitor gives instant feedback on pace, watts, calories, distance, and rpms.  The monitor is easily adjustable, Bluetooth-compatible, and can easily connect to a heart rate monitor or the ErgData app.  
The three main pieces of equipment you see in CrossFit gyms are air bikes, rowing ergs, and ski ergs. The most popular brands producing those are Schwinn, Xebex Fitness, Assault, and Concept 2. As a CrossFit Competitor, you want to use the tools in training that you'll use in competition and that's exactly what Fraser does.
He has the following:
The Concept 2 Rower and SkiErg are amazing machines that really don't have much that compares to them. Xebex makes a rower that we've reviewed that is a good budget option, but it definitely does not beat the Concept 2.
RELATED: Xebex Rower Review
The Assault Bike, although a great piece of equipment and when released was pretty revolutionary does have some worthy competitors including the Schwinn AirdynePro and Xebex Air Bike. Either way, from videos, it seems that Fraser puts a lot of time on these machines and it shows on the competitions floor.
Assault Fitness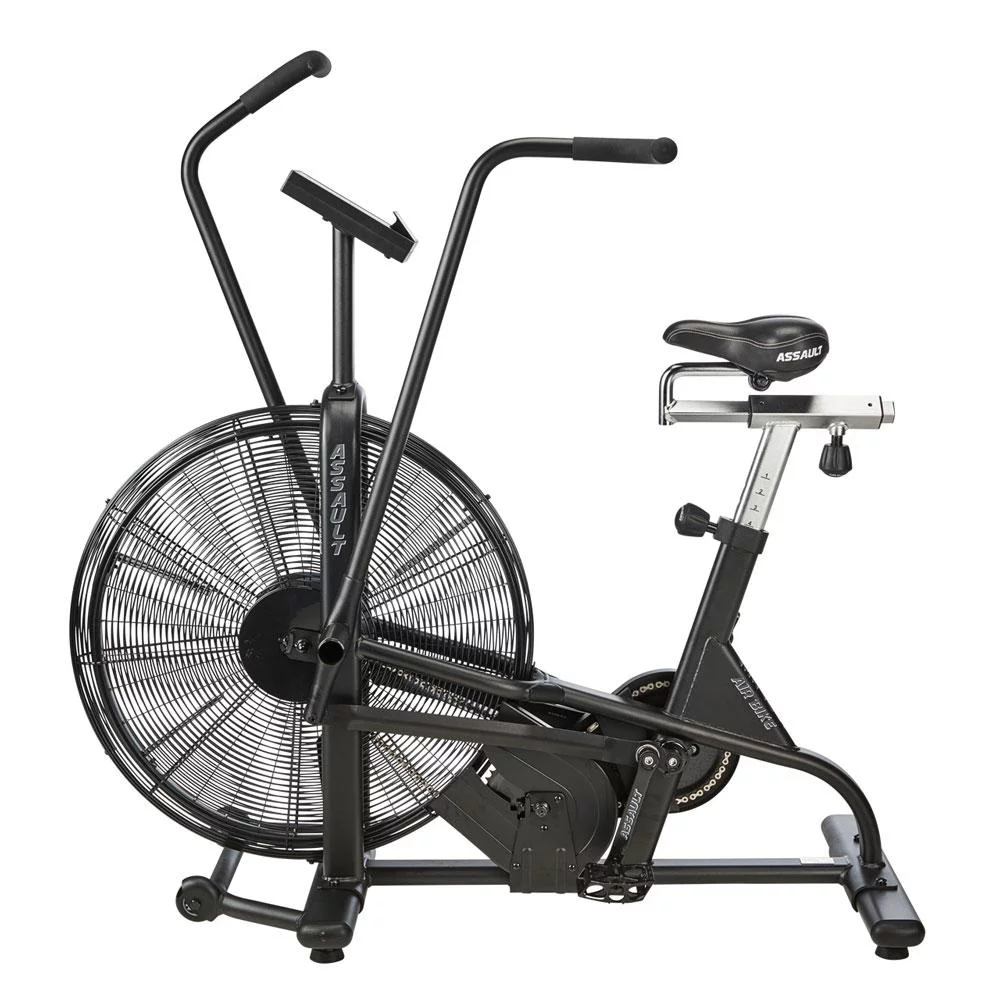 Miscellaneous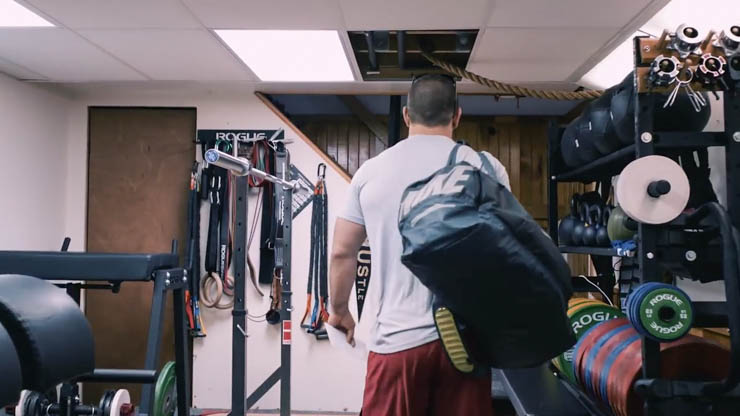 In order to build a strong posterior chain, there are a couple of tools that you can usebesides the good ol' barbell. The two most popular pieces are the Glute-Ham Developer and Reverse Hyper; Mat has made space for both of them.
The GHD is seen in CrossFit Gym's everywhere due to its versatility and effectiveness. Although typically used solely for GHD Sit-ups, and can also be used to build strong hamstrings and glutes. I'm sure Mat uses the machine for both. The GHD Mat uses is the same one I have in my garage and that is the Rogue Abram GHD 2.0.
Rogue Fitness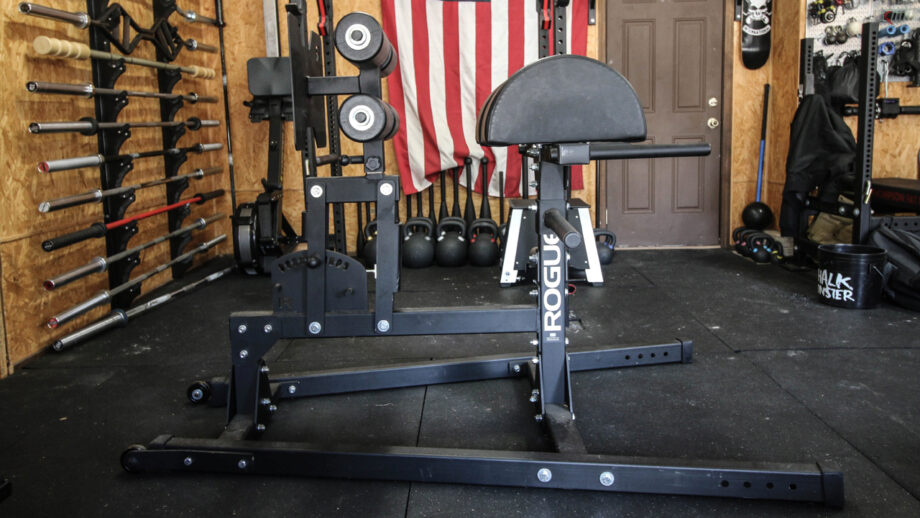 Rogue Abram GHD 2.0
The Rogue Abram GHD 2.0 combines consistent performance and stability with smooth, precision adjustments and unique portability. This compact machine is a comprehensive tool for midline stabilization and the strengthening of hamstrings and glutes–all in a way that's functionally transferable to an athlete's sport.Version 2.0 keeps the core elements of the original Abram GHD and adds design innovations from Rogue's own heavy-duty Monster Swing-Arm GHD, including an advanced 10-slot roller assembly. The unit is manufactured in the USA from 2x3" 11-gauge steel, with a bolt-together, triangular-base design and rubber feet for maximum sturdiness through peak power output.Along with strengthening muscles within the posterior chain, GHD training allows one of the only safe ways to actively train your spinal erectors. GHD sit-ups also result in one of the most powerful abdominal contractions of any movement in the gym. The midline stabilization gained acts like an intrinsic weight belt protecting the spine and improving sport performance.
The Reverse Hyper is a machine created by Louie Simmons of Westside Barbell designed for strengthening the hamstrings and glutes as well as rehabbing the lower back. From my experience with the Rogue RH-2 Reverse Hyper, I can say with certainty that it is an outstanding piece of equipment. Not only does it work your posterior chain, but you feel refreshed when you come off of it.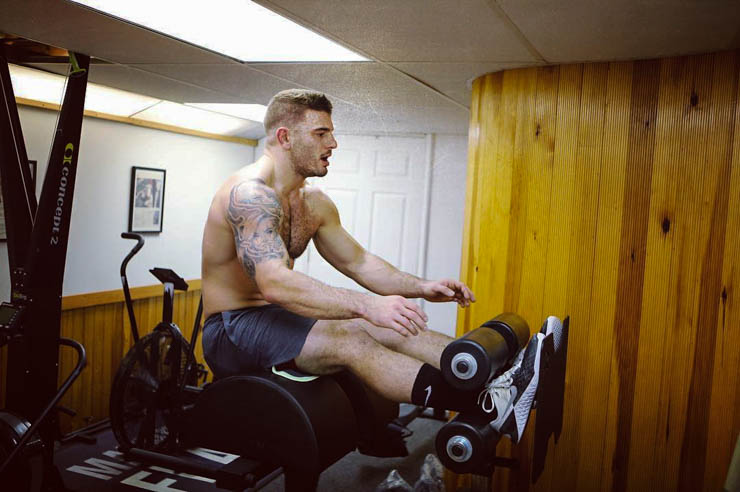 The squat rack Mat uses is one that I don't believe is being sold anymore, however, there are many companies that make similar models including this one by Rage Fitness.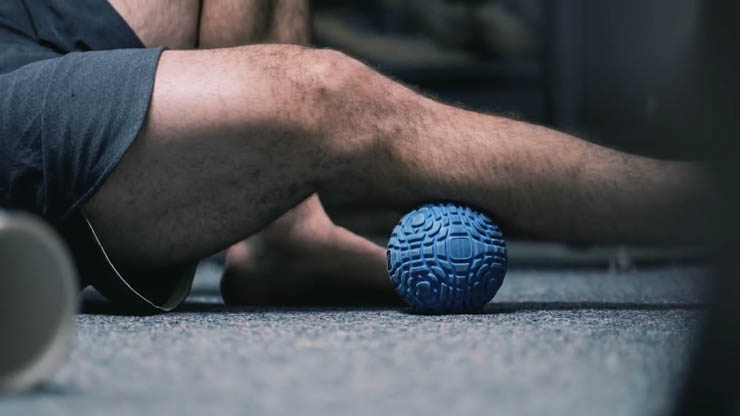 Mat has gone through his typical daily schedule many times in interviews and videos. One thing he hits on often is the amount of mobility and recovery work he does which is often done with the ever-popular Rogue MobilityWod Supernova 2.0.
Rogue Fitness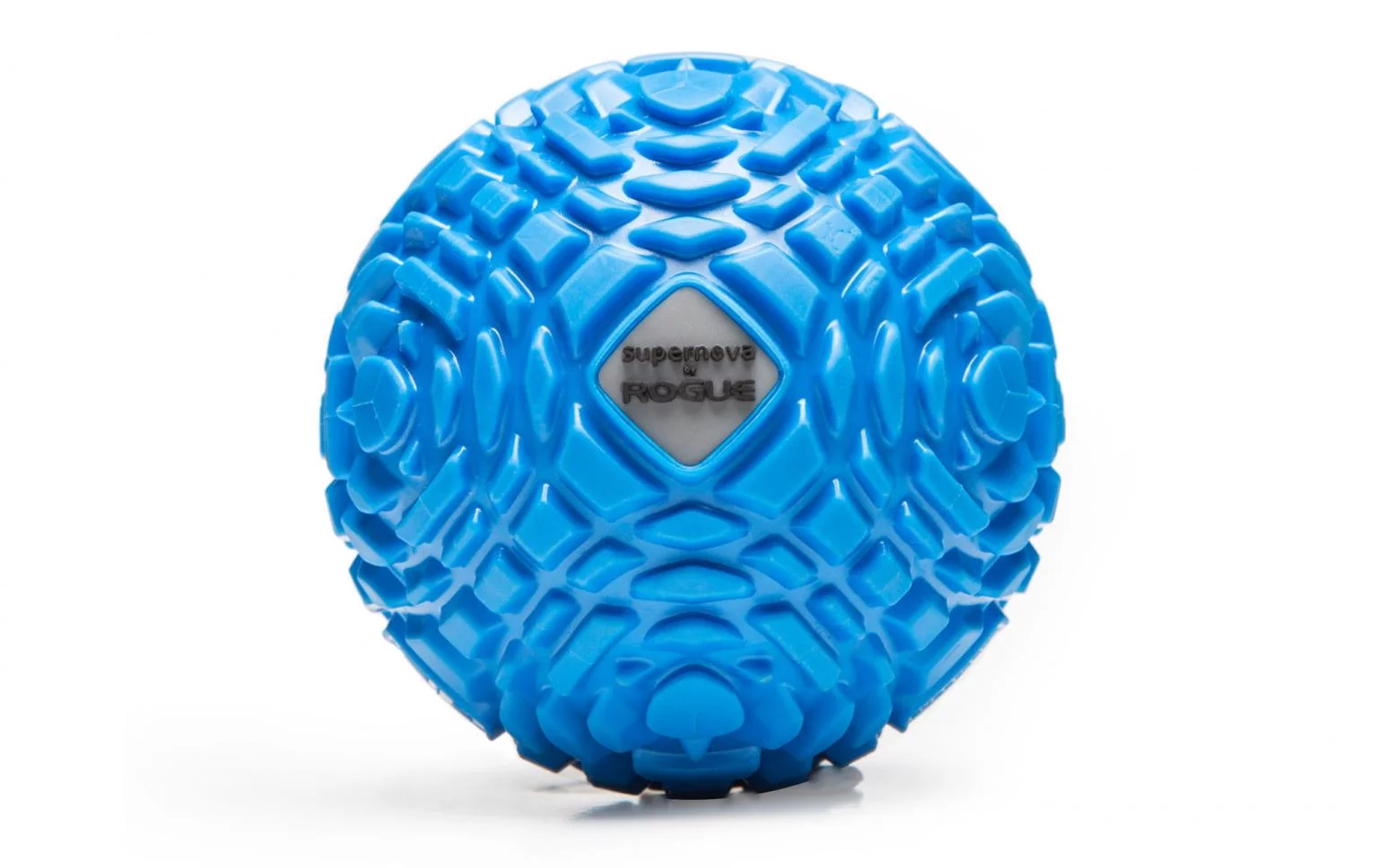 MobilityWOD Supernova 2.0
They say you can never have too much of a good thing, but sometimes a little less is all you need. Case in point, the miniature version of the Mobility WOD Supernova—with a reduced, 80mm diameter for easier targeting of some hard to reach trigger points.Backed by the same science as the standard-size MobilityWOD Supernova, this groundbreaking massage ball is designed to go where your basic lacrosse balls can't—creating higher global shear pressures for an intense, effective, and efficient brand of deep tissue therapy.Use it after a workout, before bed, or during a lunch break to treat or prevent knots and soreness. The Supernova goes anywhere, works everywhere, and helps just about anybody recover faster to get back in the gym sooner. Since the standard Supernova has the motto: "More shear, more better, more awesome," we'll just tack on, "more smaller" for this one and you'll get the gist.Specifications:Diameter: 80MM (3.15") Scientifically developed grooves for higher global shear pressures Latex Free Color: Blue Includes Rogue logo in center
The SuperNova is a big rubber ball with lots of cutouts that allows you to dig deep into the muscle fibers and get a grip on the tissues you're trying to mobilize. When introduced, it was very popular, however, it would eventually break. Rogue went back to the drawing board and redesigned the ball to be more durable and effective.
In addition to the SuperNova, Mat employs the use of a tool for Graston work.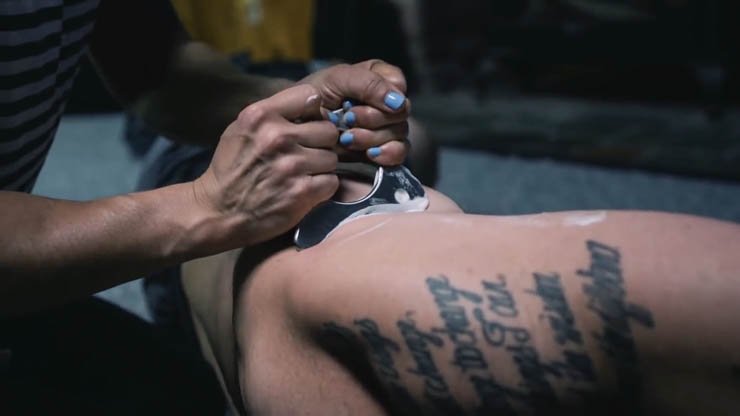 The tool Mat uses for Graston work is called the Mobility Star. The simplified way to think of Graston is like combing through spaghetti. Think of your muscle fibers as noodles that get tight and knotted up. A Graston tool (I initially used a butter knife) runs along the fibers and essentially stretches and straightens them out.
It's very effective, and I've reviewed the ultimate Graston tools made by HawkGrips in the past.
The Mobility Star is a great step above a butter knife that truly works wonders.
Full Equipment List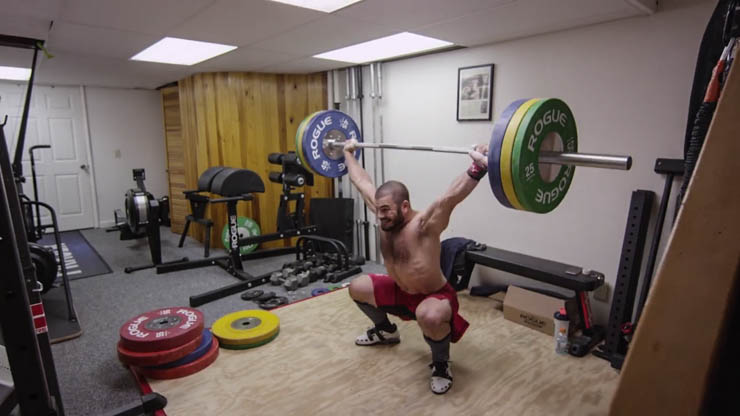 As you can see, Mat Fraser has an awesome setup whether it was in 100 square feet or 1,000 square feet.
Although I hit on his main pieces of equipment, here is a list of all of the equipment I've seen him use in his home gym.
Strength Equipment:
Conditioning Equipment
Miscellaneous