We review free products that we receive and participate in affiliate programs, where we may be compensated for items purchased through links from our site.
See our disclosures page for more information.
The Rep Fitness 3-in-1 Soft Plyo Box
is a wooden-framed plyo box that is wrapped in foam and then secured with a vinyl cover. There are a plethora of plyo-boxes available today including foam, wood, resin, and others. This is by far the best value plyo-box available for a safe plyo-box that doesn't break the bank. We highly recommend this plyo-box to anyone in the market, garage gym owner or commercial gym owner.
Rep Fitness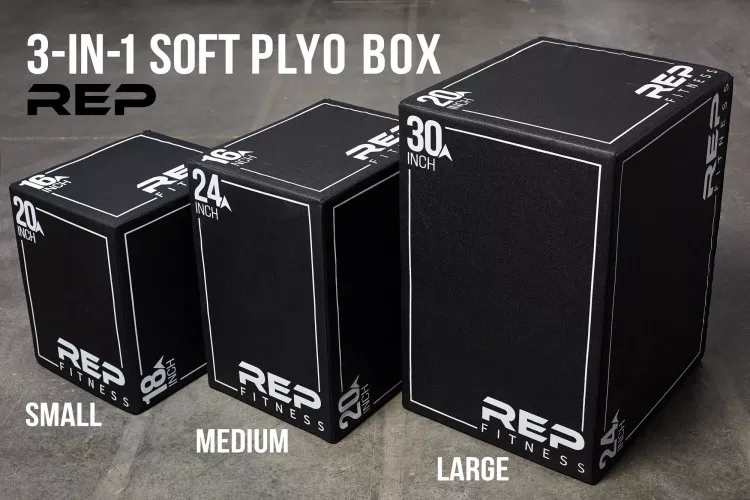 Rep 3-in-1 Soft Plyo Box
Our 3-in-1 soft plyo boxes are designed to take the fear out of box jumps and add back the fun! No more worry about scraped or bruised shins, the soft foam cover absorbs impact, but unlike many other competing soft boxes, the unique inner wood core design keeps it stable on all sides. Jump boxes work well for cross training or HIIT workouts for step-ups, jumps, elevated pushups, and many other exercises. Each box gives you 3 different height options, just flip it to the side you want and jump away! Fully assembled and ready for use right out of the box, these plyometric boxes are a great choice for either commercial or residential use. Key Features: Soft plyo box helps prevent injuries to shins on missed jumps. Cut open (and scarred!) shins is a common problem with traditional wood plyo boxes. Overcome fears of missing a jump when you're tired at the end of a workout, or when you push yourself to try a new height. Our combo-core is a mix of wood for stability, and firm foam for padding the outside. Unlike other 3-in-1 soft plyo boxes on the market, ours is just as stable as a traditional wood plyo box on every side of the box. This is the key problem with all competing soft plyo boxes, and we've solved it! Durable non-slip textured vinyl cover. Multiple size options to suit your needs
Plyometric exercises have always been a huge part of a well-rounded workout routine. While certain exercises come and go, the stable in plyometrics is the box jump. For explosiveness, leaping ability, leg strength, overall athleticism, and to get your heart rate up there are few better individual exercises out there. But the risk of injury on the old boxes have always been a concern. From scraping a shin to hurting an ankle or knee, the downsides to this particular exercise have kept many people away from performing it. But now, with the increased use of the plyo-box (largely thanks to CrossFit) you have equipment like the 3-in-1 Soft Plyo Box from Rep Fitness. It gives you all of the positives of a stable, wooden box, along with many others, including reducing the risk of injury. If you're interested in a plyo-box and prefer something protective that doesn't lack in stability, this is the plyo-box we suggest.
What is the Rep 3-in-1 Soft Plyo Box?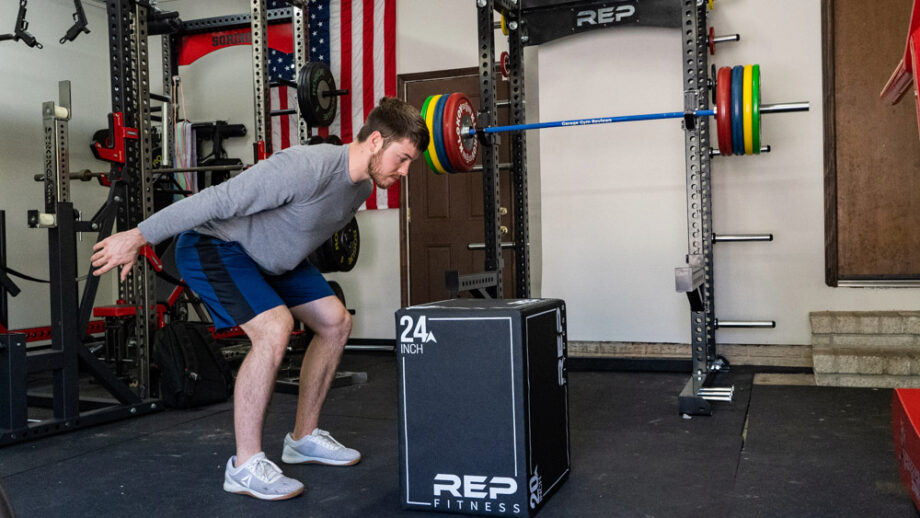 The Rep Fitness 3-in-1 Soft Plyo Box is a wooden plyo-box with a thick foam shell covered with a non-slip textured vinyl cover. That last sentence is a mouthful, but it contains all you need to know about why we think this is such a great plyo-box. You've seen/are currently using one of the old wooden boxes used as a plyo-box in the past. You've probably even scraped your shin or ruined a workout or 2 because of the dangers presented by the old equipment. As someone who uses the plyo-box often for various uses in workouts, I have seen the positives and felt the negatives of the old wooden box jumps (I still have a scar on my shin from a failed max box jump.) The soft plyo-box gives you the good and mitigates the bad.
The thick foam shell saves your shins, ankles, and even your knees by providing a soft landing space. Even if you are fatigued or miss a jump, the forgiving foam will allow you to continue your workout and save your shins. At the same time, the non-slip vinyl cover gives you the ability to stick your landing each time without the slipping associated with both wooden and foam boxes. The vinyl also adds to the cushion in your landing zone so it reduces the wear and tear on your feet and joints.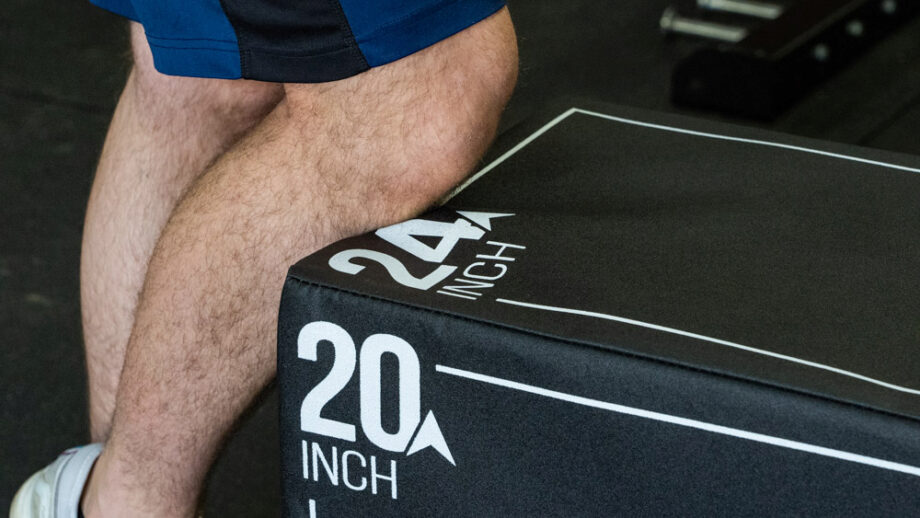 In addition to the comfort and reduced risk of injury, each soft plyo box is extremely versatile. The boxes are 3-sided which means that each soft plyo box can be flipped three different ways for three different heights. The soft plyo box comes in three different sizes as well; small, medium, and large ranging from 30 inches at the tallest height to 16 inches at the lowest. This means that people of all ages, fitness levels, and athletic ability can use this equipment, and I see many gyms going for various sizes depending upon the use case.
While most plyo boxes are either made of either wood or foam, the Rep 3-in-1 Soft Plyo Box combines the positives of each while mitigating the negatives. With the all foam boxes, you get the soft landing spot and reduced injury but over time the foam begins to give way and sagging in the most used spots. The wooden boxes will last forever, are cheap, and easy to make yourself, but you run into the injury issues mentioned above. The Rep Fitness 3-in-1 Soft Plyo Box gives you the best of both worlds and even improves on it with the non-stick vinyl cover.
What We Like About the Rep 3-in-1 Soft Plyo Box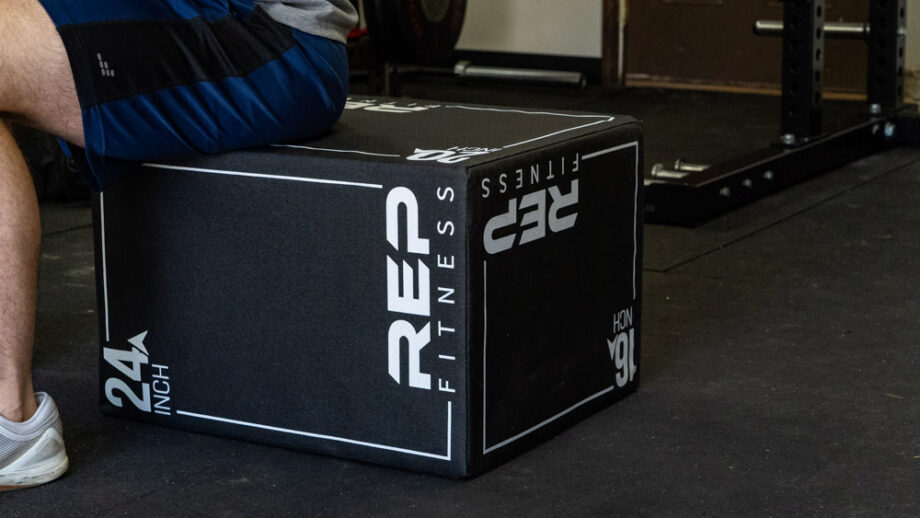 The best thing about the Rep 3-in-1 Soft Plyo Box is that it combines the best features of the wooden plyo-boxes with the best features of the foam boxes for a fraction of the price of comparable all foam plyo-boxes. Even if I ended the review here, this Rep Fitness product would be worth consideration solely on the ingenuity of the product. The fact that it takes the best aspects of two similar products and combines them together into one while at the same time mitigating the negative aspects of each is what makes the 3-in-1 Soft Plyo Box so great.
The different height options and the versatility provided by these are a great feature. You can purchase one box and essentially have the benefits of 3 or you can purchase all 3 sizes and have the benefits of purchasing 9. These height options, other than just offering versatility for box jumps, gives you the ability to do various other exercises as well. Cross-training, HIIT, elevated pushups, step ups, and the traditional jumps are all within reach because of the versatility of a solid box. Not to mention using it for box jumps due to its stability thanks to the inner wooden frame.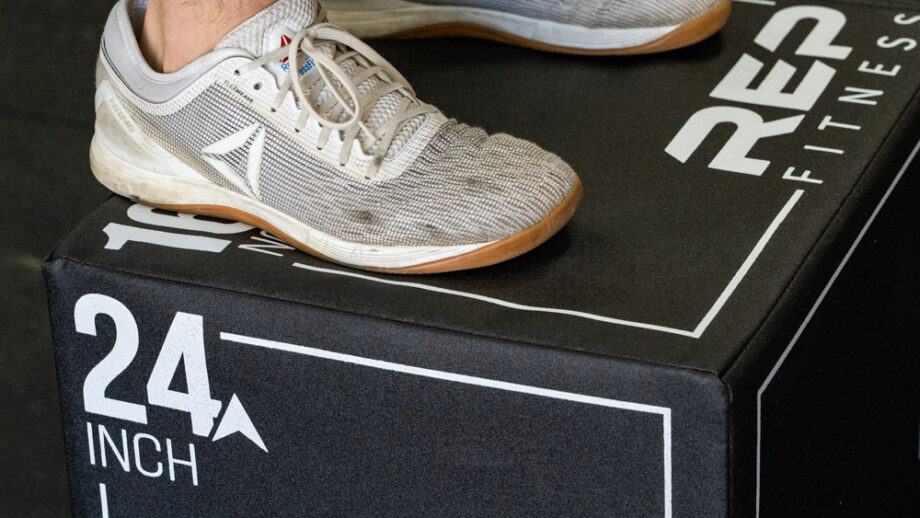 Aside from the ingenuity and versatility, this box is extremely practical as well. It weighs considerably less than your average foam box which makes it easy to move around. It is aesthetically pleasing which makes it practical both for commercial and personal use. The vinyl covering makes it slip-proof and the foam protects your shins which makes it ideal for any athletic level. And if you won't take my word for it, just look at the reviews on the Rep Fitness website. With multiple reviewers, there is yet to be anything but 5-star reviews and for good reason (although I'm sure they screen their reviews as most companies do.) This is the best product for the best price with the best features on the market…And it's not even close.
Rep 3-in-1 Soft Plyo Box vs Wood Plyo Boxes vs Foam Plyo Boxes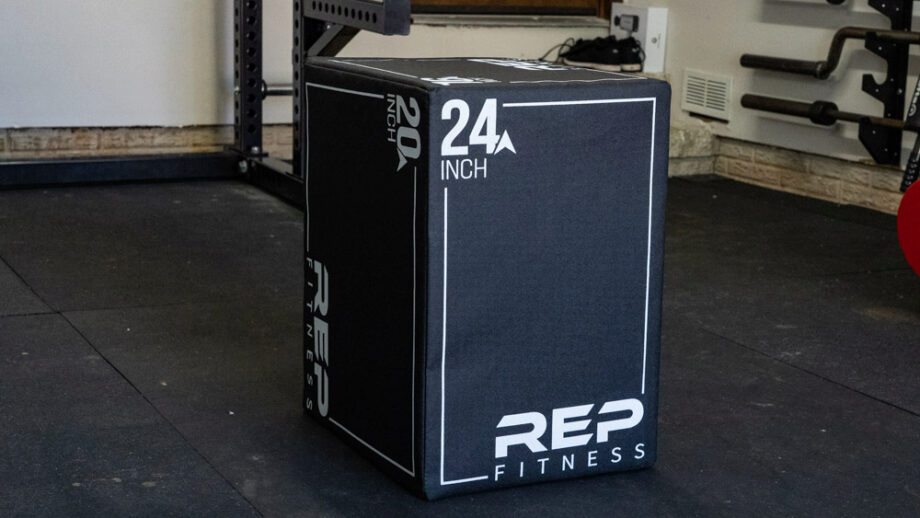 I have mentioned these comparisons throughout the review, but it is worth recapping here. The Rep 3-in-1 Soft Plyo Box combines the positives of the wood and foam plyo-boxes into one incredible piece of equipment. If you have been working out for any time at all, you have seen the damage a wooden plyo-box can do to your shins and joints. At the same time, you have probably seen how quickly a foam box begins to sag and then needs to be replaced. Not to mention the fact that even one foam box costs enough to break your budget. The 3-in-1 Soft Plyo Box takes the positives of a wooden box and wraps them in the safety of a foam box. It's as simple as that.
To get a little more specific, however, I will compare the Rep Fitness 3-in-1 to the Rogue Game Box. The first thing you will notice is the look. Even at a glance the Rep Fitness box looks like a more refined piece of equipment. On further review you will notice that the Rogue Game box is wooden and comes with all of the negatives associated with wood construction. One mistake or fatigue burdened jump and you may be finished for the day with an injury. This is the reason you now see foam plyo-boxes being used in the CrossFit Games instead of wood. While the Rogue Game Box has the same 3-sided versatility as the Rep Fitness Soft Plyo Box, it only has one size available rather than the small, medium, and large you can find at Rep Fitness. Even with the wood construction, the Rep 3-in-1 box is cheaper, better looking, and just as stable as the Rogue box. In fact, there is no comparison when it comes to quality, safety, features, functionality, and even style. The Rep Fitness soft plyo-box is the way to go.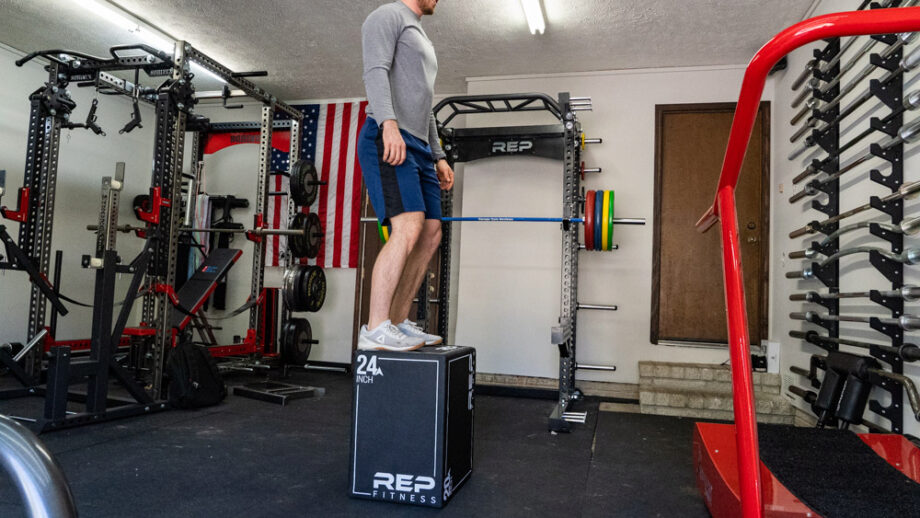 To be fair, we should compare the Rogue Foam Game Box with the Rep 3-in-1 as well. The first thing you notice is that the Rogue product is more than double the price of the Rep Fitness box. It also has the 3-in-1 versatility and the safety features of a foam box like we discussed earlier. Aside from the price, which is in itself a reason to purchase from Rep Fitness, it is important to remember the main negative of a foam plyo box…its lack of long-term quality. The foam, over time, will begin to sag and then will need to be replaced, especially in a commercial environment. We have a set of Rep Fitness' Foam Plyo Boxes, and although they're nice, they're unstable at very high heights and have begun to sag after only a year of use. Although foam is nice, it's expensive both in the short and long-term.
Minor Shortcomings
Compared to other products on the market today, there are very few shortcomings to this Rep 3-in-1 Soft Plyo Box. This is the best value plyo-box for most people and the one we will begin recommending to those who ask.
There are, however, some negatives to every piece of equipment out there and the Rep 3-in-1 has a couple. The first is that there are no carrying handles. It is pretty lightweight which makes it portable, but without handles, it is quite awkward to carry and to move. This could be a simple fix, but it is a slight downside to the product.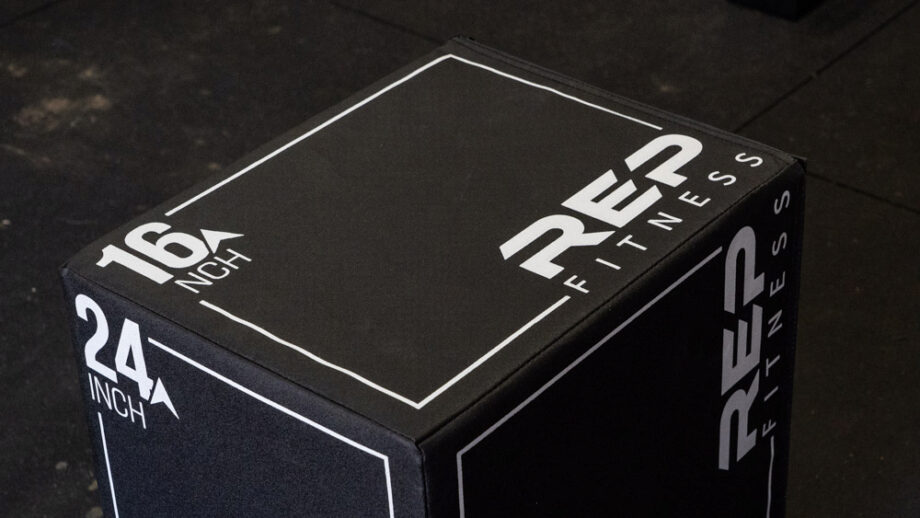 Full Rating
Where to Purchase
Rep Fitness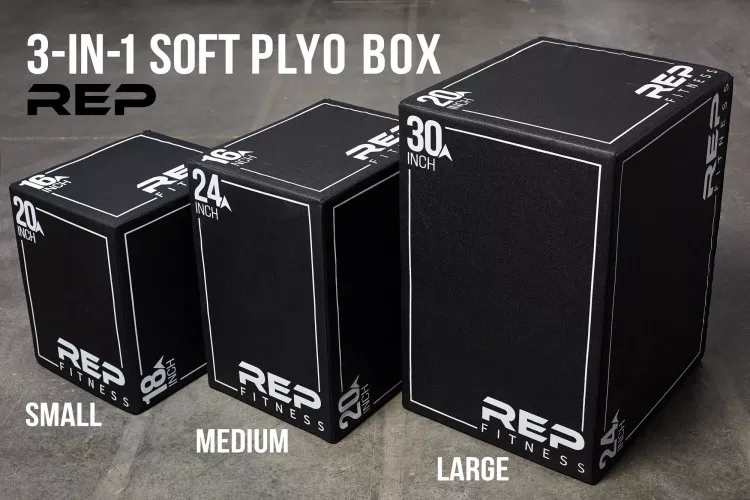 Rep 3-in-1 Soft Plyo Box
Our 3-in-1 soft plyo boxes are designed to take the fear out of box jumps and add back the fun! No more worry about scraped or bruised shins, the soft foam cover absorbs impact, but unlike many other competing soft boxes, the unique inner wood core design keeps it stable on all sides. Jump boxes work well for cross training or HIIT workouts for step-ups, jumps, elevated pushups, and many other exercises. Each box gives you 3 different height options, just flip it to the side you want and jump away! Fully assembled and ready for use right out of the box, these plyometric boxes are a great choice for either commercial or residential use. Key Features: Soft plyo box helps prevent injuries to shins on missed jumps. Cut open (and scarred!) shins is a common problem with traditional wood plyo boxes. Overcome fears of missing a jump when you're tired at the end of a workout, or when you push yourself to try a new height. Our combo-core is a mix of wood for stability, and firm foam for padding the outside. Unlike other 3-in-1 soft plyo boxes on the market, ours is just as stable as a traditional wood plyo box on every side of the box. This is the key problem with all competing soft plyo boxes, and we've solved it! Durable non-slip textured vinyl cover. Multiple size options to suit your needs