Titan Fitness has come out with their most heavy-duty squat rack yet.
The Titan Fitness X-2 Power Rack may only have 2x2 uprights, but thanks to the thickness of the steel being 9 gauge compared to the traditional 11 gauge racks, the Titan X-2 Power rack can hold over 3,000 lbs making it one of the strongest rated racks on the market.
We reviewed the Titan T-3 in the past and have given great praise for being very similar to the Rogue R-3 at a much lower price.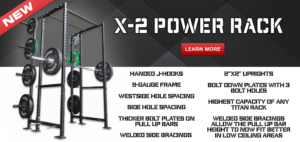 The Titan X-2 features familiar features of many racks you've come to love including:
J-Cups (left and right-handed, one of our biggest complaints from their previous offerings.)
Fat and Skinny Pull-up Bar
4 plate holders included
4 band pegs
Westside hole spacing through the bench area
Side hole spacing for additional accessory points.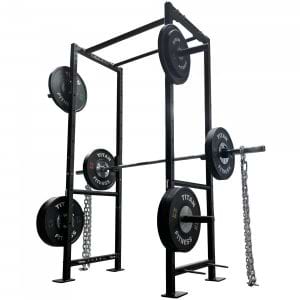 The Titan X-2 also comes in at a price point that blows many of its competitors out of the water. Typically, we suggest staying away from 2x2 racks, however, at this gauge steel, it's actually stronger than many of the 2x3 and 3x3 racks currently on the market. That said, due to the thinner posts, there may be a bit more sway, although Titan has beefed up all of their connection points at the pull-up bar and foot plates.
If you're looking for a squat rack that can take just about anything you can throw at it, at a price that can't be beaten, then this is an excellent option for a rack.
We continue to be impressed by Titan Fitness and are excited to review their upcoming offerings in more detail.