We test and review fitness products based on an independent, multi-point methodology. If you use our links to purchase something, we may earn a commission. Read our disclosures.
There is nothing like a good song getting you through a grueling workout in the gym. For me, I love putting on a pair of headphones and tuning my Spotify to anything Iron Maiden or Megadeth. That's just me, though. Maybe it's not music that gets you hype—perhaps you enjoy working out to an audiobook or podcast. No shade here, I'm here for whatever gets you moving!
Here's the dilemma with headphones: What happens when you're working so hard that you're just pouring sweat? Do you take your headphones off? Do you dare to stop the music?
Thanks to this guide of the best waterproof headphones, you'll no longer have to choose between working up a sweat or enjoying your favorite workout tunes, because let's face it, you should be able to do both.
We Handpicked Waterproof Headphones So You Don't Have To
When it comes to fitness equipment, our team of expert product testers has had hands-on experience with everything from barbells and treadmills to wearable technology like fitness trackers and wireless headphones.
It also helps that our product testers a bunch of fitness geeks, including certified personal trainers, former college athletes, and nutrition coaches. Collectively, we've tested just about everything you could need for a home gym. To put waterproof headphones to the test, we had to lift, run, and swim to find out if they matched our high standards of fitness equipment.
Best Waterproof Headphones
Waterproof Ratings And What They Mean
Before I get into the list of best waterproof headphones, I first want to go over the fact that not all waterproof ratings are created equal. The level of water a pair of waterproof headphones can tolerate is measured with an international IP rating—short for Ingress Protection. This measurement captures how well a device stands up to both solids (like dust and dirt) and liquids (like water and sweat).
The IP grading system was developed by the International Electrotechnical Commission (IEC), which is an organization that sets standards for basically all electronic technology ranging from healthcare and home appliances to solar technology and cyber security.
Without getting too nitty gritty about the details on this, let's cover what the rating means. The rating starts with the letters "IP" followed by two numbers. The higher the numbers go, the better protection the device has against the elements. The first digit represents its rating to solids (on a scale of 0 to 6) and the second digit represents liquids (on scale of 0 to 9).
For example, an IP rating can look like this: IP57. The numerical value of the first digit (5) is the rating against solids. The second digit (7) represents how it's rated against liquids.
If a product is not rated for both, you might see a value that looks like this: IPX5. In this case, the "X" indicates it does not have a rating against solids but does have a rating against liquids.
In the spec charts for each pair of headphones featured in this roundup, there will be an IP rating included and a short description of what that rating will tolerate.
Best Overall Water Resistant Headphones: PowerBeats Pro
Good for: Anyone looking for an earbud with high-quality audio and additional tech features
The PowerBeats Pro earbuds from Beats by Dre have been meticulously designed to endure workouts and stand up to sweat. These earbuds made the top of our list for best water resistant headphones due to the incredible sound and tech capabilities.
Although these headphones are not submergible by any means, they do have an IPX4 rating, which qualifies these headphones as splash-resistant. They can take water and sweat but not for sustained periods of time.
The PowerBeats cost about $249, but are often on sale for about $200. We think that's quite a lot for a pair of headphones, but once GGR editor Nicole Davis gave them a try, she soon found out what you get for that price. The sound quality is incredible with "spatial audio" which brings a surround-sound-like effect to your ears. Nicole also mentions that the noise cancellation is also quality enough that it's worth mentioning it could be potentially hazardous for outdoor runs.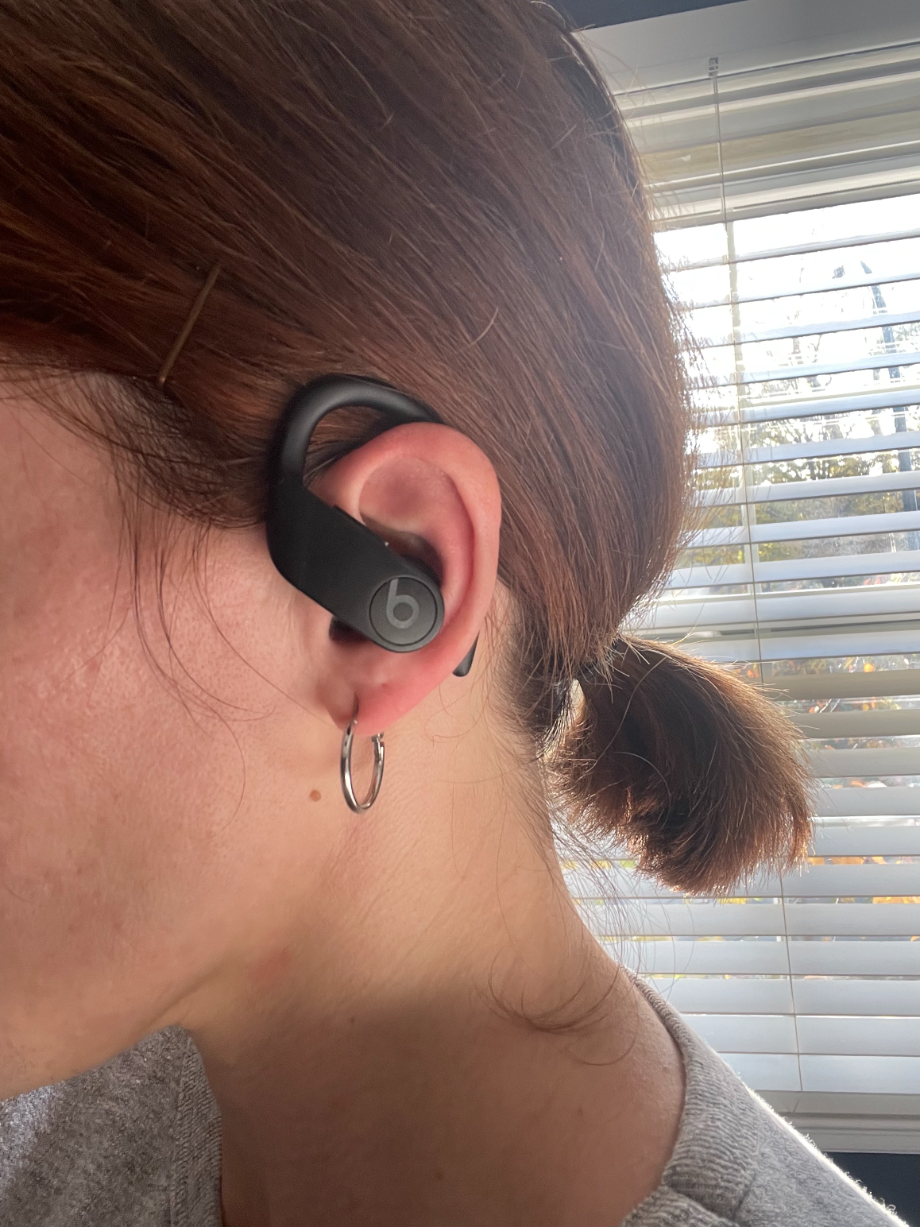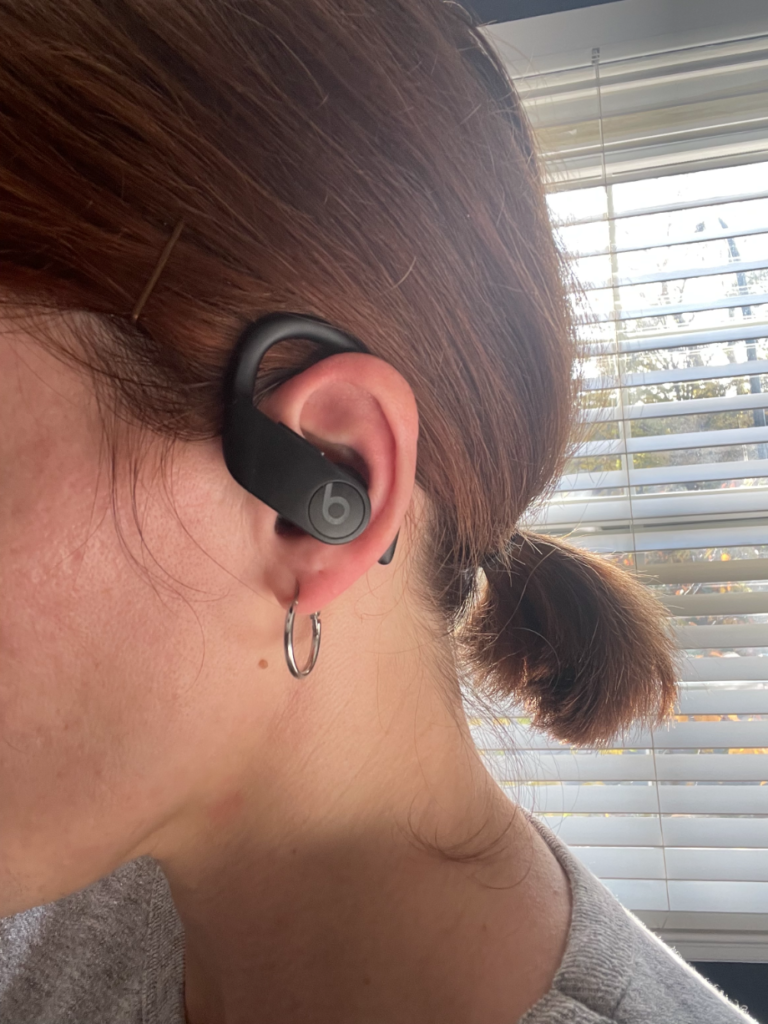 Nicole also likes how easy it is to pair the PowerBeats with her phone. "Beats is part of the Apple family, and I have an iPhone, so the connectivity is amazing. I can't say from experience if it would be the same for an Android user," she says.
In addition to water-resistant qualities, high-end audio, and easy pairing, the PowerBeats also feature hands-free Siri controls and audio sharing. The sharing feature allows you to connect another pair of Beats headphones or AirPods to one iPhone so you can enjoy the same playlist with a friend (I guess the days of headphone splitters are behind us now).
| | |
| --- | --- |
| Price | $249 |
| Waterproof Rating | IPX4 (protected against splashing water) |
| Battery Life | 9 hours |
| Noise-Canceling | Yes |
Best Waterproof Headphones For Swimming: Shokz OpenSwim Bone Conduction
Good for: Swimmers who want high-quality audio underwater
The Shokz Open Swim Bone Conduction headphones are perfect for swimmers, because they are actually rated to go under water up to 2 meters and stay underwater up to two hours. These headphones also leave the ear canal open and use bone conduction technology to transmit sound through vibrations into your ear canal.
Product tester and GGR editor, Amanda Capritto loves the open-ear design of bone conduction headphones as a way to avoid the discomfort she faces with traditional in-ear headphones. However, she mentions that some people may find these headset-style headphones annoying because you can feel them on the back of your head.
However, Amanda notes that once she was in the pool, she didn't notice the headphones or the sensations of them around the back of her head at all. "They fit under my swim cap and honestly sound better in the water than out," she adds.
It all sounds good, right? However, if you want to listen to your favorite tunes while you swim, you'll have to be on board with the fact these are not Bluetooth compatible. This pair of headphones is pretty much a waterproof MP3 player. If you're wondering why, it's not because these headphones are low-tech—it's because a wireless Bluetooth connection does not easily penetrate water.
That means you'll have to treat these headphones like a built-in MP3 player from the 2000s. You will have to load MP3 files of your favorite music from your computer onto the Shokz headphones. I know this sounds archaic, but the good news is that there is tons of storage and you can add up to 1,200 songs.
| | |
| --- | --- |
| Price | About $150 at Walmart |
| Waterproof Rating | IP68 (totally submersible up to 2 meters, for 2 hours) |
| Battery Life | 8 hours |
| Noise Canceling | No |
Best Waterproof Headphones For HIIT: HAKII IPX7 Action Workout Wireless Headphones
Good for: Anyone who needs a secure fit for high intensity workouts
The first thing I like about the HAKII IPX7 Action Workout Wireless Headphones is that they give you the waterproof rating directly in the name. These headphones are protected against the temporary effect of water and can even be submerged underwater (up to 1 meter) for up to 30 minutes. The IPX7 rating will give you total confidence that these are sweat-proof and can be used for outdoor runs in any weather in condition. You can also rinse these headphones after vigorous workouts knowing no damage will be done.
The second standout feature for the HAKII earbuds is the fact that the ear hooks do a fabulous job of keeping the earbuds in place. They also are flexible enough to not hurt the back of your ear, even with a few hours of use. Not only did I test them for long durations, but I ran with these on both pavement and trails and experienced no movement whatsoever. These earbuds were easily the best waterproof headphones for running that I tried, leading me to believe they'd be perfect for HIIT workouts, too.
The one thing I disliked about how well they fit, is taking them out. Through trial and error, I've realized the best method to take the HAKII out of your ear is not to pull it out of the ear canal, but instead twist the ear hook off the back of your ear until the earbud comes loose. When I tried just pulling it out of my ear, it gave me an instant headache, which I think came from how snug the ear tip fit inside the canal.
Speaking of the ear tips, the HAKII earbuds come with a variety of differently sized ear tips for a more comfortable fit, which I found necessary. The default ones that came with the packaging didn't fit in my ear, but I have a pretty small ear and a seemingly small ear canal, too.
Lastly, as for sound quality, HAKII claims these headphones are an audiophile's gospel. I personally think that statement is a stretch. Although these headphones have quality sound, I've certainly heard better. However, for under $100, I think the sound is more than decent.
| | |
| --- | --- |
| Price | About $94 on Amazon |
| Waterproof Rating | IPX7 (temporary immersion in water up to 1 meter for 30 minutes) |
| Battery Life | 36 hours |
| Noise Canceling | Yes |
Best Budget Water Resistant Headphones: JLab Go Air Sport
Good for: Budget conscious people or anyone with small ears
JLab Go Air Sport headphones have a IP55 rating, which means these earbuds have an efficient dust-protection rating and a water rating that protects not just against a splash of water but a power stream of water (like running the JLab under the faucet to clean).
I'll be honest: The sound is just okay. I expected far worse from a pair of $30 headphones, however, so I was pleasantly surprised that the audio does not sound like you're inside of a tin can. These also work well with calls and have a built-in microphone in each earbud. I had no complaints from anyone I've chatted with while wearing these headphones, including calls I've taken while walking outdoors.
I'm also a huge fan of the small in-ear design with a pliable hook for the back of your ear. It doesn't feel like too much pressure over the ear or from the back. The fit was perfect for my small ears, which I found were giving me trouble with other earbuds I tested.
For an inexpensive pair of headphones, I'm pretty impressed with the long battery life of 8 hours of playback time and an additional 24 hours from the charging case. So, even if you go through the full eight hours of battery life, you can pop the earbuds back into the charging case and get a boost from the charge that the case stores after being plugged into a USB port.
| | |
| --- | --- |
| Price | About $30 on Amazon |
| Waterproof Rating | IP55 (protected against dust and jetting streams of water) |
| Battery Life | 8 hours (plus 24 hours from the charging case) |
| Noise Canceling | No |
Best Noise-Canceling Waterproof Headphones: Jabra Elite Active 75t True Wireless Bluetooth Earbuds
Good for: Anyone looking long battery life and distraction-free listening
The Jabra Elite Active wireless headphones are rated to be submerged in up to 1 meter of water for 30 minutes, with an IP57 distinction. That means these waterproof earbuds can withstand water, but they are not designed for swimming. They're also protected against dust.
I personally tested these headphones and I think the waterproof rating is not only helpful for sweaty workouts but rinsing the ear tips and part of the earbud that goes inside the ear canal. I find this especially useful after a tough workout or to prevent any wax build up.
The most exceptional feature for the Jabra is the listening experience. My favorite Iron Maiden songs came through with crystal clear quality, and playback on phone calls was far better than I've heard taking a phone call on wireless headphones. Phone calls had excellent audio and my comrades reported no trouble with hearing my voice from the four different built-in microphones.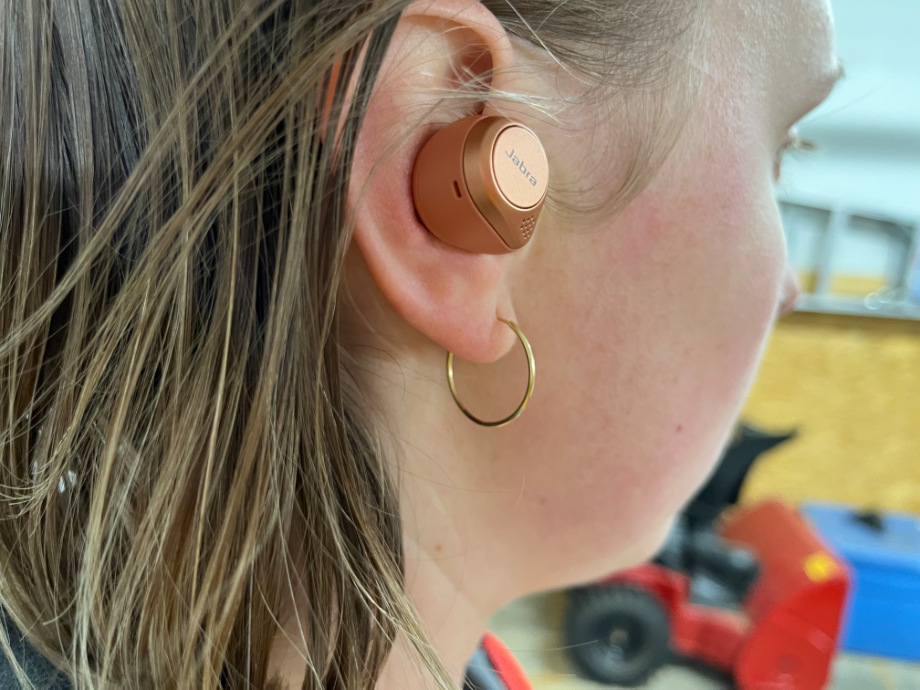 In addition to quality sound, the Jabra earbuds also feature fabulous active noise-canceling technology, also referred to as ANC. Apparently if you turn off the ANC, your 24 hours of battery life can improve to 28 hours in total, which I didn't realize when I was testing these out. Another note about Jabra's tech capabilities: These were super easy to connect with my phone and I'd say these were the best Bluetooth waterproof headphones I tried. Lastly, I will mention that these are a little too large for my ear and without ear hooks, they don't stay put. The Jabra earbuds come with a few silicone ear tips so you can customize how the earbud fits inside the ear canal. Although experimenting with different tips improved the fit, I wouldn't trust myself to run outside with these.
| | |
| --- | --- |
| Price | About $240 on Amazon |
| Waterproof Rating | IP57 (protected against dust and rated for temporary immersion in water up to 1 meter for 30 minutes) |
| Battery Life | 24 hours |
| Noise Canceling | Yes |
Other Waterproof Headphones We Tested
Shokz Trekz Air Bone Conduction Wireless Bluetooth Headphones: A sweatproof, bone conduction pair of wireless headphones that didn't make the cut because of comfort. GGR writer Anthony O'Reilly reports they were super unforgettable, only had six hours of battery life, and the buttons were not intuitive.
H2O Audio Sonar IPX8-Bluetooth Bone Conduction Headphones: I personally tested these and wanted to love them for the ability to function as both an MP3 player and wireless Bluetooth-enabled headphones. Although the MP3 function worked (much like the Shokz OpenSwim headphones) I couldn't get them to pair with my Bluetooth-enabled devices.
IKANZI iPX7 Waterproof Wireless Headphones: These were budget-friendly and had decent sound, but they would not stay put. It felt like just turning around would make one earbud launch out of my ear.
How We Picked and Tested Waterproof Headphones
Waterproof rating: We chose to test headphones that had at least an IPX4 rating, which means we were looking for a headphone that was splash-proof.
Comfort: We tested many headphones, and not all made this list because of comfort and actual wearability during movement like walking, running, cycling, and lifting.
Battery life: We chose headphones that had at least 8 hours of playback time, with many of our selections being much higher than that.
Ease of use: We considered how easy it was to use the headphones and connect to Bluetooth. With the exception of the Shokz brand bone conduction MP3 headphones, all the earbuds that made this list were incredibly easy to pair with a device for instant listening.
Sound quality: We wanted to make sure that all the headphones on this list have quality audio playback that doesn't leave you stretching your inner ears. Although this list features a range in quality, none of our picks have unacceptable sound quality.
Benefits of Waterproof Headphones
Here are some benefits of waterproof headphones we think are worthy of mentioning:
Portability
Most wireless headphones have the benefit of Bluetooth connectivity and easy access to stream music directly from your phone, even at large ranges. You can leave your phone in one corner of the gym and freely walk to the otherside.
The compact charging cases that come with most wireless headphones double as wireless charging stations. It's easy to get more battery life on the go. These cases also act as clean and safe storage for these small pieces of technology.
Workout- And Sweat-Resistant
Not only can a pair of headphones resist weather and sweat, in many cases you can also use these water-resistant features to rinse or clean your headphones. Since earbuds go directly into your ear canal, it's never a bad idea to clean off any ear wax build up.
Sound Quality
With a device that can withstand both weather and sweat, a rain storm or a tough workout won't affect the audio playback you hear without the elements.
Buying Guide Waterproof Headphones
Here are a few things to look for when you're buying waterproof headphones:
Waterproof Ratings
This is probably the most important, because it's highly subjective and based on what you want out of your waterproof headphones. The IP rating is an international standard that goes beyond just headphones. As a rule of thumb, the higher the number next to "IP", the more waterproof the device is.
However, this can get confusing because the IP rating has two digits: the first is for dust and dirt while the second number is for liquids. If you want to see an accurate chart on these ratings, check out the IEC's official IP ratings.
Noise Cancellation
Not all headphones are created equal when it comes to noise-canceling capabilities. If this is important to you, be sure to check if your desired headphone has that technology. Remember that any bone conduction headphones will leave your ear open and will not have any noise-canceling properties.
Functionality and Fit
Based on the size and shape of your ear, you might be totally fine with any type of earbud style headphone, however if your ears are fairly small, you might need a pair with an ear hook to get a better, more snug fit.
Best Waterproof Headphones FAQs
Which waterproof headphones are the best?
This is highly subjective and depends on your waterproof needs. If you want to swim and listen to music, the Shokz Open Swim Bone Conduction will no doubt be your best bet. If you're just looking for headphones to resist your sweat, the PowerBeats Pro is our top choice. 
Do completely waterproof headphones exist?
Yes, the Shokz Open Swim Bone Conduction are completely waterproof and are rated for swimming up to 2 meters in depth and for up to two hours. 
Is IPX7 OK for swimming?
IPX7 is rated for the temporary effects of being submerged in water. The rating doesn't lend itself to water sports. This rating does mean the device can be submerged in water up to 1 meter and for up to 30 minutes.