We test and review fitness products based on an independent, multi-point methodology. If you use our links to purchase something, we may earn a commission. Read our disclosures.
The Rogue Fitness Ohio Bar is one of the best Olympic barbells on the market, so it stands to reason that creating a miniature version of it would result in one of the best loadable dumbbells, right? That's what we thought, so we put that theory to the test by trying out the Rogue DB-15 Loadable Dumbbell.
Our Rogue DB-15 Loadable Dumbbell review takes a look at this high-value and versatile piece of equipment to let you know if it deserves a place in your home gym. We'll also compare it and other loadable dumbbells to the adjustable dumbbells that most people know and love, and let you know which one we think works best for different home gym owners.
Reviews for Home Gym Owners, by Home Gym Owners
One of the many ways we're able to produce the best home gym equipment reviews on the internet is because we're just like you—we're home gym owners who know what it's like to be on a budget, workout in compact spaces, or be on the hunt for the top-of-the-line treadmills or exercise bikes. That's why we'd never recommend anything that we wouldn't use ourselves.
And as certified personal trainers, CrossFit and weightlifting coaches, and nutrition experts, we have experience in using all types of equipment to help ourselves and our clients accomplish their goals.
Load Them Up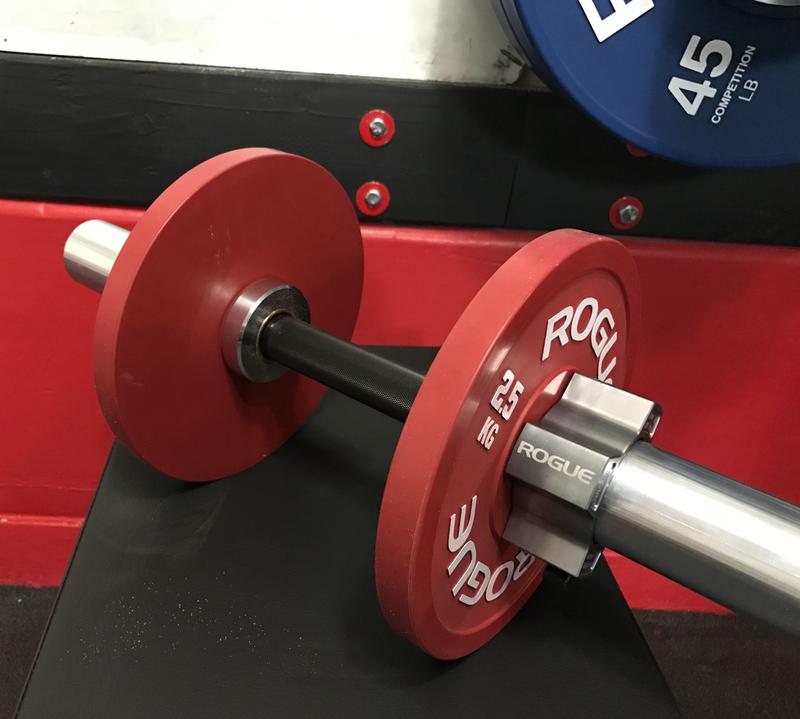 Rogue Loadable Dumbbells
Rogue's Loadable Dumbbells condense the key design and manufacturing elements of our full-size Ohio Bar into a compact, versatile new format. As an alternative to storing a complete set of traditional dumbbells in your gym, the DB-10 and DB-15 Dumbbell offer loadable sleeve lengths of 3.625" and 6.75" respectively–enabling athletes to make precision, custom weight adjustments in their dumbbell training using any standard Olympic plates as the increments.Using the same plates you'd load on a standard barbell, the DB-10 and DB-15 allow athletes to easily adjust the total weight of the dumbbell as they go through different movements and/or when they ramp up their training. This also makes the Rogue Loadable Dumbbell uniquely optimized for a larger gym, where multiple athletes need to be able to quickly customize the dumbbell to their own needs. One tool. All-purpose.The knurled handle carries over the same original pattern we developed for the Rogue Ohio Bar. Months of testing and fine-tuning went into precision-machining a firm but non-abrasive knurl that could maximize both performance and comfort. Please Note: The knurl pattern is the same on all versions of the Loadable Dumbbell. However, because the stainless steel option holds up without plating, the knurl will more accurately maintain its originally designed feel.Manufactured in Columbus, Ohio, the DB-10 and DB-15 really are built like miniaturized Rogue barbells, starting with a 28.5MM diameter, 190,000 PSI tensile strength steel shaft. The sleeves are machined from a single piece with a bright zinc finish, and both versions include quality bronze bushings and a snap ring sleeve design just like our Ohio Bars.
A Quick Look at the Rogue DB-15 Loadable Dumbbell
Rogue Fitness essentially took the Rogue Ohio Bar, a multipurpose Olympic barbell, and chopped it down into two dumbbell handles that you can load with as much weight as the sleeves can hold. And because the Rogue DB-15 Loadable Dumbbell comes with 6.75 inches of loadable sleeve length, the longest of any loadable dumbbell, that means you can put on a lot of weight.
The main appeal of loadable dumbbells is that you can use weight plates you already have in your home gym, but if you don't have any there are Rogue dumbbell bumper plates made specifically for these dumbbells. Coop tested those out a few years ago, and while he personally finds them "unnecessary," they're very well-built and perform well for anyone who decides to buy them.
The DB-15 weighs 15 pounds, compared to its little brother the DB-10 (which, as you could probably guess, weighs 10 pounds). The only other difference is that the DB-10 comes with a much shorter sleeve, with only 3.625 inches to load your plates.
Coop's Tips
Need a pair of barbell collars? You can add on a pair of Rogue OSO barbell collars for an additional $50.
If you want a cover for the end caps, you can easily create one with a 3D printer.
Reviewers say steel plates work better than thicker rubber ones, because you can load more per sleeve.
Pros:
Compatible with Olympic weight plates
Comes in two different finishes, stainless steel or black zinc
At around $150, excluding shipping, it's a great price for a heavy-duty piece of equipment
Same great knurling as the Rogue Ohio Bar
Cons:
Some reviewers find them to be a bit too long
Sold individually, not in pairs
Bushing rotation system requires occasional maintenance
Is the Rogue DB-15 Loadable Dumbbell Worth It?
These are the loadable dumbbells we'd recommend for most home gym owners, simply because the $300 price tag (that's the price per pair) is around the middle of the pack when it comes to cost. That price jumps to $400 per pair if you include the OSO collars.
The Titan Fitness Loadable Olympic Dumbbell Handles are $99 per pair, but they aren't as strong and don't have as much sleeve length, and while the Gungnir Dumbler is certainly a better-built dumbbell, it costs $499 and has a shorter sleeve.
Beyond that, Rogue's loadable dumbbell is a fantastic piece of equipment with some of the best knurling, and great tensile strength.
Great for:
Home gym owners looking to make the most of equipment they already own
Trainees who want to lift very heavy weights
Anyone who likes really great knurling on their dumbbells
Not recommended for:
Those on a budget
Anyone who has thick weight plates, or those who don't own plates
Trainees who prefer a shorter dumbbell
Rogue DB-15 Loadable Dumbbell Specs
| | |
| --- | --- |
| Total length | 20.5" |
| Loadable sleeve length | 6.75" |
| Compatible with | Olympic weight plates/Rogue dumbbell bumper plates |
| Weight | 15 lbs |
| Grip diameter | 28.5 mm |
| Handle | Stainless steel or black zinc |
| Sleeve coating | Bright zinc |
| Bushing/bearing | Bushing |
| Warranty | Lifetime |
Using the Rogue DB-15 Loadable Dumbbell
If you're wondering, 'Why would I want a dumbbell that's constructed to the same specs as a Rogue barbell," the simple answer is that it's going to benefit your training in the long run. As GGR product tester and certified personal trainer Amanda Capritto explains, dumbbells are one of the best pieces of strength training equipment out there.
"Dumbbells are extremely versatile and can be used for many different exercises to improve strength and conditioning alike," she says. "By manipulating rep schemes, rest intervals, tempos, and exercise variations, you can use dumbbells to support virtually any fitness goal."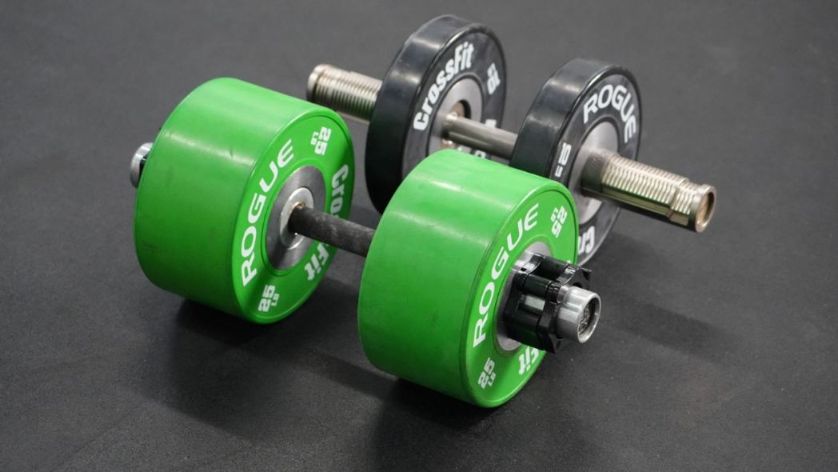 The problem, however, is dumbbells rarely get heavy enough for moves like rows and bench presses without paying an ungodly amount of money. Not only are standard dumbbells overly expensive, they also take up way too much space. Unless you have a particularly large garage gym, it's tough to find room for an entire set of dumbbells.
Enter the Rogue DB-15 Loadable Dumbbell, which can be used for everything from curls to snatches.
As we've said, the DB-15 is essentially like a miniature Rogue Ohio Bar. Imagine if that barbell met the machine from Honey We Shrunk the Kids.
Here are the similarities between the Ohio Bar and the DB-15:
Made in USA
Black zinc shaft (also comes in stainless steel) and bright zinc sleeves
Standard knurl
28.5-mm shaft diameter
Bronze bushings
190,000-pound tensile strength steel
Lifetime warranty
The only differences between the two are that the Ohio Bar is longer and weighs more. Where else can you get a top-shelf barbell the size of a dumbbell?
Also, where else can you find a 350-pound dumbbell? That's right, this bad boy can be loaded up to more than 350 pounds.
There's really only one thing we'd change, and that would be to add an option for a thicker handle (other reviewers have said this as well). The DB-15 has a 28.5 millimeter handle, which is about the standard for a loadable dumbbell, but there's nothing like a fat-handled dumbbell to test your grip and forearm strength.
But then again, that's what Fat Gripz are for.
Another minor inconvenience is that the end caps can be slightly uncomfortable when placed on your legs before doing shoulder presses, but that can be solved by finding a 3D printer near you (you can Google it) and making a few. Other people have placed a circular piece of foam at the end, secured by their collar.
And while we didn't find this to be a problem, some reviewers have said the dumbbell is too long for them. It clocks in at 20.5 inches in length, which is longer than a hex dumbbell and many other types of dumbbells.
Loadable Sleeve Length
The Rogue DB-15 Loadable Dumbbell has a 6.75-inch sleeve, giving you plenty of space to load up as many weight plates as you want. Technically it can hold up to 350 pounds, but that's going to depend on how thick your weight plates are.
For example, the Rogue dumbbell bumper plates take up the entire sleeve so you can only fit one 45-pound plate per side at a time.
Another caveat is that you're going to have to leave some space for barbell collars to hold the plates in place. It should be noted that traditional barbell collars will start to deteriorate over time, causing some slop between the plates.
Knurling
The Rogue DB-15 Loadable Dumbbell and the Ohio Bar have a medium-depth knurl that's aggressive enough for heavy lifts, but not so sharp that it'll hurt during high-rep sets.
Rotation System
The Rogue DB-15 Loadable Dumbbell uses bronze bushings for its rotation system, which is durable but could require occasional maintenance with a 3-in-1 oil on the sleeves.
You'll get enough spin when doing snatches, but not so much that it should affect slower movements like Romanian deadlifts.
Construction and Durability
The Rogue DB-15 Loadable Dumbbell comes in either a stainless steel or black zinc finish on the handle, both of which should provide many years of corrosion- and rust-resistance.
The dumbbells have a tensile strength of 190,000 pounds, meaning they can handle just about anything you throw at them.
Rogue DB-15 Loadable Dumbbell vs Gungnir Dumbler
Built-in Collars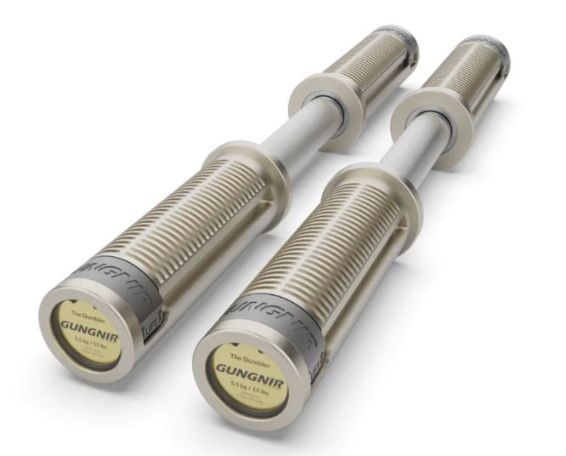 Gungnir Dumbler Loadable Dumbbell
The Gungnir Dumbler Loadable Dumbbell helps you save money in two ways. The first is that you can use Olympic weight plates you already own to get them to your desired weight, and the second is they come with built-in collars to secure the weight. Hey, that's European engineering for you.The collars are the most secure we've ever seen, and they don't allow the plates to budge even a little bit. Traditional collars will be tight at first, but will loosen over time and cause some slop between the plates.Gungnir's loadable sleeve length aren't the longest, but depending on how thick your plates are you can go up to 264 pounds per hand, which is more than enough for most home gym owners.
The Gungnir Dumbler is, without a doubt, one of the best-built pieces of equipment we've ever tested. While it has a shorter loadable sleeve length of only 4.25 inches, the main appeal of these dumbbells is that they come with built-in collars that will make sure your weight plates never budge an inch.
But one of the reasons we recommend the Rogue DB-15 Loadable Dumbbell over the Dumbler is that the latter is $499. In our opinion, there's no reason why most home gym owners would ever need a loadable dumbbell that expensive, but if you want the best-of-the-best, you'll be rewarded for your investment.
| | | |
| --- | --- | --- |
| Product | Rogue DB-15 Loadable Dumbbell | Gungnir Dumbler |
| Price per pair | $300 | $499 |
| Loadable sleeve length | 6.75" | 4.25" |
| Diameter | 28.5 mm | 28 mm |
| Compatible with | Olympic weight plates | Olympic weight plates |
| Weight | 15 lbs | 12 lbs |
Rogue DB-15 Loadable Dumbbell vs Titan Fitness Loadable Olympic Dumbbell Handles
The Budget Choice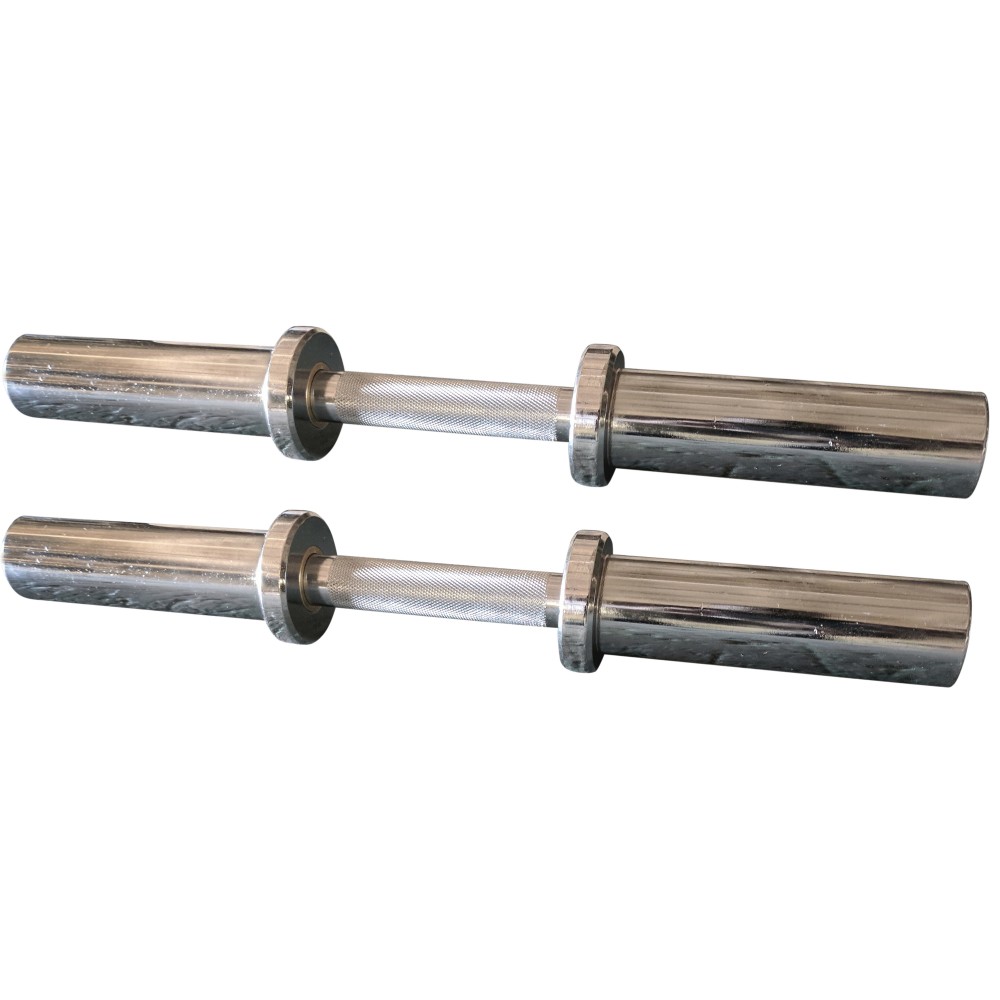 Titan Loadable Olympic Dumbbell Handles
The Titan Loadable Dumbbell Handles offer a total-body workout thanks to their adjustability. They help you target chest, ab, arm, pectoral, and back muscles. You can also use them with lunges and squats to target your hamstrings, quads, and glutes. They are good for abdominal workouts as well when doing bends and twists to tone your obliques. You can do bent-over rows, hammer curls, bicep curls, deadlifts, kickbacks, chest flies, skull crushers, and bench presses as you exercise with these dumbbells.These dumbbells are made of durable, high-quality steel material. Their knurled handle prevents the weights from slipping out of your hand. These handles have 6.5 inches of loadable sleeve on each end to allow different weight options. The sleeve diameter is 1.9 inches, which means they are compatible with Olympic plates. 
If you're on a tight budget, the Titan Fitness Loadable Dumbbells are a great choice. They're slightly shorter than the Rogue DB-15 Loadable Dumbbell and come with pretty good knurling, but the one downside is that the rust- and corrosion-resistance is not as good as Rogue's.
But it's still a great choice for home gym owners who want to use the weight plates already lying around their home gym.
| | | |
| --- | --- | --- |
| Product | Rogue DB-15 Loadable Dumbbell | Titan Fitness 20-inch Loadable Dumbbell |
| Price per pair | $300 | $99 |
| Loadable sleeve length | 6.75" | 6.5" |
| Diameter | 28.5 mm | 28 mm |
| Compatible with | Olympic weight plates | Olympic weight plates |
| Weight | 15 lbs | 12.1 lbs |
Loadable Dumbbells vs Adjustable Dumbbells
If you're a home gym owner trying to decide between loadable dumbbells and adjustable dumbbells, here are a few reasons why you might choose one over the other.
Adjustable dumbbells come in preset weight increments, which can vary anywhere from 2.5 to 10 pounds, and many don't go above 100 pounds. Loadable dumbbells, on the other hand, can be used to micro-load, or add minimal weight to your lift to help achieve progressive overload (which involves increasing the weight or volume of a movement to help make a lifter stronger or more muscular).
This makes loadable dumbbells a great choice for bodybuilders and powerlifters. Adjustable dumbbells sometimes differ in shape from a traditional dumbbell, which can also affect the range of motion you can achieve on certain movements. And unless you're willing to pay top dollar, not many adjustable dumbbells are going to come with a knurled handle that you can find on the Rogue loadable dumbbell.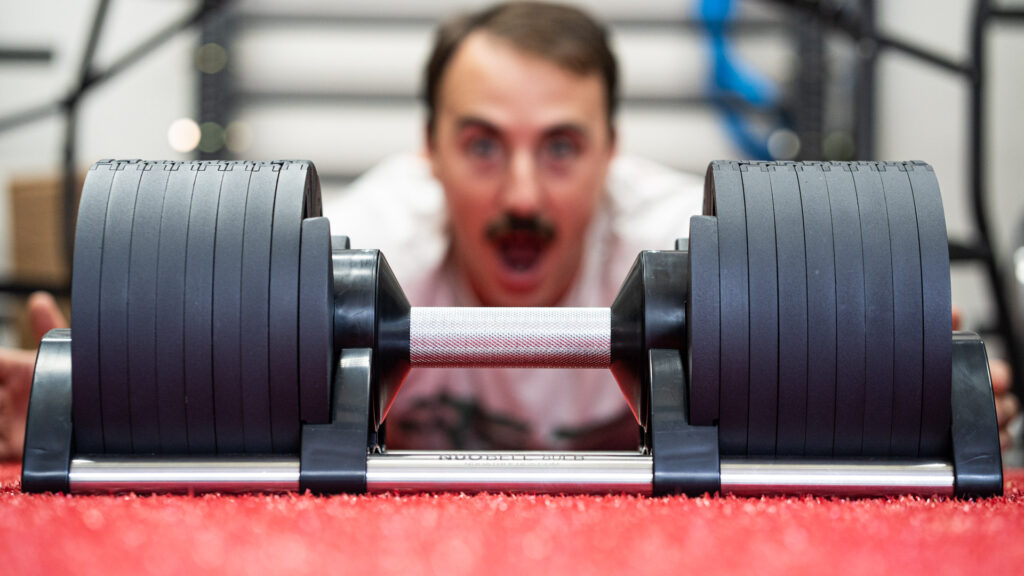 Finally, loadable dumbbells are much more durable than even the best adjustable dumbbells because they're made with high-quality materials like stainless steel. Adjustable dumbbells are constructed with lots of plastic, especially when it comes to the adjustment mechanism, and can crack if dropped.
One advantage of adjustable dumbbells is that it takes less time and effort to change the weight than a loadable dumbbell. Let's say you're doing a HIIT (high-intensity interval training) workout, and you need a lighter dumbbell for a certain movement. Taking the time to change plates on your loadable dumbbell is going to disrupt your flow, as opposed to just adjusting the pin on a pair of Powerblocks.
Adjustable dumbbells are also the better option for those in compact spaces such as apartments. I mean, can you imagine trying to find room for a stack of Olympic plates in a studio apartment? 
RELATED: Best Dumbbell Workout
Returns, Financing, and Warranty
Rogue Fitness allows you to return unused items within 30 days of delivery, and it must be sent back in its original packaging.
There are a number of financing options available at checkout that allow you to split the cost of the Rogue equipment into monthly installments.
The Rogue DB-15 Loadable Dumbbell comes with a lifetime warranty, but that warranty doesn't cover any misuse of the product (in other words, don't drop it from the top of your power rack the same way we frequently do).
Ordering and Assembling the Rogue DB-15 Loadable Dumbbell
We need to emphasize this again: The Rogue DB-15 Loadable Dumbbell is sold individually, not in pairs. If you want to have a dumbbell in each hand, you need to order two of these. Simply choose which finish you want for the shaft, and click "Add to Cart."
The loadable dumbbells require no assembly. Simply load up the plates and get to lifting.
Customer Reviews
As of this writing, the Rogue DB-15 Loadable Dumbbells has more than 100 reviews on Rogue's website and most are five stars. Those who rated it highly call the dumbbells a "home gym necessity."
The few low marks come from people who found them to be a bit too long.
Final Verdict of Our Rogue DB-15 Loadable Dumbbell Review
As expected, a miniature version of the Rogue Ohio Bar performs just as well as its bigger brother. That's not to say the Rogue DB-15 Loadable Dumbbell is perfect, as there are a few things we'd change about it. But, as far as loadable dumbbells go, this is our pick for most home gym owners.
What we like about it:
High-quality construction
Same great knurling as the Ohio bar
6.75 inches of loadable sleeve length
Can be used with weight plates you already have
Our complaints:
Total length is longer than other dumbbells
End caps may hurt when placed on legs
A thicker handle option would be nice
Rogue DB-15 Loadable Dumbbell Rating
Rogue DB-15 Loadable Dumbbell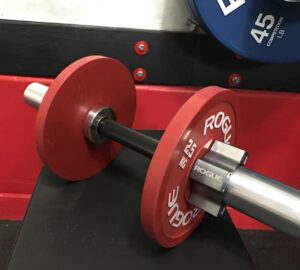 Got a stack of weight plates just lying around? Our Rogue DB-15 Loadable Dumbbell review will let you know why this is the perfect piece of equipment for your home gym.
Product Brand: Rogue Fitness
Product Currency: $
Product Price: 300 (per pair)
Product In-Stock: InStock
Rogue DB-15 Loadable Dumbbell FAQs
Are Rogue dumbbells worth it? 
Whether you're talking about the Rogue DB-15 Loadable Dumbbell or their urethane dumbbells, Rogue Fitness produces some of the best dumbbells for any home gym setup. They're made in the U.S. with high-quality materials, and while they're pricey at times, we find them to be well worth the price.
How much does a loadable dumbbell weigh? 
That's going to depend on the brand, and can vary greatly depending on which one you buy. The Rogue DB-15 Loadable Dumbbell, as its name suggests, weighs 15 pounds, but Rogue also sells a 10-pound option. 
How much weight can a Rogue 15 hold? 
Ultimately, it depends on the thickness of your weight plates, but the Rogue DB-15 Loadable Dumbbell can comfortably hold up to 350 pounds per handle.