We test and review fitness products based on an independent, multi-point methodology. If you use our links to purchase something, we may earn a commission. Read our disclosures.
So, you want to improve your health and start consuming more vitamins, minerals, and antioxidants. Someone's probably already told you to eat more fruits and veggies, but it can be really tough to get all of the essential nutrients you need each day from your meals alone. That's why so many people turn to dietary supplements like the best greens powders, which perhaps you've already explored—but maybe you just can't convince yourself to chug a grassy green drink no matter the purported health benefits.
Luckily, manufacturers are getting creative and providing consumers with more options. 8Greens, for example, is a greens supplement in the form of an effervescent tablet, much like Alka Seltzer or Emergen-C tablets.
In this 8Greens review, you'll learn how these greens tablets stack up to powdered greens blends and greens gummies, as well as if they meet the criteria for greens set forth by registered dietitian Bob Iafelice, Ph.D., who helped GGR establish our framework for rating green juice.
Medical disclaimer: This article is intended for educational and informational purposes only. It is not intended as a substitute for medical advice. For health advice, contact a licensed healthcare provider. GGR also recommends choosing a product that has been third-party tested for quality.
Greens Powders, Tablets, and Gummies Down the Hatch
Since 2014, GGR has been the authoritative source on building home gyms. We've obsessively covered everything from squat racks to treadmills to help people build amazing home gyms, and now we're helping people maximize gains and performance by providing authentic, honest, and customer-first reviews on dietary supplements. Our team of product testers includes certified personal trainers, nutrition coaches, Olympic athletes, and more—and we're committed to trying products firsthand so your shopping decisions are easier.
8Greens Effervescent Tablets
GGR Score: 2.875
Product Highlights
Greens supplement tablet 

Named because it contains 8 greens: spinach, kale, aloe vera, wheatgrass, blue green algae, barley grass, chlorella, and spirulina

8Greens shares their product helps nourish the body, support immune system, and boost energy
Pros & Cons
Pros
Dairy- and gluten-free and vegan
Available in 4 different flavors
Also available in gummy form
Additional versions aimed at skin health or energy boosts
Made in the United States
Variety pack available
Cons
Mixed reviews on taste
Subscribe-and-save option only available for 30- and 60-count
Some flavors may be sold out when you go to buy
Contains sorbitol and stevia leaf extract which may cause an upset stomach
Bottom Line
8Greens Effervescent Tablets are a daily greens supplement. The company's name refers to the eight greens contained in each tablet. 8Greens shares that the supplement will help support your overall health and well-being, increase energy, and support your immune system. The reviews for this product are mostly positive. However, some customers strongly disliked the taste of this product.
A Quick Look at 8Greens Effervescent Superfood Tablets
Straight from product tester and GGR editor Nicole Davis, 8Greens effervescent tablets are "really interesting because it's a tablet that you drop into water and it dissolves," unlike any other greens supplement she's tried.
8Greens was founded by Dawn Russell, who was experiencing health problems with no clear answers. She created 8Greens as a convenient, simple, shelf-stable way to consume more essential nutrients.
Off the bat, one thing I love about 8Greens as a company is that the founder is honest about the purpose of 8Greens tablets. On the website, it's clearly stated that "8Greens is not a replacement to a healthy diet, but rather a booster, a green helper."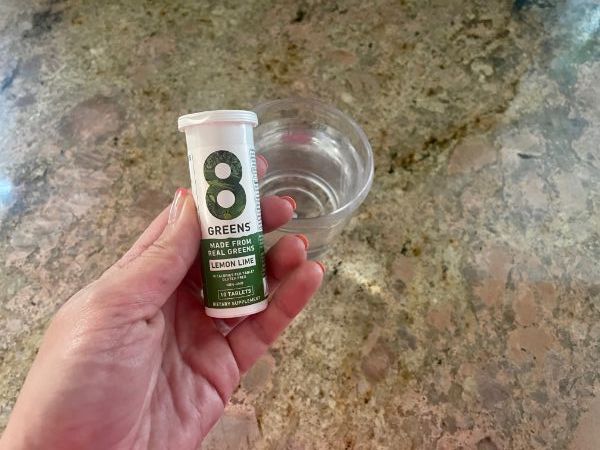 That's something that a lot of greens supplement manufacturers try to skirt—powders are not a replacement for real greens and are instead meant to supplement a diet rich in nutritious whole foods.
RELATED: Best Greens Powders for Bloating
Before You Buy
8Greens tablets are sweetened with sorbitol, which is not an artificial sweetener, but a sugar alcohol similar to erythritol. Sugar alcohols can cause gastrointestinal distress in some individuals.
This isn't the most well-rounded greens supplement. It contains several greens, but does not contain any fruit extracts, adaptogens, probiotics, prebiotics, or digestive enzymes like other options.
RELATED: Best Probiotic
Are 8Greens Tablets Worth It?
Every product is worth it to the right buyer. To make it easy, we've outlined who 8Greens is great for, and who should pass.
Great for:
Anyone looking for a simple supplement to support micronutrient intake
People who are on vegan, gluten-free, non-GMO, and/or dairy-free diets
Individuals who can't stand the taste of greens powders and want something yummier
Those who need a high dose of vitamin C, B5 B6, B12, and/or zinc
Not recommended for:
Individuals who want specific digestive support
People who are sensitive to sugar alcohols
Those who are looking for a greens powder with adaptogens
People who are already taking other supplements high in the same nutrients
RELATED: Amazing Grass Green Superfood Review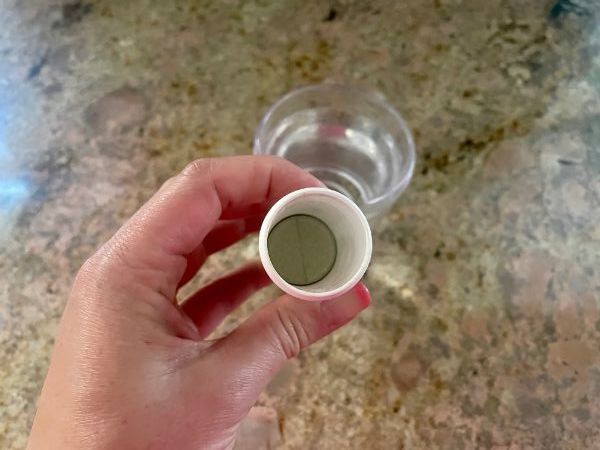 8Greens Specs
| | |
| --- | --- |
| Price per serving | $1.60 per tablet when you buy the 10-tablet pack |
| Flavors | Lemon Lime, Blood Orange, Melon, Peach Tea |
| Key ingredients | Proprietary greens blend: microcrystalline cellulose, spinach, organic aloe vera (inner leaf), organic wheatgrass powder, kale, colored with vegetable juice, turmeric, spirulina, organic barley grass, organic blue green algae, organic spirulina, organic broken cell chlorella |
| Serving size | 1 tablet |
| Other ingredients | Citric acid, sorbitol, natural flavors, corn starch, safflower oil, stevia leaf extract |
| Sweeteners | Sorbitol, stevia leaf extract |
| Third-party testing | No |
Experience Using 8Greens
Nicole Davis, product tester, GGR editor, and certified personal trainer, tried 8Greens and had a lot of positive things to say about it. In fact, Nicole wound up finishing her containers of 8Greens, and it became her go-to greens supplement for a few reasons: Not only did Nicole love the taste and convenience of the effervescent tablets, but her doctor informed her that she could safely consume 8Greens during her pregnancy.
"I've finished the container and really enjoy this!" Nicole says. "Adaptogens are not recommended while pregnant or nursing (largely because not enough is known about the safety of herbal medicines and supplements on maternal health1), so this is one of the few greens powders my midwife was OK with me consuming regularly—it's a nice afternoon pick-me-up, albeit it's a rather lacking formula if you look at what a greens powder should be holistically." (More on the formula later).
RELATED: 5 Super Greens Powder Benefits
Price Per Serving
If you buy the 10-tablet container, the price per serving is $1.60, which is almost right down the middle when it comes to greens blends, earning it 3.5 out of 5 possible points in this category.
The cost decreases substantially if you buy in bulk. On Amazon, the 60-tablet option drops the price to less than $1.20 per serving. On the 8Greens site, the 60-serving option is more expensive at $1.30 (list price $78).You can also sign up for the subscribe-and-save option if you want to save even more. There is a subscription option both on Amazon and on the 8Greens website.
Note: Prices on Amazon fluctuate rapidly; this information is accurate as of writing.
RELATED: 5 Athletic Greens Alternatives
Formulation
The 8Greens website claims that one tablet contains as much:
Vitamin B5 as 15 cups of broccoli
Vitamin C as 6 oranges
Vitamin B6 as 6 cups of spinach
Vitamin B12 as 7 cups of milk
Zinc as 3 cups of raw peas
Looking at the supplements facts label, that doesn't seem like a far cry from the truth. Here's what you get in one 8Greens tablet:
400 mg Vitamin C as ascorbic acid (444% of the daily value)
3 mg Vitamin B6 as pyridoxine hydrochloride (176% of the DV)
9 mcg of Vitamin B12 as cyanocobalamin (375% of the DV)
15 mg Vitamin B5, pantothenic acid as calcium pantothenate, (300% of the DV)
6 mg zinc (55% of the DV)
180 mg of sodium as sodium bicarbonate (8% of the DV)
90 mg potassium as potassium bicarbonate (2% of the DV)
Then, of course, there's the greens portion, which unfortunately is present as a proprietary blend. It contains: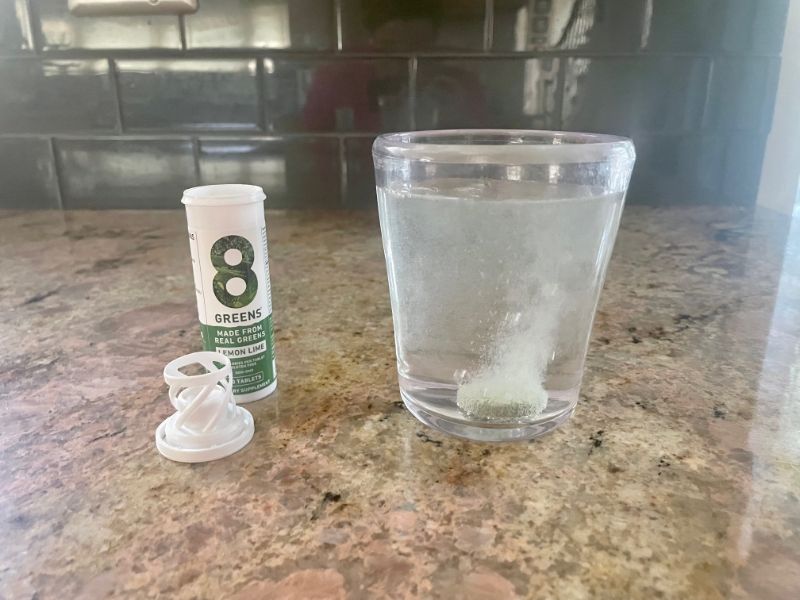 Microcrystalline cellulose
Spinach
Organic aloe vera (inner leaf)
Organic wheatgrass powder
Kale
Turmeric
Spirulina
Organic barley grass
Organic blue green algae
Organic spirulina
Organic broken cell chlorella
Because these leafy greens and grasses are present as a proprietary blend, there is no way for us to tell how much of each item is in the supplement. Additionally, because the proprietary blend totals just 690 milligrams while the tablet in full is 4.6 grams, it leads me to believe that this product is more of a drinkable multivitamin than a true greens powder supplement.
Even then, "This is not the best option if you want a greens powder that could replace a multivitamin," says Nicole, noting that the full spectrum of vitamins and minerals isn't present. "But, if you were just looking for a tasty drink to swap in for say, coffee or soda, this could be an option."
Finally, the vitamins that are present are there in very, very high amounts. Definitely read the labels on your other supplements and check for vitamins B5, B6, B12, and C to ensure you don't over-consume any of these nutrients.
Because the proprietary blend precludes us from understanding what's in the tablets in what amount—and because the tablets contain just greens with no adaptogens, fruit extracts, or digestive support—Nicole gave 8Greens just 1 out of 5 possible points for the formula category.
RELATED: Nested Super Greens Review
Taste and Solubility
8Greens got high remarks and scored well for taste and solubility. In fact, it's "delicious and not grassy at all" like most greens supplements, Nicole says. She tried the Lemon Lime flavor and says it's slightly citrusy. You can also get 8Greens in Melon, Peach Tea, or Blood Orange flavors.
The effervescence of the tablets is key to the texture. Nicole enjoyed the fizz and says it "blends pretty well, too." You simply drop the tablet in a glass of water, and sit back as it self-dissolves into the liquid—no shaking or stirring required.
Side Effects
While Nicole herself did not experience any negative side effects when using 8Greens, even after finishing an entire container, she did see some customer reviews that mentioned gastrointestinal distress. Because of that, she awarded 8Greens 4 out of 5 possible points in this category.
RELATED: Green Vibrance Review
Third-Party Testing
8Greens is not third-party tested, as far as we can tell through our research. "The main ingredient is a proprietary greens blend, which isn't great from a transparency standpoint," Nicole says.
Third-party testing isn't an end-all, be-all dealbreaker, but it is certainly important. When companies put their products through independent testing, it ensures that the products are safe and that labeling is accurate. We've noticed that many small and/or new companies do not have third-party testing in place, and we know that such testing can be expensive, so we don't want to penalize brands that are doing good work but just aren't there yet.
That said, a lack of testing and proprietary blends in combination doesn't feel very trustworthy.
8Greens vs Goli Supergreens Gummies
Goli Supergreens Gummies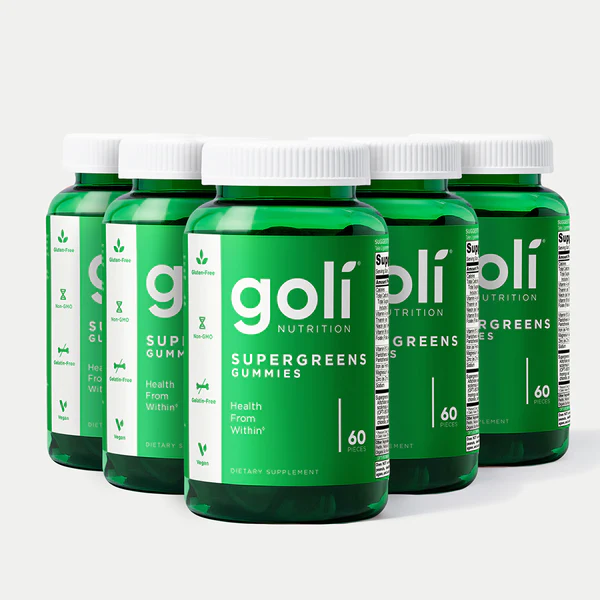 GGR Score: 4.1
Product Highlights
Plant-based greens gummy supplement 

Contains 11 supergreens 

Goli Nutrition states supplement supports overall health; digestive, immune, and nervous system health;  liver function; and energy metabolism
Pros & Cons
Pros
Vegan, gelatin-free gummy
Money-back guarantee
Non-GMO
Made in the United States in a cGMP-certified facility
Cons
Instructions state take 2 times per day
Taste is poorly reviewed; some people did not finish the bottle
Some users found gummies tended to stick together, especially near the end of the bottle
Bottom Line
Goli Nutrition Supergreens Gummies are a twice-daily supplement containing over 11 different greens. These gummies do not contain gelatin and are vegan. Goli Nutrition shares that these gummies help with overall health as well as digestive, immune, and nervous system health. They also help support a healthy liver and energy metabolism. Reviews of this product are mostly positive despite the taste getting negative reviews.
My guess is that if you're looking into 8Greens effervescent tablets, you are on a mission to find a greens supplement that tastes better than the usual earthy powder. I recommend checking out Goli Supergreens Gummies, which I tested and loved.
The gummies are similar to the tablets in that they are gluten-free, vegan, and non-GMO. Both products also contain proprietary blends and are not third-party tested, which, as mentioned, is not ideal but may not be a dealbreaker for you.
Some differences include: Goli uses cane sugar instead of sugar alcohols and stevia for sweetness; the serving size for the gummies is larger; the gummies are chewables while 8Greens is a drink; and the Goli gummies do not come in various flavors (there is just one).
| | | |
| --- | --- | --- |
| | 8Greens Effervescent Tablets | Goli Greens Gummies |
| Price per serving | $1.60 per tablet when you buy the 10-tablet pack | $0.63 |
| Flavors | Lemon Lime, Blood Orange, Melon, Peach Tea | No flavor options available |
| Serving size | 1 tablet | 2 gummies, recommended to take twice daily |
| Sweeteners | Sorbitol, stevia | Cane sugar, tapioca syrup |
| Third-party testing | No | No |
| Key ingredients | Proprietary greens blend: microcrystalline cellulose, spinach, organic aloe vera (inner leaf), organic wheatgrass powder, kale, colored with vegetable juice, turmeric, spirulina, organic barley grass, organic blue green algae, organic spirulina, organic broken cell chlorella | Supergreens & Probiotics Blend: artichoke leaf extract 10:1, spirulina, Bacillus subtilis, aloe vera, kale, moringa leaf, broccoli, barley grass, chlorella, parsley, spinach, celery; vitamin A as retinyl palmitate; thiamin as thiamin hydrochloride; niacin as niacinamide; vitamin B6 as pyridoxine hydrochloride; folate (folic acid) vitamin B12 as cyanocobalamin; pantothenic acid as d-calcium pantothenate; iron as ferrous fumarate; magnesium as magnesium citrate; zinc as zinc citrate; sodium |
| Other ingredients | Citric acid, sorbitol, natural flavors, corn starch, safflower oil, stevia leaf extract | Cane sugar, tapioca syrup, water, pectin, natural flavor, malic acid, citric acid, sodium citrate dihydrate, sunflower lecithin |
Customer Experience
8Greens offers a 30-day return policy, under which purchases are eligible for refunds for any reason within that time frame. This only applies to purchases made on the 8 Greens website. You are subject to retailer policies if you buy elsewhere.
Students can get a discount on 8Greens with Student Beans. There's also a Rewards Club that gives you points everytime you shop, which is nice for those who plan to continually order 8Greens products.
If you need to get in touch with the company, use the contact form on the website.
Ordering 8Greens
You can buy 8Greens from the 8Greens website directly or from Amazon, Walmart, or Target. It may be available at your local supplements store as well. On Amazon and at 8Greens, you can sign up for subscribe-and-save options.
Customer Reviews
8Greens boasts an average rating of 4.4 out of 5 stars on Amazon, of more than 7,000 reviews, and 4.5 out of 5 stars on the 8Greens site, of nearly 4,000 reviews.
Buyer praise includes, "Simple and easy way to improve your health," "This stuff rocks!" and "Best greens out there!"
In general, customers seem to experience increased energy levels and improved general well-being when taking this product. Some buyers mentioned that the product helped with immune system support and even weight loss, but such claims are impossible to corroborate.
RELATED: Macros for Weight Loss
There are very few negative reviews. Almost all of them complain about the taste, but there are no real objective callouts.
Final Verdict of Our 8Greens Review
8Greens Effervescent Superfood Tablets might be for you if you want a vitamin-rich drink without the typical grassy taste of greens powders.
The tablets are mainly rich in B vitamins and vitamin C.
Because the greens are present as a proprietary blend, there's no telling how much of what is in the powder. This is quite common amongst greens supplements, and we'd love to see more companies change that.
Our tester rated 8Greens highly for taste and texture, but low for formula and transparency.
8Greens Full Rating
8Greens
8Greens is the next big thing in greens supplements. But is it really one of the best? Find out in our 8Greens review.
Product Currency: USD
Product Price: 38
Product In-Stock: InStock
8Greens FAQs
Does 8Greens have caffeine?
There is no indication on the product label that 8Greens contains caffeine, however, there is a dedicated Energy blend that does contain a proprietary caffeinated formula.
Does 8Greens contain stevia?
Yes, 8Greens contains stevia as well as sorbitol for sweetness.
What is the story behind 8Greens?
8Greens was founded by Dawn Russell, a woman looking for immune support among other things when she was experiencing various health problems. She created 8Greens as a way to consume more micronutrients in an easy, convenient manner.
These statements have not been evaluated by the Food and Drug Administration. This product is not intended to diagnose, treat, cure, or prevent any diseases.