We test and review fitness products based on an independent, multi-point methodology. If you use our links to purchase something, we may earn a commission. Read our disclosures.
I've seen many a greens powder in my nutrition career, but I've never come across a monster like Green Vibrance. It contains over 50 different compounds including adaptogens, antioxidants, fiber, prebiotics, and probiotics.
Super greens powders can be great for people who struggle to eat enough produce or just don't have the current budget or culinary skills to eat them in the recommended amounts. We've tried it for ourselves and put together our thoughts on this monster of a greens formulation.
RELATED: Best Greens Powder
Medical disclaimer: This article is intended for educational and informational purposes only. It is not intended as a substitute for medical advice. For health advice, contact a licensed healthcare provider. GGR also recommends choosing a product that has been third-party tested for quality.
We Know Our Greens
This green food blend was thoroughly examined and tasted by our team of fitness professionals. To help you maintain your health and keep you feeling your very best, we aim to provide honest, evidence-based reviews of products.
Green Vibrance
GGR Score: 3.4
Product Highlights
Supports healthy nutrition, digestion, circulation, and immunity

Made with nutrient-dense whole foods

Claim to source and supply every ingredient to ensure purity

Provides 25 billion probiotics and prebiotics

Notable ingredients include organic cereal grass powders and juices, astragalus, and spirulina
Pros & Cons
Pros
Whole foods-based
Probiotics and prebiotics aid digestion
Quality ingredients
Variety of sizes sold
No artificial flavors or coloring
Cons
On the pricier side
Taste is not for everyone
Bottom Line
The Vibrant Health Green Vibrance is formulated with nutrient-dense whole foods to provide a comprehensive range of nutrients in order to effectively support healthy nutritional intake, digestion, circulation, and immunity. Made with high-quality and individually sourced ingredients, Green Vibrance powder has an added 25 billion probiotics and prebiotics to promote a healthy gut. Notable ingredients range from organic cereal grass powders and juices to holy basil, goji berries, and flaxseed powder.
A Quick Look at Vibrant Health's Green Vibrance
Vibrant Health is a black-owned company that was purchased from founder Mark Timon in 2007 by Ted and Paige Parker after Ted experienced nearly-miraculous improvements to his health after taking the greens powder. The very first 500 jars of Green Vibrance were formulated in 1992, making it the first superfood formula on the market.
Before You Buy
Check with your physician if you take prescription medication to ensure that all of the ingredients will safely interact
Start with the smallest tub to see if you'll enjoy the taste before springing for the value size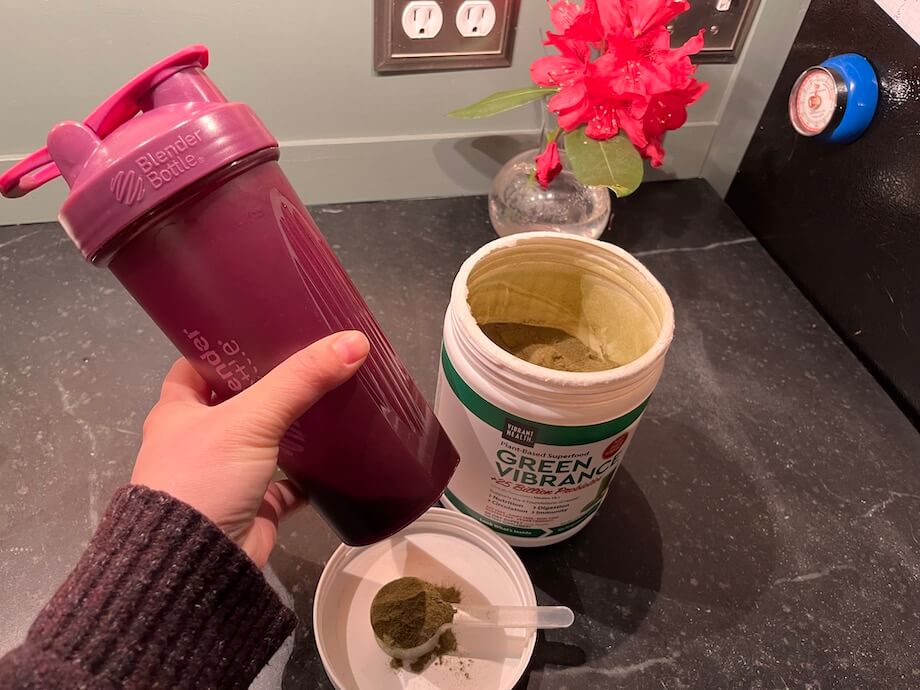 Is Green Vibrance Worth It?
Green Vibrance is certainly a prime choice for those looking for a potent greens powder that isn't for the faint of heart, but it may not be the best fit for people who are sensitive to herbal and earthy flavors. 
Great for:
Those who are working their way toward eating enough fruits and vegetables and want a supplement to fill nutritional gaps in the meantime
People who have trouble digesting most produce and could benefit from enzymes and probiotics
Individuals who have experience consuming super greens powders
Not recommended for:
Those sensitive to strong and intense flavors
Those who take medications that have adverse reactions to the ingredients in Green Vibrance
Green Vibrance Specs
| | |
| --- | --- |
| Price | $99.56 |
| Price per serving | $1.20 |
| Flavor | Natural Flavor |
| Vitamins | Vitamin A, Vitamin C, Vitamin D3, Vitamin E, Vitamin K, Vitamin B12, Folate |
| Minerals | Calcium, Iron, Phosphorus, Iodine, Magnesium, Chromium, Potassium, Sodium |
| Whole food-sourced nutrients | Barley grass, Oat grass, Wheat grass, Spirulina, Beet root, Parsley leaf & stem, Ascophyllum nodosum seaweed, Apple, Tomato, Zucchini, Carrot, Spinach, Broccoli, Broccoli Sprouts, Kale, Amla, Strawberry, Acerola, Camu Camu, Goji Berry, Turmeric, Pomegranate, Ginger, Cayenne pepper |
| Probiotics | B. bifidum, B. breve, B. longum, L. acidophilus, L. casei, L. helveticus, L. plantarum, L. Rhamnosus, L. Rhamnosus, Lactococcus lactis, S. thermophilus , B. animalis ssp. Lactis |
| Adaptogens | Eleuthero, Holy Basil |
| Third-party tested? | No |
Experience Using Green Vibrance
The consensus from our team seems to be that the number of nutrients in this supplement can come in handy when nutritional quality is low, such as during travel. However, it is very much an acquired taste and new users will likely have to find a blending method that works for them to use it consistently.
RELATED: Super Greens Powder Benefits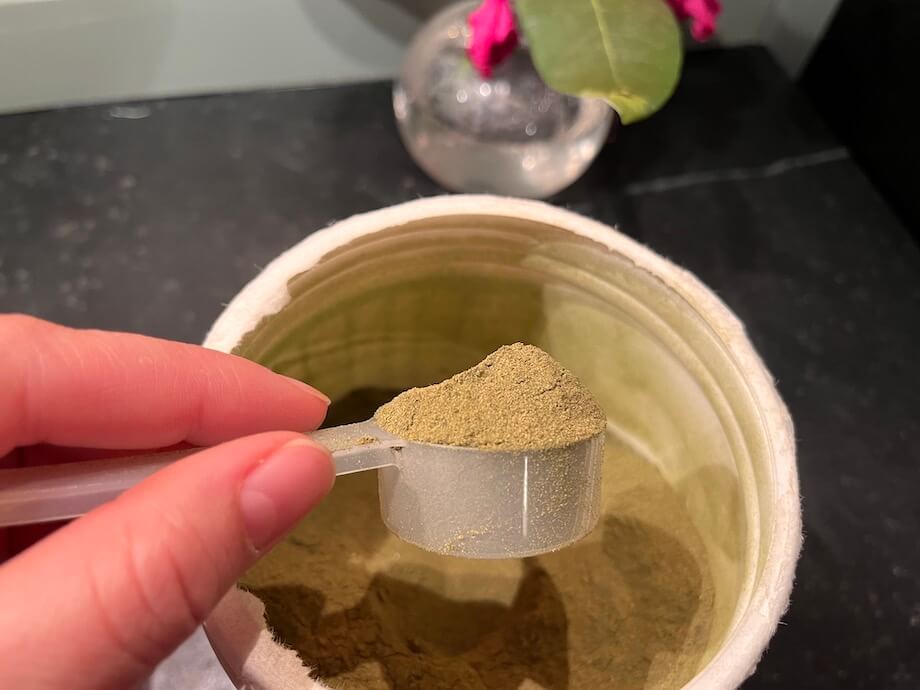 This was the experience of Lauren Strong, GGR staff writer and expert tester: "While the taste of this is not my favorite, I like knowing I'm supplementing my vegetable intake. I used this a bunch while I was moving and eating a lot of take out, which ends up having less micronutrients than when I cook for myself. The smell is strong. I HAVE TO drink this out of a shaker bottle so I don't smell it! I also need super cold water to tolerate it."
Price Per Serving
The biggest tub of Green Vibrance offers the best value for serving. For $99.56, you get 83 servings which comes out to about $1.20 per serving. Whether or not this is a deal depends on your budget, but it's pretty standard pricing for a green superfood powder by market standards.
Formulation
There's no way we could list the full ingredient list of Green Vibrance without turning this article into a novel, however we would like to point out the organic, whole food compounds you can expect to get in each serving:
Barley grass juice powder
Oat grass
Wheat grass juice powder
Spirulina
Beet root juice powder
Parsley leaf and stem
Seaweed
Apple
Tomato
Zucchini
Carrot
Spinach
Broccoli
Broccoli Sprouts
Kale
Amla
Strawberry
Acerola
Camu Camu
Goji Berry
Pomegranate
Now that is a lot of food in a single 11-gram scoop! For our fitness buffs out there, that's about as much as a standard scoop of pre-workout. While we can't possibly talk about all of the ingredients included in Green Vibrance, let's talk about the heaviest hitters.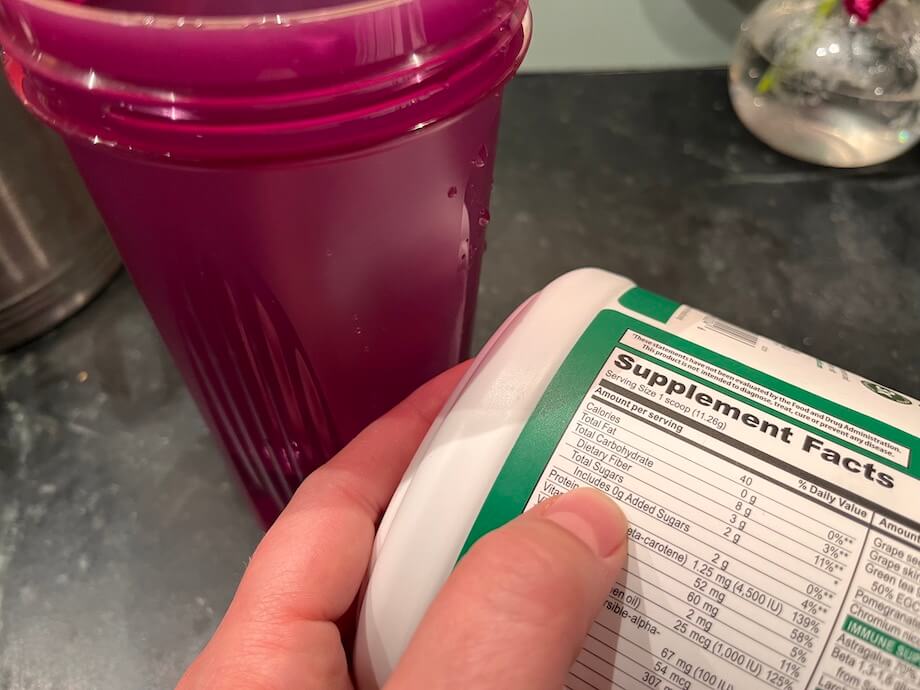 There is a good reason why spirulina, along with chlorella, is commonly found in greens supplements. It's an algae that's well known for its ability to fight inflammation and promote immune support1. Several other ingredients in Green Vibrance, including cereal grasses, goji berry, green tea, ginger root powder, and turmeric root powder, provide similar antioxidant benefits.
Additionally, Green Vibrance uses powdered forms of whole food fruits and vegetables and it is well-known that produce offers health benefits. Science has consistently shown us over the years that an increased intake of fruits and vegetables2 has the potential to provide more energy, maintaining a healthy immune system, better heart health3 by lowering bad cholesterol and raising good cholesterol, and improved longevity.
Green Vibrance may also be able to aid in improved digestive health due to its inclusion of prebiotics, probiotics, and digestive enzymes. Probiotics are live, beneficial bacteria that can improve the health of the gut and prebiotics are types of fiber that feed these bacteria and help them grow, thrive, and multiply. Probiotic supplementation has been shown to temporarily improve gut health in healthy adults, according to a 2019 meta-analysis4.
RELATED: Best Probiotic Supplement
The digestive enzymes in Green Vibrance include protease, lipase, amylase, and cellulase. The first three enzymes the body produces naturally to help digest proteins, fats and sugars, respectively. However, the body does not produce cellulase, which is an enzyme that breaks down fibers from fruits and vegetables. So, consuming cellulase and other enzymes in Green Vibrance can aid in smoother digestion.
I do want to add a small note that sunflower lecithin is included, which is a common filler added to powders to "pad the tub" so to speak, but there isn't an obscene amount included in this particular greens supplement.
Taste and Solubility
Despite an impressive formulation, it comes with a price. Although this supplement is chock full of superfoods, its taste does not lend itself well to indulgence. Our tester, Lauren Strong, wasn't a big fan.
"I have to be honest: the taste is not good," Lauren said. "It has a very strong grassy flavor and a strong smell. I found that using a shaker bottle worked better than a glass because the shaker bottle cap prevented me from smelling the green drink every time I lifted it to my mouth for a sip.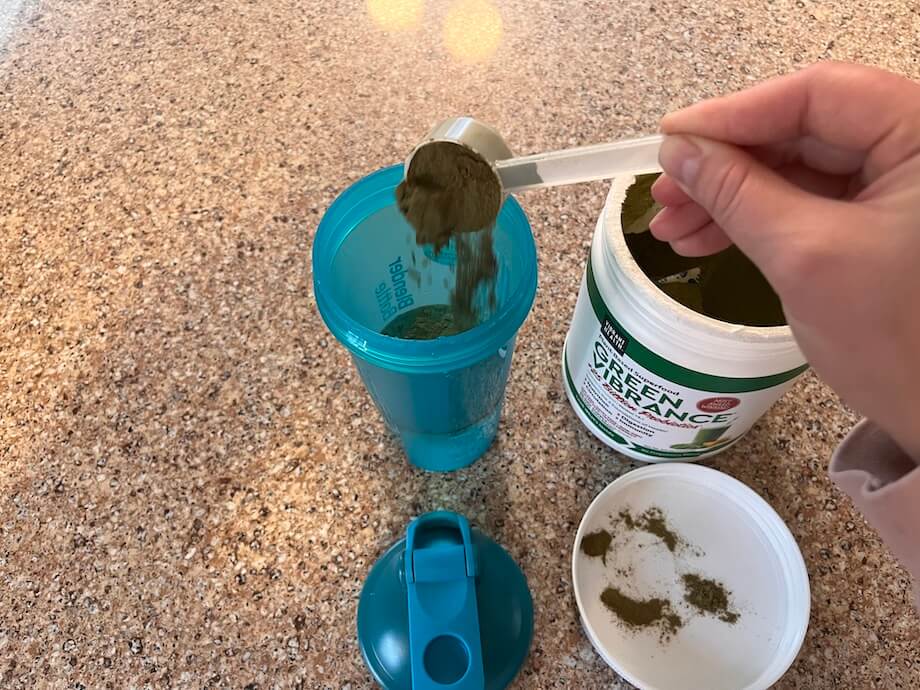 "There are no added sugars to cut the grassy, wheaty, green flavor. That said, some folks will appreciate the fact there is no sugar (especially people who are sensitive to carbohydrates, sugars, or artificial sweeteners. Lastly, I will say that after the initial taste test, for all subsequent servings of this green drink I filled the scoop slightly less than all the way full. The flavor is so intense that I'd rather just not have too much of it."
As far as solubility, it seems you'll need to have a shaker bottle handy if you want the best experience, according to Lauren. "This mixed very well in a shaker cup. It was just OK when I stirred in a glass with a spoon. The shaker cup wins here!" she said. "Also, there is a little grit but nothing you can really detect while drinking. IMO the flavor is more distracting than the tiny amount of grit you feel in your mouth."
Side Effects
One of the dangers of consuming greens powders is potential exposure to lead and other heavy metals. This is because these metals can be in the soil in which the vegetables are grown and can be present even in organically grown produce.
If you are pregnant or breastfeeding, it's best to avoid these supplements as there is a risk of contaminants that may not be safe for pregnancy. If you take prescription medications, you should consult with your doctor before taking a greens supplement like Green Vibrance powder, as most have so many ingredients in one serving, an interaction could occur that could put your health at risk.
Comparison to Athletic Greens
Athletic Greens
GGR Score: 4
Product Highlights
Contains 75 minerals and nutrients in one serving

Available in travel pouches and bundle and save options

Said to support gut health with prebiotics, probiotics, and naturally occuring enzymes

Supports immunity with key ingredients like vitamin C and mushrooms

Magnesium is added to boost energy

May aid in recovery as it features superfood complex with adaptogens and antioxidants
Pros & Cons
Pros
Backed by notable health experts
Transparent and detailed ingredient list
75 vitamins and minerals
Cons
Expensive
Some reviewers dislike the taste
Bottom Line
If you're looking for a greens powder with a unique blend of minerals, nutrients, power greens, enzymes, and probiotics and you're willing to spend some money, Athletic Greens may be a good choice for you.
Green Vibrance and Athletic Greens have similar numbers of superfoods, vitamins, and minerals, but Athletic Greens has far more adaptogens. Athletic Greens also is third-party tested by NSF for Sport, while Green Vibrance does not have third-party certification at the time. What is perhaps the biggest difference though, is Athletic Greens will run you a staggering $3.30 per serving, making Green Vibrance far more budget friendly.
Learn more about Athletic Greens with our full Athletic Greens review.
Customer Experience
According to Vibrant Health, Green Vibrance is the world's first green superfood and has won over 50 awards for being the best superfood powder from publications including Vegan Health & Fitness, Better Nutrition, Delicious Living, and Family Magazine.
Ordering Green Vibrance
When ordering through Amazon, you have the option to order 15, 30, 60, or 83 servings. The more servings you order at once, the lower the price. Through Amazon, you can get further discounts of 5% or 10% by signing up for auto deliveries through subscribe and save.
These deliveries can be flexibly scheduled on a weekly or monthly basis. Return policies are specific to Amazon, but supplements can typically be returned within 30 days of receipt.
Customer Reviews
Green Vibrance ranks as #67 in Probiotic Nutritional Supplements on Amazon and currently holds 4.7 out of 5 stars with 7,874 reviews. Most reviews praise how great it makes them feel and how much they love it blended into smoothies.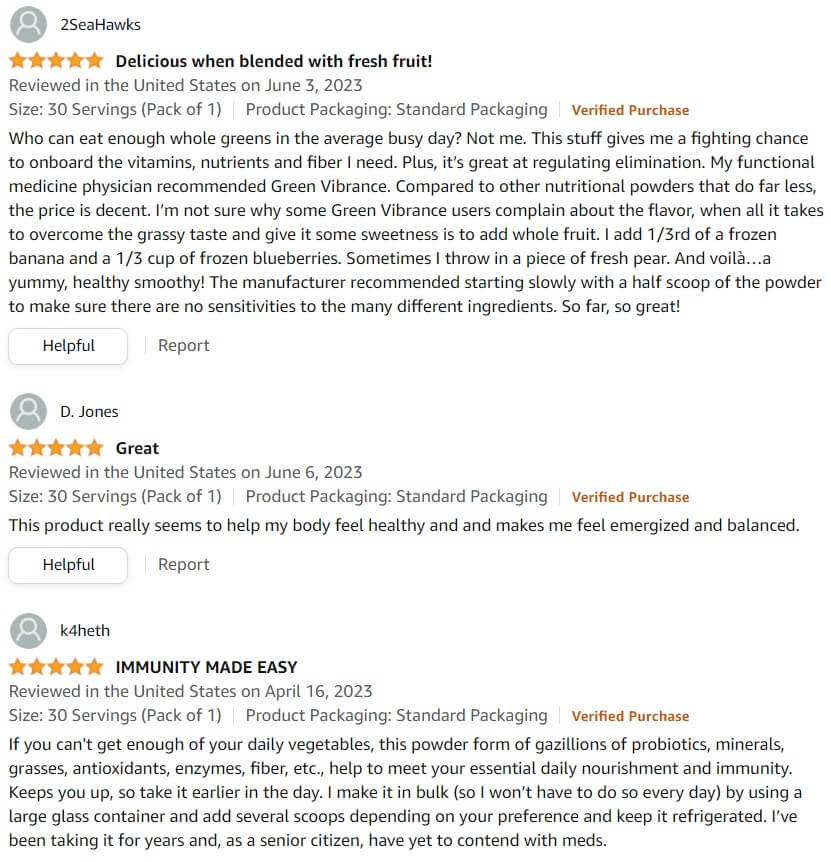 Final Verdict of Our Green Vibrance Review
You'll be hard-pressed to find a plant-based dietary supplement that's more packed with super greens than Green Vibrance. Green Vibrance ingredients include the best greens you'll see included in many similar dietary supplements that promote wellness, plus some extras thrown in in the form of adaptogens, prebiotics, probiotics, and digestive enzymes.
Green Vibrance could be a great tool to help improve overall health, including maintaining a healthy immune system, liver support, and skeletal support. However, we put a big asterisk on the actual flavor. So, if you decide to give it a shot, be prepared to get creative on how you consume it.
Green Vibrance Rating
Green Vibrance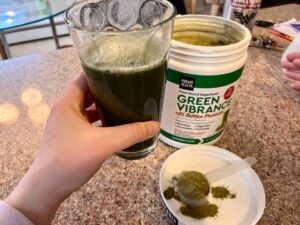 Learn all the deets about this popular greens supplement with our Green Vibrance review.
Product Currency: USD
Product Price: 105
Product In-Stock: InStock
Green Vibrance Review FAQs
Why was Green Vibrance recalled?
In 2014, a recall of Green Vibrance products was conducted because the Organic Parsley Leaf Powder that was used as an ingredient may have been contaminated with Salmonella.
Does Green Vibrance replace a multivitamin?
No. Though it contains many nutritional compounds including adaptogens, antioxidants, and probiotics, Green Vibrance does not have enough diversity in the vitamins and minerals it contains to replace a multivitamin.
Is Green Vibrance under recall?
No, Green Vibrance is not currently under recall.
When should I drink Green Vibrance?
It is recommended that Green Vibrance be consumed 30 to 45 minutes after eating for best results.
These statements have not been evaluated by the Food and Drug Administration. This product is not intended to diagnose, treat, cure, or prevent any diseases.
References