We test and review fitness products based on an independent, multi-point methodology. If you use our links to purchase something, we may earn a commission. Read our disclosures.
Collagen has become one of the most popular dietary supplements for wellness due to its roles in maintaining healthy skin and joints. It's a protein found in abundance in human body tissues. Actually, it's the most abundant protein in the human body, making up about 90% of the total protein in your body, according to the Cleveland Clinic1.
So it's no surprise that supplemental forms of collagen have become so popular—and you're not alone in wondering about the benefits of collagen protein powder. Using extensive research of available scientific literature and my expertise as a certified sports nutrition coach, in this article I explore six benefits that may make collagen a worthwhile addition to your supplement stack.
RELATED: Vital Proteins Collagen Peptides Review
What Is Collagen?
Collagen is a structural protein found abundantly in the human body. It provides structure to connective tissues including ligaments, tendons, skin, muscles, cartilage, and even your blood vessels. Collagen also plays an important role in blood clotting, protecting your vital organs, maintaining skin elasticity, and more.
There are many types of collagen and sources of collagen—researchers have identified 29 distinct types, according to research published in 2022 in the journal Cureus2. Here's a look at the most common supplemental forms of collagen:
Type I collagen is found in dense connective tissues, including tendons, ligaments, skin, and bones; it's the most abundant form, making up about 90% of collagen in your body, according to the Cleveland Clinic1.
Type II collagen is essential for joint health, providing structure to elastic cartilages1.
Type III collagen is found in arteries, organs, and muscles1.
Type IV collagen provides structure to your skin1.
Type V collagen is found in some layers of the skin, in the corneas of your eyes, and in hair1.
Although collagen is a protein high in proline, glycine, and hydroxyproline3, it is not a complete protein, because it lacks the essential amino acid tryptophan. So, you shouldn't count it toward your daily protein intake unless you are combining it with another protein that's high in tryptophan, says registered dietitian nutritionist Sydney Lappe.
RELATED: BUBS Naturals Collagen Protein Review
Health Benefits of Collagen Protein Powder
Your body naturally begins to produce less collagen as you age, but research around collagen supplementation is promising. It's important to remember that this is a relatively new area of research and nothing is yet conclusive.
1. Supports Skin Health
Research4 shows that decreases in collagen production are associated with signs of aging, especially skin aging, including wrinkles and dry skin. As you get older, your body's collagen levels decline as collagen synthesis slows and existing collagen is broken down at a faster rate.
Supplemental collagen may help with skin hydration, elasticity, and strength. According to 2019 research in the Journal of Drugs in Dermatology5, taking 3 to 10 grams of collagen per day can result in "notable improvement" in skin elasticity and hydration.
Additionally, a 2022 literature review in Dermatology Practical & Conceptual6 found that oral and topical collagen use can "contribute to reducing or delaying skin aging."
2. Supports Healthy Joints
Because collagen is so abundant in the tissues that comprise the joints (cartilage, ligaments, and tendons), it should come as no surprise that collagen supplementation is thought to help maintain joint integrity.
As you age and lose collagen (among other things), your risk of developing conditions like osteoarthritis increases, according to a 2017 report published in Mechanisms of Ageing and Development7.
In a 2019 meta-analysis8 in International Orthopaedics, researchers concluded that collagen supplementation is effective at reducing symptoms associated with osteoarthritis. A 2020 systematic review9 proposed that collagen could reduce joint pain and inflammation in patients with osteoarthritis, although this study did specify that collagen injections into the joints (not oral collagen protein powder) seem to hold the most promise.
3. May Help Maintain Bone Density
In addition to joint health, collagen may play a role in bone health, too. Loss of bone mineral density—clinically termed osteoporosis10—is a significant problem in the aging population, especially in postmenopausal women.
Some studies, such as a 2016 systematic review11 that looked at studies from 1994 to 2014, have found that collagen supplementation has a positive effect on bone density.
One notable study12 in postmenopausal women separated participants into two groups: one group took a combination of calcium, vitamin D, and collagen while the other group took a combination of just calcium and vitamin D. At the end of the one-year-long study, the group who took the collagen combo exhibited less bone loss than the other group.
4. Could Help with Muscle Mass
Collagen makes up 1 to 10% of muscle mass dry weight according to various estimations13, with 10 types of collagen being present in muscle tissue. 
RELATED: Best Protein Powder
Studies show that collagen may play a role in building and maintaining muscle. In a 2015 trial in the British Journal of Nutrition14, 53 male participants with sarcopenia (age-related muscle loss) were split into two groups: a collagen peptide group and a placebo group. Both groups underwent 12 weeks of resistance training. At the end of the study, all 53 participants showed improvement in strength and muscle mass, but the collagen group exhibited significantly higher levels of fat-free mass and strength.
Remember, though, that collagen is lacking an important essential amino acid: tryptophan. For this reason, we don't recommend you use collagen as your only protein supplement. All nine essential amino acids are required for muscle protein synthesis, the process by which your body creates new muscle tissue, so a whey protein powder or complete plant protein powder is a better choice.
5. Might Play a Role in Heart Health
Collagen provides structure to your arteries, which are the blood vessels that carry blood from your heart to the rest of your body. Collagen helps keep your arteries flexible and elastic and low levels of collagen can affect that elasticity, according to research in the journal Vascular Health and Risk Management15. When arteries become stiffer, it increases the risk for atherosclerosis16, or narrowing of the arteries as a result of plaque buildup.
Some research shows that collagen supplementation can help prevent and treat atherosclerosis. In a 2017 study in the Journal of Atherosclerosis and Thrombosis17, participants took a collagen peptide supplement daily for six months and all subjects showed improvements in atherosclerosis-related biomarkers. However, there was no placebo control for this trial.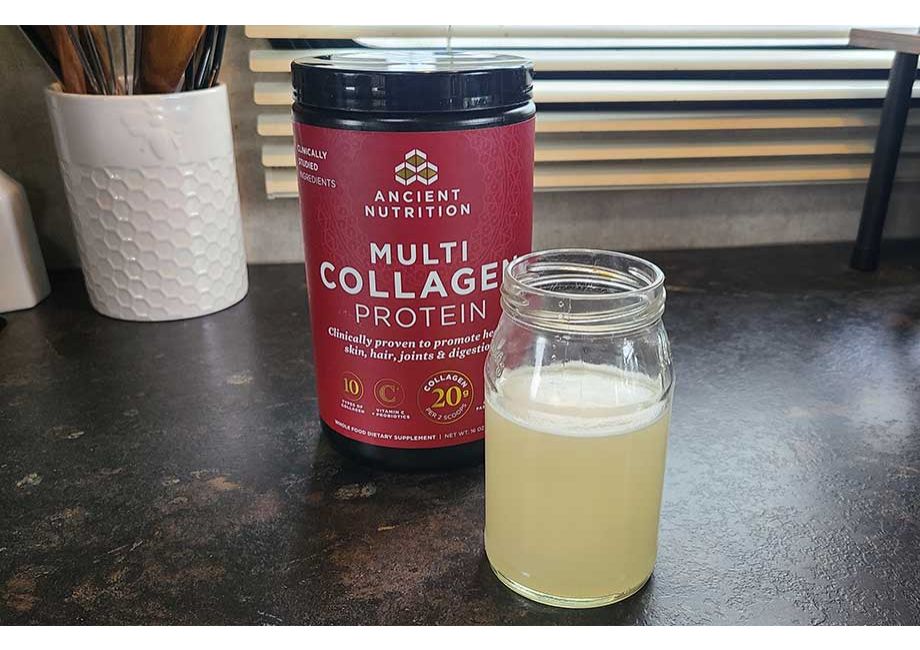 According to a 2023 meta-analysis in the British Journal of Nutrition18, collagen supplementation may also have a positive effect on cholesterol and blood pressure, but more research is needed to confirm the effect on all measures of heart health, the authors concluded.
6. May Support Healthy Hair and Nails
The effects of collagen on hair and nails have not been studied as extensively as the other benefits, but research is promising. A 2017 study in the Journal of Cosmetic Dermatology19 concluded that oral collagen supplementation resulted in 12% faster nail growth and a reduced incidence of brittle nails.
In in vitro and animal studies, collagen is shown to have a positive impact on hair growth, according to 2022 research in the International Journal of Molecular Sciences20. This doesn't necessarily mean the results translate to humans.
Sources of Collagen
Sydney Lappe, RDN, says in our guide to the best collagen supplements that "Collagen is mostly sourced from animal products that contain connective tissue" and "the collagen source widely dictates its collagen type."
Collagen-rich foods include:
Animal gelatin
Bone broth
Skin-on chicken
Fish and seafood
Eggs
For vegans and vegetarians, eating foods rich in collagen's precursors—nutrients needed for your body to synthesize collagen—is an option. Such foods include those high in vitamin C, zinc, copper, and the amino acids proline, glycine, and hydroxyproline, including:
Citrus and tropical fruits
Berries
Beans and legumes
Dairy products
Nuts and seeds
Whole grains
Best Collagen Supplements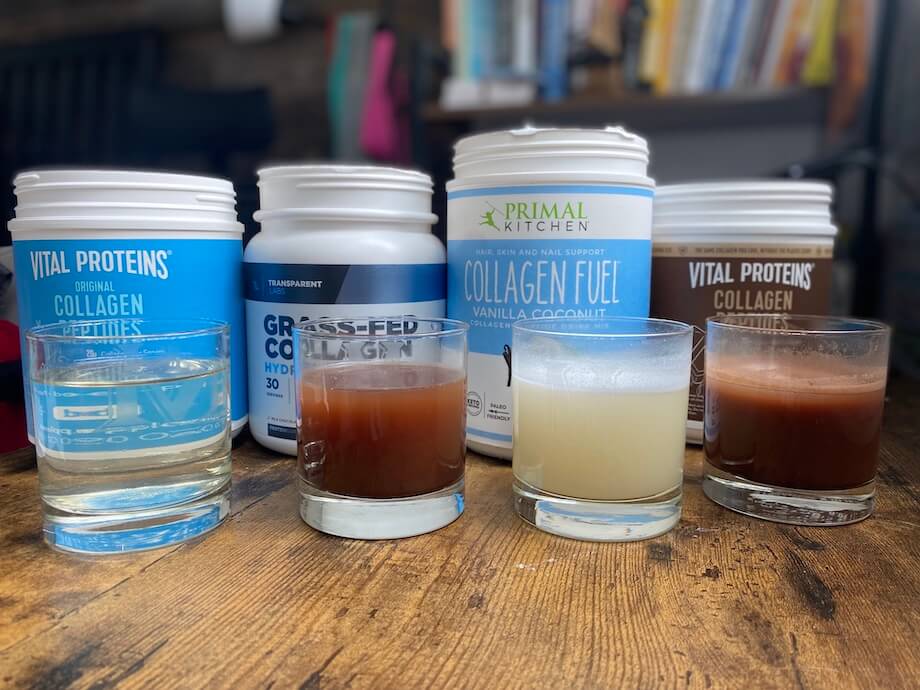 If you find that you're unable to get enough collagen protein or collagen-boosting foods from your diet alone, collagen peptide supplementation is another way to increase your daily intake. Such supplements are available as hydrolyzed collagen powders, liquid collagen, and collagen capsules. With powders, you can make smoothies or mix it into your coffee for a less noticeable taste.
Our team of product testers has extensively researched and analyzed oral collagen supplements for taste, texture, nutritional profile, third-party testing, and more. After testing about 30 collagen products, our testers decided on the following 15 as the best collagen supplements.
Benefits of Collagen Protein Powder: Final Thoughts
Collagen can potentially impart several benefits on human health, but more research is needed on the benefits of collagen supplements to make definitive statements. However, no evidence suggests collagen supplements are harmful, so they could be a worthy addition to your supplement regimen.
Unfortunately, collagen supplements are not suitable for individuals who follow vegan diets nor those who have allergies to eggs, fish, or shellfish, depending on the origin of the collagen.
Remember that collagen supplements are just that—supplements. They are not regulated by the Food and Drug Administration (FDA) or any other regulatory agency, so be sure to do thorough research on any product you are interested in taking. Additionally, if you take prescription medications, are pregnant or nursing, or are managing a health condition, talk to your healthcare provider before taking any supplements.
Benefits of Collagen Protein Powder: FAQs
References