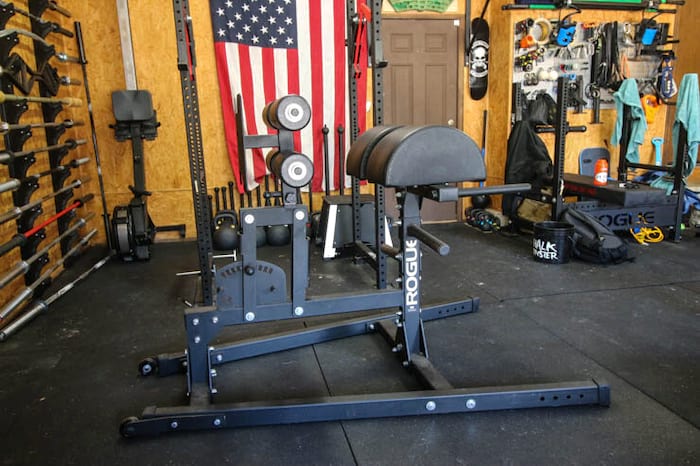 Rogue continues to set the bar for equipment in the fitness world, and once they have set the bar, Rogue tends to try and raise the bar. The founder of Rogue, Bill Henniger, actually started the company because he could not find quality equipment to fill his garage gym, which would later turn into a Crossfit Affiliate in Columbus, Ohio.
Rogue likes to try to keep everything close to home by manufacturing most of their equipment out of Columbus, Ohio. That is why you see on almost all of their branding, Made in the U.S.A.
With Rogue's strong reputation for exceptional gym equipment, Rogue Abram GHD 2.0 is a shining example of attention to detail and bombproof construction.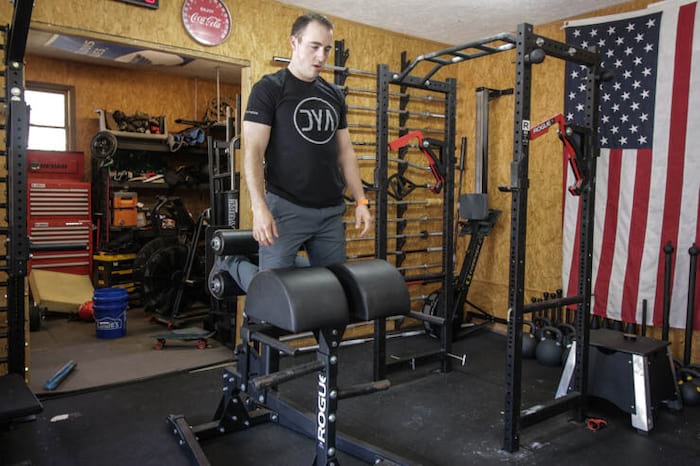 At first glance, the Abram GHD 2.0 seems to be a harmless piece of equipment. A machine that gives the appearance that almost any skill level should be able to perform. Whether the movement is in a CrossFit workout with GHD situps or finishing out a max-effort lower body session. For those people who have fallen into the GHD's lustrous trap of deception...our heart goes out to you.
The Rogue Abram 2.0 despite being used by most for only a couple of movements is actually quite versatile. The actual GHD machine's original design was not intended to be an abdominal workout like what you might see in the CrossFit Games, but in reality, the original purpose was to focus on your posterior chain. Many world-class powerlifting totals were built using the GHD for GHR's.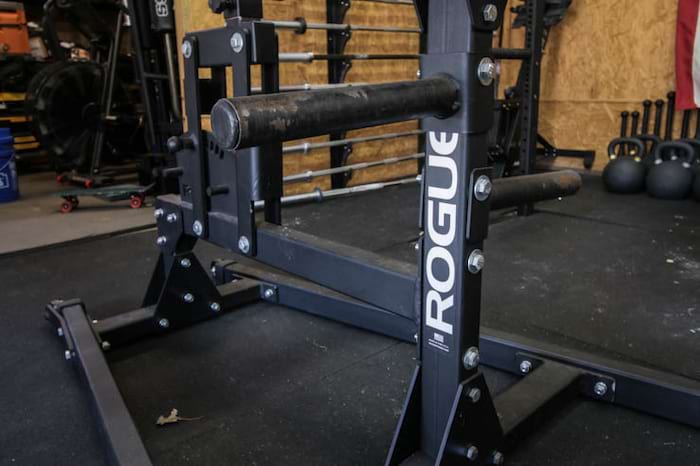 Just because you might not see the machine being used for the hamstrings and lower back as much anymore, compared to the many CrossFit athletes using it for situps, doesn't mean it's ineffective.  The glute-ham raise is one of the most effective posterior chain accessories you can do. Want stronger hamstrings, glutes, and lower back? Get a GHD.
Once a person has finally decided to take the leap and round out their gym with a GHD, the market is filled with many different quality options. Titan Fitness now offers a GHD machine along with FringeSport, EliteFTS, Vulcan Strength, Rep Fitness and countless of other brands producing in all reality, Glute-Hamstring Developers.
We are sure that these companies have produced a decent GHD machine, but in our experience when you look at overall quality, durability and quite frankly looks, the Rogue Abram 2.0 should be at the top of any list.
There's no doubt that the Abram GHD is on the pricey side, but for a machine of that is this large and will likely see a lot of use, it's better to buy once and cry once. The Rogue Abram 2.0 provides consistent performance across a wide range of movements due to its stability and easy adjustability.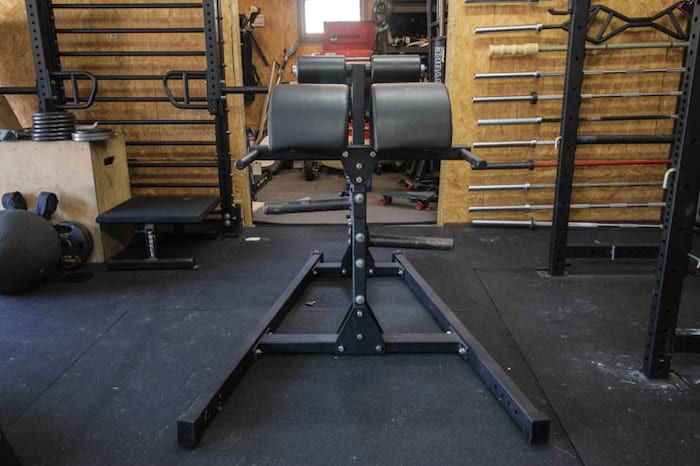 The frame itself consists of 2x3" 11-gauge steel, which is the same steel that makes up the Rogue Infinity Line of racks including the ever-popular Rogue R-3 Power Rack. The Abram 2.0 features a triangle base and padded feet. The triangle base is a unique feature of the machine that allows it to take up less floor space, while still having some of the best stability we've seen on a GHD.
The extra stability provided by both the triangle base and extra weight keeps the Abram 2.0 from rocking back and forth resulting in a sacrifice of quality of reps and discomfort while on the machine.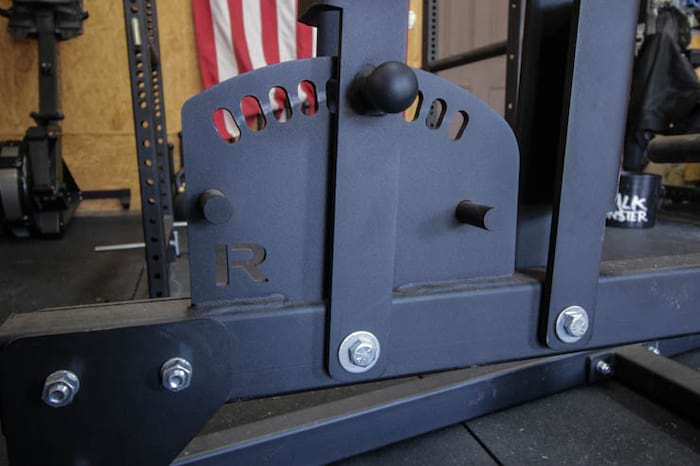 The Rogue Abram GHD 2.o utilizes a swing arm adjustment system for changing the distance of the footplate quickly and efficiently. This is an upgrade from their Rogue GH-1, which operates on a slide rail adjustment. The slide rail adjustment doesn't hold as well and can be difficult to change between users in facilities that have various sized people.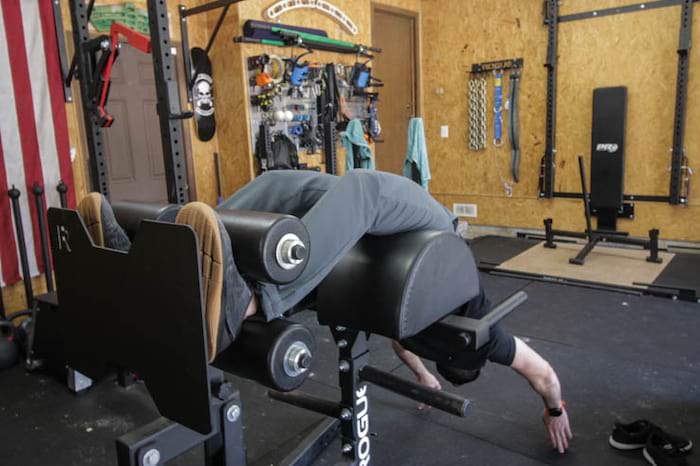 This is especially helpful in competitive workouts when adjustments need to be made quickly and the pressure of moving through movements quickly is imperative.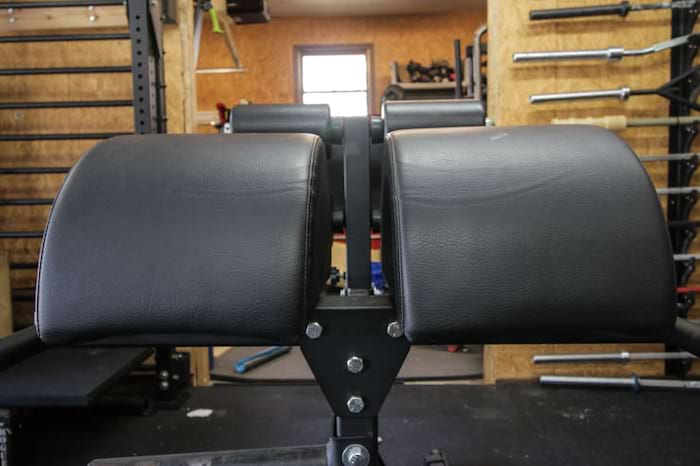 Rogue didn't take any shortcuts with the padding either. The foam is extremely dense so a person won't sink into the padding during situps, GHRS, back extensions or just using it as a seat (yes, I do this.) The vinyl used to house the foam is built to last and a person working out would have to put a lot of time and effort on the machine to see it rip.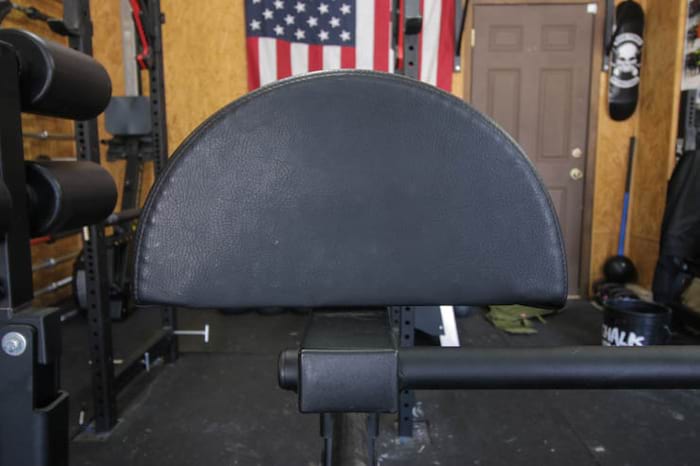 Outside of a competitive atmosphere, the Rogue Abram 2.0 performs with the same consistency and stability a trainee is looking for. I've had the Rogue Abram 2.0 GHD in my garage gym for nearly 3 years and haven't had a single issue. In fact, it still looks pretty much like new except for some flattening fo the foam pad.
Rogue has rounded out their Abram GHD 2.0 by using a black powder coating to increase durability. This is the same powder coat used on Rogue's rigs and racks as well as many specialty bars.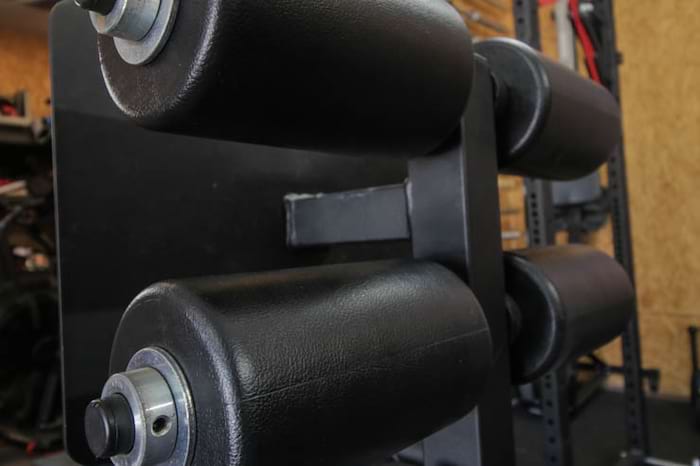 The foot rollers on the Abram 2.0 are some of the best I've used. Typically, foot rollers are cheap foam with a vinyl coating, but Rogue utilizes much more dense foam that is comfortable, yet firm and lasts forever. This is a big separating feature between the Abram 2.0 and many of its competitors.
The footplate can be adjusted up and down to get the perfect height, but I do wish it was wider for various movements other than situps.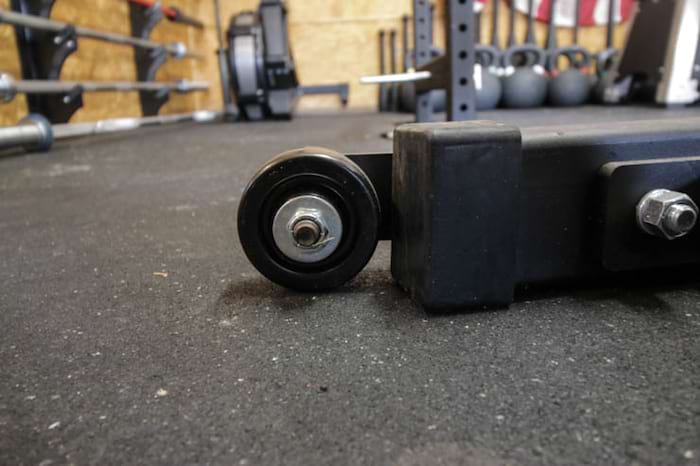 Rogue also attached handles on the front of the machine and wheels on the backside to help move it around your gym. Although the machine is very heavy, the handles and wheels make it easier to move around.
The Rogue Abram 2.0 GHD is without a doubt one of the best GHD's available on the market today. Although it's pricey, I believe it's worth it for the reasons listed throughout the review as well as the fact that it has the best resale value out of any GHD available. Meaning, if you get it and no longer need it or want something else, you can easily sell it for similar to what you bought it on the secondary market.