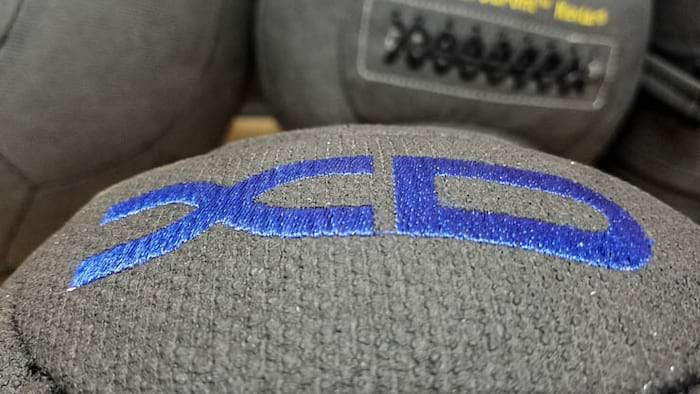 I've had the pleasure of using a variety of medicine balls. Medicine balls, also known as the more modern name, wall balls, are essentially a big ball with a varying amount of weight.
The medicine ball that has been most popular up to a couple of years ago was made by Dynamax. They still make medicine balls, however, due to their vehement dislike of CrossFit, they are no longer seen in gyms as often.
Rogue Fitness, seeing an opportunity in the market, started making medicine balls at the Rogue Factory in Columbus, Ohio. These are currently the standard against which all other medicine balls are compared due to their quality, warranty, and price.
In addition to Rogue Fitness pouncing on the opportunity to capture some of the CrossFit market share, other companies have followed suit. FringeSport, Vulcan Strength, Rep Fitness, and Get RXd all sell similar medicine balls. I say similar because they're all considered "premium" options and are imported from what seems like similar places. Now, I don't have any exact specifics as these companies don't always like to give out their manufacturer list, but it's safe to say they are likely similar.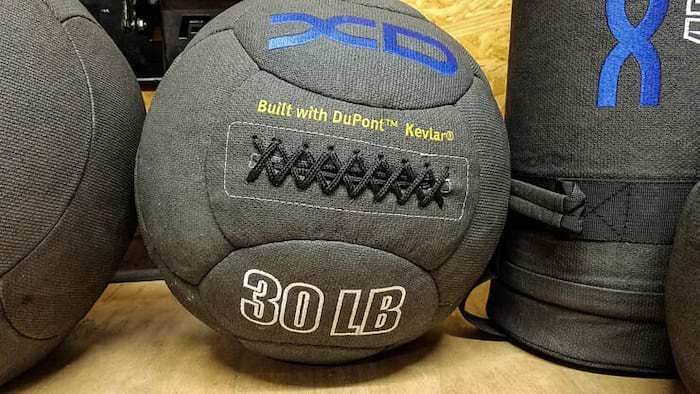 You're probably waiting for me to say that the XD Kevlar Medicine Balls are superior because they're made in the USA...but I'm not going to. The reason is that they're not made in the US, but rather Pakistan as evidenced by stickers that litter every ball.
I've written on USA-made vs. imported products in the past, but it must be said that just because something is made in the USA, that does not equate to it being superior. I've used many "MIA" products that couldn't hold a candle to some of their imported counterparts. So, before you neglect the XD Kevlar Medicine Balls because of their country of origin, read a bit further.
There are a few things that are important to look at when purchasing a medicine ball:
Outer Shell Durability
Accurate Weight
Balanced Weight
Roundness
Price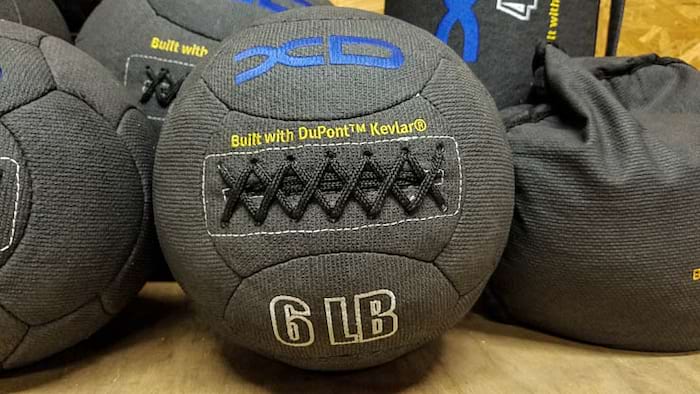 Let's discuss the XD Medicine Balls from the top down.
The outer shell of the XD Medicine Balls is without a doubt their standout feature. Pretty much every medicine ball features a variation of the same vinyl shell, and for good reason, it does a pretty good job of preventing rips. That said, pretty good when it comes to pieces of equipment that will be slammed, thrown, and provided little care for deserves to be better than pretty good. Not only should the shell of a medicine ball be tough, but it should also be grippy.
People use medicine balls for just about everything you could think of, but one of the most popular uses is for wall balls, a movement popularized by CrossFit. To perform wall balls, a sweaty user squats with a medicine ball in the front rack and explodes upward throwing the ball off the wall until it drops and they can catch it going back into the squat. It's a dynamic movement that requires accuracy, coordination, and endurance (if you're doing many reps.)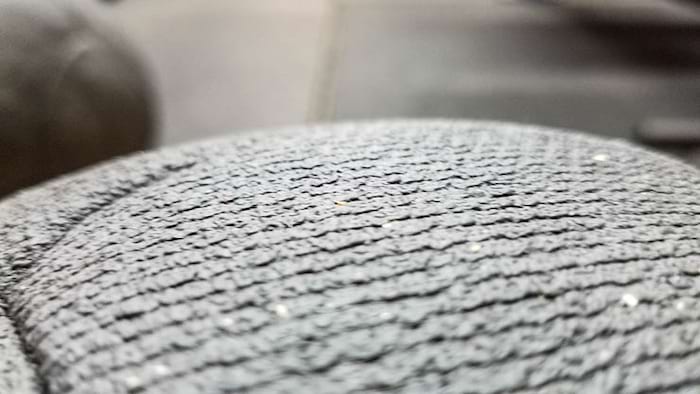 A slippery medicine ball doesn't help in any way with this movement. People use chalk to grip a barbell, but for medicine balls, there isn't much that can be done to increase grip.
This is why I'm a fan of  what XD Equipment has done with their medicine balls. Rather than use the typical vinyl cover, they've combined Dupont Kevlar with a tacky surface that is both durable and grippy. In fact, I can easily say that the shell of the XD Medicine Balls is the best I've ever used.
Using Kevlar ensures that the cover won't rip and the tacky surfaces provide a solid grip during use. Although Kevlar ensures that the cover won't rip, it doesn't mean the seams won't. I haven't had any problems with the seams yet, but should they fail I will update the review.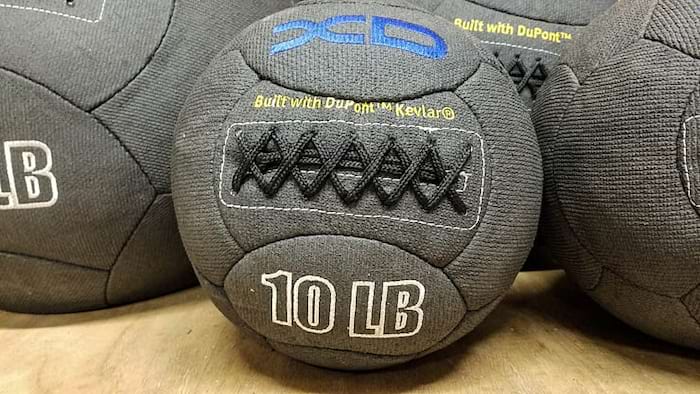 The next item on our list of things to look at when purchasing a medicine ball is the weight. Put simply, for a medicine ball, the weight is about as close as you're going to get. These aren't calibrated barbells or plates, but compared to other medicine balls, these are right in line.
One of the biggest issues outside of durability is the ability of the ball to remain round with the weight balanced throughout. Although the shell is pretty much indestructible as I've said, the balanced weight and roundness of the ball have left a bit to be desired.
Supposedly (as the XD reps have told me,) the XD Medicine Balls get better with time and use as the inner contents disperse. I've been using their medicine balls for a little over a month, and I have noticed them starting to get more even, but out of the box, they were quite lopsided. This was actually a bit frustrating at first due to the unevenness making it difficult to use for wall balls, but it's gotten much better over time.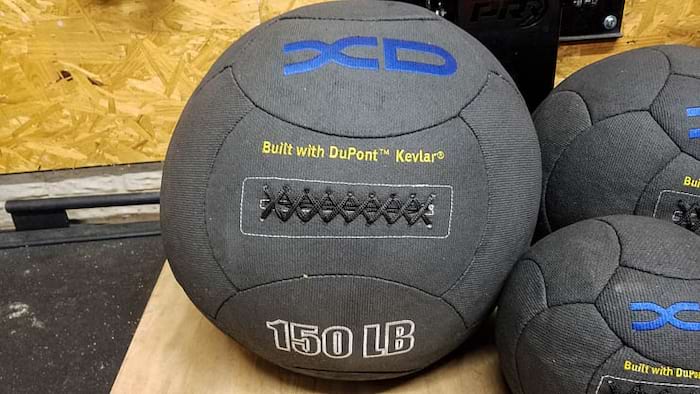 It must be said, and this makes sense to me, but the bigger the medicine ball, the more uneven the weight initially is. For instance, the 150 lb Medicine Ball, that is pretty much just a soft atlas stone, felt much more uneven in the beginning than the smaller balls did. The Sandbag felt the most uneven and still is the most unbalanced out of all the equipment.
In addition to the weight being somewhat uneven in the beginning, the balls also don't remain perfectly round. Personally, this isn't the biggest issue for me as they're close enough, but I have noticed the Dynamax, and Rogue Medicine Balls retain their shape better than the XD Balls.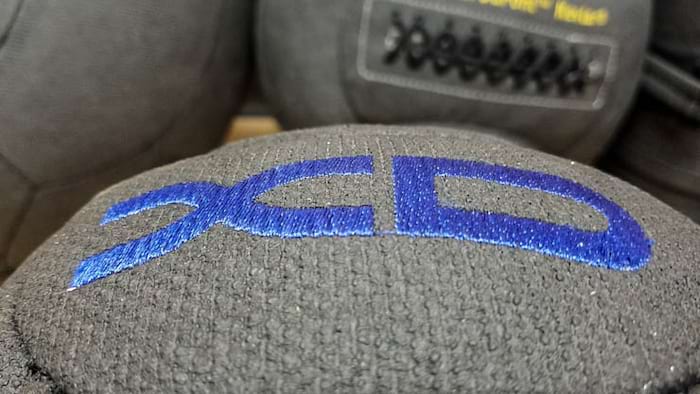 Outside of the construction, these balls are great to use. Due to their tough build quality, I don't have any worries about them breaking. So, I can use them for powerful movements like slamming on the ground or against a wall. If you've been following Garage Gym Reviews for any length of time, then you understand how much I like equipment that is made to last, and that's what I see with the XD Equipment.
The 150 lb Medicine Ball is the perfect idea for gyms that want atlas stones without the mess and liability involved with hard stones. The large medicine balls prevent additional liability associated with heavy stones and also are less intimidating for certain parts of your membership.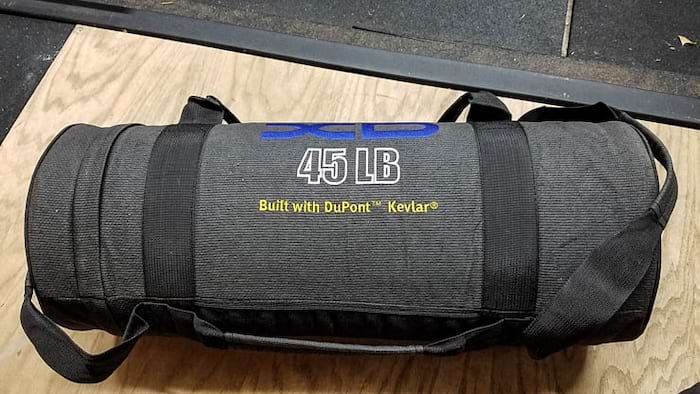 The sandbags come with lots of handles to allow for various grips during use. One thing I do really like about the sandbags is their fit and finish. Most sandbags, no matter how good, will leak some sand. The XD Sandbag has leaked nothing thus far, and the grippy kevlar coating is helpful during weighted carries. The only thing I dislike on the sandbags is the uneven weight displacement, but I'm hoping as it gets used more, it will become more even.
Finally, the smaller medicine balls are perfect for throws as well as the great game of Hoover Ball.
The XD Medicine Balls are overall some of the best medicine balls we've used and recommend them to anyone looking for a well performing, durable medicine ball.