We test and review fitness products based on an independent, multi-point methodology. If you use our links to purchase something, we may earn a commission. Read our disclosures.
It's cardio day! You get ready for a nice outdoor run and—oh no—it's pouring rain. While it might be tempting to throw on some sweat pants and curl up with the latest true crime series, we gotta get that cardio in.
I'm a certified personal trainer and have run several marathons and countless half marathons and other road races. I'm no stranger to going for runs when the weather isn't sunshine and rainbows. To help you get through those rainy day runs, here are my tips for running in the rain.
1. Mentally Prepare
Unless you are made of sugar (or are the Wicked Witch of the West), you are not going to melt into a puddle during your run. Going into your run with the mindset that you're going to get wet and that it won't be a big deal will make all the difference.
Use this rainy cardio as an opportunity to not only work on your fitness but also your mental toughness as well. By overcoming being uncomfortable and pushing yourself to finish, you can train your body and your mind.
2. Follow Safety Dos and Don'ts
There are a few key safety rules to know before you start pounding the pavement between the raindrops:
Do check expected weather conditions for potential severe situations
Don't run in a thunderstorm or severe downpour
Don't wear headphones, as they can keep you from hearing environmental cues
The National Weather Service estimates 30 people die by lightning strikes each year. It also recommends waiting 30 minutes after a storm to head out since lightning can linger in the clouds long after the rain has gone.
And as much as you love that Spotify playlist, leave the tunes behind when it's raining so you can hear approaching cars or other potential threats.
3. Wear Running Shoes With Grip
Running in the rain isn't the time to go barefoot or run in the shoes you've had since high school. Choosing a good pair of running shoes keeps your feet protected against the elements.
Shoes with great traction also prevent you from slipping and sliding all over the place. With good traction, your shoes grip the ground. On rainy days when the pavement is slick, a good grip is essential. There are also waterproof running shoes if you really want to go the extra mile in protecting those tootsies.
RELATED: Best Treadmill Running Shoes
4. Wear the Right Running Socks
While we're on the topic of running gear, don't forget socks! Moisture-wicking socks won't keep your feet from getting wet, but they will keep them from suffering some of the effects of having wet feet. Note: Cotton is not your friend during wet weather. Wet feet in cotton socks can lead to your feet sliding around your shoes, and the friction can lead to blisters.
Choose socks that repel that moisture. Moisture-wicking materials are usually polyester or nylon blends.
5. Consider Wearing a Brimmed Hat
Keep rain off your face! Not only is it uncomfortable to have rain drops traveling down your face, but if you get rain in your eyes, it could affect your vision.
While sweatbands are good for sweat, they aren't as good for downpours. They will just absorb all the rain, and you will essentially be running with a wet washcloth wrapped around your head, potentially making things worse.
To keep the rain out of your face, wear a wide-brimmed hat or visor. This will help by directing the rain drops off the sides of the brim and away from your face. Consider one made of moisture-wicking material to keep your head from feeling soggy.
6. Watch Out for Chafing
Thighs everywhere can tell you that chafing is not a fun time. Running in the rain can put you at greater risk for a nasty chafe due to all the moisture.
The best way to avoid this is going to wear moisture-wicking fabric. Wearing tight clothing can also help, as loose clothes rub and cause more friction. Products like Vaseline and Body Glide are great for areas of your body that you know are prone to chafing, like thighs, armpits, and nipples.
7. Dress in Layers
What's under that rain jacket matters! Layers are for more than just everyone's favorite early 2000s fashion trend; they can be functional, too. Layers keep you warm without being bulky (no one wants to head out for a run in a puffy jacket).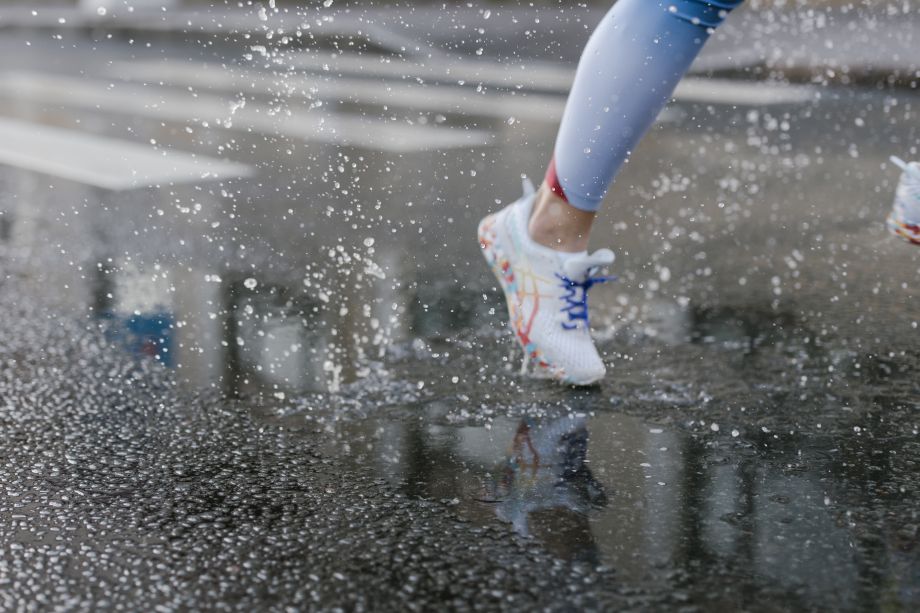 The most important layer is the one closest to your body. Make sure that nothing touching your skin is cotton, as you don't want moisture hanging around like annoying relatives wearing out their welcome during the holidays. Nylon and polyester are always safe bets. Merino wool is a great option, because it can keep you warm, even if you get wet.
A pair of moisture wicking shorts or leggings paired with a non-cotton undershirt make for a great base layer. Top it off with an outer layer, like a running jacket that is wind- and water-resistant.
8. Improve Visibility
There's a reason construction workers wear neon oranges and yellows. Bright colors and reflective gear make sure that even through a foggy windshield drivers can see you. This is so important because drivers may assume that no one is out in rainy weather, so make yourself as visible as possible.
Consider your own visibility as well. If it's raining theoretical cats and dogs, maybe wait for it to lighten up a little bit before heading out. Not being able to see where you are going can put you at risk for trip and fall injuries.
A headlamp is a useful piece of equipment for runners, whether it's dark or rainy. Not only does it help you see the road, but it helps other people see you as well.
9. Watch Out for Electronics
Oil and water, pineapple and pizza, electronics and water—these are all things that don't go together. I remember the days of frantically tossing my phone in a bag of rice at the hint of a water drop on it. Thankfully, electronics have come a long way, but you still need to protect them in the rain.
If you can't bear to leave your phone behind, consider a waterproof pouch or even a plastic bag. Don't just leave it in your pocket as it will collect moisture from your clothes.
If you're a seasoned runner, you probably have a waterproof fitness tracker already. In fact, most on the market are. However, if your watch isn't water-resistant, leave it at home.
10. Know Your Environment
While splashing in puddles is fun in theory, you don't want to accidentally run into ankle deep water. If you are trail running, watch your footing. Mud is not only messy, but there is no way to tell how deep your foot will sink into it.
Down trees are also a concern. Never try and climb over a downed tree, you never know what is on the other side. It is also a good idea to pay attention to the buildings around you. Are there lights on? If not, it could be wise to turn around. Water can conduct electricity, so you could inadvertently step into a charged up puddle even before noticing a downed power line.
11. Get Dry Once You're Home
You did it! You finished your run in the rain. Now change into dry clothes faster than Usain Bolt. Wet clothes retain the cold, which could lead to a lower body temperature.
Another downside to wearing wet clothes for an extended period of time is yeast and other fungus. Fungi thrive in damp areas, just like bacteria, so it's a good idea to get these clothes away from your skin as soon as possible to avoid breakouts, yeast infections, or dermatitis.
12. Dry Your Shoes
When you dry yourself off, it's important to not forget your shoes. Leaving them wet can cause them to stink, which no one wants. However, this isn't as simple as just throwing them in the dryer, which can cause unnecessary wear and even change the shape of your shoe.
Instead, run your shoe under the tap or hose them off to get any mud and debris off them. Then take the insoles out and stuff your shoes with newspapers. The newspapers will help draw out and absorb the moisture from your shoe so it isn't pooling at the bottom. Periodically check the newspapers and change them out for dry ones as needed.
No newspaper? No problem. Wring out excess moisture from your shoe and hang them in front of a fan or somewhere with great ventilation.
Running in the Rain: Final Thoughts
Running in the rain can be a great way to increase your mental toughness. It can add a challenge to your regular run and shake up your training. The most important running tips we can offer for rainy days include:
Wear the right gear: shoes with great traction, clothes that are moisture-wicking, and clothing with reflective properties so people can see you.
Protect yourself! Never run in storms or over downed trees.
Keep your electronics safe and at home or check the specs to make sure they are waterproof.
Dry yourself and your shoes as soon as you get home.
Remember the rain adds a new obstacle to your run, so it might take you a little longer than normal to finish your route. Pace yourself and use these tips to stay safe and you can add rainy runs to your rotation of training.
Tips for Running in the Rain FAQs
What is the best way to run in the rain?
The best way to run in the rain is to be aware of your surroundings and take it slow and steady. Rainy runs are not the time to try and shave some time off your best mile. 
Is it OK to run in the rain?
As long as there are not any thunderstorms nearby or weather warnings issued, it is ok to run in the rain.
What do I need for running in the rain?
A can-do attitude, shoes with great traction, and moisture wicking clothing items.  
How can I run in the rain without getting sick?
Keep yourself as dry and warm as possible, avoid fabrics that will keep water on your skin, and change your clothes and shoes as soon as you get home. Remember there is always a chance of getting sick when you are cold and wet these are tips to just help reduce the risk.