We test and review fitness products based on an independent, multi-point methodology. If you use our links to purchase something, we may earn a commission. Read our disclosures.
You might be landing on this Renu Therapy Cold Stoic review if you've caught the buzz on cryotherapy and cold water immersion. And this is one of our top picks for best cold plunge tubs if you're seeking a luxury design with superior insulation and temperature regulation.
If you're looking for a hands-off ice bath experience that's ready for you any time of day (no ice required), you're in the right place. We tested this lavish cold plunge tub to see if it's worth the hefty price tag. Let's dive in.
Dipping Our Toes In Cold Plunges
At Garage Gym Reviews, we're fairly new to the cold plunge scene (in comparison to how seasoned we are on barbell anatomy, budget squat racks, and the best treadmills for a home gym).
For this Renu Therapy Cold Stoic review, expert product tester for Garage Gym Reviews Everything, Lindsay Scheele, got her feet wet in the benefits of cold water immersion. Lindsay has also tested the inflatable Redwood Outdoors Yukon tub, Cold Plunge, and the Ice Barrel.
Cold Stoic 2.0
GGR Score: 3.8
Product Highlights
Sleek cold therapy tub

Superior insulation

Integrated water chiller

Built-in filtration system
Pros & Cons
Pros
Insulation Indoor or outdoor use
Made in the USA
Standard 110 volt power
Cons
Heavy
Super expensive
6-10 week lead time
Bottom Line
The Renu Cold Stoic 2.0 is a high-end cold therapy unit that can be installed indoors or outdoors. It not only features superior insulation to keep water cold, the 1/4 horsepower chiller lets you regulate the temperature of your choice, all the way down to 36 degrees Fahrenheit (brrr!). Plus, the insulation works well enough that Renu Therapy's tests indicated that water stays below 60 degrees even 24 hours after being unplugged.
A Quick Look at the Cold Stoic 2.0
Renu Therapy is a brand that manufactures high-end hot and cold therapy remedies. It's worth noting that Renu Therapy as a whole is not for budget-conscious shoppers—nothing on the brand's website is priced under $5,000.
That said, both the saunas and cold plunge tubs are constructed from quality materials and are designed to last.
RELATED: Best Home Sauna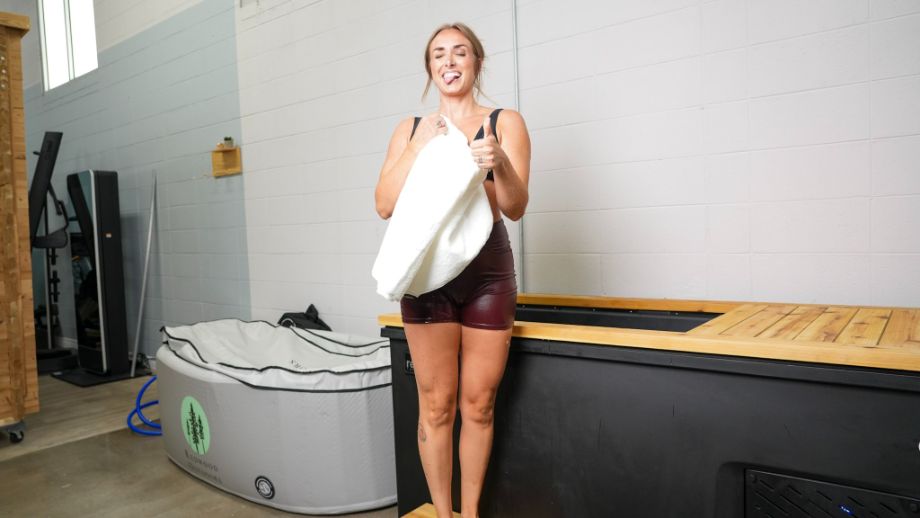 Before You Buy
While there are many potential health benefits to cold water therapy, it's worth noting that more research is needed on aspects like mental health, stress management, and overall well-being.
If you're not prepared to spend nearly $10,000 all at once on the Cold Stoic tub, the brand does offer financing options through Affirm.
The tub features built-in water filtration and an ultraviolet ozone generator to help eliminate bacteria, viruses, and heavy metals.
Is Renu Therapy Cold Stoic Worth It?
The Renu Therapy Cold Stoic might not be worth the investment for most home gym owners, recreational lifters, and wellness seekers. The cold plunge tub is priced close to $10,000, which doesn't place this at the top of the home gym essentials list.
Expert product tester Lindsay Scheele gives the overall value of the Cold Stoic a 2.5-out-of-5-star rating. She notes that, "Other than the advanced filtration technology and durable exterior materials, I don't know if it's really that different from other cold therapy tub options priced around $5,000."
RELATED: Ice Barrel review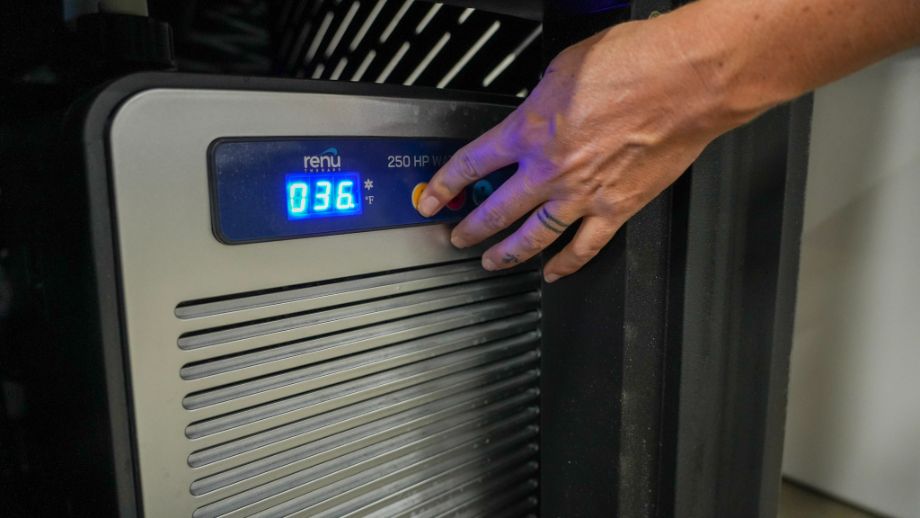 Additionally, it's worth noting that Renu Therapy designs and assembles cold plunge tanks in California but it's not explicitly stated that the cold exposure tanks are made in the United States.
Not recommended for:
Tight budgets
Cold water immersion therapy beginners
Hot tub enthusiasts
Recovery from eccentric-style strength training1
Renu Therapy Cold Stoic 2.0 Specs
| | |
| --- | --- |
| Price | About $9,700 |
| Exterior dimensions | 70" L x 33" W x 35″ H |
| Interior dimensions | 40″ L x 25″ W x 31″ H |
| Dry weight | 350 lbs |
| Filled weight | About 1,145 lbs |
| Water capacity | 95 gallons |
| Lowest temperature | 36 degrees F |
| Power requirements | 110-volt |
| Extras | Step stool, insulated lid |
| Warranty | 5-year limited warranty |
Using the Renu Therapy Cold Stoic 2.0
The Renu Therapy Cold Stoic tub is more than just an ice bath. It's a spa-like experience in your own home. You can even choose from six different base colors and four different styles of wood decking (including California redwood and Pacific cedar).
The chiller is integrated into the tub design and makes for a modern, sleek-looking cold tub. However, Lindsay noticed one annoying thing about the chiller integration: accessing it.
"You have to screw open the grate door in order to change the temperature," she says. "If you are someone who wants to keep your temperature the same, then it shouldn't be an issue, but if you want to change your temperature frequently, it might become annoying."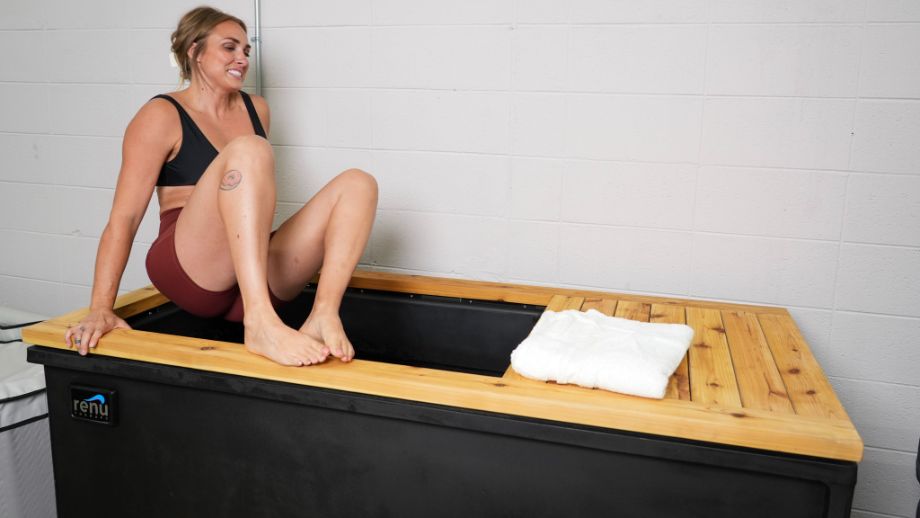 Keep in mind that Lindsay also noticed it took quite a while for the temperature to change just a few degrees. She mentions that during her testing experience she changed the temperature a few different times and the tub took about an hour to move one degree.
RELATED: Best AC for Garage Gyms
That said, Lindsay tested three cold tubs in one day and says the Renu Therapy Cold Stoic 2.0 felt the coldest, even with all the tubs set to the same temperature. But we're not surprised with the heavy-duty construction and thick wall of insulation on this tub.
Portability and Durability
I'll dive into the delivery process later, but it's worth noting that without a pallet jack you're not going to be moving this tub easily. You'll want to find a permanent resting place for it to live.
The tub is nearly 6 feet long and includes the integrated chiller, so you won't have to worry about finding extra room for the chiller in addition to the large footprint. It's also 350 pounds dry and about 1,145 pounds when filled with water. Expert product tester Lindsay gives the footprint and portability a 1-star rating out of 5 stars.
RELATED: Best Portable Home Gym
However, when it comes to durability, Lindsay gives the Cold Stoic a 5-out-of-5-star rating. For portability purposes, the tub is clunky, but that also leads to a durable experience with the chiller because it's tucked away from potential splashes and weather elements.
The walls of the Cold Stoic are thick from the insulation and powder coated for durability against wear and tear and the outdoors. The website doesn't explicitly list the materials, however it does note that "All of the products are constructed with the highest-quality components and have been extensively tested."
Ergonomics and Fit
Lindsay thinks the Cold Stoic 2.0 is comfortable, but knows that at 5 feet and 4 inches tall, she's not going to be the best reference for everyone. However, the website says the Cold Stoic can accommodate folks up to 6 feet and 5 inches. "Although I think that is true, I don't think that person would be very comfortable," she says.
Even so, she gives the Cold Stoic a 4-out-of-5-star rating for comfort and ergonomics. "For reference, I had to cross my legs or keep them bent while stretched out otherwise they would hit the walls," adds Lindsay.
Temperature Control
Beyond the quality construction and insulation of the Cold Stoic, it also offers a programmable thermostat integrated into the tub design that allows you to control the temperature.
The chiller features a quiet 0.25 horsepower motor that can chill water down to 36 degrees F. Although there are no remotes or WiFi-enabled controls, Lindsay still rates the water temperature control a 4-out-of-5-star experience.
Cleaning and Draining
If you've been on the market for a cold plunge, you may have come across our in-depth Redwood Outdoors Yukon Tub review. It's an inflatable cold plunge tub with a difficult draining process. From our experience with the Yukon, we're now tough critics of the draining process.
"I give this a 5-out-of-5-star rating for cleaning and draining because not only does it have a powerful filtration system, but it has an easy way to both fill and drain the tub," says Lindsay.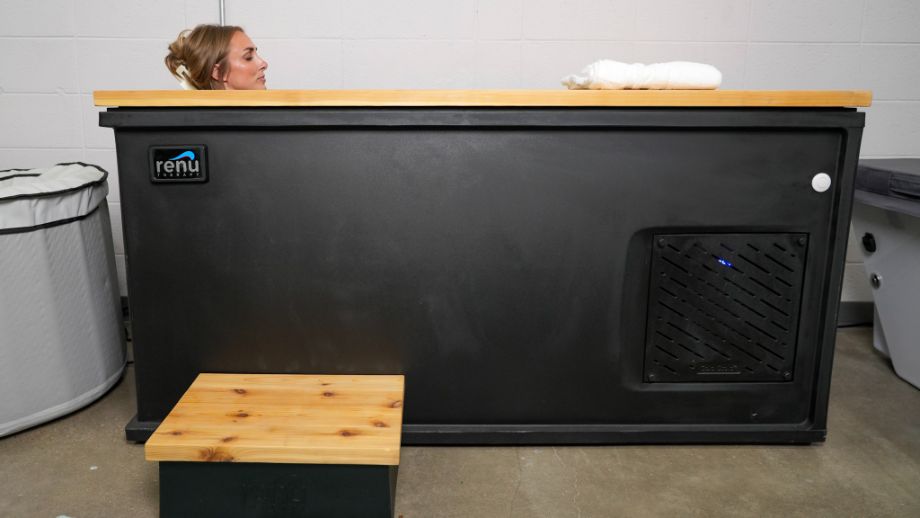 The Cold Stoic has an out-port that allows you to connect a traditional hose and drain it to an external source, which makes it possible for using it indoors or outdoors.
When it comes to the water filtration system, the tub pumps 20 gallons of water per minute through the chiller and filter to keep the tub water regulated and filtered from contaminants.
The chiller features a two-stage filtration system with a removable large grate that catches larger debris. There is also a replaceable 50-micron water filter element for fine particles. And for even more filtration, there is an ultraviolet ozone generator that discharges ozone gasses into the water to help eliminate bacteria, viruses, and heavy metals.
Comparison to Similar Products
The Cold Plunge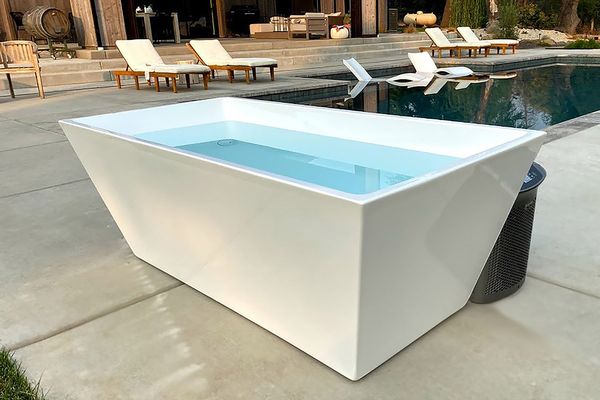 GGR Score: 4.0
Product Highlights
Indoor or outdoor ice bath

Chiller system for regulated temperatures
Filtration and sanitation systems
No plumbing required
Pros & Cons
Pros
Eliminates the hassle of traditional ice baths 
No cleanup or setup to do after initial assembly 
Allows you to fine-tune temperature 
Provides full-body immersion for most body sizes and heights
Less time-consuming than traditional ice bath
Decently aesthetic; would look nice in a backyard or dedicated gym space
Indoor or outdoor use
Free shipping and in-home delivery for lower 48
0% APR financing available through Affirm and Klarna
Insulated cover, cell phone holder, hose filter, and skimmer net included
30 days to return for full refund 
Cons
Very expensive
Requires electricity
No heating capabilities on base model 
Only a 1-year warranty
Extended warranty/product protection costs extra
Shipping is costly for Hawaii and Alaska, and in-home delivery isn't available 
Currently has an 8-week lead time
Consumer must pay shipping fees if returning the tub
Bottom Line
The Cold Plunge is a user-friendly cold-immersion therapy tool that's easy to clean and maintain. The $5,000 price tag may just be too much for many people.
Other than the price, one of the biggest differences visually between the Cold Plunge and the Renu Therapy Cold Stoic is the footprint. The Renu Therapy tub has the chiller integrated into the design so you can't see it. The Cold Plunge has the chiller separate and set off to the side.
What's interesting about the footprint of the Cold Stoic is that the tub is quite a bit smaller than the footprint because of the integrated design. The tub itself is only 40 inches long, 25 inches wide, and 31 inches tall. If you're looking for legroom, the Cold Plunge is actually longer even though the footprint is smaller overall.
The Cold Plunge is also about half the price and also has a water purification system and temperature regulation similar to the Cold Stoic.
RELATED: Cold Plunge Review
| | | |
| --- | --- | --- |
| | Cold Plunge | Renu Therapy Cold Stoic |
| Price | About $5,000 | About $9,700 |
| Footprint | 67" L x 31.5" W x 24" H | 70" L X 33" W X 35″ H |
| Water capacity | About 100 gallons | 95 gallons |
| Dry weight | 150 lbs | 350 lbs |
| Warranty | 1 year | 5-year limited |
Customer Experience
Overall, Lindsay rates the customer experience at a 4-out-of-5-star rating (which includes a combination of financing options, warranty, returns, and ease of contacting customer support). Here is a close look in to each category:
Customer Support
Renu Therapy has a live chat function in the bottom right corner of the website in addition to a general inquiry form. The brand also provides an email address, phone number, and physical address. Business hours are 8:30 a.m. to 4:30 p.m. PST.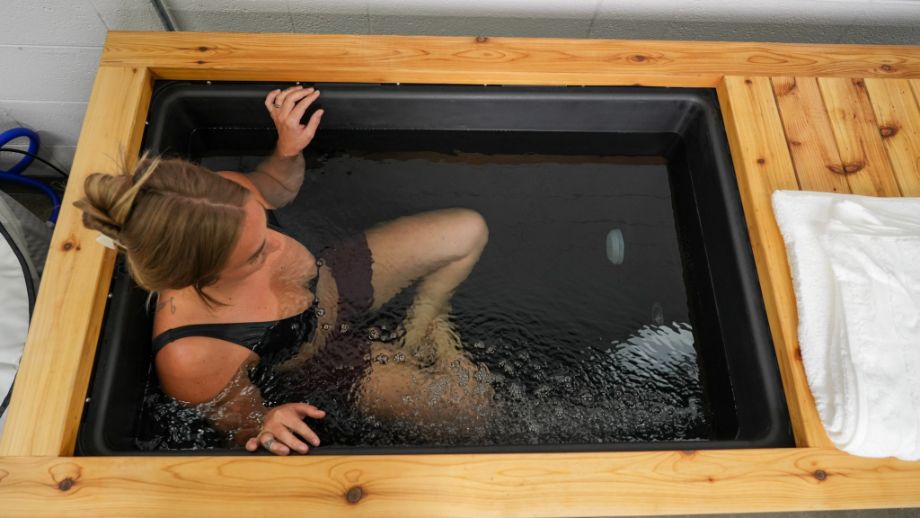 Return Policy
Although the website does not offer logistical details on how a return will work for cold plunges (like, will you have to disassemble or will it be picked up by the company?), it's clear that you will have a 45-day window to process your return. You'll be hit with a 5% restocking fee, which is almost $500 for the Cold Stoic tub.
It's also worth noting that custom units cannot be returned.
Warranty Policy
The limited 5-year warranty on the Cold Stoic tub is meant for non-commercial use, meaning for your private at-home use only. The warranty will cover replacement parts that have defects or issues with craftsmanship but the warranty does not cover damage due to poor water chemistry, neglected filter care and replacement, freezing conditions, power outages, lack of attention to low water flow, or any other form of neglect, misuse, or abuse.
Financing Options
Renu Therapy teams up with Affirm to offer loan terms of 6, 12, or 36 months. The 6-month option is the only loan term that offers 0% APR and the other two options have 14.99% APR. Keep in mind that with such a high price tag, it means you'll be paying over $2,000 in interest if you go with the 36-month payback period.
At checkout, you will also have the option to use a traditional credit card, coinbase commerce, PayPal, Meta Pay, or Shop Pay.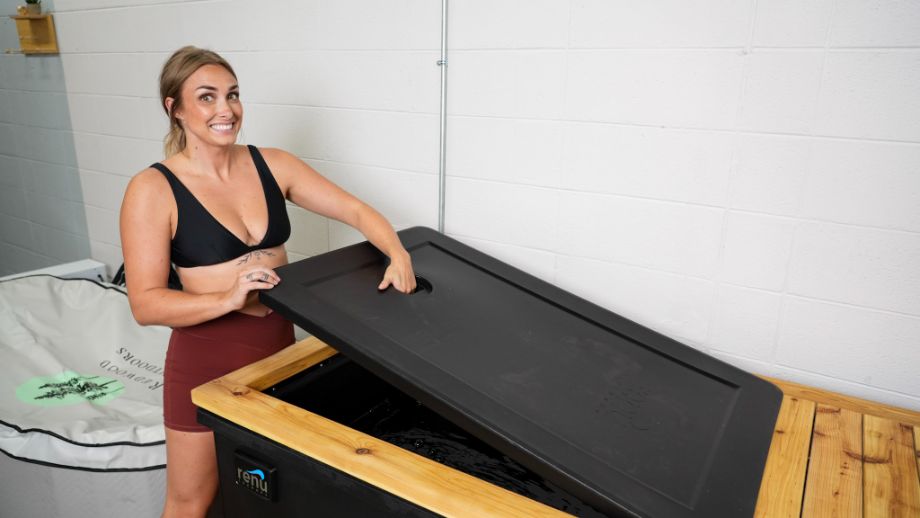 Delivery and Setup of the Renu Therapy Cold Stoic
Firstly, we appreciate there are not additional shipping fees tacked on to the price of the Cold Stoic plunge tub. Sam Presley, GGR operations manager, rates the delivery and setup experience 4.5 out of 5 stars overall.
He notes that the tub was delivered on a pallet a little bit bigger than the cold tub itself. "It's important to know that if you don't have a pallet jack, you'll need to grab a couple of friends," says Sam. "It's 350 pounds that you'll need to move to your desired location."
He says that once the plastic is removed and the pallet taken apart, you'll follow instructions from a video provided on the Renu Therapy website.
"This will take somewhere around 30 minutes. It's a pretty simple set up overall," says Sam.
"Once you're done, fill the tub until there is about 6 inches left at the top. Then you'll plug it in and allow about 12 to 24 hours for the tub to get to your desired temp, depending on how cold your desired temperature and the air temperature."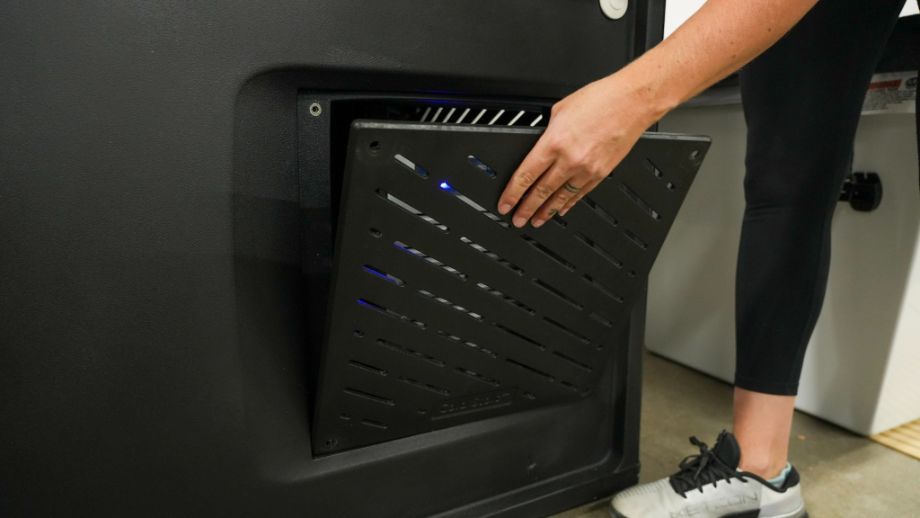 Customer Reviews
While the Renu Therapy website doesn't feature customer reviews, you will find several celebrity testimonials without any formal ratings. So, we went to Google reviews and found five reviews, which were all given 5-out-of-5-star ratings. It's also worth noting that each of these Google reviews had a direct response from someone at Renu Therapy.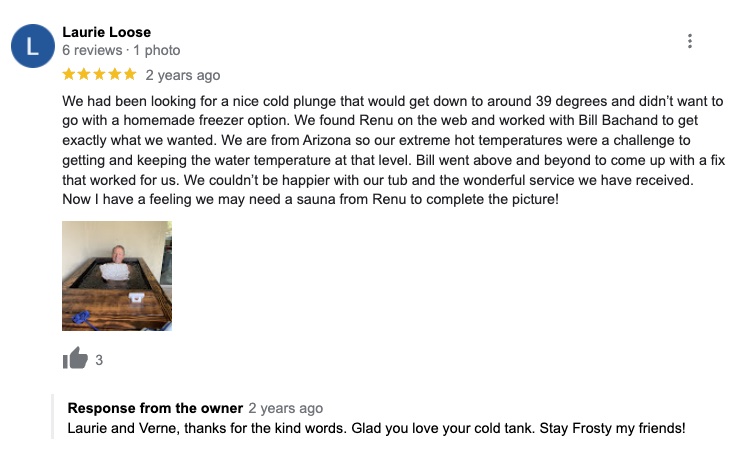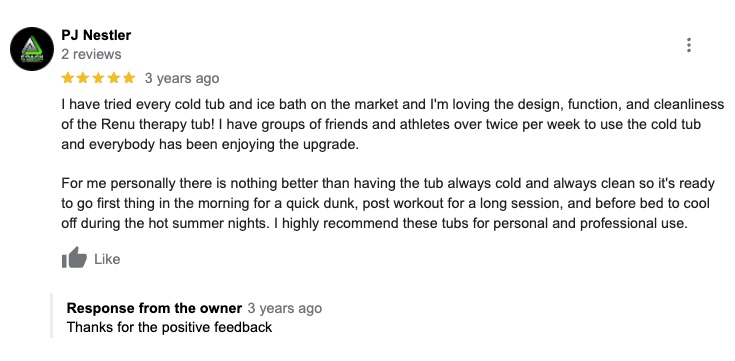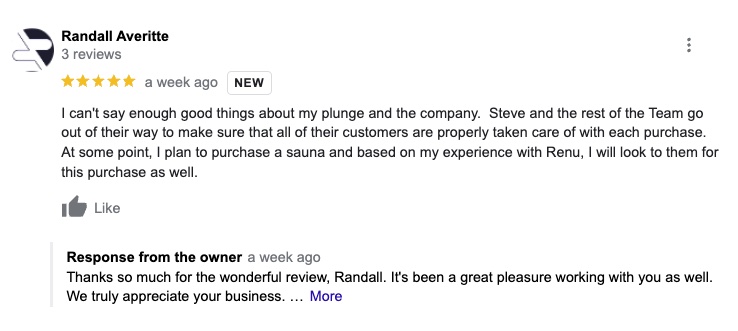 Final Verdict of Our Renu Therapy Cold Stoic Review
While the Renu Therapy Cold Stoic performs like you'd want a high-quality cold tub to perform, our team of product testers can't justify the outrageous price point. We understand that it is a luxury experience—far from dumping ice in a DIY ice bath tub—but there are other brands that offer spacious, comfortable, and temperature regulated tanks for nearly half the price.
Renu Therapy Cold Stoic Rating
Renu Therapy Cold Stoic
In our Renu Therapy Cold Stoic review, we'll discuss if this pricey cold plunge tub is worth the investment.
Product Currency: USD
Product Price: 9700
Product In-Stock: InStock
Renu Therapy Cold Stoic: FAQs
How cold does the Renu therapy get?
The Renu Therapy Cold Stoic cold tub goes down to 36 degrees Fahrenheit (2.2 degrees Celsius).
How much does the Renu therapy cold plunge weigh?
The Renu Therapy Cold Stoic cold tub weighs 250 pounds dry and approximately 1,145 pounds when filled. The tub capacity is 95 gallons of water.
What are the benefits of the cold plunge?
While more research is needed around the topic of cold plunges and ice baths, there are several possible benefits including the potential to reduce inflammation, aid muscle recovery, reduce body fat, support the immune system, and aid stress management. We actually have an entire guide to ice bath benefits so you can read more about it.
References
Moore, E., Fuller, J.T., Buckley, J.D. et al. Impact of Cold-Water Immersion Compared with Passive Recovery Following a Single Bout of Strenuous Exercise on Athletic Performance in Physically Active Participants: A Systematic Review with Meta-analysis and Meta-regression. Sports Med 52, 1667–1688 (2022).