We test and review fitness products based on an independent, multi-point methodology. If you use our links to purchase something, we may earn a commission. Read our disclosures.
If you're shopping for one of the best cold plunge tubs that is also portable, packable, and easy to assemble, the Redwood Outdoors Yukon Cold Plunge XL Deluxe Kit might be your next home gym investment. It cools, heats, and filters water for the ultimate plunging experience.
In this Redwood Outdoors Yukon tub review, we'll look at both the pros and cons. This tub has quality features, but we have a few callouts, namely the draining process and the frequency of water changing. Let's dive into it.
Making Headway On Cold Plunges
While our expert product testers here at Garage Gym Reviews are newer to testing and reviewing cold plunges—compared to our extensive experience with the best squat racks and treadmills on the market—we're jumping into cold plunges with full enthusiasm and a rigorous equipment testing methodology.
For this Yukon Tub review, lead reviewer and expert product tester on Garage Gym Reviews Everything, Lindsay Scheele took the plunge. She not only used the Yukon Tub, she uncovered the ins and outs to see how easy using this inflatable tub will be for you at home. 
Yukon Tub
GGR Score: 3.8
Product Highlights
Inflatable cold plunge tub kit

Pump to inflate the tub included

Deluxe chiller and heater combo
Packable and portable
Backpack carrying case comes included
Pros & Cons
Pros
Straightforward installation
Portable design
Cons
Pricey
Not insulated
Changing water frequently is recommended
Bottom Line
The Redwood Outdoors inflatable Yukon cold plunge kit is a packable solution to bringing a cold with you on-the-go. It's easy to inflate the tub with the pump that comes with the purchase. The main drawback to the inflatable design is the brand recommends changing the water frequently due to the fact that leaving water in the tub for 48 hours at a time can lead the tub to bulge and change shape through the center of the tub.
A Quick Look at the Redwood Outdoors Yukon Tub
Redwood Outdoors is a brand that manufactures high-quality at-home hot and cold therapy options. On the website, you'll see a variety of saunas in different shapes, sizes, and capacities.
RELATED: Best Home Saunas
For cold plunges, there are two Scandinavian Thermowood options available: the Pacific Cold Plunge and the Alaskan Cold Plunge, which is a vertical, barrel-shaped cold tub.
For the inflatable cold tubs (like the Yukon Deluxe), there are two sizes: regular and XL. Some are sold as cold plunge kits and some are sold as the tub alone. Either way, you can always buy the chiller system later to add to your stand-alone tub.
Before You Buy
According to the brand's setup guide video, the tub can bulge if you keep water in for more than 48 hours.
The Inflatable design is fairly easy to set up, breakdown, and bring with you in the carrying pack that is included in your purchase.
The water draining process is unclear and we don't recommend this for indoor use.
Is the Redwood Outdoors Yukon Cold Plunge Tub Worth It?
There are several ice bath benefits, but more research is needed for many of the cold exposure claims. The top benefits that have research to back up the claims include the potential to reduce muscle soreness and aid muscle recovery, immune system support, and mental health benefits, like stress management.
If these benefits sound enticing to you, a cold plunge tub might be worth adding to your home gym essentials. For this inflatable cold tub, Lindsay gives the Yukon XL a 5-out-of-5-star rating when it comes to overall value.
She notes, "There are a couple other portable cold plunges around this price; however, they are either smaller or do not offer the option for a dual-action chiller and heater."
Great for:
Outdoor use
Folks who want an easy set-up process
Anyone looking for a portable cold plunge
Hot and cold therapy options
Not recommended for:
Anyone who'd rather make a DIY a ice bath
Folks new to cold water therapy
People who don't want to deal with frequent water changes
Redwood Outdoors Yukon Cold Plunge XL Deluxe Kit
| | |
| --- | --- |
| Price | $4,699 |
| Temperature range | 37 to 104 degrees Fahrenheit |
| Chiller control | WiFi or manual |
| Footprint | 72.75″ L X 31.5″ W X 32.75″ H |
| Extras | Backpack and insulated cover |
| Dry weight | 35 lbs |
| Water capacity | 155 gallons |
| Warranty | 1-year limited warranty |
Using The Redwood Outdoors Yukon Tub
With cold water immersion gaining so much traction in the health and wellness space recently, features like the technology, filtration systems, and water temperature regulation are now on par with high-end and high-tech hot tubs.
The question is, will you find owning a cold plunge pool helpful for your fit lifestyle or active recovery? And what's more is will you find it valuable that the Redwood Outdoors Yukon Tub is portable and packable?
Expert tester Lindsay says, "I am not sure why someone would want an ultra-portable tub, but if that's what you want, I think this one is well done."
Lindsay may have had her doubts about the inflatable design, but was overall delighted with the spacious footprint and the comfort saying, "It felt very roomy in the tub, and I could fully stretch out my legs or comfortably cross them while my whole body was submerged.
"The side of the tub also felt very comfortable on my neck as I reclined and was able to lay back and enjoy it," she added.
Lindsay also likes the fact that it's easy to set up. "The company thought through a lot of the set up," says Lindsay. "It's lightweight and will be easy for people to pick up and pack away."
It's worth noting that we have two callouts on this tub. First, the brand recommends changing the water frequently and notes that the tub can bulge through the middle if you keep water in it for more than 48 hours. Although the brand doesn't mention whether this is detrimental to the longevity of the Yukon tub, it does note in a video that the tub cover will be hard to put on if the tub has bulged.
The second callout we have is the draining aspect, which I'm about to dive into in this next section.
Draining The Yukon Tub
Lindsay notes there is no official draining port on the Yukon. On the backside of the tub are three connection points for the cold plunge chiller system, which will be part of your assembly process to gain heating and cooling from the chiller.
Lindsay mentions that you'll technically be able to open these connection points to drain water out but foresees it being a problem if you plan to use the Yukon indoors because the water could go everywhere.
In the 11-minute Yukon cold plunge kit owner's guide video, when mentioning storing the chiller, the person in the demonstration says, "Before storing your chiller, make sure all the water is drained out. Remove the water hoses and the filter casing."
Next, they say, "Dump the water out," with a vague gesture to the actual tub. "And then tilt the chiller on its side to pour out the remaining water inside the machine," they add.
Nowhere in this video are there clear instructions or a visual aid on how to drain the water other than "dump the water out."
Lindsay also mentions another inherent issue is where the holes are located. "They are located a couple of inches above the bottom which means you'll still have several gallons of water sitting in the bottom when you use these connection points to drain," she says.
RELATED: Ice Barrel Review
Packability and Portability
The good news is that once the water is out of the tub, it's easy to pack up, fold, and take with you on-the-go. For portability, Lindsay rates the Yukon tub 5-out-of-5 stars because it's the most unique feature about this cold plunge.
It's 6 feet long, just about 2.5 feet wide, and just over 2.5 feet tall. When it's all packed up, it fits in the large backpack that comes with your purchase. The dry weight on the Yukon XL is 35 pounds, which is not ultra-light but totally manageable once it's in the heavy-duty bag.
When setting up, you'll use the air pump that comes with the tub. It's a more powerful version of a traditional bike pump with a higher PSI rating. It took Lindsay less than 10 minutes to get the Yukon XL fully inflated.
Inflatable Design and Durability
Once Lindsay inflated the tub, she didn't expect it to be so stable and durable. But it's constructed from double-walled PVC, which makes for a thick exterior. It's not your backyard kiddie pool, that's for sure.
Lindsay notes that while she wouldn't spend time sitting on the edge of the inflatable pool, she still thinks it was an incredibly stable shell and gives the overall durability of the Yukon a 3-out-of-5-star rating.
Comfort of an Inflatable Cold Plunge
While the draining process seems less than ideal, Lindsay gives the inflatable tub a 4-out-of-5-star rating for ergonomics and comfort.
"At 5 feet and 4 inches, I had some room left while my legs were fully outstretched," says Lindsay. "I could also easily cross my legs while in the tub without hitting the sides."
The one thing Lindsay noticed and thinks is worth mentioning is the fact that when the water is nearly all the way full (keeping in mind her body's displacement and not wanting to spill over), the water comes up to her armpits. The Yukon XL can hold up to 150 gallons of water.
While she liked the ability to keep her arms out or dunk them in, she notes that if you're taller than 5 feet and 4 inches, more of your body will be above the water than Lindsay experienced. But of course, this also depends on your torso length compared to your legs.
Regulating Your Cold Plunge Temperature
Lindsay gives the cold tub's convenience and temperature regulation a 4.5-out-of-5-star rating. The deluxe chiller and heater that comes with the Yukon Cold Plunge XL Deluxe Kit provides cooling down to 37 degrees and heating up to 104 degrees.
Lindsay appreciates the fact you are able to "Regulate the temperature whether you want it hot or cold by setting the temperature using the touchscreen on the chiller," she says.
"You also have the ability to control the temperature from your smartphone or tablet," she adds. This feature can help you set the temperature and have it ready for you after work or your workout.
Redwood Outdoors Yukon Tub vs Cold Plunge
Best Cold Plunge Overall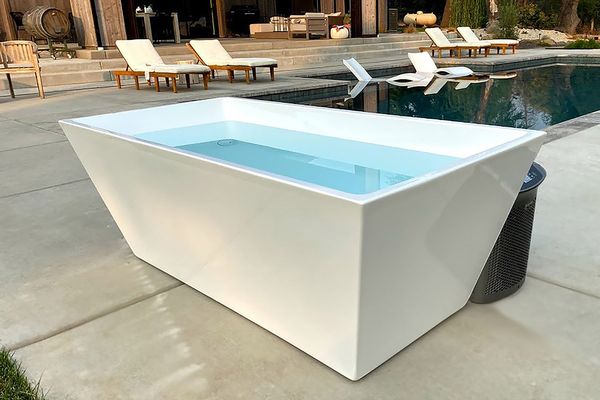 GGR Score: 4.0
Product Highlights
Indoor or outdoor ice bath

Chiller system for regulated temperatures
Filtration and sanitation systems
No plumbing required
Pros & Cons
Pros
Eliminates the hassle of traditional ice baths 
No cleanup or setup to do after initial assembly 
Allows you to fine-tune temperature 
Provides full-body immersion for most body sizes and heights
Less time-consuming than traditional ice bath
Decently aesthetic; would look nice in a backyard or dedicated gym space
Indoor or outdoor use
Free shipping and in-home delivery for lower 48
0% APR financing available through Affirm and Klarna
Insulated cover, cell phone holder, hose filter, and skimmer net included
30 days to return for full refund 
Cons
Very expensive
Requires electricity
No heating capabilities on base model 
Only a 1-year warranty
Extended warranty/product protection costs extra
Shipping is costly for Hawaii and Alaska, and in-home delivery isn't available 
Currently has an 8-week lead time
Consumer must pay shipping fees if returning the tub
Bottom Line
The Cold Plunge is a user-friendly cold-immersion therapy tool that's easy to clean and maintain. The $5,000 price tag may just be too much for many people.
While the Cold Plunge might not be portable or packable, it's pretty similar in price to the Yukon XL tub. The Cold Plunge is a tub you can install, fill, and leave. It's not something you'll move around the house or yard. It doesn't require plumbing, but there are ports made just for draining the tub, which means you can have the Cold Plunge indoors or inside your garage gym.
RELATED: Cold Plunge Review
As I mentioned earlier, the Yukon tub doesn't have the most straightforward draining process and could be tedious for indoor use. However, the Yukon is packable and more spacious than the Cold Plunge.
It's also worth mentioning that the base price of the Cold Plunge is for cold water only; if you want the ability to have hot water, that will be an additional cost.
| | | |
| --- | --- | --- |
| | Cold Plunge | Yukon XL |
| Price | $4,990 | $4,699 |
| Footprint | 67" L x 31.5" W x 24" H | 72.75″ L X 31.5″ W X 32.75″ H |
| Water capacity | About 100 gallons | 155 gallons |
| Dry weight | 150 lbs | 35 lbs |
| Warranty | 1 year | Limited 1 year |
Customer Experience With Redwood Outdoors
For overall customer experience—which includes things like how to contact the company, warranty, financing options, and returns—Lindsay rates Redwood Outdoors a 4-out-of-5 stars.
The Yukon tubs come with a limited 1-year warranty, which we've found is pretty standard for cold plunges.
The website offers an FAQ page, contact phone number, general inquiry form, and notes the company's business hours. The brand says it will respond within 24 hours to inquiries.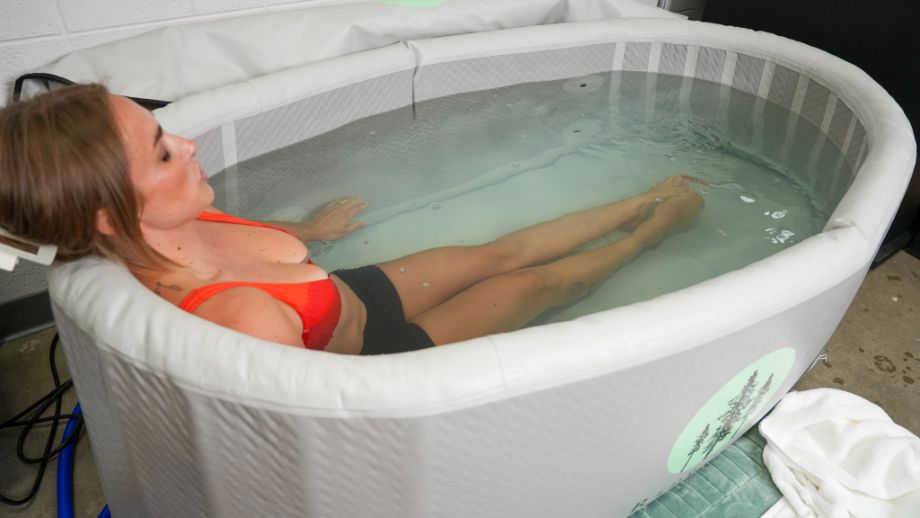 For financing, Redwood Outdoors teams up with Affirm for 0% financing and monthly payments starting at $163 for qualified buyers.
And lastly, for returns the company has a 30-day money-back guarantee. When making returns, keep in mind that you'll be on the hook for shipping fees, and you'll have to return your tub in the original packaging. The website also notes that returns are subject to the satisfaction of certain conditions determined solely by Redwood Outdoors.
Ordering and Assembling the Redwood Outdoors Yukon Tub
According to the website, after checkout, you'll be waiting an additional 12 to 14 weeks for your delivery. At the time of writing this review, many saunas and cold tubs on the Redwood Outdoors website also have delayed lead times.
Once the Yukon tub arrives, the inflation process is simple. You'll use the air pump included, which has the power to pump up the tub in minutes.
The more complicated (but still not terrible) process comes when you have to connect the chiller to the tub with the water hoses. The video tutorial makes the installation easy-to-follow.
In fact, the video even helps guide you to check the gaskets on the inside of each port, which could turn into one big spill without those gaskets. And the good thing is that the tub comes with a spare parts kit and includes extra gaskets.
Customer Reviews
At this time, there are no customer reviews on the Redwood Outdoors Yukon XL Deluxe Kit featured on the company's website. However, there are multiple testimonials about various Redwood Outdoors products with glowing statements. Additionally, we looked at Amazon and Google reviews but didn't find any customer reviews there either.
Final Verdict of Our Redwood Outdoors Yukon Tub Review
While there are many things we like about the Redwood Outdoors Yukon Cold Plunge XL Deluxe Kit, there are still some aspects that need improvement. We like the fact you can go from 37 degrees all the way to 104 degrees with the touch of your finger or your smartphone.

It's also a nice-to-have feature that you can pack it up and bring it with you on vacation, to a friend's house, or to an event. However, the draining is not straightforward and needs to be done frequently to keep the shape of the inflatable tub.
Redwood Outdoors Yukon Tub Rating
Yukon Cold Plunge XL Deluxe Kit
In our Redwood Outdoors Yukon Tub review, we'll uncover the pros and the cons of owning this inflatable cold plunge tub.
Product Brand: Redwood Outdoors
Product Currency: USD
Product Price: 4699.00
Product In-Stock: InStock
Redwood Outdoors Yukon Tub: FAQs
Here are some frequently asked questions regarding the Yukon tub:
Is a Redwood Outdoors chiller any good?
The Redwood Outdoors chiller is a 3/4 horsepower chiller with a 150-gallon chilling capacity. The deluxe chiller and heater combo machine has a 1 horsepower motor and a 300-gallon capacity. All this to say, these are powerful motors for the specific application. For heating and cooling capacity, you will want to place your chiller slightly away from walls or the tub so it can have full ventilation.  
Are cold plunge tubs sanitary?
Typically, if you purchase a cold bath or plunge with a chiller system, the chiller will likely have a built-in filtration system. You'll likely need to either clean the filter or replace it every so often. If you have a tub without a built-in filtration system there are cleaning tablets and solutions you can buy and drop into the tank. 
Can you put a cold plunge outside?
Yes, you can put your cold plunge tubs outside, especially if you have a cover to protect them from environmental wear and debris. Be sure the foundation can withstand the tub when completely full. For example, the Redwood Outdoors Yukon XL tub is about 1,000 pounds when filled with water and only 35 pounds dry.  
How often should you drain a cold plunge tub?
The Redwood Outdoors Yukon Cold Plunge tubs need to be drained every 48 hours to hold their shape and not bulge.