We test and review fitness products based on an independent, multi-point methodology. If you use our links to purchase something, we may earn a commission. Read our disclosures.
If your parents didn't compare you to your siblings, chances are your relatives, neighbors, and acquaintances did. While I'm a firm believer in leaving comparison out of fitness journeys, that doesn't hold true for fitness equipment, including treadmills.
Sorry, treadmills. I'm going to compare you to your siblings, neighbors, and any equipment that's remotely close to you. If you're going to invest in a treadmill, it should be one that's suited to your fitness goals, available space, and budget. A little (or a lot) of comparison shopping will help you find the best treadmill for your lifestyle, which is why I'm taking an in-depth look at the Sole F80 vs F85. Is there that much difference between these two foldable treadmills? The differences might seem small, but they could definitely impact your final decision. 
Sole F80 vs F85 Video Review
Quick Look: Sole F80 vs F85
I've researched and owned several treadmills in my own home gym. And while I haven't personally tested the F80 or F85, my colleagues here at Garage Gym Reviews have tested the Sole F63 and reviewed both the F80 and F85, so we're pretty familiar with this line.
The F85 is more expensive at about $2,100, but it has the specs to back that up—a 4.0 CHP motor, 400-pound weight capacity, and an array of pre-programmed workouts that you can view on the touch panel screen. The F80 is cheaper at about $1,700, but you'll still get a 3.5 CHP motor and 375-pound weight capacity—what you won't get is a touchscreen on this model.
Here's a glimpse of what we looked at when comparing these models by Sole Fitness (and they're things you want to consider when buying your own treadmill).
Maximum speed and incline: Look for at least 10 mph or faster unless you'll only be walking on the treadmill. Incline creates a more challenging, real-world experience, so we like to see at least a few different levels.
Deck size: Decks range in size from 15 to 22 inches wide to 45 to 62 inches long. Walkers don't need as much running surface as a serious runner. However, you'll probably be more comfortable on a deck that's anywhere from 18 inches wide to over 55 inches long, whether you walk or run. If you're taller than average or have a long stride, opt for a wider, longer deck.
Footprint: Folding treadmills are a little better than a standard model when it comes to square footage. However, measure the available space and then add a foot of clearance around the treadmill's footprint for safety.
Warranty: Treadmills experience a lot of wear and tear if they're used regularly. Check the warranty. Many companies have different warranty lengths and policies for the frame, parts, and labor.
Motor: If you'll be running regularly, a 2.5 HP motor or higher is the way to go. Anything lower is better for walking.
Who Should Buy the Sole F80
Consistent runners and walkers
Those who want a basic treadmill interface but a solid, durable build
Taller users who need a longer deck
Those who need a foldable treadmill
Who Should Buy the Sole F85
Heavier users
Consistent, hardcore runners
Taller users who need a longer deck
Those looking for a long-term, durable treadmill
Need a foldable treadmill
Those who prefer to use custom preset workouts
Those who want to watch workouts or streaming services on a built-in LCD screen
Sole F85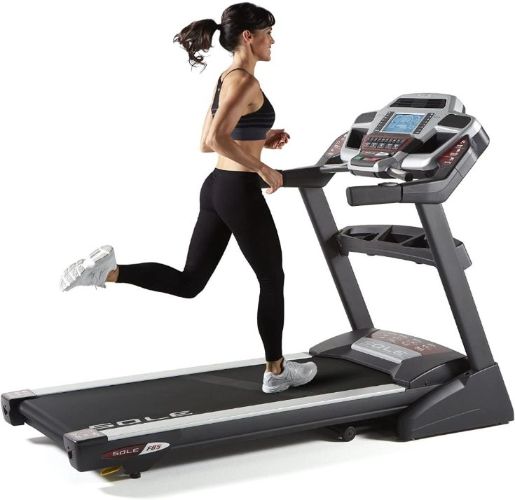 Comparison Chart: Sole F80 vs Sole F85
| | | |
| --- | --- | --- |
| | Sole F80 | Sole F85 |
| Price | $1,699 | $1,999 |
| Dimensions | 82" L x 37" W x 66" H | 82" L x 37" W x 66" H |
| Deck Dimensions | 22" W x 60" L | 22" W x 60" L |
| Treadmill Weight | 278 lbs | 308 lbs |
| Weight Capacity | 375 lbs | 400 lbs |
| Motor | 3.5 CHP | 4.0 CHP |
| Standard Programs | 6 | 6 |
| Custom Programs | 2 | 12 |
| Fitness Tests | 0 | 7 |
Key Similarities Between Sole F80 and F85
The Sole F80 and F85 are indeed very similar. They have the:
Same deck size
Same cushion flex whisper deck
Same overall dimensions
Same warranty
Same 15 incline levels
Same speed settings
Same step-up height
Same easy assist folding
Same underpowered cooling fans
Important Differences Between Sole F80 and F85
Despite all of the similarities, the F85 does have a few upgrades.
The F85 has a more powerful 4.0 HP motor versus the F80's 3.5 HP.
The F85 has a built-in touchscreen that allows screen mirroring.
The F85 has 10 more custom programs.
The F85 connects to the internet, Bluetooth, and WiFi, while the F80 only connects through Bluetooth.
The F85 has a higher maximum weight capacity.
The F85 has a telemetric heart rate receiver.
Power Comparison: Sole F80 vs Sole F85
Though both the F80 and F85 are well-built, the F85 has a more powerful 4.0 CHP motor. If you're of average height and weight, you may not need the extra power unless you would frequently use the highest speed and incline settings.
However, the added horsepower increases the maximum weight limit from the F80's 375 pounds to 400 pounds for the F85. That extra power can also create a smoother feel to the belt and prevent slipping for users over 375 pounds.
Workout Comparison: Sole F80 vs Sole F85
For the most part, you'll get a similar workout from these machines. They have the same speed and incline settings, though the above-mentioned extra horsepower will make a difference in the feel, especially for larger, heavier users. For example, if you ever get the inclination to set the treadmill to 12 mph and the highest incline level, the F85 will have an easier time than the F80.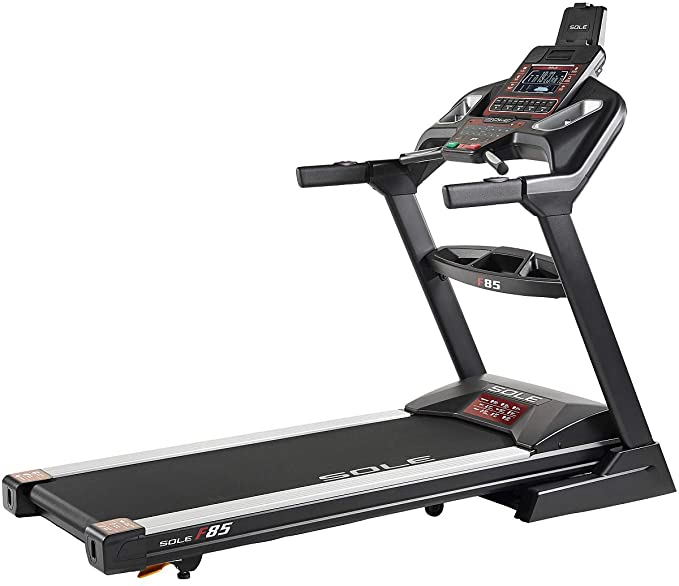 However, what you can do during the workout and where you watch your media will be different. The Sole F85 also has a 10.1-inch built-in Android touchscreen display and seven built-in apps, including YouTube and Netflix. It can also connect via the internet, WiFi, or Bluetooth. You can mirror your device to the screen to watch your favorite streaming service or fitness app on the built-in screen if they're not included in the seven preloaded apps.
If you use a workout app, that app won't control any of the treadmill's settings. You'll have to make any changes to the treadmill settings yourself because the screen is purely for the visual of watching on a built-in screen. If you don't want to mess with mirroring, then you can use the F85's media/tablet holder to watch or listen to music. However, the Bluetooth speakers on both models are only average in volume and sound quality.
The F80 has a media/tablet holder, too, but no built-in screen or preloaded apps. You can connect to the built-in speakers via Bluetooth. But I have to point out that built-in technology isn't where the Sole treadmills in this line really shine. They're built for power and durability rather than sleek app integrations and connectivity, especially the F80.
A final difference that could affect your workout is the F85's telemetric heart-rate receiver. This lovely doodad can connect to a telemetric heart rate monitor and wirelessly calculate your target heart rate to display on the touchscreen. That's a great feature for users who like to do heart rate-based workouts. However, if you don't have a telemetric heart rate monitor, both the F80 and the F85 have pulse grips and are chest strap-compatible (strap sold separately).
Built-in Programming: Sole F80 vs F85
These two models have the same six standard workout programs, including:
Fat Burn
Hills
Strength
Interval
Cardiovascular Function
Manual
Both machines are Bluetooth-compatible so you can upload your workouts to a few favorite fitness apps, like Apple Health and Fitbit, making them easier to track. However, as far as programs, that's where the similarities end.
The F85 also has seven fitness tests to gauge where you're at and track your progress. It has two user profiles where you can create your own programs with room to store 12 versus the F80's two. Overall, there are more customization options on the F85.
Sole Fitness has their own workout app called STUDIO that requires a $19.99 monthly subscription. And while you can't directly stream it to either of these treadmills, you can connect the app to the machine via Bluetooth from your own device.
Company Policies
From warranties to shipping, let's see how Sole stacks up.
Warranty
Sole Fitness offers an excellent warranty for both of these models. The F80 and F85 both have a lifetime warranty on the frames, motors, and decks, a five-year warranty on electronics and parts, and a two-year warranty on labor. This is above industry standard, so no complaints here.
Return Policy
Sole offers a 30-day trial and return period. However, that's only in effect if you purchase it directly through Sole, not a third-party seller. If you purchase either from Amazon, keep in mind that you might not be able to act on Sole Fitness warranty. Hang on to your proof of purchase and register the warranty once the treadmill arrives.
Financing Options
Sole offers financing through Citizen Pay, with some people qualifying for payments of around $92 per month. However, that depends on your credit rating and other specific financial information.
Shipping
Sole provides several shipping options. You're automatically signed up for curbside service. For an additional $199, you can have the treadmill delivered to your room of choice. For a $299 fee, you get a room-of-choice delivery and assembly. That's a chunk of change, but it might be worth it if you're not handy with tools.
Keep in mind that both of these treadmills can take a couple of hours or more to assemble. Users report that two particularly difficult screws have to be installed while lying underneath the treadmill. Prepare yourself.
FAQs About Sole F80 vs F85
Is the Sole F85 better than the F80?
Technically speaking, it is better. The F85's more powerful motor increases the maximum user weight limit, making this a better choice for larger users. There are a few more tech specs that matter, including the built-in touchscreen with seven preinstalled apps and the ability to screen mirror. The F85 also allows for greater program customization.
However, if you're an average-sized user, which one you choose won't make too much of a difference in your workout experience. If you like your techy upgrades and need a higher weight limit, that's when you should opt for the F85 over the F80.  
Is the Sole F80 treadmill good?
Yes, the F80 is a solid, foldable treadmill that's built to last. It's not a techy treadmill with a big built-in screen that will stream your workouts with automatic speed and incline adjustments. But it can save space and hit fast speeds and inclines for the average user who doesn't mind relying on their tablet or phone for media. 
Can you watch Netflix on the Sole F85 treadmill?
Netflix is preinstalled on the F85, so yes, you can watch your favorite Netflix programs. 
Is NordicTrack better than Sole?
In some respects, NordicTrack is better than Sole. In others, Sole outperforms NordicTrack. It depends on what features are important to you and your workout habits. 
Sole builds high-quality, solid treadmills but leans toward construction upgrades versus tech upgrades. The F80 and F85 have more powerful motors compared to similarly priced NordicTrack treadmills. Their NordicTrack counterparts have motors that range from 2.5 to 3.5 HP (Check out our treadmill review for the NordicTrack EXP 10i) motors versus the F80's 3.5 HP and the F85's 4.0 HP motors. However, some of those NordicTrack models include a decline feature so you can work on uphill or downhill running. 
NordicTrack tends to cater to techy users with built-in touchscreens that connect to iFIT for an integrated app experience. The app automatically makes speed and incline adjustments when connected to iFIT. You can also check out leaderboards and connect with other users. You get a sense of community when working out using iFIT that you don't get through Sole's STUDIO.
Sole offers great warranties for these two models. However, NordicTrack models in a similar price range have 10-year frame warranties but shorter warranties for parts and labor. It's a pro and con game that depends on what you want and need from your home cardio equipment.