We test and review fitness products based on an independent, multi-point methodology. If you use our links to purchase something, we may earn a commission. Read our disclosures.
A career in the fitness industry can be extremely rewarding on both a personal and professional level. As a certified personal trainer, you'd have the capability and opportunity to positively impact lives and help people make healthier choices, build muscle, and achieve goals they may have thought were impossible to reach.
So, congrats on taking the first step in becoming a credentialed fitness professional: Researching how to become a personal trainer. In this step-by-step guide, I'll take you through all of the prerequisites to becoming a fitness trainer so you can get to changing lives. (P.S. I'm a certified personal trainer of seven years, so I know a thing or two about this!).
RELATED: NASM Nutrition Certification Review
Ensure You Meet CPT Prerequisites
Good news: Earning your personal training certification does not require a rigorous bachelor's degree, or any type of college degree for that matter.
You don't even need any prior education in kinesiology or exercise science, because the certification program will teach you everything you need to know. I promise: I started my career in the fitness industry with no training in physiology, anatomy, or related topics.
The prerequisites to start a personal training program are simple: earn your high school diploma or equivalent (such as a GED), and be 18 years old or older.
Research the Best Personal Trainer Certifications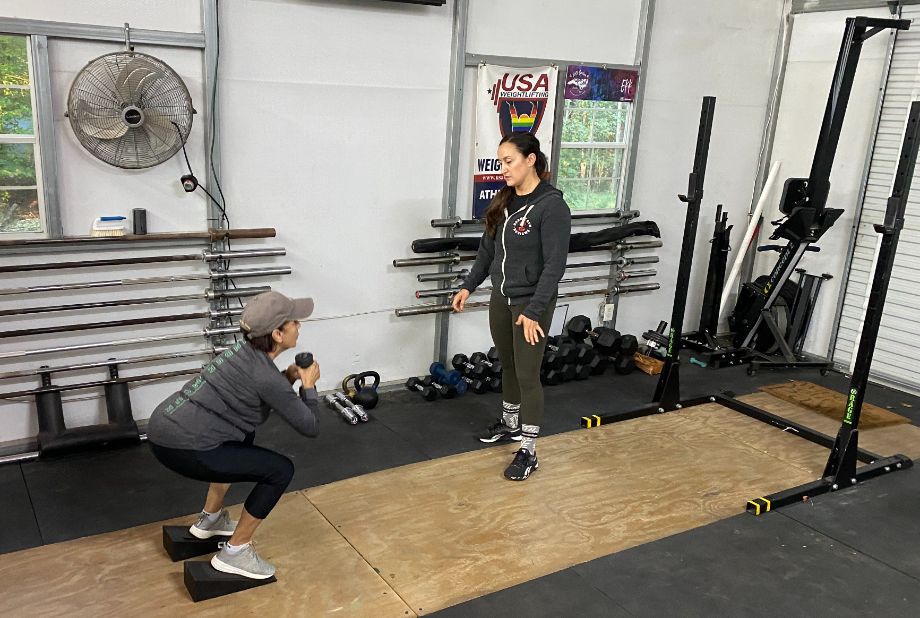 Your personal trainer career begins when you sign up for a personal trainer certification program. There are plenty to choose from; in this guide, we cover the top six most recognized and respected options.
All of the following courses are NCCA-accredited. The NCCA, or National Commission for Certifying Agencies, accredits organizations and agencies that provide education for professions that require certification.
When a course is NCCA-accredited, it is respected and accepted by employers and gives you the best chance of success in your new career.
American Council on Exercise (ACE)
International Sports Sciences Association (ISSA)
American College of Sports Medicine (ACSM)
National Council on Strength and Fitness (NCSF)
National Strength and Conditioning Association (NSCA)
RELATED: NASM Home Gym Design Course Review
On-Campus College Personal Trainer Classes
If you are currently enrolled in a college degree program, check with a counselor about on-campus options. Many schools offer semester- or year-long classes that prepare you to sit for the personal trainer exam. These classes cover basic anatomy and physiology along with communication skills, foundations of exercise programs, and business skills. 
RELATED: Best Online Workout Programs
Take a CPR/AED Certification Course
Any reputable personal trainer program will require you to become certified in CPR (cardiopulmonary resuscitation) and AED (automated external defibrillator). Plus, any reputable health club or gym will require personal trainers to be certified in these life-saving skills to be eligible for employment.
Most personal trainer courses allow you to take the CPR/AED class after you complete the course material, so long as you are certified prior to your certification exam. However, I think it's good to go ahead and get this out of the way so you can fully focus on the study materials and exam. Then, once you pass, you're eligible for employment at all major fitness centers.
Most personal trainer certifying agencies require an in-person skills check for CPR/AED. There were exceptions during the COVID-19 pandemic, but such exceptions are few and far between now. Still, a portion of this can be completed online in most cases: Make sure to carefully read the requirements from your certifying agency before signing up for a CPR/AED course.
Study for the Personal Trainer Exam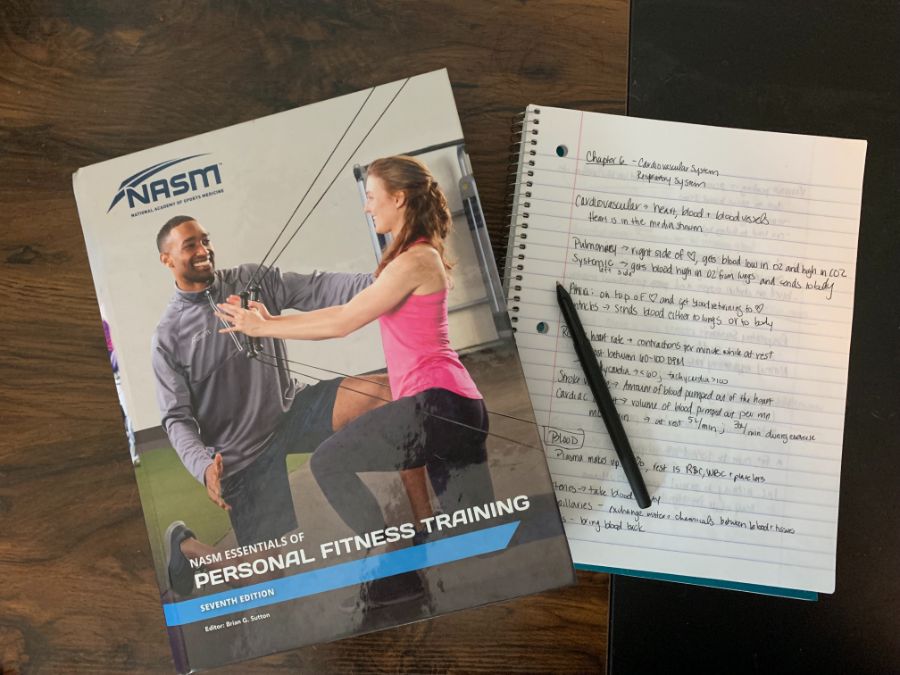 Personal trainer programs are self-paced. This is great if you thrive off of flexibility and autonomy, but students who need more accountability may struggle. If you identify with the latter, it'd be worth it to purchase the most extensive study package available, since the more expansive packages include more interactive elements—some even include access to live Q&A sessions and scheduled study groups.
Generally, you can expect to receive a variety of the following study materials, varying based on the certifying agency and the study package you buy:
Recorded lectures you can watch at any time
A hard copy textbook or online textbook
Hard copy or online workbooks and worksheets
Online practice quizzes
Access to client intake forms such as the physical activity readiness questionnaire (PAR-Q)
Online practice exams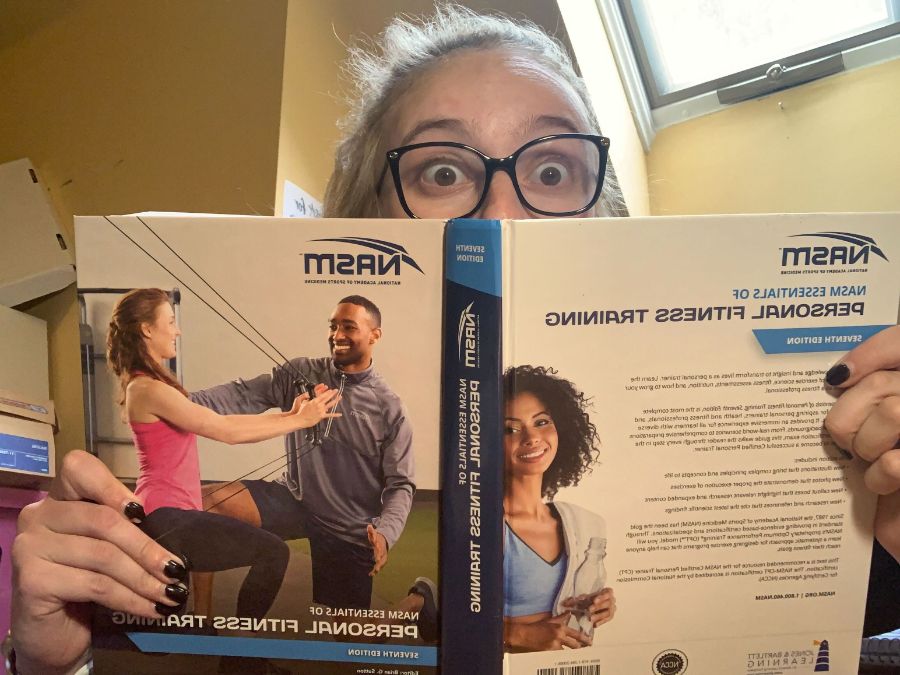 As for the topical material, expect to learn about:
Human anatomy
Exercise physiology, including aerobic and anaerobic metabolism
How to calculate resting metabolic rate
How to count and track macronutrients and calories
Principles of strength training
Principles of cardiovascular training
Corrective exercise, mobility training, and flexibility training
Designing fitness programs for specific fitness goals
Behavior change tactics and habit formation
Healthy lifestyle intervention strategies
Motivational interviewing
Client intake and assessment
Personal trainer scope of practice and ethics
Personal training business skills, such as building a client base
Communication skills and marketing
Scope of practice and personal training ethics
It's highly advisable to take more than one practice exam in advance of the real exam. This will give you the most exposure to the material and types of questions you'll be asked on the real exam.
Take the Personal Trainer Exam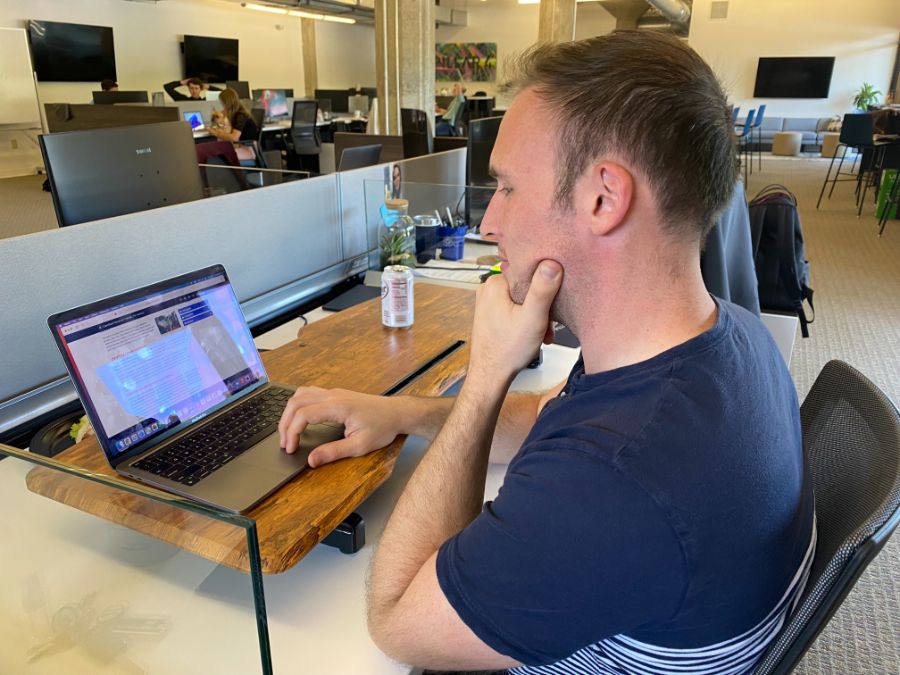 The final step is to take the final exam. The exam will either be a live proctored exam in a computer testing center, or an online proctored exam. When you purchase your course and exam voucher (normally those purchases are made together at the same time, or the exam fee is bundled into the cost of the course), you will be able to see your options and choose. Most certifying agencies require you to schedule and take the exam within one year of purchasing your voucher.
Most agencies allow up to three retakes, although you may have to space them out by 30 days or more depending on the agency's policies. If you don't pass after using the maximum number of attempts, most organizations allow extra retakes to be purchased; you'll need to call customer support to do this.
RELATED: Barbell Academy Principles Course Review
Getting a Job or Building a Business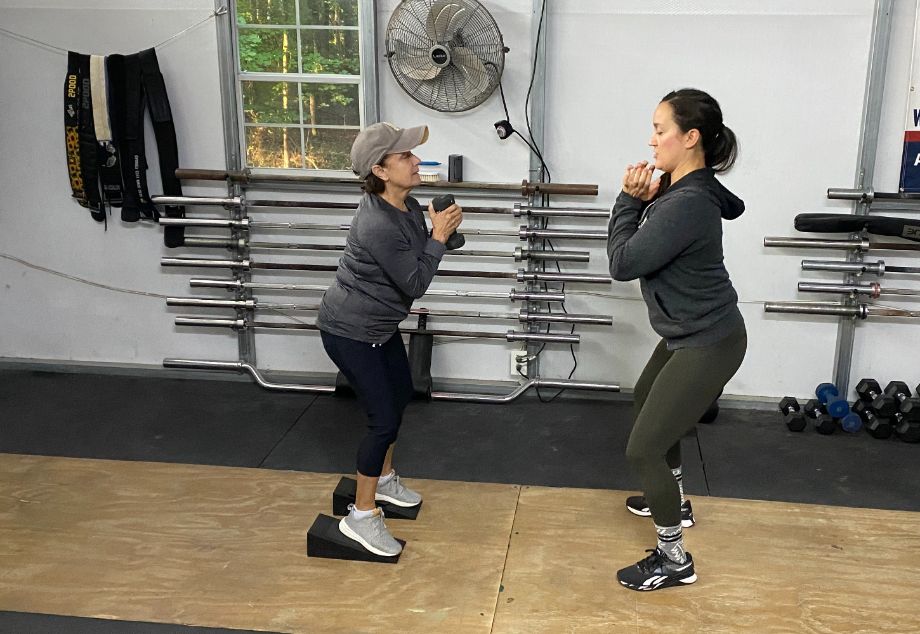 Honestly, now is when the hard part begins. Earning your CPT credential is challenging, yes, but becoming and remaining a successful personal trainer with consistent income is arguably more challenging!
The easiest route is to get a job as a floor trainer with a major health club such as LA Fitness, 24-Hour Fitness, and similar companies. However, the pay for those positions is usually not great. It's a great starting point, though, and a wonderful way to gain experience. My first job as a personal trainer was at an LA Fitness; then I worked at a sport training center preparing young athletes for college sports; and after a year or so of doing that, I shifted back to floor training at a Gold's Gym in California.
Ultimately, I brought my personal training business online, which is the most flexible and lucrative option for modern-day personal trainers. You do lose a little bit of the "personal" element, but there are plenty of tools you can use to ensure your clients are still receiving proper assessments and check-ins.
Another option is to own your own personal training studio, but you have to be ready for big overhead costs like renting a facility and renting or buying gym equipment.
When you own your own business, whether in person or online, getting clients is entirely up to you—you'll need skills in social media marketing and sales. At fitness centers, there is usually sales team who brings in clients and then assigns them out to the trainers based on their specialties.
Personal trainers are also needed in many other settings, including:
Boutique fitness studios
Wellness spas, hotels, and resorts
Retirement homes
Schools and community programs for youth
Hybrid clinical settings like physical therapist office with a fitness center
Youth sports teams
Maintain Your New Credential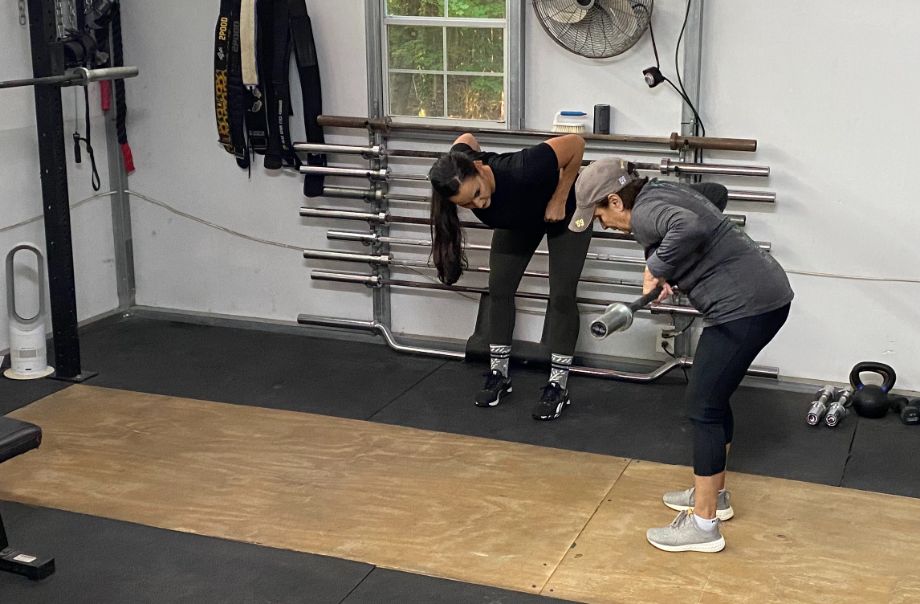 The journey doesn't stop after passing your exam—to maintain your credential and be a successful personal trainer, you'll need to earn continuing education credits (CECs) throughout your career. The amount of hours you need and the time frame for recertifying varies among the different certifying agencies, but typically falls around 20 hours of continuing education every two years.
How to Become a Personal Trainer: Final Thoughts
Becoming a personal trainer is a rewarding career journey that will allow you to positively impact the physical fitness and health of your clients. There's a relatively low barrier to entry compared to other career paths in the allied health field, yet you can still make a big difference in others' lives.
It can take as little as a few weeks up to one year to earn your certified personal trainer credential, depending on your prior knowledge of required topics
Requirements include obtaining a high school diploma or equivalent, becoming certified in CPR/AED, and passing the personal trainer exam.
There are several NCCA-accredited programs to choose from, and each agency offers several study tracks at various price points.
How to Become a Personal Trainer: FAQs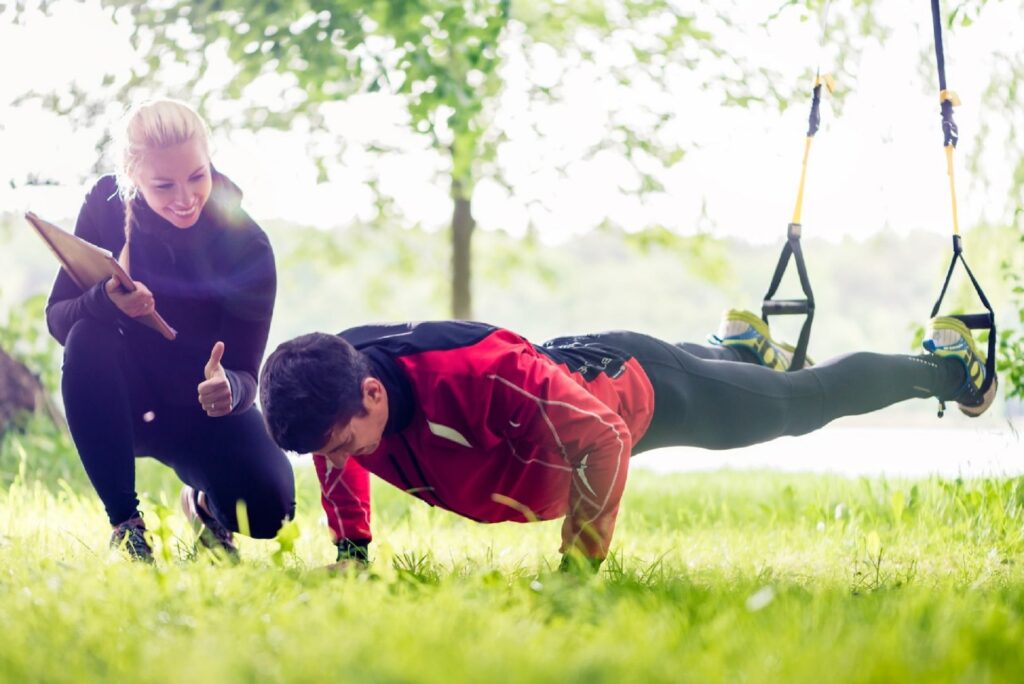 What qualifications do I need to be a personal trainer?
To become a personal trainer, you must have a high school diploma or equivalent; be at least 18 years old; be certified in CPR/AED; and pass the personal trainer exam. 
How much does a personal trainer make? 
Income in this field varies so significantly based on the trainer's location, skills, years of experience, and whether they run their own business or work for a gym or other business. According to the Bureau of Labor Statistics (BLS), the median annual wage for "fitness trainers and instructors" is about $45,000 as of May 2022, but the income potential is much higher. 
Which personal trainer certificate is most respected?
We recommend looking into programs from: American Council on Exercise (ACE), National Academy of Sports Medicine (NASM), International Sports Sciences Association (ISSA) , American College of Sports Medicine (ACSM) , National Council on Strength and Fitness (NCSF) , National Strength and Conditioning Association (NSCA). 
All of these are NCCA-accredited programs and are accepted by major gyms and health clubs for employment.
How hard is the certified personal trainer exam?
The personal trainer exam requires an in-depth knowledge of exercise physiology, principles of progressive overload, program design, behavior change, and more. For someone with no prior knowledge of anatomy and physiology, the personal trainer exam will probably be quite difficult. 
However, individuals who hold a degree in kinesiology or a related field could likely pass the exam without explicitly studying for it. Regardless of your educational background, it's recommended to complete a study program to learn crucial skills related to business, communication, and marketing, as well as legal and ethical aspects of personal training. 
What's the difference between a personal trainer and a group fitness instructor? 
A group fitness instructor is someone who is certified to perform fitness training in a group setting. Generally, a group fitness trainer leads classes like Zumba, Spin, kickboxing, or similar. Often, group fitness instructors are certified only in the type of class they are leading (e.g. Zumba) and they are not qualified to provide personalized exercise programs for individual clients. However, it is also common for certified personal trainers to get a group fitness instructor credential on top of their personal trainer credential.