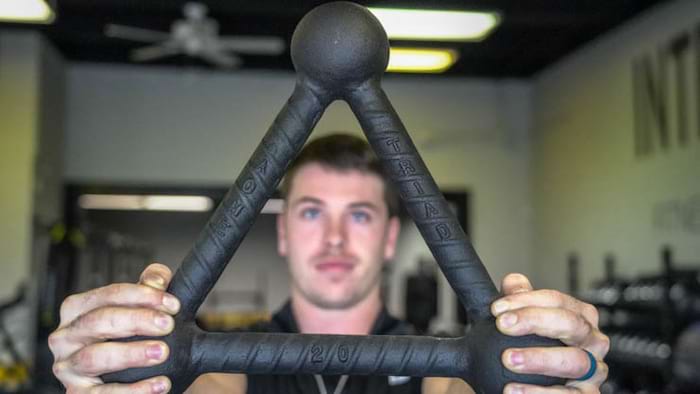 Want to get strong and healthy? Then you should squat, deadlift, bench, overhead press and move your body through full ranges of motion often. It really can be that simple. However, squatting, deadlifting, benching, and overhead pressing can get boring if that's all you're doing.
Ask anyone who's been training for long enough and they'll tell you that although there are things that are optimal, there are some things that can be done to keep you from getting tired of training optimally.
One of the ways I and many others increase our enjoyment of training is by adding in various training tools and movements. One piece of equipment I've been incorporating into my training to increase engagement is the Acme Sledgeworks Triads.
The Acme Sledgeworks Triads are a triangle-shaped piece of equipment ranging from 5 pounds to 20 pounds that can be used in similar ways as kettlebells and dumbbells. They're different, fun to use, and can be quite effective if used properly.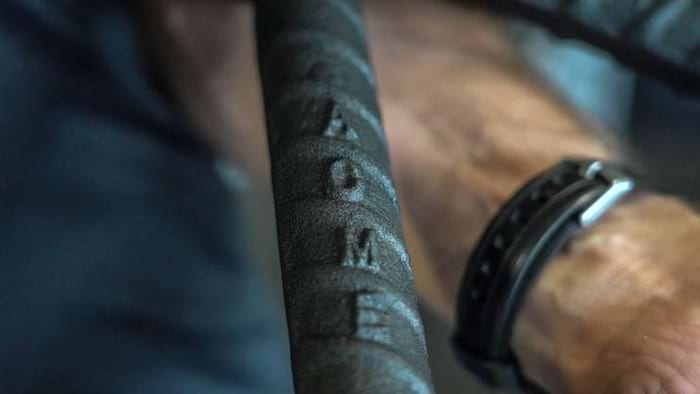 Acme Sledgeworks has been coming up with some cool pieces of equipment (I especially like their sledgehammers.) With the growth of the home gym market, more companies are able to come up with innovative pieces of equipment and the Triads are a great example of this.
Are they better than dumbbells or kettlebells? Not necessarily, but I don't think that's the aim of the Triads. They're designed to add some variety to your training. They certainly aren't going to replace kettlebells or dumbbells, largely due to the weight increments, but they're a nice option to have and can be used in ways that Dumbbells and Kettlebells can't.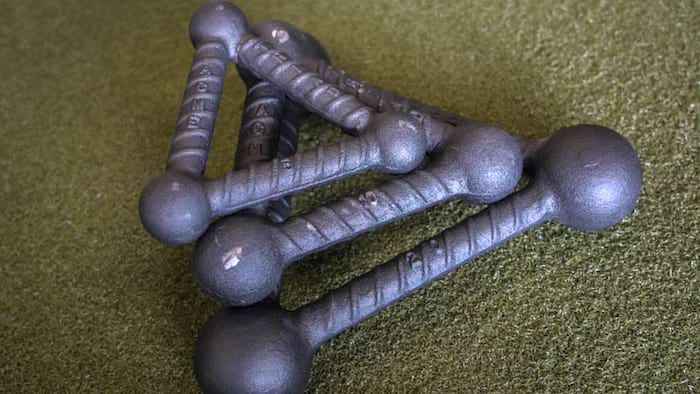 The build of the Triad's is pretty simple. They use three pieces of thick rebar that are welded on each end to cannonballs. The triangle is then powder coated, baked, and comes out an Acme Sledgeworks Triad.
In addition to the standard rebar and cannonballs, branding and weight increments are included on the rebar parts of the equipment.
Once you get the Triad's in your hands, you start to realize they are handmade. Not the small imperfections point to the fact that unlike a lot of gym equipment, Triad's aren't made on an assembly line but are crafted by their founder. This is pretty unique for fitness equipment and is pretty cool to see.
Once we examined the build quality of the Triad's, we decided it was time to test them in training. First off, having multiple places to hold is awesome. Seriously, if nothing else, being able to hold the Triad's for close grip press burnouts, behind the neck tricep extensions, and steering wheel squats (squats with the weight held at arms length) was pretty cool.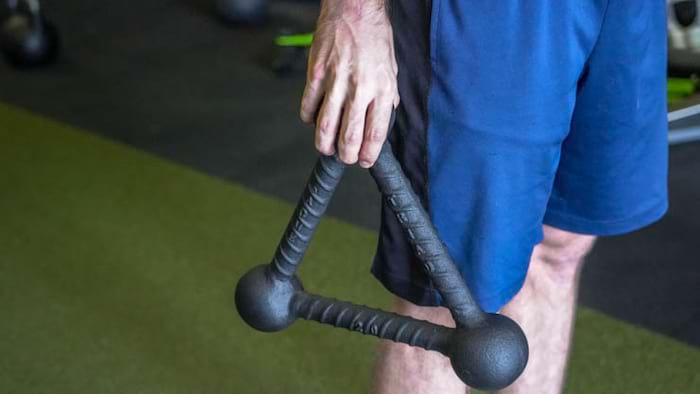 For some of the older and less powerful clients at my personal training gym Intentional Fitness & Performance, we used the Triads for farmer's carries, swings, and even presses (the feel similar to pressing with kettlebells.)
We were a little worried when we first received them how many different exercises we were able to use them for, but it ended up being quite a few.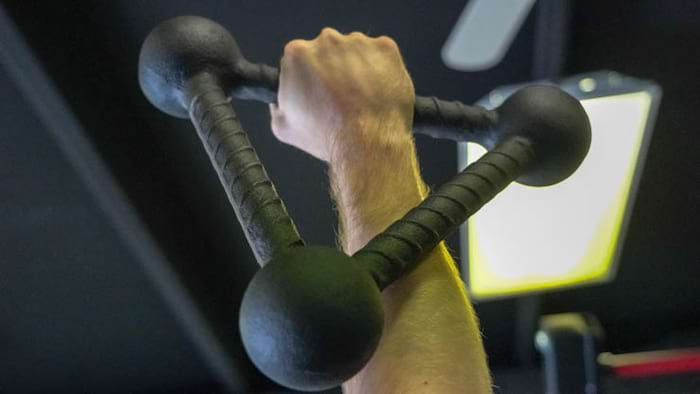 The biggest downside we found with using the Triads was their low weight increments. This is obviously largely dependent on the strength of the individual using them, but we would have liked to see them as heavy as 100 lbs or more. That would be difficult due to their shape, but because of their versatility, we just kept wanting to use them for things that 20 lbs was a bit light for.
The traingle-shape of the Triads is pretty nice to use, however. Instead of having just one handle like kettlebells and dumbbells have, you now have three to choose from and using two at once with curls and presses feels awesome thanks to the angle of the handles.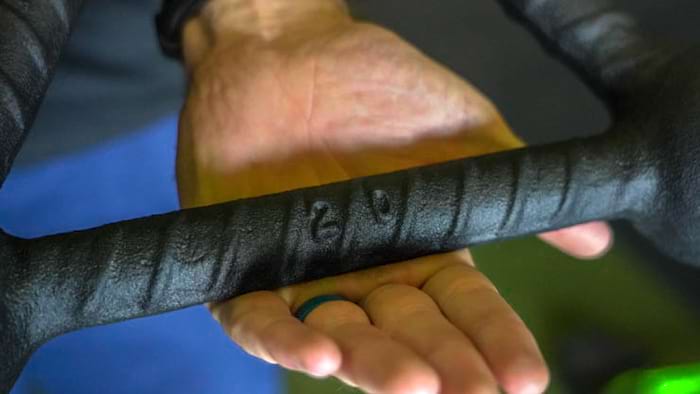 In addition to using the Triads with the handles, they can be held by the cannonballs to increase the amount of grip used while training with them.
Although the rebar adds to the industrial look of the Triads, it also increases the grip to simulate somewhat of a knurling pattern that you'd find on a barbell. It's unique and works well, so we're fans.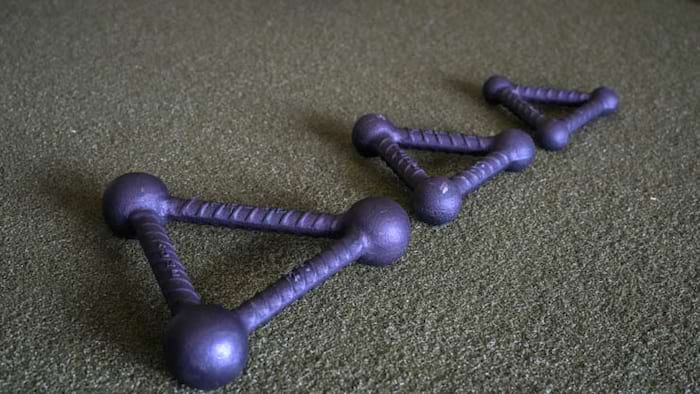 The biggest issue besides the lack of heavier weights with the Triads is the price. Due to them being handmade from a small company in the USA, they're pretty expensive. Although they're probably a bit out of reach for the typical home gym owner, anyone that wants to add versatility to their training would really enjoy using the Triads.