We test and review fitness products based on an independent, multi-point methodology. If you use our links to purchase something, we may earn a commission. Read our disclosures.
I like to consider myself a lifelong learner. If I'm interested in a topic, I'm not hesitant to jump headfirst into some course, whether it be parenting classes before my first baby was born, sourdough bread-making classes (it was before the pandemic, I swear), or anything related to my professional fitness endeavors.
When I was given the chance to take the Barbell Academy Principles Course from Barbell Logic, I was up for the challenge. Barbell training was not necessarily my forte before taking this online course, but now, I feel more confident than ever in my barbell skillz, both performance-wise and in coaching.
Barbells Are Part of Our DNA
GGR knows good home gym equipment, this is true. But we also know fitness, being a team full of certified personal trainers, CrossFit L1 Trainers, and nutrition coaches. I've been certified as a personal trainer and have been working with clients IRL for more than five years, and I have a huge personal interest in lifting weights, so Barbell Academy is right up my alley.
Barbell Academy Principles Course
Barbell Academy Principles Course
If you're a certified personal trainer or strength coach, or just a passionate lifter, Barbell Academy may be a good continuing education resource for you.The introductory course is the Principles Course, which covers the four main barbell lifts—squat, deadlift, bench press, and overhead press—providing the knowledge you'll need to coach them and help others achieve their goals. This course starts with anatomy and physiology, then progresses into programming and biomechanics, and ends with teaching the lifts. It costs $989, or can be financed over 12 months for $89 per month.After the Principles Course is the Advanced Concepts course, which covers Lower Extremity, Upper Extremity, Post-Novice Programming, and Biomechanics in a more in-depth manner. You can bundle this course with the Principles Course to save money.The next step would be to take the exam to become a Professional Barbell Coach (PBC). This entails a written exam, video interview, and coaching assessment.
A Quick Look at the Barbell Academy Principles Course
The Barbell Academy Principles Course was created by Barbell Logic, a company that offers online strength and nutrition coaching and educational resources for both strength coaches and passionate lifters. Barbell Logic was founded in 2016 by Matt Reynolds, who has more than 25 years of experience competing in strength sports as well as coaching barbell-based strength and conditioning.
Reynolds contributed to the creation of the Barbell Academy Principles Course; CJ Gotcher, the director of the Academy, plus Rebekah Krieg, curriculum developer, are the main course creators, and Barbell Logic COO Andrew Jackson as well as Director of Coaching Development Karl Schudt were also contributors.
This self-paced course will give you in-depth knowledge about how to perform and coach the four main barbell lifts—squat, deadlift, bench press, and overhead press—effectively.
My Tips
Bite off studying time in shorter chunks, like 30 minutes to one hour. If you do this consistently a few days per week, you should finish the course in about three months.
If you're considering taking this course and are on the fence about a certified personal trainer certification, like the one through NASM, I'd start there. There's a lot of anatomy and physiology in the Principles Course that was much easier to understand with a PT certification in my back pocket.
Pros:
All online
Self-paced
Can finance over 12 months
Lifetime access to all materials
Material written by expert strength coaches with a combined experience of more than 50 years
Cons:
Need to be self-motivated to stay on schedule
Pricey at almost $1,000
May not help with CEUs if you're a CPT (depending on your certifying agency)
Is the Barbell Academy Principles Course Worth It?
The Barbell Academy Principles Course is the first recommended step to earning a Professional Barbell Coach (PBC) certification from Barbell Logic. (To become a PBC, you'll also have to complete the Barbell Academy Advanced Concepts courses, then take the 4-hour proctored written exam and pass the interview and platform performance assessment).
The Principles Course is intended as a general education program for strength coaches, as well as lifters who want to learn more about technique for themselves, and to potentially help others. But at $989 for a one-time payment, or 12 monthly payments of $89, the course is pricey. Here's who I think could benefit from taking the Barbell Academy Principles Course, and who should think twice.
Great for:
Fitness professionals who want more knowledge about barbell lifting
Those who want to pursue a Professional Barbell Coach certification
Busy people
People who already hold a CPT credential
Not recommended for:
Those looking for a general strength coaching certification
Those who want to deep dive into weightlifting or Olympic lifts
People who have trouble with self-learning
Prerequisites for the Barbell Academy Principles Course
There are no official prerequisites to enroll in the Barbell Academy Principles Course; you'll just pay and get started.
However, I'm a certified personal trainer (CPT) through the American Council on Exercise (ACE) and my two cents are this: While a personal training certification isn't required, I found it to be really helpful with the anatomy and physiology portions of the Barbell Academy Principles Course.
Why? You'll do a deep dive into anatomy and physiology in CPT courses, and it felt like a primer for me when going through the Principles Course. I would've been overwhelmed with the anatomy material if I wasn't already familiar, mainly because it's a lot of information packed into just a few short lessons. And of course it's vital information, but presented in the Principles Course format, it's easy to gloss over.
Barbell Academy Course Design and Layout
According to Matt, it took two years to refine the teaching process and introduce the Principles Course. Throughout the course, you'll be exposed to the foundational aspects of barbell training —anatomy, physiology, biomechanics, programming, and lift analysis—and it's split up into six modules.
There are learning exercises within each module, allowing you to apply the concept and jot down notes along the way. There are quizzes interspersed throughout each module to test what you've learned, and each module is also capped off with a quiz, which you have to pass (in two tries) in order to move on and complete the course. But don't worry, the quizzes are open book!
Here's how the Principles Course is designed: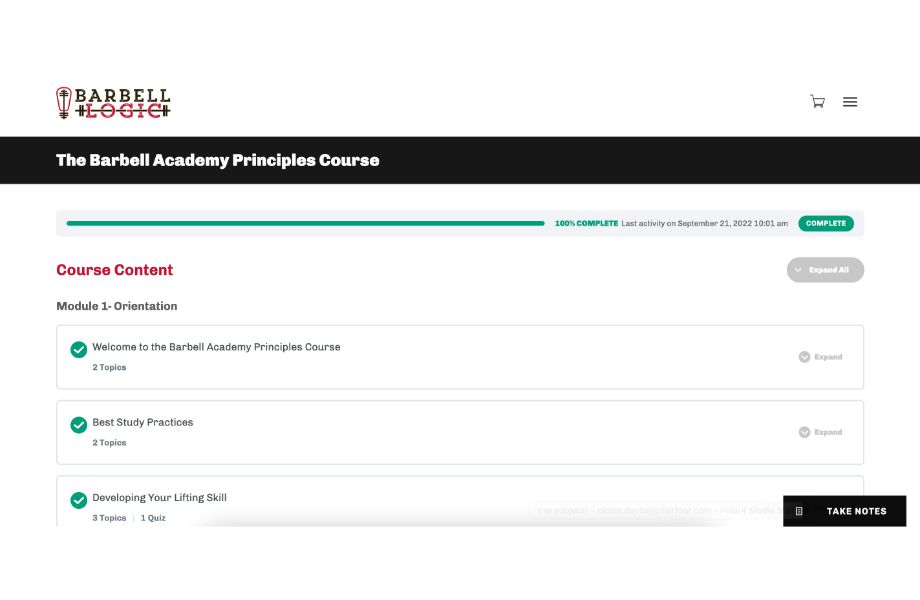 Module 1: Orientation
This intro module sets you up in the course, providing best practices for studying and explains the BLOC (Barbell Logic Online Coaching) approach to coaching athletes.
Module 2: Anatomy and Physiology
This is a doozy of a section, covering the basics of bones and joints, muscle anatomy, planes of movement and related terms, and also physiology, including the basics of metabolism, strength training adaptations, and much more.
Module 3: Programming
This is where we get into BLOC's secret sauce—their unique approach to helping clients build strength. In this section, you'll learn basic progression and troubleshooting techniques, particularly as it relates to novice lifters. This is really where your coaching skills will start to develop.
Module 4: Introduction to Biomechanics
Force and motion, vectors, and rotational force, oh my! Put on your scientist hat, because you're going to need it.
Module 5: General Lifting
In this section, you'll get a primer on coaching the main barbell lifts. You'll learn about the coaching "black box,"—or how you process what you're seeing from the lifter, identify any errors, and provide feedback— movement corrections, variations in the models, plus red flags and how to coach someone through setbacks and injuries.
Module 6: The Lifts
And finally, in the last hefty module, you'll cover the four main barbell lifts: squat, deadlift, bench press, and overhead press. You'll do a deep dive into each, building the model, identifying errors, and practicing, not only with your own lifts but being able to identify errors in someone else's lifts as well.
Learning Objectives and Outcomes
People who complete this course should have the knowledge to successfully coach others—or themselves—on the four main barbell lifts.
You'll understand the functionality of each of these lifts; how to help a lifter achieve their fitness goals with their unique limitations—i.e. maybe you'll need to integrate dumbbell and kettlebell movements into their programming as well; and you'll begin to understand how your skills as a coach will continually improve the more you work with people.
To help you during the course, Barbell Academy offers extra opportunities for learning and connection. You'll be added to a Slack channel so you can ask questions about the course material, or just general lifting questions. There are also live coaching calls each month you can join as well, and they're recorded if you can't make it.
When I first met with CJ about the Principles Course, he told me that it should take two or three months to finish if you dedicate small chunks of time to study multiple times per week. No problem, I thought—I've got this!
Well, flash forward to month five and I just earned my course certificate. I'm sure as with most people who take this course, I work full-time, and I'm also a wife and mom to two toddlers, so I'm giving myself grace on that timeline (and thanking the espresso gods). I think three months is definitely achievable for someone who is disciplined and really motivated, but it may take longer if you lead a busy life.
End of Principles Test
For anyone who has been certified as a CPT, you know that the final exam is an absolute beast. You have to really prepare, memorizing your flashcards and studying key concepts. And you have one shot—if you don't pass, you have to pay again and give it another shot
That's what I was prepared for when I got to the end of the Principles Course. And although I knew it would be open book, just as all of the quizzes had been, I still spent time brushing up on all of the modules. This brushing up definitely wasn't all for naught, but I was in for a surprise at the end. (This part I won't give away—you'll have to take the course to find out).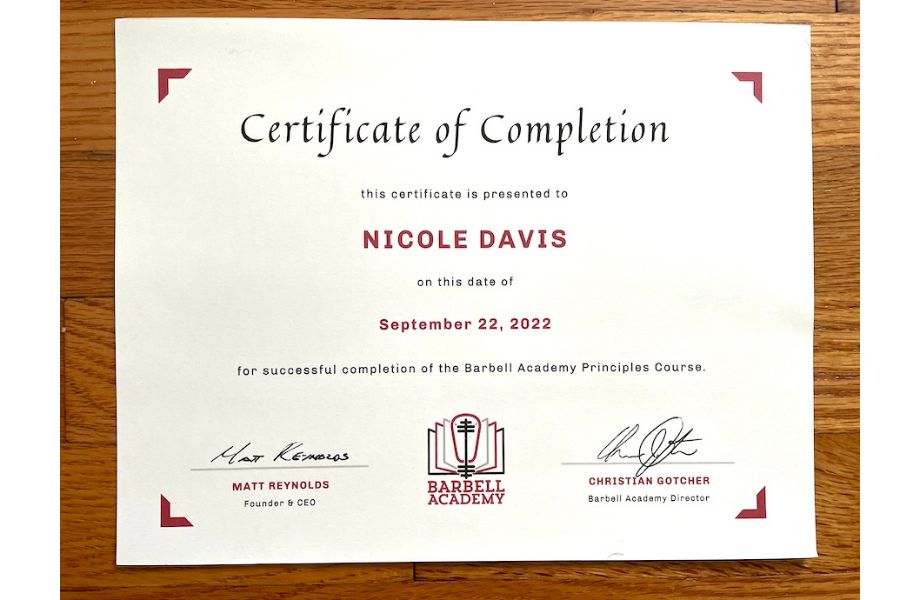 What's After the Principles Course?
If after you pass the Principles Course and earn your certificate of completion you're looking for more, you can move onto the Advanced Concepts course, which covers Lower Extremity, Upper Extremity, Post-Novice Programming, and Biomechanics in a more in-depth manner. Advanced Concepts costs $799, or $69 per month, although you can bundle it with the Principles Course to save money.
After Advanced Concepts, the next step would be to take the Professional Barbell Coach exam, which costs $599, and again, can be bundled with the courses to save. The PBC certification entails a four-hour written proctored exam, a video interview to test your knowledge in real time, and lastly a video submission of you coaching someone on the squat, deadlift, bench press, and overhead press.
You'll be awarded a PBC certificate once you pass these three components. It's important to note that you do not have to take the Principles Course or Advanced Concepts to test for and receive a PBC certification, it's just a clear pathway to achieve that goal, especially if you need to learn (or relearn) the material.
One note I want to make here: I was excited to look into using a PBC certification, if I were to pursue one, as CEUs for my personal training certification. However, at least through ACE, Barbell Academy is not listed as an approved CEU so I'd have to petition for credit. This is not an issue for me, but I'm not 100% confident that a PBC certification meets ACE criteria for an approved CEU, despite how rigorous the whole process would be. I will report back if I find out otherwise.
Barbell Academy: Final Thoughts
The Barbell Academy Principles Course gives you an in-depth understanding of how to perform and coach the four main barbell lifts.
This course is great for fitness professionals looking to enhance their knowledge of barbell lifts specifically.
It's completely self-paced, so be prepared to keep yourself on track so you can finish in the desired amount of time.
Consider using this course as a jumping off point to become a Professional Barbell Coach.
Barbell Academy Principles Course Full Rating
Barbell Academy Principles Course
Barbell Academy Principles Course teaches you how to coach the four main barbell lifts: squat, deadlift, bench press, and overhead press.
Product Brand: Barbell Logic
Product Currency: USD
Product Price: 989
Product In-Stock: InStock
Barbell Academy: Q&A
Is barbell training the best?
"The best" is subjective to your goals, but barbell training is very valuable for those who are looking to increase their strength. (Don't neglect cardio, though!) If your goal is to strength train but also improve your cardiovascular health, you may be better off with a high-intensity interval training-style workout, like bootcamp.
How do you become a barbell coach?
To become a Professional Barbell Coach through Barbell Logic, you'll have to complete three steps: pass a four-hour written exam; complete a video interview to test your knowledge of programming, coaching, and anatomy and physiology with a member of the Barbell Academy staff; submit a video submission of you coaching someone on the squat, deadlift, bench press, and overhead press. 
Can you get big with just a barbell?
If your goal is muscle hypertrophy—or increasing muscle size—then yes, you can achieve this with just a barbell. Two keys to muscle hypertrophy are progressive overload and proper nutrition. To achieve progressive overload you'd need a barbell plus weight plates, but you can definitely get a full-body workout to increase muscle mass with just these few pieces of equipment.