We review free products that we receive and participate in affiliate programs, where we may be compensated for items purchased through links from our site.
See our disclosures page for more information.
Rogue Fitness has released their first cardio machine,
the Rogue Echo Bike
. Similar to the Assault Air Bike and Schwinn Airdyne Pro, the Rogue Echo Bike utilizes air resistance along with a beefy frame to produce one of the best air bikes based on its specs. Is the Rogue Echo Bike the best air bike yet?
Rogue Fitness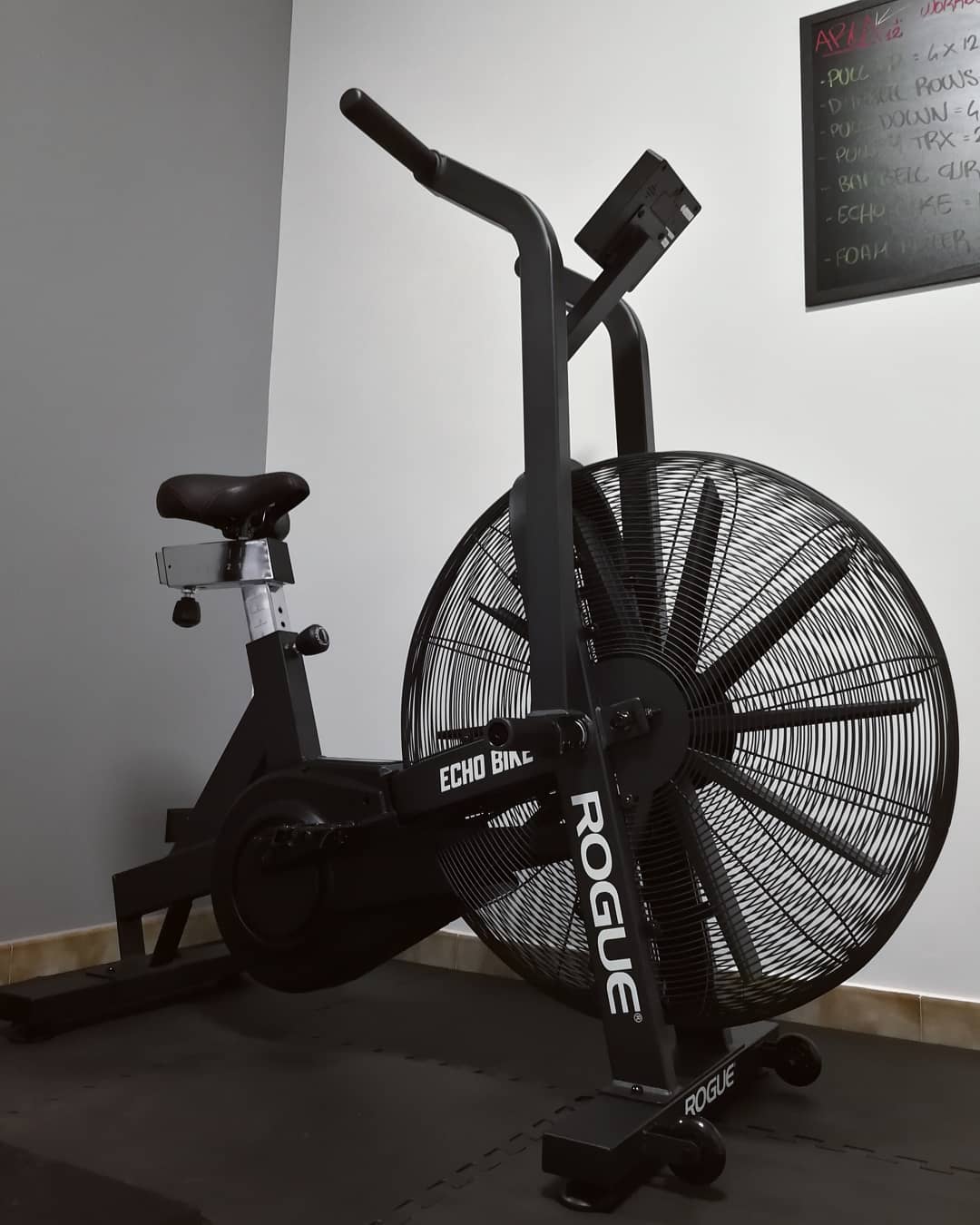 Rogue Echo Bike
The Rogue Echo Bike combines heavy-duty steel, precision engineering, and convenient customization to forge a stronger, sturdier fan bike. Overbuilt for a Smoother Ride This overbuilt 127LB, 350LB weight limit unit provides a rock solid foundation for max output bursts, while still offering easy portability around the gym via a set of 1" polyurethane front wheels. A quiet, belt-driven steel fan blade produces a smooth, consistent ride, while a high-contrast, battery-powered LCD console allows athletes to track intervals, distance, calories burned, heart rate, and more. Rogue Fitness (Rogue) warrants that the ECHO Bike (Product) shall be free from defect in material and workmanship for a period of two years from the date of purchase when the product is used under normal uses and conditions and as recommended in the User Guide. Weighing in at 127LB, 350LB weight limit, the Echo Bike is not the wobbling breed of exercise bike. Its reinforced steel construction gives it the rigidity and balance to help eliminate sways and bumps during even max output bursts, and the fan's steady response delivers a uniquely consistent, smooth riding experience. For added stability, we've included rubber leveling feet under each base tube. These feet adapt to your flooring and provide added "stick," helping to level the bike even if it's not on a level surface. The mounted LCD console measures 6.375" x 6.375" and features a crystal clear, high contrast display. Athletes can select or create a wide range of modes, including Intervals (20/10, 10/20 or a custom Work/Rest interval), Target (choose a goal Time, Distance or Calories and the console will count down based on your selection), and Heart Rate Tracking (please note that a heart rate transmitter is required to send data, but is not included). The console runs on two AA batteries, which are included. The Echo Bike is built with a range of durable steel tubing (2x3", 1.25x3", and 1.625x3.125" steel finished in a texture black powdercoat. The adjustable padded seat locks into 8 different height settings and 5 front-to-back settings, and the 1.5" diameter rubber grip handles are welded directly to the bike's arms for added rigidity. A steel step plate is provided along with knurled 4.5" long rotating foot pegs and rubber-tread pedals. The fan itself is a belt-driven, precision steel blade. Assembly is required to set-up the Echo Bike, but all necessary tools and black hardware are included standard with your order, along with easy step-by-step guidelines. While the fully constructed bike is a beast, we've included a set of 1" wide polyurethane wheels at the front of the unit, allowing it to be rolled around the gym or stored out of the way with ease. Additional Specifications: Patent Pending Design Quality Steel Construction for Dependable Stability Height: 52.75" (to top of handles) Length: 58.875" (overall with seat in position furthest from fan cage) Width: 29.875" (at handles - widest point) Footprint: 44.5" x 23.75" LCD Console Display (Batteries Included) with customizable modes Belt Driven Steel Fan Adjustable Seat with 8 height and 5 front/back settings 1.5" diameter rubber grip handles Rubber-tread Pedals Texture Black powdercoat finish Rubber Leveling Feet All Hardware & Assembly Tools Included Weight: 127LB, 350LB weight limit
Rogue Fitness has sent a shot across the bow of both Schwinn and Assault with the release of the Rogue Echo Bike.
Read my full and in-depthRogue Echo Bike vs Assault Air Bike review here.
The Rogue Echo Bike is a surprising release from Rogue Fitness. Rogue has largely focused on strength training through barbells and squat racks along with the various accessories that accompany CrossFit, Powerlifting, and Strongman. Their site is littered with all sorts of products, many of which are not made by Rogue, but simply sold through their marketplace.
One of the best selling items in all of CrossFit is the Assault Bike, second to that as is the Schwinn Airdyne Pro (check out our guide on the Best Air Bike here.)
Up until this point, Rogue has not sold a piece of cardio equipment that they've created with the Rogue name. Although the Echo Bike will be Rogue's firstforay into machines designed for cardio, it won't be the last. For those that follow this sort of thing (many of you who are reading this) Rogue releasing an air bike is a change in the tide. Rogue is a juggernaut and will continue to use their large reach and manufacturing power to dominate as much of the industry as possible.
RELATED: Best Cardio Machines
For the consumer, this is a great thing. Forcing companies like Assualt Bike to improve their product (which it desperately has needed, in my opinion) is something that needed to happen. This will force that.
The Rogue Echo Bike takes the good things from both the Schwinn Airdyne Pro (our previous top pick) as well as the Assault Bike to create something that should not only hold up to the abuse put on the frame, but also to the internal mechanisms.
The biggest improvements upon previous iterations of the air bike are the replacement of a chain drive for a belt drive as seen on the Schwinn Airdyne Pro as well as a beefed-up frame.
The Rogue Echo Bike weighs in at 145 lbs, the heaviest of any air bike available by quite a bit (the Assault Bike weights 98 lbs for comparison.) Rogue has taken thick steel tubing, similar to what's used on their rigs and racks, and added their signature powder coat to create a bike that will fit into any gym environment and still hold up to the abuses anyone will throw at it.
Rogue has spent a considerable amount of effort in perfecting the LCD Console, one of the most important parts of an air bike. The console appears to be easy to read with all of the various metrics that are popular among users including intervals, calories, and heart rate tracking. There are also preset buttons on the side similar to the Assault Bike that allows for ease of use.
A majority of the Rogue Echo Bike is welded to allow for extra rigidity. The seat of the bike features both up/down and forward/back adjustments to allow the user to get in the right position. This is similar to what has been used on the Assault Bike, Schwinn Airdyne Pro, and Xebex Air Bike.
Although the extra weight of the Echo Bike is a welcomed feature, this biggest improvement that should cause people to purchase the bike is the addition of the belt driven system. Our previous top pick, the Schwinn AD Pro utilizes a belt-drive system that is smooth, responsive, and requires little, if any maintenance.
If the Rogue Echo Bike lives up to the specifications and hype, it should prove to be the best air bike on the market. Keep your eyes peeled for our review.
Rogue Fitness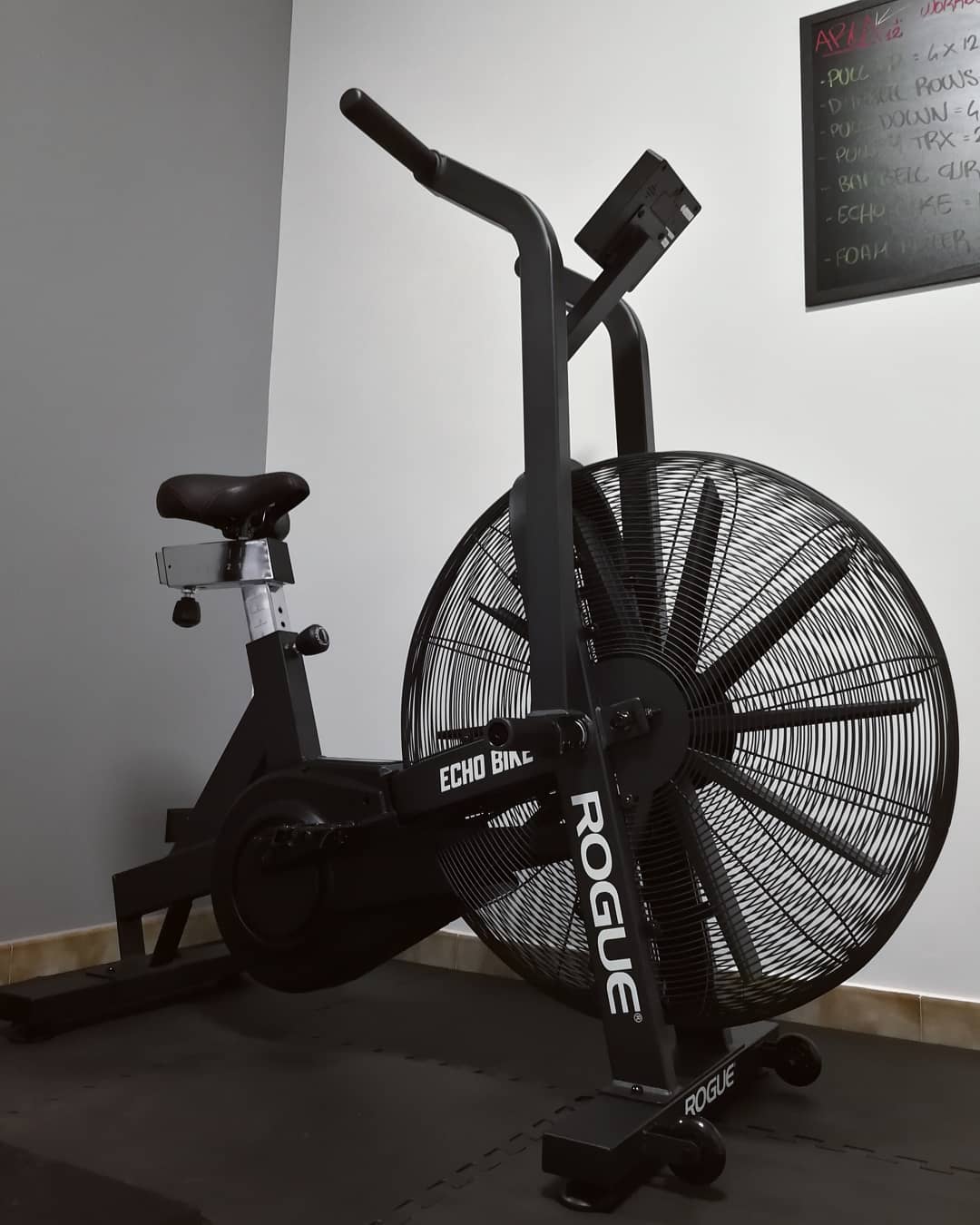 Rogue Echo Bike
The Rogue Echo Bike combines heavy-duty steel, precision engineering, and convenient customization to forge a stronger, sturdier fan bike. Overbuilt for a Smoother Ride This overbuilt 127LB, 350LB weight limit unit provides a rock solid foundation for max output bursts, while still offering easy portability around the gym via a set of 1" polyurethane front wheels. A quiet, belt-driven steel fan blade produces a smooth, consistent ride, while a high-contrast, battery-powered LCD console allows athletes to track intervals, distance, calories burned, heart rate, and more. Rogue Fitness (Rogue) warrants that the ECHO Bike (Product) shall be free from defect in material and workmanship for a period of two years from the date of purchase when the product is used under normal uses and conditions and as recommended in the User Guide. Weighing in at 127LB, 350LB weight limit, the Echo Bike is not the wobbling breed of exercise bike. Its reinforced steel construction gives it the rigidity and balance to help eliminate sways and bumps during even max output bursts, and the fan's steady response delivers a uniquely consistent, smooth riding experience. For added stability, we've included rubber leveling feet under each base tube. These feet adapt to your flooring and provide added "stick," helping to level the bike even if it's not on a level surface. The mounted LCD console measures 6.375" x 6.375" and features a crystal clear, high contrast display. Athletes can select or create a wide range of modes, including Intervals (20/10, 10/20 or a custom Work/Rest interval), Target (choose a goal Time, Distance or Calories and the console will count down based on your selection), and Heart Rate Tracking (please note that a heart rate transmitter is required to send data, but is not included). The console runs on two AA batteries, which are included. The Echo Bike is built with a range of durable steel tubing (2x3", 1.25x3", and 1.625x3.125" steel finished in a texture black powdercoat. The adjustable padded seat locks into 8 different height settings and 5 front-to-back settings, and the 1.5" diameter rubber grip handles are welded directly to the bike's arms for added rigidity. A steel step plate is provided along with knurled 4.5" long rotating foot pegs and rubber-tread pedals. The fan itself is a belt-driven, precision steel blade. Assembly is required to set-up the Echo Bike, but all necessary tools and black hardware are included standard with your order, along with easy step-by-step guidelines. While the fully constructed bike is a beast, we've included a set of 1" wide polyurethane wheels at the front of the unit, allowing it to be rolled around the gym or stored out of the way with ease. Additional Specifications: Patent Pending Design Quality Steel Construction for Dependable Stability Height: 52.75" (to top of handles) Length: 58.875" (overall with seat in position furthest from fan cage) Width: 29.875" (at handles - widest point) Footprint: 44.5" x 23.75" LCD Console Display (Batteries Included) with customizable modes Belt Driven Steel Fan Adjustable Seat with 8 height and 5 front/back settings 1.5" diameter rubber grip handles Rubber-tread Pedals Texture Black powdercoat finish Rubber Leveling Feet All Hardware & Assembly Tools Included Weight: 127LB, 350LB weight limit