We review free products that we receive and participate in affiliate programs, where we may be compensated for items purchased through links from our site.
See our disclosures page for more information.
REP Fitness has been doing a complete redesign of their power racks and the REP SR-4000 Squat Rack is exactly that. Based on REP's best-selling rack, the 4000 Series Squat Rack improves in nearly every area and is by far the sturdiest squat stand we've tested. There are drawbacks to the design related to the size of its footprint, but if you're looking for a somewhat budget-friendly squat stand, this is a tremendous option.
REP Squat Stand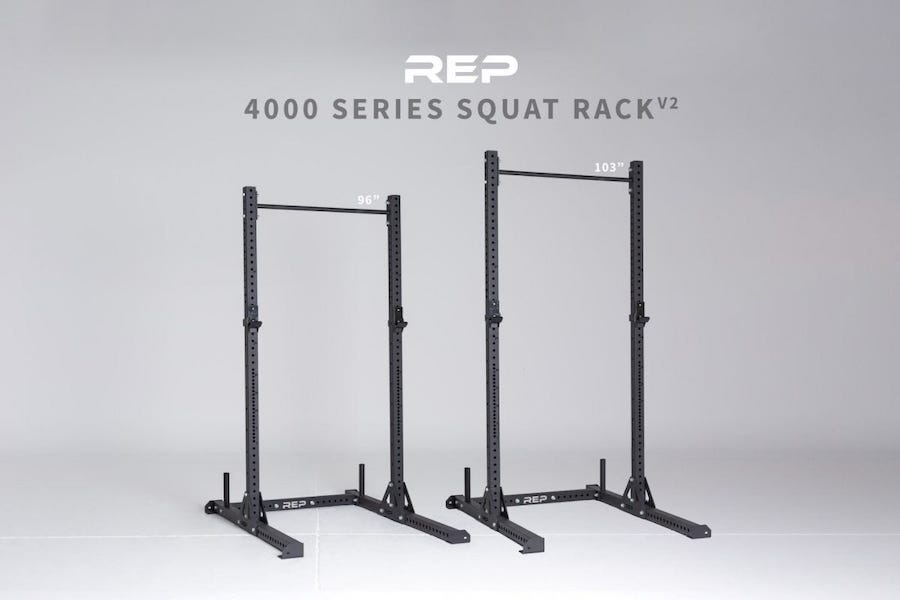 REP SR-4000 Squat Rack
The REP Fitness redesigned 4000 Series Squat Rack offers maximum stability with bombproof construction and improved compatibility with REP attachments! Uprights now come in 3x3" 11-gauge steel with 5/8" hardware. Our favorite feature of this Squat Rack is that it will work with almost all of the accessories in REP's 4000 series line up - yes, even our Monolift and ISO Arms. You're welcome. The long, flat-footed base helps promote stability while also alleviating the need to bolt the rack down. Athletes performing kipping pull-ups or other gymnastic movements will find that this rack is rock solid – Add weight onto the rear weight horns or bolt your rack to the ground (utilizing the pre-drilled feet) and this rack can handle just about anything you'll throw at it.
The REP SR-4000 is the most stable squat stand we've ever reviewed.
Here's the issue with squat stands: although they often feature a small footprint, they're much less stout than a power rack. If you're a CrossFit athlete good luck doing kipping pull-ups or muscle-ups, however, you'll enjoy using some of the best crossfit barbell on this. If you're a powerlifter, you better make sure you don't rerack too hard for fear of the rack moving and you misplacing the barbell on the j-cups. The SR-4000 fixes these issues, although in doing so, it does present another one which we'll discuss.
If you're wanting a squat stand that comes in at a rather budget-friendly price (although not the cheapest) for your home gym that has the stability of a power rack, the SR-4000 may be a good option (if you have room.)
Curious about how this rack compares to some of the best squat racks like the Rogue SML-2 and others? Then keep reading for my full review of the SR-4000 Rack from REP Fitness.
Should You Add the REP SR-4000 to Your Home Gym?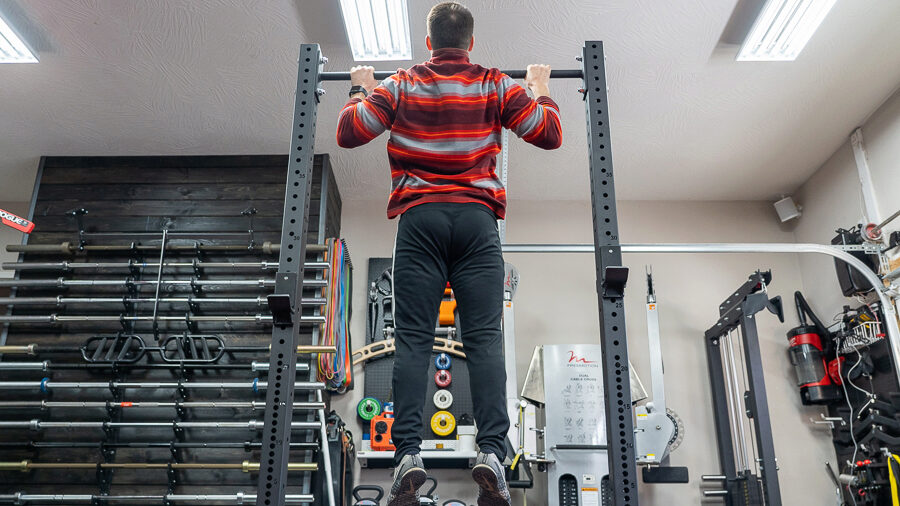 Before I get into all the details, let's tackle the most important question of all: is the REP SR-4000 Squat Rack going to suit your specific needs? The right squat rack for you will depend on the type of workouts you train, space availability, and budget. Here are my recommendations below.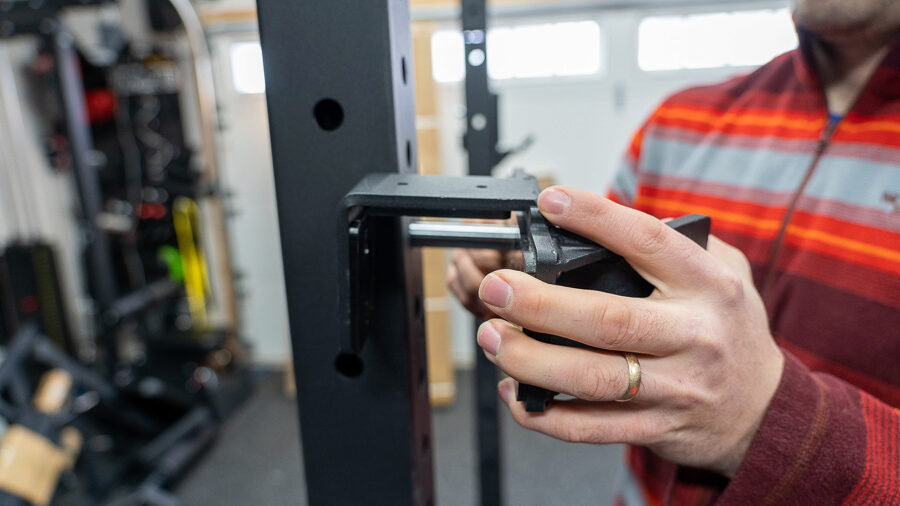 Who I recommend the REP SR-4000 for
Trainees on a budget who have a penchant for higher quality than what can be found at big box stores will appreciate the value offered from REP. The SR-4000 is the most stable squat stand we've used making it great for CrossFit Athletes and others that like to do kipping movements like pull-ups and toes to bar. If you train with resistance bands, the extended feet with band peg holes will allow you to add accomodating resistance to the bar which most squat stands don't allow. Home gym owners that want an open-source upright design will appreciate the 3"x3" with â…" holes uprights that accept a wide range of accessories from multiple manufacturers.
RELATED: best CrossFit equipment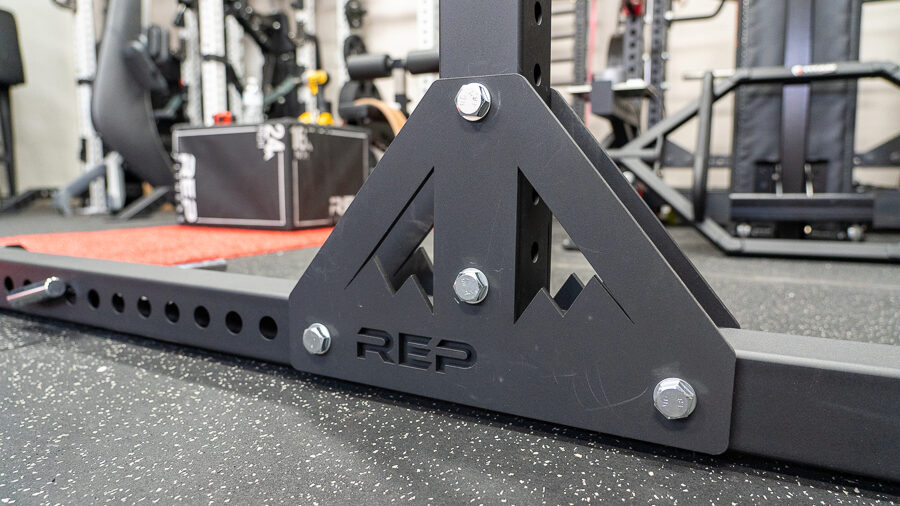 Who I don't recommend the SR-4000 for
I'd suggest a more compact squat stand like the Rogue SML-2 Squat Stand that we've reviewed for those with limited floor space.
Those on a very limited budget and lower strength levels would be fine getting one of our cheaper options we discuss in our best squat racksguide.
If your ceiling height in your garage or basement gym is low, we recommend looking elsewhere as the shortest rack height offered is 96".
Using the SR-4000 Squat Rack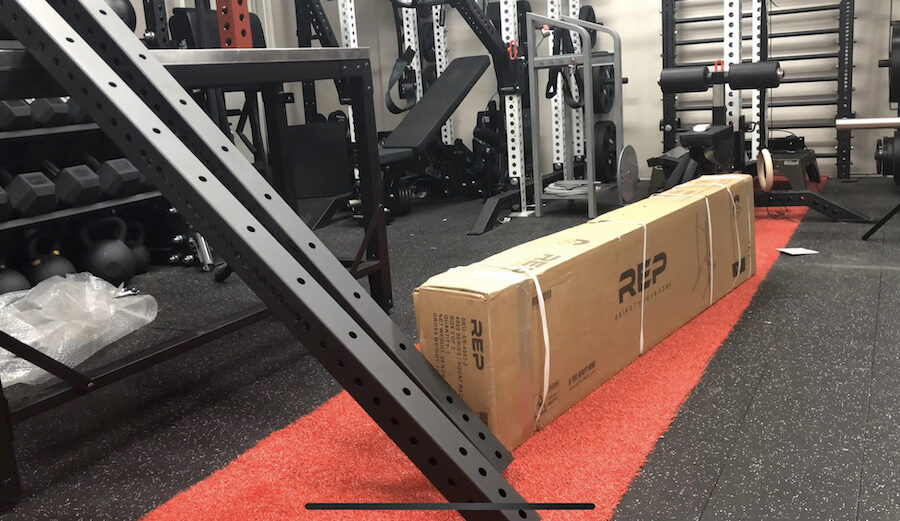 The SR-4000 arrives in a cardboard box weighing 273 LB. Nobody said buying gym equipment was easy work, so make sure you have someone help you drag the box into your garage, unless you want to include it as part of your workout.
It took about 25 minutes to unbox and assemble, but it may take you longer if you don't use power tools. The only personal adjustment you need to decide on is how high you want the pull-up bar, but for most people, I suggest placing it at the very top, unless you have short ceilings in which you could hit your head-on.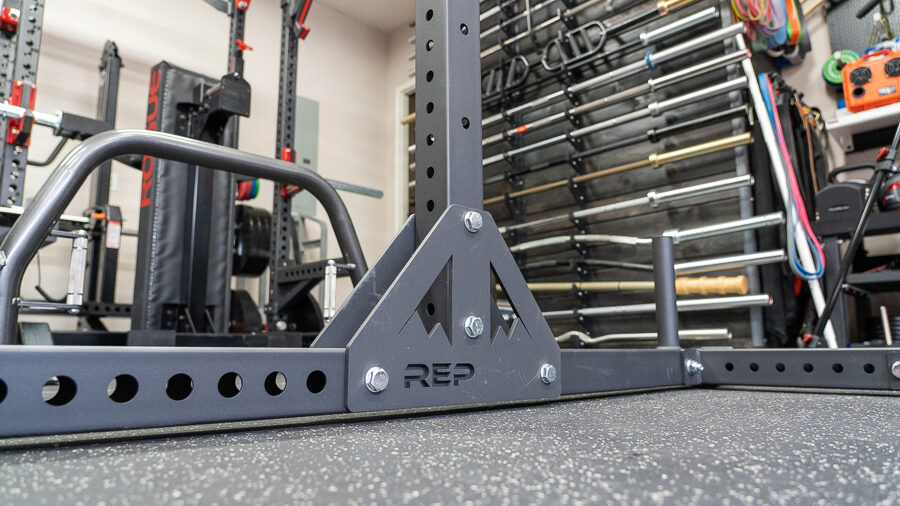 The base of the rack uses triangle-supports that were, from my knowledge, popularized by Rogue Fitness on their Rogue Y-1 Yoke.
These supports have REP's latest mountain branding that harkens to their Colorado distribution center and love for the outdoors. It's a cool touch and can also be seen on the REP Belt Squatthat attaches to the PR-5000 V2 Power Rack we've reviewed.
The triangle supports are bolted to the uprights and flat foot platform using the supplied bright zinc-coated ⅝" hardware. Something unique that REP is doing on the SR-4000 is using 3"x3" 11-guage steel tubing on both the base and uprights. What we typically see is 2"x3" tubing used on the base which is on both the Rogue SML-2C and the Titan Fitness X-3 Squat Stands.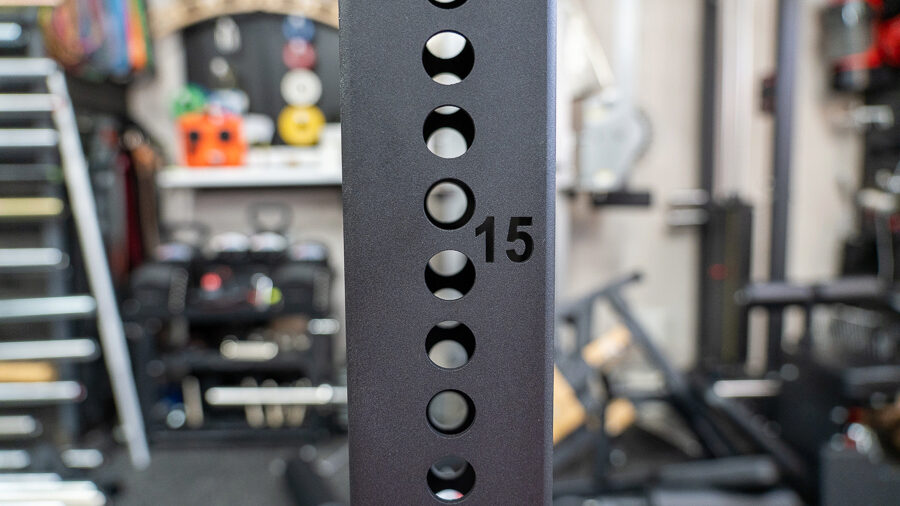 The 3"x3" tubing is superior in my opinion as it will be heavier, therefore increasing stability and it allows for attachments and band pegs to be used on the base as it's the same dimensions as the uprights.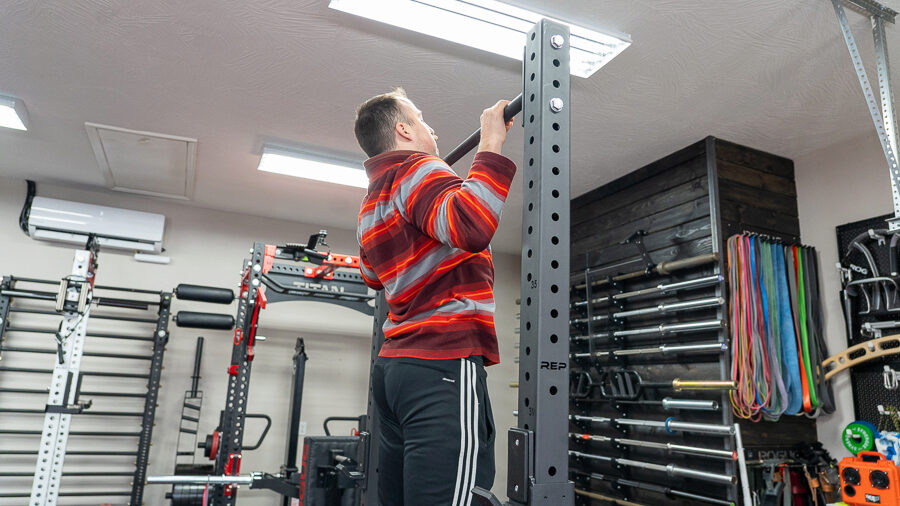 I immediately noticed the stability difference between the SR-4000 and most other squat stands when I jumped up and grabbed the pull-up bar. Due to the increased length of both the back and front feet of the rack, it wobbles very little, even on dynamic movements like butterfly pull-ups and muscle-ups and that's without any weight plates placed on the welded plated holders on the back.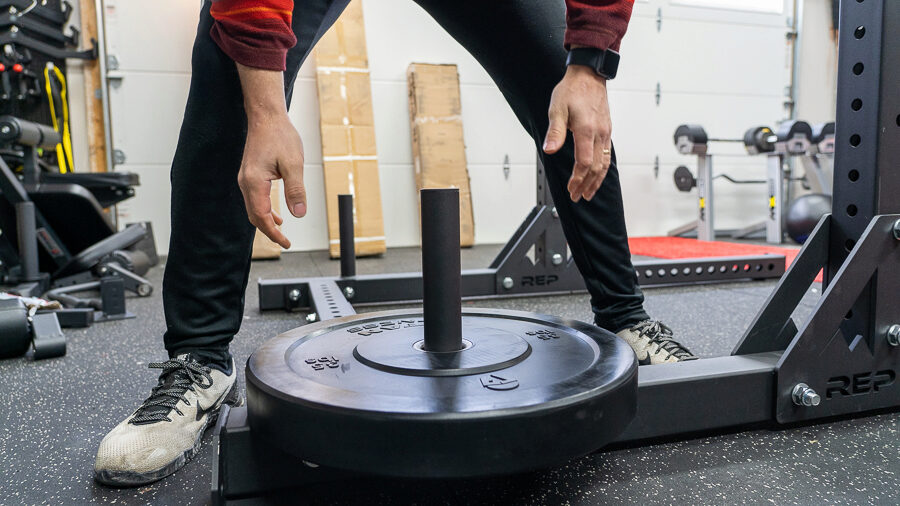 This stability reminds me of a four-post power rack. There are definitely other reasons to avoid a squat stand than a lack of stability, but it certainly is a big one for many. My first squat stand was a Rogue SML-2 and at the time I was competing in CrossFit competitions, which meant I was doing a lot of kipping pull-ups and toes-to-bar in preparation. The problem was, I had to bolt the rack to a weightlifting platform I built in order to keep it secure, see here.
This is the biggest benefit the SR-4000 offers–it's incredibly stable and can be even more stable if you use the supplied weight horns that also double as weight storage when the best bumper platesaren't on the barbell.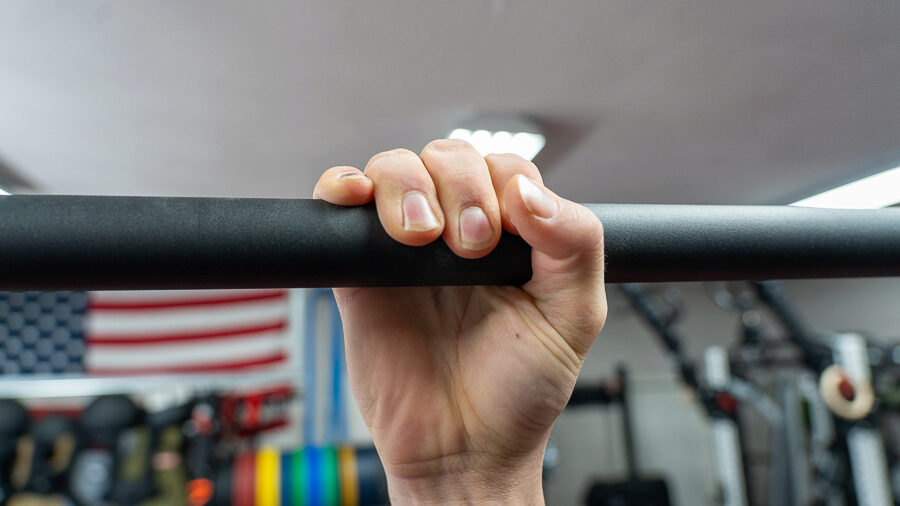 Not only is this great while using the pull-up bar, but it also gives you confidence when unracking the bar for heavy squats or bench press on the best weight benches out there. An unstable rack is unsafe and gives the lifter less confidence when attempting a big lift.
On the front and back feet of the SR-4000 are flanges that allow a garage gym owner to bolt it to the floor for (what I think is unnecessary) additional security or bolting multiple racks back to back. These are similar feet as are seen on REP's new OMNI Rack Series.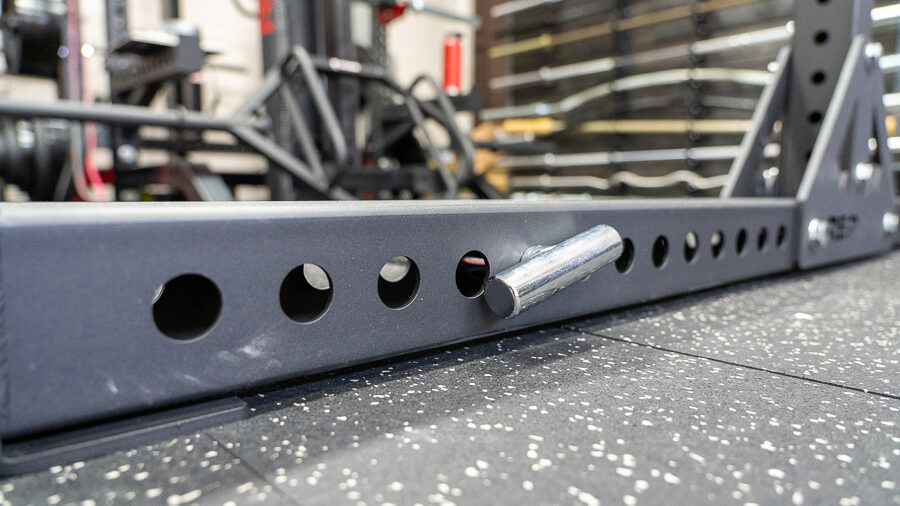 The uprights use the familiar Westside Hole Spacing Pattern through the bench area and laser-cut numbering on the uprights every 5 holes for finding where to place j-cups or other accessories such as the REP Monolift Attachment we've reviewed or even the REP ISO Arms that we've also reviewed.
Something that we liked to see was the addition of holes on the front of the feet which allows band pegs to be added for accommodating resistance or even adding bands to pull-ups. It's a small touch, but smart.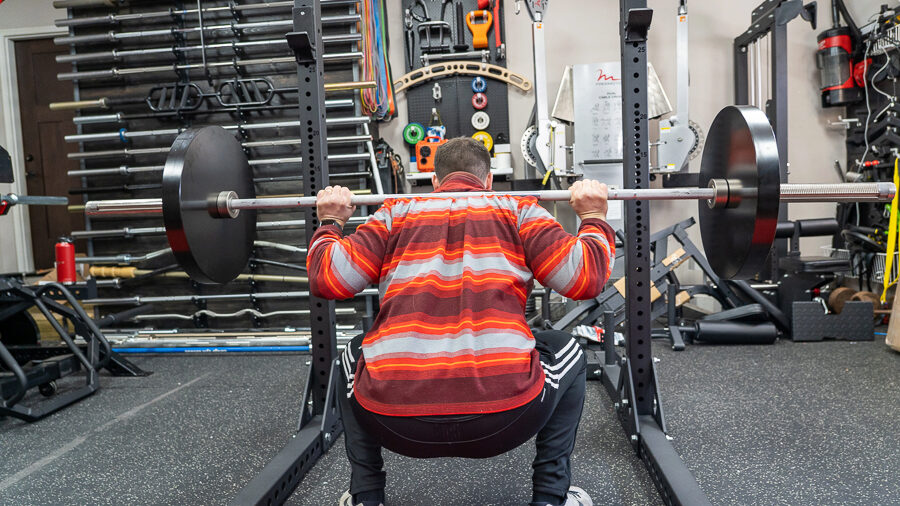 The weight capacity for the rack is listed at 1,500 LB which is pretty standard although these racks are capable of holding much more. If you want a taller rack, they also offer a 103", although we think 96" is tall enough for most.
Downsides and Potential Dealbreakers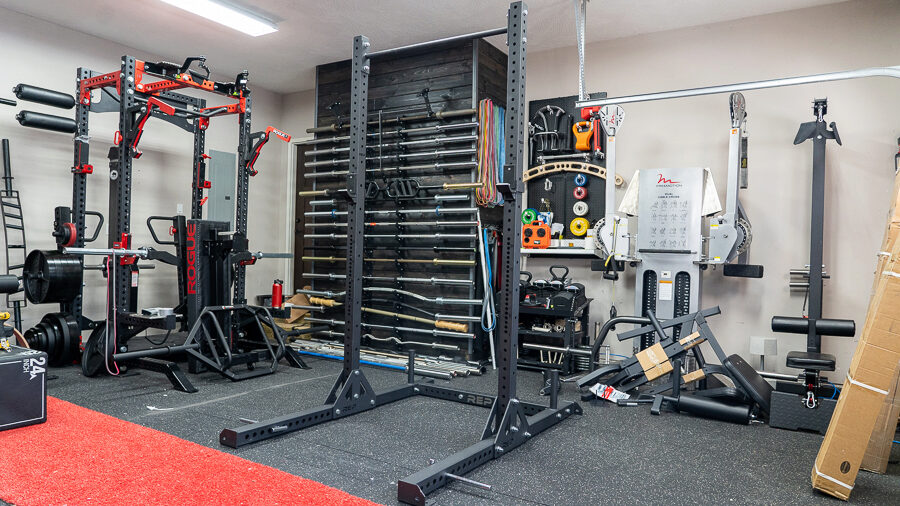 As discussed, the stability on the REP SR-4000 is next level, but as with everything in life, that stability comes with a cost.
In order to increase the rigidity of the rack, the footprint of the SR-4000 is the largest of any squat stand we've tested. It's 73" from front to back which is about 30% longer than the Rogue SML-2 which has a depth of 48". This is the biggest reason for the increased stability and puts it in line with the footprint taken up by many power racks.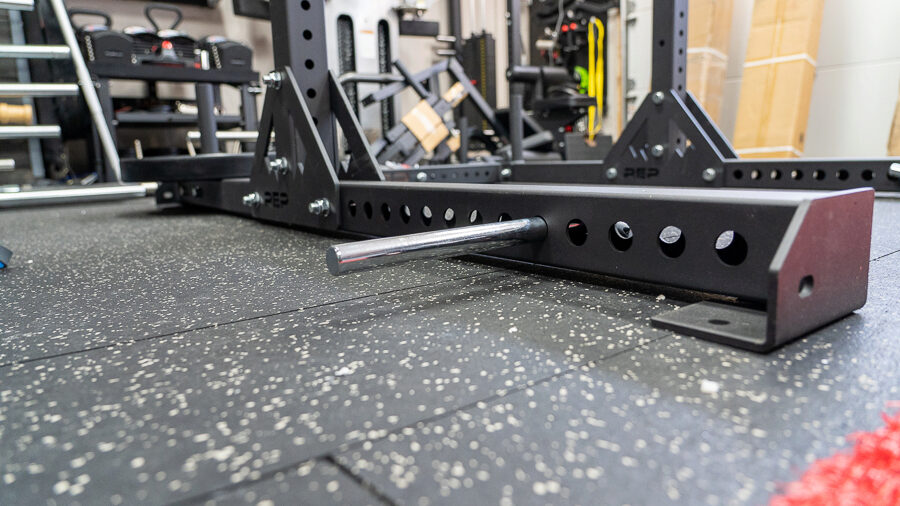 For many home gym owners where space is a premium, the extra stability simply won't be worth it. However, if you have space, it's a great option if you don't care for having a four-post power rack. It also appears the REP Omni Rack uses a similar flat foot design.
The other minor complaint is that it appears REP is planning on using the same base for a future SR-5000 Rack. This means the holes on the SR-4000 base are 1", which is different than the ⅝" on the uprights and therefore takes different accessories. Not a major issue, but it may become one in the future if you have your eye on a certain accessory that can be moved from the uprights to the base.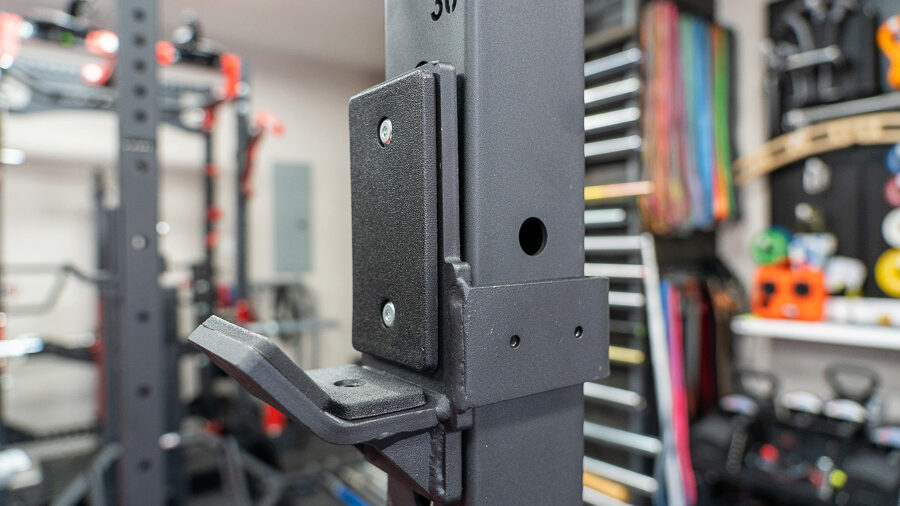 Lastly, REP is using some sort of rubber on the j-cups that doesn't appear like it will last long. In fact, with not a ton of force, I can pull the front pieces off without issue.
REP SR-4000 vs. The Competition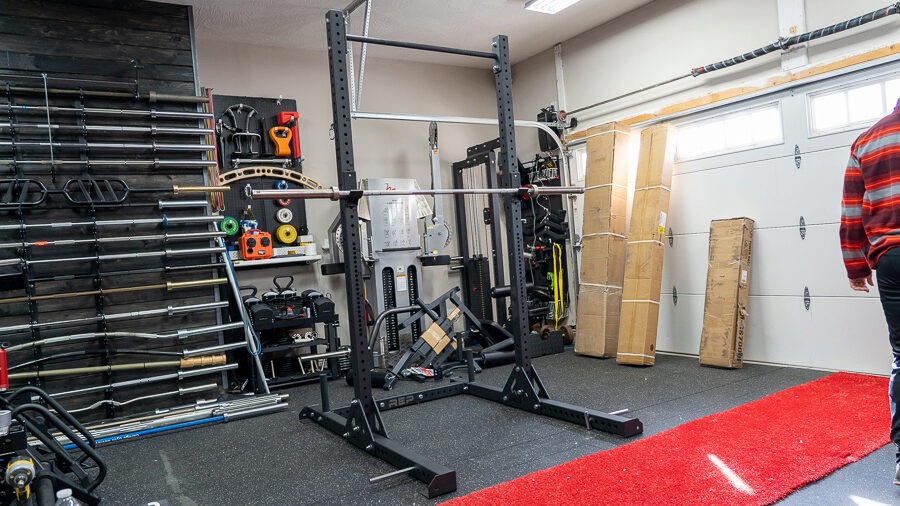 Although there are hundreds of racks that the SR-4000 could be put up against, we think the Rogue SML-2 and the Titan X-3 Squat Stand are the most applicable to be compared.
SR-4000 vs SML-2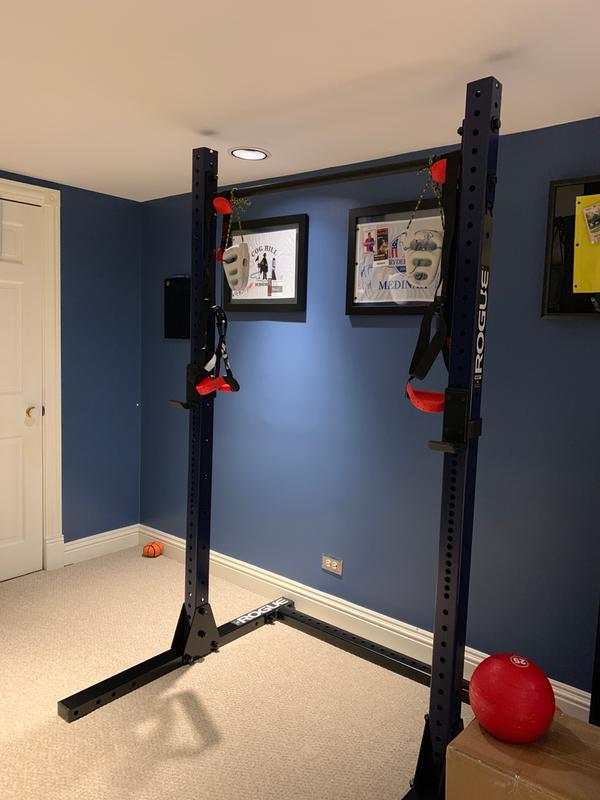 Rogue SML-2 Squat Stand
The SML-2 Monster Lite Squat Stand delivers much of the strength and versatility of a power rack in an efficient, compact frame. Featuring 3x3" 11-gauge steel uprights, an adjustable fat/skinny pull-up bar, and 5/8" holes in the Westside spacing pattern, it's an affordable hybrid of Rogue's 90" S-2 and Monster SM-2 squat stands.The American-made SML-2 is equally equipped for squats, bench, pull-ups, clean pulls, floor press, and more. And with a footprint of just 49" x 48", it's a squat stand well suited to both a garage gym or a large-scale training facility.The SML-2 is manufactured in Columbus, Ohio, using (2) heavy-duty 11-gauge 3x3" square laser-cut steel uprights and (3) 2x3" 11-gauge steel base tubes for optimal stability. The unit includes laser-cut 5/8" diameter holes and SAE grade 5 bolt hardware. The finish is our signature black powdercoat.While it's called a squat stand, the 90" SML-2 can be used much like a full-scale power rack, from bench work to pull-ups, clean pulls, floor press, and more. The unit has a weight capacity of 1,000 LBS, but creates just a 49" x 48" footprint in your gym, making it a space efficient option that gives up little in functionality.Every weld and laser-cut at Rogue is inspected individually at each step of the process for integrity and appearance. Every part is again individually inspected for finish after the powder coat process. The entire package receives a final comprehensive quality assurance check before it's shipped. Once in use, the SML-2 is guaranteed by Rogue for Life.Even without custom additions, the SML-2 comes with all of the hardware and basic accessories necessary to have a pro-caliber squat stand at your disposal. This includes all necessary 5/8" bolts and fasteners, a pair of Monster Lite J-Cups (with protective UHMW plastic inserts), and your choice of either a Fat/Skinny or Single Pull-Up Bar.
REP SR-4000 vs. Rogue SML-2
The SR-4000 and SML-2 Squat Stand from Rogue Fitnessare similarly designed racks using 3"x3" 11-gauge uprights offered at similar heights and with ⅝" holes.
The SR-4000 is more stable than the SML-2, however, it also has a much longer footprint.
The SML-2 is available in colored options and called the SML-2C.
The SR-4000 from REP is imported while all of Rogue's Racks are made in the USA.
The Rogue SML-2 is cheaper than REP's offering by a few dollars.
SR-4000 vs. X-3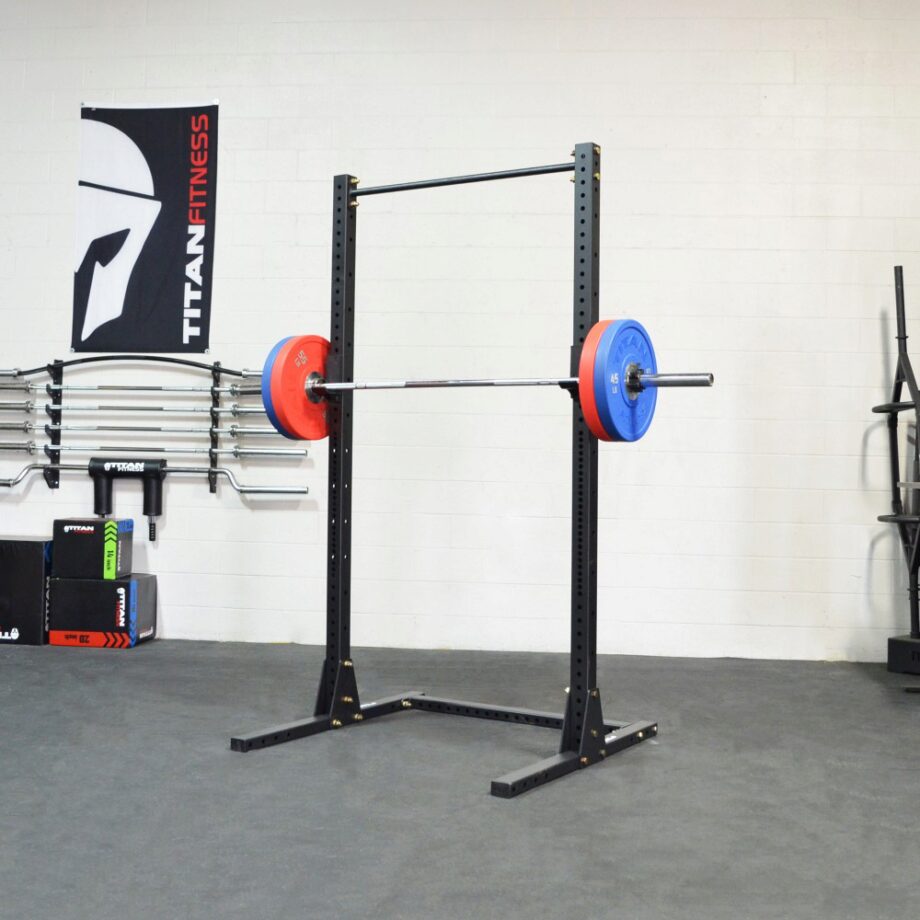 Titan X-3 Squat Stand
The Titan X-3 Squat Stand is our answer for weightlifters and athletes wanting a serious squat stand. The heavy-duty 11 gauge 3"x3" uprights are rated at over 1,000 lb. The laser-cut uprights also feature the Westside hole pattern through the bench zone, and 2" spaced holes above and below for easy adjustments. The flat foot design stabilizes the squat stand while allowing ample room for your bench. We offer our X-3 Series Squat Stands in a Short (72") Model and a Tall (92") to fit your gym needs. Our Tall Model includes a pull up bar. Features: - X-3 3"x3" 11 gauge steel uprights - Westside hole pattern through bench zone - 2" hole spacing above and below. - 1,000 + lb capacity - Pair of UHMW lined X-3 JHooks included - Double-sided gusset plates - Standard 1.25" Pull up bar included - Mounted at your preferred height. Specifications: - Height: 92" - Width: 49" - Depth: 48" - Product Weight: 170 lb - Finish: Black Power Coating - Floor Space: 16.3 sq ft (49" x 48")
REP SR-4000 vs. Titan X-3 Series Squat Stand
The X-3 from Titan Fitness isn't nearly as stable as the SR-4000.
The SR-4000 has laser-cut numbers on the uprights.
The Titan X-3 is cheaper than the SR-4000 and has free shipping making it overall significantly less.
My Final Thoughts About the REP SR-4000 Squat Rack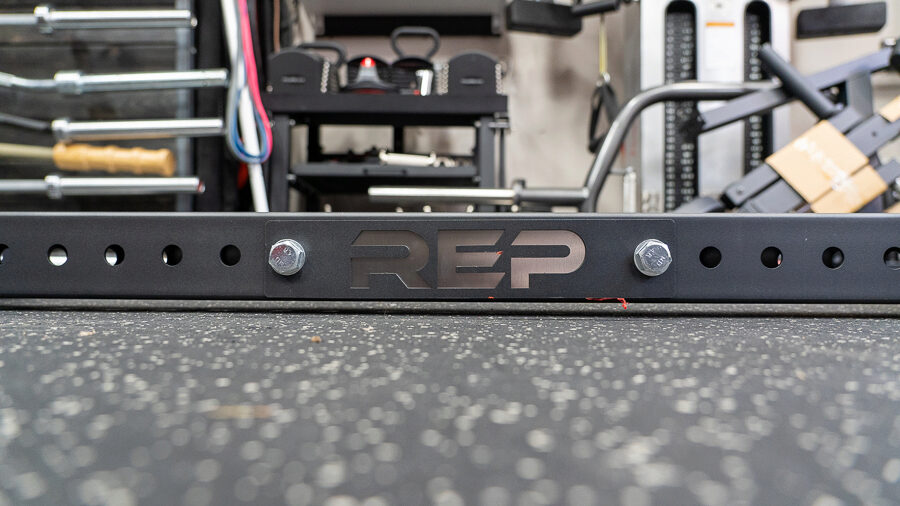 Before we finish up this review, let's recap the things most important before buying the SR-4000 Rack.
My favorite things about the SR-4000
I think the SR-4000 is a great option for home gym owners that want to add an extremely stable squat stand to their gym.
This stability is great during training, but it will also allow you to add accessories like jammer arms that aren't typically used on squat stands.
My complaints about the SR-4000
In my opinion, this rack will have too large of a footprint for many looking for a squat stand, because they're most often purchased for their space savings.
Full Rating
REP SR-4000 Squat Rack
REP Fitness has been doing a complete redesign of their power racks and the REP SR-4000 Squat Rack is exactly that. Based on REP's best-selling rack, the 4000 Series Squat Rack improves in nearly every area and is by far the sturdiest squat stand we've tested. There are drawbacks to the design related to the size of its footprint, but if you're looking for a somewhat budget-friendly squat stand, this is a tremendous option.
Product Brand: REP Fitness
Product Currency: $
Product Price: 529.99
Product In-Stock: InStock