We review free products that we receive and participate in affiliate programs, where we may be compensated for items purchased through links from our site.
See our disclosures page for more information.
FringeSport has produced some of the best bumper plates available on the market with their
Contrast Bumper Plates
. With its ultra-durable virgin rubber, raised contrast lettering, and the best warranty offered for bumper plates, the FringeSport Contrast Bumper Plates are the bumper plates we recommend when looking to purchase a new set for any home or commercial gym.
FringeSport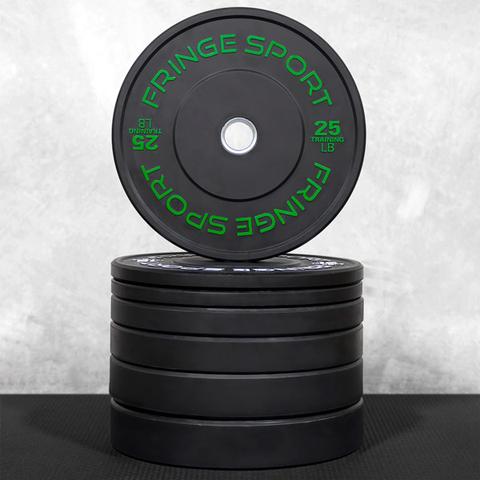 FringeSport Contrast Bumper Plates
Fringe Sport contrast bumper plates are manufactured to go toe to toe with any bumper plate on the market. They are constructed with virgin rubber formulated specifically for its durability, density and low bounce. Most importantly, they go through the most customer-focused manufacturing, quality control and shipping process in the industry so you can rest assured that you are getting the highest quality plates and we are taking the utmost care to ensure they arrive to you in pristine condition!Extremely durable virgin rubber, will last for years in a garage or affiliate.Expertly designed stainless steel "hooked" insert that remains firmly seated.Higher density means thinner bumpers and you can fit more weight on the bar.Low, dead bounce makes these safe in tight spaces.Plates are in pounds and are sold in pairs, and have kilogram weight conversion printed on each plate.3 Year Warranty on 25's, 35's, 45's and 55's; 1 Year warranty on 10's and 15's, with FREE returns.
FringeSport Contrast Bumper Plate Review
Bumper plates are the one piece of equipment that it would be hard to build a garage gym (or any gym for that matter) without. I know you hear me say it a lot, that no piece of gym equipment is absolutely necessary…and though that may be true, bumper plates are about as close to necessary as it gets.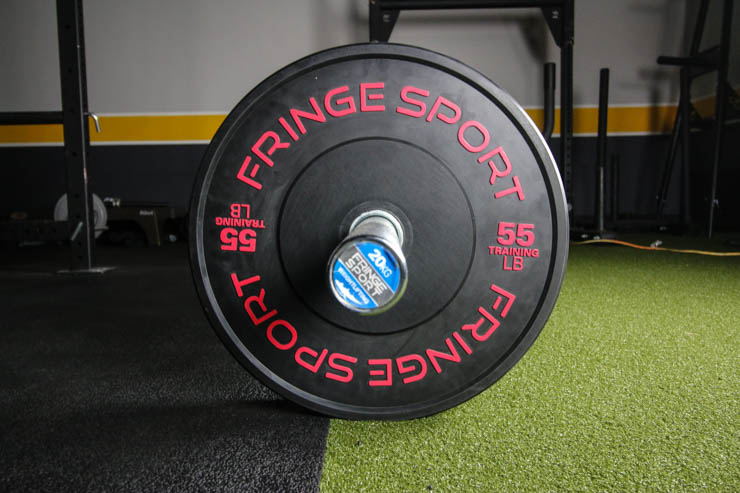 With that said, the FringeSport Contrast Bumper Plates are some of the best black bumper plates available on the market today. From the virgin rubber used to maximize durability and limit rebound to the great price, the FringeSport bumper plates should be the top choice when looking at rounding out any home or commercial gym.
FringeSport has comprised their bumper plates out of 100% virgin rubber.
There are a number of different materials that can be used to produce bumper plates and virgin rubber is near the top for a number of different reasons.
For starters, virgin rubber is arguably the best-looking rubber when comparing appearance. The FringeSport bumper plates are some of the cleanest looking bumper plates and that is a result of the virgin rubber used.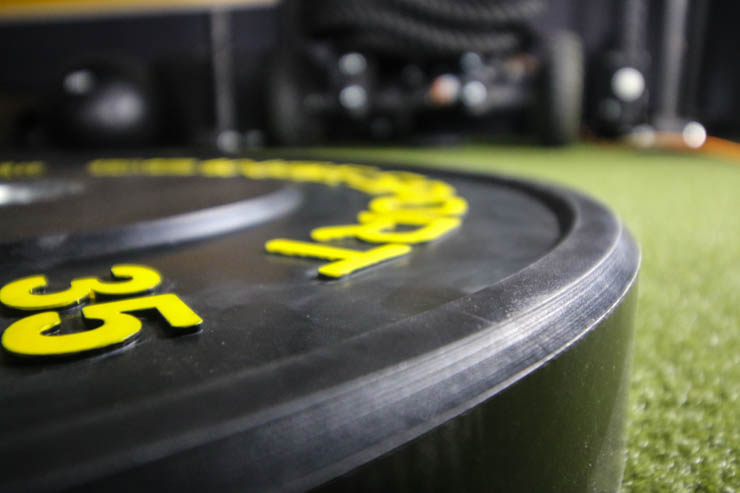 These bumper plates have a matte finish feel. Most of time you can tell a cheaper made bumper plate with how shiny it looks, the virgin rubber used by FringeSport is a bold black finish that shouldn't fade away as a result of the wear and tear that takes place in the course of a bumper plates life.
The matte black finish is not shiny and feels great when sliding plates on to the bar.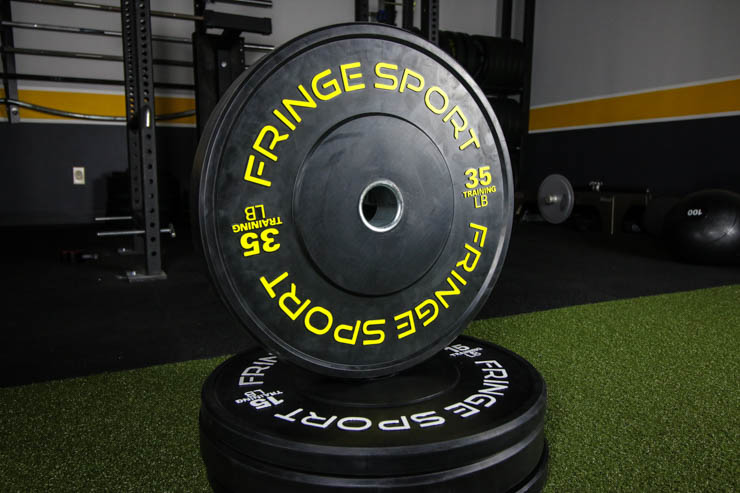 The reason FringeSport has used virgin rubber to make their bumper plates is that virgin rubber is overall more malleable and can be combined smoother than recycled rubber. Not only that, but virgin rubber is slightly more uniform in its construction. Virgin rubber is also more durable and will not harm your floor when dropped from overhead which is great news for any home gym owner.
When looking to purchase bumper plates, it's important to look at the Shore Durometer A Rating.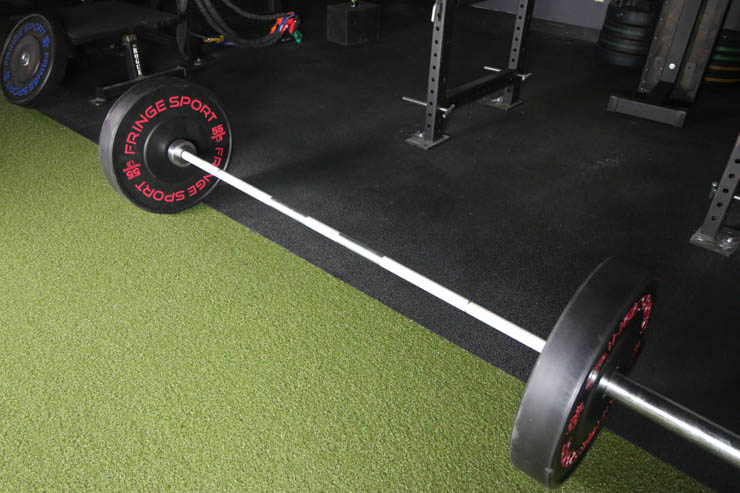 The general rule of thumb is the lower the number on the durometer (sHA) the softer the rubber, which will translate to a bouncier plate and the higher sHA will translate to harder rubber and less bounce.
The Contrast Bumper Plates include a 10 and 15 that measure at a 90sHA while the 25 pounds to 55 pounds are 85sHA. To put this in perspective, Rogue Fitness HG bumper plates all weigh in at 88sHA.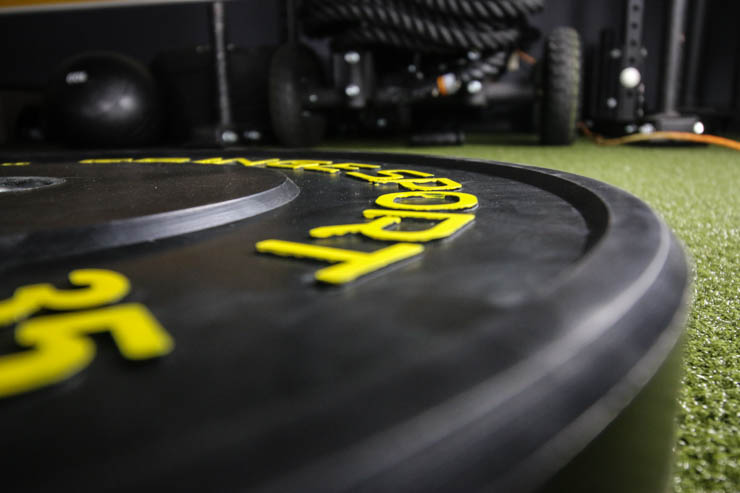 FringeSport gets the "contrast" in the name for their bumpers from the different colors used to finish the plates.
The colors are as follows: 10's-gray, 15's-white, 25's-green, 35's-yellow, 45's-blue, 55's-red. I love the different coloring on the plates to make it easier to differentiate the weight. Although minor in both cost and application, it's an important feature.
The colored lettering and numbering on the FringeSport bumper plates are slightly raised and are not embedded into the plate which I like.
FringeSport has it written on their website that the 370-pound set that includes the 55 pounds have kilogram weight conversion on each plate, however, mine do not and it doesn't look like the plates in their pictures have it either. This is probably just a website error, so just be aware of that.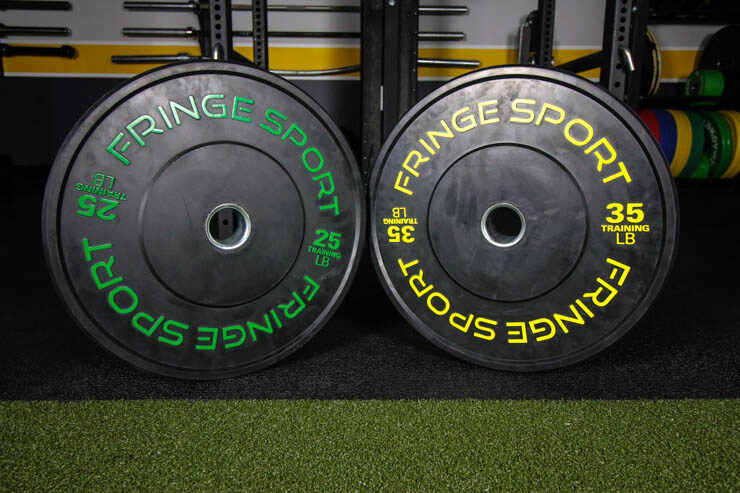 It should also be noted that FringeSport produces these bumper plates in China, which is nothing out of the ordinary. Companies like Rep Fitness, Titan Fitness, and Rogue Fitness all produce their rubber bumper plates out of China as well, largely due to the work conditions required to make rubber plates.
The bounce from any bumper plate should be considered when purchasing any type of bumper plate if a lifter ever plans on dropping weights from over-head.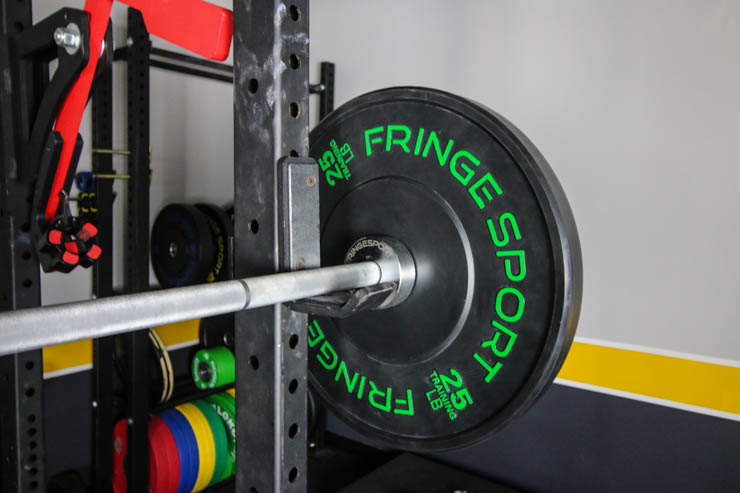 The minimal bounce that FringeSport has been able to produce is also a result of the virgin rubber.
A huge annoyance while doing any sort of Olympic lifting is the bar rebounding off of the floor once dropped. This will lead the barbell moving around a lot which will mean a person will have to move with the bar. These contrast bumper plates produce very little rebound and a lifter will not have to worry about fetching the bar for the next rep.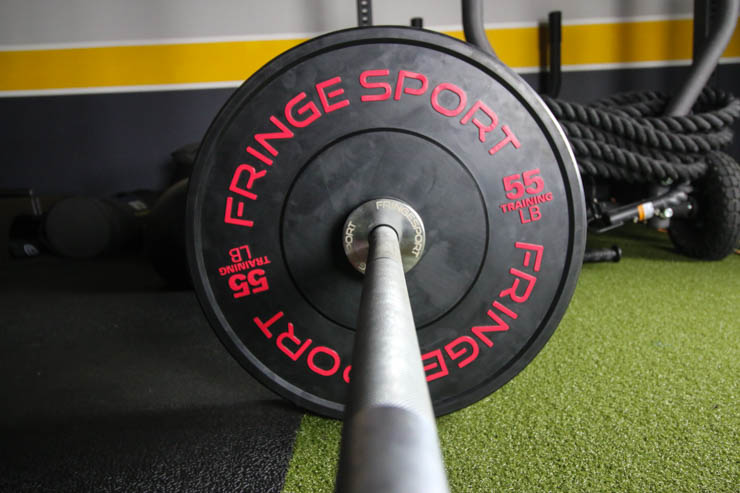 This is great for anyone that is planning on doing any sort of CrossFit or Olympic Weightlifting as they won't have to run all over the gym to catch their barbell.
For those that work out in tight spaces i.e. garages, you need not worry about the mirror you flex at to shatter when dropping these plates from overhead.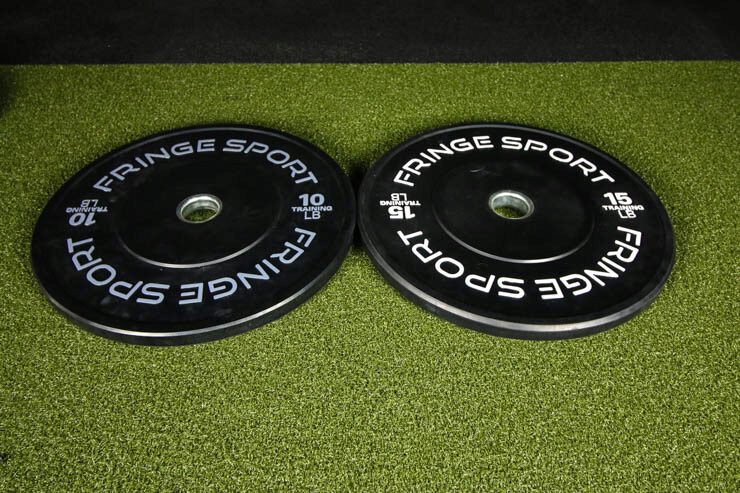 When talking about dead bounce rate, the FringeSport Contrast Bumper plates will also not crumble from overhead as well. In fact, FringeSport actually ENCOURAGES people to drop the 10-pound bumper plate from the fully extended position. Naturally, we had to test this because it would be a disservice to our community if we talked, but not tested, and yes, the 10-pound plates do not crumble or fold when dropped from overhead.
So that we are all on the same page, we didn't drop the bar with a 25-pound plate and a 10-pound plate. The test included just the ten pounds on both sides of the barbell.This speaks to the quality of the FringeSport bumper plates.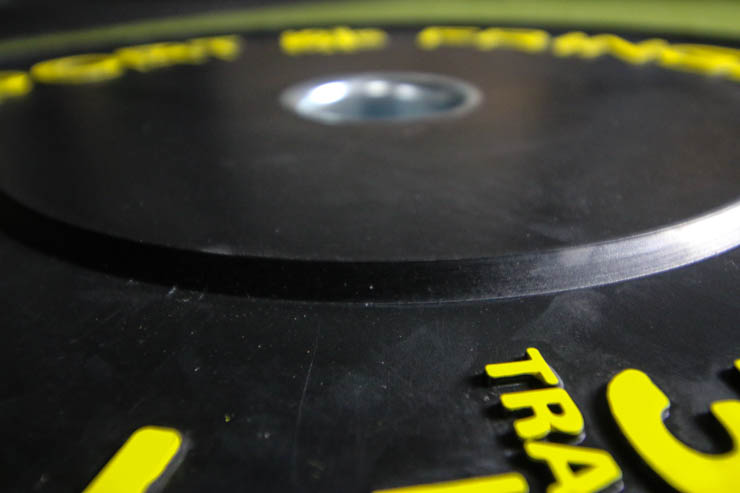 It should be noted though that FringeSport has a three-year warranty on their contrast bumper plates from weights of 25-55 pounds and one year warranty on 15's and 10's. This due to the fact that the 10 pound and 15-pound plates will wear out much faster than a 45-pound plate because of its smaller frame and more use.
All of FringeSport's bumper plate warranty includes free returns.
The one year warranty on FringeSport's 10's and 15's is still one of the top offers in the industry. In fact, Titan Fitness says their 10-pound bumper plates are not designed to be used alone on any bar and will be damaging to the plate.
Rep Fitness only has a six-month warranty on their 10 and 15-pound bumper plates. Rep Fitness also makes the disclaimer that there is a three-year warranty on any personal use of the bumper plates and only a one year warranty on commercial use of bumper plates.
Rogue Fitnessonly offers a 90-day warranty on their 10 and 15-pound plates and a three-year warranty on plates 25-45 pounds.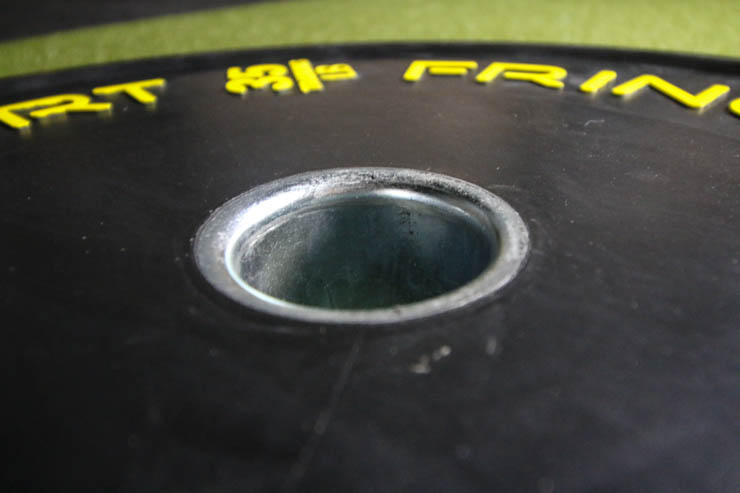 FringeSport creates their contrast bumper plates with a stainless steel "hooked" insert that remains firmly seated.
What FringeSport has done is instead of molding the rubber together of the bumper plate first and then jamming the ring into the rubber, the Contrast Bumper Plates are first put together with a stainless steel ring and then attach a steel shaft to "hook" to the rubber.
Without a steel insert to hook to the rubber what we have seen over time is the ring of a bumper plate will begin to become very loose and possibly even pop out. For the people who plan on dropping weight, a steel insert should be sought after with the pressure you will exert on the plates.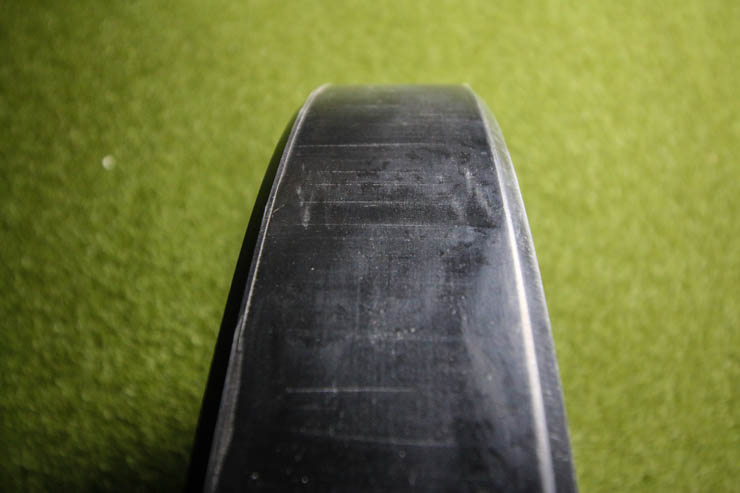 The size of any bumper plate is very important. The smaller the plate, the more weight a person can add-on to the barbell.
Bumper plates in general lean more towards being designed for people who plan on dropping weight from overhead more than a lifter deadlifting over 700 pounds. This plays into the thickness that bumper plates are produced as compared to a more competition style plate.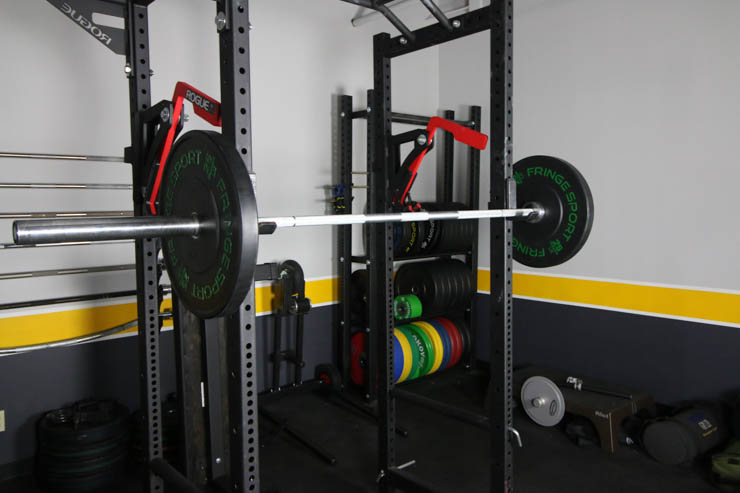 FringeSport Contrast Bumper Plates are all the same diameter except the 10-pound plate. Weights 15-55 are 17.7 inches tall while the 10-pound plate is 17.5 inches wide. Not a huge difference but should be noted.
The widths of the plates are as follows:55's – 3.2″, 45's – 2.9″, 35's – 2.35″, 25's – 1.87″, 15's – 1.2″, 10's – 1.05." All of the steel inserts are the same width at 2."
The FringeSport bumper plates are just a little thicker than Rep Fitness'. Rep Fitness'45-pound weight is 2.83″ which is just a little smaller than FringeSport's45lb at 2.9." Rep Fitness has their 10lb plate at 1″ thick while FringeSport is 1.05."
Rep Fitness and FringeSport have the exact same diameter with their bumper plates with 45's being 17.7″ long and the 10's coming in at 17.5″ long.
Rogue Fitness HG Bumper Plates are as follows: 55's – 3 3/4″, 45's – 3 1/4″, 35's 2 3/4″ 25's 2″, 15's 1 3/8″ , 10's – 1." Just as FringeSport, all of these bumper plates have a 2 inch thick insert.
Of course, when comparing these three companies bumper plates, price will always be a key point.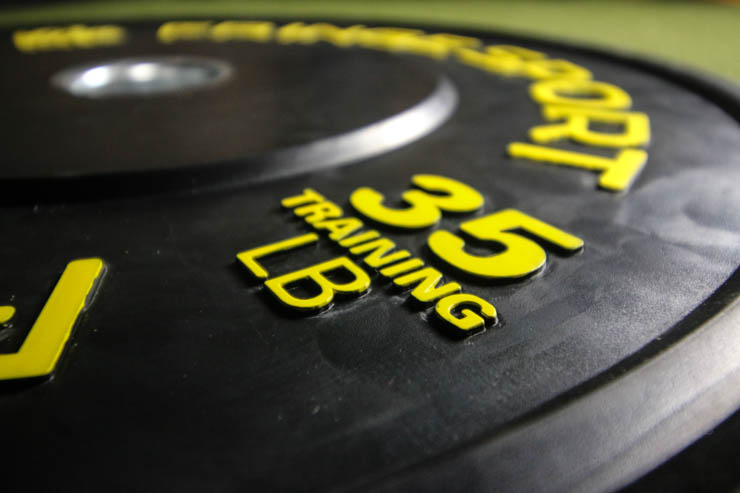 FringeSport Contrast Bumper Plates 370 pound set which includes two of each weight from 10-55 pounds is currently $649 with free shipping. RepFitness has their 370 pound set which is made up of six 45's (no 55 pound plates) and two of 10-35 pounds is $455 but does not include free shipping. Titan Fitness offers a 260 pound set which is made up of two of each at 10-45 pound plates costing $370 and does not include free shipping.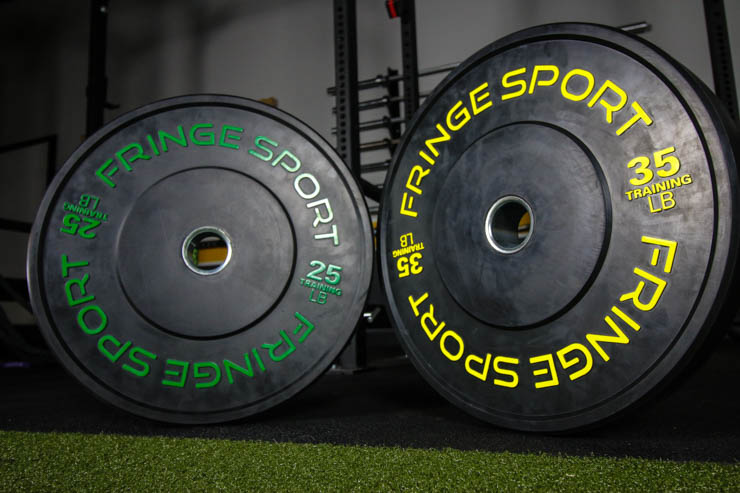 FringeSport offers a 100, 160, 170, 180, 190, 230, 250, 260, and two different 370 pound plate packages. To compare to Titan Fitness, FringeSport's 260-pound plate package is $479 which again includes free shipping. With any FringeSport weight package, a consumer can add any plate to their order. Rogue Fitness HG Bumper Plate 350 pound set (does not include 55lb plate) is $545 and only 3 plates ship free.
Overall, the FringeSport Contrast Bumper Plates are the best budget-friendly bumper plate available on the market today. With its high-density virgin rubber, low bounce rate, and price point, the 370-pound set is the best set a person can buy.
Read more about budget-friendly equipment in our guide on the best budget home gym equipment.
Suggested Improvements
The FringeSport Contrast Bumper Plates are probably my favorite bumper plate to date. With that being said, I just have one improvement that would be a great addition to not only the FringeSport's but to all bumper plates.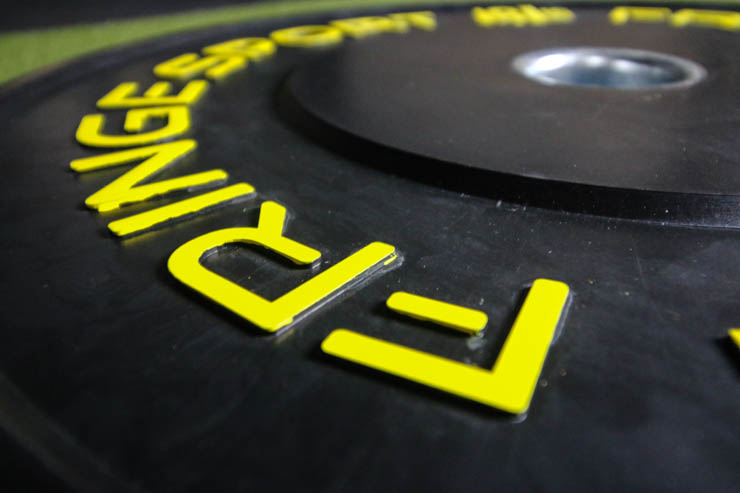 Adding a color strip to the top of the bumper plate is my only suggestion. The plates already have the contrast difference in colors on the plate itself, it would be great to add the same color the plate already has and add a strip to the top of the plate. This will make it easier to identify plates while they are on the rack and just look cool in my opinion. Other than that, these bumper plates are solid.
Read more about FringeSport bumper plates in our guide onbest home gym equipment.
Full Rating
Where to Purchase