We test and review fitness products based on an independent, multi-point methodology. If you use our links to purchase something, we may earn a commission. Read our disclosures.
The best whey protein and best creatine supplements get a lot of attention from fitness enthusiasts, but micronutrients, or vitamins and minerals, are an often overlooked piece of the wellness puzzle. For example, most of the zinc in your body is found in your skeletal muscle1, and a zinc deficiency can negatively affect protein synthesis and muscle growth.
While micronutrient deficiencies2 are widespread across the board, they're even more common in athletes, especially female athletes3. ZMA (or zinc magnesium aspartate) supplements may be a way to help bridge that gap.
The primary ingredients in ZMA supplements are zinc, magnesium, and vitamin B6. Separately, these nutrients have individual benefits. For example, zinc supports your immune system, magnesium supports muscles and sleep, and B6 supports energy, according to Mary Sabat MS, RDN, LD, a registered dietitian and ACE-certified personal trainer. As a whole, ZMA supplements may help promote muscle recovery, improve sleep, and increase energy, Mary says.
But as with any supplement, you have to be careful about which ones you're buying since there are a lot of subpar options. The best ZMA supplements not only have clinical dosages of the three foundational ingredients, they also have minimal inactive ingredients and third-party testing to back them up. In this guide, we'll highlight our favorite picks and dig a little deeper into the benefits of ZMA supplements so you can decide if they're right for you.
Medical disclaimer: This article is intended for educational and informational purposes only. It is not intended as a substitute for medical advice. For health advice, contact a licensed healthcare provider. GGR also recommends choosing a product that has been third-party tested for quality.
We've Tried These Supplements Ourselves
Our testers include an advanced team of certified personal trainers, nutrition coaches, and CrossFit coaches. We've all taken courses on the importance of nutrition and how nutrients work synergistically in the body, but we take it a step further than that, too.
In order to make recommendations, we try as many products as we can possibly get our hands on. And often, these products and supplements are tested by more than one person so we can reach a consensus instead of giving you an individual opinion. For this piece, we also spoke with a registered dietitian for general advice on what to look for in a ZMA supplement and how to make sure you're taking the right dosage for you.
7 Best ZMA Supplements
Best Overall ZMA Supplement: Transparent Labs ZMO Advanced ZMA Supplement
Good for: Those looking for a highly bioavailable supplement or a natural testosterone booster
Transparent Labs is one of our favorite supplement brands. The company prioritizes clinically effective ingredients and doesn't add any unnecessary fillers or additives to its products. The Transparent Labs ZMO supplement contains a combination of zinc picolinate, magnesium glycinate, and oyster meat powder—which is a natural (and highly bioavailable) source of magnesium, calcium, zinc, iron, potassium, and sodium. One study published in Veterinary World4 in 2019 also showed that oyster meat may help boost testosterone levels. (Granted, this was an animal study, but the results are still promising.)
"I don't know if it's just because I know there's oyster meat powder in these or if it's actually real, but I get a slight seafood/fishy taste and smell when taking these," says our tester, GGR Senior Staff Writer Amanda Capritto, CPT, CES, CNC, CF-L1. "It's ignorable, but present."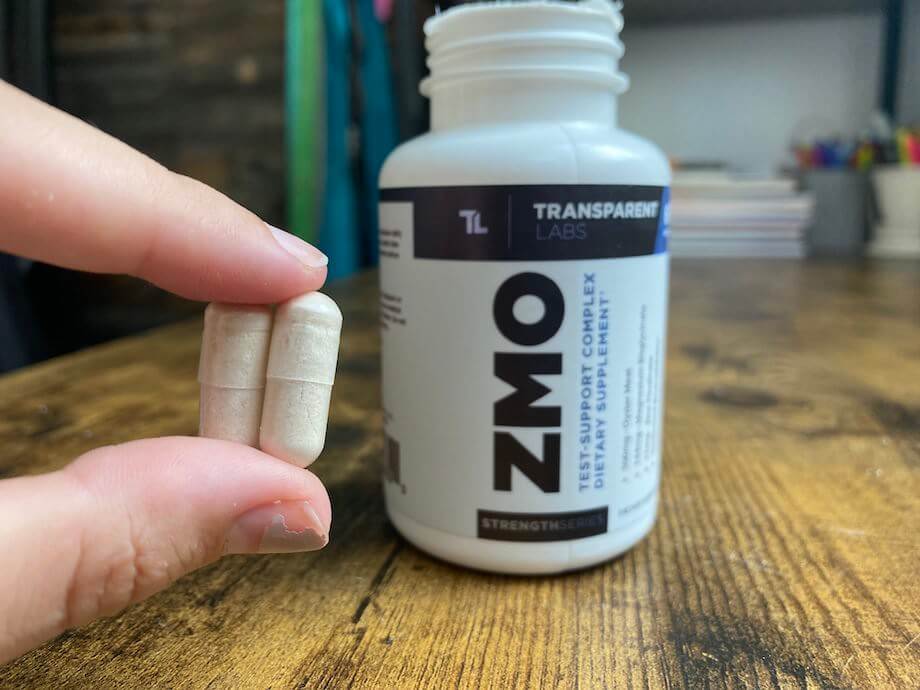 These active ingredients form the bulk of the supplement. There are only two additional ingredients: the capsule itself and magnesium stearate, which is an anti-caking agent. This particular supplement doesn't contain vitamin B, like most ZMA supplements do, but you can combine it with a separate B-complex vitamin or the brand's Sleep Aid, which may help improve sleep quality, too.
All of Transparent Labs' supplements are third-party tested and you can look up individual certificates of analysis on the company's website. This added level of transparency makes us even more confident recommending the brand.
| | |
| --- | --- |
| Price per serving | $0.96 |
| Serving size | 2 capsules |
| Active ingredients | Zinc picolinate, magnesium glycinate, and oyster meat powder |
Best Budget ZMA Supplement: NOW Sports ZMA Sports Recovery
Good for: Anyone looking for a high-quality supplement on a tighter budget
NOW Sports is known for making high-quality, clinically effective supplements at a more budget-friendly price. This one breaks down to between $0.34 and $0.50 per serving, but has similar dosages to more expensive brands. For comparison, our best overall pick is about $0.96 per serving. While cheaper often means lower quality in the supplement world, that's not the case here.
NOW Sports uses an effective combination of vitamin B6, elemental magnesium, and three forms of zinc, and doesn't add unnecessary fillers to their blends. All products are made in Good Manufacturing Practices (GMP) certified facilities, which means someone regularly checks in on the production process to make sure it's up to set quality standards.
All of NOW Sports Nutrition ZMA supplements are also certified by Informed Sport, which tests every batch for banned ingredients that could disqualify you from professional competition. They're also allergy-friendly and are manufactured without gluten, wheat, milk, soy, eggs, fish, shellfish, and tree nuts.
Amanda Capritto, CPT, CES, CNC, CF-L1, and GGR Senior Staff Writer tested these ones as well, and felt they were easy to get down with no side effects. She also hasn't noticed any real results from them either, though. "I don't have any sleep issues on a regular basis and I have a pretty consistent sleep schedule, so what would be the most notable effect (enhanced sleep and ease of falling asleep, which can, over time, assist with muscle recovery) for most people probably isn't applicable to me," she explains.
| | |
| --- | --- |
| Price per serving | $0.34-$0.50 |
| Serving size | 2 capsules for women, 3 capsules for men |
| Active ingredients | Vitamin B6 (pyridoxine), magnesium (magnesium aspartate, magnesium oxide) and zinc (zinc oxide, zinc aspartate, and zinc mono-L-methionine |
Best ZMA Supplement for Men: Swolverine ZMT
Good for: Men who want extra sleep and stress support
The Swolverine ZMT is specifically formulated for men looking to boost testosterone and get better sleep. It has the same foundational active ingredients as other ZMA supplements—vitamin B6, magnesium, and zinc—with the addition of amino acids and sleep-supporting nutrients like L-theanine and melatonin.
This supplement also contains a handful of stress-supporting nutrients called adaptogens, like ashwagandha, DIM, and Rhodiola Rosea. Adaptogens are natural compounds that can decrease your sensitivity to stressors5, helping you cope better with the day to day. While studies6 show that ZMA supplements on their own can increase free testosterone (and contribute to muscle strength), lowering stress may also have an indirect effect on your levels since mental stress is connected to low testosterone levels7.
Aside from the high-quality ingredients, Swolverine uses clinically effective dosages and sends all of its supplements out for third-party testing. All COAs are available on the brand's website so you can verify purity and potency for the specific batch you receive. The supplements are also produced in GMP-approved facilities.
One downside here is that you have to take six capsules—most others are two to three capsules—and another is that this supplement is expensive at over $2 per serving.
| | |
| --- | --- |
| Price per serving | $2.16 |
| Active ingredients | Vitamin B6, magnesium glycinate, zinc citrate, L-taurine, L-theanine, L-tryptophan, ashwagandha, GABA, valerian root extract, tongkat ali root extract, rhodiola rosea root extract, DIM, black pepper fruit extract, melatonin |
| Serving size | 6 capsules |
Best ZMA Supplement with BioPerine: JYM ZMA Zinc and Magnesium
Good for: Anyone who wants to optimize supplement absorption
The nutrients in supplements aren't fully absorbed. The rate of absorption depends on the specific supplements, but for reference, you'll absorb about 30 to 50%8 of a magnesium supplement that contains 370 milligrams. Supplement companies combat this two ways: by using highly bioavailable forms of certain nutrients, and by adding supportive compounds that can enhance absorption. One of these compounds is BioPerine.
BioPerine is a patented extract of piperine (the main ingredient found in black pepper). While it has some health benefits of its own, piperine also enhances the bioavailability9 of several vitamins and nutrients. In other words, adding piperine to a supplement can help you absorb more of it.
JYM took advantage of this effect by combining the typical ZMA nutrients (vitamin B6, zinc, and magnesium) with 5 milligrams of BioPerine. But potential enhanced absorption isn't the only thing this supplement has going for it—it also has a really clean ingredient list. The cellulose gel capsule is the only added inactive ingredient.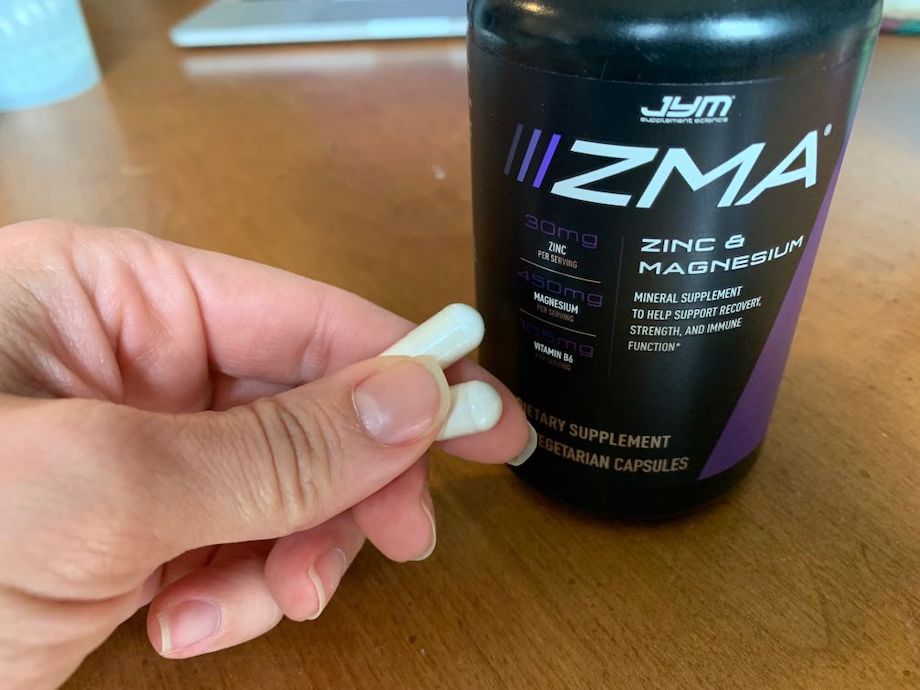 Jacob Penner, a USA Weightlifting Level 1 Coach and member of GGR's expert panel, tested this JYM supplement, and here are his direct thoughts: "I woke up feeling rested, and my dreams were f-ing bonkers." We're sold.
| | |
| --- | --- |
| Price per serving | $0.83 |
| Active ingredients | Vitamin B6, magnesium (magnesium aspartate and magnesium oxide), and zinc (zinc aspartate, zinc oxide, and zinc mono-L-methionine |
| Serving size | 3 capsules for men, 2 capsules for women |
Best ZMA Supplement for Sleep: Evlution Nutrition Z-Matrix
Good for: Anyone who needs extra sleep support
Any ZMA supplement can make you sleepy—this is why it's often used as a sleep aid—but the Evlution Nutrition Z-Matrix has additional nutrients that can help support a restful night. In addition to the standard zinc, magnesium, and vitamin B6 foundation, it also contains 200 milligrams of L-theanine.
L-theanine is an amino acid that's naturally found in green and black teas, and some mushrooms. It's often categorized as a natural sleep aid10 that has a sedative effect without making you drowsy. On its own, L-theanine works really well, but a study published in Frontiers in Nutrition11 in 2022 showed that when combined with magnesium, L-theanine may be even more effective.
GGR Staff Writer and expert product tester Lauren Strong, CPT, tested the Evlution Nutrition Z-Matrix and said she definitely got deeper sleep. "I'm honestly a pretty heavy sleeper but I've been really stressed lately and waking up a few times a night, which is not normal for me," she explains. "The nights I've taken this it helps me sleep through the night and I don't wake up from my husband's tossing and turning."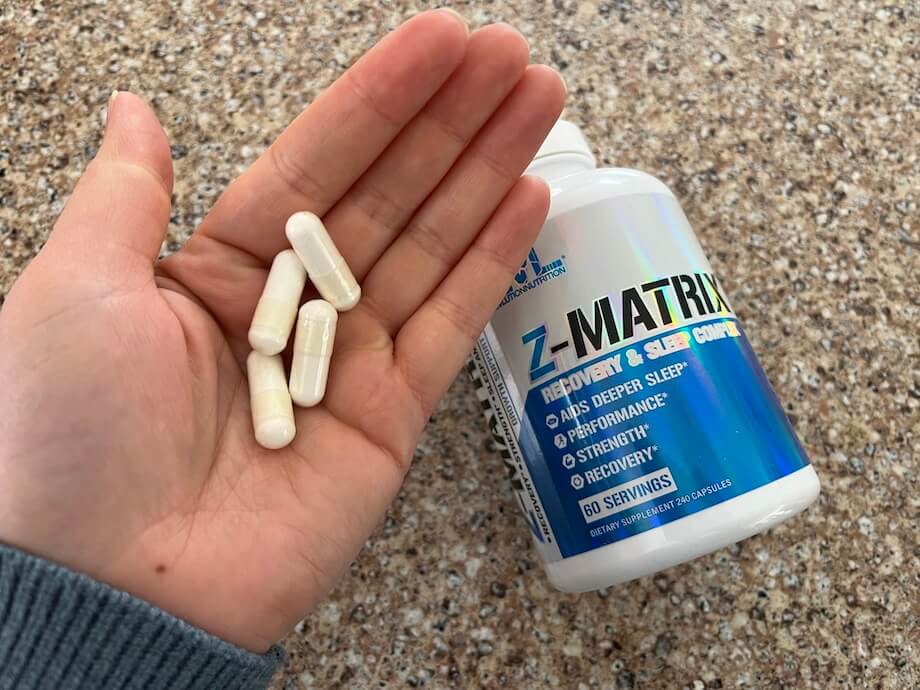 And while most of the research has been in animal studies12, there's some evidence that L-theanine can counteract the effects of caffeine—a plus especially on those days when you've taken more pre-workout than you intended.
Evlution Nutrition doesn't have as much transparency about ingredient sourcing and testing as some of the other brands, but all supplements are made in the U.S. with minimal added ingredients.
| | |
| --- | --- |
| Price per serving | $0.53 |
| Active ingredients | Vitamin D3, vitamin B6, folic acid, magnesium, zinc, L-theanine, black pepper fruit extract |
| Serving size | 4 capsules |
Best ZMA Supplement on Amazon: PrimaForce ZMA Dietary Supplement
Good for: Those who want to get their supplement ASAP
You have to be careful when buying supplements on Amazon. Because the mass retailer allows third-party sellers, there are plenty of counterfeit and/or mislabeled products13 on the site. This ZMA supplement from PrimaForce is highly rated; it has an average rating of 4.6 from more than 1,200 reviewers. It's also sold and shipped directly from the brand, so you know you're actually getting what you think you are.
It contains a combination of vitamin B6 in the form of pyridoxine HCl, magnesium aspartate, magnesium oxide, zinc aspartate, and zinc mono-L-methionine. All ingredients are gluten-free and non-GMO, and the supplement is third-party lab tested for purity and potency. There's only one formulation, but the brand recommends a two-capsule daily serving for women and a three-capsule dosage for men to meet your needs.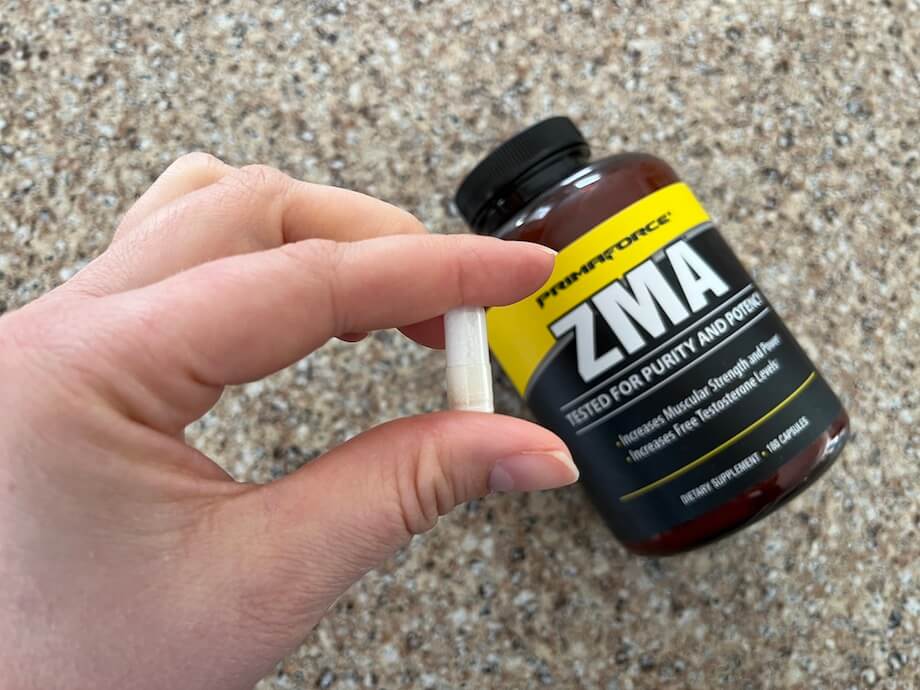 Lauren Strong, GGR Staff Writer and certified personal trainer also tested the PrimaForce ZMA and said she thought she had deeper sleep on the nights she took this supplement as well. "In general I don't have trouble sleeping, but if life feels stressful I might go weeks at a time with poor sleep and multiple wake ups per night. This helps with sleeping through the night but does not help me fall asleep faster."
| | |
| --- | --- |
| Price per serving | $0.24-$0.36 |
| Active ingredients | Vitamin B6 (pyridoxine HCl), magnesium (magnesium aspartate, magnesium oxide), and zinc (zinc aspartate and zinc mono-L-methionine) |
| Serving size | 2 capsules for women; 3 capsules for men |
Best Highly-Rated ZMA Supplement: Optimum Nutrition ZMA Capsules
Good for: Anyone looking for a basic ZMA supplement with rave reviews
All of the ZMA supplements on our list are highly rated, but the Optimum Nutrition ZMA Capsules stand out for the sheer number of ratings. On Amazon alone, this supplement has amassed almost 12,000 ratings, ending up with a 4.6-star average—a highly impressive number.
Kate Meier, CPT, USAW-L1, CF-L1, and GGR Head of Content, has been taking magnesium in some form almost every night for a few years, and says it always helps her sleep better. "I didn't notice any kind of regression switching to Optimum Nutrition brand, so I assume it works great."
This is a bare bones ZMA supplement, meaning it only contains zinc, magnesium, and vitamin B6 with no extras added. This is a plus for the supplement purists who only want these three targeted nutrients without any additional compounds. There are a handful of inactive ingredients, like gelatin, cellulose, and magnesium stearate, to ensure freshness and prolong the shelf life.
On a larger scale, Optimum Nutrition is a trusted sports nutrition company. Endurance athletes to bodybuilders go to the brand to find supplements that can help improve athletic performance and/or build muscle. All supplements go through a multi-step, in-house testing process—ingredients are tested before, during, and after formulation—and are manufactured in the brand's own facilities. These facilities are Informed-Sport registered, which is a UK equivalent to GMP. The company undergoes regular on-site inspections and spot testing to ensure quality, potency, and integrity.
One note here: If you look at the supplement label for a serving size, it says three capsules. However, if you read the fine print, directions specify for women to take two capsules and men to take three, so the label itself is a little misleading.
| | |
| --- | --- |
| Price per serving | $0.66 |
| Active ingredients | Vitamin B6 (pyridoxine hydrochloride), zinc (zinc aspartate, zinc monomethionine, and zinc oxide), and magnesium (magnesium aspartate and magnesium oxide) |
| Serving size | 3 capsules for men; 2 capsules for women |
Other ZMA Supplements We Researched
Universal Nutrition ZMA Pro: The Universal Nutrition ZMA Pro supplements were a worthy contender, but we didn't think there was anything that made them stand out from the others. They also only contain one form of magnesium, while the others contain a combination of types, which can give you a better chance of normalizing your magnesium levels.
MET-Rx ZMA Supplement: Another decent pick, the MET-Rx ZMA supplement contains the basics—zinc, magnesium, and vitamin B6—but like the Universal Nutrition option, there was nothing spectacular about it. We also couldn't find any information about third-party testing or certifications, which felt like a red flag.
Iron Labs ZM6: The Iron Labs ZM6 has the foundational ingredients, along with vitamin B12, biotin, riboflavin, and vitamin D. Because not everyone searching for a ZMA supplement wants this additional support, we left this one off the list.
SNAC ZMA-5 Supplement: Because it contains 5-HTP, the SNAC ZMA-5 supplement can be a good option for those looking to regulate their mood. However, this added ingredient also gives it more contraindications. Because of this, we didn't include it as one of our best overall picks.
How We Picked and Tested the Best ZMA Supplements
When recommending supplements, quality is always at the top of our list. We only chose ZMA supplements with high-quality ingredients in clinical doses. Quality extends to the inactive ingredients, too. We dug into the full ingredient list to make sure we don't recommend supplements with unnecessary additives or fillers.
And we don't just take the brand's word for it either. We looked into sourcing and manufacturing procedures and checked whether the company willingly submits its products for third-party testing. If the third-party testing is part of the process, we looked for transparency and easy access to the results. A company can easily say they test their products, but do they provide the results if you want to see them?
Once we came up with a list of potential contenders based on quality and testing, consumer reviews were the next step. We chose only products that have high ratings and eliminated any with major negative complaints—about the specific product or the brand as a whole.
After we had a short list that we were comfortable with, we moved onto the testing phase. Our team of testers took each supplement over the course of a couple weeks and tracked how they felt. In addition to discussing any positive changes or side effects, we also noted taste and ease of use, when appropriate. In most cases, these ZMA supplements were tested by more than one person.
Benefits of ZMA Supplements
According to Mary, the biggest benefits of taking a ZMA supplement include:
Improved muscle and workout recovery
Better sleep
Increased energy
Immune support
There's also some evidence that ZMA supplements may increase testosterone6, IGF-1, and muscle strength.
Dosing and Interactions
As with any supplement, dosing really depends on the individual. Many ZMA supplements have recommended dosages on the bottle that are different for men and women. There's no official ZMA recommendation, but individual daily recommendations for the specific nutrients in the supplement are as follows:
Zinc14: 11 milligrams for men; 8 milligrams for women
Magnesium15: 400-420 milligrams for men; 310-320 milligrams for women
Vitamin B616: 1.3-1.7 milligrams for men; 1.3-1.5 milligrams for women
Keep in mind that most supplements contain higher levels than the daily recommended amount to account for excretion—or the amount of each individual nutrient that's not actually absorbed by the body.
As for side effects? "There are no known interactions or contraindications when taking ZMA if taken in the correct dosage," Mary Sabat MS, RDN, LD, says. "Each individual ingredient in the supplement however, has side effects if taken in excess. Excessive zinc can cause nausea, vomiting, nutrient deficiencies and reduced immune function. Excessive magnesium can cause nausea, vomiting, diarrhea, and stomach cramps, as well as sleepiness. Excessive B6 can cause nerve damage and pain or numbness in the hands or feet."
At the end of the day, it's important to talk to your doctor or a qualified nutritionist about the right dosage for you. Make sure you let them know about any other supplements or medications you're taking, just in case there are contraindications.
Third-Party Testing
The supplement industry isn't tightly regulated. While the FDA17 does have rules around certain health claims, it doesn't approve supplements or their labels. In other words, you basically have to trust what a company is telling you—unless they willingly submit their products for third-party testing.
Third-party testing means that someone other than the brand, who has no vested interest in the outcome, is putting the supplement through a series of lab tests. These lab tests can look for different things, but often it's a combination of purity (is the supplement clean or contaminated?) and potency (does it have the ingredients in the label in the dosages it claims?).
When we recommend supplements, we put a high value on third-party testing since this holds companies to a higher standard and shows that they're willing to be transparent. And if they post the testing results on their website? Even better.
Buying Guide: What to Look for in ZMA Supplements
The most important thing to look for in a ZMA supplement is the right active ingredients. It should have some combination of zinc, magnesium, and vitamin B6 since that's literally where it gets its name. Other than that, here are the most important things to consider.
Limited Added Ingredients
Active ingredients are the star of the show, but the inactive ingredients matter, too. Many supplement companies sneak in undesirable fillers and additives that really aren't necessary. When choosing a supplement, take a peek at the full ingredient list—it's usually listed in much smaller print underneath the nutrition facts label—to make sure you're comfortable with everything that's in the supplement.
Optimal Doses
You can't really make a blanket statement about what an "optimal dose" is for everyone, but in general, ZMA supplements should contain over the recommended amount of each nutrient. Because the nutrients in supplements aren't 100% absorbed, you want a buffer to ensure you're getting what you need. Otherwise, it's money down the drain.
Third-Party Testing
As we already mentioned, third-party testing is important to hold supplement manufacturers accountable. It's a way for the company to prove that they have nothing to hide—that the ingredients on the label are what's actually contained in the supplement, and that the dosages are correct. When choosing a ZMA supplement, opt for one that has transparency into this process; bonus points if COAs and/or other testing results are available directly on their website.
Other Ingredients
Often, ZMA supplements will have synergistic ingredients, like melatonin, L-theanine, and/or vitamin B12, added to them. This isn't a must, but if you're taking the supplement for a very specific reason, you may want to consider one that has the right blend of additional ingredients for you.
ZMA Supplements: FAQs
What Brand Of ZMA Is Best?
There are a lot of good options out there, but our favorite ZMA supplement brand is Transparent Labs. In addition to highly absorbable forms of zinc and magnesium, the company also uses oyster meat powder, which is a natural source of minerals.
Is It Safe To Take ZMA Every Day?
Mary Sabat MS, RDN, LD, a registered dietitian, says it's safe to take ZMA every day, as long as you're taking the proper dosage. If you're not sure what the right dosage is for you, talk to your doctor or a nutritionist who knows your personal health history.
Why Does ZMA Make You Tired?
ZMA supplements contain zinc and magnesium, two nutrients that can have a sedative effect. Many ZMA supplements also contain sleep-promoting ingredients like melatonin or L-theanine. Because of this, it's often recommended to take your supplements on an empty stomach about an hour before bed.
These statements have not been evaluated by the Food and Drug Administration. This product is not intended to diagnose, treat, cure, or prevent any diseases.
References
1. Hernández-Camacho, JD, Vicente-García, C, Parsons, DS, Navas-Enamorado, I. Zinc at the crossroads of exercise and proteostasis. Redox Biol. 2020;35:101529. doi:10.1016/j.redox.2020.101529
2. Bailey, RL, West, KP Jr, Black, RE. The epidemiology of global micronutrient deficiencies. Ann Nutr Metab. 2015;66 Suppl 2:22-33. doi:10.1159/000371618
3. McClung, J, Gaffney-Stomberg, E, Lee, J. Female athletes: A population at risk of vitamin and mineral deficiencies affecting health and performance. J Trace Elem Med Biol. 2014;28(4):388-392. doi:10.1016/j.jtemb.2014.06.022.
4. Astuti, P, Airin, CM, Sarmin, S, Nururrozi, A, Harimurti, S. Effect of shell as natural testosterone boosters in Sprague Dawley rats. Vet World. 2019;12(10):1677-1681. doi:10.14202/vetworld.2019.1677-1681
5. Panossian A, Wikman G. Effects of adaptogens on the central nervous system and the molecular mechanisms associated with their stress-protective activity. Pharmaceuticals (Basel). 2010;3(1):188-224. doi:10.3390/ph3010188
6. Wilborn, CD, Kerksick, CM, Campbell, BI, et al. Effects of zinc magnesium aspartate (ZMA) supplementation on training adaptations and markers of anabolism and catabolism. J Int Soc Sports Nutr. 2004;1(2):12-20. doi:10.1186/1550-2783-1-2-12
7. Wrzosek, M, Woźniak, J, Włodarek, D. The causes of adverse changes of testosterone levels in men. Expert Rev Endocrinol Metab. 2020;15(5):355-362. doi:10.1080/17446651.2020.1813020
8. Schuchardt, JP, Hahn, A. Intestinal absorption and factors influencing bioavailability of magnesium-an update. Curr Nutr Food Sci. 2017;13(4):260-278. doi:10.2174/1573401313666170427162740
9. Dudhatra, GB, Mody, SK, Awale, MM, et al. A comprehensive review on pharmacotherapeutics of herbal bioenhancers. ScientificWorldJournal. 2012;2012:637953. doi:10.1100/2012/637953
10. Rao, TP, Ozeki, M, Juneja, LR. In search of a safe natural sleep aid. J Am Coll Nutr. 2015;34(5):436-447. doi:10.1080/07315724.2014.926153
11. Dasdelen, MF, Er, S, Kaplan, B, et al. A novel theanine complex, Mg-L-Theanine improves sleep quality via regulating brain electrochemical activity. Front Nutr. 2022;9:874254. doi:10.3389/fnut.2022.874254
12. Jang, HS, Jung, JY, Jang, IS, et al. L-theanine partially counteracts caffeine-induced sleep disturbances in rats. Pharmacol Biochem Behav. 2012;101(2):217-221. doi:10.1016/j.pbb.2012.01.011
13. Crawford, C, Avula, B, Lindsey, AT, et al. Analysis of select dietary supplement products marketed to support or boost the immune system. JAMA Netw Open. 2022;5(8):e2226040. doi:10.1001/jamanetworkopen.2022.26040
14. National Institutes of Health Office of Dietary Supplements. Zinc. 2022.
15. National Institutes of Health Office of Dietary Supplements. Magnesium. 2022.
16. National Institutes of Health Office of Dietary Supplements. Vitamin B6. 2022.
17. U.S. Food and Drug Administration. Questions and answers on dietary supplements.