We test and review fitness products based on an independent, multi-point methodology. If you use our links to purchase something, we may earn a commission. Read our disclosures.
Editor's Note: The Horizon T303 is no longer in production. We suggest viewing the Horizon 7.0 AT Treadmill as the best alternative, or view our Best Budget Treadmills for more options.
Touted as being a treadmill that makes interval workouts easy and more productive, the Horizon T303 is considered one of the best in its price range. However, is it really all that it's cracked up to be? Is it truly a HIIT fat-burning machine, or does it fall short compared to other budget treadmills in its class?
In this Horizon T303 Treadmill review, we will dig into the nuts and bolts. By picking apart practically every piece of this home treadmill, you'll be able to know if it's the right pick for you. So without further ado, let's get into it!
We Know If a Treadmill Is a HIIT or Miss
Our expert product testers at GGR have tried out many treadmills, and thanks to our years of collective experience, we can tell if it's worth it or not. However, for consumers like you, it's not always clear, which is why we're here to help guide you toward making the best decision for your situation.
While expensive treadmills might look like the be-all and end-all, sometimes they can be overwhelming. Seriously, we're here to tell you that a $3,000 price tag doesn't necessarily mean it will be a great machine. It could be a complete miss. You'd be surprised how many affordable treadmills, like the Horizon T303, are giving the expensive treadmills a run for their money.
Thanks to our product testers, which include exercise specialists, personal trainers, athletes, and more, you'll get the real deal. We're cutting through all the marketing minutiae and giving you a clear picture of what you should know before you spend your hard-earned money.
Horizon T303 Treadmill
GGR Score: 3.9
Product Highlights
Priced around $1,000
Foldable treadmill with on-board programs
3.0 CHP motor is great for runners and walkers
Pros & Cons
Pros
3.0 CHP motor
Up to 12% incline
Priced affordably
Spacious running belt
Speed up to 12 MPH
Foldable
Lifetime warranty
Built-in programs
High user weight capacity at 325 lbs
Financing available
Cons
Heavy at over 200 lbs
No touchscreen
No interactive programming
Bottom Line
The Horizon T303 is a mid-level treadmill that is ideal for runners and walkers who want an easy-to-operate machine without a lot of bells and whistles.
A Quick Look at the Horizon T303 Treadmill
Since 1999, Horizon Fitness has been offering cost-effective fitness equipment for home gyms. They recognize that not everyone is looking to spend several thousand dollars to exercise, especially beginners. Their machines are also not very technologically advanced, so don't expect to find large touchscreen displays as you'd see on NordicTrack treadmills.
The T303 treadmill is part of Horizon's Go Series line-up, and it's the front runner in its series. This line-up of treadmills, including the T101 and T202, focuses on ease of use, affordability, and comfortability. They're also expressly designed for smaller spaces but don't significantly reduce the running area to achieve that. Trust me, that's a win!
The Horizon Fitness T303 treadmill offers staple features that'll get the job done if you're a walker, jogger, or new runner. However, it's not the treadmill for you if you're a serious runner who likes tech features on treadmills. So, if all of the above sounds good to you, you'll probably enjoy this machine.
Before You Buy
Be aware that fitness apps will not control your machine, so you'll still have to change the speed and incline manually.
The treadmill's estimated shipping weight is 232 pounds, so consider recruiting a friend or investing in the brand's White Glove Delivery and Assembly.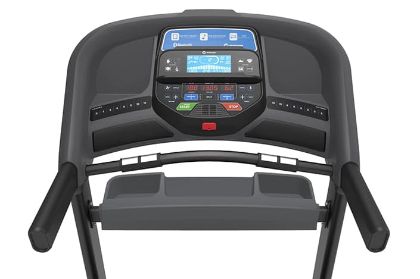 Is the Horizon T303 Treadmill Worth It?
The Horizon T303 is a solid entry-level treadmill to place in your home gym, but it will not be everyone's favorite. After all, we've all got different fitness goals and preferences to consider when looking into treadmills. Therefore, you might read this and find that it checks all your treadmill boxes, or you might feel like it totally misses the mark.
Overall, it's certainly a good catch if we're looking at its price, competitive warranty package, and durability.
Great for:
Individuals wanting a durable folding treadmill
Trainees looking to spend less than $1,200
Folks who can do without advanced technical features
Walking, jogging, and light recreational running
Avoiding monthly subscriptions for workout classes and more
Those looking for incline training
Not recommended for:
Serious runners
Individuals who desire advanced technical features
Trainees who prefer on-demand classes
Wider users
Horizon T303 Treadmill Specs
| | |
| --- | --- |
| Footprint | 75″ L x 34″ W x 58″ H |
| Weight | 232 lbs |
| Weight capacity | 325 lbs |
| Running Deck Size | 60″ L x 20″ W |
| Deck Cushioning | 3-Zone Variable Response Cushioning |
| Incline/Decline | 0-12% |
| Display | Three LED Windows, Backlit LCD Screen |
| Programming | 7 on-board programs |
| Foldable | Yes |
| Connectivity | Bluetooth enabled |
| Warranty | Lifetime on the motor and frame, 3 years on parts and electronics, and 1 year on labor |
| Conveniences | USB charging port, speakers, tablet holders, cooling fan, accessory tray |
Customer Reviews
On Horizon's website, the T303 treadmill is rated 4.7 out of 5 based on over 270 reviews, which is pretty good. Most satisfied purchasers commented on how easy the treadmill was to use and how quiet it was.
Those who rated the treadmill poorly often commented on the delivery and assembly process. A couple of people did mention that the machine was not functional upon arrival.
Breaking Down the T303
Although we have yet to try out the Horizon T303, we have a good idea of what to expect from it thanks to our experience with other products from the Horizon brand, like the Horizon 7.4 AT Studio Tread. So below, we'll break down what you should be aware of when it comes to this home treadmill.
Motor
The T303 comes with a 3.0 CHP (continuous horsepower) motor, which is pretty good for a treadmill at its price point. In fact, similar treadmills usually hover around 2.0 and 2.5 CHP, so a 3.0 CHP motor is impressive. Also, the T303 uses the Johnson Drive System, which is supposed to make the motor run quietly while keeping it cool.
A motor like this will be able to handle regular walking, jogging, and light running with ease. However, running aggressively and frequently may cause issues down the road. Serious running is taxing on a 3.0 motor, especially if you max out the incline and speed.
Fortunately, though, Horizon Fitness offers a lifetime warranty on the motor as long as you use it the way it's intended. Unfortunately, placing your treadmill in the garage or trying to fix your motor yourself may void the warranty.
Another thing to note about the motor is where it sits. This is often overlooked, but it's important to consider, especially for folding treadmills. Thankfully, the T303's motor hood has a low profile, so you shouldn't step on it while utilizing the running area. However, when it comes to other treadmills, many people complain that they bump their feet on the motor hood while working out, which isn't ideal.
Running Surface
One of my favorite things about the T303 is its extended running surface. Many other treadmills in the industry at a similar price only have a 50-inch to 55-inch running deck. However, this treadmill gives you 60 inches, which is ideal for running. It'll comfortably accommodate someone 6 feet tall and individuals with a long stride.
It would also be nice to see a 2-ply treadmill belt on here. Unfortunately, the Horizon T303 treadmill only has a 1.4-millimeter silicone belt. Since that's thinner than what's recommended, it could wear out faster. So you'll want to keep that in mind if you plan on using it frequently.
Workout Programs
This treadmill comes with a total of seven built-in workout programs, which isn't a lot. I've seen treadmills at this price point offer double that. Six of the seven programs are Fat Burn, Hill Climb, My First 5K, Distance, Heart Rate, and Calories. Manual is an option, too, where you'll be able to control the speed and incline.
One reason the Horizon T303 might include very few built-in workout programs is that you can connect to other fitness apps. The machine is Bluetooth-enabled so that you can stream workouts on apps like Peloton and Zwift. Then, just connect your phone or tablet so you can watch workouts on your personal device and hear the audio through the Bluetooth speakers.
Display
The T303 comes with three LED windows and a backlit LCD screen. The LED windows display the incline, segment time, and speed. The LCD screen shows helpful workout feedback like your incline, heart rate, calories, distance, pace, and time. All this information might be overwhelming for some and may take some getting used to, but it's nice to be able to glance at the console and see what you need.
Speed and Incline Ranges
This treadmill will offer you a 0.5-12 MPH speed range and a 0-12% incline range. This will be more than fine if you are primarily walking or jogging. Even recreational runners might be OK with this speed and incline range. You'll undoubtedly be able to get a good cardio workout in and focus on muscles like your quads, calves, and hamstrings.
Footprint and Portability
Coming in at 194 pounds, the T303 is certainly not the lightest treadmill on the market. Plus, when assembled, it's 75 inches long by 34 inches wide by 58 inches high, so it's not exactly considered compact. Fortunately it does have transport wheels, so if you need to move it around, you can do so.
The treadmill is foldable, so you can fold it vertically to free up space in your workout area when the machine is not in use. When folded, it's 47 inches long by 34 inches wide by 65 inches high, so you'll free up about 28 inches of space length-wise.
Durability and Construction
The Horizon T303 is said to be a very sturdy treadmill, and although we haven't tried it, I believe this to be true. We've checked out other treadmills from the brand, like the Horizon 7.4 AT, which was very durable. Therefore, I think this one was also built to last.
One way to get an idea about a product's durability is by looking at the warranty package. For example, Horizon provides a lifetime warranty on the frame and motor plus three years on the parts. That alone makes me feel confident that they used quality parts to build this treadmill.
The Ergonomics
Horizon implemented their 3-Zone Variable Response Cushioning, which is set up slightly differently than some other treadmill brands. As mentioned in the name, there are three zones, and each area has a different level of cushion or firmness.
For instance, the front zone is more flexible and cushioned to absorb the impact better. The middle zone cushioning is neutral, offering just the right mix of firmness and flexibility. Lastly, the rear zone is the firmest to provide better reinforcement, especially during take-off.
The Horizon 7.4 AT has this same type of cushioning, and our testers really enjoyed it. However, you might want something else if you prefer a treadmill that can simulate running outdoors. This can be a little too much cushion for some people.
Technology Benefits and Conveniences
The Horizon T303 isn't going to stand out to you if tech is important, but if you're OK with the basics, you'll like it. Not everyone is looking for a treadmill that has to be connected to the internet to operate. You can literally plug it in and go.
Nonetheless, it's got the backlit LCD screen and the three smaller windows right beneath it to give you the workout stats you desire. Plus, it has Bluetooth speakers that can connect to your smart device. This allows you to jam to your music playlist, listen to a podcast, or hear your personal trainer tell you what to do next. In addition, it is possible on the T303 to push your workout data to apps like UnderArmour and MyFitnessPal.
The Energy Saver Mode is great if you accidentally forget to turn off your treadmill, since it'll do it for you after a while. There are also two custom interval keys allow you to save your preferred incline and speed settings for interval training exercises.
Other conveniences to consider on this treadmill are:
Fan
Multiposition tablet holders
Rapid-charge USB port
Accessory tray for a water bottle
Audio in/out port
Contact grips
Bluetooth 4.0 compatible receiver for chest straps
Horizon T303 vs Sole F63
Sole F63
GGR Score: 4.3
Community Score: 3.2
Product Highlights
Folding treadmill
Costs around $1,000

Heart rate chest strap included

Bluetooth speakers, USB port, and cooling fan

Powerful 3.0 HP motor
Pros & Cons
Pros
Financing is available
Bluetooth speakers
USB port
Device holder
15 different levels of incline
Cushioned deck
20" W x 60" L belt
325-lb weight capacity
Lifetime frame and motor warranty
Cons
Heavy machine
No touchscreen
Bottom Line
The Sole F63 Treadmill is an affordable option for people who want a powerful, reliable machine without breaking their budget.
Both the Horizon T303 and the Sole F63 tend to float right around the $1,000 price range, and they have extraordinarily similar specs. They both fold, they have similar incline and speed ranges, have Bluetooth speakers, and have a 3.0 CHP motor, ideal for runners and joggers.
RELATED: Sole F63 vs Horizon 7.0
The main differences you'll find is in the programming and the footprint.
If you want more built-in programs and the ability to connect to interactive programming, the Sole F63 is the way to go. It has the ability to integrate with Studio, which provides countless running workouts and classes.
If you want a smaller machine, the Horizon has a slightly smaller footprint than the Sole at about half a foot shorter in length and a little smaller in stature.
| | Horizon T303 | Sole F63 |
| --- | --- | --- |
| Price | $1,099 | $1,099 |
| Footprint | 75″ L x 34″ W x 58″ H | 82" L x 35" W x 66" L |
| Motor | 3.0 CHP | 3.0 CHP |
| Workout Programs | 7 | 10; compatible with Studio |
| Display | Three LED Windows, Backlit LCD Screen | 6.5″ LCD Screen |
| Foldable | Yes | Yes |
| Speed | 0-12 MPH | 0-12 MPH |
| Incline | 15 levels | 15 levels |
Customer Experience
Naturally, if you're thinking about snagging the T303, it'd be nice to know what the customer experience might be like. There's nothing worse than having an issue with your brand-new treadmill and then being unable to reach anybody about it. So, here's what you should know about Horizon.
Warranty: Seriously, It's Bragworthy
I've looked at tons of treadmills warranty programs, and some of them aren't that great. But the Horizon T303 has an exceptional warranty package. You're looking at a lifetime warranty on the motor and frame, three years on parts, and one year labor.
If you'd like an additional warranty on the parts and labor, that's possible, too. Horizon offers three- and five-year warranty boosts. This might be worth it for additional peace of mind.
Returns: Do So Within 30 Days
So, let's say you purchase the HT303 and absolutely hate it. What can you do about it? You can receive a full refund if you return your treadmill within 30 days of receipt. After that, no returns will be accepted. In addition, the machine should be returned in new and working condition in order for Horizon Fitness to process the refund. Be sure to also send it back in its original packaging.
Financing: Nice-To-Have Option
The Horizon T303 is affordable, but it's nice not to have to spend all your money upfront. They have a financing program through Citizens Bank that offers 6-, 12-, 18-, and 24-month plans. If the machine is $999 or more, a 36-month plan may be available, too.
Ordering and Assembling the Horizon T303 Treadmill
If you're interested in the Horizon T303 treadmill, you can purchase it directly from their website. However, it's a popular machine, so it's occasionally out of stock, though you may be able to find it on third-party sites like Amazon. When available, Horizon offers free curbside shipping, which is excellent because large items can be expensive to ship.
You also have the option to upgrade to In-Room Delivery or their White Glove Delivery & Assembly service. Be sure to make these selections before checking out, because afterward you won't be able to do so.
Based on some customer reports, the assembly process is pretty good and can be completed in about an hour. However, it's recommended that you don't do it alone because lifting the parts alone could be physically taxing.
Final Verdict of Our Horizon T303 Treadmill Review
The Horizon T303 is a good option for those desiring a sturdy, reliable, and functional home treadmill. It'll meet the needs of walkers, joggers, and recreational runners while also offering plenty of variety. On top of that, you're getting a great warranty program, so you can feel confident that if something goes wrong with the frame or motor, it'll be fixed by the brand.
For the price and durability, it's a considerably nice foldable treadmill.
Horizon T303 Treadmill Full Rating
Horizon Fitness T303
Want an affordable treadmill that doesn't require an internet connection and that offers a great warranty program? Read our Horizon T303 Treadmill review!
Product Brand: Horizon Fitness
Product Currency: $
Product Price: 1099
Product In-Stock: InStock
Horizon Treadmill T303 FAQs
Does Horizon Make Good Treadmills? 
Yes, Horizon makes affordable treadmills that offer a lot of value. Unlike many brands out there these days, they don't force you to use or sign-up for a workout subscription. However, if you want to use a workout app, there are different ones to choose from. That's a huge deal! 
In addition, their warranty is a-maz-ing! A lifetime warranty on the frame and motor is usually reserved for more expensive brands. So this tells us Horizon Fitness believes in its product and isn't just throwing some cheap parts together and calling it a treadmill. 
What is the Best Treadmill for Home? 
Is Horizon Better Than NordicTrack? 
Both brands are solid, so it's not fair to say one is better than the other. However, performance-wise, they're quite similar. The main difference between the brands is that NordicTrack treadmills are made for streaming, so you'd probably prefer this brand if that's your thing. However, if streaming isn't important to you, Horizon Fitness is a great option. 
Which Horizon Treadmill Is Best?
The Horizon 7.8 AT is their premium offer and is part of their Studios Series. This treadmill allows you to connect with various fitness streaming apps, has QuickDial Controls, a 22-inch  by 60-inch running deck, and so much more. However, be aware that the Horizon 7.8 AT might not be the best option for you. Horizon Fitness has great machines that offer similar value for several hundred dollars less.